Ready for the perfect Chinese New Year Treat? Try our Braised Orange Anise Lotus Root recipe. This lotus root dessert is lightly sweet, cooked until crisp al dente and then topped with an orange anise honey reduction.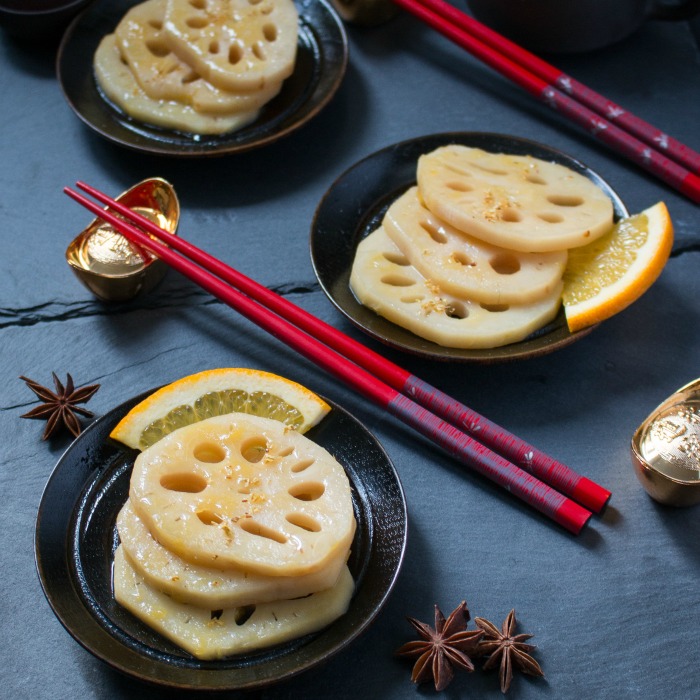 There is a hustle and bustle in the air as the world prepares for Chinese New Year (CNY). Plans are made to host family and friends with many foods that are considered to have good luck and fortune in the new year. Oranges, like in our Hot and Spicy Mandarin Orange Chicken, are often eaten in the Chinese New Year because the word for tangerine closely resembles the characters for good luck and wealth.
Jump to: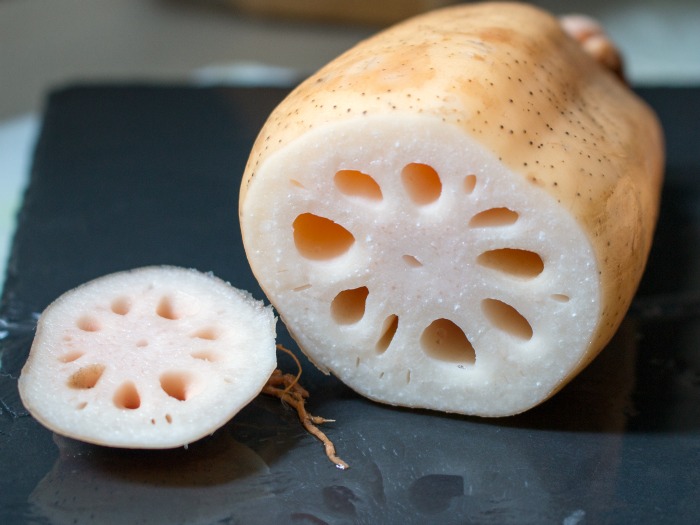 Symbolization of Round Foods
Round foods are especially auspicious as they symbolize fullness and wealth. The Chinese word for orange is chéng (橙) which sounds like the same as the Chinese word for success (成).
I have used both oranges and lotus roots with are round and the inside of the lotus root is filled with round circles so I am hoping for double happiness for all of you. If you are looking for some other recipes for this holiday, take a look at out our 10 fun and Easy Chinese New Year Recipes.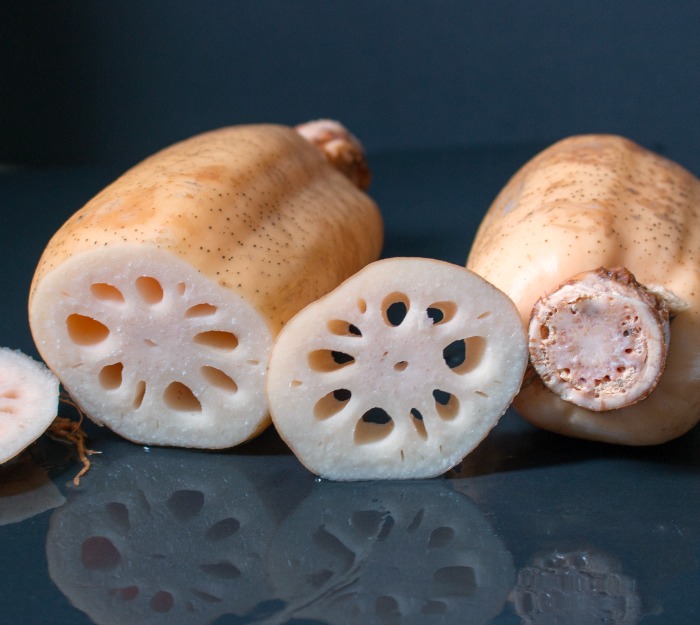 Flavors and Textures
Braised orange anise lotus seed is a perfectly balanced dessert with cooling lotus roots, warming star anise and neutral honey.
You are going to just love how crisp the lotus root is and refreshing the oranges are in this very delicately sweet dessert or treat. In addition, the part I love the most is the little tongue numbing sensation from the star anise.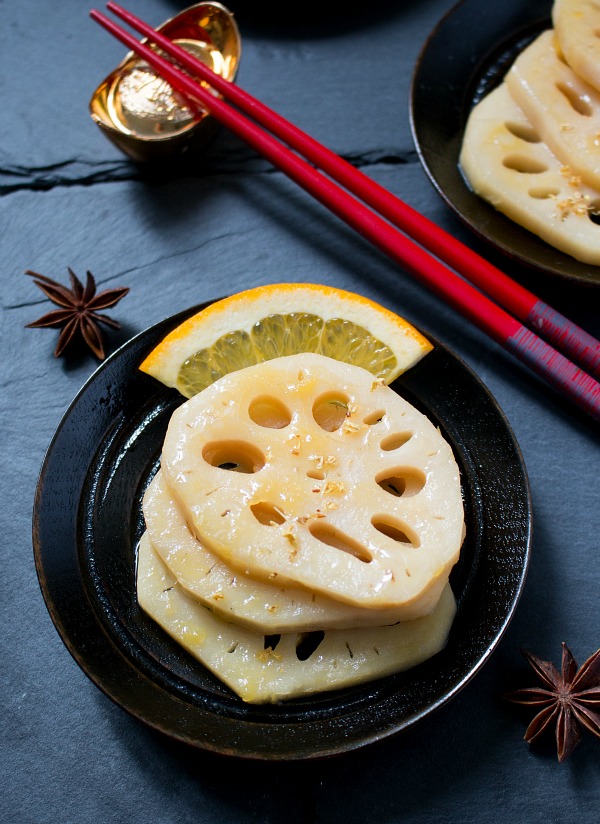 Braised orange anise lotus roots is such a healthy dish that you could really even eat this as part of your breakfast or as a healthy snack.
I personally love eating braised orange anise lotus roots at room temperature or cold. Actually, I have been eating them straight out of the refrigerator for the last couple of days ...but shh that is our little secret.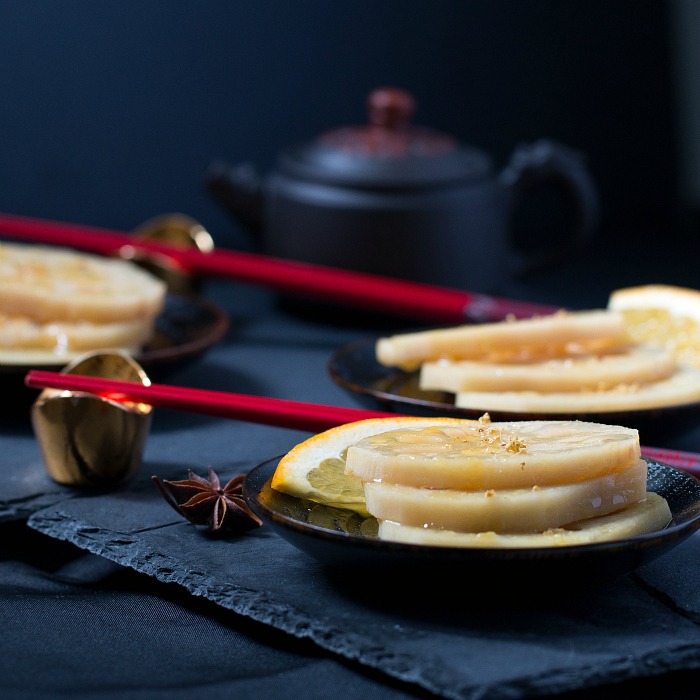 These dessert lotus roots are gluten-free, fat-free, vegan, dairy-free and the perfect little healthy sweet bite for your next gathering. These little treats are perfect with a hot pot Tranquil Lemon Ginger Tea and a few friends and family.
What is the lotus root?
Lotus root is an edible rhizome (root) of lotus plant and can be categorized as a root vegetable.
Have you ever seen these in a pond the flowers that float on top? This most likely is lotus flower but the root that grows below is the part known as the lotus root. Most commonly harvested and used in Asia but you still find lotus roots in your Asian grocery stores around the world.
Where to Purchase?
Sometimes you can find lotus roots in the vegetable section whole. Other times you may find them in packages peeled sliced and preserved.
Whether you find lotus roots freshly picked, fresh packaged in preserving liquid or canned, all of these will work fine in this recipe. If you have any leftover lotus root be sure to try our Spicy Lotus Root Stir Fry
Traditional Chinese Medicine
Lotus roots and oranges are cooling in Chinese medicine and they also are full of B and C vitamins, iron and fiber.
Anise is a warming spice.
Honey is neutral.
In Traditional Chinese Medicine, the combination of all of these together makes this recipe very balanced. Please read the Introducing the Five Energies of Foods to learn more about this concept.
How to Prepare Lotus Root?
Just like artichokes or avocado, once you peel and cut your lotus root you need to sprinkle and rub with lemon to prevent discoloration and oxidations. (If you forget, no worries there is nothing wrong but it may turn a little gray in color. )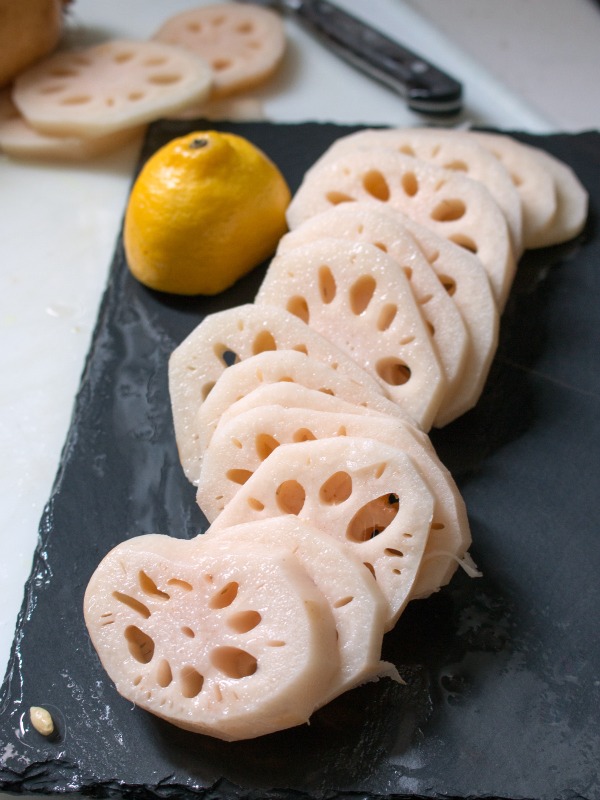 2) A very important step is to first boil your lotus roots for just about 3 minutes just to release any of the toxins out. I throw in my lemon halves in the boiling water and my lotus roots stay beautifully white.
3) They are not toxic, really, but lotus roots need to be cleaned thoroughly as they can sometime harbor little parasites. I don't want to freak you out about this but it is important to clean them well and for all intents and purposes that is what the boiling does.
4) Then, drain, rinse and then start the cooking process. If you like lotus root, you may like to try our Garlic Chili Stir Fried Lotus Root.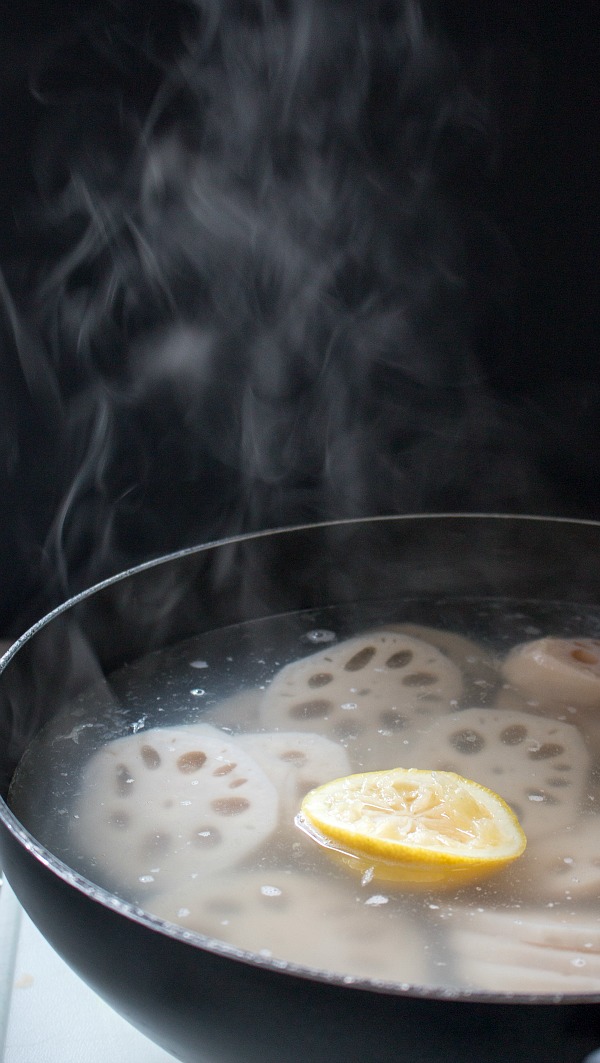 Ingredients
Fresh squeezed oranges are best. However, you could certainly use canned/boxed orange juice.
Whole star anise seeds can be exchange with 1 teaspoon of 5 spiced powder.
Guihau (Osmanthus flowers) were used to garnish but that is not required. You could garnish with a little orange zest and a little of the orange anise honey sauce reduction.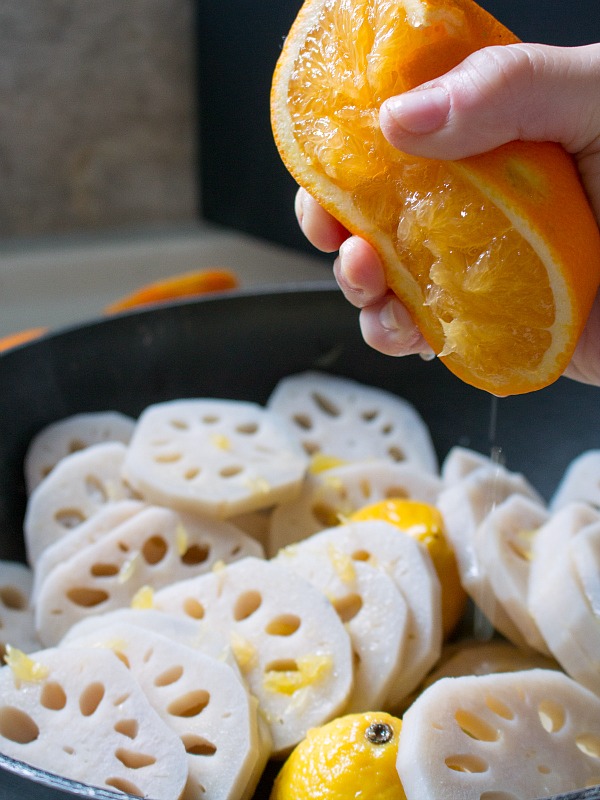 Cooking Hints
It is important to cook low and slow.
This braising method does not include a drop of oil or fat.
After the initial 3 minutes boil, rinse and drain you are going to simmer your lotus root, anise for about 30 minutes.
Then add your honey. Reduce sauce until the orange juice has reduced by 75 percent. At this point you are left with just a thicker orange anise honey reduction.
Do not leave your wok unattended during the last 15 minutes after you add the honey, unless you need a good work out cleaning your pans...!!!! Trust me on this piece on information.
You may want to drizzle more honey on your braised orange anise lotus roots to thicken the sauce and satisfy your sweet tooth.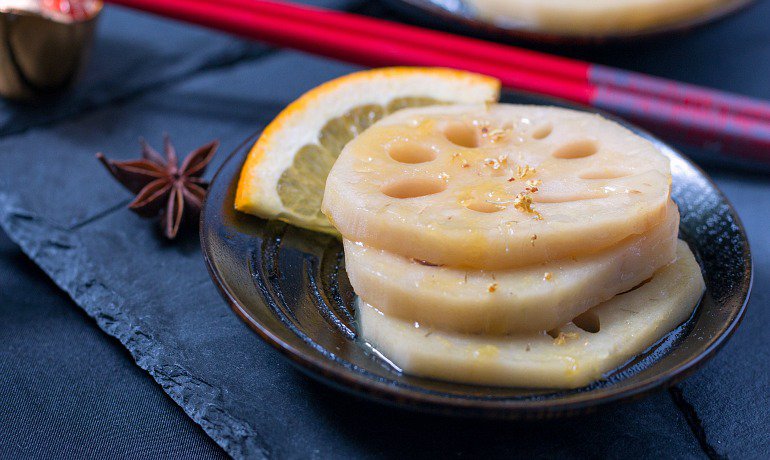 More Delicious Chinese New Year Recipes
Did You Like Our Recipe? Leave a ⭐⭐⭐⭐⭐ rating and/or a review in the comments section below. Your feedback is always appreciated! Follow us for more delicious recipes on Pinterest, Instagram, Twitter and Facebook! Don't forget to sign up for our email list for more free recipes.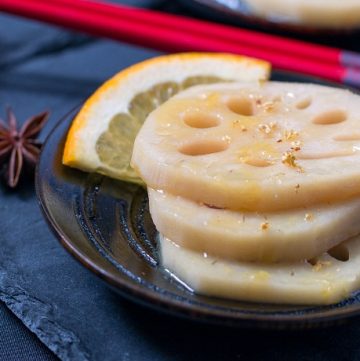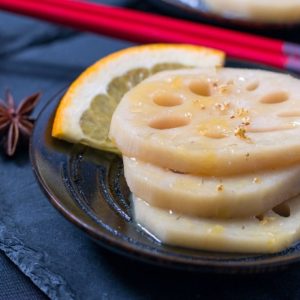 Braised Orange Anise Lotus Root
Delicately sweet braised orange anise lotus root is cooked and topped with an orange anise honey reduction.
Print
Pin
Rate
Ingredients
2

tablespoon

lemon juice


300

grams

lotus root


2 sections peeled, washed and sliced into ¼ inch pieces (can use canned or preserved lotus in plastic)

water

enough to cover the lotus root in wok or pan


1.5

cups

orange juice


freshly squeezed (or can use canned/boxed OJ)

4

whole

star anise


(or 1 teaspoon ground 5 spice powder)

3

tablespoon

honey

( add more if you like it sweeter or if your oranges are not sweet enough for you)

1

teaspoon

osmanthus flower

optional for garnish
Instructions
Wash, peel and slice your lotus root. Make sure you immediately sprinkle and rub the lemon juice on top to prevent oxidation. I used a peeler. Make sure you don't take to much off as just beneath are the little round holes that look pretty to display.

Place your lotus roots, lemon peel and just enough water to cover the lotus roots and boil for about 3 minutes. Drain lotus roots and rinse with cold water. Set aside the lemon rinds as you will no longer need these.

Place the lotus toot back into the wok/pan and add 1.5 cups of orange juice and star anise to the wok. Simmer for 30 minutes stirring the lotus roots occasionally. Add honey and simmer and stir just until about 75 percent of the orange anise honey sauce is reduced about 15 minutes. Taste the sauce and add more honey if you like it sweeter. Set aside.

Place your braised orange anise lotus roots on plates and spoon over the orange anise honey reduction and garnish with guihau (Osmanthus flowers). Enjoy!
Notes
Sometimes you can find frozen lotus root in the Asian Market.
We only like our dishes lightly sweetened so add more honey or sugar (sugar alternative) to your desired level.
Do not leave your wok unattended during the last 15 minutes after you add the honey, unless you need a good work out cleaning your pans...!!!! Trust me on this piece on information. Testing recipes always gives me the opportunity to push the limits...!
Best served either at room temperature or chilled. Best eaten on the same day.
Nutrition
Serving:
1
g
|
Calories:
75
kcal
|
Carbohydrates:
18
g
|
Protein:
1
g
|
Fat:
1
g
|
Saturated Fat:
1
g
|
Sodium:
16
mg
|
Potassium:
309
mg
|
Fiber:
2
g
|
Sugar:
10
g
|
Vitamin A:
93
IU
|
Vitamin C:
41
mg
|
Calcium:
25
mg
|
Iron:
1
mg