Sweet Potato Green Purses are little dim sum spring rolls filled with juicy pork, sweet potato greens, tofu and Chinese herbs tied up with a little chives purse string and steamed and pan-fried until delicately crispy and then plunged into a zesty ginger soy sauce.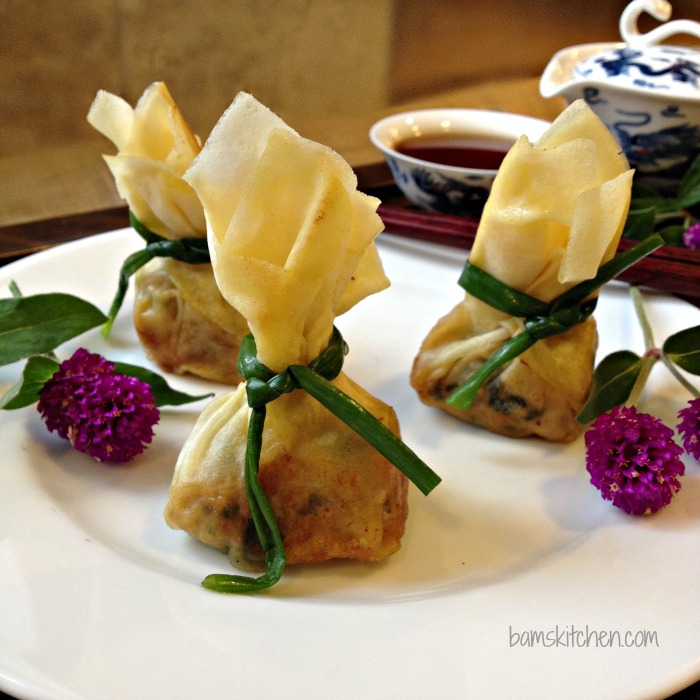 The best way you get to know a country is through its people, language and you guessed it "The Food". Food is something that transcends all cultures, ages, and religions and is a great way to meet new people in a foreign place.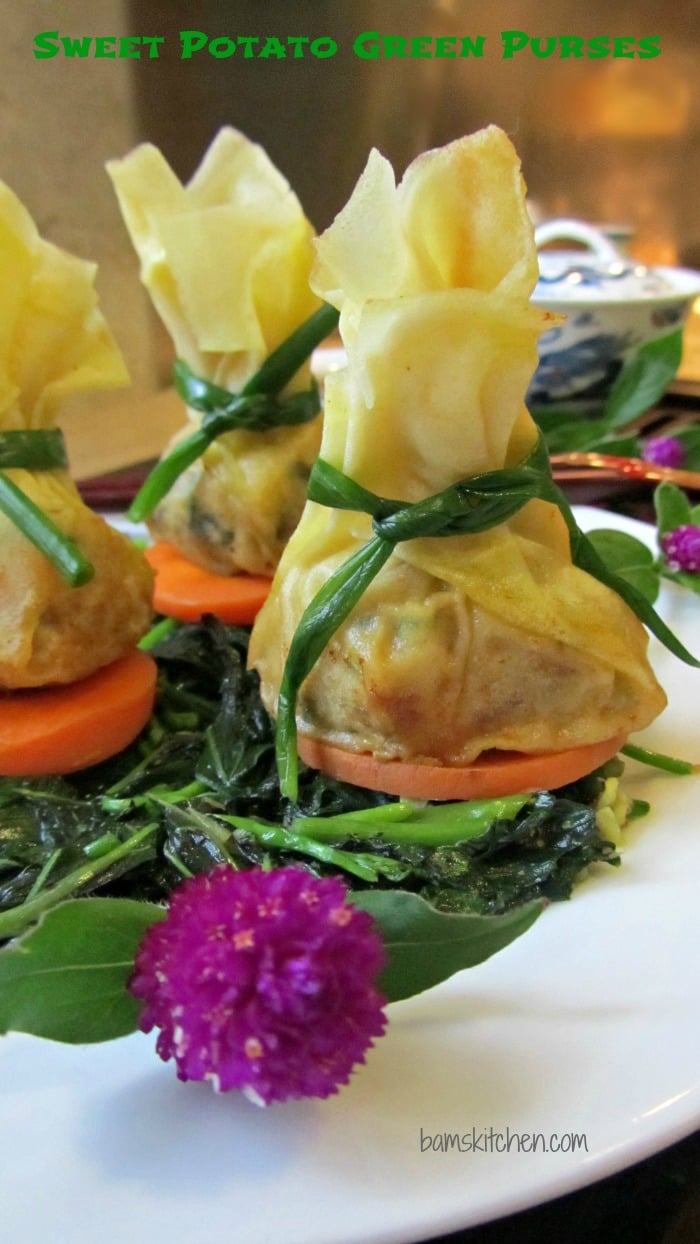 I think one of the best ways to get to know Hong Kong is at their wet markets. A wet market is kind of like a farmer's market on steroids. The same vendor shows up every day, twice a day, at the same stall selling their bounty of fresh fish, fruits, meats, tofu, flowers and delicious fresh vegetables in season.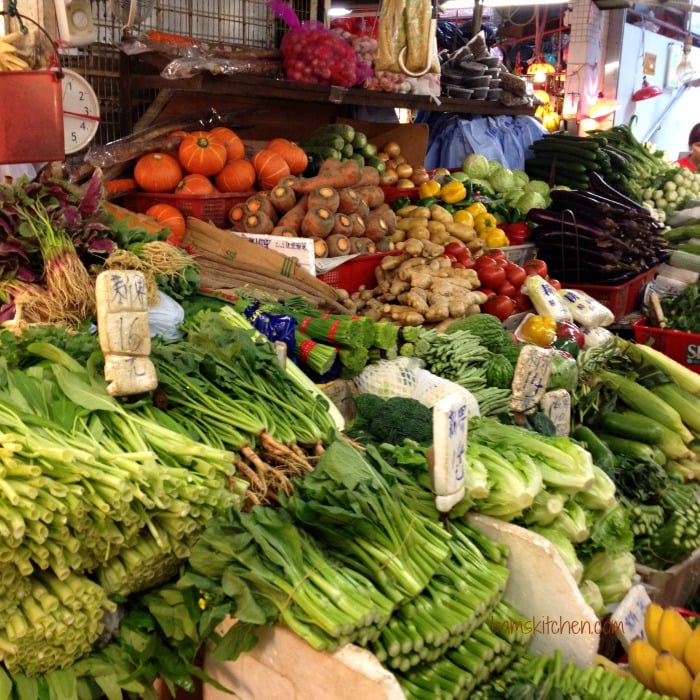 Are you familiar with VRAI Magazine?
The VRAI Magazine is wonderful online magazine about lifestyle, travel, home and garden and of course--- food. I hope you will take a moment to stop over and see my latest article about a tour of Hong Kong's wet markets and a matching recipe with my lucky wet market finds. Please click HERE for the VRAI Magazine link.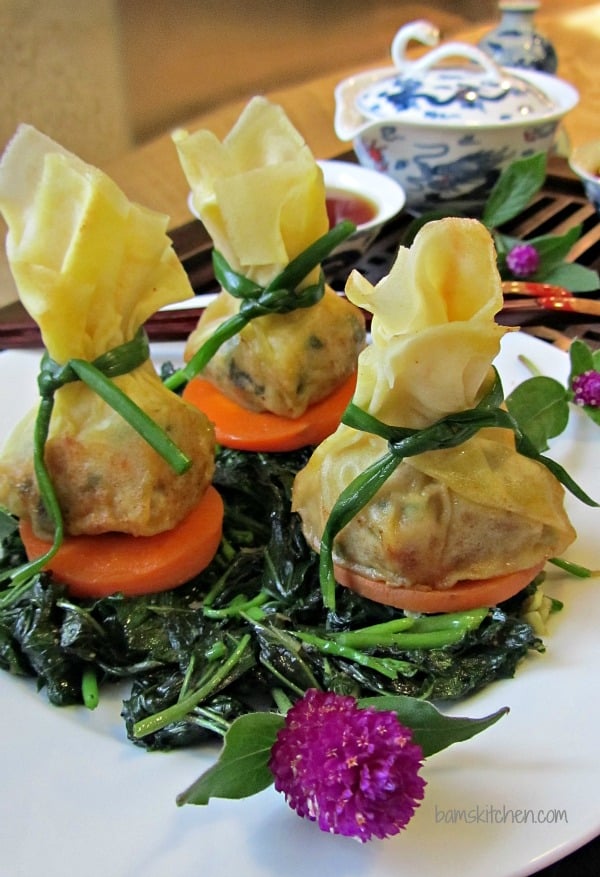 I visited the Aberdeen market early in the morning to see what was fresh and in season. I saw a new vegetable I had never seen before and started asking around about this green small-leaved vegetable. Some leaves are heart-shaped.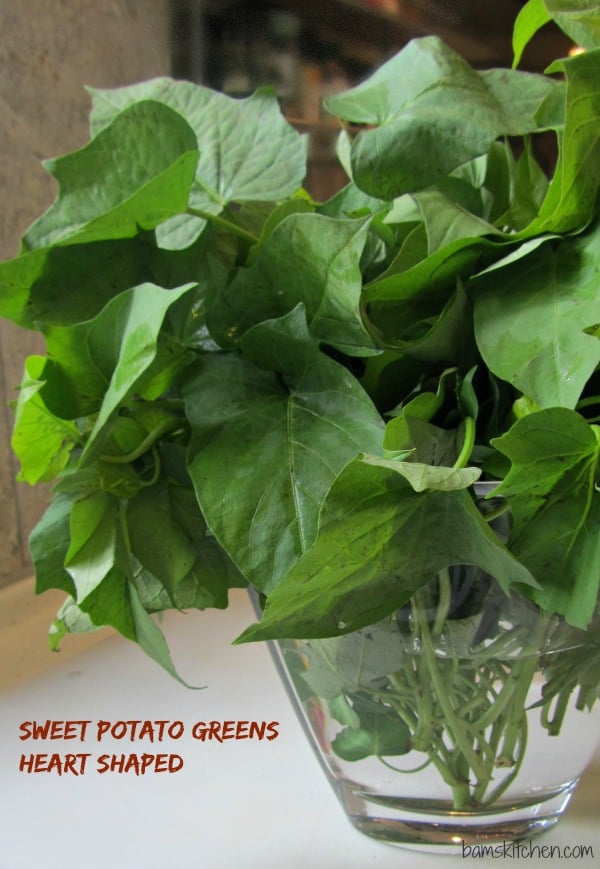 Some leaves have pointy ends and they are called sweet potato greens (Ipomoea batatas). The leaves or tops to those sweet potatoes you eat are harvested and super delicious especially with lots of garlic, of course!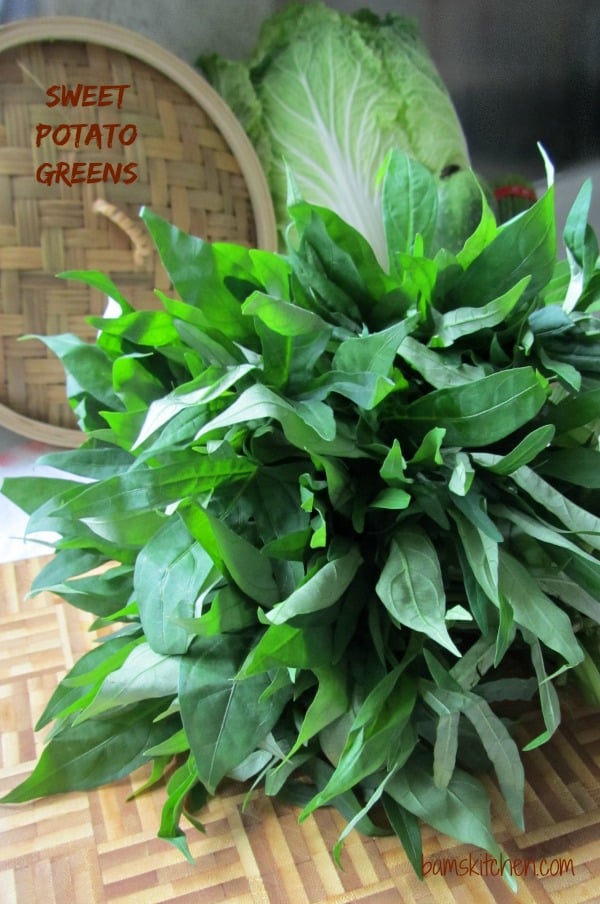 Sweet potato greens are not only delicious but are also very nutritious. Sweet potato greens are in the same category as spinach and are high in iron and beta carotene. Sweet potato greens are slightly sweet when sautéed with a little bit of garlic or used in soups or stir fries. If you like a little heat in your dishes, then also add a little fresh chili for bit of kick. In Chinese medicine, it is believed that sweet potato greens improve immunity, promote metabolism, prevent ageing and is anti-cancer. Both of my boys just can't seem to get enough of this vegetable so if you see it in the market buy lots as it cooks down much like spinach.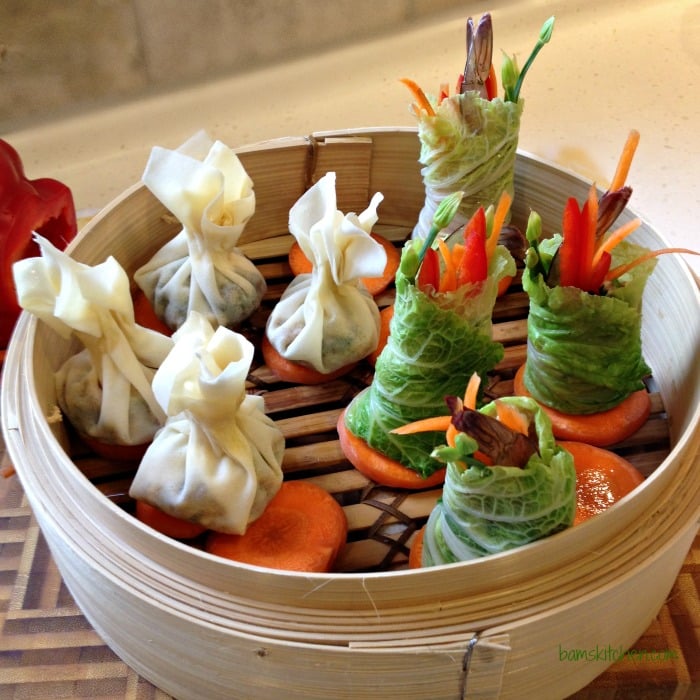 I want to share with you a recipe that is near and dear to all of Hong Kong and that is a dim sum recipe. Dim Sum which literally translates as "Touching the Heart" has been a core part of the Cantonese culture for decades. Dim Sum are various little Cantonese dishes made with love that fill your mouth, mind and soul with satisfaction.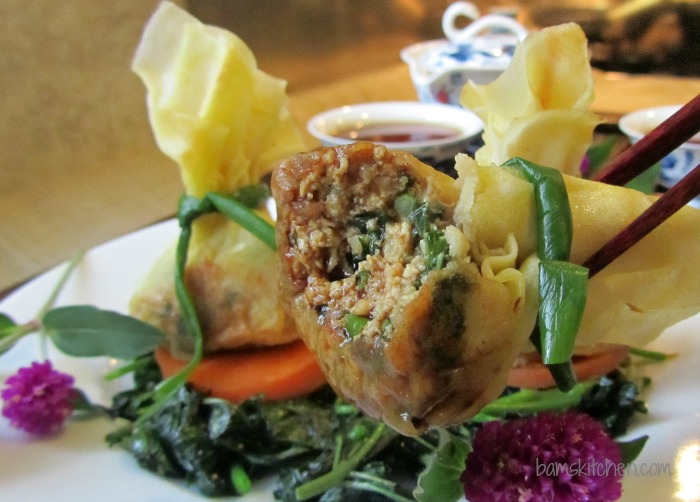 Dim Sum grew from a tradition along the ancient Silk Road in China. Farmers, labourers and travelers, weary from their efforts, stopped to rest in a roadside teahouse. The term "yum cha," (飲茶) means to drink tea. It took many centuries for the custom to grow and develop and it was considered unhealthy to combine tea with food as it was thought to cause weight gain. Tea was a staple and was found to actually aid in the digestive process. It was then that the owners of the tea house began adding small snacks which became known as "Dim Sum", to touch the heart, as a delicate snack with the tea.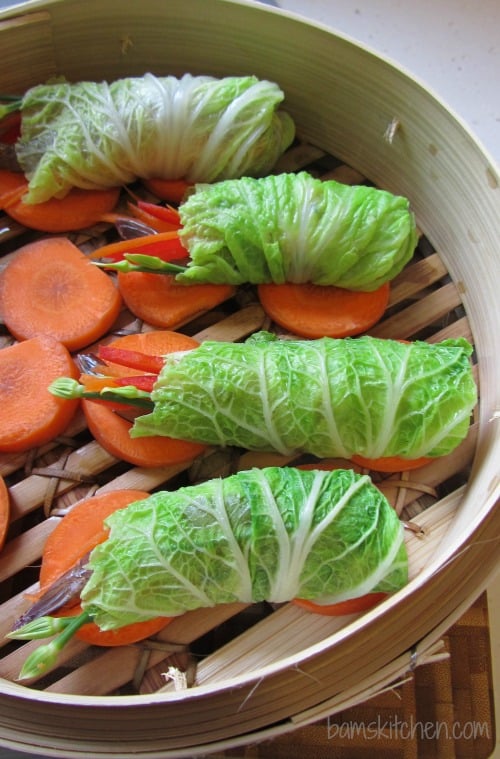 I am very aware that Asian products are difficult to find in Western Markets. So with this in mind, the only item is spring roll wrappers and I know that many of you can find these in the freezer section or in the Asian markets. For this recipe, Sweet Potato green Purses, feel free to substitute spinach for the sweet potato greens and it is just as delightful.
In addition, for my gluten-free and cardiac friendly friends I made a modified version of this recipe using Chinese cabbage leaves instead of spring roll wrappers and steaming only instead of pan frying.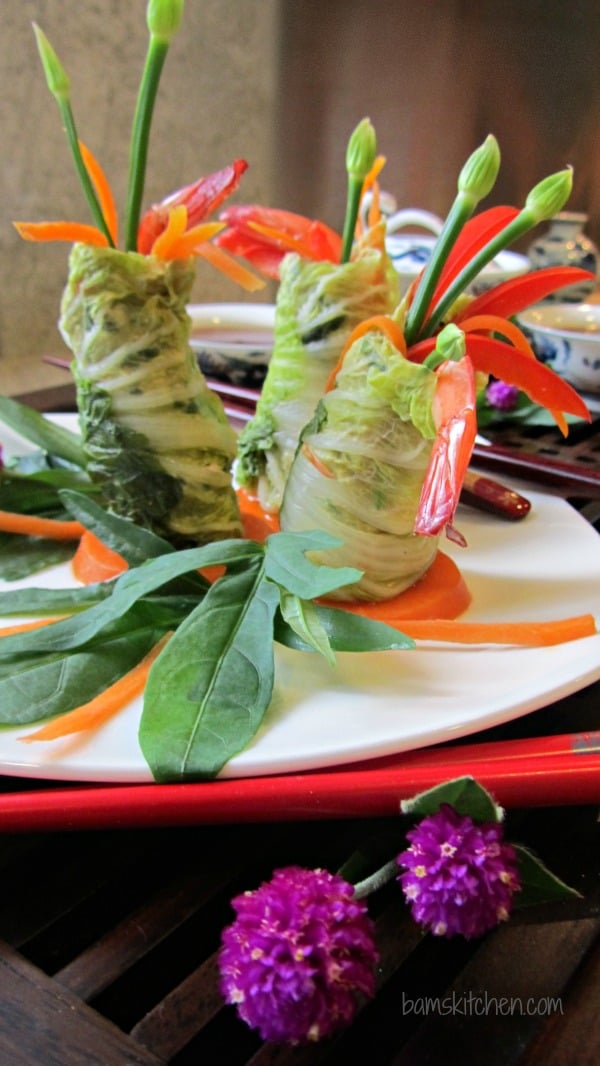 This recipe is very easy even for the beginner dim sum chef and makes an impressive starter or dim sum course for a dinner party. You do not need a fancy bamboo steaming basket. All you need is a pan with a lid and you are in business.
More Delicious Chinese Dim Sum Recipes
Homemade Chinese Dumplings (Jiaozi 饺子)
Hungry For More? Subscribe to our Newsletter and follow along on Facebook, You Tube, Instagram, and Pinterest for all the latest updates.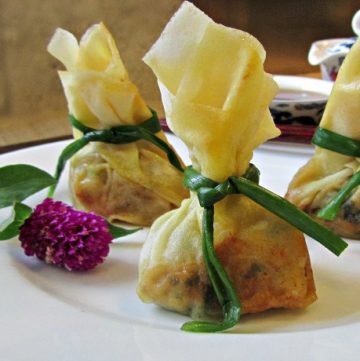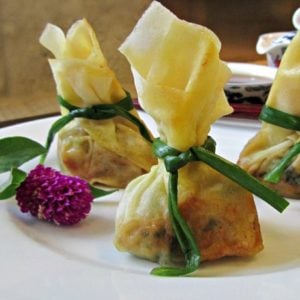 Sweet Potato Green Purses
Sweet Potato Green Purses are little dim sum spring rolls filled with juicy pork, sweet potato greens, tofu and Chinese herbs tied up with a little chives purse string and steamed and pan-fried until delicately crispy and then plunged into a zesty ginger soy sauce.
Print
Pin
Rate
Ingredients
Sweet Potato Green Purses
½

pound

ground pork


¼

pound

shrimp


(deveined, tail removed, washed and chopped finely)

¼

cup

tofu

soft

2-3

garlic chives


minced

3

cloves

garlic


peeled and minced

1

teaspoon

ginger

grated or finely minced


2

tablespoon

rice wine (shao xing)

(can substitute cooking sherry)


2

tablespoon

tamari (soy) sauce

¼

teaspoon

white pepper


1

teaspoon

sesame oil

2

tablespoon

canola oil - 1 teaspoon and 1 tablespoon

8

oz

sweet potato greens (leaves)


or can use spinach leaves

salt


to taste

16

spring roll rice papers (wrappers)


1

egg


beaten
Dipping Sauce
¼

cup

tamari (soy) sauce - ¼ cup

2

teaspoon

Chinese black rice dark vinegar


⅓

teaspoon

ginger

freshly grated
Instructions
Mix ground pork, shrimp, tofu, garlic chives, 2 chopped cloves of garlic (save one of the chopped garlic to cook the sweet potato greens) ginger, shaoxing wine, soy sauce, white pepper, sesame oil in a bowl and mix well. Ser aside.Remove your frozen wontons from the freezer, as they need about 10 minutes to defrost.

In a wok add 1 teaspoon of oil, and chopped garlic and stir-fry just until aromatic and then add the sweet potato greens and stir-fry just until leaves start to wilt and salt to taste. Remove from heat, cool and make sure you drain well by squeezing the excess moisture in your hands. Add the sweet potato greens to the pork/shrimp and tofu mixture and stir well.

Place one wonton on your clean counter. Add about 1 tablespoon of pork/shrimp/tofu mixture in the center of the wonton. Brush your egg wash along the edges of the wonton. Fold the wonton diagonally into a triangle shape. Then with your fingers bring the edges up and around to make a purse shape. Please try to get rid all of the air so you have a tight little package.

Add 1 tablespoon of oil into you wok or frying pan. Place your little sweet potato purses in wok/frying pan with the bottoms down first. Fry for about 2-3 minutes until bottom is golden brown. Then add a little bit of water about ¼ cup into wok/frying pan, cover, turn the heat down to a medium simmer and allow the sweet potato purses to lightly steam for about 12 minutes more.

In a small pot steam the green onions just until lightly softened.Remove sweet potato purses from your pan and tie softened green onion around the purse and tie.

Make the dipping sauce. Mix the soy sauce, Chinese vinegar and ginger together.

Take a small bit out of the bottom of the sweet potato green purse and add a little spoonful of the dipping sauce on it and enjoy.
Nutrition
Serving:
1
g
|
Calories:
135
kcal
|
Carbohydrates:
12
g
|
Protein:
7
g
|
Fat:
6
g
|
Saturated Fat:
1
g
|
Cholesterol:
40
mg
|
Sodium:
515
mg
|
Potassium:
160
mg
|
Fiber:
1
g
|
Sugar:
1
g
|
Vitamin A:
1349
IU
|
Vitamin C:
5
mg
|
Calcium:
43
mg
|
Iron:
2
mg