Tofu Veggie Pancakes are crisp around edges and smooth and silky smooth in the centre with plenty of fresh vegetables and crunchy fresh bamboo with a zingy dipping sauce. (Gluten-free, egg-free, vegan and lactose-free)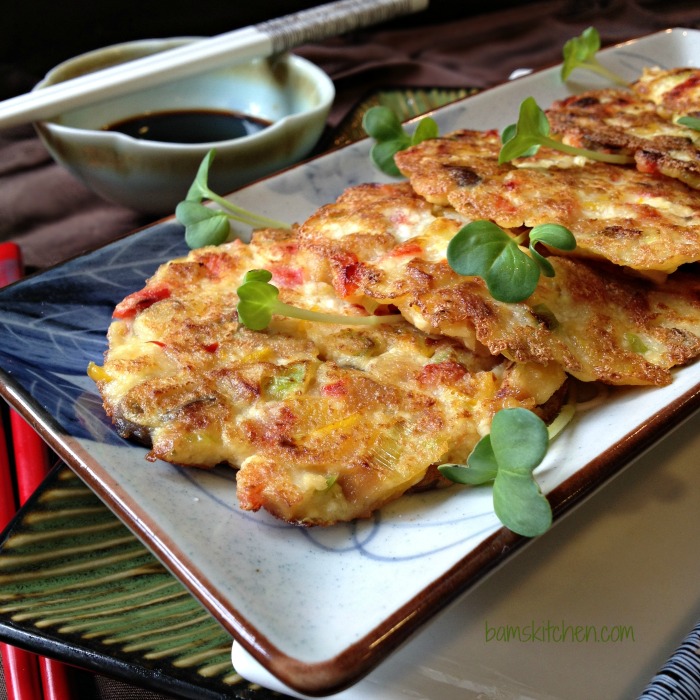 Chi Lin Nunnery and Vegan Dim Sum
Have you ever visited the Chi Lin Nunnery and Nan Lian Gardens in Diamond Hill, Hong Kong? Once you step inside this beautiful monastery and gardens you will have stepped into a tranquil, peaceful and quiet place away from the hustle and bustle of city life.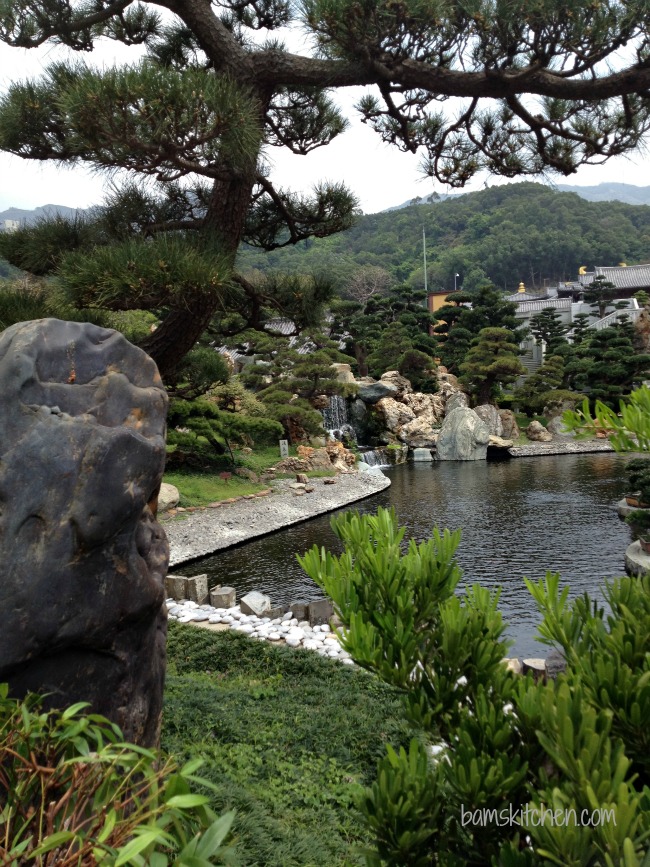 The Chi Lin Nunnery is a large temple complex of elegant wooden architecture, treasured Buddhist relics and soul-soothing lotus ponds.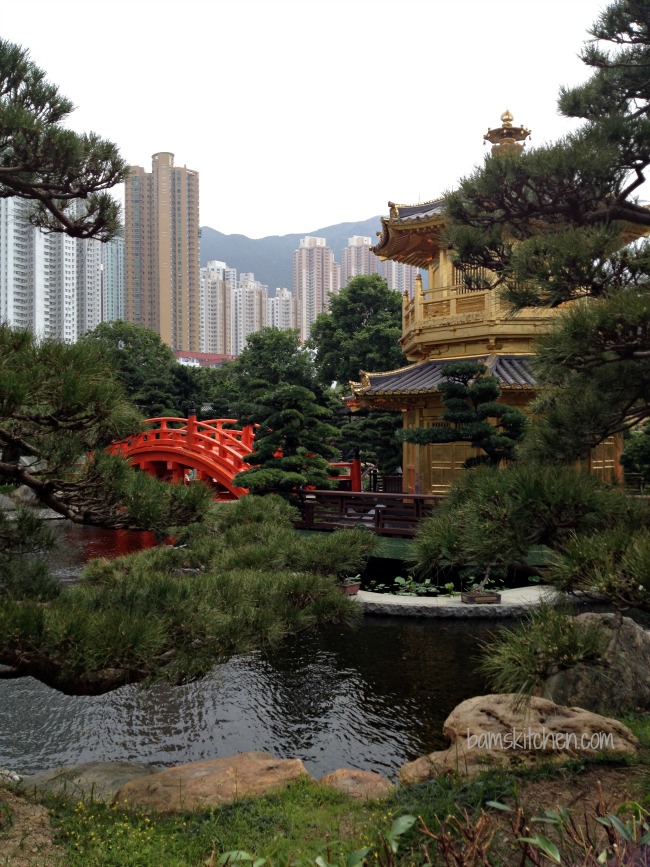 The attached Nan Lian Gardens are for me the most stunning part of the experience. They say it is Tang dynasty style but after living in Japan I think the there is a large Japanese influence in the flora and rock formations.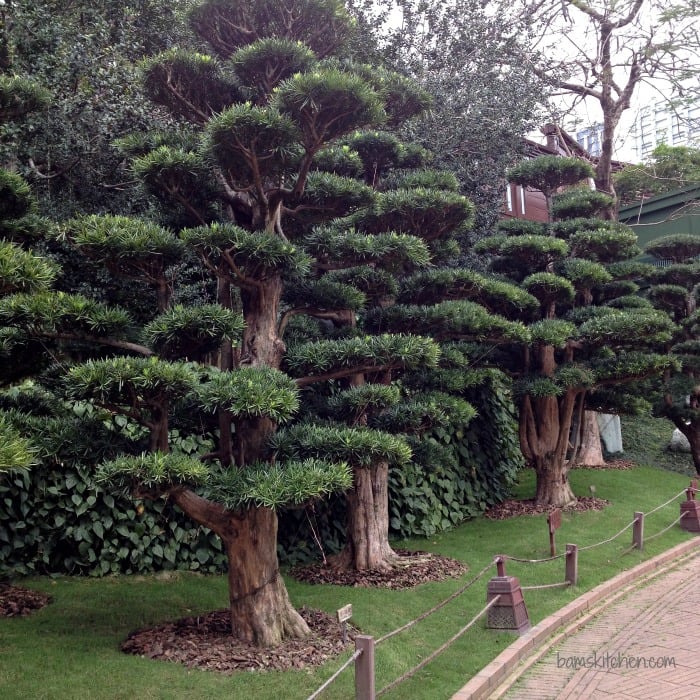 After you spend a couple of hours soaking in the beauty, you can enjoy a lovely vegetarian dim sum lunch right under the waterfall. The Chi Lin Vegetarian Restaurant 龍門樓 - 志蓮素齋 is a beautiful place with a lovely menu. I was enjoying a 5 course set lunch menu. Oh my goodness they give you so much food and even if you are a meat eater you will find these little dim sum dishes satisfying.
I noticed across the crowded dim sum dining room a book for sale and it was their own Chi Lin Vegetarian cookbook so I snagged one up and I was off try some of these delicious vegetarian dim sum dishes.
Tofu Veggie Pancakes and Crunchy Vegetables
The recipe book is written in both Chinese and English and after experimenting with their recipe I have added a few ingredients. You can really add any vegetables you like to the mix but Chinese vegetables are delightful if you are serving this as a dim sum. The ingredient that makes this dish so fresh and lovely is the orange zest, it really brightens the dish. In addition, I highly suggest the addition of crunchy fresh bamboo or even water chestnuts as it is nice to have the fun textures with the silky tofu pancake.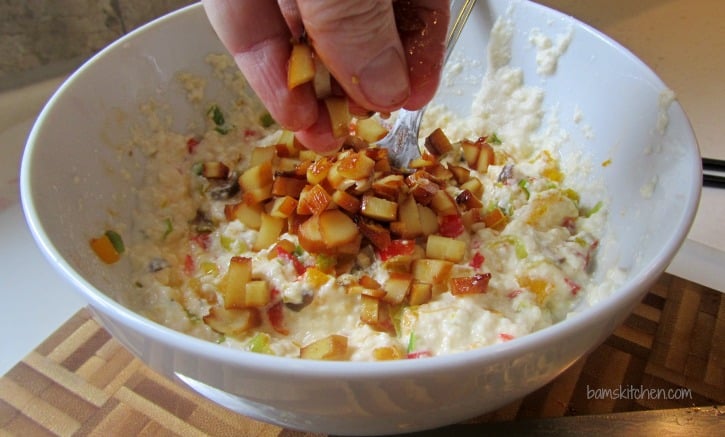 I used my Star Anise Braised Bamboo and a little 5 spice powder to the tofu veggie pancake mix and it was really nice. Some things that I learned along the way is that using well-drained soft tofu works best and I had to adjust the recipe and add 2 heaping tablespoons of cornstarch to get the batter a real thick pancake mix texture, almost like small cottage cheese.
Keeping this recipe Light
Depending on how well you drain your tofu, you may need to add more cornstarch to get the texture desired. I also opted to make my version lighter as instead of frying my pancakes in oil I just used a little cooking spray (Pam) on the bottom of my non-stick frying pan and it worked like a charm.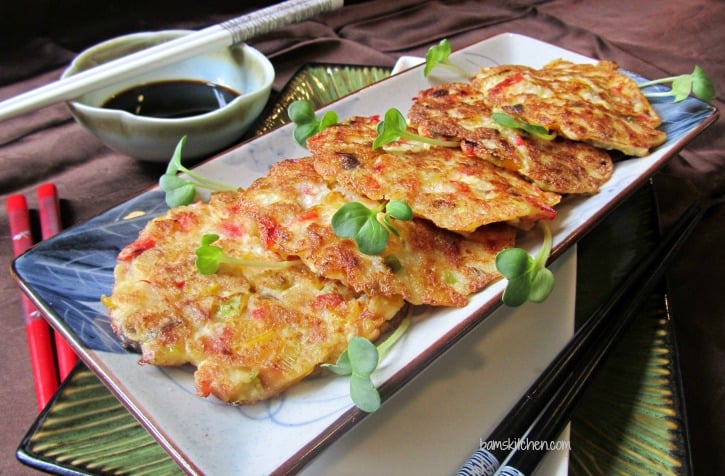 Tips for Recipe Success
I also cooked more than one pancake at a time but kept a bigger distance between each in the frying pan so it was easy to flip them over and it really made the whole process go faster. You just drop about one heaping tablespoon in the pan and lightly flatten with the back of your spoon and gently cook until lightly brown on each side, just like cooking a pancake but these are much more fragile.
Be patient during the flipping process and take your time. The first couple of flips might be the cooks snack but I promise you after you do one to do you will be a pro.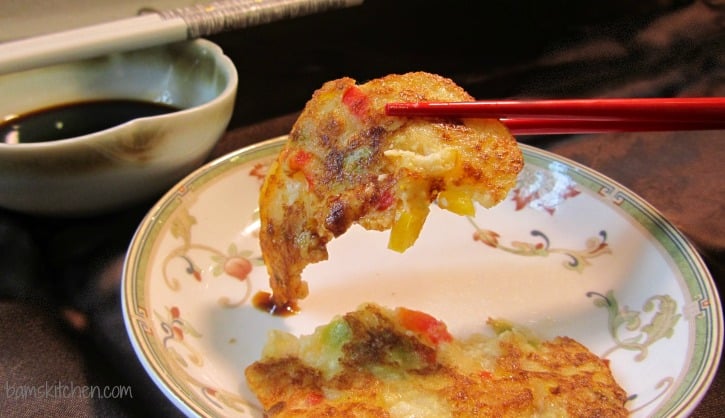 Dipping Sauce
I also made a zippy little dipping sauce to serve on the side made simply with a little tamari (soy) sauce, sesame oil, garlic, ginger and grated diakon radish. If you do not have access to diakon radish, no worries, as it is great without too. Maybe instead just add a couple of slices of fresh chillies to the dipping sauce if you like a little heat.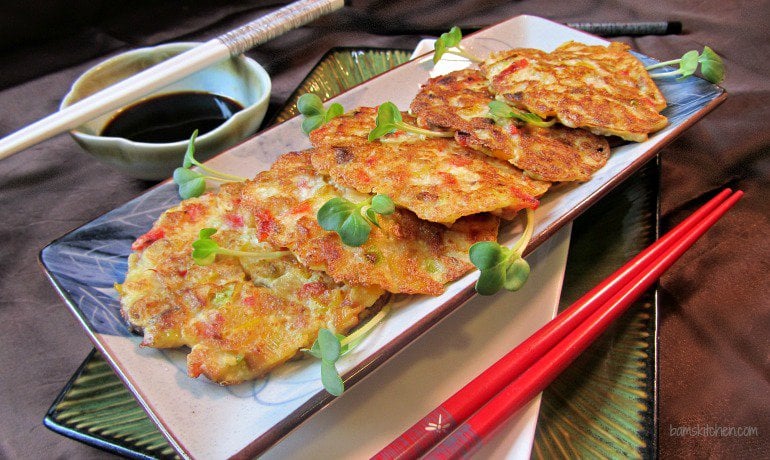 Tofu Veggie Pancakes is a great little vegetarian dim sum dish. You could also serve this as an appetizer or even a midnight snack.
More Delicious Recipes with Tofu
Vegetable Tofu Ricotta Lasagna
Thai Curry Turkey Tofu Meatballs
Join the HWC Foodie Community. Subscribe to our Newsletter and follow along on Facebook, You Tube, Instagram, and Pinterest for all the latest updates.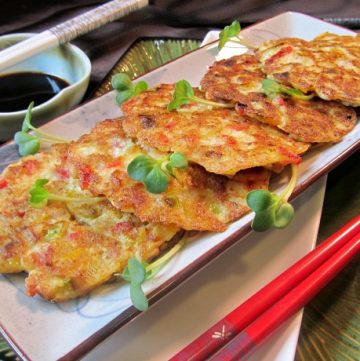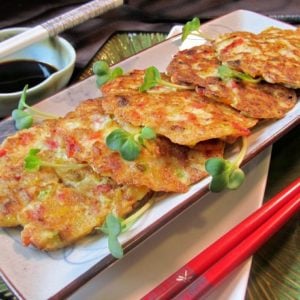 Tofu Veggie Pancakes
Tofu Veggie Pancakes are crisp around edges and smooth and silky smooth in the centre with plenty of fresh vegetables and crunchy fresh bamboo with a zingy dipping sauce. (Gluten-free, egg-free, vegan and lactose-free)
Print
Pin
Rate
Ingredients
10

oz

tofu

soft

¼

teaspoon

salt


2 to 3

tablespoon

cornstarch

1

tablespoon

olive oil


4

tablespoon

bamboo shoots

cooked and chopped

2

tablespoon

bell peppers

(red and yellow) finely chopped

1

tablespoon

leek

chopped (or garlic chives would be nice too)

2

tablespoon

enoki mushrooms

chopped fresh (not dried)

1

tablespoon

tamari (soy) sauce


¼

teaspoon

white pepper


1

teaspoon

five spice powder


1

teaspoon

orange zest

(or crushed dried tangerine peel)

salt


to taste

cooking spray


as needed
Dipping Sauce
1-2

tablespoon

tamari (soy) sauce


1

clove

garlic


peeled and chopped finely

1

teaspoon

ginger

peeled and grated - fresh

½

teaspoon

sesame oil


1

teaspoon

daikon radish

(white Asian radish) grated- optional
Instructions
Place your drained tofu in a bowl with salt and sprinkle on the salt. Let the tofu marinate for about 5 minutes (This process helps the water escape from the tofu, a tofu press if you have one of those would also be a great option). Drain the water from the tofu and mash with fork. Add about 2 to 3 tablespoons of cornstarch and mix well. You may need to add a little more cornstarch to get the right consistency, depending on how well you drained the water. You are looking for it to be the same consistency as super thick ricotta cheese or if you held your spoon on a tilt it stays on the spoon. Set aside.

Heat up 1 tablespoon of olive oil in wok and sauté the bamboo shoots, bell peppers, leeks, mushrooms just until the vegetables start to become aromatic or about 1 minute. Add tamari (soy) sauce, white powder, 5 spice powder, and orange zest and stir until well incorporated.


Add the cooked vegetable mixture to the tofu puree, add salt to taste and mix well.


Spray your non-stick frying pan with cooking spray and heat up to medium. Drop tablespoon of the tofu mixture into the pan and flatten gently. Fry gently about 2-3 minutes or until golden brown on each side. Be very careful when you turn them as they are very fragile. Also do not put your tofu veggie pancakes to close to one another in the pan or it will make it difficult to flip over. (If your first tofu veggie pancake was too difficult to turn, you need to add more cornstarch to your tofu veggie pancake batter and try it again.)

Make your dipping sauce. In a small bowl add tamari (soy) sauce, garlic, grated ginger, sesame oil and some grated diakon. Mix and serve with Tofu Veggie Pancakes. Enjoy!

Notes
The ingredient that makes this dish so fresh and lovely is the orange zest (or can use the little mandarin oranges that are in season now too), it really brightens the dish. In addition, I highly suggest the addition of crunchy fresh bamboo or even water chestnuts as it is nice to have the fun textures with the silky tofu pancake. However, use what you have on hand. This is a great recipe to use up those little bits and bobs of leftover vegetables.
The most important step is making sure your tofu is really dry. If you have a tofu press, that would be very handy. If not, just make sure after you allow the salt to draw out the moisture from the tofu, you dry it extra well with paper towels or tea towel.
Your tofu pancake batter needs to be as thicker than ricotta cheese or otherwise your pancakes will be very difficult to turn in the pan. We start out with adding about 2 tablespoons cornstarch and then just keep adding a little more at a time until we reach this consistency. When we can hold the spoon on an angle and the tofu stays on the spoon, you are there.
If you fry your first tofu veggie pancake and it is really difficult to turn or it crumbles, it is because you need to add more cornstarch to your pancake mixture. Add a little more cornstarch and give it a go again.
Nutrition
Serving:
1
g
|
Calories:
261
kcal
|
Carbohydrates:
17
g
|
Protein:
16
g
|
Fat:
15
g
|
Saturated Fat:
2
g
|
Sodium:
1308
mg
|
Potassium:
163
mg
|
Fiber:
3
g
|
Sugar:
2
g
|
Vitamin A:
414
IU
|
Vitamin C:
16
mg
|
Calcium:
190
mg
|
Iron:
3
mg