These Top 18 Healthy Stir Fry Dishes can be made in under 30 minutes and are a simple and easy dinner any night of the week.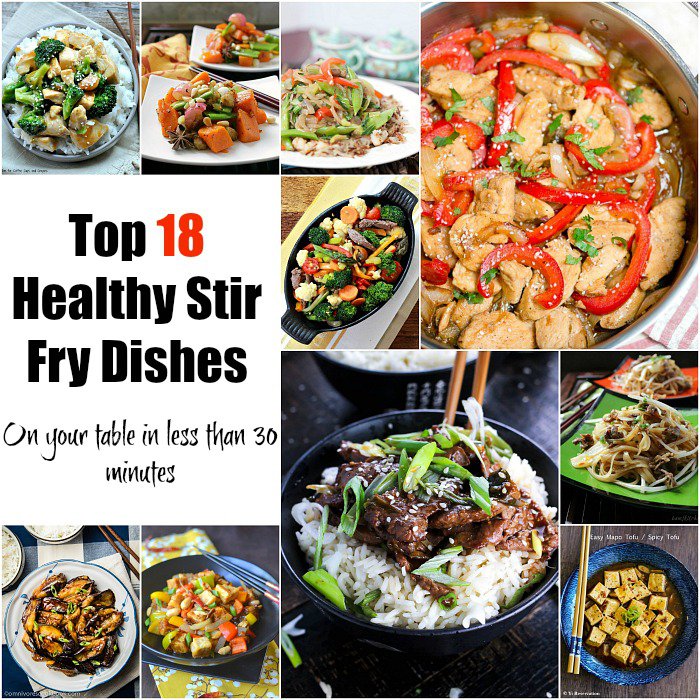 These Top 18 Healthy Stir Fry Dishes are perfect for those busy work week days, are packed with fresh veggies, take less than 30 minutes to make and are easy on the wallet.
It is just about this time of the year that we start to lose steam with our New Years resolution of eating healthy and keeping on track. These Top 18 Healthy Stir Fry Dishes are just what you need to stay on course.
We have teamed up with some amazing bloggers to bring to you dishes from China, Philippines, Japan, Thailand, Asian Fusion and American-Chinese stir fry dishes to keep your weeknight meals quick, easy and colorful.
1) Skinnier PF Changs Mongolian Beef / Girl in the Kitchen
An impressive copy cat recipe of the famous Mongolian Beef . This recipe is so quick and easy there is no need to even think about waiting for a table at PF Chang's on a Friday night.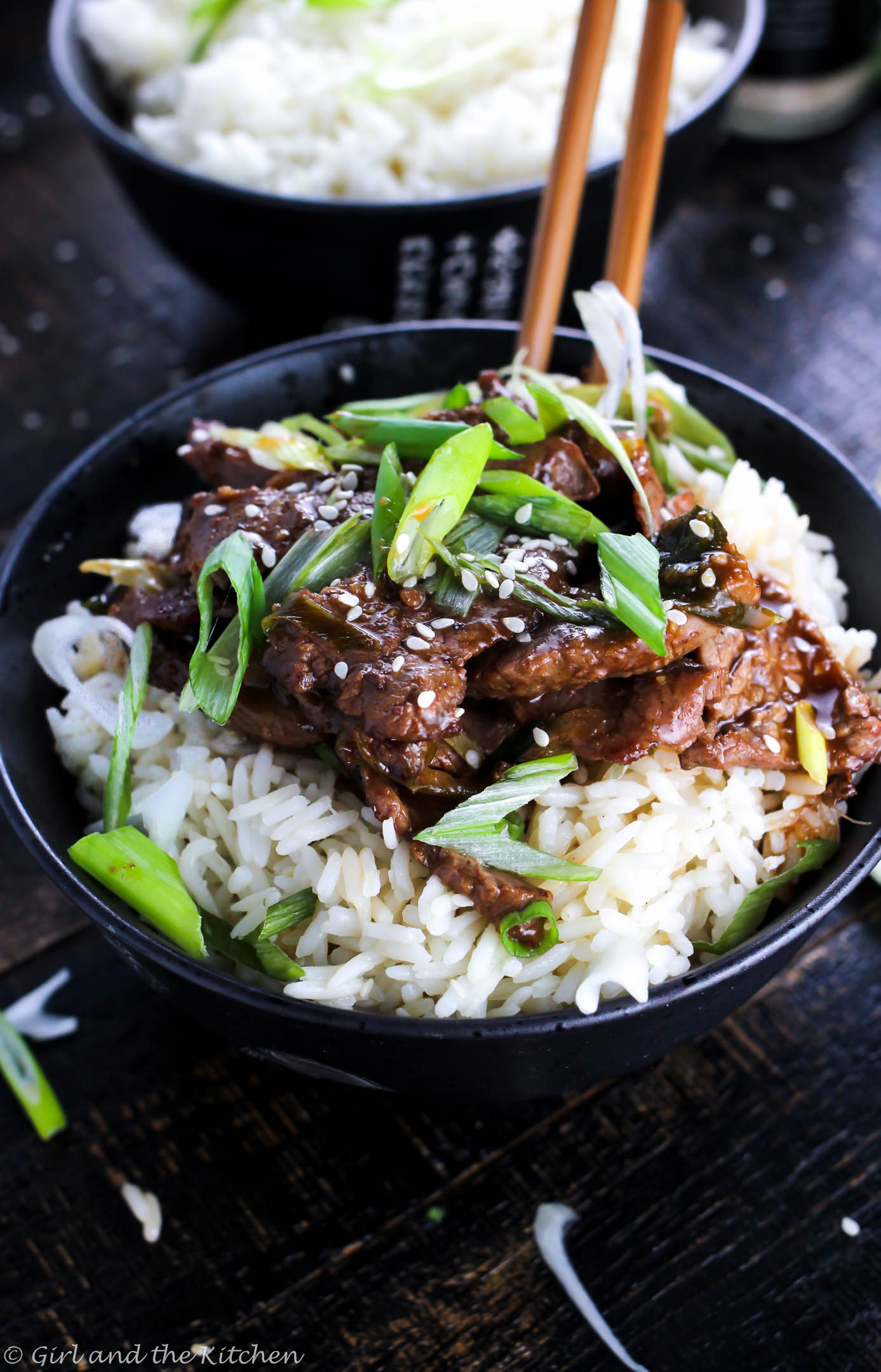 2) Spicy Pork and Bamboo Stir Fry / Healthy World Cuisine
Spicy Pork and Bamboo Stir Fry is one of those super easy less than 20-minute recipes that your family is going to love.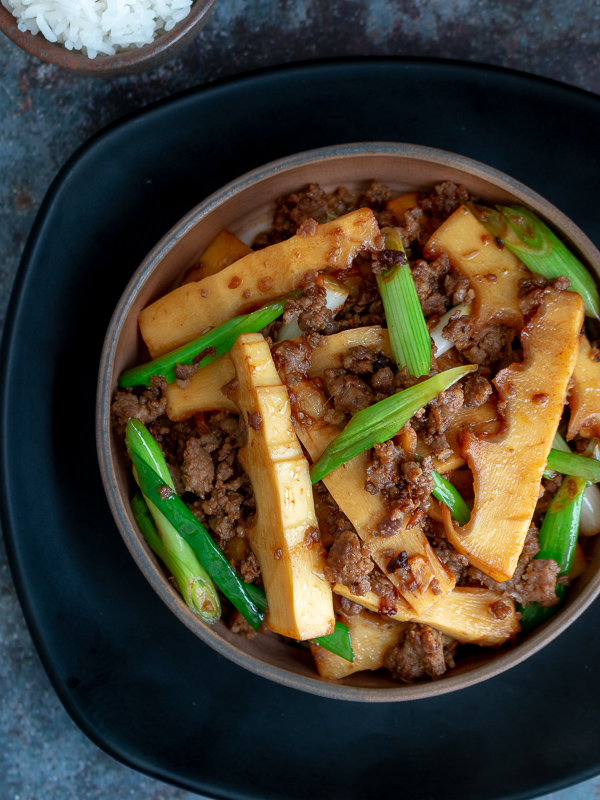 3) Stir Fried Green Beans / Omnivore's Cookbook
Maggie from Omnivore's Cookbook is an awesome little blogger from Beijing living Stateside and she shares loads of her families traditional Chinese recipes like stir fried green beans and pork. Simple but so delicious.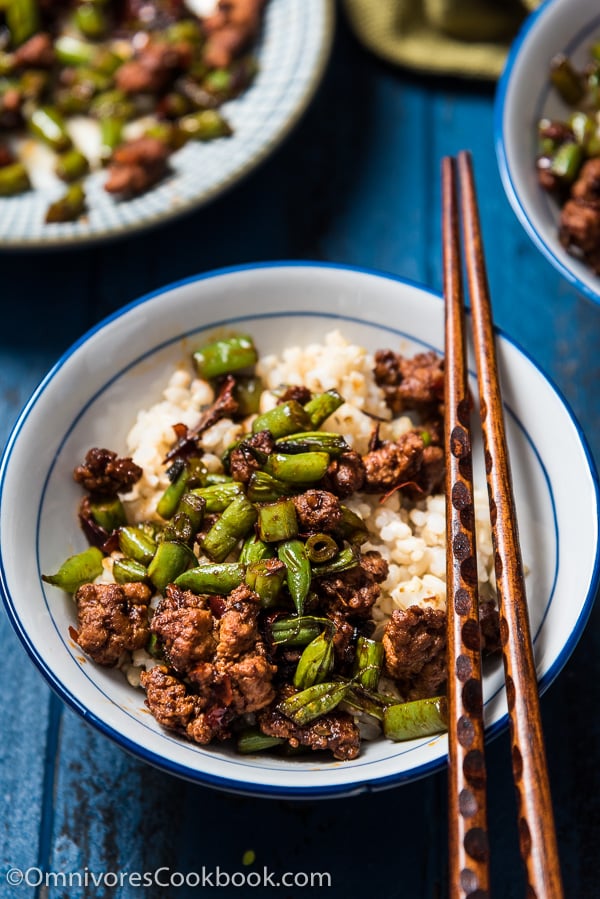 4) Chinese Eggplant with Garlic Sauce / Omnivore's Cookbook
This recipe is one of our families favorites. You forget all about the meat in this hearty but delicate dish.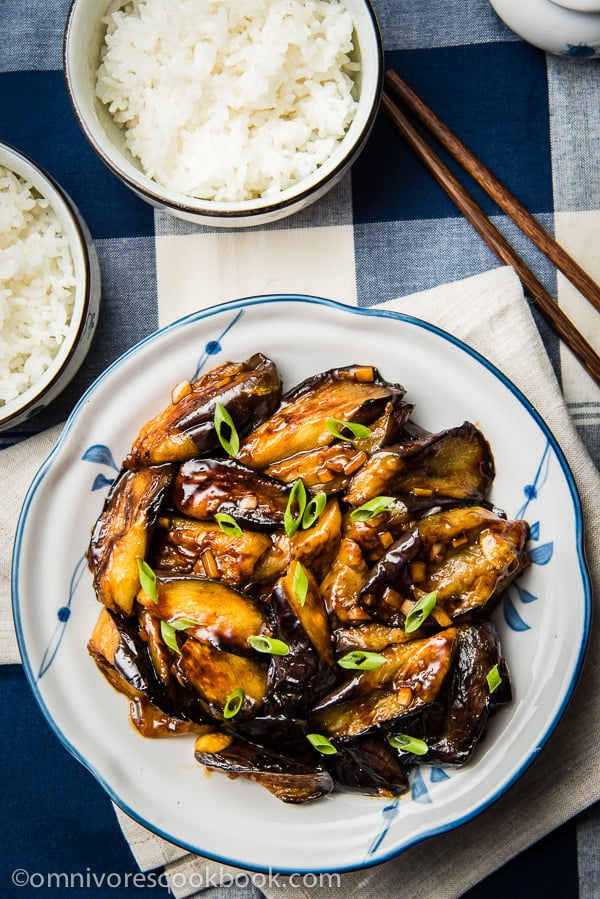 5) Lemongrass Chicken Noodle Bowls / A Cedar Spoon
A little touch of Thailand with fragrant lemongrass and chili is just what you need on a busy work week to put a smile back on your face.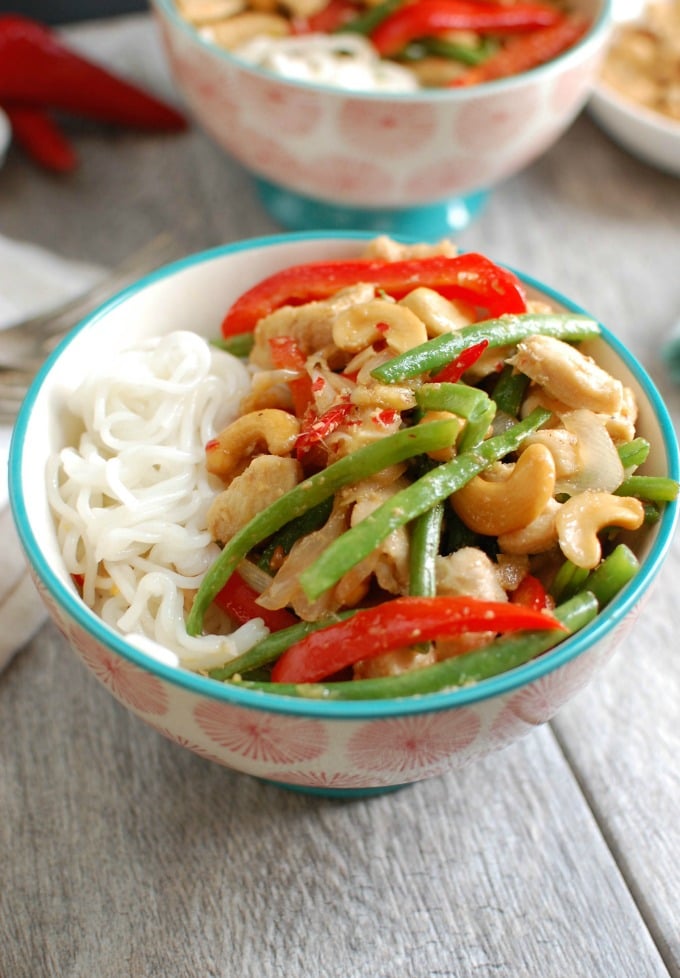 6) Chinese Beef with Honey and Black Pepper Sauce / Ang Sarap
Ok, so stop licking the screen. I caught you...Raymund does an amazing job of getting all of your senses with his melt in you mouth beef stir fry that is a little sweet but has a little kick from the black pepper.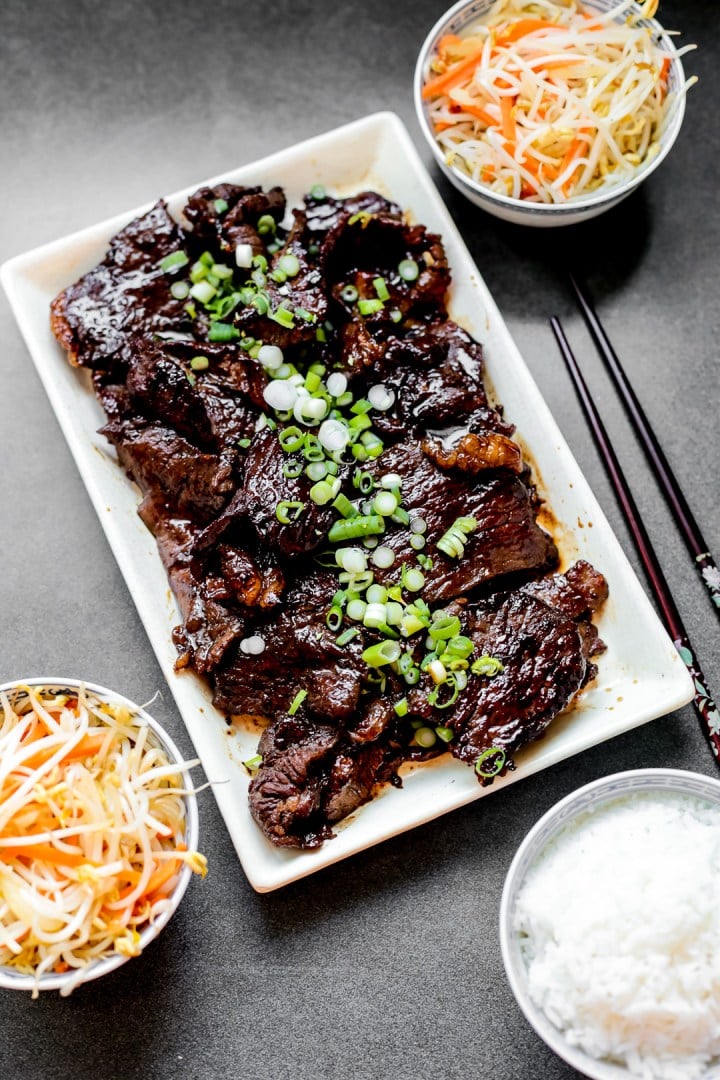 7) Chongqing Chicken with Chilies / Yi Reservations
You are going to love all of Yi's recipes but if you need a little heat then Yi's Chongqing Chicken will add a little spice in your life.
8) Easy Sichuan Mapo Spicy Tofu/ Yi Reservation
What round up would be complete without a little Mapo Tofu but this one is special because it is vegan and can be on your table in a flash.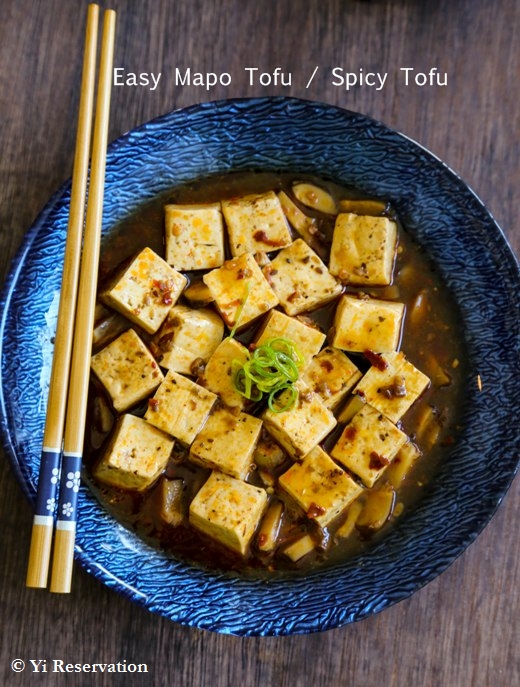 9) Ginger Beef Stir Fry Noodles/ Hapa Nom Nom
Kathleen has done an amazing fusion dish that is part stir fry, part noodle and part salad. Refreshing and delicious and perfect for a quick week night meal.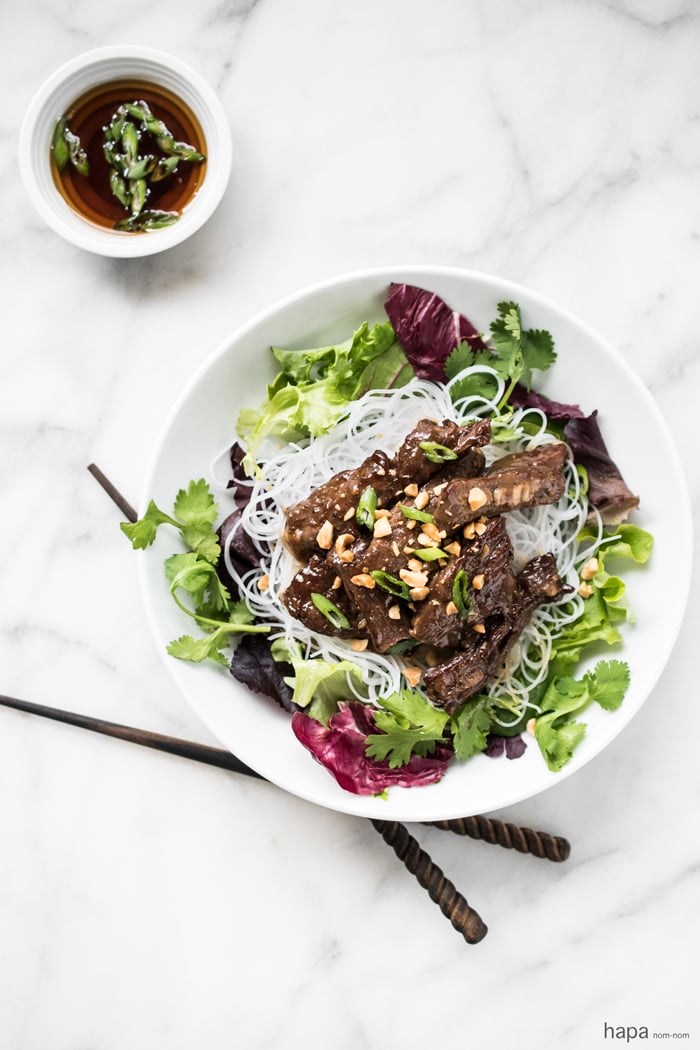 10) Orange Sweet Potato Stir Fry/ Healthy World Cuisine
Orange Sweet Potato Stir Fry has gently stir fried harvest autumn vegetables tossed with a light ginger orange sauce and topped with toasted pine nuts.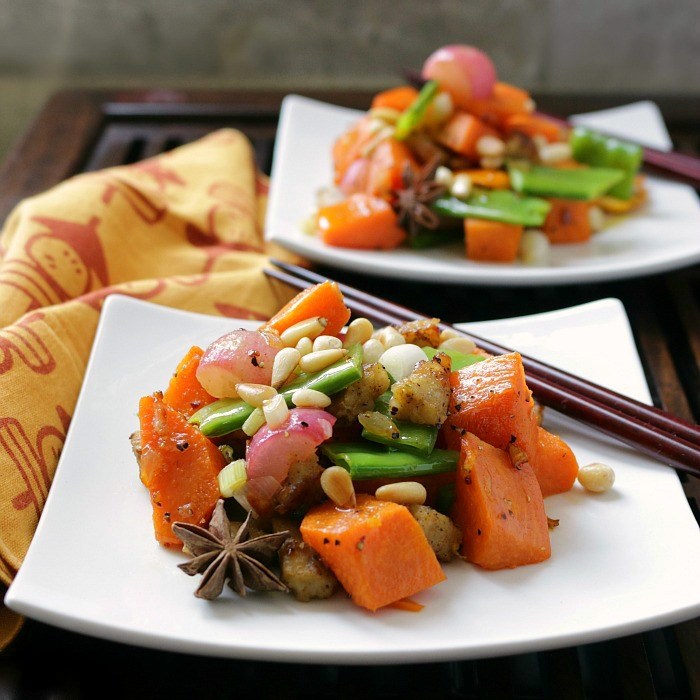 10) Crispy Potato Shrimp Fry Vegetables / Food Done Light
A great little east meet west number that uses fried potatoes instead of the usual rice. This is a fun recipe to use up the little bits and bobs in the refrigerator.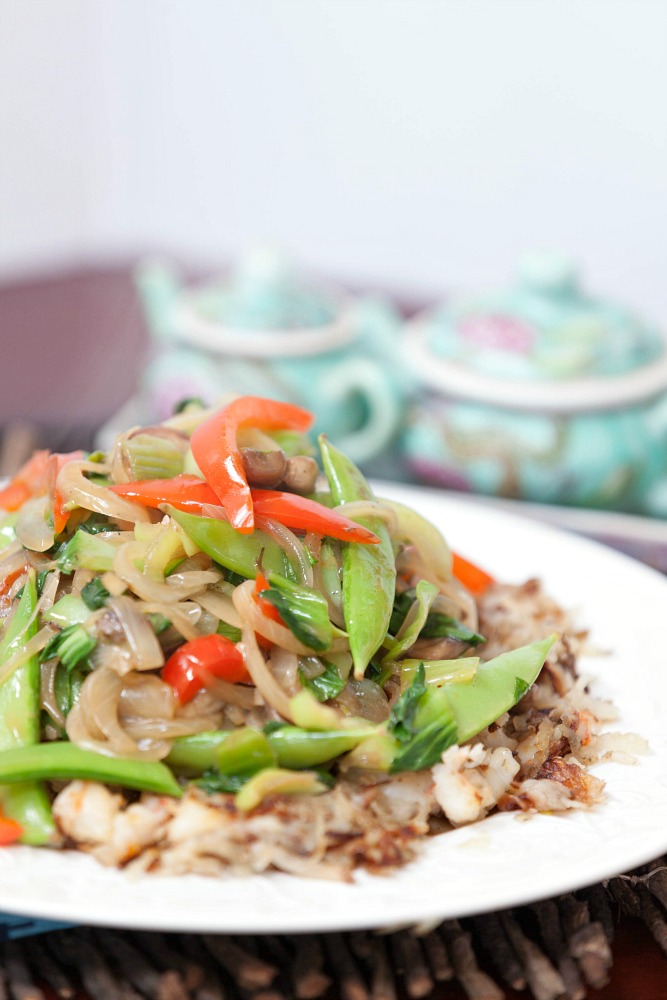 11) Sweet and spicy Jalepeno Chicken Stir Fry/ Delicious Meets Healthy
My boys love it spicy and this little number gives you a little heat and vibrant color with those sweet red bell peppers.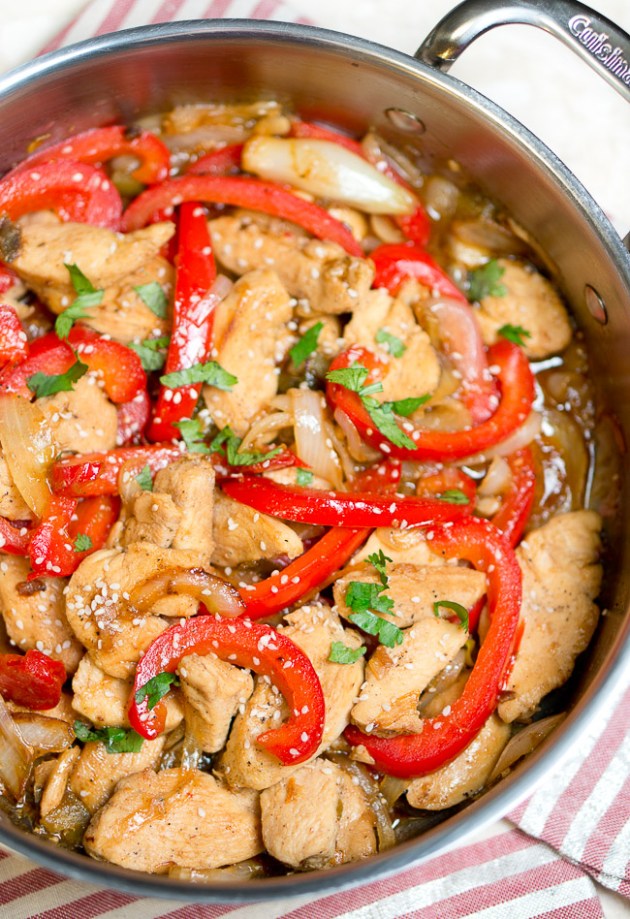 12) Kung Pao Tofu/ The View From Great Island
A delightful vegan spicy stir fry that can be on your table in less than 30 minutes.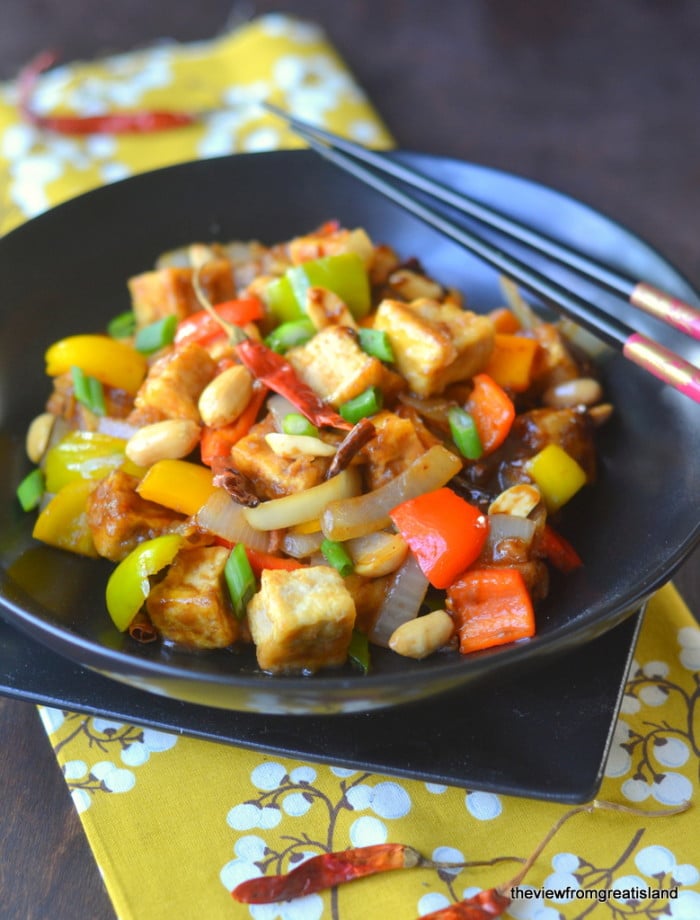 13) Clean Eating Shrimp Stir Fry / Healthy World Cuisine
Clean Eating Shrimp Stir Fry is a 15-minute meal time wonder filled with fresh veggies and aromatic spices and herbs. (Low-carb deliciousness.)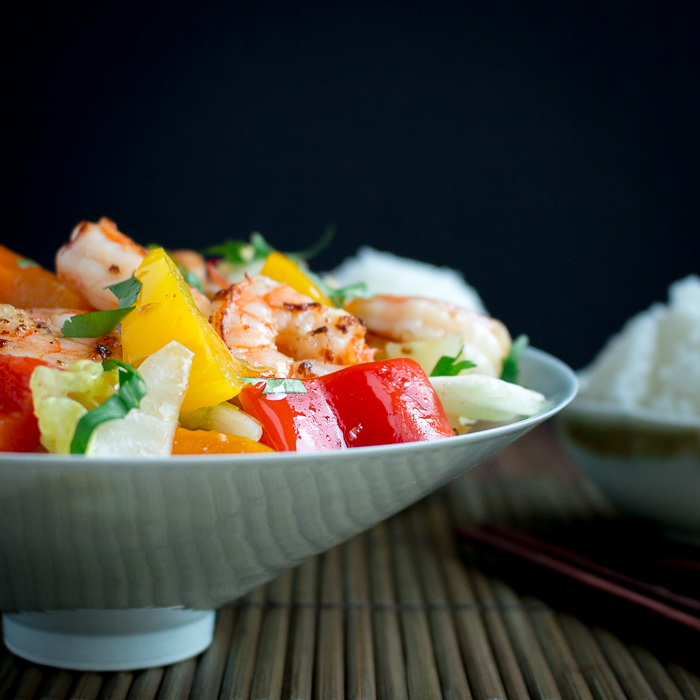 14) Easy Pork Shiitake Mushroom Stir Fry/ Healthy World Cuisine
Easy pork shiitake mushroom stir fry is a delicious one wok dish with velvety tender shiitake mushrooms, caramelized thin pork slices quickly tossed with ginger, garlic and chilis and a simple oyster sauce.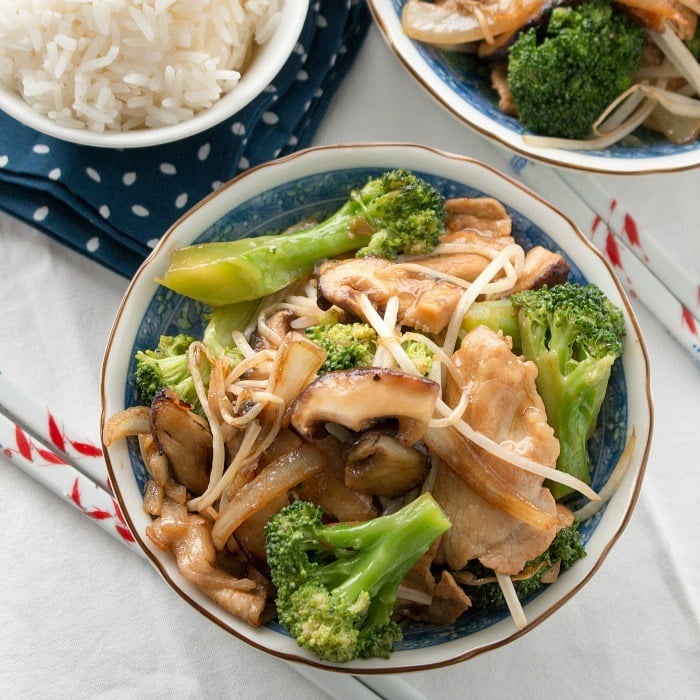 15) Wood Ear Mushroom Stir Fry / Healthy World Cuisine
Wood Ear Mushroom Vegan Stir Fry is crunchy, spicy and easy to prepare Chinese recipe that is super healthy and delicious too.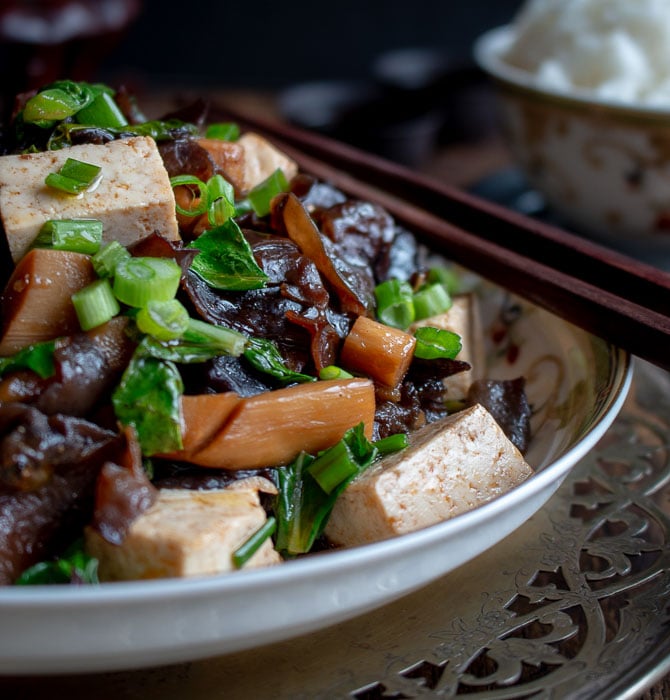 16) One Skillet Orange Chicken and Broccoli : The Seasoned Mom
The seasoned mom has many tricks up her sleeve to get your kids to eat their broccoli so check out her delicious recipe.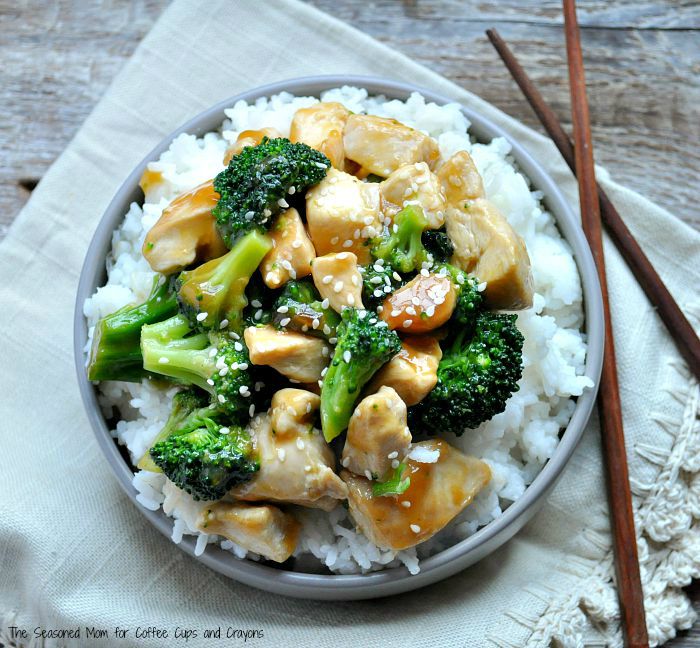 17) Yaki Udon : Just One Cookbook
Thick chewy Udon noodles with loads of fresh veggies with a delightful sauce and topped with dried bonito flakes and pickled ginger. Be sure to check out Nami-san's other quick and easy to follow Japanese Recipes.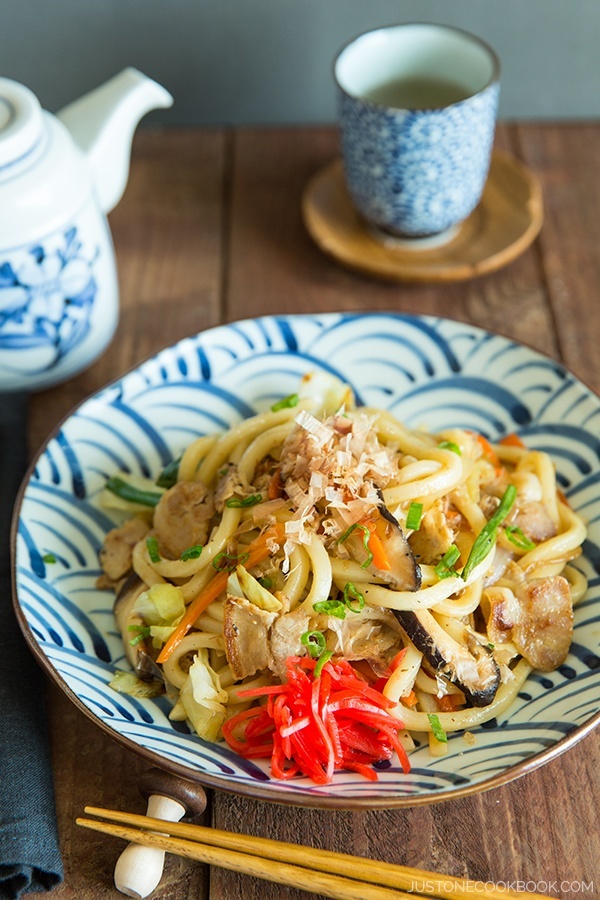 18) Beef Noodles with Spicy XO Sauce / Healthy World Cuisine
Savory tender beef stir fried with rice noodles kicked up with spicy XO sauce and the crunch of bean sprouts.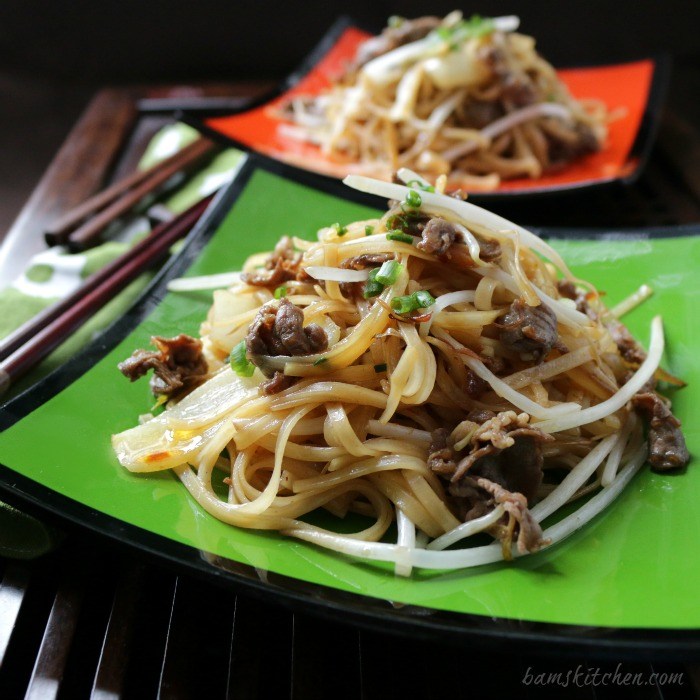 Hungry For More? Subscribe to our Newsletter and follow along on Facebook, You Tube, Instagram, and Pinterest for all the latest updates.