Four Ingredient Okra Stir Fry is an easy less than 15 minute vegetable dish roasted in a peppercorn and chili pepper infused oil until slightly charred on the outside with a tender texture.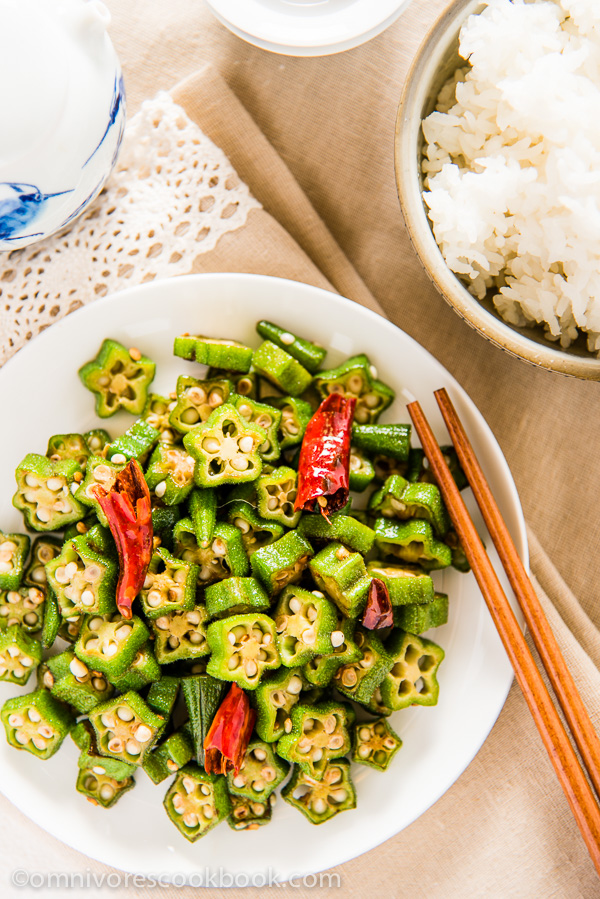 Please extend a very welcome to Maggie from Omnivore's Cookbook. You are just going to love Omnivore's Cookbook' recipes. They are fun to make and possibly something a little different than what you have tried before. However the reason why I love Maggie's recipes as they are very traditional Chinese dishes that my whole family loves. Have you seen Omnivore's Cookbook on You Tube? She has some wonderful videos to help you through the cooking process and wonderful step by step photos and directions within her recipes. You too can cook authentic Chinese dishes in your home and Maggie will show you the way!
Maggie is getting ready to start a new chapter in her life. She is moving from Beijing, China to Austin, Texas and is a beautiful bride to be. I know the world is really a very small place and we can keep in touch no matter where she is in the world. However, I will miss her dearly here in Hong Kong. I know she will miss the fresh produce, spices and such in China. I can always throw what she needs in a box and get it on a "slow shrimp boat from Hong Kong" to Austin, Texas. LOL
BEST WISHES MAGGIE & THOMAS!!!!
_________________________________________________________________________________
Hi! My name is Maggie and I blog at Omnivore's Cookbook. I share authentic Chinese recipes and show you how easy it is to cook them.
If you've never been to China before, you might find that some of my Chinese recipes are quite unfamiliar. I was born in China and have been living there almost 30 years. The recipes I share are the ones I have eaten growing up and at restaurants in China - the real Chinese food. Beyond recipes, I also introduce a lot of Chinese spices and cooking methods to help you create delicious food easily and healthily - like the recipe I will share today.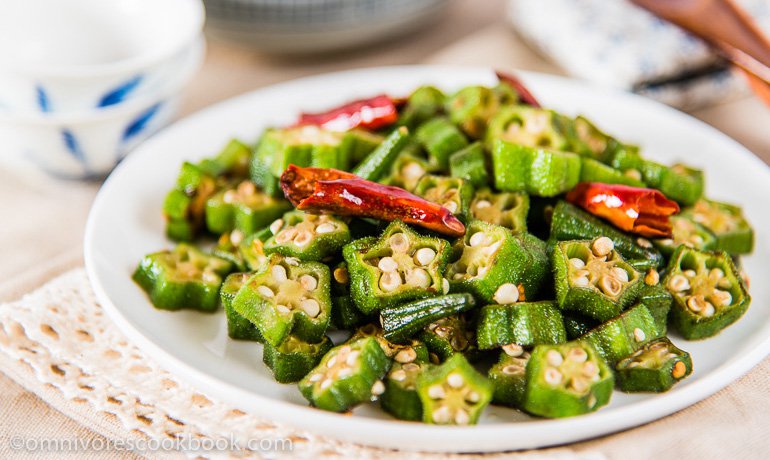 By the time you read this post, I'll already on a plane to Austin (if not already there!). I'm moving to this great city to start a new adventure with my husband-to-be Thomas! You can find stories about us here.
Why you are going to love Four Ingredient Okra Stir Fry
The okra is roasted in a peppercorn and chili pepper infused oil until slightly charred on the outside with a tender texture. The dish has a smoky and spicy savory flavor that is almost as good as grilled. It uses only five ingredients and takes five minutes to cook. Isn't it a perfect dish for a busy weekday?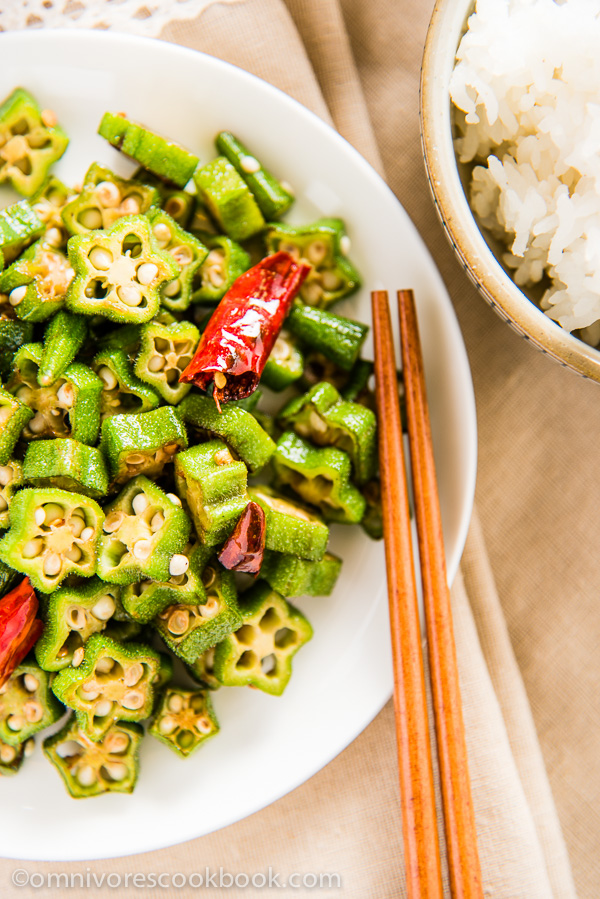 Okra is not a typical vegetable on the Chinese dinner table, but I like it a lot and grab it whenever I see it at the local market. For daily home cooking, we tend to keep things super simple. In this recipe, I used Sichuan peppercorn and chili pepper to infuse hot oil with a pungent aroma. The okra is cooked quickly and gets a smoky, spicy, and tangy flavor with a simple splash of soy sauce. With a bowl of freshly steamed rice and some braised meat (we usually make it on the weekend), you can get a really decent dinner in 30 minutes.
This dish uses a simple technique called "qiang guo" (炝锅), which means to add pungent spices and herbs to hot oil before cooking, to infuse the oil with a nice aroma. Think about the simple Spaghetti Aglio e Olio (pasta with garlic and oil). You only need the garlic infused olive oil and a pinch of fresh herbs to cook a very flavorful dish. A lot of dishes use ginger, garlic, and green onion to infuse hot oil. The flavor I'm introducing today is of the Szechuan style - nutty, numbing, and spicy. We use this method to cook cabbage (you can find the recipe here) and other vegetables, too.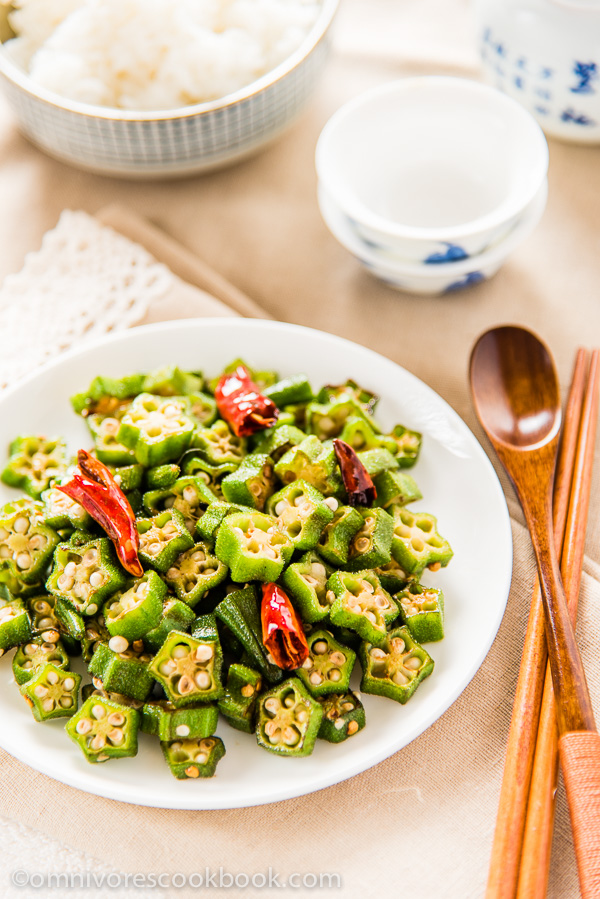 To cook the okra, you can use either a wok or a nonstick skillet. If you're using a nonstick skillet on an electric stove, you might need a bit more time to get the skillet hot. If you don't like the slimy texture of the okra, you could slice the okra into bigger chunks (like in the pictures above), so the slime won't be released from the seeds. You can also use lower heat and cook it a bit longer, until it's nicely charred. The slime will mostly disappear if you cook it thoroughly.
That's it for today! I hope you enjoy the recipe!
More Delicious Chinese Stir fry Recipes
Spicy Pork and Bamboo Stir Fry
Chinese Eggplant with Spicy Pork
Beef and Peppers in Black Bean Sauce
Wood Ear Mushroom Vegan Stir Fry
Hungry For More? Subscribe to our Newsletter and follow along on Facebook, You Tube, Instagram, and Pinterest for all the latest updates.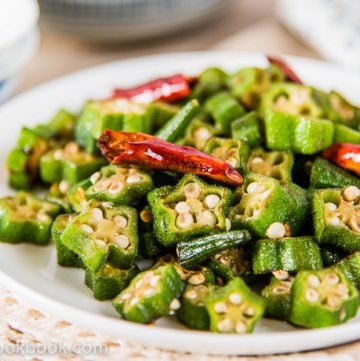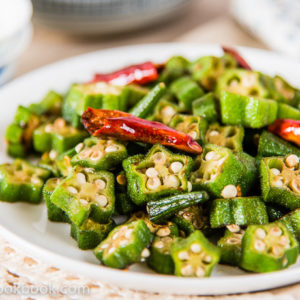 Four Ingredient Okra Stir Fry
The okra is roasted in a peppercorn and chili pepper infused oil until slightly charred on the outside with a tender texture.
Print
Pin
Rate
Ingredients
1

tablespoon

oil


(peanut or vegetable oil)

1

teaspoon

Sichuan peppercorns


whole

2

dried chilis


whole

7

oz

okra


fresh

2

teaspoon

tamari (soy) sauce

(light soy sauce or tamari sauce for our gluten free friends)
Instructions
Heat oil in a wok (or nonstick skillet) over medium heat until warm. Add Sichuan peppercorn and cook until fragrant and dark, about 1 minute. Turn to lowest heat and use a spatula (or ladle) to scoop out the peppercorns and discard them.

Break chili peppers into 2 to 3 parts and add them into the skillet. Stir a few times.

Turn to medium high heat (high heat if using an electric stove) and add the okra to the skillet. Stir quickly to coat okra with oil, about 1 minute. Swirl in the soy sauce and stir to mix well. Cook and stir until the okra is cooked through and charred on the edges, 2 to 3 minutes. If the skillet starts to smoke intensely during stir-frying, lower to medium heat. If you can't hear the vibrant sizzling, turn back to high heat.

Transfer to a plate and serve warm.
Notes
Adjust the heat to your desired preference by increasing or decreasing the chili peppers and Sichuan peppercorns.
Nutrition
Serving:
1
g
|
Calories:
100
kcal
|
Carbohydrates:
8
g
|
Protein:
3
g
|
Fat:
7
g
|
Saturated Fat:
1
g
|
Sodium:
343
mg
|
Potassium:
297
mg
|
Fiber:
3
g
|
Sugar:
2
g
|
Vitamin A:
843
IU
|
Vitamin C:
23
mg
|
Calcium:
81
mg
|
Iron:
1
mg