Shrimp and Wild Rice Stem (茭白) Stir Fry is a crispy and light wild rice stem and shrimp tossed in a light and fragrant ginger sauce.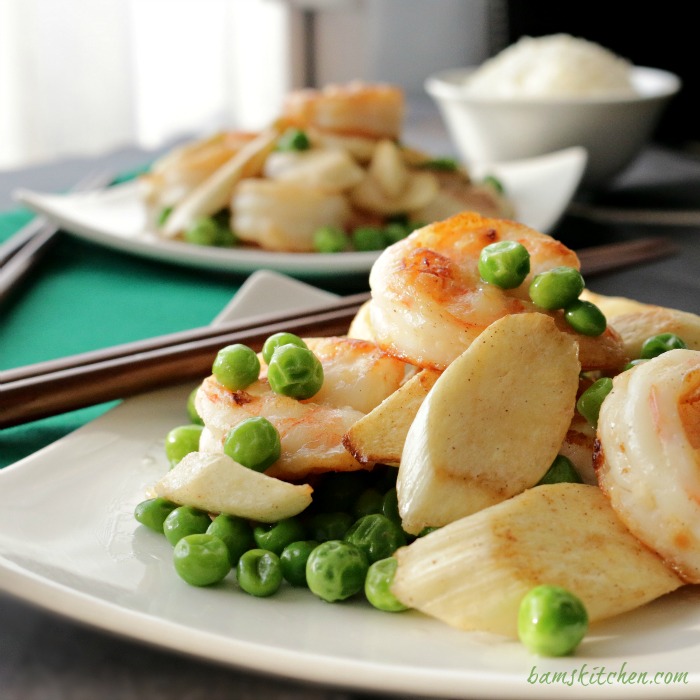 Time to get back in a Healthy Eating Routine
There is so much hype at this time of year about the big Thanksgiving feast but what are you going eat the other 364 days of the year? If you eat too many turkey leftovers, you are going to start clucking. My goodness that might be a tad bit embarrassing! Well lucky for you, I have a couple of quick and easy healthy dinners coming your way that will keep you on track for mindful eating.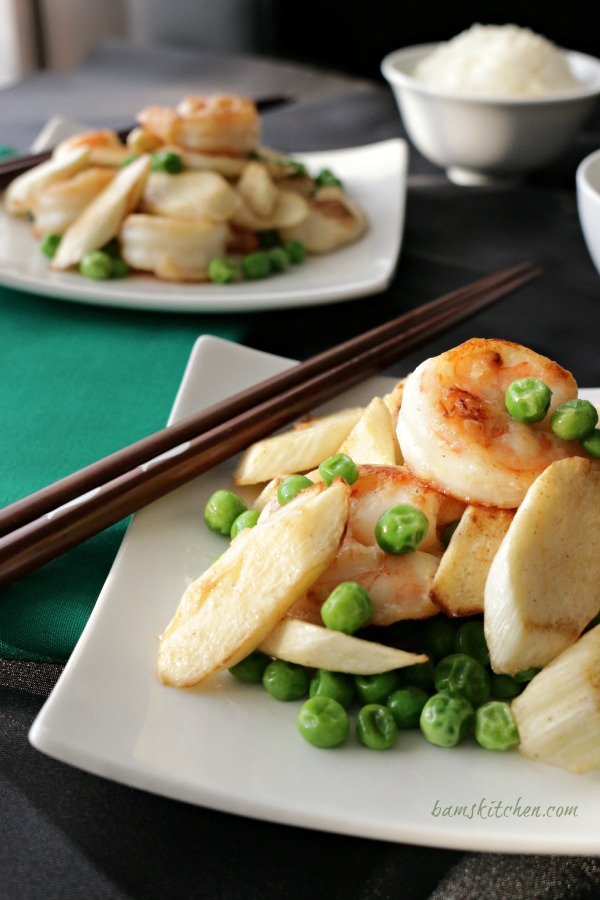 Why you are going to love our Shrimp and Wild Rice Stem (茭白) Stir Fry
Wild rice stem is also called water bamboo and Jiao bai (茭白). Water bamboo stir fry can be on the table in less than 30 minutes and that includes a bit of chopping and steaming your rice. It has loads of warming ginger and antioxidant garlic to keep you healthy during the cold and flu season.
I used fresh water bamboo because, after all, I do live in Hong Kong. However, you could substitute with some canned crisp water chestnuts, canned bamboo shoots or whatever vegetables you have in your refrigerator or even frozen veggies. The beauty of this dish is that you can have everything you need on hand and it can be made in a flash.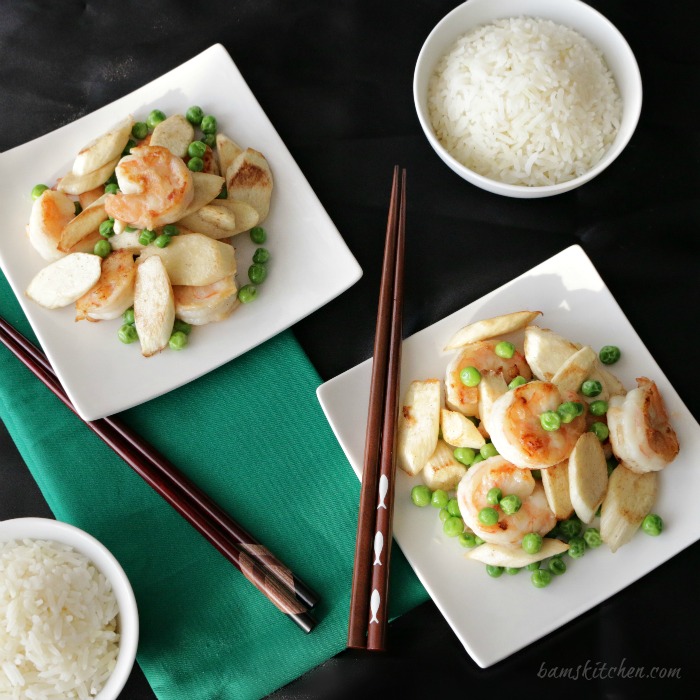 However, probably the number one reason you may want to make our Shrimp and Wild Rice Stem (茭白) Stir Fry is maybe you over did it a little bit during the holidays and need to get back on the healthy eating bandwagon. If you are looking to get rid of the carbs, just skip the rice and add more mixed vegetables. This Chinese stir fry is gluten-free and dairy-free and is a snap to throw together.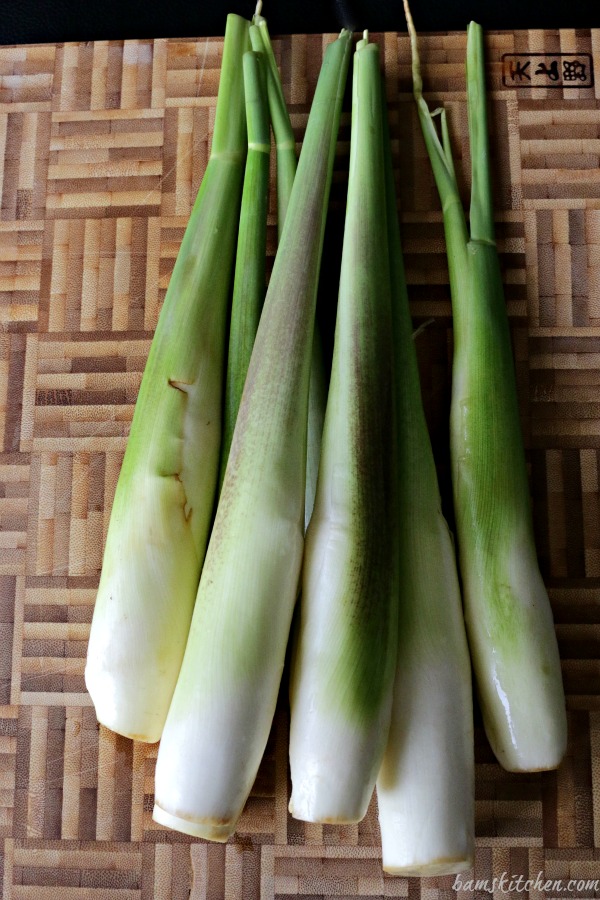 What's the difference between Bamboo and Wild Rice Stem?
Regular bamboo is tough and hard and requires you to boil it first to take away any toxins before the regular cooking process. Click here to read my post on Star Anise Braised Bamboo Shoots. Wild Rice Stem (water bamboo) is soft, delicate and slightly sweet. Wild Rice Stem does not need to be boiled as it does not have any toxins.
Wild Rice Stem is actually called Jiāo Bái (茭白) or also known as water bamboo here in China but it really does look like a baby bamboo and it grows in the waters of southern China and other Asian countries.Wild Rice Stem (water bamboo) is very cooling so that is why I like to pair this with a nice warming ginger sauce to balance the yin and the yang. Water bamboo clears heat, produces body fluids, promotes urination, reduces dampness, induces bowel movements. However as amusing as it might be, water bamboo is a great cure for hangover as it clears the liver and reduces red eyes so it has that going for it as well. Bring on the Shrimp and Wild Rice Stem (茭白) Stir Fry recipe!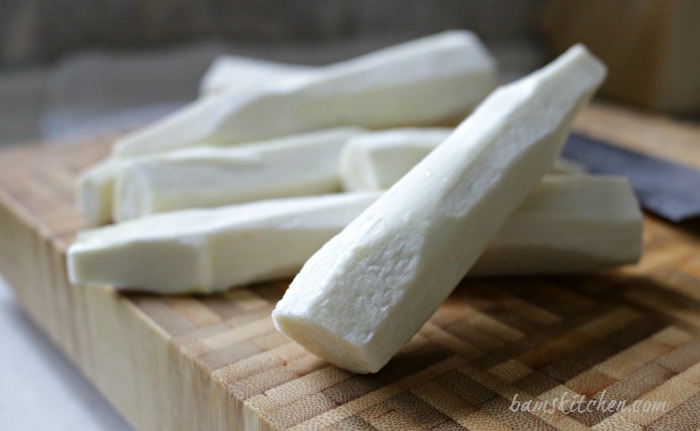 I used fresh water bamboo as really, why not? I live in Asia and when I find things fresh in the market, I have to get them when they are in season. The season for wild rice stem is early fall and is delicious in this Shrimp and Wild Rice Stem (茭白) Stir Fry.
This time of the year can be hectic. I completely understand. Society and culture put so many pressures on us to do these special things around the holiday season and it causes a lot of un-wanted stress. You know the crazy thing as soon as I left the States, I stopped feeling this pressure. The only traditional things we do around the holiday are the ones our immediate family wants to do to continue on with the tradition. Nothing more and nothing less. Be good to yourself during this holiday season and take care of yourself!
My dear friend, Lynn Li, was the first person to introduce me to wild rice stem (茭白) and this is her recipe with a couple of modifications.
More Delicious Easy and Low Carb Chinese Stir Fries
Spicy Pork and Bamboo Stir Fry
Wood Ear Mushroom Vegan Stir Fry
Hungry For More? Subscribe to our Newsletter and follow along on Facebook, You Tube, Instagram, and Pinterest for all the latest updates.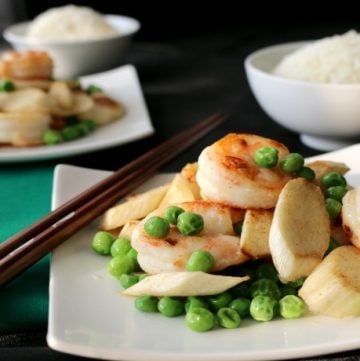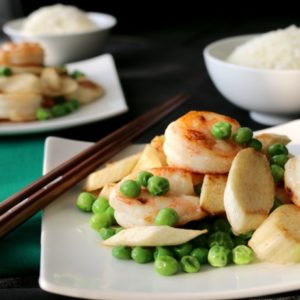 Shrimp and Wild Rice Stem (茭白) Stir Fry
Shrimp and Wild Rice Stem Stir Fry is a crispy and light wild rice stem (茭白) and shrimp tossed in a light and fragrant ginger sauce.
Print
Pin
Rate
Ingredients
24

shrimp


large (shells removed and deveined)

1

teaspoon

sesame oil


1

teaspoon

salt

(½ teaspoon to marinade and ½ teaspoon to end of dish)

1

egg whites


1

teaspoon

cornstarch

1

tablespoon

canola oil

or oil of choice

1

inch

ginger

fresh peeled and grated

2

cloves

garlic

peeled and minced

2

tablespoon

rice wine


shao xing (or can exchange with cooking sherry)

2

stems

water bamboo (wild rice stem 茭白)


peeled and diced (can sub out with canned bamboo shoots or water chestnuts)

½

cup

peas

white pepper


to taste

2

cups

rice - 2 cups cooked

(white or brown whatever you prefer) - optional or cauliflower rice to keep it low carb.
Instructions
Cook your rice according to directions.

In the mean time, marinade your shrimp with sesame oil, ½ teaspoon salt, egg white, and cornstarch. Put in refrigerator to marinade for 15-30 minutes.

Add 1 tablespoon of oil into the wok (frying pan) and add ginger and garlic and saute until aromatic. Next add the shrimp and saute the shrimp quickly for about 1 minute. Add 2 tablespoons of rice wine and mix with shrimp on medium heat for just another minute to get rid of the alcohol taste and when the shrimp are pink, remove from wok.

Add another tablespoon of oil into the wok add your peeled and sliced water bamboo (water rice stem). Make sure you remove the outer tough green husk and then peel and slice. Don't slice too far in advance as they may brown. Stirfry for a couple of minutes, then put in your frozen peas and stir. Add your shrimp back to the wok season with salt and white pepper as desired.

Enjoy shrimp and wild rice stem hot from the wok with a side of rice or cauliflower rice.

Notes
You can substitute Wild Rice out with canned bamboo shoots or water chestnuts.
In addition, feel free to add any vegetables you like to this recipe. We just happened to have peas on hand .
Nutrition
Serving:
1
g
|
Calories:
110
kcal
|
Carbohydrates:
4
g
|
Protein:
9
g
|
Fat:
5
g
|
Saturated Fat:
1
g
|
Cholesterol:
91
mg
|
Sodium:
875
mg
|
Potassium:
85
mg
|
Fiber:
1
g
|
Sugar:
1
g
|
Vitamin A:
139
IU
|
Vitamin C:
9
mg
|
Calcium:
59
mg
|
Iron:
1
mg