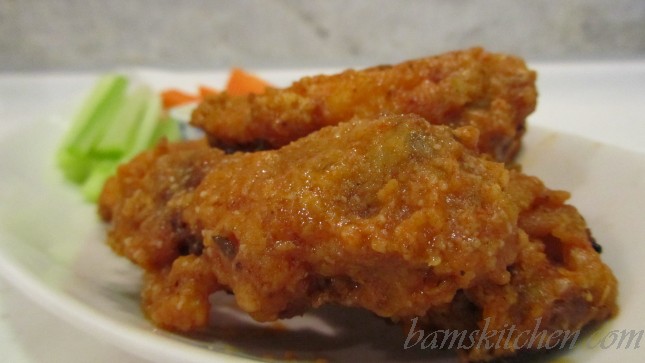 You should probably go ahead and double this Chicken Wings 2 ways recipe right away because it is a finger licking good recipe and a huge crowd pleaser.
Did you know that hot sauce has been around since the 1800's? Hot sauce mania is a craze that is here to stay. With over a 1000 varieties and its use in many dishes around the world the chili pepper is an important spice. Some of these hot sauces are tried and true and have been around for a very long time and then there are ones with some very unique names in the "hall of flames"...
Capsaicinoids are the chemicals responsible for the "hot" taste of chili peppers. They are fat soluble and therefore drinking water is useless for counteracting the burn. The most effective way to relieve the burning sensation in your mouth is with dairy products, such as milk and yogurt. I also find that eating rice helps cut the burn as well. By all means, don't rub your eyes or any other open bodily surfaces if you have hot sauce or chilis on your hands. Hot sauces have heat but most important factor is the taste and each one is unique.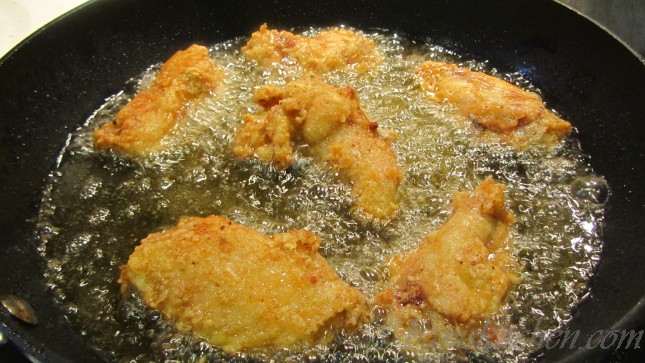 My teenagers love their chicken wings hot. I mean screaming hot!!!! The Buffalo Wild Wings restaurant has the very extreme Blazin hot wings that comes with a dietary warning (keep away from eyes, pets and children) and their very sweet and tangy BBQ sauce wings and everything in between. I remember the first time we went to Buffalo Wild Wings and my eldest teenager ordered the "BLAZIN" wings for his birthday. He had a ring of sweat on his forehead, his face was glowing and lips were sweltering and he was smiling ear to ear with a good burn. I on the other hand can't handle really hot foods so I enjoy the sweet and mild sauces.
Have you ever been to a "Buffalo Wild Wings" restaurant? My eldest teenager is a huge fan of this restaurant.
Here is chicken wing recipe can that can made 2 ways to make everyone in your family happy (hot and spicy and sweet and mild). I dedicate this recipe to my eldest teenager.
Ingredients: (Serves 4 adult or 2 hungry teenagers as a snack or light meal)
Chicken Wings:
20- 25 chicken wings
1 ½ cup all purpose flour (rice flour)
1 teaspoon paprika
1 teaspoon cayenne pepper
1 teaspoon salt
1 teaspoon pepper
oil for frying
Hot and Spicy Wing Sauce:
½ cup Franks Red Hot hot sauce
½ cup butter
½ teaspoon garlic powder
½ teaspoon pepper
Honey Teriyaki Wing Sauce
¼ cup honey
¼ cup butter
3 teaspoons teriyaki sauce
1 chopped clove garlic
½ teaspoon chopped fresh ginger
toasted sesame seeds
1 green onion chopped for garnish
Step 1: Pat chicken wings dry
Step 2: In a small bowl combine flour, paprika, cayenne pepper, salt and pepper
Step 3: Add the flour mixture to chicken wings. Stir to coat wings completely and let rest in refrigerator for 1 hour.
Step 4: Place oil in pan an inch or so deep and heat to medium heat (or when chop sticks start to sizzle when you put them in the oil). If you have a deep fryer, this would be very useful.
Step 5: Fry chicken wings for about 10-12 minutes until golden brown and place on plate with napkin to drain- keep warm.
Step 6:
Hot and Spicy Wing Sauce: Place in a cooking pot butter, hot sauce, garlic powder and pepper and cook over low heat until butter is melted and ingredients are well incorporated. (5 minutes)
Honey Teriyaki Sauce: Place in a small cooking pot butter, garlic and ginger and cook for 1-2 minutes until aromatic and then add honey, teriyaki sauce.
Step 7:
Dip half the fried chicken wings into the Hot and Spicy wing sauce and put on plate and serve with a side of crunchy celery and carrots and blue cheese dressing.
Dip other half of fried chicken wings in honey teriyaki sauce and put on plate and sprinkle with sesame seeds and green onion
Step 8: Enjoy!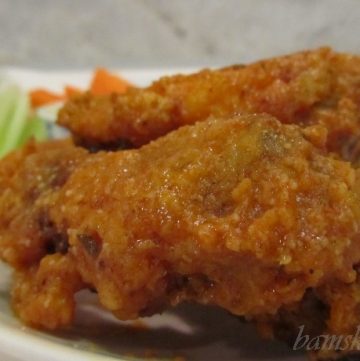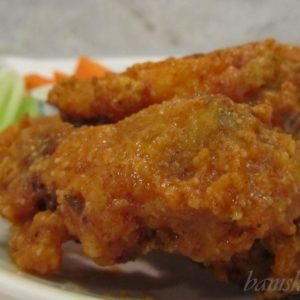 Ingredients
chicken wings -

flour -

paprika -

cayenne -

salt and pepper -

oil for frying -

hot sauce -

butter -

garlic powder -

honey -

teriyaki sauce -

garlic -

ginger -

sesame seeds -

green onions -
Nutrition