Beef and Peppers in Black Bean Sauce is spicy, flavorful dish with tender melt in your mouth beef that can be on your table, including rice, in about 15 minutes.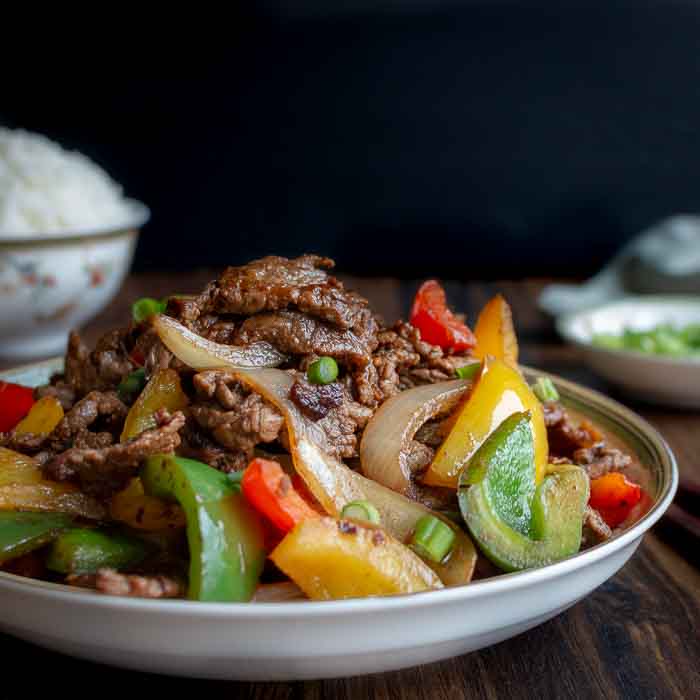 If you are looking for a quick and easy recipe that will be a hit with the whole family, then save this Beef and Peppers in Black Bean Sauce recipe. You are just going to love the tender melt in your mouth beef with the bold flavors of the the black bean sauce, soy sauce, ginger and garlic and little kick from the chili.
Meal Prep Sundays Just Got Even Easier
If you are doing meal prep Sundays, be sure to slice your veggies and beef and make your rice or cauliflower rice if doing the low carb thing. You can even have the meat marinating. Then on that crazy Monday, Tuesday, Wednesday and Thursday work days, school days and other obligation crazy days, you can have dinner on your table in just about 5 minutes. How perfect is that!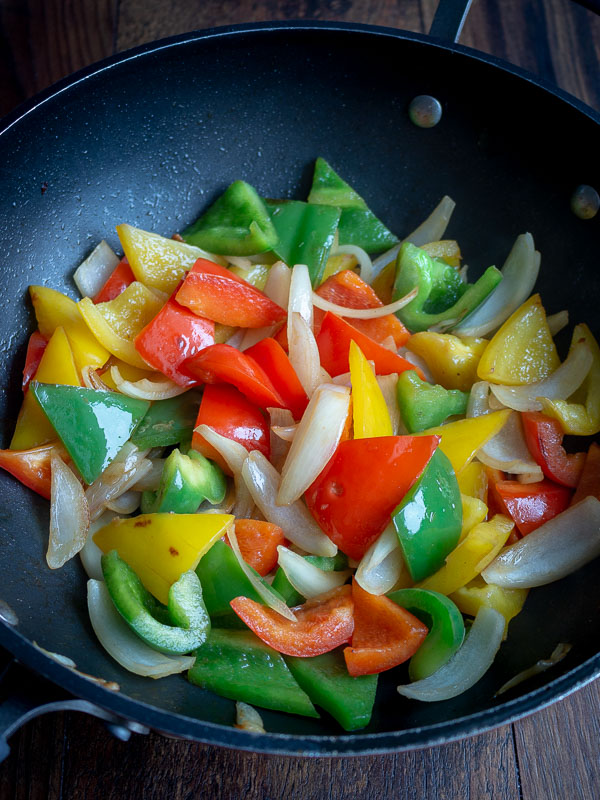 Wok vs Frying Pan
A wok is nice to have as it allows lots of work space to move around the food quickly. However, you can still make delicious Chinese food without a wok, just in a frying pan. The secret for those crispy and vibrant vegetables is not to over load your pan. You want to do a quick stir fry with very little high heat tolerant oil (ex, canola oil). If you over fill your pan, you are steaming and not frying. Depending on the size of the pan or wok, we sometimes we split up the ingredients and fry in two separate batches to prevent the steaming effect.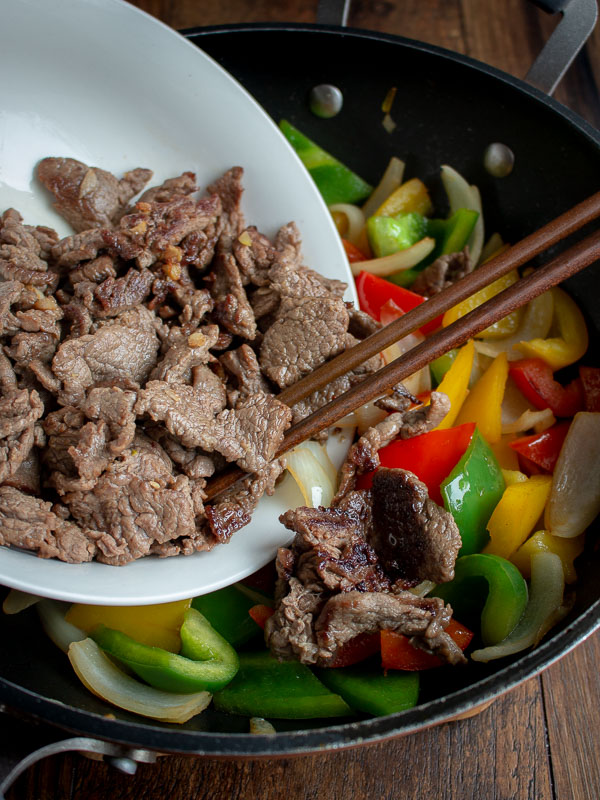 How to Make Your Beef Melt in Your Mouth Tender
Cut the meat thinly against the grain.
Marinade the meat for at least 2-3 hours or up to overnight. We like to marinade our beef with a little Shaoxing wine, garlic, onions, soy (tamari sauce), sesame oil, cornstarch and just a little bit of sugar or sugar alternative.
Splurge and use beef tenderloin. You can also use some cheaper cuts of meat but you need to marinade the meat for longer.
We have one more secret that Chinese restaurant in Hong Kong uses to make tender meat and you will have to keep on reading to find out more...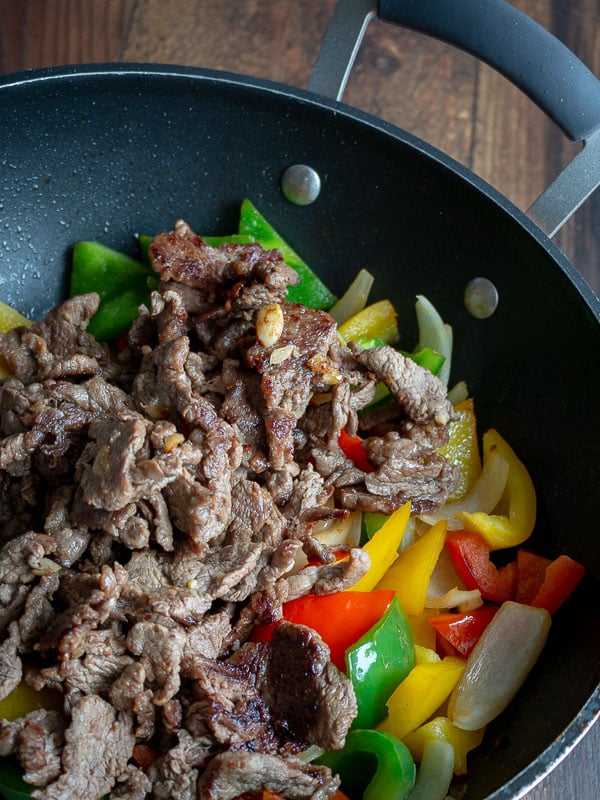 How to Make Beef and Peppers in Black Bean Sauce just like Restaurants in Hong Kong
We have tried to make this Beef and pepper with spicy bean sauce at home before but could never get the beef to taste the same as the restaurants on Lamma island in Hong Kong. We asked the chef what his secret was and he told us it was the cut of beef and his cooking style. The chef deep fries the beef for just a minute at a very high heat. He told me that flash frying the meat, unlike stir frying the meat, makes the meat have a crunchy exterior and tender interior. The chef was right on. The beef was super tender and flavorful and not greasy at all it is flash fried.
You can try it this way if you like but we are not real big on the whole deep frying event. Deep frying is messy and uses a lot of oil. If you use a delicious tender cut of beef, marinate it several hours of overnight and cook in a very hot wok, you can get the same effect without the whole mess of flash frying-deep frying just with a quick and easy stir fry.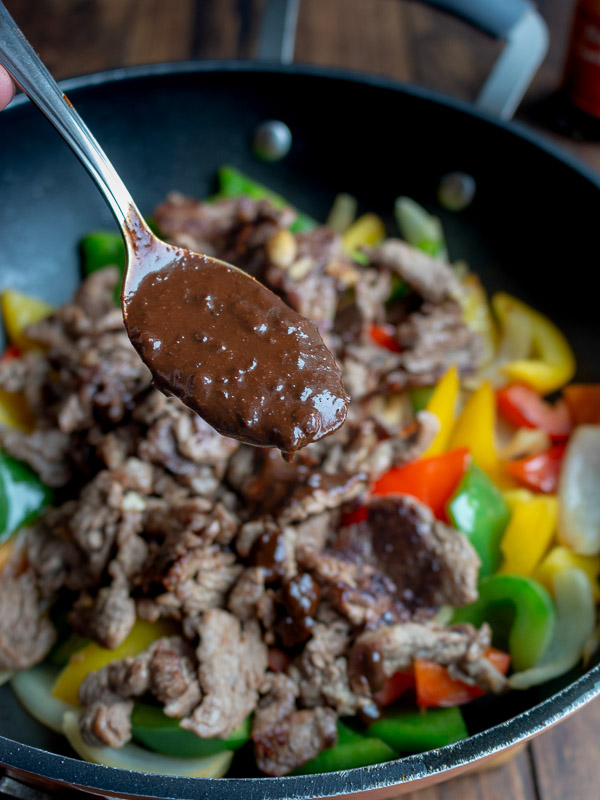 What is Black Bean Sauce?
Black bean sauce is not made with any beans. Crazy? Right! Actually the sauce is made with salted and fermented black soy beans. These fermented black soy beans are also known a "Douchi" in Chinese. Fermented black soy beans are salty and have a very intense umami flavor. In order to make the black bean sauce, the fermented black soy beans are mixed with aromatics like garlic, ginger, onion, shaoxing wine, rice vinegar, soy (tamari) sauce, and a pinch of sugar and cooked. We made a homemade gluten-free spicy black bean sauce called La Jiao Jiang.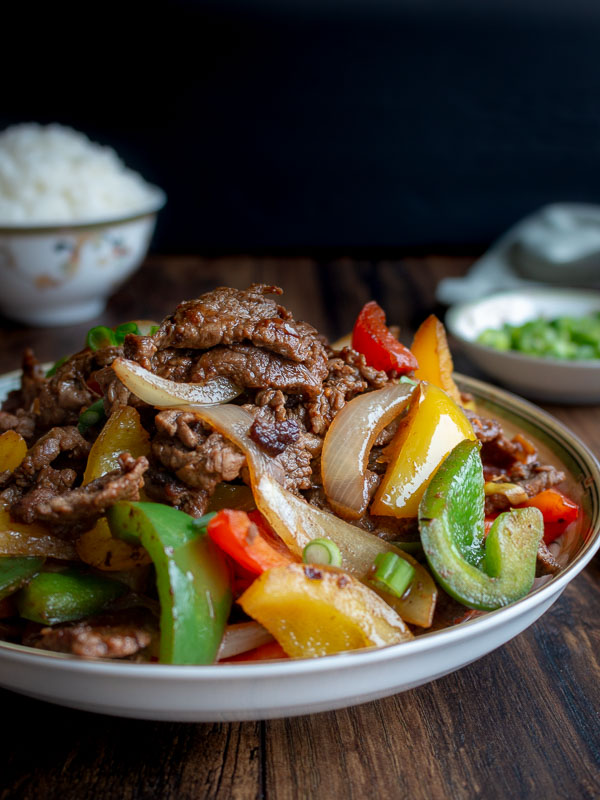 Where Can You Buy Black Bean Sauce?
You can buy black bean sauce in a well stocked US grocery store that has an Asian Food section. Black Bean Sauce is also readily available at Asian Markets and also on for sale on Amazon. Once you open a jar, it needs to be stored in the refrigerator with a tight lid. Our suggestion is to use the fermented black bean sauce within 6 months. However, you will see some articles list it good up to 2 years. However, we love using black bean in Mapu Tofu , Baked Cod Parcels with Black Bean Sauce and many other stir fry dishes.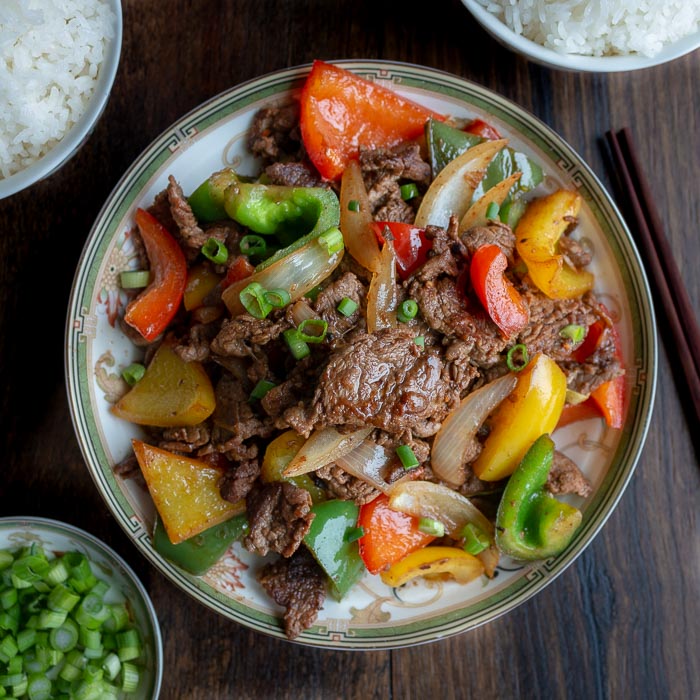 Beef and Peppers in Black Bean Sauce Recipe Quick Tips
Marinating the beef is what infuses the flavor and tenderizes the beef. Please marinate at least 15 minutes for a beef tenderloin and at least 2-3 hours or overnight for tougher cuts of beef.
Traditional Chinese cuisine does not have a ton of sauce. Dry fry is the usual way. Wet, soupy and saucy is what you call "American-Chinese food" in the States. Nor will it be sweet, come with a "dinner roll" or fortune cookies. These things always crack us up... and here is your traditional Chinese dinner roll...(smiling)
However, depending on the brand of black bean sauce you are using, if it is super thick then we add a tablespoon of water with the black bean sauce to get it all moving in the pan.
Get that wok smoking hot and use an oil that can stand up to the heat. Canola, etc. (if you got that smoke alarm going off, you are doing something right!)
Make sure you have everything chopped and ready to go into the wok. When you start cooking your Beef and Peppers in Black Bean Sauce, it will go very fast and you need to be ready with all of your ingredients.
Do NOT overfill your wok or frying pan as that will steam the food instead of stir fry it.
Keep the ingredients moving in your wok.
Black bean sauce is salty, be cautious with your soy or tamari sauce. Taste and then you can always add more to your liking.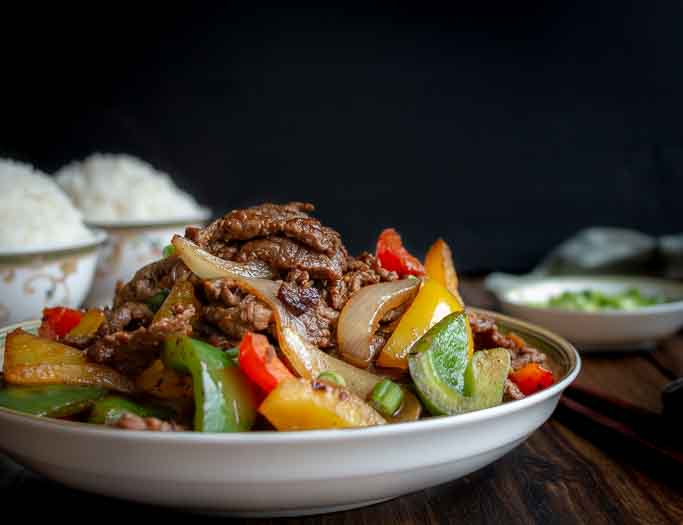 The Green and Tropical Side of Hong Kong That you Never Knew Existed
There are about 24 country parks in Hong Kong with a total area of 44,000 hectares – about 40 percent of Hong Kong's land area. These hiking trails are well labeled, maintained and there is something for every fitness level.
One of our favourite family hikes is around Lamma Island. After the hike, we often stop off at one of the delicious restaurants overlooking the ocean. All of the restaurants offer all very fresh seafood dishes. However, as you already know, the boys are not head over heels over fish. Therefore, we often order the beef and peppers and black bean sauce and it really is superb.
Did you know that Hong Kong is three-quarters full of lush tropical greenery and fun country parks? I know that when everyone thinks of Hong Kong they think of the concrete jungle with many high rises, shops and markets because that is the only part you see on television. The best part of Hong Kong is the greenery.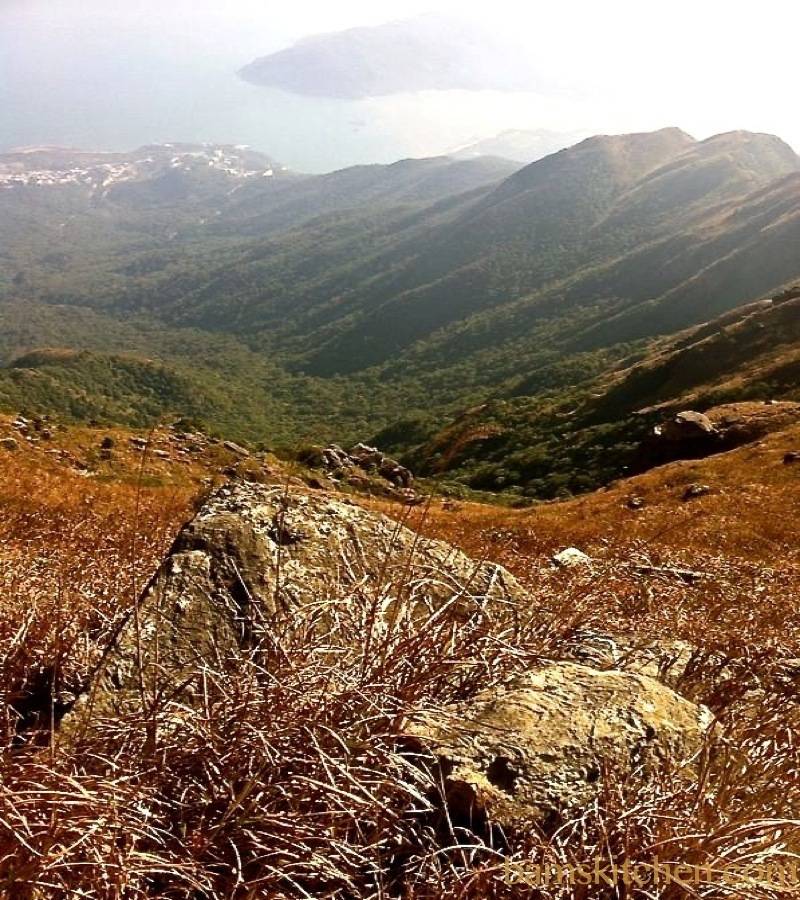 The boys are currently hiking up to the second highest peak (3064') in Hong Kong today. They are on their way up to the Lantau Island Peak. Check out this cool photograph! We used a cell phone looking into the telescope from the balcony.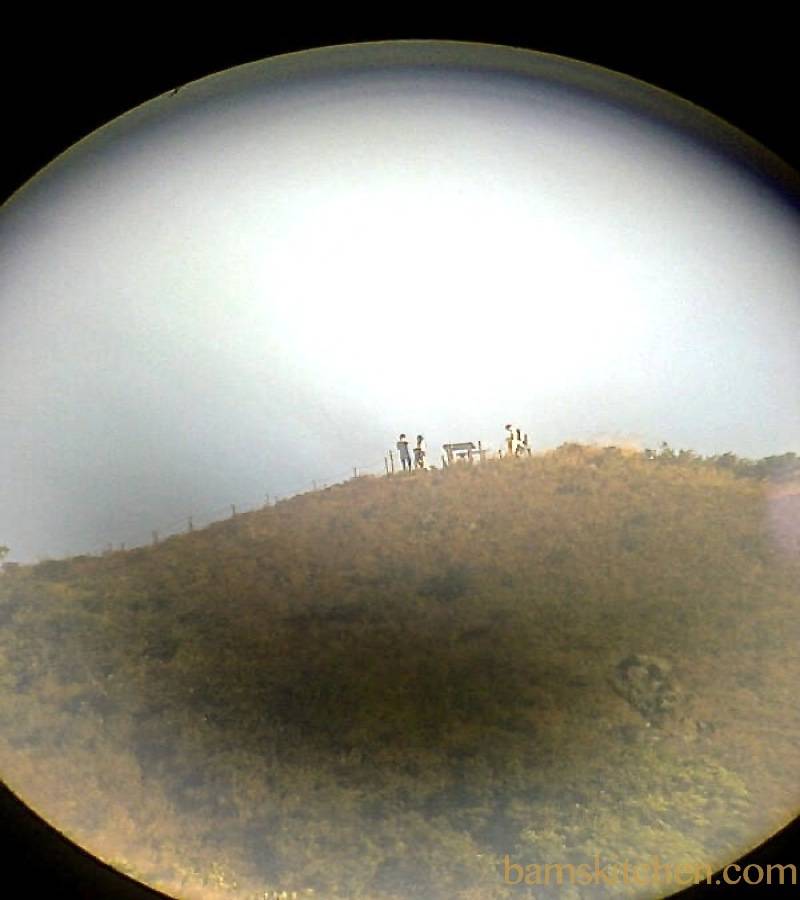 Boys! They never cease to make us smile as they are so predictable. They will be starving after burning all of those calories on the hike. That is exactly why we love this dish. Beef and peppers and black bean sauce is a super easy Chinese stir fry dish.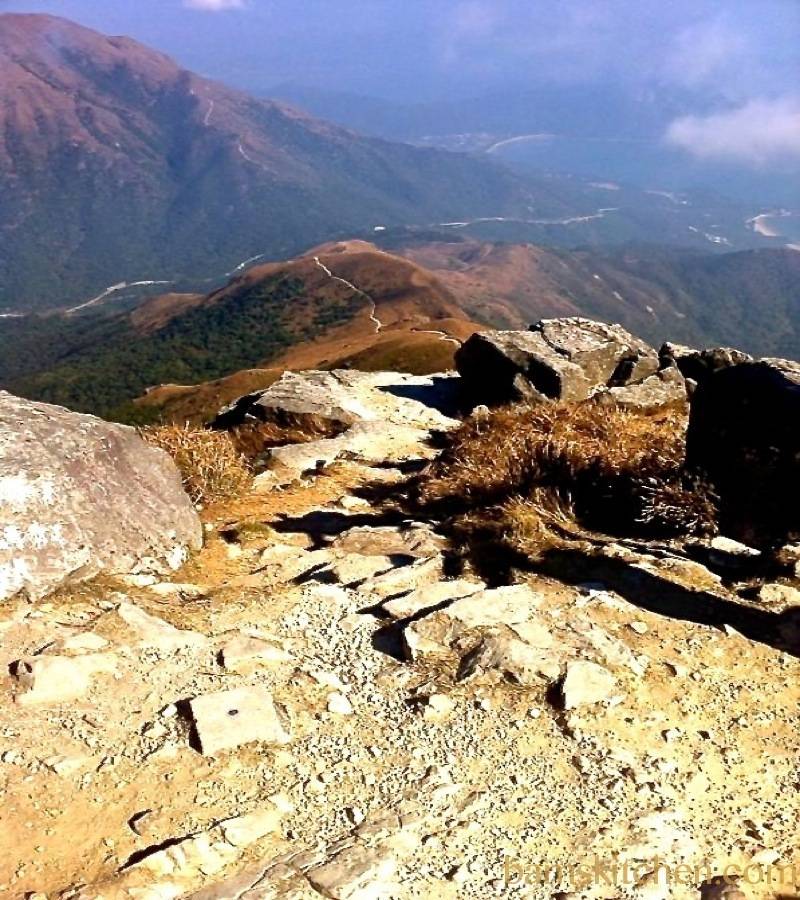 More Chinese Stir Fry Recipes
Spicy Pork and Bamboo Stir Fry
Chinese Eggplant with Spicy Pork
Hungry For More? Subscribe to our Newsletter and follow along on Facebook, You Tube, Instagram, and Pinterest for all the latest updates.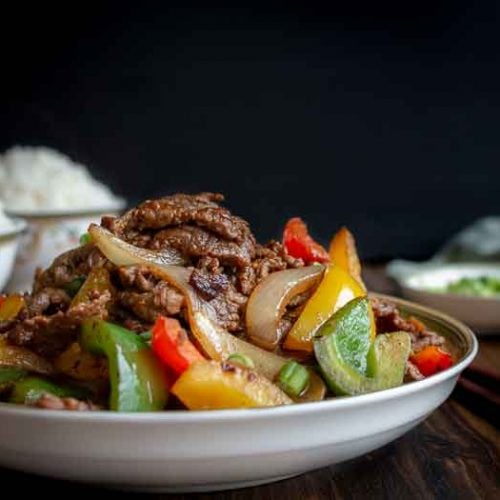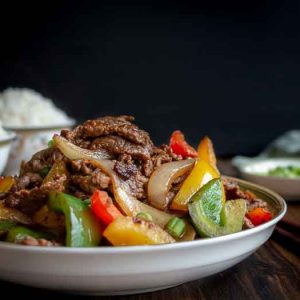 Beef and Peppers in Black Bean Sauce
Beef and Peppers in Black Bean Sauce is spicy, flavorful dish with tender melt in your mouth beef that can be on your table, including rice, in about 15 minutes.
Print
Pin
Rate
Ingredients
Beef and marinade
9

oz

beef


250 grams or can use flank steak or sirloin)

1

onion


medium cut into half moon slices (reserve half for the marinade and half for the stir fry)

3

cloves

garlic


chopped (1 for marinade and 2 for the stir fry)

⅛

cup

rice wine (shao xing)

(can substitute with a sherry)


2

teaspoon

sesame oil


(1tsp for marinade and 1 teaspoon for finishing the dish)

1

tablespoon

tamari (soy) sauce


2

teaspoon

cornstarch


1

teaspoon

sugar


or sugar alternative
Ingredients
2

tablespoon

oil


1

teaspoon

ginger


freshly grated or ¼ teaspoon dried ground ginger.

1

chili pepper


or a teaspoon of garlic chili sauce (optional for level of heat)

½

red bell pepper


chopped

½

yellow bell pepper


chopped

½

green bell pepper


chopped

1

tablespoon

spicy black bean sauce


heaping tablespoon

1

tablespoon

tamari (soy) sauce


1

tablespoon

green onions

for garnish (optional)
Instructions
Slice your beef against the grain in thin slices.

Marinate the meat: In a resealable plastic bag, place your slice beef, onion (save half of onion for stir fry), garlic, shaoxing wine, sesame oil, soy sauce, cornstarch, sugar or sugar alternative. Close the bag and mix the contents gently. Place beef and marinade in the refrigerator inside a dish. (just in case the bag gets a leak) Marinate beef for 2-3 hours or up to overnight. (Prepare your rice so that it starts to cook about 15 minutes before you start stir frying your dish.)

Place oil into wok or frying pan and turn the burner on medium high heat.

Carefully put your sliced beef into the oiled and very hot wok. Use your utensils of choice to separate the beef slices. Fry beef slices for about 1 minute or just until the color changes. Remove the beef. Keep warm and set aside.

Add the ginger and chili just until aromatic then add the remaining garlic and red, yellow, green peppers and onions. Stir fry and quickly move the vegetables around for about 1 minute.

Add spicy black bean sauce, soy (tamari sauce) and stir fry. Add the sliced beef back into the wok. Quickly stir fry until well blended. Add a little drizzle of sesame oil to taste, if desired. (depending on your brand of black bean sauce, some brands are thicker. If needed, add 1 tablespoon of water to the dish to get the sauce moving)

Transfer to a serving dish and garnish with green onions as desired. Serve your delicious beef and peppers in black bean sauce with hot rice or cauliflower rice and enjoy!
Notes
We used beef tenderloin to keep this beef dish really tender but you can also use beef flank or sirloin but best to marinate those choice for several hours or overnight. Beef tenderloin marinade can be for 15 -30 minutes.
Nutrition
Serving:
1
g
|
Calories:
301
kcal
|
Carbohydrates:
10
g
|
Protein:
13
g
|
Fat:
22
g
|
Saturated Fat:
6
g
|
Cholesterol:
45
mg
|
Sodium:
686
mg
|
Potassium:
366
mg
|
Fiber:
2
g
|
Sugar:
4
g
|
Vitamin A:
673
IU
|
Vitamin C:
77
mg
|
Calcium:
22
mg
|
Iron:
2
mg