Spicy Pork and Bamboo Stir Fry is one of those super easy less than 20-minute recipes that your family is going to love.

Spicy Pork and Bamboo Stir Fry the super easy Chinese Stir Fry
From the crunch of the fresh bamboo, to the spice of the chilis and the savory of the marinated pork, this recipe has everything going on for it. The beauty of this recipe is you can make it as spicy or mild as you like or just skip the red chili flakes all together. You can use canned bamboo shoots for this recipe too. If you like quick and easy stir fry recipes ,you are going to love our Garlic Pork and Dry Fried Green Beans.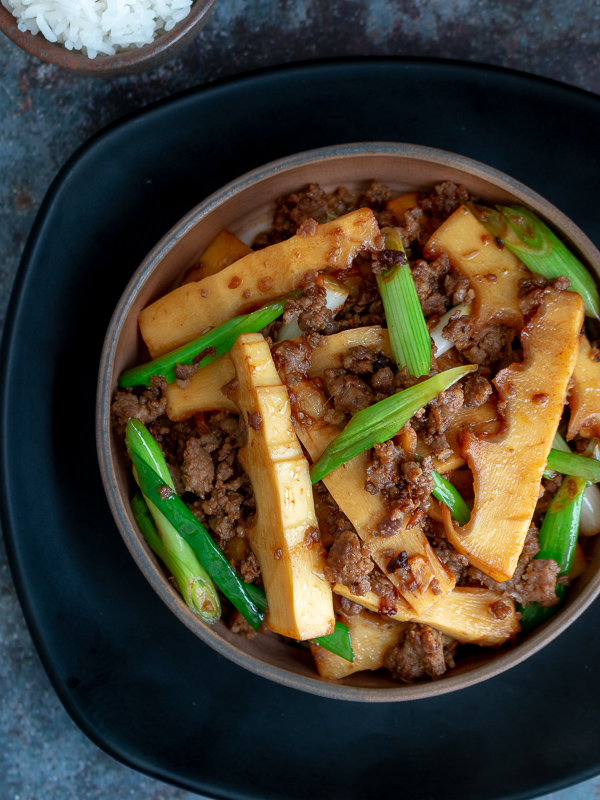 How to prepare fresh bamboo shoots?
Have you ever cooked with fresh braised bamboo shoots? The season for fresh bamboo is from spring to early summer. Did you know that you first must boil mature bamboo shoots? Fresh bamboo shoots are very bitter and cannot be consumed raw as they contain small amounts of cyanogen that may be toxic. However, cooking destroys these substances making the shoots edible. The best way to remove these toxins is by first removing the outer skin and boiling them. Check out our recipe for Star Anise Bamboo shoots and we explain the process. If you get your hands-on fresh bamboo, be sure to check out our video on how our sweet little wet market lady showed us how to peel a bamboo shoot.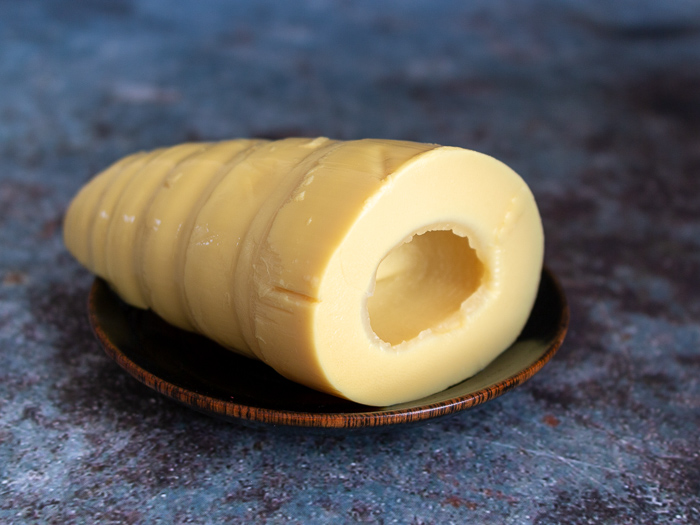 What do bamboo taste like?
Bamboo is a member of the grass family, believe it or not. It is pretty darn tasty grass…that's for sure. Starting in the spring, the little bamboo shoots grow up from the ground and these shoots can be harvested to eat. After these bamboo have completed maturity, they are peeled and boiled as described above, it can be used in so many different dishes like our Hot and Sour Soup (Suan La Tang).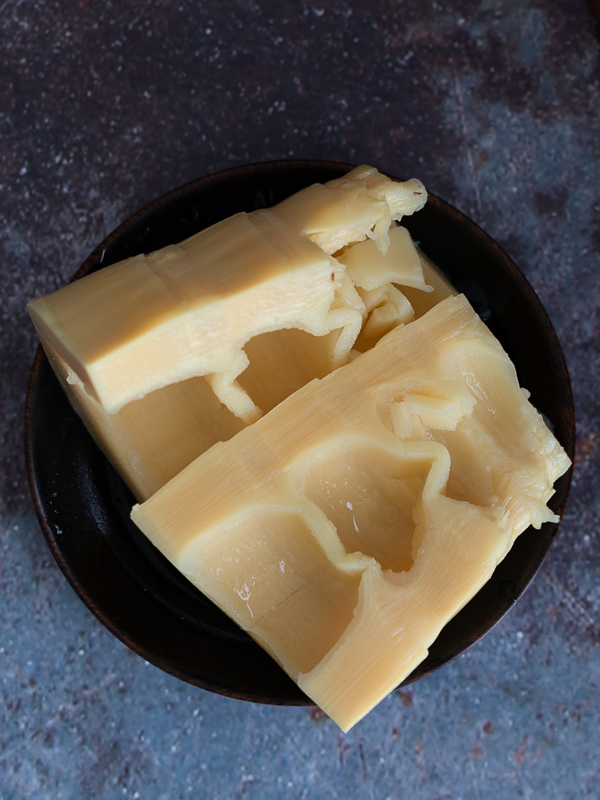 We think the bamboo has a very mild flavor that is very similar to baby corn. However, it has addictive crunch that makes it a fun addition to many recipes. As a matter of fact, the taste is so mild that they pick up whatever flavorings of the dish you are preparing.
Have you ever heard of wild rice stem? Wild rice stem is a "water bamboo" that is soft delicate and slightly sweet and does not require boiling before using in a stir fry. You may like to try our Shrimp and Wild Stem Stir Fry.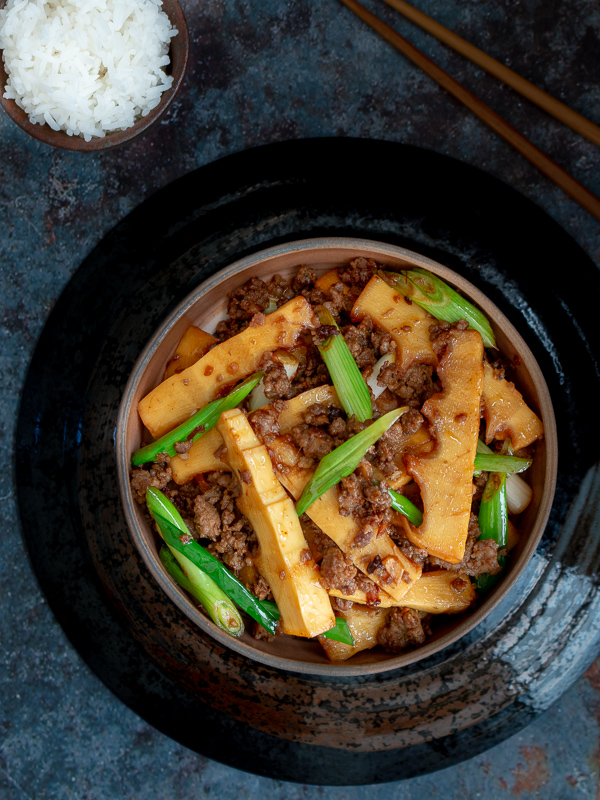 What can I use if I can't find Fresh bamboo?
Unless you live in Asia or have access to a well-stocked Asian market, it will be difficult for you to find fresh bamboo shoots. Feel free to use canned bamboo shoots and all you need to do is just drain and add them to the recipe. Sometimes you can find bamboo shoots that have been pre-boiled and are in the refrigerated section of the market. Be sure to wash these very well before slicing and using in your recipe.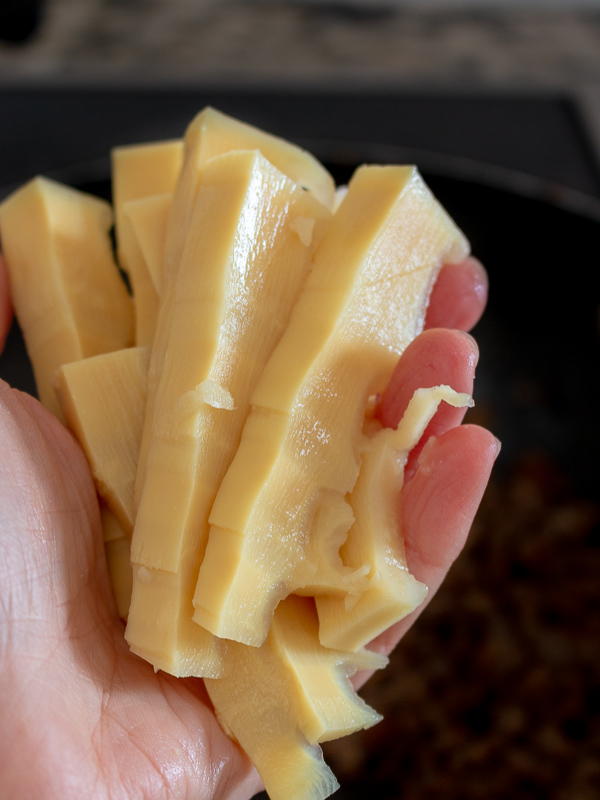 Chinese Pork Marinade
Did you know that China is one of the largest pork consumers in the world? You bet, so that is exactly why used ground pork for this recipe. However, feel free to exchange with ground beef, ground turkey, ground lamb, ground chicken or many seared tofu if you are vegan. We feel that using minced or ground protein allows all the flavors to mix in with the bamboo shoots.
Super easy marinade consists of soy sauce (or tamari, if you need it to be gluten free), garlic (well of course!), ginger, sesame oil, pinch of sugar, white pepper and just a tad of red chili flakes. If you enjoy the numbing sensation, be sure to add a little Sichuan Peppers. For all of you chili heads out there, be sure to try our Mapo Tofu, Sichuan Pepper Beef and our Homemade Sichuan Garlic Chili Oil.
Please keep in touch! Subscribe to our Newsletter and follow along on Facebook, You Tube, Instagram, and Pinterest for all the latest updates.
Wishing everyone a super week ahead!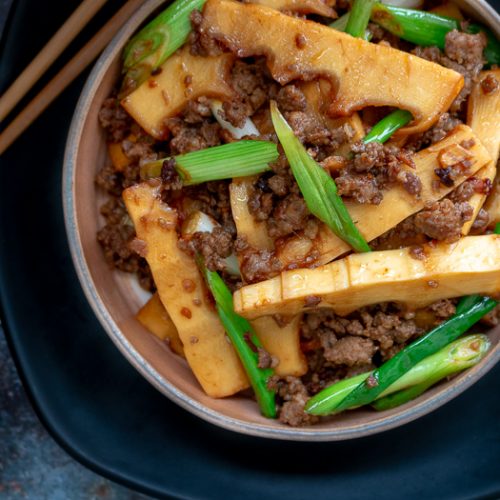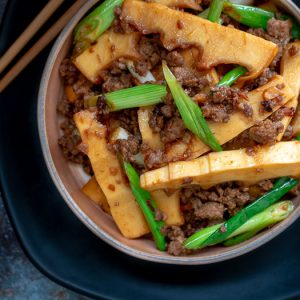 Spicy Pork and Bamboo Stir Fry
Spicy Pork and Bamboo Stir Fry is one of those super easy less than 20-minute recipes that your family is going to love.
Print
Pin
Rate
Ingredients
¼

pound

ground pork


2

cloves

garlic


peeled and minced

1

teaspoon

ginger


freshly grated or ¼ teaspoon dried ground

¼

teaspoon

white pepper

½

teaspoon

sugar

or sugar alternative (Skip if you want low carb)


1

teaspoon

light soy sauce


1

teaspoon

dark soy sauce


1

teaspoon

sesame oil


1

tablespoon

Shaoxing wine (sherry)


1

tablespoon

Oil for stir frying


½-1

teaspoon

Red chili flakes

or to desired heat level (optional)


8

oz

Bamboo shoots

either pre-boiled fresh or canned

2

Green onion

sliced garnish - optional
Instructions
Add ground pork, garlic, ginger, white pepper, sugar or sugar alternative, light and dark sauce (or exchange with tamari sauce if need to keep gluten-free), sesame oil, Shaoxing wine or cooking sherry and stir well. Set aside

If using fresh bamboo, make sure that you have peeled and boiled it prior to using it in this stirfry. If using canned bamboo, open the can and drain.

In a wok or large frying pan, add your cooking oil and chili flakes just until aromatic. Add your pork and stir fry until golden brown and no longer pink in a hot pan. Add your bamboo and stir fry for 1-2 minutes or until the flavors have had a chance to mingle and the bamboo are hot. Add your chopped green onions, toss and serve.

Enjoy your Spicy Pork and Bamboo Stir Fry alone or with rice or cauliflower rice if doing the low carb thing.
Notes
Feel free to use canned bamboo shoots in the recipe.
You can exchange the ground pork with ground chicken, beef, turkey, lamb or even seared tofu.
If you like it spicier add more chili flakes or add in crushed Sichuan Chili peppers.
If you like it mild, you can even leave out the chili flakes or add in a very small amount to suit your desired heat level.
Nutrition
Serving:
1
g
|
Calories:
271
kcal
|
Carbohydrates:
7
g
|
Protein:
12
g
|
Fat:
22
g
|
Saturated Fat:
6
g
|
Cholesterol:
41
mg
|
Sodium:
302
mg
|
Potassium:
287
mg
|
Fiber:
2
g
|
Sugar:
3
g
|
Vitamin A:
268
IU
|
Vitamin C:
4
mg
|
Calcium:
31
mg
|
Iron:
1
mg