Spicy Holy Basil Chicken (Pad Krapow Gai) is a delicious dish of minced chicken with spicy Thai chili peppers and Thai Holy Basil served with Jasmine rice.
You are just going to love this Thai Street food favorite made with just a handful of ingredients and whips together in under 15 minutes.
Have you ever been to Thailand? If you're a foodie, then you best get this destination on your bucket list. Some of the best street food you will ever eat! Spicy Holy Basil Chicken (Pad Krapow Gai) is a very commonly made street food item. It is made Fast, EXTRA Spicy and delicious, just like our Healthy Chicken Lettuce Wraps!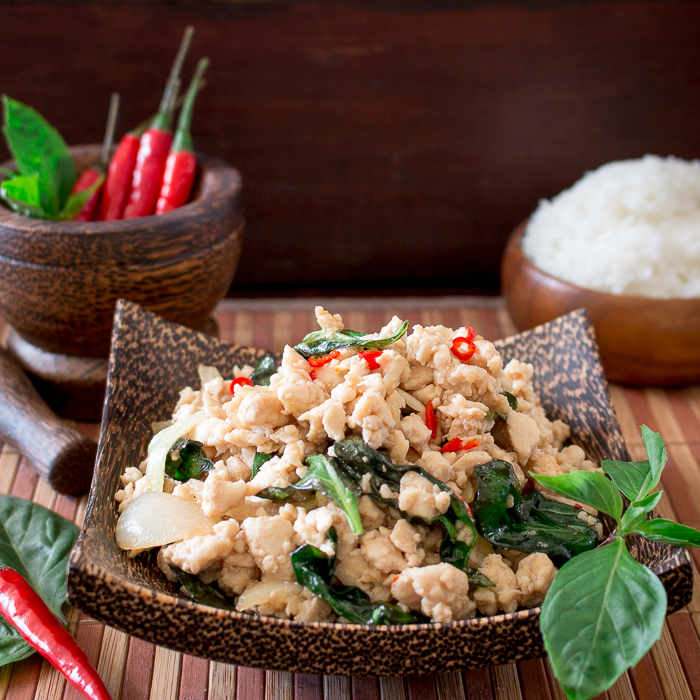 Jump to:
Make Spicy or Mild
The best part of making your own Pad Krawpow Gai is you can make just the way you like it.
EXTRA THAI KILLER HOT Spicy (could peel paint off cars spicy)
Standard run of the mill killer hot and spicy (mouth is on fire, bead of sweat on your brow, but a good burn)
Medium with a good kick
Mild and Delicious
Extra mild and cannot detect the addition of chili
We would like to delineate there is a BIG difference between Western Spicy and Thai Spicy. We kid you not, Thai's put chili on everything. Once you go spicy and love it they might lose a few taste buds along the way, so they must increase the amount of chilis. If you like more of a mild heat, you may like to try our Air Fried Crispy Curry Chicken Legs made with a mild Massaman curry. It is more savory than spicy.
We are not talking mild jalapeno peppers we are talking "fire breathing" Thai bird chili. They are small but they are mighty! If you are a chili head, you are going to love our Thai Shrimp Mango Salad. You can make this recipe as mild or as spicy as you like it too.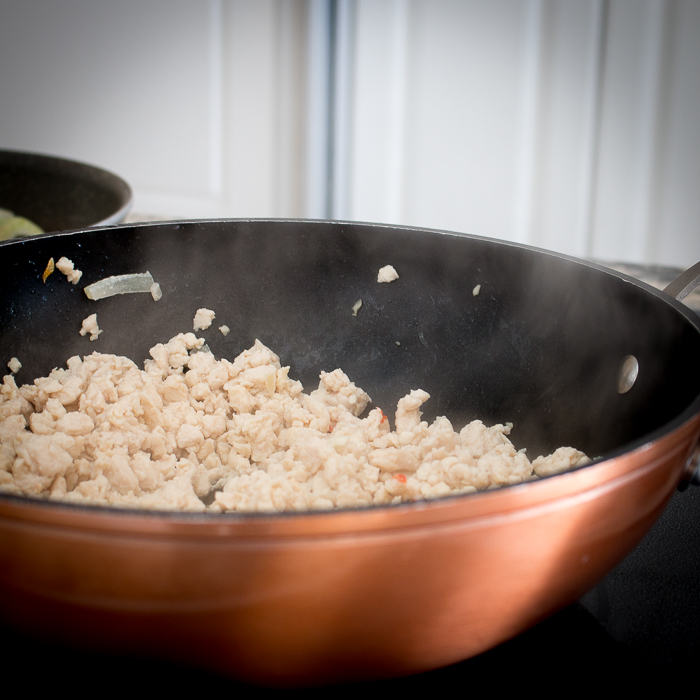 Spicy Holy Basil Chicken (Pad Krapow Gai) is also known as Thai Basil Chicken and Gai Pad Krapow or just Pad Krapow. Pad Krapow means stir fried holy basil. Sometimes you may see Pad Krapow made with beef or pork or even seafood.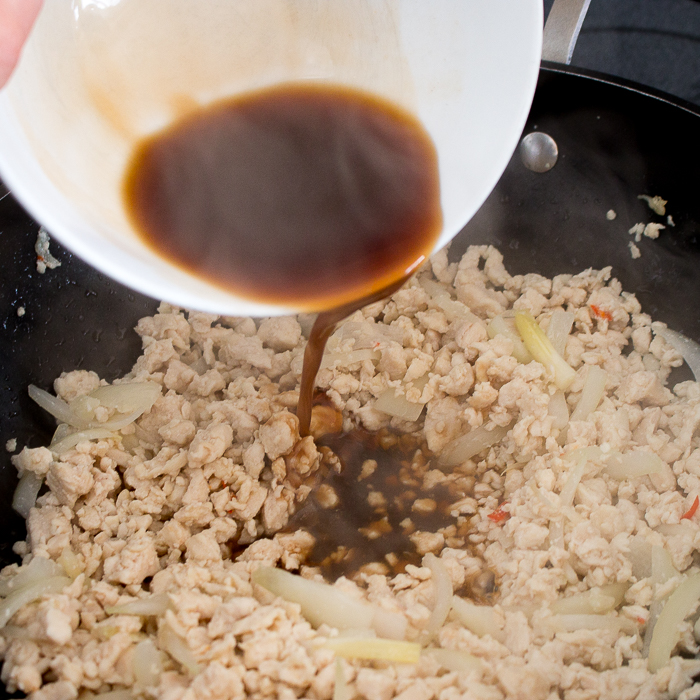 Thai Holy Basil
Thai Holy Basil (also known as Hot Sacred Basil) is a very special kind of basil that is often difficult to find outside of Asia. It is a little spicy, flavorful and makes our Spicy Holy Basil Chicken (Pad Krapow Gai) delicious. The leaves on our Holy basil are jagged. Holy Basil is spicy and not sweet and a perfect fit for our Grilled Flank Steak with Thai Style Chimichurri. There are two varieties a light green and a red which is purple around the stems.
However, at the end of the day, you should be able to cook a meal with the ingredients you can find at the markets near you. Feel free to substitute with Mediterranean (Italian) basil or even Thai Sweet Basil. The secret is to get the flavors balanced to achieve the spicy peppery balance and savory.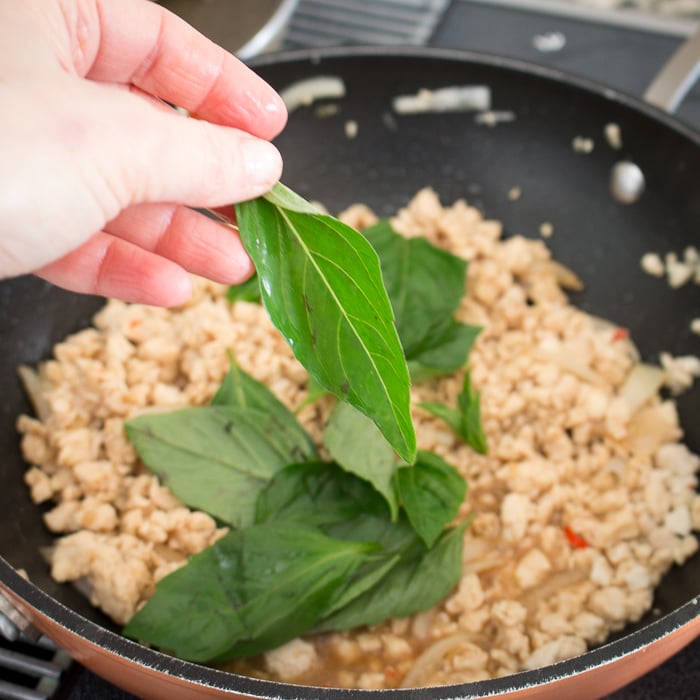 How to Chop Chicken?
We like to finely chop our chicken with two Chinese cleavers. Yes, you got it some major chopping action going on with both hands. You may also use Minced/ground chicken if you like. The rationale behind this is to be able to get all the flavors throughout the chicken, just like in our recipe for Phat Kra-Prao Kai: Stir Fried Chicken with Holy Basil.
If you cut your chicken into slices or bigger pieces, the flavor will not be throughout evenly. If you would rather cook out on a beautiful day, try our Thai Grilled Chicken Tenderloins with all the Thai flavors.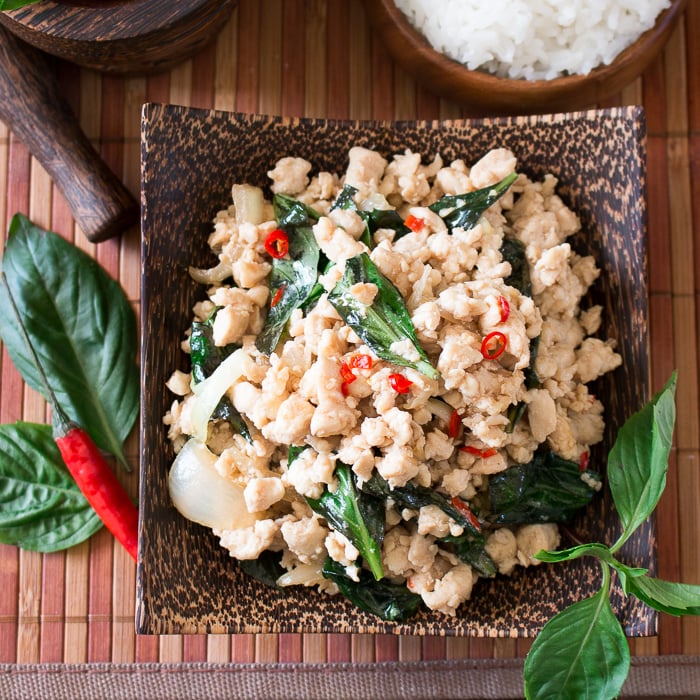 Frequent Asked Questions
Can you use regular basil instead of Thai basil?
Yes, you certainly can use Italian basil instead of Thai Basil in Pad Krapow Gai . Thai basil has a little more anise flavor compared to Italian basil. Therefore, sometimes we add a couple of sprigs of mint to give it that extra boost of flavor.
How can you make Spicy Holy Basil Chicken gluten free?
Indeed, you can. We like to use Red Boat Fish sauce as it is gluten-free. In addition, Lee Kum Lee Panda brand has a green label gluten-free oyster sauce.
Can you make Pad Krapow Gai not spicy or mild?
You sure can. Adjust the amount of Thai Bird Chilis to your liking or leave them out completely. In addition, if you do not have Thai Bird Chilis at home, you can add a little bit of sriracha sauce to your desired spice level.
More Delicious Thai Recipes
If you are looking for a few Thai dishes to accompany your meal, be sure to try our Springtime Thai Beef Buddha Bowls , Authentic Thai Fish Salad , Blue Elephant Chili cocktail to get the evening started. . Be sure to check out our Thai Recipe Collection for more inspiration.
Did You Like Our Recipe? Leave a ⭐⭐⭐⭐⭐ rating and/or a review in the comments section below. Your feedback is always appreciated! Follow us for more delicious recipes on Pinterest, Instagram, Twitter and Facebook! Don't forget to sign up for our email list for more free recipes.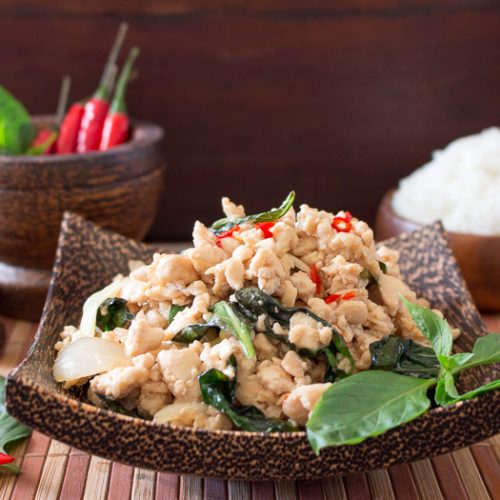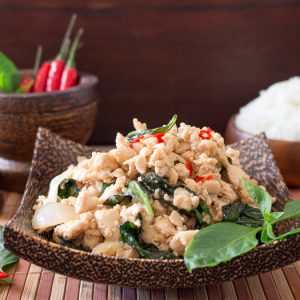 Spicy Holy Basil Chicken (Pad Krapow Gai)
Spicy Holy Basil Chicken (Pad Krapow Gai) is a delicious dish of minced chicken with spicy Thai chili peppers and Thai Holy Basil served with Jasmine rice.
Print
Pin
Rate
Ingredients
2

tablespoon

Oil


5

cloves

Garlic


peeled and minced

4

Thai Bird Chili Peppers

or so lightly crushed and 1 chopped finely or per your desired heat level.

1

pound

Chicken

(minced with cleavers or minced chicken)


2

tablespoon

Oyster Sauce


1

tablespoon

Fish sauce


2

tablespoon

Water


½

teaspoon

Sugar


or sugar alternative of choice

1.5

cups

Thai Holy Basil


(stems removed and leaves whole)- if cannot find Holy basil substitute with a basil you can find at your market and adjust the spices accordingly.

4

cups

Jasmine rice

cooked
Instructions
In a wok/ frying pan, add your oil, garlic and chili peppers and stir fry until aromatic. Add your minced chicken and fry until no longer pink and golden.

Mix your oyster sauce, fish sauce, water and sugar or sugar alternative in a bowl and add to your chicken mixture in the wok, add your 1 chopped Thai bird chili and chopped onion and stir fry for 1 minute.

Add whole Thai Holy basil to the chicken mixture and stirfry just until it begins to wilt. (You can also reserve a few Thai Holy Basil Leaves and deep fry them if you wish- not required)

Serve Spicy Holy Basil Chicken (Pad Krapow Gai) with cooked Jasmine Rice. Garnish with extra basil leaves and chili, if desired.

Enjoy!
Notes
If you cannot find Holy Basil at the Asian Market near you, feel free to substitute with Mediterranean basil or even Thai Sweet Basil for the Holy Basil.
Nutrition
Serving:
1
g
|
Calories:
191
kcal
|
Carbohydrates:
2
g
|
Protein:
11
g
|
Fat:
15
g
|
Saturated Fat:
3
g
|
Cholesterol:
41
mg
|
Sodium:
638
mg
|
Potassium:
131
mg
|
Fiber:
1
g
|
Sugar:
1
g
|
Vitamin A:
76
IU
|
Vitamin C:
2
mg
|
Calcium:
16
mg
|
Iron:
1
mg