Satisfy your inner cravings with our lightened-up chocolate rice cake rocky road bars - an easy, no-bake dessert recipe. Imagine taking a bite of crispy rice crackers, chewy vegan marshmallows, crunchy mixed seeds, and dried fruits, all enveloped in the richness of dark chocolate. These must try sweet treats are rich and dreamy!
Gluten-free, dairy-free, and vegan, each bite is a decadent delight without added sweeteners. Finish the rice cake dessert with festive sprinkles for the ultimate holiday treat and Christmas gift idea.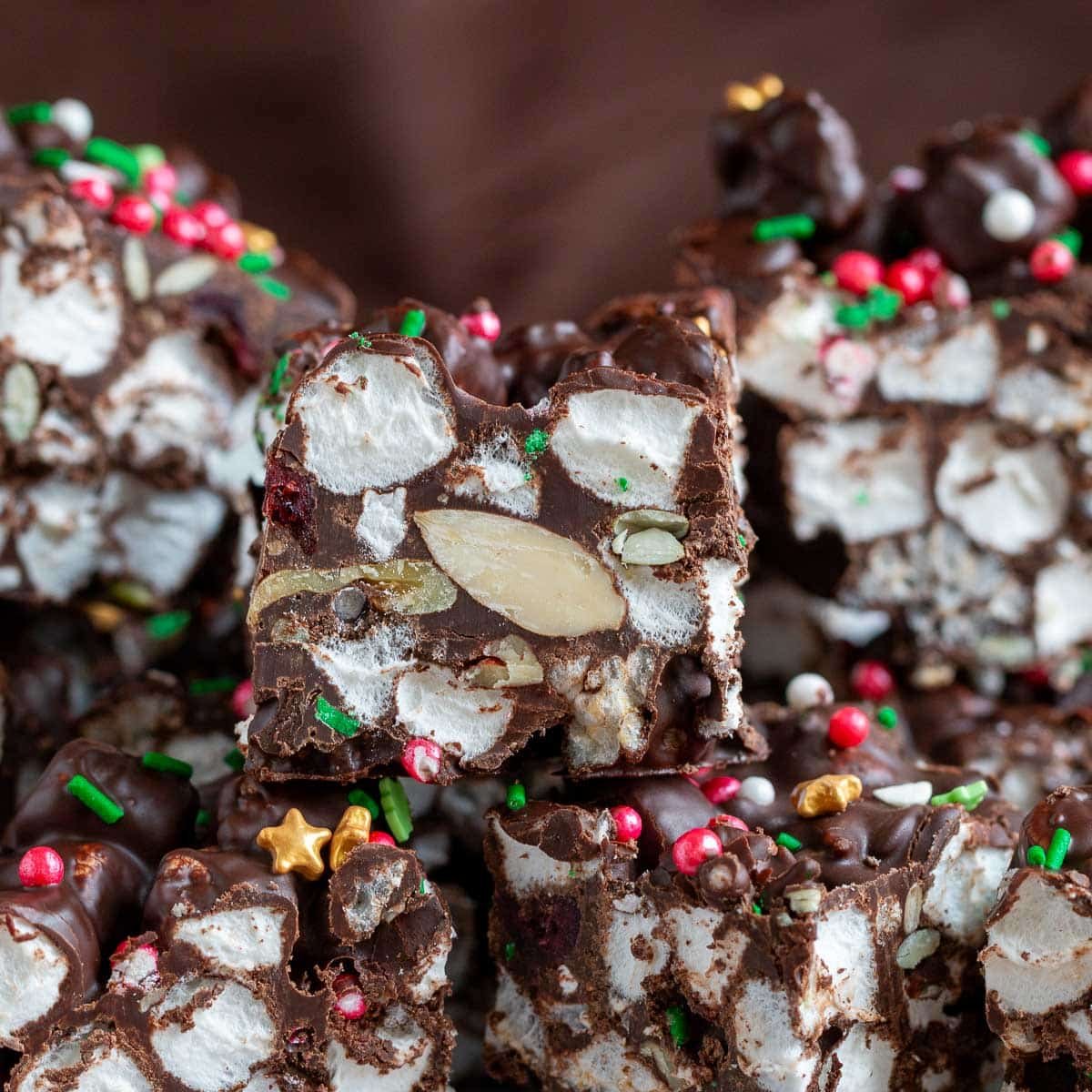 Jump to:
What is a Rice Cake Cracker?
The American puffed rice cake is created by applying heat and pressure to brown rice grains, causing them to expand and burst. Light, airy, and shaped into 4-inch (10cm) round disks, they serve as a fantastic alternative to bread, especially for those with gluten intolerances. While you may recall them from fad diets in the mid 1980's to 1990s, today they offer a versatile solution.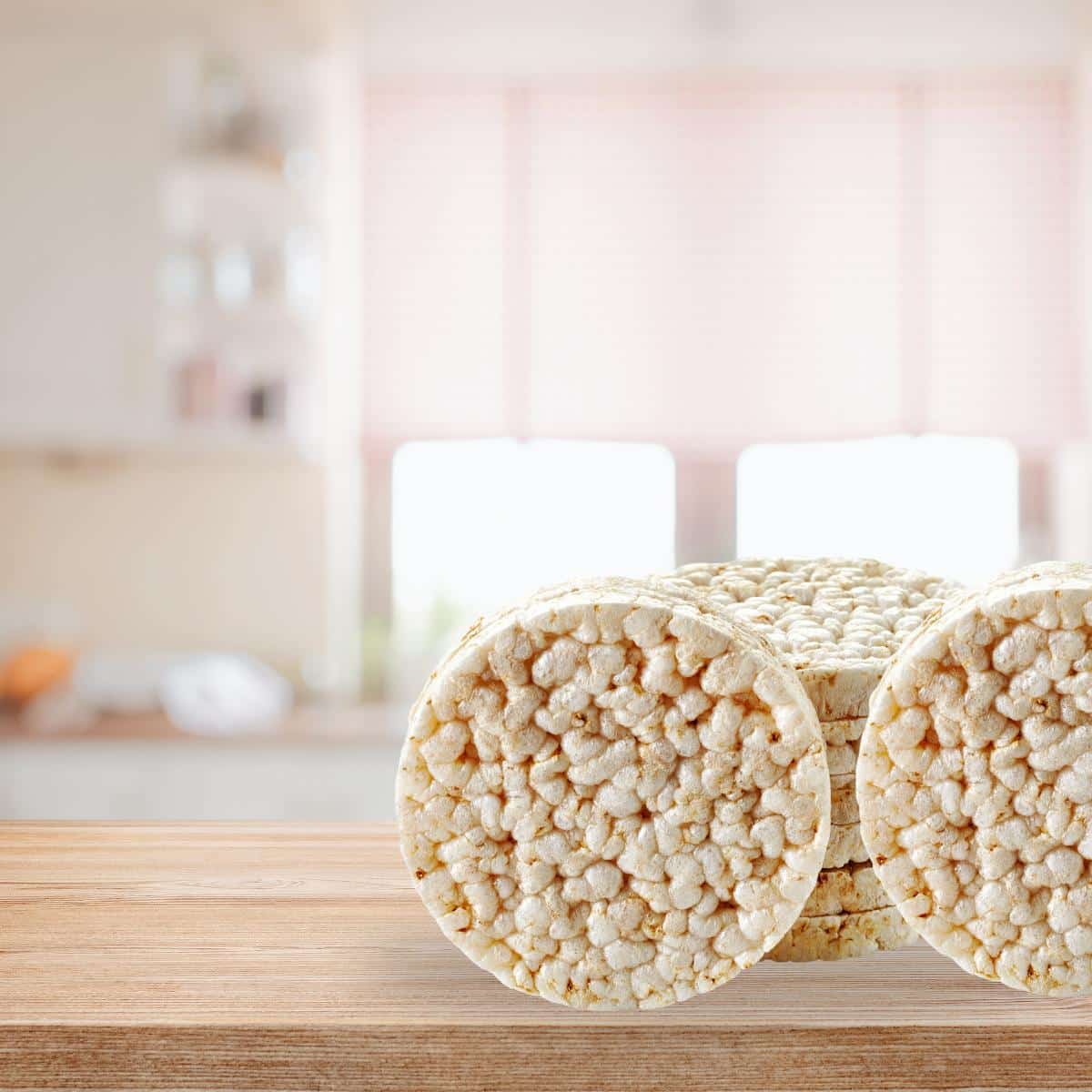 What do Rice Cakes Taste Like?
Puffed rice cakes boast a toasty and nutty flavor profile but tend to be quite dry. To elevate their taste, we've discovered the perfect solution!
Puffed Rice Cake Crackers in Vegan Rocky Road Bars
Ever wondered what to do with those extra puffed rice cake crackers? Here's a delicious answer. While we adore topping rice cakes with hummus or using crushed crackers in unexpected recipes like salmon patties, their real magic unfolds in our Vegan Rocky Road Bars. Providing a gluten-free, sugar-free, and zero-fat alternative to traditional digestive biscuits or cookies, these rice cake snacks elevate the crunch factor.
Forget the viral giant peanut butter cups—our rocky road candy stays crispy, thanks to a genius layering technique. The chocolate fully envelops the rice cake clusters, ensuring a lasting, delightful crispiness, unlike peanut butter-soaked alternatives. This is one of our many rice cake ideas you need to try today.
Ingredients & Creative Variations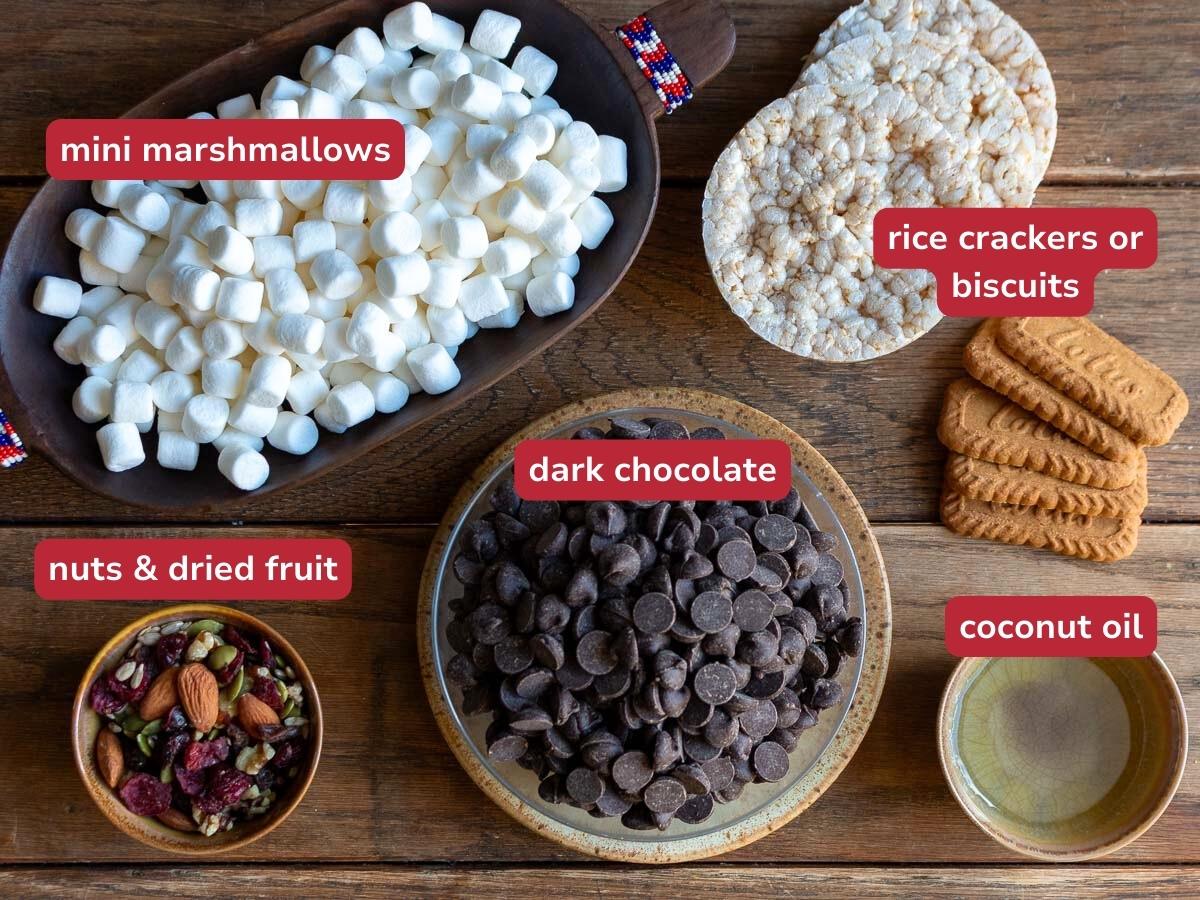 To craft these delectable vegan rocky road bars, gather the essentials:
1. Plain Rice Cake Crackers:
American puffed rice disks, each around 9 grams and 4 inches in diameter.
Important: Not to be confused with sticky rice cakes made from glutinous rice flour.
Choose lightly salted or no-added salt versions; off-brand options often deliver quality at half the price.
2. Dark Chocolate Chips (Vegan):
Choose vegan dark chocolate chips for a rich, dairy-free experience.
We recommend Enjoy Life Baking Dark Chocolate Morsels for their nut-free, soy-free, gluten-free and dairy-free composition.
Feel free to experiment with regular dark or semi-sweet chocolate chips or a mix of milk and dark for non-vegan options.
3. Coconut Oil or Light Oil:
Enhance chocolate melting with silky smoothness by adding coconut oil or a light oil. The coconut oil works it magic allowing you to bypass the tempering process but it makes it glossy for chocolate covered frozen fruit and gluten free rocky road.
4. Marshmallows:
Choose mini marshmallows for optimal chewiness or slice full size marshmallows into small pieces.
Our pick: Dandies all-natural mini vanilla marshmallows—certified gluten-free and vegan.
Get creative with colored fruit marshmallows for a playful twist.
5. Crunchy Seeds, Nuts, and Dried Fruits:
We used a trail mix blend featuring dried cranberries, roasted pepitas, sunflower seeds, and walnuts.
Explore alternatives like chewy goji berries, dried mango, coconut, or even freeze-dried fruits.
If making for a school party, we avoid adding peanuts or any tree nuts due to allergies.
6. Sprinkles:
Embrace the festive spirit with seasonal sprinkles; think red, green, and gold for the holidays.
Customize this rice cake snack for various occasions—pastels for spring, red, and pink for Valentine's Day, or any fun combination that suits your mood.
Let the joy of creativity shine in every sprinkle!
How to Make: A Quick Guide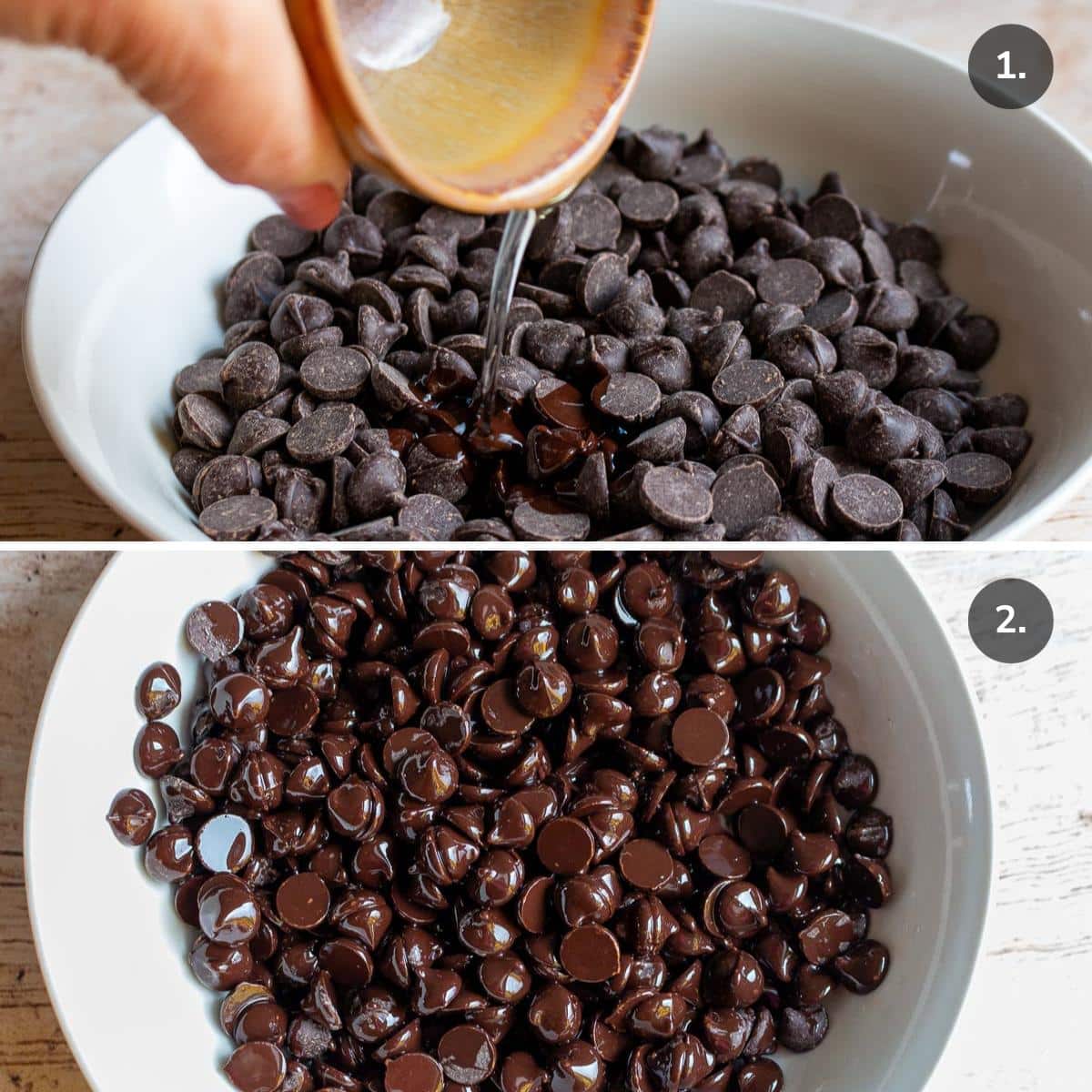 Add coconut oil or light flavored oil to the dark chocolate chips and stir.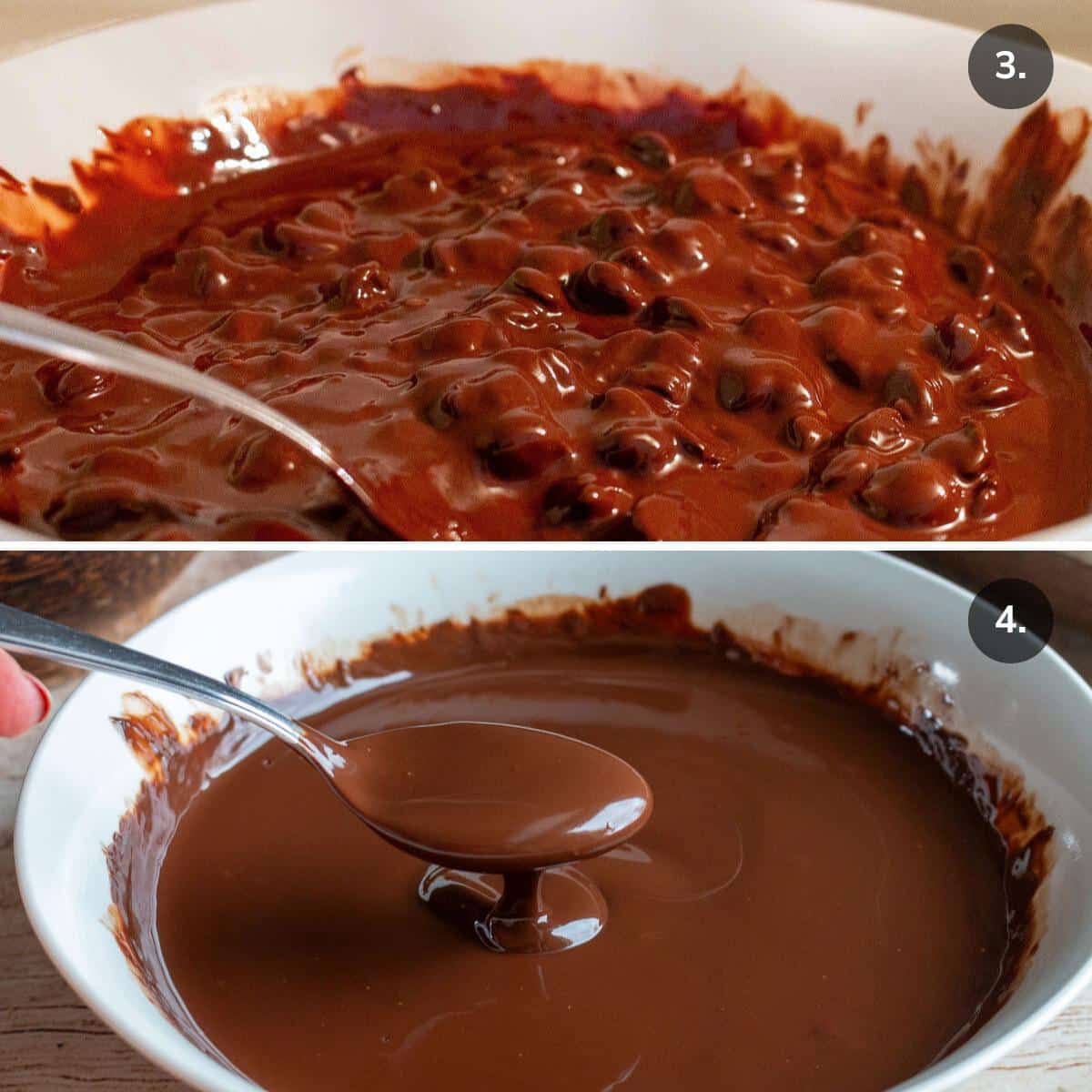 Microwave the chocolate chips in 20 to 30 second burst and stir in between until almost all the way melted. Stir until smooth and creamy.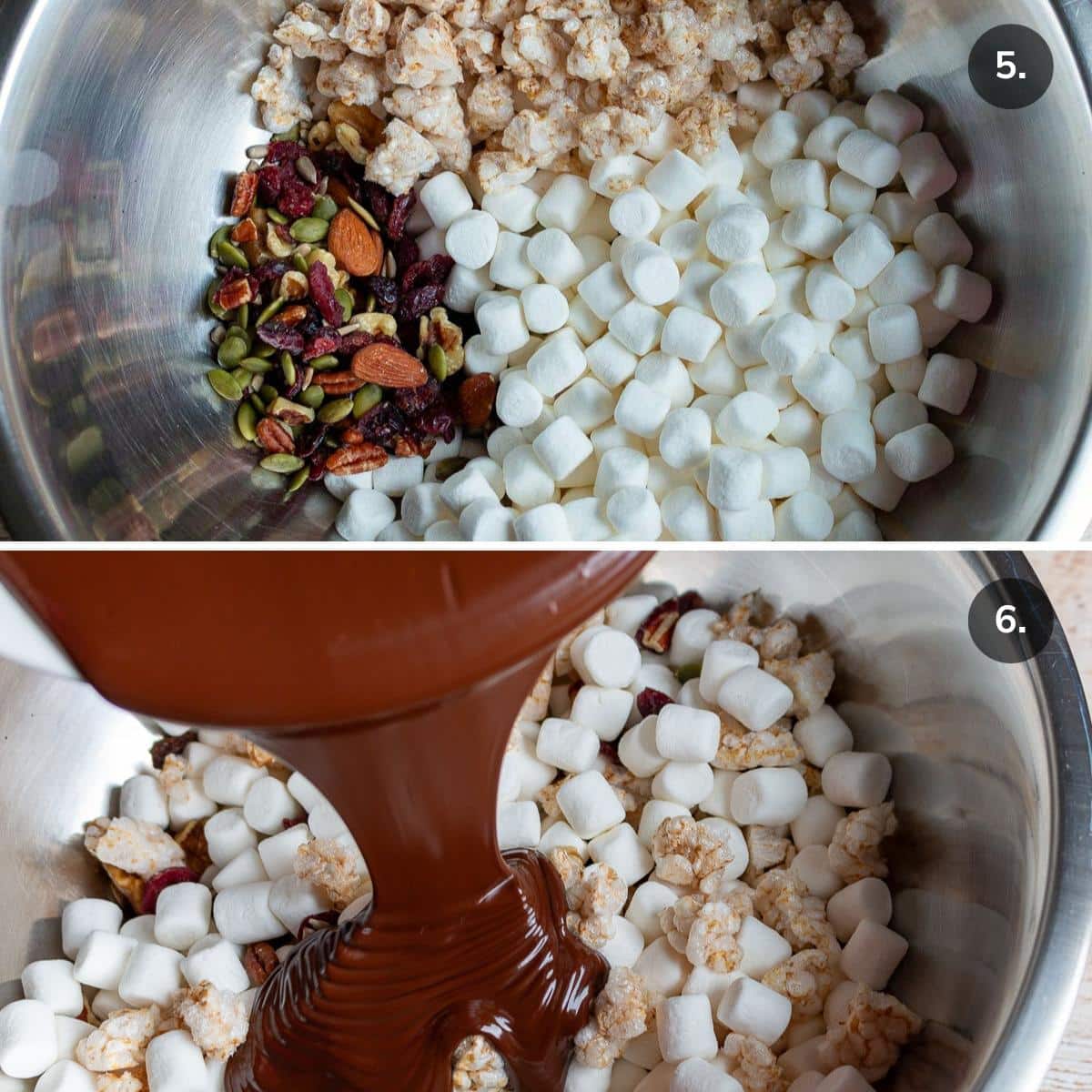 Mix broken rice cake crackers, mini marshmallows, dried fruits, nuts, and seeds or a combination of add ins as desired. Drizzle over the melted chocolate.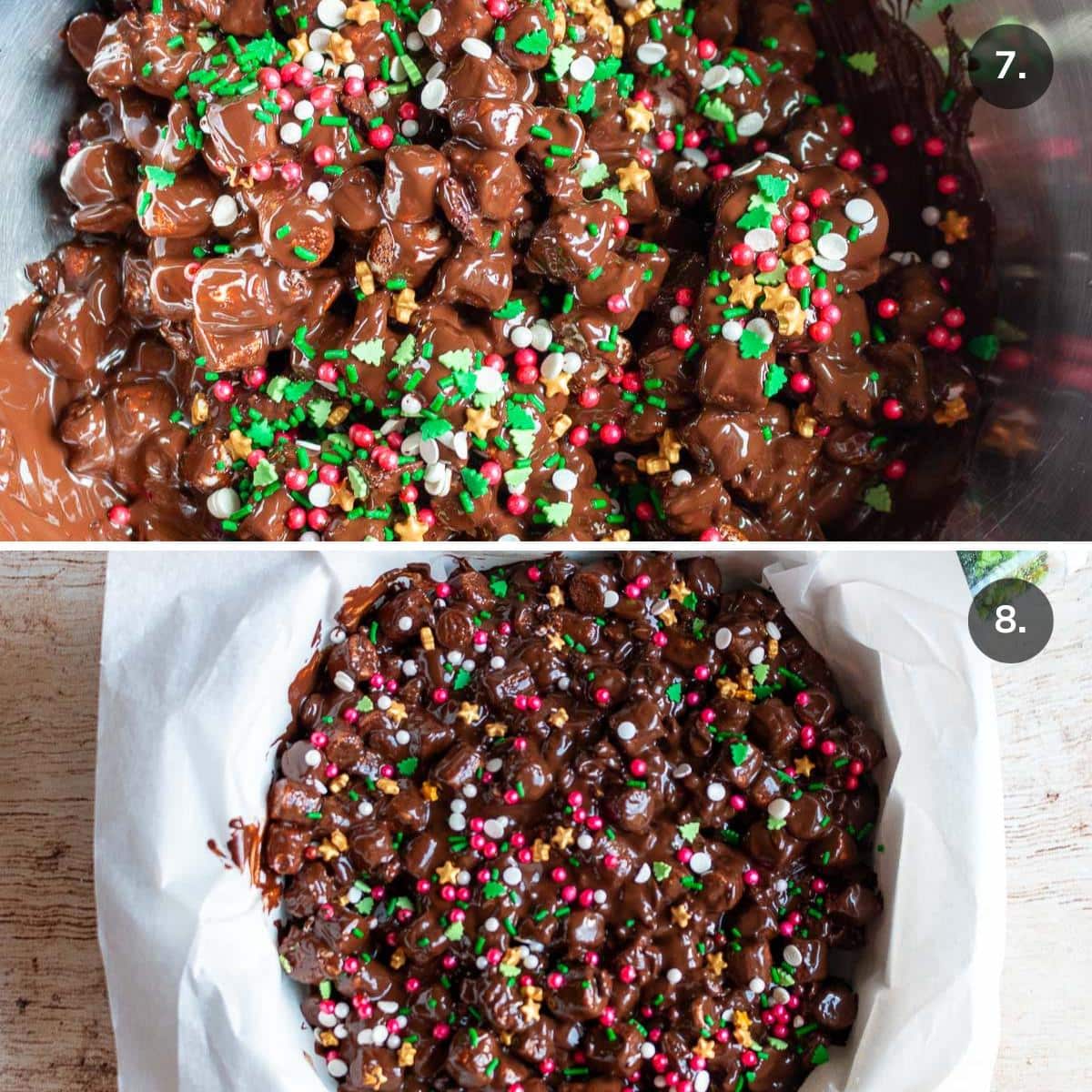 Stir well and then add to a parchment lined baking dish.
Top chocolate rice cake rocky road bars with sprinkles.
Refrigerate until set. Exercise patience or give in to temptation for an early taste test—your call!
Recipe Tips and Hacks
Try these tips to ensure your gluten-free chocolate rice cake rocky road bars reach the pinnacle of flavor and texture.
Mind the Chocolate Ratio: Achieving the right balance of chocolate is key. Ensure you have enough to generously coat all the delectable mix-ins and provide that perfect crunch.
Marshmallow Measurement Hack: When measuring marshmallows, pack them into the cup to ensure you get the right amount of chewy goodness in every bite.
Crunchy Rice Cracker Technique: Break rice crackers into small, bite-sized pieces for an optimal texture. The goal is a harmonious blend of crispy, chewy, and crunchy in every mouthful.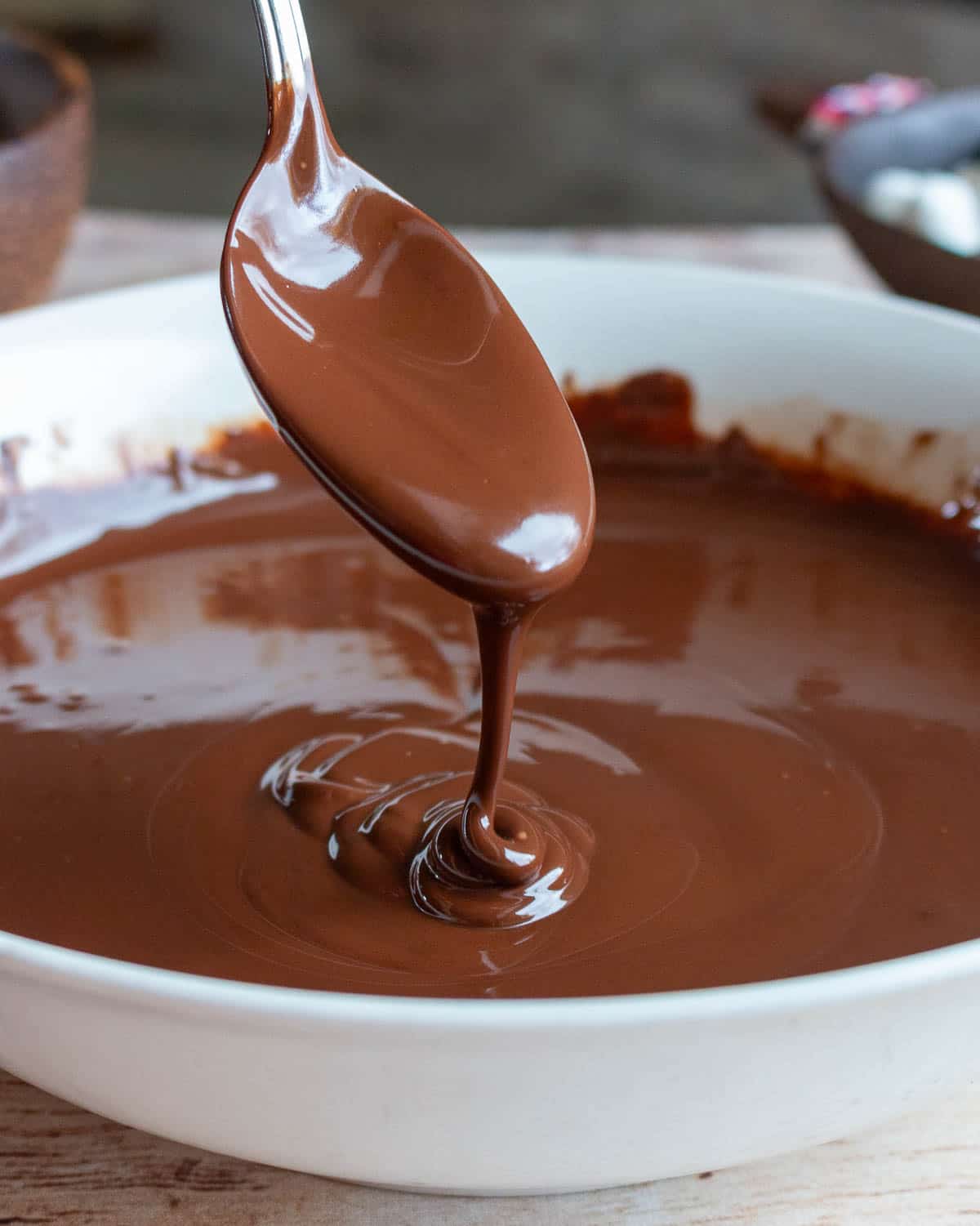 Mastering the Art of Chocolate Melting
Unlock the secrets to perfectly melted chocolate, whether for this recipe for rocky road candy or elegant treats like chocolate matcha truffles and French Eclairs. Follow these essential tips:
Microwave Safe Essentials: Choose a microwave-safe bowl, keeping in mind that glass retains heat, continuing to affect the chocolate even after microwaving.
Uniform Chocolate Pieces: Use chocolate chips, melting wafers, or finely chopped chocolate of the same size for even melting.
Clean & Dry Tools: Ensure both the bowl and spoon used for stirring are clean and dry. Any water meeting the melting chocolate can cause it to seize into a gritty paste.
Mind the Power: Microwave on half power rather than full power to prevent burning. Stir the chocolate after each short burst of heating to distribute the heat evenly.
Timing Matters: Stop microwaving just before vegan dark chocolate chips are completely melted; the residual heat from the bowl will finish the job.
Alternative Method - Double Boiler: If no microwave is available, use a double boiler on the stovetop. Be cautious not to introduce any water into the chocolate, as it can cause seizing.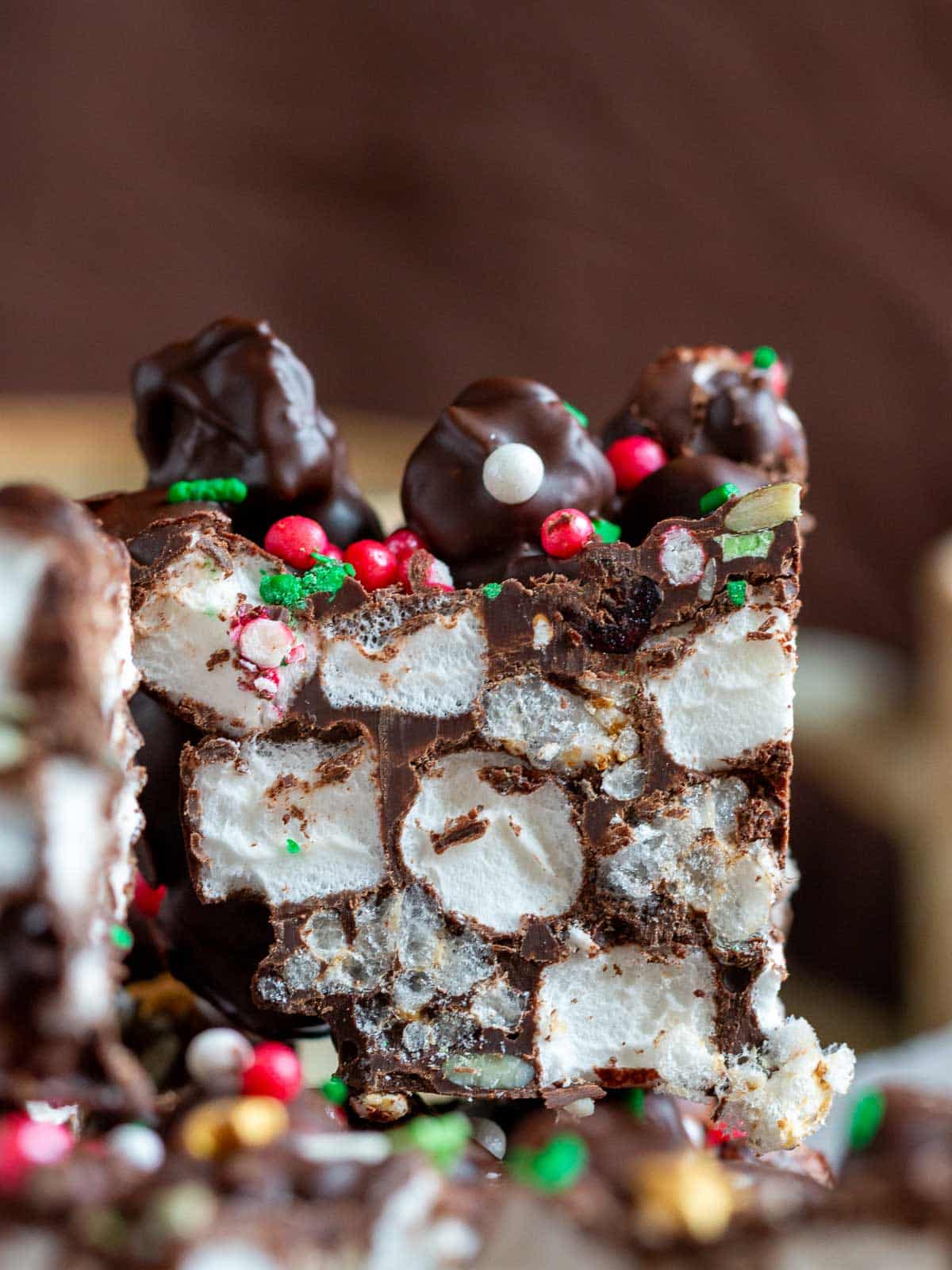 Perfect Companions: What to Serve
Savor the chocolate rice cake bars by pairing them with a steaming cup of tea or robust coffee for a delightful temperature contrast. Deck out your cookie tray with the spiciness of gingerbread or explore an international cookie assortment for a diverse flavor experience. Elevate your dessert spread by serving the rice cake rocky road with a scoop of matcha nice cream or add a touch of freshness with berries or sliced seasonal fruit.
If you are anything like us, we love something a little salty with sweet. Try our low carb rosemary party nuts – always a hit around the holidays. The possibilities are endless, making Rocky Road Bars a versatile treat for any occasion.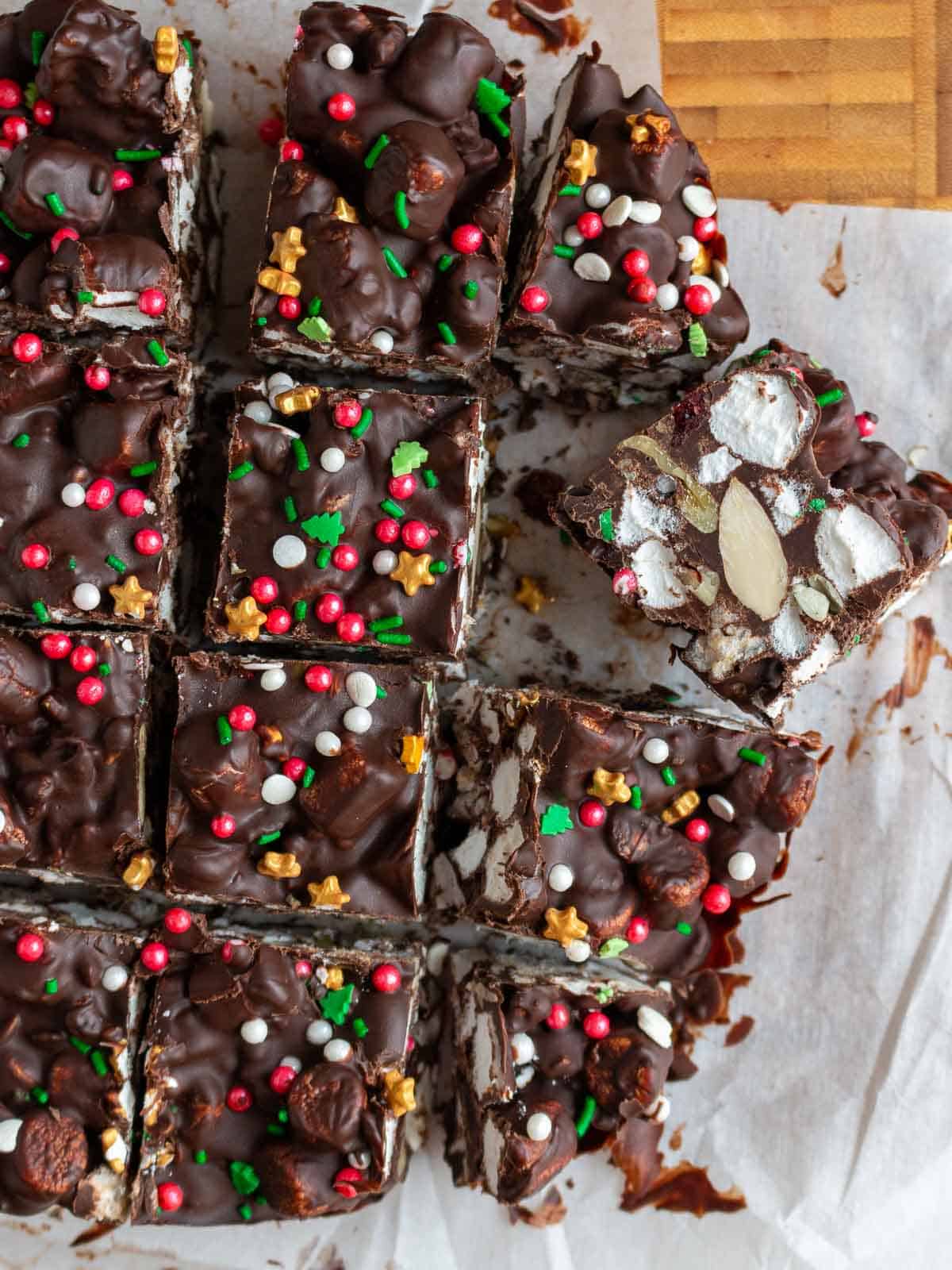 How to store?
Rocky road candy bars are not only a delight for your taste buds but also a breeze to store. Without any perishable ingredients, they make a perfect make-ahead treat for sharing or gifting. Once crafted and set, simply keep them in a sealed container in a cool place for up to 7 days. In warmer climates, it is best to refrigerate to maintain freshness for an additional 7 days.
Extend the joy by freezing these gluten-free bars. Wrap them in plastic, followed by foil, and store them in a freezer-safe bag or container. They stay freezer-fresh for up to 3 months, though truth be told, they rarely last that long.
To thaw, place them in the refrigerator, let them sit in a cool spot overnight, or at room temperature for about 15 minutes. Your Rocky Road Bars are then ready to be savored whenever you crave a delicious indulgence.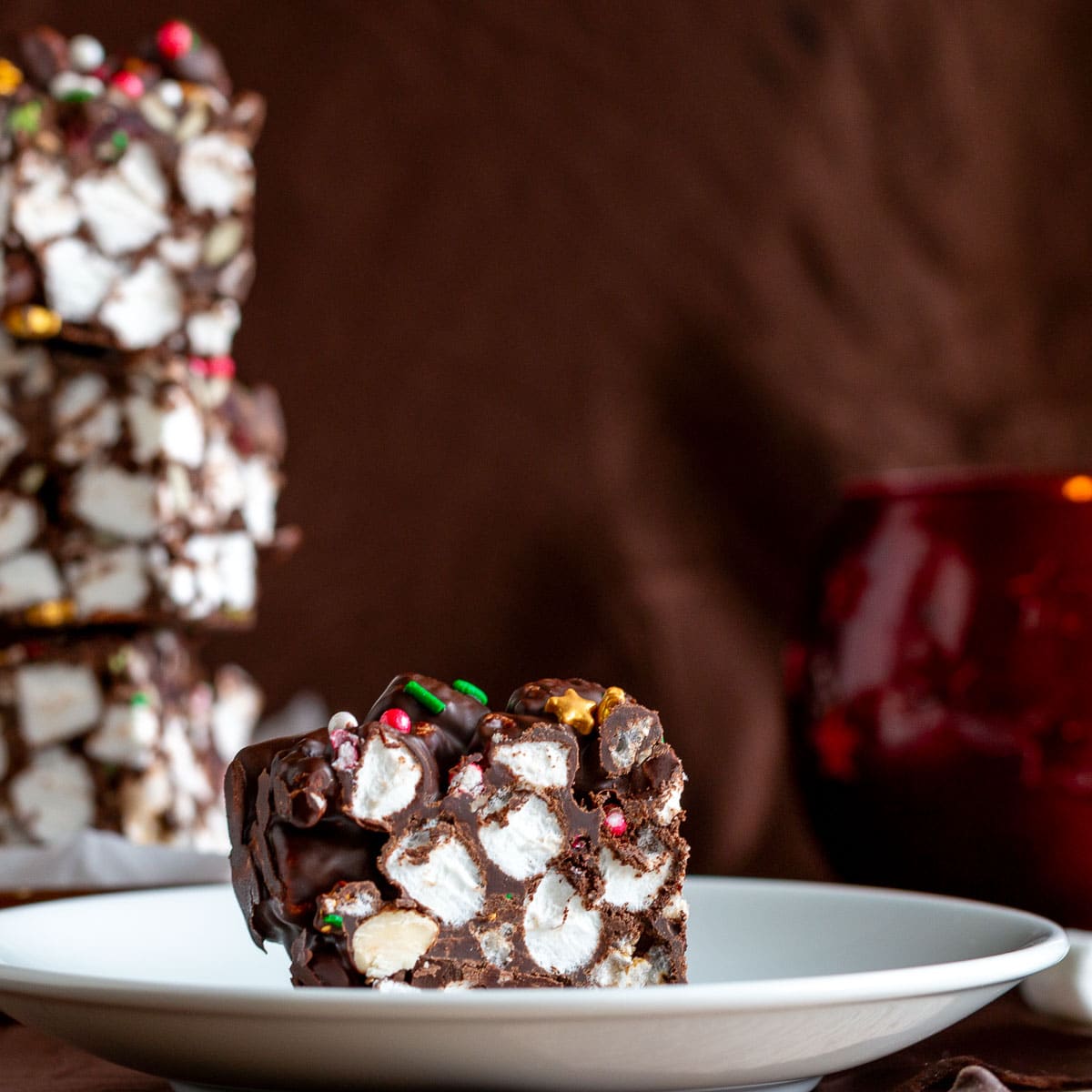 Perfect Gift Idea
Spread joy with these decadent Chocolate Rice Cake Rocky Road Bars—an ideal gift to brighten someone's day. Elevate your presentation with these charming options:
Parchment-Wrapped Slices: Wrap individual slices in parchment paper before placing them in a decorative box for an elegant and tidy presentation.
Plastic Wrap and Ribbon: Take a slice of Rocky Road, wrap it in a small piece of plastic, roll it up, twist the sides, and tie it with a festive ribbon or string for a personal touch.
Tin Delight: Create a festive display by setting little candy or cupcake liners in a holiday tin, placing a Rocky Road Bar into each liner, and covering the tin for a delightful arrangement.
Gift Bags with a Ribbon Seal: Choose little food-safe gift bags. Place the chocolate rice cake treats inside, seal them with a ribbon, and present a tasty package.
Whichever option you choose, the recipient is sure to appreciate the thoughtful and delicious gesture. These rocky road candy bars make for a perfect edible gift for any occasion.
Frequent Asked Questions (FAQ's)
How to Slice Rocky Road?
1. Allow the chilled Rocky Road to reach room temperature for approximately 20 to 30 minutes.
2. Choose a sharp, flat-edged or serrated knife.
3. To prevent breakage, gently score the top without cutting all the way through. Then, cut into long slices and further into smaller sections.

How to Fix Seized Chocolate?
If your chocolate seizes due to accidental moisture, add a teaspoon of boiling water at a time, stirring vigorously until it regains a smooth consistency.

How to Fix Burned Chocolate?
Sometimes, accidentally overheating your chocolate can cause clumping and grittiness. Remedy it by adding a few more chocolate chips and stirring vigorously until smooth.

More Sweet Treats
Did You Like Our Recipe? Leave a ⭐⭐⭐⭐⭐ rating and/or a review in the comments section below. Your feedback is always appreciated! Follow us for more delicious recipes on Pinterest, Instagram, Twitter and Facebook! Don't forget to sign up for our email list for more free recipes.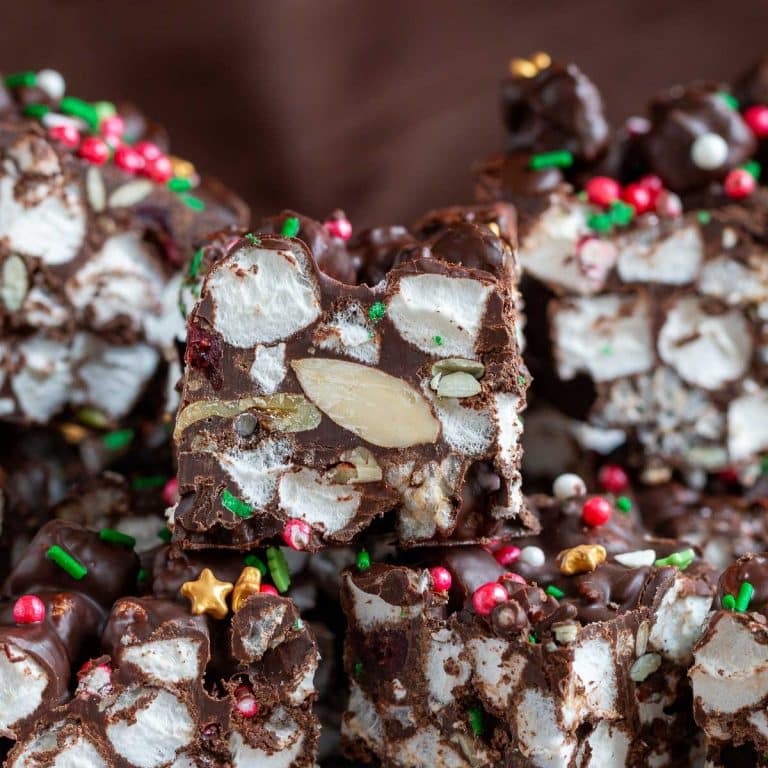 Chocolate Rice Cake Rocky Road Bars
Savor the delight of vegan, gluten-free Chocolate Rice Cake Rocky Road Bars – an easy, no-bake dessert for every sweet craving!
Print
Pin
Rate
Equipment
baking pan

8 inch x 8 inch (20cm x 20cm)

parchment paper

(baking paper)
Ingredients
16

ounces

dark chocolate chips

vegan and gluten free (2 and ¾ cups)

2

tablespoons

coconut oil

or light oil

1 and ¾

cups

mini marshmallows

vegan and gluten free (if all you have is large marshmallows cut them into small pieces

3

whole

puffed rice cake crackers

approximately 2 and ¼ heaping cups lightly salted or plain broken into little bite sized pieces. Each puffed rice cake cracker is 9 grams and 4 inches in diameter.

½

cup

trail mix

(dried fruits, seeds and/ or nuts) - ours had dried cranberries, dried pepitas, sunflower seeds and walnuts.

sprinkles

optional
Instructions
Line a 8 x 8 inch (20cm x 20cm) baking dish with parchment paper (baking paper) with the edges a little taller than the sides of the dish.

Pour the vegan dark chocolate chips into a clean and dry microwave safe bowl. Stir in the coconut oil or light oil and stir to coat.

Microwave the chocolate chips on "half power" uncovered in 20 to 30 second bursts and stir in between. Remove the chocolate chips from the microwave BEFORE they are almost all the way melted. The remaining heat in the bowl will usually melt it the rest of the way. Stir until smooth and creamy.

Stir in the puffed rice cake pieces, marshmallows and ½ cup trail mix (or your favorite add ins like dried fruits, seeds, nuts, freeze dried fruit, etc.) into the melted dark chocolate.

Pour the rocky road mixture into the prepared baking sheet. Spread it out evenly with a spatula.

Top with sprinkles, if desired, while the chocolate is still soft.

Refrigerate for 3 hours or until set.

Remove the chilled rocky road pan from the refrigerator. Use the parchment paper to left the rocky road out of the pan. Allow this chocolate dessert to set at room temperature for 30 minutes before slicing. Use a sharp knife to score 4 even lines and then cut into 12 slices.
Notes
*If you do not have a microwave, you can use a double boiler on the stovetop to melt chocolate. Please note: do not boil the water and be careful to not get water in the chocolate as it can cause it to seize up. We prefer the microwave method to melt chocolate.
How to store?
Once the rocky road bars have set, simply keep them in a sealed container in a cool place for up to 7 days. In warmer climates, it is best to refrigerate to maintain freshness for an additional 7 days.
To Freeze: Wrap them in plastic, followed by foil, and store them in a freezer-safe bag or container. They stay freezer-fresh for up to 3 months.
To Thaw: Place them in the refrigerator, let them sit in a cool spot overnight, or at room temperature for about 15 minutes. Your Rocky Road Bars are then ready to be savored whenever you craving something sweet.
Nutrition
Serving:
1
slice
|
Calories:
276
kcal
|
Carbohydrates:
28
g
|
Protein:
5
g
|
Fat:
17
g
|
Saturated Fat:
13
g
|
Polyunsaturated Fat:
1
g
|
Monounsaturated Fat:
1
g
|
Trans Fat:
0.002
g
|
Cholesterol:
0.4
mg
|
Sodium:
47
mg
|
Potassium:
279
mg
|
Fiber:
2
g
|
Sugar:
17
g
|
Vitamin A:
4
IU
|
Vitamin C:
0.3
mg
|
Calcium:
117
mg
|
Iron:
1
mg