Stove Top Rosemary Party Nuts are a super easy flavorful heart healthy snack that is going to be the life of the party and your best survival tool on a low carb diet.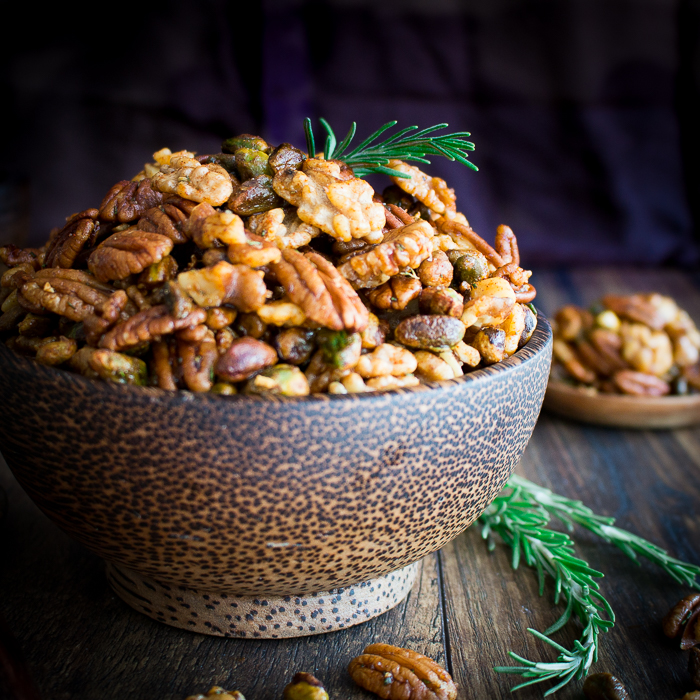 Jump to:
Snack with Perks
CRUNCHY
SPICY
AROMATIC
PISTACHIOS
WALNUTS
PECANS
PARTY APPETIZER
SNACK
LOW CARB
GLUTEN FREE
DIARY FREE
VEGAN
Heart healthy pistachios, walnuts and pecan come together with roasted rosemary, garlic, paprika and seasonings come together for the perfect low carb snack anytime and anyplace. If you are having a gathering, roasted nuts are just what you need to get this party started. It is always nice to have a quick and easy appetizer on hand while they are waiting for dinner.
Serving Size
There is something addictive about the crunch, the aromatic rosemary and a little hit of spice that is also very satisfying. Did you know that a serving of nuts is just a handful or about ¼ cup? Yep, not the whole container. We were bummed too!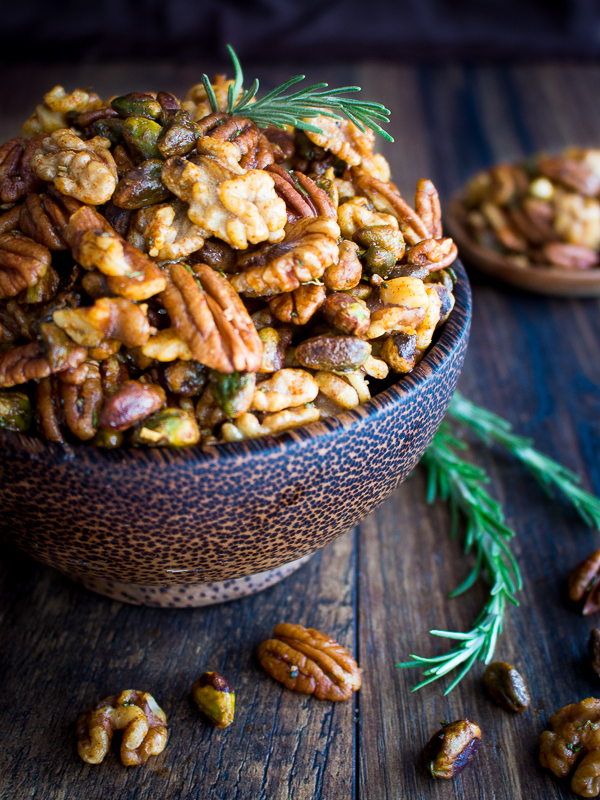 Healthy Choices
How many of you are trying to get their health in order and watching what you eat? Sick and tired of your belly extending over your pants, feeling sluggish or just down right unhappy in the mirror? We totally get that. We are not on a diet. Heck no, we just don't do that.
However, we are certainly trying to move more. Eating whole foods filled with healthy antioxidants, healthy fats, lean grass fed proteins, wild fish and seafood and in season vegetables and fruits.
When you start to reduce the white things from your diet like potatoes, rice, sugars and grains you need to ramp up your healthy fats to help you keep you feeling fuller. Every morning we enjoy a delicious bowl of Turmeric Vegetable Medley and we think this is the reason why our lab values are near picture perfect according to the MD.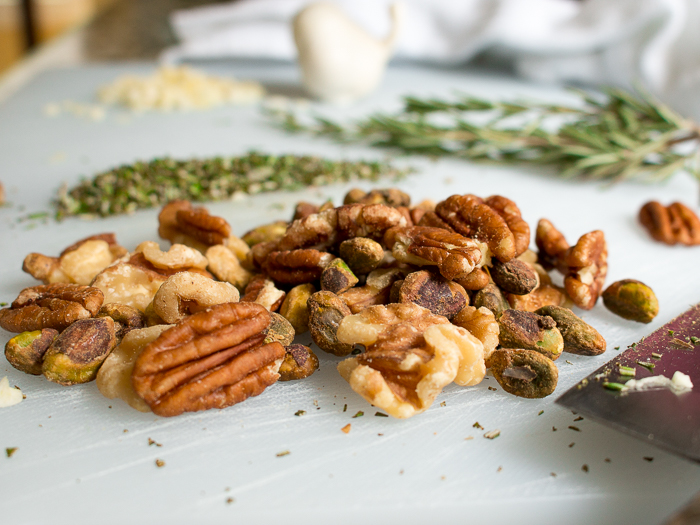 Hangry?
These homemade Stove Top Nuts are the secret recipe for staying on track with your health goals. Just a handful, it gives you a dose of healthy fats so you have the energy to get through your day. Whether you are out running errands, need to bring a dish to pass or are feeling "HANGRY" you are going to love this savory snack.
Have you ever heard the expression, Hangry? You should never feel Hangry which is a cross between feeling hungry and deprived so also feel angry. No one wants to be around you when you are HANGRY! Trust me!!!!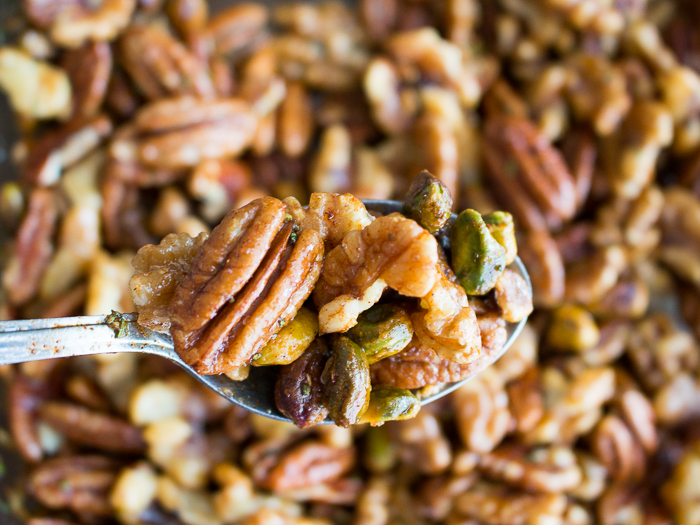 Easy Stove Top Method
The beauty of this quick and easy appetizer recipe is that you do not even need to turn on the oven. In the summer when the heat index is getting to you or you just don't want to be bothered, you can make this in 5 minutes flat right on your stove top.
You can really use any nuts you desire but we chose pistachios, walnuts and pecans as they are high in protein, omega 3 fatty acids and a delicious trio. According to Live Strong, pistachios, walnuts and pecans are list in the top 9 Healthy Nuts That May Help You Live Longer. Of course, we used raw nuts so we could adjust how much salt and seasonings we added to the mix. Our favorite is the rosemary roasted pecans.
How to Make?
You really do not even need a recipe for these Stove Top Rosemary Party Nuts. Just choose 3 cups of your favorite raw nuts, heat olive oil, fresh rosemary, garlic in a pan until aromatic, toss in nuts and add paprika and salt and pepper to taste. During the holidays, add some easy to peel Air Fryer Roasted Chestnuts for a festive treat. That is it. How easy is that!!?
We used fresh garlic so just as an FYI- you must keep your nuts in the refrigerator or freezer because garlic does have a shelf life. If you choose to use garlic powder, then you can leave sealed at room temperature.
If you are looking for some low carb starters or snacks, be sure to check out our Skinny Spaghetti Squash Egg Roll Ups , How to Make The Best Turkey Taco Lettuce Wraps , or our Baked Cheesy Salami Wrapped Jalapeños
More Nuts and Seed Recipes
Did You Like Our Recipe? Leave a ⭐⭐⭐⭐⭐ rating and/or a review in the comments section below. Your feedback is always appreciated! Follow us for more delicious recipes on Pinterest, Instagram, Twitter and Facebook! Don't forget to sign up for our email list for more free recipes.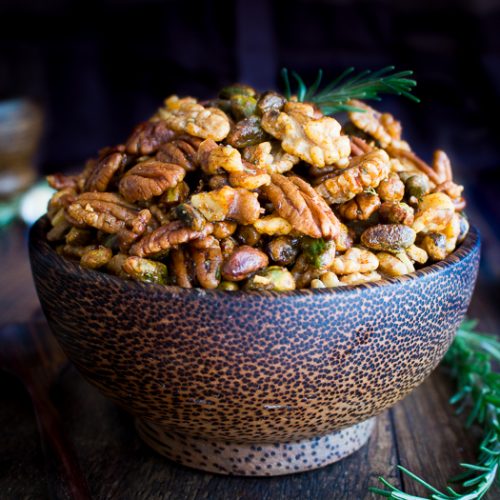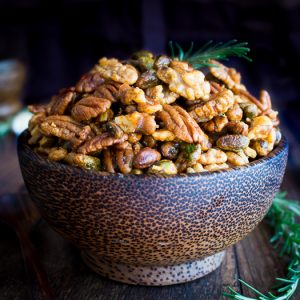 Stove Top Rosemary Party Nuts
Stove Top Rosemary Party Nuts are a super easy flavorful heart healthy snack that is going to be the life of the party and your best survival tool on a low carb diet.
Print
Pin
Rate
Ingredients
1

cup

pistachios


shells removed, raw

1

cup

walnuts


shells removed, raw

1

cup

pecans

shells removed, raw

2

tablespoon

olive oil


2

tablespoon

rosemary


chopped fresh

3

cloves

garlic


peeled and chopped

1

teaspoon

paprika


salt and pepper

to taste
Instructions
Place your pistachios, walnuts and pecans in bowl. (You can use any nuts you desire we just chose these three as our trio – just add up to 3 cups of nuts)

In a small pan add olive oil and heat over low medium heat and cook rosemary and garlic is aromatic and golden brown. Pour rosemary garlic oil over the nuts. Add paprika, salt and pepper to the nuts and toss well.
Notes
If using fresh garlic, you must store in the refrigerator in a sealed container and consume within a week. You may also freeze. If using garlic powder, there is no need to refrigerate your nuts and can leave in a sealed container at room temperature.
Nutrition
Serving:
1
g
|
Calories:
202
kcal
|
Carbohydrates:
6
g
|
Protein:
4
g
|
Fat:
19
g
|
Saturated Fat:
2
g
|
Sodium:
1
mg
|
Potassium:
192
mg
|
Fiber:
3
g
|
Sugar:
1
g
|
Vitamin A:
140
IU
|
Vitamin C:
1
mg
|
Calcium:
32
mg
|
Iron:
1
mg