Chocolate French Eclairs with Cinnamon Cream have a delightful little crunch as you bite into the flaky choux buns filled with rich and creamy vanilla cinnamon pudding. Learn fast and easy short cuts to get this classic dessert on your table in less than an hour.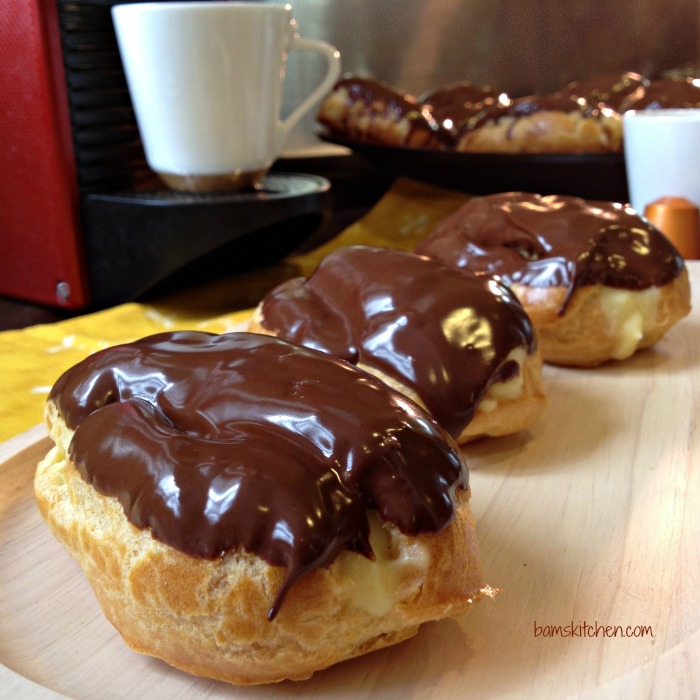 Stress levels have hit the all time high here at our house with both kids on the exam homestretch.
The low carb diet just had to go out the window for a moment as we needed something that could get them going towards the finish line. You can do it boys!!!
My youngest son showed me a photo of the perfect food to help him get through the study slump. He wanted chocolate French eclairs.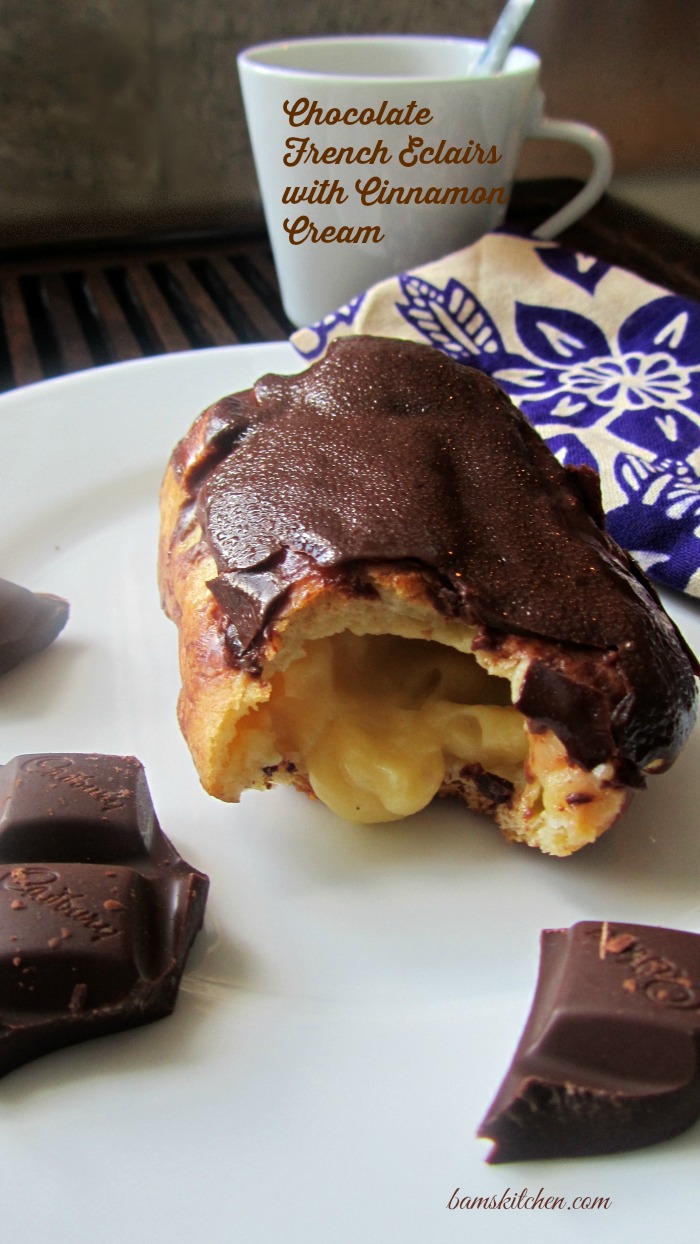 Chocolate French Eclairs with Cinnamon Cream are the perfect Study Food
Chocolate French eclairs are not low-fat, diabetic friendly, low carb, paleo friendly, vegan or gluten-free. However, chocolate french eclairs are the perfect study food. Chocolate French Eclairs are a perfect bolus of the exact amount of sugar and carbs to keep the brain and belly happy but are not too heavy. Now don't get me wrong, the best weapon you can keep in your auxiliary is to eat nutritious and healthy meals but there is just sometimes when your soul craves more.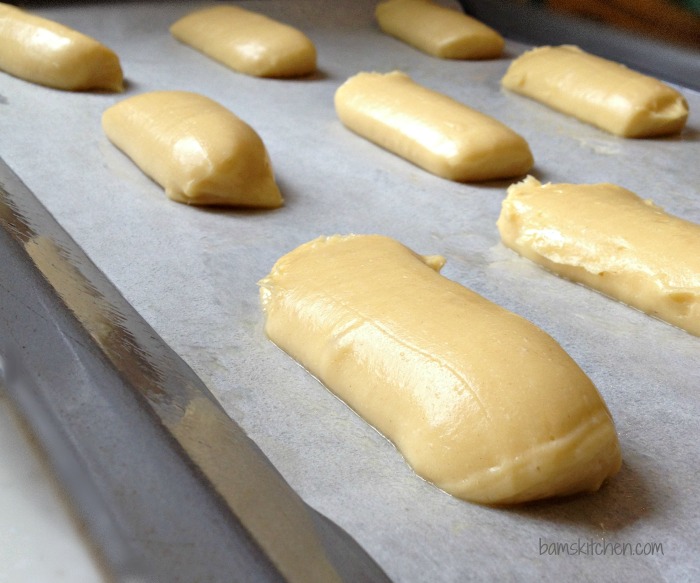 Your brain does something strange when it is in the study mode as it is on overdrive and needs some extra TLC. Your brain requires glucose to perform its many function and especially when you are stressing it to the max while cramming 2 years of education into it.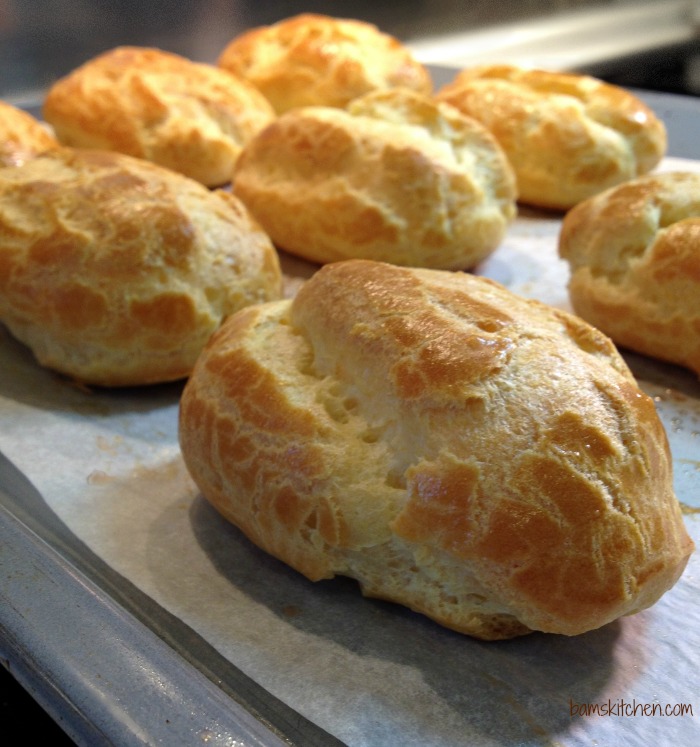 Glucose is essential for keeping the neurotransmitters in the brain at peak levels and this is best done with healthy foods that slowly release glucose steadily like salmon or oatmeal. However, psychologically your brain that also is in control of your will power and in this study slump, it is going to need more than a carrot on a stick to get you there.
As a matter of fact, these kinds of highly stressful situations always go a little easier with a little chocolate on board. Better yet a chocolate glazed choux bun filled with delightful vanilla cinnamon pudding. (I thought you might appreciate the humour of this next photo with my rigged up pastry bag using a ziploc bag and a Wiltons flower decorating tip taped together with blue tape. Real upscale kitchen classy...)
Now there is nothing like a little Chocolate with cinnamon to get your taste buds going and your brain synapses firing. The Aztecs were brilliant putting cinnamon in chocolate. Just love those flavor combinations.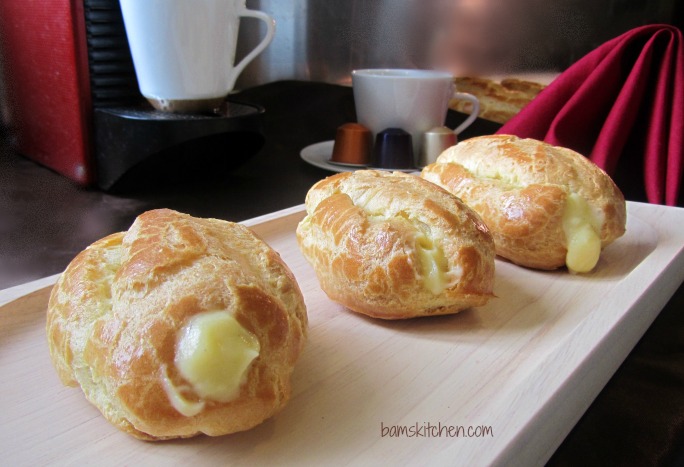 There is one more essential item that takes this dessert over the top and that is a cup of rich and delicious espresso. When you are burning the midnight oil, there is nothing like a little jolt of Nespresso to put a little spring in your note taking and revision.
Now don't be silly, I am not giving my teenagers espresso, that is for me. My husband and I both love our little Nespresso Coffee maker. Making espresso has never been so fast, delicious and convenient as having this little nespresso in our home. Nespresso tastes and smells like it is made in a professional coffee shop.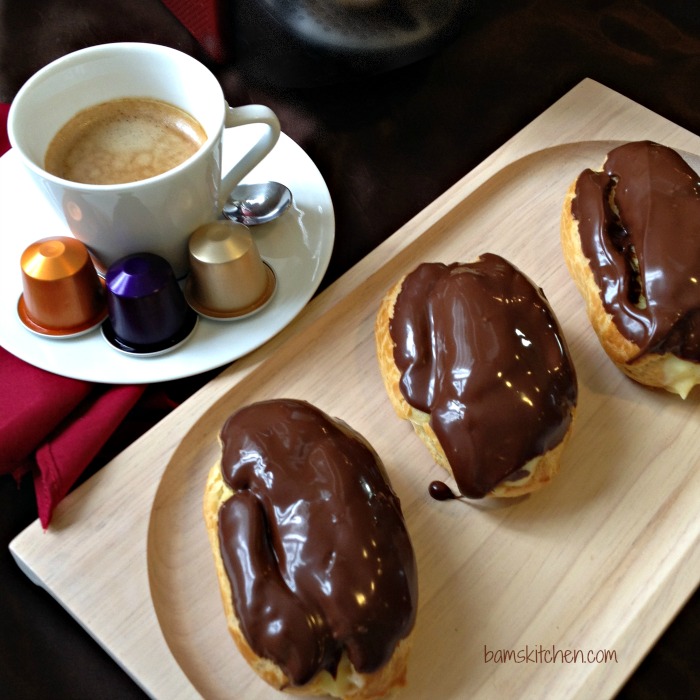 Does anyone else out their own a Nespresso coffee maker? For years we had a Saeco Italian espresso maker and I loved it but it was a lot of work. You had to grind the coffee, constantly clean out all of the intricate parts and the challenge of needing expertise to make the perfect froth in your milk. It took several years of practice to get that under my belt and then one day it broke.
My husband ran out the next day to purchase our cute little red Nespresso and we are delighted with getting to try so many different types of coffee. He even purchased one of the little special milk frothers and we love dollops of freshly frothed soya or regular milk to make lattes or cappuccino.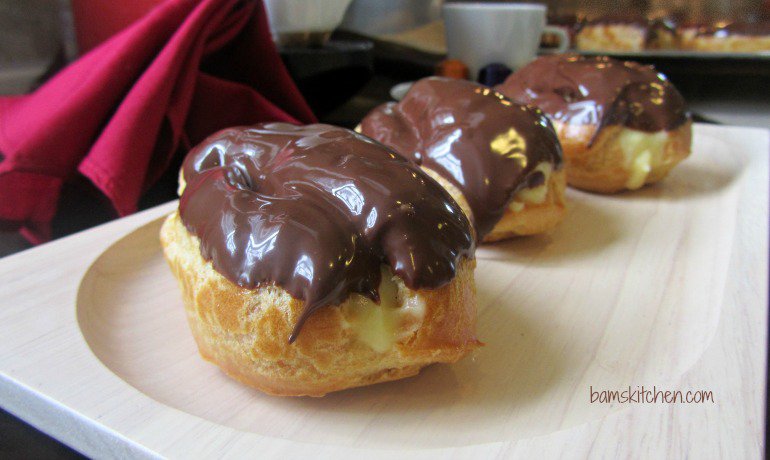 I used the Food Network' recipe for Chocolate French Eclairs but had to make a couple of changes. I added a dash of cinnamon to the vanilla pudding. I made everything else exactly the way it was noted on the directions but the chocolate sauce turned out far to runny and thin for my liking. So, I simplified the whole process and just melted some chocolate in the microwave and dipped each eclair in it and was done.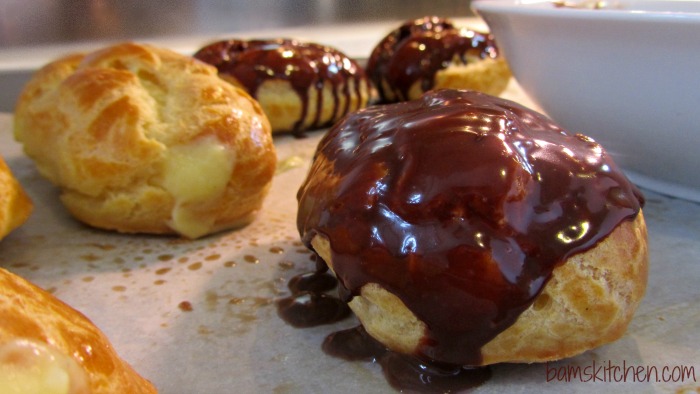 Making homemade Chocolate French Eclairs step by step with this food Network recipe can be a very long and painful 3 hour and 45 minute baking process. However, if you take our shortcuts, you can have these delicious little Chocolate Eclairs completed in about 50 minutes.
I did not bother making my own homemade custard but instead used an instant vanilla pudding and added a dash of cinnamon and this also saved some eggs for breakfast and I could use my almond milk in the mix. You could use any flavor of pudding you like such as chocolate or maybe even butterscotch or any flavor you desire or maybe go dead easy and buy one of those spray whipping cream in a can and call it a day. If you add our Easy Microwave Chocolate Pudding to this Chocolate French Eclairs with Cinnamon Cream recipe you have just nailed it!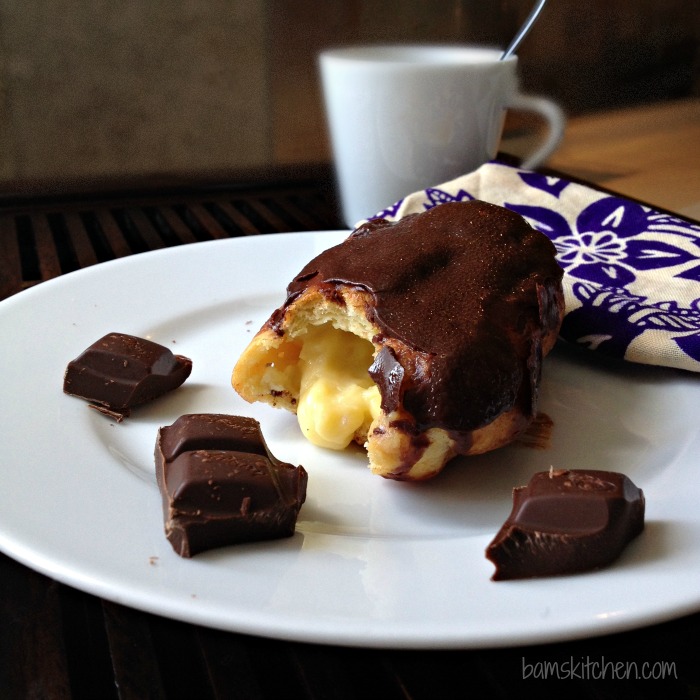 How to make the Chocolate Topping for Eclairs
Do not bother making the chocolate sauce just melt chocolate in the microwave and you are in business.One thing I would not change about this recipe is the choux as it is perfectly delicious. The choux is a light pastry dough used to make profiteroles, croquembouches, éclairs, French crullers, beignets, St. Honoré cake, Indonesian kue sus, and gougères and I just love that flaky and delicate dough.
With a creamy espresso coffee in one hand and a delicious Chocolate French Eclairs with Cinnamon Cream in the other, even learning Chinese seems like a breeze.
More Delicious Dessert Recipe Ideas
Icebox Lavender Lemon Angel Food Cake
Chocolate Pecan Butter Banana Ice Cream
Best Orange Almond Flourless Cake
Hungry For More? Subscribe to our Newsletter and follow along on Facebook, You Tube, Instagram, and Pinterest for all the latest updates.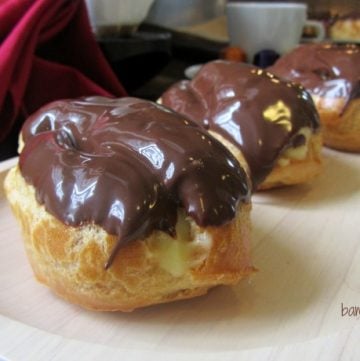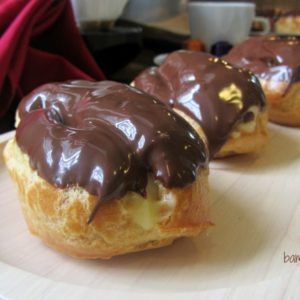 Chocolate French Eclairs with Cinnamon Cream
Chocolate French Eclairs with Cinnamon Cream make a delightful little crunch as you bite into the flaky choux buns and filled with rich and creamy vanilla cinnamon custard.
Print
Pin
Rate
Ingredients
Cinnamon Pudding Filling
3.4

oz

vanilla pudding mix


(if watching calories you can use the fat free or sugar free puddings-also free free to use your flavour of choice)

1.5

cups

almond milk


cold or dairy of choice

1

teaspoon

cinnamon

Pastry/Choux
1

cup

water


8

tablespoon

butter


unsalted

½

teaspoon

salt - ½ teaspoons

1.5

teaspoon

granulated sugar


or sugar alternative

1

cup

flour


all purpose

3

eggs

Egg Wash
1

egg


beaten

1.5

teaspoon

water

Chocolate Glaze
8

oz

semi-sweet chocolate chips

Cadbury Premium Chocolate you might have a little extra left over
Instructions
Preheat your oven to 425 degreesF (218 degrees C)

In a mixing bowl add the contents of the vanilla pudding mix, almond milk and cinnamon and mix with a blender or a whisk for 3 minutes until well blended. Place in the refrigerator to set while you make the eclairs.

Line a baking sheet with parchment (wax) paper. In a saucepan add the water, butter, salt and sugar and bring to a rolling boil over medium-high heat. Take the saucepan off the heat and add the flour and stir well with a wooden spoon or spatula until all the flour is incorporated. Put the saucepan back on the heat on medium high heat and cook flour mixture for 30-60 seconds while stirring constantly. Place the cooked dough into a mixer bowl and blend at medium speed. If you do not have mixer/blender then use a whisk and lots of muscle. Add eggs one at a time and take time to scrape down the sides of the bowl with a spatula. The dough should be thick and glossy.

Place your dough in a pastry bag with a piping tip (or a large ziploc bag like I did and just cut the end off so the diameter is about the size of a quarter). Pipe 12 (4inch long/8 cm) hotdog sized lines of dough with your pastry bag and about 2-3 inches apart from each other as they expand. I was ably to fit all 12 choux on my huge baking sheet with 4 rows of 3. However, if you have a smaller baking sheet you may have to bake twice.

Brush your egg wash on each of your dough lines (eclairs) on your baking sheet and use your fingers to smooth out any bumps or imperfections so that it is smooth.

Bake your eclairs for 15 minutes and then reduce the temperature to 375 degrees F or 190degrees C for about 25 minutes longer or until golden brown. Do not open your oven during the baking process as it can cause your eclairs not to raise properly. Remove eclairs from oven and allow to cool slightly.

Melt your semi-sweet chocolate in the microwave for just a few seconds at a time at half wattage, just until it starts to melt and stir and put back in the microwave just until about ¾ of the way melted and then keep stirring. Because the bowl heats up in the microwave, the bowl will melt the chocolate the rest of the way. Set aside.

Remove your cinnamon pudding from the refrigerator and place into a piping bag with a piping tip or in a ziploc bag. Cut the end off so it is about the size of a dime. Poke a hole with your finger or the tip of the piping bag just at the end of one of the sides of the eclair. The inside of the eclair will be hallow and the outer shell with be crispy and delightful.Fill the cinnamon pudding into the end of the eclair. Do not overfill, but just fill until the eclair starts to feel a little heavy. Repeat with the remaining eclairs.

Stir the chocolate mixture again. Dip each of the eclair into the melted chocolate. (Lick your fingers) Repeat process for the rest of the eclairs.

Place your chocolate French Eclairs with Cinnamon Cream in the refrigerator for about an hour to set the chocolate dip glaze and enjoy. Delicious for breakfast, high tea, cramming for exams or any time you want something a little special.
Nutrition
Serving:
1
g
|
Calories:
272
kcal
|
Carbohydrates:
26
g
|
Protein:
4
g
|
Fat:
17
g
|
Saturated Fat:
9
g
|
Cholesterol:
76
mg
|
Sodium:
182
mg
|
Potassium:
139
mg
|
Fiber:
2
g
|
Sugar:
14
g
|
Vitamin A:
322
IU
|
Calcium:
63
mg
|
Iron:
2
mg