Rosemary Lamb with Caramelized Onion Gravy is a delicious slow roasted Sunday dinner idea with a killer good onion gravy sauce and a side of mint sauce too.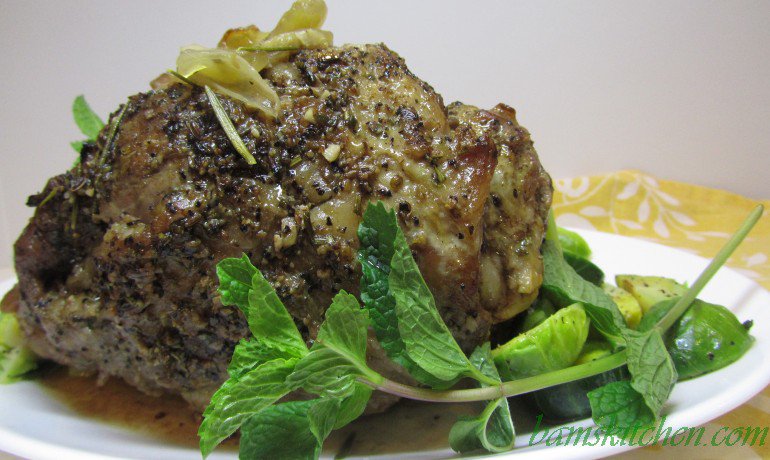 Sundays are Family dinner Days
By the time April rolls around, it will be absolutely steaming hot in Hong Kong. I wanted to take advantage of some of this cooler weather to enjoy a lovely slow roasted rosemary lamb for a family Sunday dinner.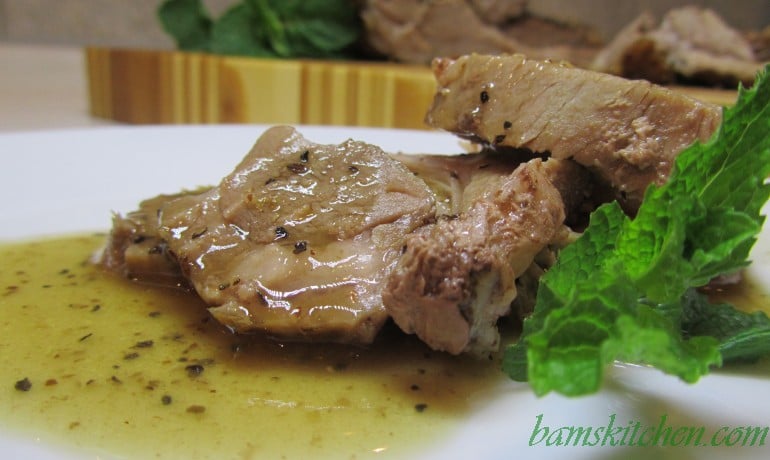 Slow roasted rosemary lamb is the kind of dish that makes everyone ask, about every 5 minutes if you're a hungry teenager," is it done yet"? " Is it done yet"? The beautiful aromatic rosemary, garlic, caramelized onions and the lamb smell so good it is hard to wait and resist.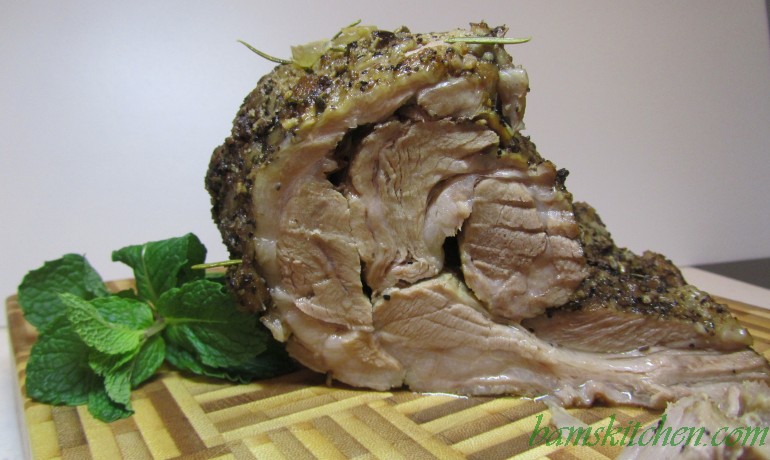 The lamb is so tender you can cut it with your fork. The pan juices mingle with the herbs to create a delightful broth that is perfect for a glamorous gravy.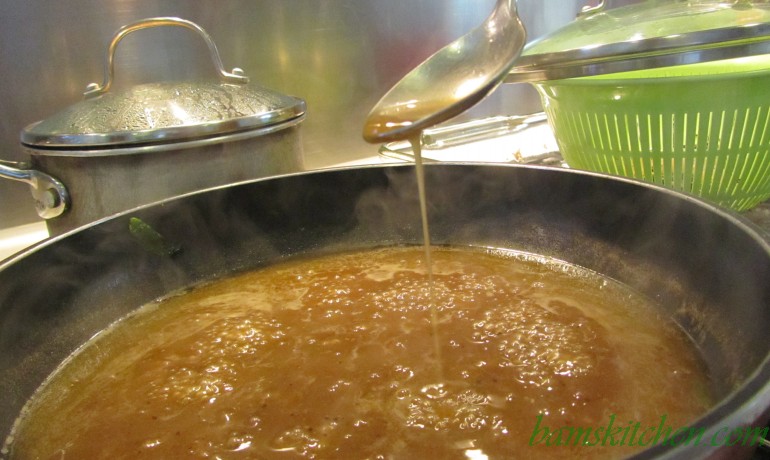 If you prefer a simple mint sauce with your lamb, then I have just the recipe for you. Throw in a few vegetables for roasting and whip up a garden delight salad and you are in for one delightfully simple but classy meal.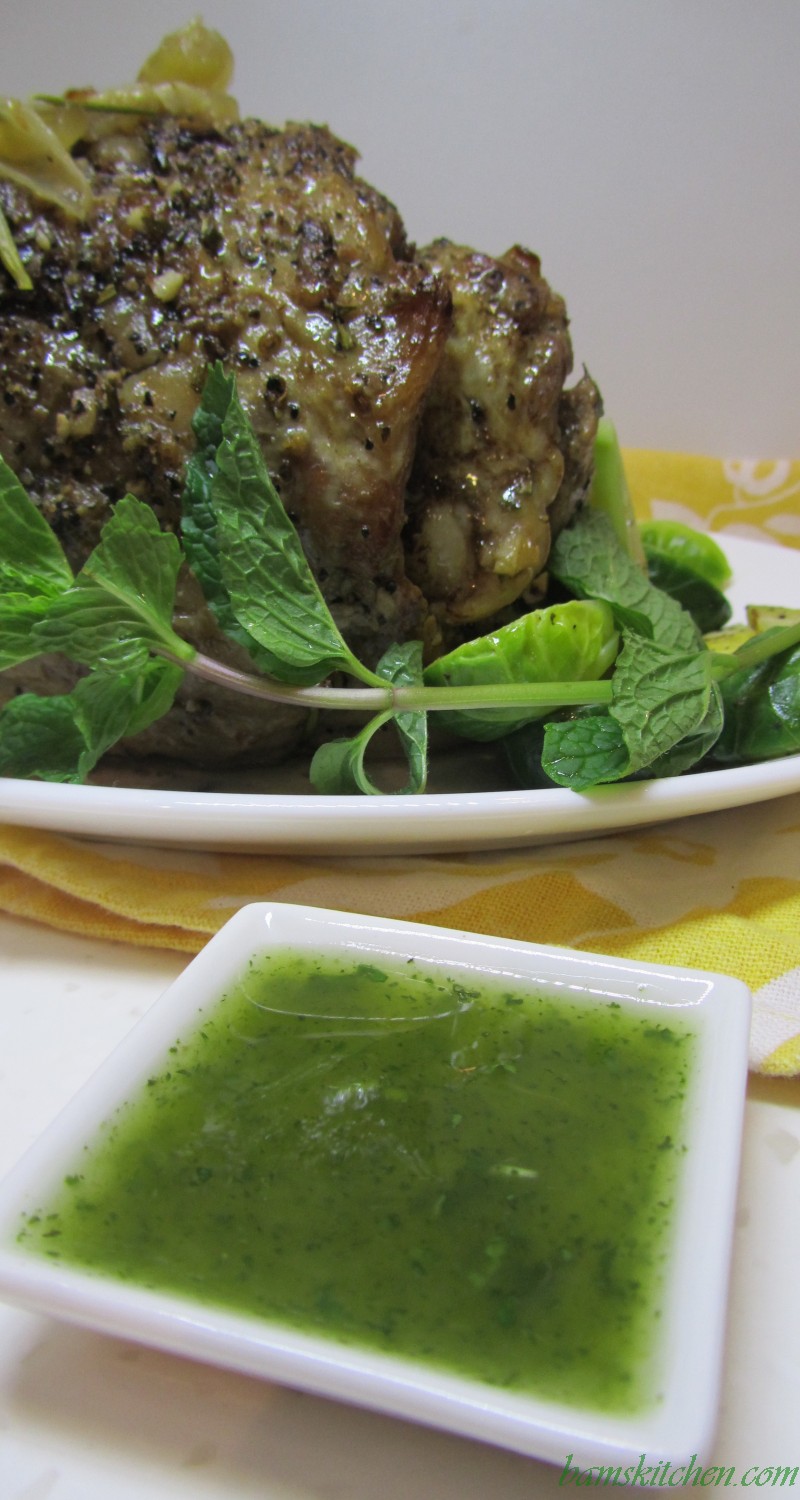 Sundays are also known as "Homework Hell" days. If you are a parent, you know exactly what I am talking about. For those innocent people, that have not had the joys of having your entire Sunday turned into a homework marathon, let me take a moment to explain.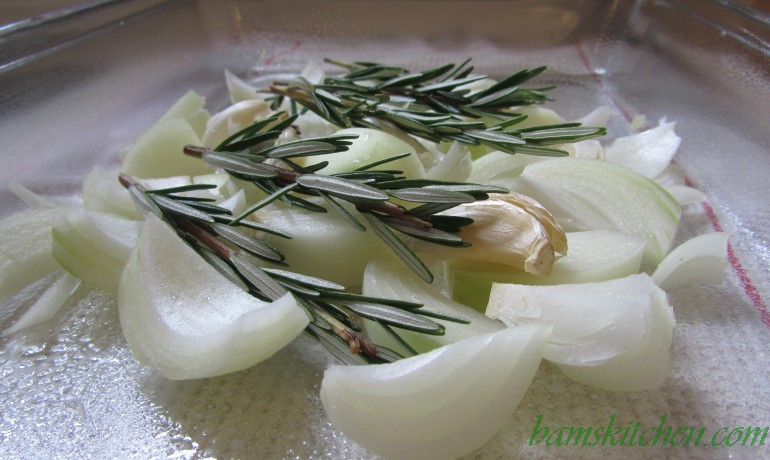 Teenagers, especially boys, love to procrastinate. They also love to work independently for about 4 weeks on a project and then come for help on the last and final hour for advisement. It is on Sundays, when they feel compelled to finally practice that speech, need math or physics help and finally get around to revising for that business exam.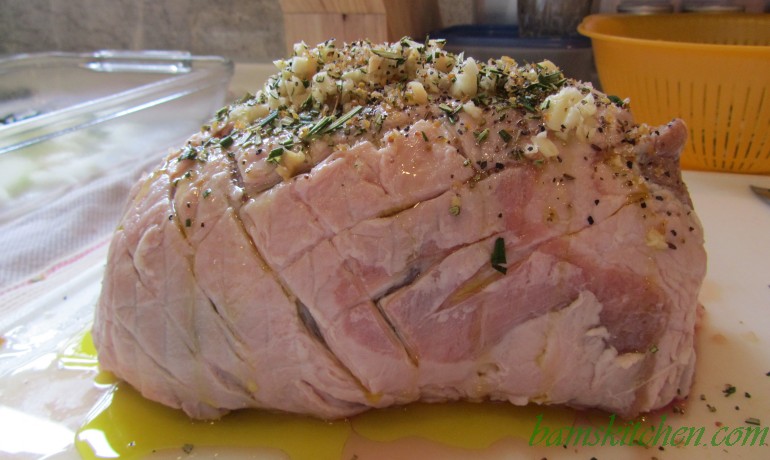 It is like clock work. You want a family day or day together of family fun, well you have it all right. One full solid day of togetherness double checking assignments and watching them review their presentations and the list goes on and on…but I would not have it any other way. I love my boys!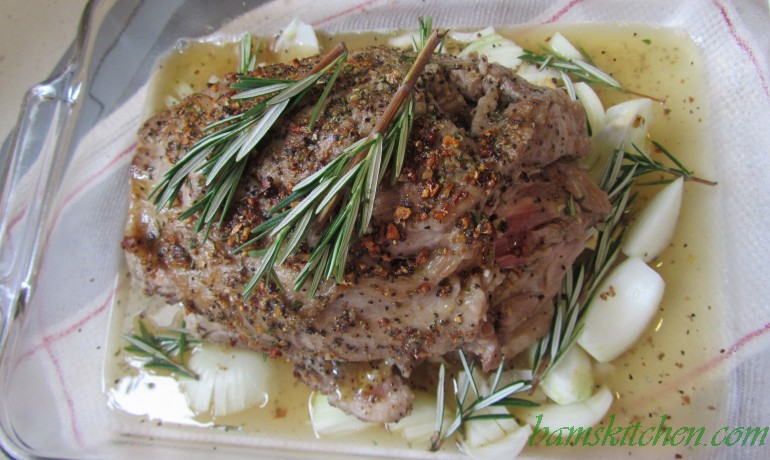 Why you are going to love our Rosemary Lamb with Caramelized Onion Gravy Recipe
Sundays are a great day to have minimal fuss in the kitchen with lots of glamour. This dish is so easy as the prep is less than 15 minutes and then you pop it in the oven while you have time to deal with the other things at hand, like homework hell. Let your family and friends think you slaved in the kitchen, throw a little flour on your face and pretend to look distraught. I promise I won't tell a soul.
If you are looking for some delicious side dishes to go with lamb, be sure to try our Crispy Roasted Red Potatoes and Cabbage, Balsamic Roasted Fennel and Carrots and how about an Icebox Lavender Lemon Angel Food Cake for dessert.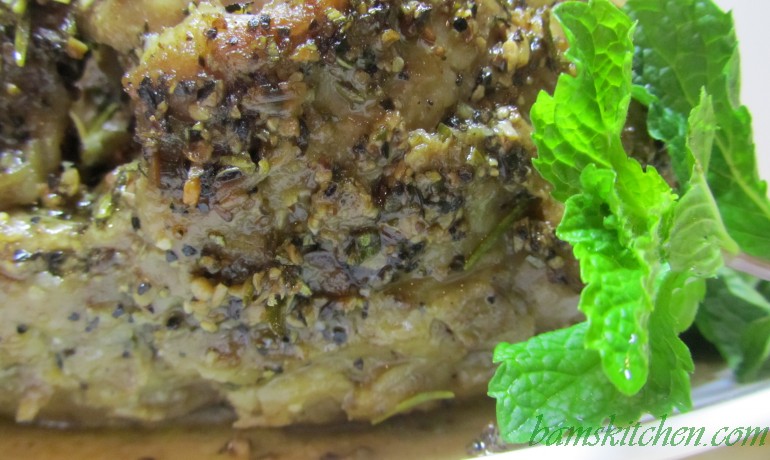 More Delicious Lamb Recipes
Easy Moroccan Ground Lamb Stew
Slow Roasted Moroccan Spiced Leg of Lamb
Middle Eastern Ground Lamb Kabobs
Herb Marinated Grilled Rack of Lamb
Hungry For More? Subscribe to our Newsletter and follow along on Facebook, You Tube, Instagram, and Pinterest for all the latest updates.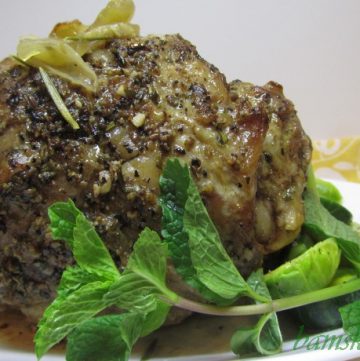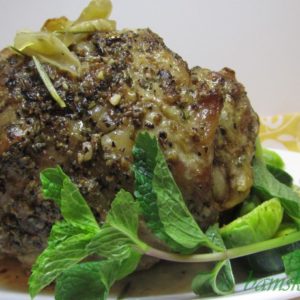 Rosemary Lamb with Caramelized Onion Gravy
Rosemary Lamb with Caramelized Onion Gravy is a delicious slow roasted Sunday dinner idea with a killer good onion gravy sauce and a side of mint sauce too.
Print
Pin
Rate
Ingredients
Roasted Lamb
4

pounds

lamb shoulder


2

tbsp

olive oil


2

tsp

steak seasoning

or salt and pepper to taste

1

cup

onions

peeled and chopped

8-10

sprigs

rosemary -


fresh (half minced and half left whole)

6

cloves

garlic


peeled and chopped
Onion Gravy Sauce
1

cup

white wine

2

tsp

cornstarch


to make cornstarch slurry to thicken gravy

3

tbsp

water

to make cornstarch slurry to thicken gravy

2

tbsp

butter


or dairy free margarine if lactose intolerant
Mint Sauce (optional)
1

cup

mint leaves


2

tbsp

water


2

tbsp

apple vinegar


1

tbsp

sugar or sugar alternative


salt

to taste
Instructions
Preheat oven to 220°C (430°F)

In a greased baking pan or in your dutch oven, lay your " fresh sliced" onion on the bottom of the pan. Lay a few fresh sprigs of rosemary on top (you can substitute with dried rosemary but it is just not as good). Set aside.

Cut thin horizontal and vertical slices into the fat covering the lamb shoulder. Coat the lamb with olive oil and sprinkle with steak seasoning, minced garlic and half of the chopped rosemary and rub into the lamb with your hands. Sear lamb quickly on all sides until a nice golden brown in a large frying pan. Remove lamb and place in a you baking pan with your bed of onions and rosemary.

Add onions and wine to deglaze the pan the lamb was seared in. (Can substitute wine with gluten free lamb or chicken broth if going gluten free or diabetic friendly) Gently simmer a couple of minutes until onions are slightly softened and the wine deglazes the pan.


Gently place your seared lamb and all the lovely onions and beer on top of the layer of fresh sliced onions and rosemary in your roasting pan or dutch oven. Place a few remaining sprigs of fresh rosemary on top. (If you want, you can add some baby potatoes and root vegetables around the lamb for a compete meal)

Cover your roast with aluminum foil and place in the oven to cook. Set timer for 1/2 hour.

A the half hour mark, remove the aluminum foil cover and reduce the oven temperature to 130°C (270°F). Baste your lamb about every 20 minutes or as needed to look like you are slaving away in the kitchen and pour yourself a glass of wine.

Depending on the size of your lamb, it will take between 2 to 2.5 hours or until the internal temperature is about 165 F or about 30 minutes per pound. My lamb was so tender I could cut it with a spoon.

Take your lamb out of the oven, keep it tented to keep warm while you make your gravy and/or mint sauce. Save all that glorious pan juices to make a fantastic gravy.

Make the caramelized onion gravy: Place your pan juices through a strainer. In a pan, add back the strained juices from the roasted lamb and add enough of a cornstarch/water mixture to slightly thicken this beautiful gravy. Add a couple of knobs of butter and season to taste. Place in a gravy container to serve with the slow roasted lamb.

OPTIONAL - Make the mint sauce: This is not required but some like gravy and some prefer mint sauce, so this is another option. In a food processor, blend your fresh mint leaves with just a little water to get it moving. In a little sauce pan add water, sugar, salt and vinegar and cook gently just until the sugar dissolves. Turn off the burner. Let mixture completely cool and then mix in your freshly chopped mint in the sugar vinegar mixture. Serve this fresh mint sauce along with your slow roasted rosemary lamb.

Notes
Leftovers, if there are any, can be stored in a sealed container in the refrigerator for up to 3 days or frozen up to 2 months. Just reheat and eat.
Nutrition
Serving:
1
g
|
Calories:
290
kcal
|
Carbohydrates:
5
g
|
Protein:
29
g
|
Fat:
14
g
|
Saturated Fat:
5
g
|
Cholesterol:
99
mg
|
Sodium:
129
mg
|
Potassium:
502
mg
|
Fiber:
1
g
|
Sugar:
1
g
|
Vitamin A:
340
IU
|
Vitamin C:
4
mg
|
Calcium:
48
mg
|
Iron:
3
mg