Slow Roasted Moroccan Spiced Leg of Lamb is so tender it falls off the bone, melts in your mouth and is served with a delicious golden Moroccan saucy gravy.
Slow Roasted Moroccan Spiced Leg of Lamb; The Perfect Sunday Dinner
One bite of this dish with the golden gravy and you will be hooked forever. This leg of lamb is tender, juicy, fragrant and satisfying.
When the weather starts to cool down and you are home on a leisurely Sunday afternoon puttering around the home, this slow roasted Moroccan Spiced Leg of Lamb this is the perfect meal. Invite a few friends as you will have extras. If you would prefer and easy 30 minute lamb dinner full of flavor and elegance, be sure to try our Lamb Loin Roast Recipe with Pomegranate Sauce.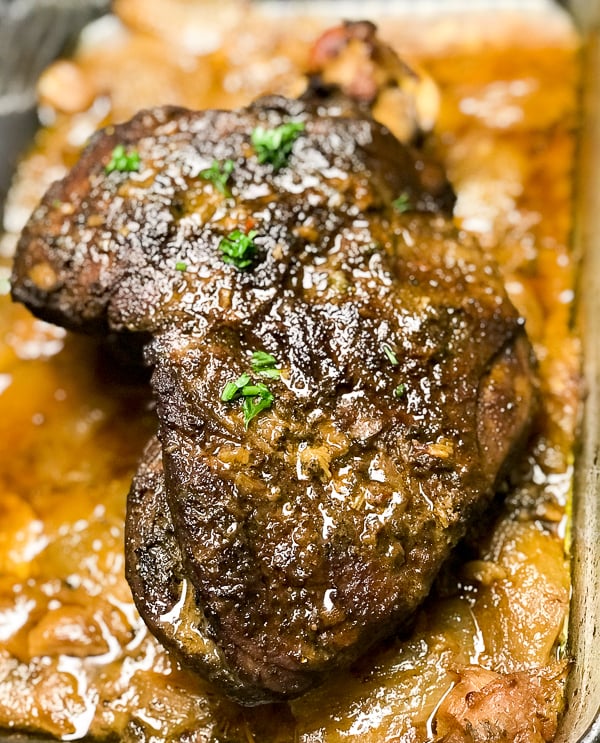 Low Fuss Meal
Slow Roasted Moroccan Spiced Leg of Lamb is the kind of meal that emits aromas throughout your entire house. Warning, this may entice your dog to whine for 4 hours waiting for dinner to be served.
Your family will ask, every hour on the hour, is it done yet? Is it done yet? As their hunger pains grow stronger their questioning comes more often. You can respond with a smile on your face not yet… while you hang the holiday ornaments on the tree, do the 40th load of laundry or even re-grout the bathroom tile. You may ask, why can you get these other things done when you are busy cooking? This is the easiest low stress/ low fuss meal ever. The spices and your oven does all the work. You don't have to.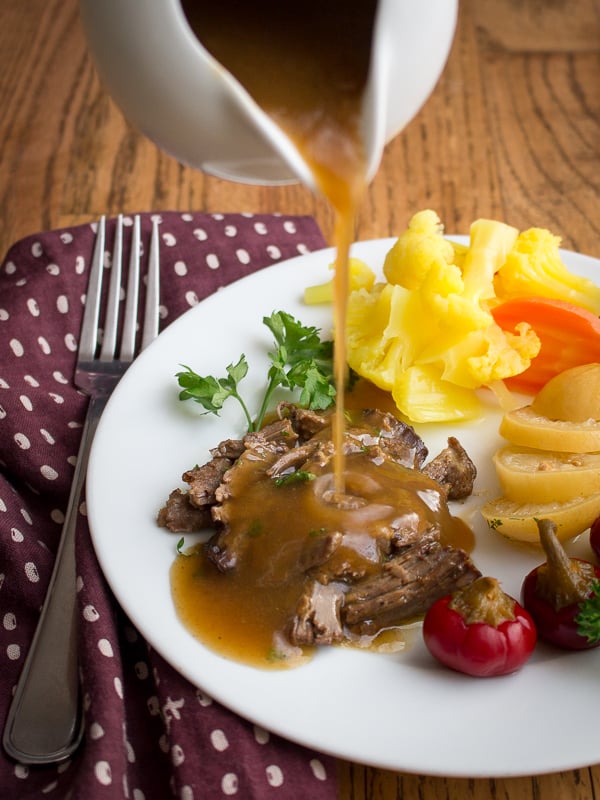 Spices are Everything
You should be home while you have the oven on but there is not a lot of active work in the process. The combination of marinating herbs and spices are what take this dish to the next level. Paprika, turmeric, saffron, cinnamon, cumin, coriander, garlic, onions, parsley and fresh ground black pepper will awaken your appetite.
We marinated our semi-boneless leg of lamb overnight. Many of the spices used having warming properties and are anti-inflammatory. Slow Roasted Moroccan Spiced Leg of Lamb is also gluten-free, dairy-free and low carb. If you love the warming spices but want something on the table in under 30 minutes, then you are going to love our Easy Moroccan Ground Lamb Stew or our Middle Eastern Ground Lamb Kabobs.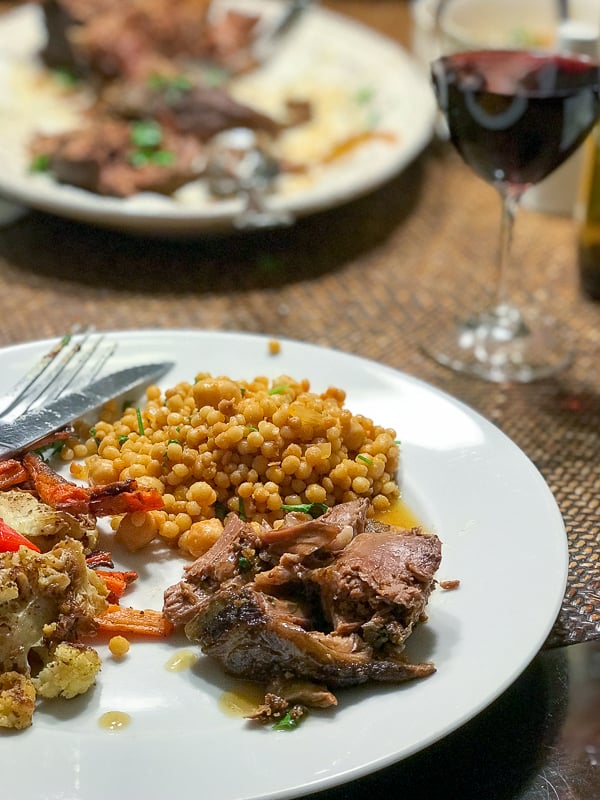 How to choose the best leg of lamb
When you go to your butcher, you can choose either a full leg of lamb or a semi-boneless leg of lamb. We have used a New Zealand semi-boneless leg of lamb that weighed in about 4.5 pounds. However, a full leg of lamb a grain fed US one can be up to 7-8 pounds. The Australian and New Zealand Leg of lambs will be smaller as they are usually grass fed. These are not lamb shanks but because of the low and slow cooking method you could also use lamb shanks and adjust the cooking time accordingly.
This recipe for the Slow Roasted Moroccan Spiced Leg of Lamb is really forgiving. You cannot really mess it up. If you leave the lamb in longer to cook, it just gets more tender. The key however is the low cooking temperature. This allows the spices to infuse the leg of lamb and tenderize. If you like the idea of slow roasting a lamb but want to try some different spices and flavors, be sure to try our Rosemary Lamb with Caramelized Onion Gravy.
Roasting Pan
The biggest issue you will have is finding a big roasting pan. Thank goodness, we had a semi-boneless leg of lamb so ours fit in a 9 x 13 roasting pan. However, if you get a full 7 pounder leg of lamb, they sell those huge heavy duty disposable aluminum pans.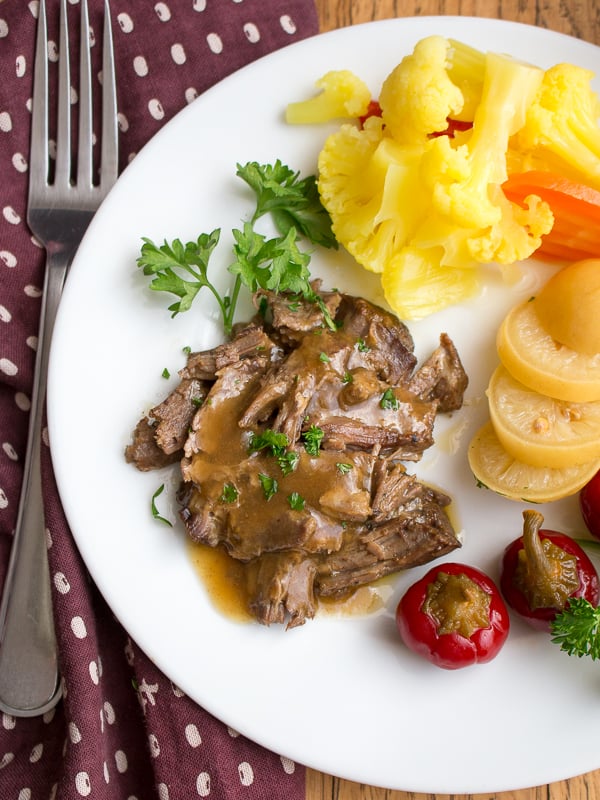 There are 5 distinct steps to cooking your Slow Roasted Moroccan Spiced Leg of Lamb
1) Overnight marinade with spices and fresh herbs
2) Searing the leg of lamb in the oven at a higher temperature (425 F or 218 C)
3) Roasting and Braising the leg of lamb at a very low temperature for a long time. (300 degrees F- 148 C)
4) Browning and basting the leg of lamb (325 F or 162 C)
5) Making the delicious golden Moroccan gravy
Step 1, 2, 4 and 5 are identical for timing no matter what size leg of lamb you have.
Step 3 varies depending on the weight of your leg of lamb. Details regarding this found in the recipe section below.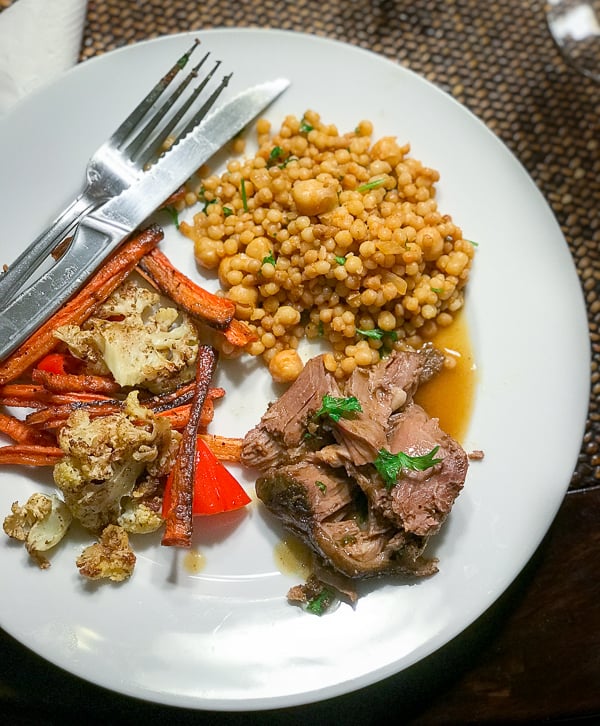 What to Serve on the Side
We served our Slow Roasted Moroccan Spiced Leg of Lamb with roasted vegetables, Israeli Pearl couscous and garbanzo beans with a tomato sauce, Tabbouleh and romaine salad with feta and pomegranates seeds. and lots of olives and special pickled vegetables. For dessert, we made a Lemon Rose Cardamom Cheesecake Mousse and a Healthy Moroccan Mint Tea.
We had to make sure that the Buddy was happy too! Look who got the bone!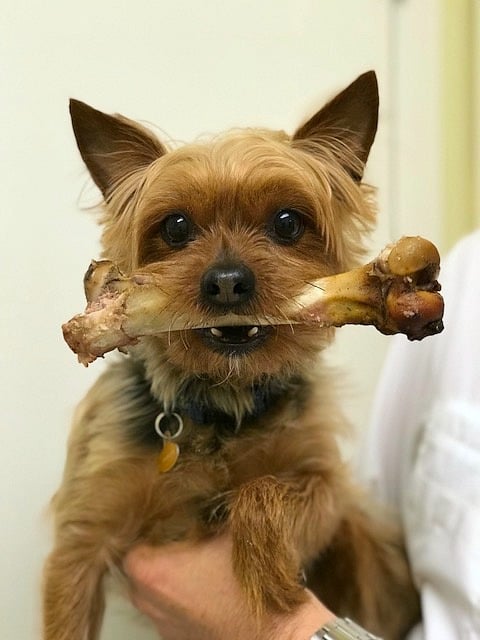 Hungry For More? Subscribe to our Newsletter and follow along on Facebook, You Tube, Instagram, and Pinterest for all the latest updates.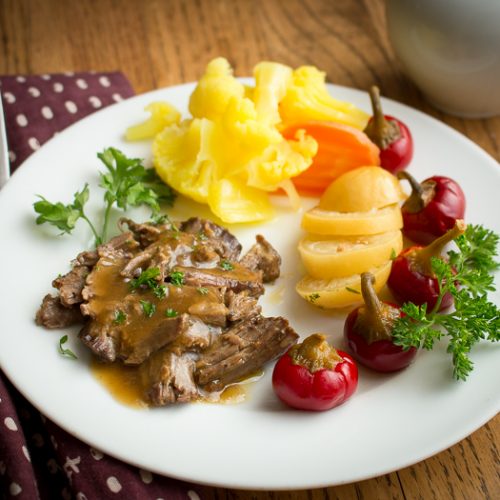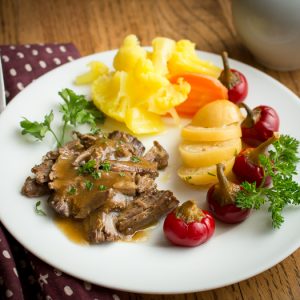 Slow Roasted Moroccan Spiced Leg of Lamb
Slow Roasted Moroccan Spiced Leg of Lamb is so tender it falls off the bone, melts in your mouth and is served with a cacophony of golden Moroccan gravy flavors.
Print
Pin
Rate
Ingredients
Marinade
1

Onion

(peeled and roughly chopped)

2

tbsp

Olive oil

2

tsp

paprika

1

tsp

turmeric

ground

1

pinch

saffron

(1 small pinch in ⅛ cup hot water)

1

tsp

cinnamon

ground

2

tsp

cumin

ground

1

tsp

coriander

ground

salt and pepper

to taste

1

tsp

sugar

or sugar substitute (if not following a low carb diet then can add honey)

1

cup

parsley

roughly chopped
Roast
4.5

pounds

Leg of lamb

semi boneless

2

onions

(peeled and quartered)

10

cloves

garlic

whole peeled (6- embedded in the leg of lamb and 4 for the bottom on the pan)

1

heavy duty aluminum foil

large piece big enough to seal the roast.

1

cup

chicken broth

2

tbsp

lemon juice

Salt and pepper

to taste
Golden Sauced Gravy
juice from the pan strained

1

tbsp

cornstarch

3

tbsp

water

1

tbsp

butter
Garnish
1

tbsp

parsley chopped

optional
Instructions
Create the Marinade
In a food processor add onions, olive oil, paprika, turmeric, saffron water, cinnamon, coriander, cumin, salt and pepper to taste, parsley and sugar substitute. Blend until well incorporated - thick paste.
Prepare your Leg of Lamb
make triangle slits on the top of the fat side of the leg of lamb. Remove any tough fascia from the bottom of the leg of lamb. Cut deep slit with your knife just big enough to slide in a whole garlic clove into the meat in 6-8 places. Drizzle the leg of lamb with the marinade and rub all over the lamb. Marinate the leg of lamb covered in the refrigerator overnight.
Determine what time you want to eat dinner!
For a 4.5 pound semi-boneless leg of lamb it was 30 minutes of browning in the oven, then followed by reducing the temperature and adding the aromatics and liquids and braised covered for 3 hours and then 30 – 60 minutes of browning and 20 minutes of resting and making the gravy for a total of 4 hours and 45 minutes of cooking. If you want to eat around 6 pm… start the process around 1pm in the afternoon.
Temp high:Brown the Leg of Lamb
Preheat oven to (425 F or 218 C) Place the chopped onions and extra garlics at the bottom of the pan. Place the marinated leg of lamb on top of vegetables and season to taste with salt and pepper and drizzle with fresh lemon juice. Roast UNCOVERED for about 30 minutes with the fat side up just until browned nicely. Keep an eye on it, so it does not get too browned. Check it at 15-20 minutes.
Temp down: Low and slow roast the leg of lamb covered
Remove the leg of lamb from the oven. Reduce the temperature to (300 degrees F- 148 C). Turn the leg of lamb upside down with the fat side down. Pour the chicken broth around the leg of lamb. Cover tightly with heavy duty aluminum foil. Place the leg of lamb back in the oven and cook for about 3 hours at this lower temperature. Check on it after 2 hours to make sure that you still have liquid in the pan and that the leg of lamb is starting to get tender. After the 3rd hour, check to see that the leg of lamb is tender, almost falling off bone.
Temp up: 325F and finish lamb uncovered
Remove the aluminum foil and turn up the temperature and cook for about 30-60 minutes until the leg of lamb is fall off the bone tender and nicely browned. Remove from oven and tent with foil and keep warm and rest for about 20 minutes.
Make Golden Sauce Moroccan Gravy
In the meantime, strain your juice to remove garlic and onions, (REMOVE the OIL from the top of the pan sauce with a spoon. You will have a lot of oil) place in a sauce pan and heat with cornstarch slurry until the back of a spoon clings. Remove from the stovetop and add a dab of butter and stir. Check and adjust seasoning.
Serve
Garnish with parsley. Serve your Slow roasted Moroccan Spiced leg of lamb at the dining room table. The meat is so tender you can just pull apart with 2 forks. Drizzle over the golden Moroccan spiced gravy over the lamb and enjoy!
Notes
There are 5 distinct steps to cooking your Slow Roasted Moroccan Spiced Leg of Lamb…
1) Overnight marinade with spices and fresh herbs
2) Searing the leg of lamb in the oven at a higher temperature (425 F or 218 C)
3) Roasting and Braising the leg of lamb at a very low temperature for a long time. (300 degrees F- 148 C)
4) Browning and basting the leg of lamb (325 F or 162 C)
5) Making the delicious golden Moroccan gravy
Nutrition
Serving:
1
g
|
Calories:
285
kcal
|
Carbohydrates:
8
g
|
Protein:
34
g
|
Fat:
13
g
|
Saturated Fat:
4
g
|
Cholesterol:
107
mg
|
Sodium:
228
mg
|
Potassium:
632
mg
|
Fiber:
1
g
|
Sugar:
2
g
|
Vitamin A:
928
IU
|
Vitamin C:
18
mg
|
Calcium:
45
mg
|
Iron:
4
mg