Savory Herb Roasted Whole Chicken is an easy classic family favorite dinner idea. Skip the store-bought rotisserie chicken and make your own crispy skinned, juicy bird at home.
I wish you could smell the aroma coming from my kitchen. Slow cooked Savory Herb Roasted Whole Chicken fills my home with the beautiful aromas of slow roasted chicken, cooking wine, shallots, rosemary and seasonings. You will just have to try the recipe for Savory Herb Roasted Chicken in your home and find out for yourself. Your family and friends will enjoy this heartwarming fall dish.
Savory Herb Roasted Whole Chicken is a Sunday Dinner Favorite…
This recipe is the perfect weekend family meal or any time you want to make your family and friends feel very special. It is the kind of comfort meal that your mom would make and instantly would make you feel better. This whole chicken recipe is a classic with no fussy ingredients. Alternatively, during the summer months try cooking your whole chicken on the grill. Family and friends love our tried and true Peking Style Beer Butt Chicken.
Actually, it is a complete meal with potatoes and carrots. In addition, this recipe is actually quite easy to assemble. While your bird is in the oven, you are freed up to assist with kid's homework and get things prepared in the home for the busy work week.
You are going to love this Savory Herb Roasted Whole Chicken because it's…
One Pot Meal (everything cooks in one pot including the potatoes and carrots)
Allows you to cook once and eat twice because hopefully you will have leftovers
Gluten-free
Organic and you can use a free-range chicken
Cozy fall and winter dinner
Fabulous for family and decadent enough for guests
Makes one delicious bone broth for soups, stews and our Grandma's Chicken and sliders.
Low carb/ Diabetic friendly if you hold the potatoes and carrots and instead substitute brussels sprouts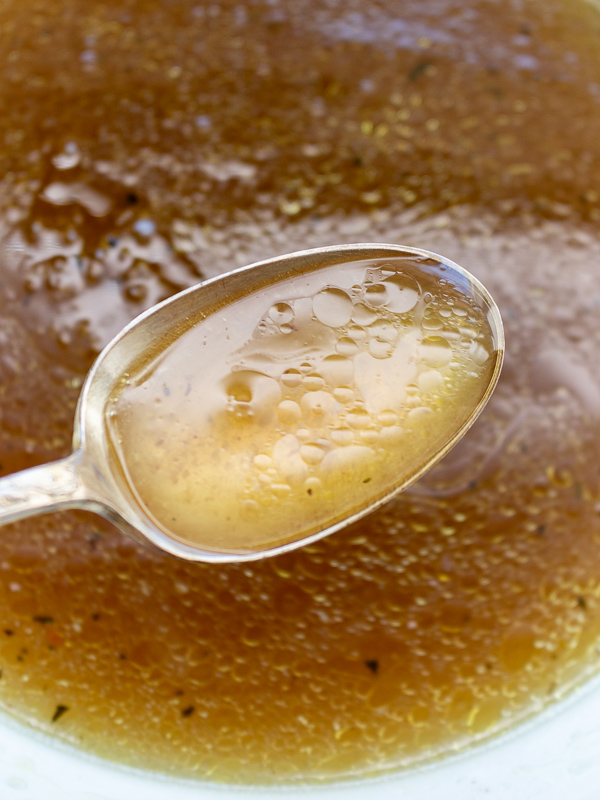 Save those Savory Pan Drippings
Don't throw away the pan drippings. These are like liquid gold and are fabulous drizzled over your cooked chicken. You can make gravy with them and they are a wonderful addition to our Immune boosting Chicken and Rice Soup.
Another cozy fall and winter recipe is our Grandma's Chicken and Sliders recipe. We use all these delicious pan drippings from the roasted chicken to make the sliders and the broth for the sliders. Simple, delicious and hearty French peasant food that you must give a try.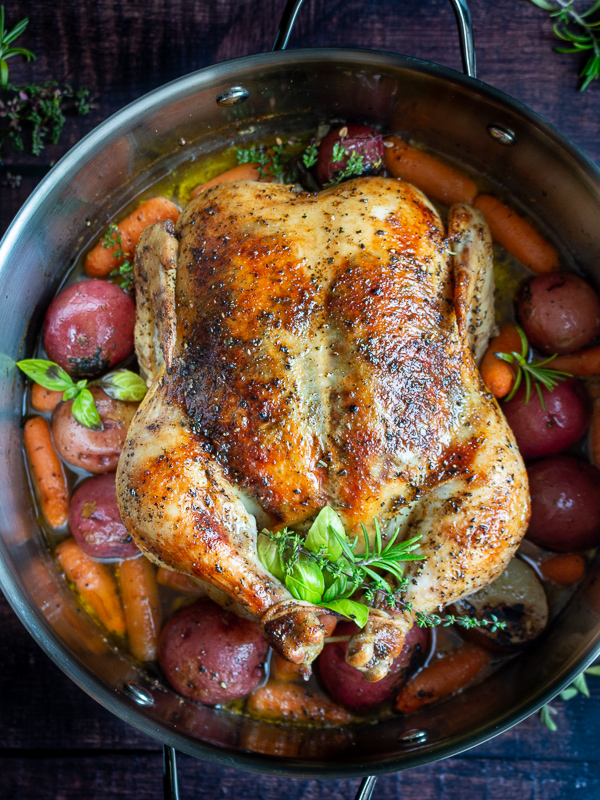 What is the Best Type of Chicken for Roasting?
According to USDA, chickens are separated into 4 areas depending on their age.
Broiler-fryers are young chickens weighing from 1-½ to 3-½ pounds. Only 7 to 10 weeks old, they yield tender, mildly flavored meat and are best when broiled, fried, stir fried or roasted.
Roasters are 4- to 6-pound chickens that are 16 weeks old. As the name implies, they are perfect for roasting and rotisserie cooking. (also perfect for the Savory Herb Roasted Whole chicken)
Capons are young, castrated roosters that weigh from 5 to 7 pounds. These richly flavored birds have a higher fat content and yield more meat than roasters.
Stewing hens are adult chickens from 1 to 1-½ years old. They weigh from 4-½ to 7 pounds and have tough, stringy meat. Stewing hens are excellent for stocks, soups or stews. (These old birds are NOT good for roasting)

Chicken Prep Safety
Chickens can carry certain bacteria that can make you very sick if not handled properly. Here are some basic kitchen rules according when dealing with poultry...(Sorry, as a registered nurse, I tried to refrain from these tidbits but feel compelled to keep readers and patients safe)
Poultry should be wrapped securely to maintain quality and to prevent raw juices from getting onto other food.
You can use either the Refrigerator method or cold-water method for thawing poultry. For faster thawing, place food in a leak-proof plastic bag. Submerge in cold tap water. Change the water every 30 minutes. Cook immediately after thawing.
Do not cross contaminate surfaces and wash everything that has touched the raw chicken that includes your hands. (Bleach is your friend).
Buy a meat thermometer to double check internal temperature of the bird. According to the USDA, the internal temperature of poultry must be at least 165 degrees F to prevent illness.
How to prep a Whole Chicken for Roasting
Clean your chicken: Remove the gizzards, neck, heart and such from the cavity. Trim any extra fat off and remove the butt. Yep! We said butt. Hey, do you want to eat the butt? We thought not. Get a little coarse salt in your hand and scrub the outside and inside of the bird. Rinse well. Pat Dry.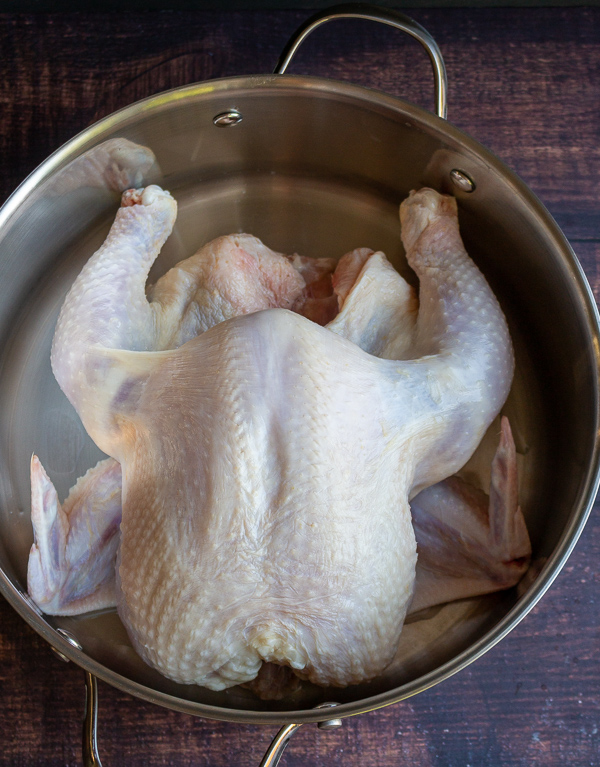 Gently lift the skin from the breast on both sides to loosen the fascia and make room for the herbed butter.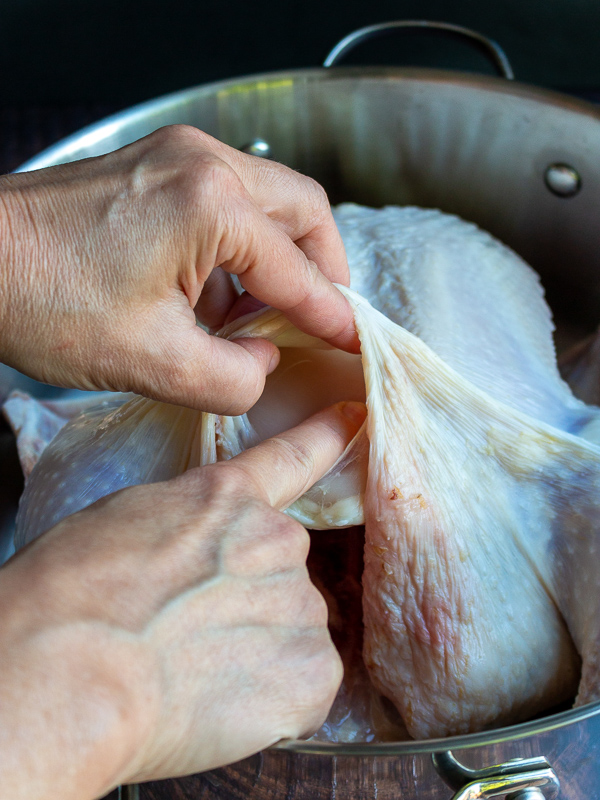 Stuff the herbed butter under the breast skin on both sides.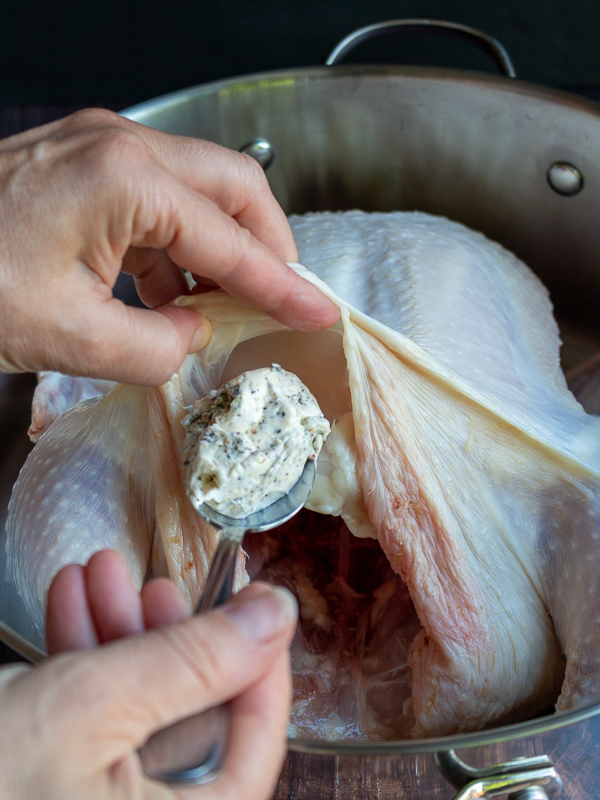 Season the bird inside and out and stuff the chicken cavity with onions and fresh herbs. Lemons are a nice addition to if you have some in your pantry.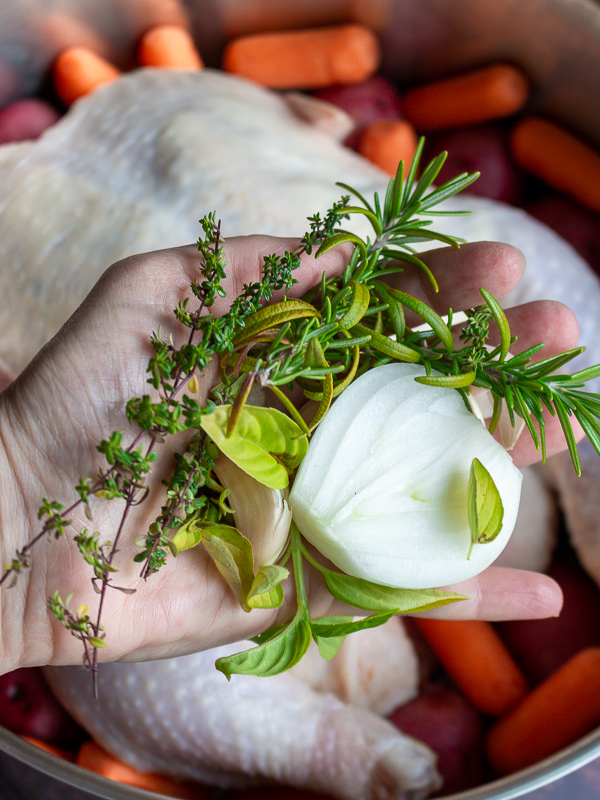 Truss your chicken legs with butcher's twine. This is not required but it makes for a nice presentation.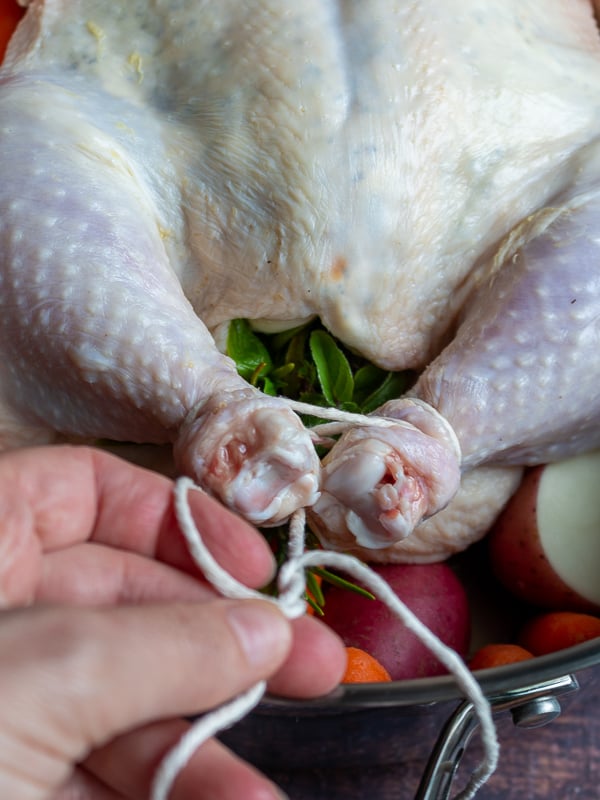 Rub down your chicken all over with olive oil, season with salt and pepper, chopped herbs and tuck the wings under.
Place your bird into a pot or baking pan large enough to hold your bird, chicken broth, white wine, potatoes and carrots. Cover with aluminum foil and put her in the oven.
Now, sterilize everything that bird or your hand has been in contact with. Bleach down the counters and sink. Don't skip this step. Be safe. Check out the recipe below for full details.
How long to cook a whole chicken at 375 degrees F (190 degrees C)?
There are two methods for making a Savory Herb Roasted Whole Chicken.
Low and slow and this is the version we prefer
High heat for 1st 20 minutes (450 degrees F) and then reduce the heat to 350 F.
The USDA has stated that the minimum safe temperature for chicken is 165 degrees F. At 375 degrees F (190 degrees C) you need to cook your bird at least 20 minutes per pound plus an additional 10 - 20 minutes at a temperature of 375ºF (190ºC). In addition, you will need to let your chicken rest for 15 minutes before carving. However, the only true way to know if your whole chicken is ready is to eat is to use a meat thermometer. We cover our chicken for the first 45 minutes of cooking and then remove to start the browning process.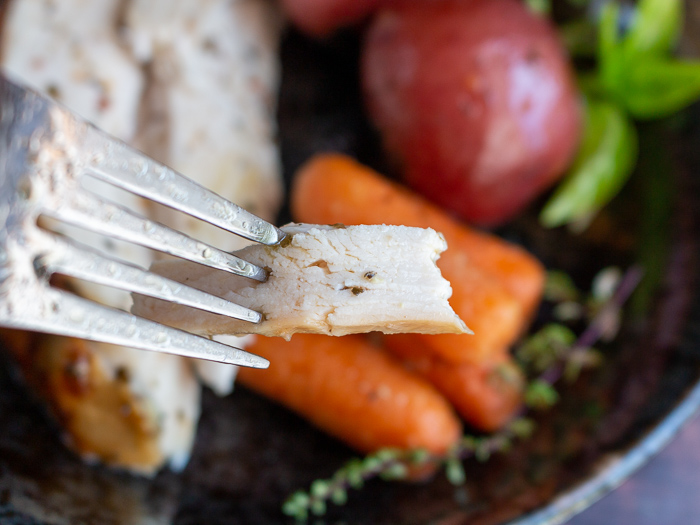 How to tell if your whole chicken is done cooking?
Every oven can be temperamental and not cook evenly. Place the meat thermometer in the fat part the chicken leg, not near the bone and not near the surface but mid-way into the thigh. If it reads at least 165 degrees F and your bird is beautifully golden brown, it's cooked.
The juice of the chicken should run clear and not be pink. Check your chicken in more than one leg as many ovens (like ours) can heat unevenly. For example, we had a little over five-pound chicken. If we do the math 5 pounds x 20 minutes = 100 minutes or 1 hour and 40 minutes and our chicken was still reading 150 degrees F in the thigh.
We ended up cooking another 20 minutes and flipping our chicken around in our finicky uneven temperature oven and then the temperature was perfect. After we let our chicken rest, the temperature raised to 170 degrees F. The chicken was perfectly tender, juicy and the meat in the thigh was not pink.
Sides dishes to serve with a Whole Baked Chicken
Our Savory Herb Roasted Whole Chicken is almost like a complete meal all by itself but it is nice with a salad on the side like our Autumn Kale Salad, Festive Autumn Salad or our Nutty Ginger Tamari Quinoa Salad.
If you want to serve a second vegetable, you may also like our Spicy Rosemary Butternut Squash.
Don't forget dessert, with our Easy Peasy Baked Apples or our cozy Coconut Rice Pudding with Cardamom Spiced Honey Pears.
Fall is approaching and as the days start to cool off and the kids are back in school, this Savory Herbed Roasted Whole Chicken is a perfect fit.
What is your favorite fall recipe?
Hungry For More? Subscribe to our Newsletter and follow along on Facebook, Instagram and Pinterest for all the latest updates.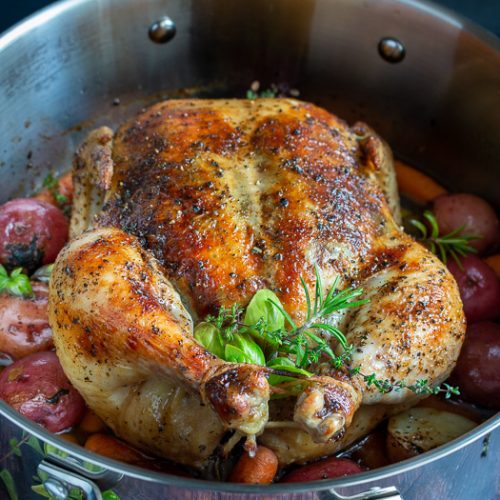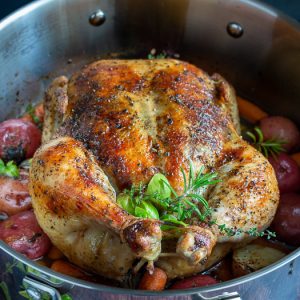 Savory Herb Roasted Whole Chicken
Savory Herb Roasted Whole Chicken is an easy classic family favorite dinner idea. Skip the store-bought rotisserie chicken and make your own crispy skinned, juicy bird at home.
Print
Pin
Rate
Ingredients
4-6

pound

whole chicken


(thawed) organic

½

cup

butter


or lactose free margarine if dairy intolerant

4

cloves

garlic

peeled and chopped (1 for herbed butter mixture and 3 for inside the chicken cavity)


½

teaspoon

seasoned salt


2

teaspoon

Italian seasoning

(or fresh herbs from your garden like basil, oregano, thyme, etc.)

5

sprigs

fresh rosemary


(and other fresh herbs from your garden as desired)

1

onion


peeled and cut into quarters or a couple of shallots

2

tablespoon

olive oil


Salt and pepper

to taste

2-3

carrots


cut in lengthwise pieces or about a cup of the pre-washed and peeled on the go carrots.

6-8

potatoes

(large potatoes should be cut into quarters)

½

cup

white wine


dry

1

cup

chicken broth

gluten-free or chicken bone broth
Instructions
Preheat oven to 375 degrees F (190 degrees Celsius).

Remove the giblets from the inner cavity of your chicken (heart, liver, neck, etc). Sometimes this will be in a little bag and sometimes they will be in there on their own. Trim any fat you do not like and remove any remaining feathers. Cut off the butt off the chicken with a sharp knife or culinary scissors.

Wash the THAWED chicken well inside and out and pat dry. You may wish to place a little salt in your hand and scrub the chicken well. This works like an abrasive.

Line your roasting pan with aluminum foil. Spray roasting pan with cooking spray and place chicken BREAST SIDE UP into pan.

Salt and pepper outside and inside of chicken liberally.

Mix in small bowl softened butter (not melted), garlic, seasoned salt, dash of pepper and dried Italian seasonings (rosemary, basil, thyme, oregano, etc) or fresh herbs from your garden.

Reach under the breast skin of the chicken and place butter mixture between the skin and breast meat on both sides. Then, rub the entire bird with the butter herb mixture and/or olive oil.

Place inside the cavity of chicken 3 – 4 whole garlic cloves, a few sprigs of rosemary and fresh herbs of choice (thyme, basil, oregano, etc) and onion cut into quarters. If you have a fresh lemon, cut into quarters and add in the cavity as well.

Truss your chicken's leg together with butcher twine. Tuck the chicken's wing under the breast of the chicken. (optional step but it makes your chicken look beautiful)


Arrange potatoes and carrots around the edge of chicken in roasting pan.

Salt and pepper the chicken liberally and also the potatoes and carrots.

Add cooking wine and chicken broth and mix around the edges of the chicken into the roasting pan.

Put lid or aluminum foil over dish and place whole chicken into the preheated oven on the middle shelf in the oven and bake for 45 minutes. After 45 minutes into the cooking time, take off lid or aluminum foil and cook uncovered.

Baste chicken approximately every 15 minutes while cooking after you remove the aluminum foil lid. If you have an uneven oven, turn the chicken midway in the cooking process so it browns evenly on all sides.

Approximate Cook Time: Depends on weight of chicken- (unstuffed at 375-degree F/190 degrees Celsius) A) 2 ½-3-pound whole chicken- approximately 1 and ¼ hours to 1.5 hours B) 3-4-pound whole chicken- approximately 1.5 to 1 and ¾ hours C) 4-6 pounds whole chicken - approximately 1 and ¾ hours to 2.5 hours

Check the temperature of your chicken in the meaty section of the chicken thigh. Do not let the thermometer touch the bone and it should not be near the skin. It needs to be in the middle meaty section of the thigh. If the temperature is at LEAST 165 degrees F in the thigh, the juices run clear and your chicken is golden brown, remove the chicken from the oven and allow to rest for 15 minutes UNCOVERED. (if you cover your chicken during the resting period, the skin will become soggy) The temperature of your chicken will raise while resting.

However, If your chicken thermometer reads less than 165 degrees F, allow your chicken to continue to roast in the oven and recheck the temperature. Reset your timer for a few minutes so you do not forget about it.

Please use the times listed above as a guide for length of time need for cooking. As a general rule, calculate a cooking time of 20 minutes per pound of meat plus an additional 10 - 20 minutes at a temperature of 375ºF (190ºC). The goal should be a lovely golden-brown chicken. The meat thermometer should read approximately 165-170 degrees when it is done as the chicken will continue to cook when removed from oven. Your chicken should be juicy and the juices should be clear in color when it is carved.

Carve the chicken and place potatoes and carrots on dishes. Savory Herbed Roasted Chicken is lovely served with a light salad for a delicious weekend meal. Enjoy!

Notes
Please note that best part of this recipe is that exact measurements of ingredients do not need to be perfect. We emphasize salt and pepper twice in the instructions because you need to salt and pepper your chicken well. She is a big bird. However, if you are watching your sodium intake, replace with extra herbs or a sprinkle of Mrs. Dash seasoning. You can exchange with dry or fresh herbs of choice. Please check out our recipe for Easy Herb Butter as this is delicious to stuff your bird with and rub all over your chicken before roasting.
If you want to make this recipe low carb, skip the potatoes and carrots and substitute with Brussel sprouts. To make this recipe gluten-free, be sure to use a gluten-free chicken broth. If you are lactose intolerant, replace the butter with a dairy free butter alternative of choice.
The best tool in your kitchen is your meat thermometer. Depending on the size of your chicken, you may need to start checking your chicken temperature after the first hour. This way you know where you are at. You don't want to under cook your chicken and you don't want a dry chicken so monitoring your temperature is the best way to know if your bird is cooked properly. Remember to check the temperature in the chicken thigh. You may also want to check the temperature in both thighs and the breasts if you have an uneven cooking oven like ours.
We like to turn our chicken mid-way in the cooking process so it browns evenly on all sides. If your chicken is not browning well with basting, you can brush on a little extra olive oil. On the other hand, if your chicken is browning too quickly but still not up to temperature your can use a little piece of aluminum foil and tent it over the sections that are browning too quickly.
(Don't forget to Save the juices in the pan as they make fantastic soups, gravy and also delicious Grandma's Chicken and Sliders)
Nutrition
Serving:
6
g
|
Calories:
929
kcal
|
Carbohydrates:
297
g
|
Protein:
718
g
|
Fat:
445
g
|
Cholesterol:
330
mg
|
Sodium:
697
mg
|
Potassium:
859
mg
|
Fiber:
33
g
|
Sugar:
29
g