Rosemary Herbed Pork Chops with Shallot Wine Sauce recipe is juicy, tender and can be on your dinner table in less than 30 minutes.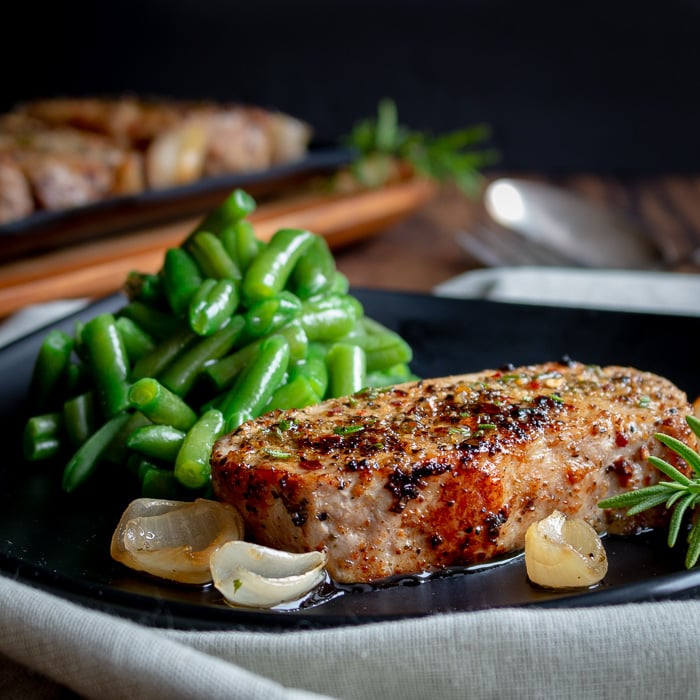 Why you are going to love this recipe for Rosemary Herbed Pork Chops with Shallot Wine Sauce
You are just going to love this recipe for Rosemary Herbed Pork Chops with Shallot Wine Sauce because it is so aromatic. It has just a handful of ingredients and is one low fuss meal. Actually, it is so low fuss, we made it during a typhoon and have made it many times over again with fabulous results.
gluten-free
just a handful of ingredients
30 minute meal
low carb /keto friendly/diabetic friendly
aromatic
juicy
tender
mouthwatering
so easy you can even make it during a typhoon!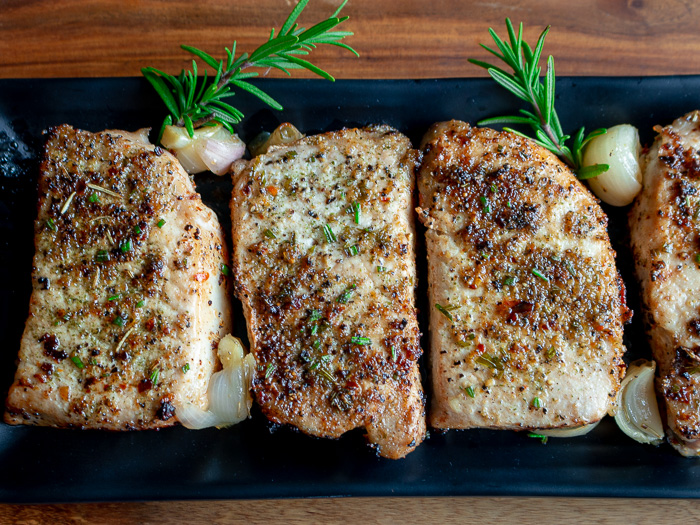 Who knew the white meat, "PORK", could be so tasty. If you are looking for other tasty pork dishes be sure to check out our 22 Easy Dinner Party Pork Recipes.
How Long Do You Need to Cook Pork Chops?
Boneless Pork chops that are about 1 .25 inches thick take about 25 minutes to cook. Some bone in pork chops may take a little longer, around 30 minutes. However, it is not the time to cook that is important. The most important number is the internal temperature that USDA pork is considered safe and that is 145 degrees F. Get yourself a meat thermometer. If you like your pork chops well done, then that would be an internal temperature of 160 degrees F. The secret to juicy tender pork chops is to cook them just until 145 degrees F and let them rest covered for about 5-10 minutes before serving.
How to Make Pork Chops Tender and Juicy?
You can brine or marinate pork chops, if you desire. This does make them delicious. However, the number one thing you can do to make sure that your pork chops are tender and juicy is not to overcook them. Back in the day, your parents used to tell you must cook your pork until it resembles shoe leather and then a few minutes more just to make sure. However, this is not the case any more. The new USDA Pork regulations states that pork that reaches an internal temperature to 145 degrees F and is allowed to rest covered for 5-10 minutes is all that is needed for pork safety. This magic temperature helps to ensure that you are going to get the most tender and juicy pork chops ever.
What sides to serve with Rosemary Herbed Pork Chops with Shallot Wine Sauce?
You have about 25 minutes to prepare your sides whilst your pork chops are cooking in the oven. Some of our favorite sides are...
Herbs de Provence Baby Potatoes and Tomatoes
Curried Harvest Black Forbidden Rice
Spicy Rosemary Butternut Squash
How to Cook During a Typhoon!
Typhoon season in Hong Kong is from May to early November.
Do you remember Super Typhoon Mangkhut or Super Typhoon Usagi? They both left a path of destruction and this is a reminder to be prepared.
Many typhoons are pretty mild in Hong Kong, except for lots of fallen trees and a few broken windows. Many pray for a four-day holiday as the Hong Kong Observatory starts to raise her flag warnings. For school age children and workers, a T8 typhoon warning is like a snow day in Michigan. Public transport stops, schools close and many office buildings close. Did you know that during a typhoon most of karaoke bars remain open so that is the business men and women can practice for their big solo debut? (smiling)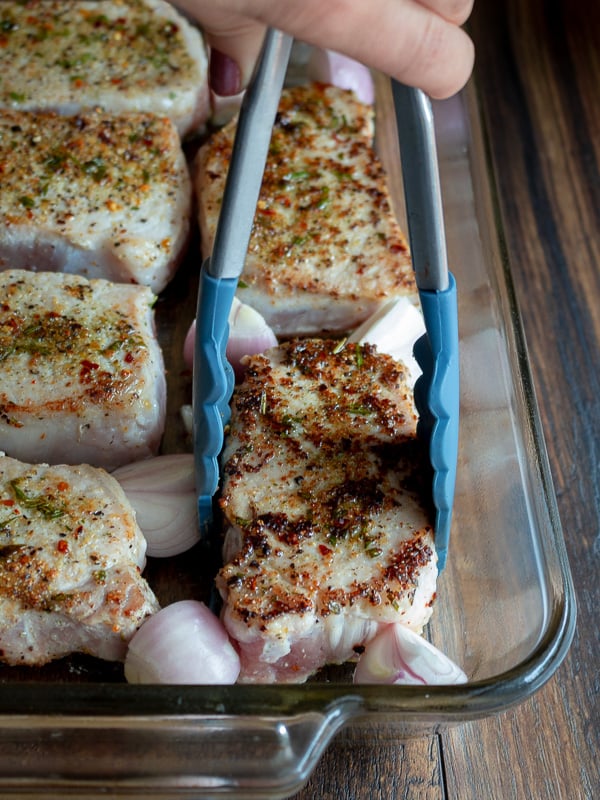 So you might be asking, what does Healthy World Cuisine do while Super Typhoons are tormenting Asia? We cooked, of course! As long as you have gas for cooking and do not loose power you are in the clear. Most generally speaking, we never loose power in Hong Kong. Unlike in Michigan, where all you need is some incompetent construction worker to plow a bulldozer into a main generator and you can be without power for a week or more.
While the rest of Hong Kong is enjoying their ramen noodles from a cardboard bowl with their disposable chopsticks, our family enjoyed a decadent meal of tender rosemary herbed pork chops with a roasted shallot wine sauce, cumin spiced carrots, baked potatoes and a delightful spring salad. We usually do not boast about our dinners. However, we have to tell you this was one really happy accident that needs to happen again.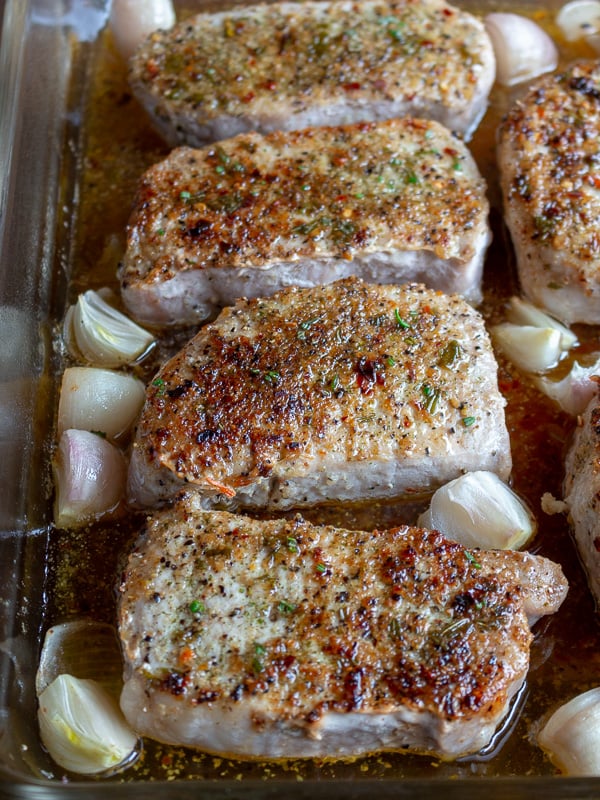 Over the last several days, we have been performing a little bit of emergency preparedness. We were born and raised in Michigan. The winters are very long and cold. If a big storm passes through, you might not have electricity and water for days and access to supplies are limited. We always have a gas mixture reserved for the generator, flashlights, batteries, extra water and canned goods stored for an emergency. Storing extra blankets and food and water in your car is also highly advised.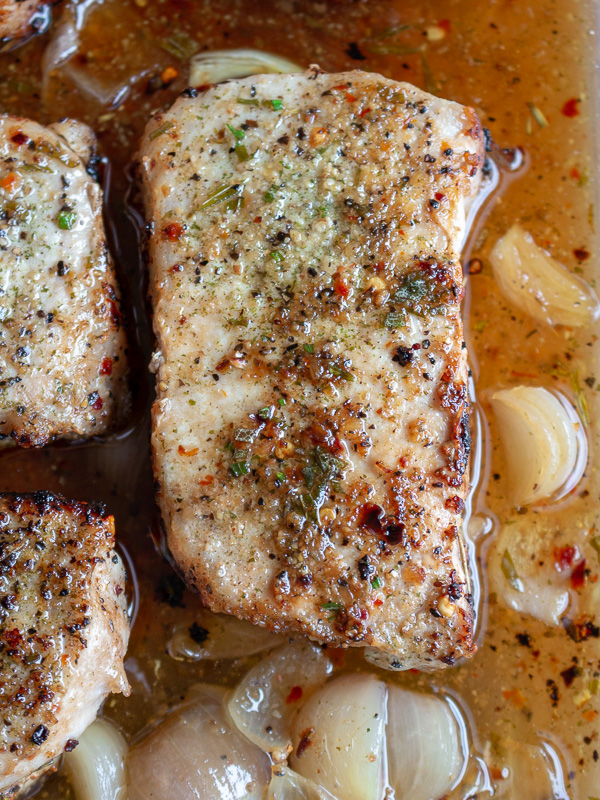 In Japan, we added to the existing emergency list. An emergency back pack was available for each member of our family. You never know when that big earthquake may hit and you need to evacuate quickly.
As far as Hong Kong goes, we have also have emergency back packs ready to go. Extra water and extra non-perishable foods are usually always ready and on the shelves. No matter where you live in the world, National disasters happen. Don't wait until one happens to you. GET PREPARED NOW! Take action today. You can thank us later.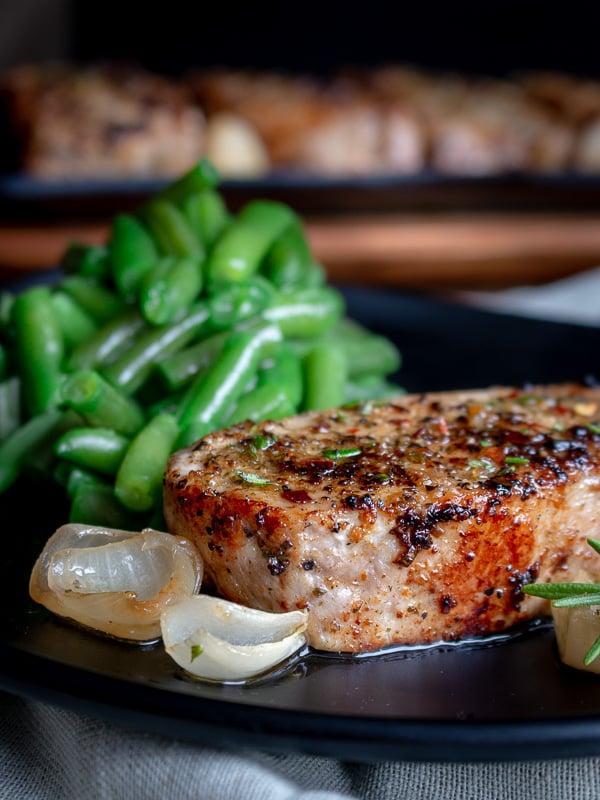 In the days leading up to a typhoon in Hong Kong, the shelves will be emptied as the public starts to panic. (We live in the world's most densely populated city in the world. You just need to get there before the 8 million others decide to stock and reload as well.) We are not an expert regarding emergency preparedness, by any means. However, Tonnette has done a whole blog series on emergency preparedness. Don't wait until you have an emergency to start planning, then it is too late.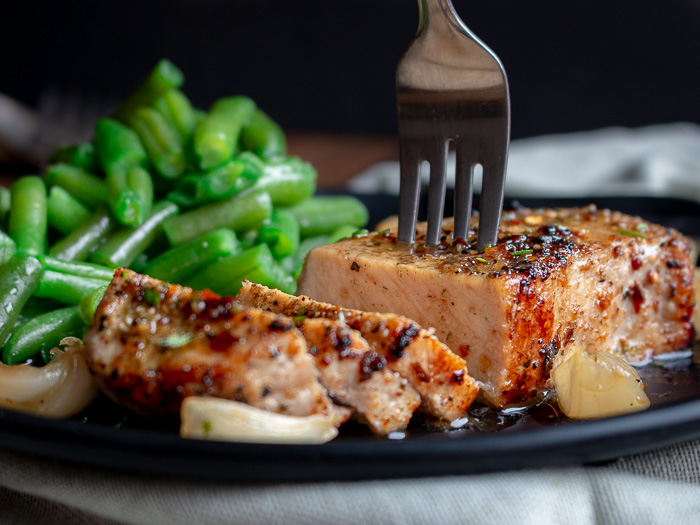 Now let's get back to this amazing Rosemary Herbed Pork Chops with Shallot Wine Sauce that you must try. It is not a prerequisite to make during a typhoon. However, you can make it any time you want to make a delicious dinner in less than 30 minutes. We found these gorgeous bone in tender thick cut pork chops from Australia, some fresh rosemary, shallots and a new spice mix called Kick'N Chicken Weber's seasoning.
Kick'N Chicken seasoning is essentially a mix of dried onion, sea salt, garlic, crushed red peppers, orange peel and paprika.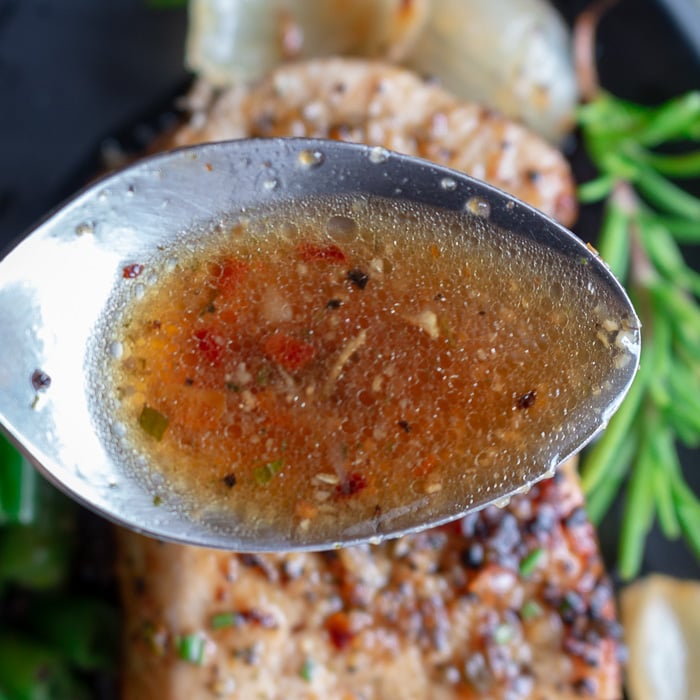 Our boneless pork chops were thick cut maybe about 1.25 inches thick. We rubbed our pork chops with olive oil, fresh chopped rosemary and spices, seared them in a hot pan just until golden in color. Then, popped our Rosemary Herbed Pork Chops in the oven with the shallots and baked for about 30 minutes. The simple roasted shallot wine sauce is to die for. You have to love how quick and easy this meal comes together. If we can do it, you can do it. We are here for you if you have questions along the way.
Easy delicious pork recipes
Grilled Five Spice Pork Loin Chops
Bacon Wrapped Sausage Stuffed Pork Tenderloin
Turmeric Pork Skewers with Thai Basil Dipping Sauce
Thai Sweet Chili Pork Tenderloin
Hungry For More? Subscribe to our Newsletter and follow along on Facebook, You Tube, Instagram, and Pinterest for all the latest updates.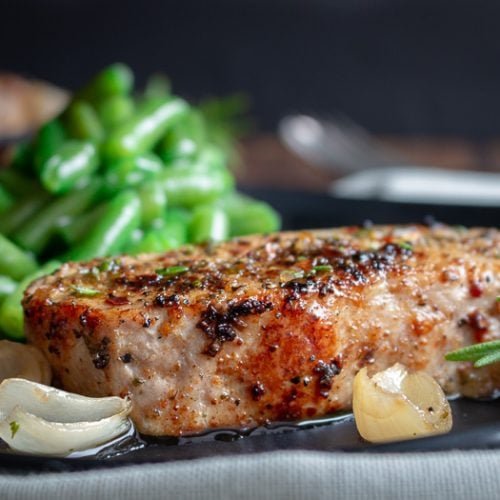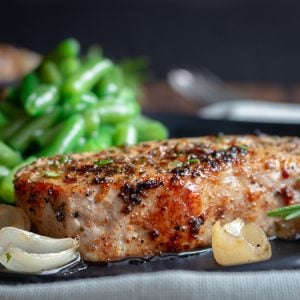 Rosemary Herbed Pork Chops with Shallot Wine Sauce
Rosemary Herbed Pork Chops with Shallot Wine Sauce are juicy, tender and are on your dinner table in less than 30 minutes.
Print
Pin
Rate
Ingredients
24

oz

pork chops

tender thick cut (I used boneless pork chops )


2

tablespoon

olive oil


1.5

tablespoon

rosemary

freshly chopped

2

teaspoon

Kick N Chicken Seasoning

(or make your own with dried onion, sea salt, garlic, crushed red peppers, orange peel and paprika.)

3

Shallots

peeled and roughly chopped


1

cup

white wine


(½ for roasting and ½ for sauce) can substitute chicken broth if needed for dietary reasons

½

cup

water

(or can use chicken broth)

salt and pepper


to taste

1

tablespoon

butter

(use lactose free margarine if dairy intolerant)
Instructions
Pre-heatoven to 190 Celsius or 375 F.

Rub pork chops with olive oil on both sides. Season pork chops with fresh rosemary, Kick N Chicken Seasoning (or make your own with dried onion, sea salt, garlic, crushed red peppers, orange peel and paprika.)

Heat up an oven proof skillet or pan to a medium high heat stove top burner and sear for just a minute or two on both sides of seasoned pork chops.

Place pork chops in an ovenproof pan. Add ½ cup of wine and chopped shallots. Bake your pork chops uncovered for about 20-25 minutes or until the internal temperature of at least 145 degrees F or 160 F if you like well done. If you use bone in pork chops you may have to increase cooking time and this also depending on how thick your pork chops are. Use a thermometer, and check the internal temperature. ( I know that our moms have taught us that you need to cook pork until it is lifeless and resembles shoe leather and then just a few minutes more, just to be safe.) However, new guidelines for USDA Pork is safe at 145 degree F as long as you leave it rest for about 5 minutes after cooking.

Remove your pork chops for the pan and let rest covered for 5 minutes. (Do not wash the pan that you cooked the pork chops in). Instead, place the pan you cooked the pork chops in over a burner on top of the stove and turn on medium heat. Add wine to deglaze the pan. Add water or if you prefer chicken broth to the pan. Chop up a few of the caramelized mini onions (shallots) and add to the wine sauce. Allow the wine sauce to reduce to about ½. Season with salt and pepper. Turn off the burner and add a tablespoon of butter to finish the shallot wine sauce.

Serve pork chops with a drizzle of shallot wine sauce on top. Enjoy!
Notes
If you decide to use bone in pork chops they may take a little longer to cook.
If you cannot have wine due to dietary reasons, you can exchange with chicken broth.
Start checking on your pork chops at the 20 minute mark as the thickness of your pork chop determines how long they will need in the over to reach 145 degrees F or 160 degrees F if you like them well done.
Leftovers store well in the refrigerator in a sealed container for up to 3 days and just reheated. Leftovers can also be frozen for up to 2 months in a freezer safe container with the shallot wine sauce.
Nutrition
Serving:
1
g
|
Calories:
416
kcal
|
Carbohydrates:
5
g
|
Protein:
37
g
|
Fat:
22
g
|
Saturated Fat:
7
g
|
Cholesterol:
121
mg
|
Sodium:
114
mg
|
Potassium:
740
mg
|
Fiber:
1
g
|
Sugar:
2
g
|
Vitamin A:
111
IU
|
Vitamin C:
2
mg
|
Calcium:
34
mg
|
Iron:
1
mg