Balsamic Roasted Fennel and Carrots is a super easy autumn side dish with roasted fennel, carrots, Cipollini onions and a delicious white balsamic herb dressing.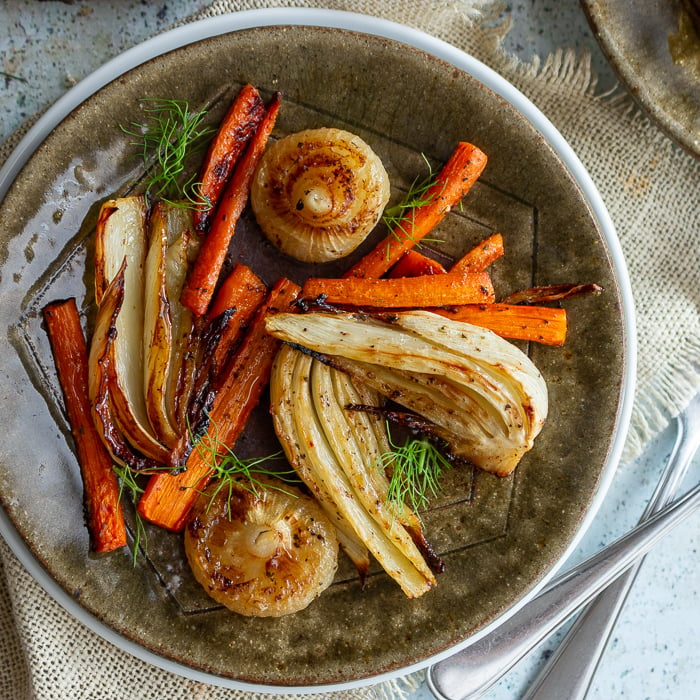 Something magical happens when you roast fennel and root vegetables together. The roasting process caramelizes the vegetables making them naturally sweet. In addition, the white balsamic herb dressing with a little splash of lemon juice really makes these vegetables and herbs sing.
You are going to love Balsamic Roasted Fennel and Carrots because…
Easy and quick
Just a handful of ingredients
Fabulous side dish for thanksgiving or an autumn meal
Tangy, sweet and savory
Can be made ahead and reheated
Delicious in warm salads or on top of pasta too
Vegan, gluten-free and dairy-free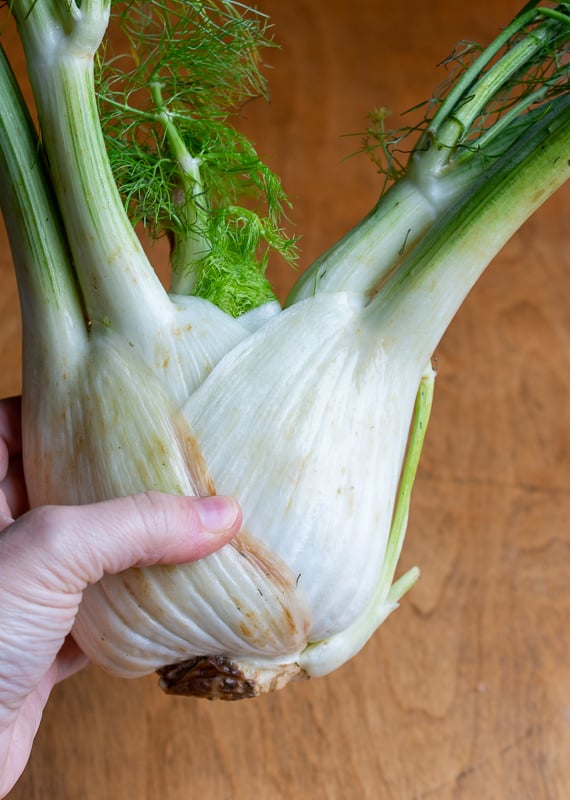 What is fennel?
Fennel is an herb that is actually part of the carrot family. Have you ever tasted a fennel bulb or fennel seed? We think fennel tastes like a delicate anise flavor. Fennel is an amazing little herb. You can eat the bulb, seeds and even the little wispy leaves called fronds. Consequently, the fennel bulbs are delicious raw in a salad with some slices of apple, roasted or tossed in with pasta and many other recipes. Fall and Winter are the best times to harvest fennel. The fennel bulbs look like a white onion and celery have mated. What do you think?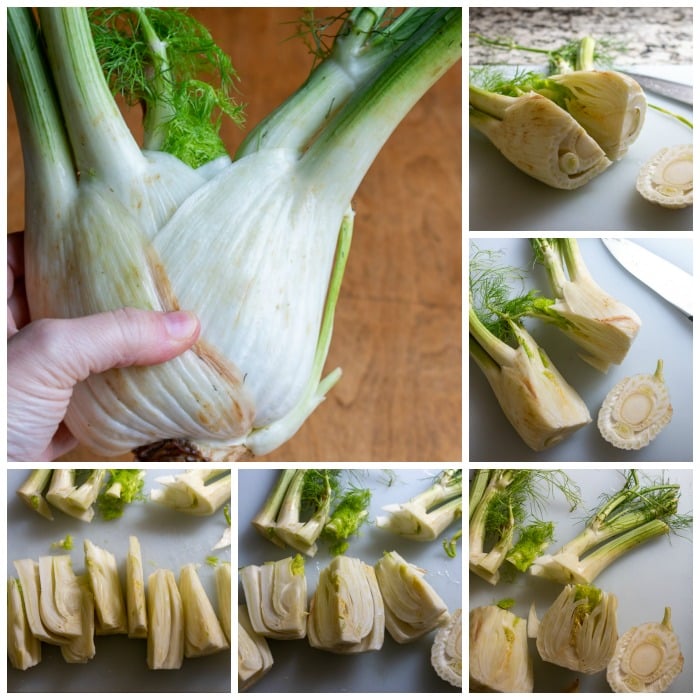 How to cut and prepare fresh fennel for roasting
To prepare your fennel for roasting, you first wash and dry it.
Next cut off the tops to where the white part of the bulb begins
Reserve the fresh wispy leaves (frands) for garnish
Cut your fennel bulbs in half (If your outer bulb sections are older and tough remove and discard.
Fresh fennel is best prepared within 3 days as the longer you let set in your crisper the outer layers become tough. In these situations, remove the outer section of the bulbs and discard.
Cut your fennel bulbs in quarters and then again into eights.
Now, your fennel bulbs are ready to roast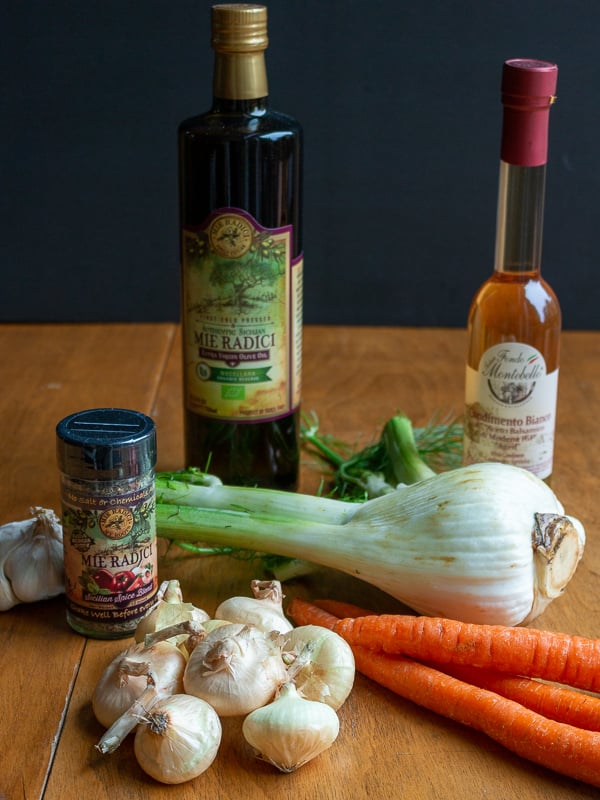 White Balsamic Herb Dressing is Delicious
Have you ever tried white balsamic vinegar? White balsamic vinegar is the perfect accompaniment to roasted fennel and carrots as it imparts that delicious sweetness and sourness without changing the color of the herbs and vegetables. In addition, we used Mie Radici White balsamico, Sicilian Spice herb and Nocellara organic reserve EVOO in our dressing. A little zip of fresh lemon juice makes this recipe light and delicious. If you like white balsamic vinegar, you are going to love our Lemon White Balsamic Vinaigrette recipe.
White vs Regular balsamic vinegars
You can easily exchange regular dark balsamic vinegar for the white balsamic. However, not all balsamic vinegars are the same and the taste profile will be different. There are the low budget balsamic vinegars. These are really sour and may be mixed with other ingredients and are not very sweet. Balsamic vinegars that have been aged for a longer period time you get that natural sweetness.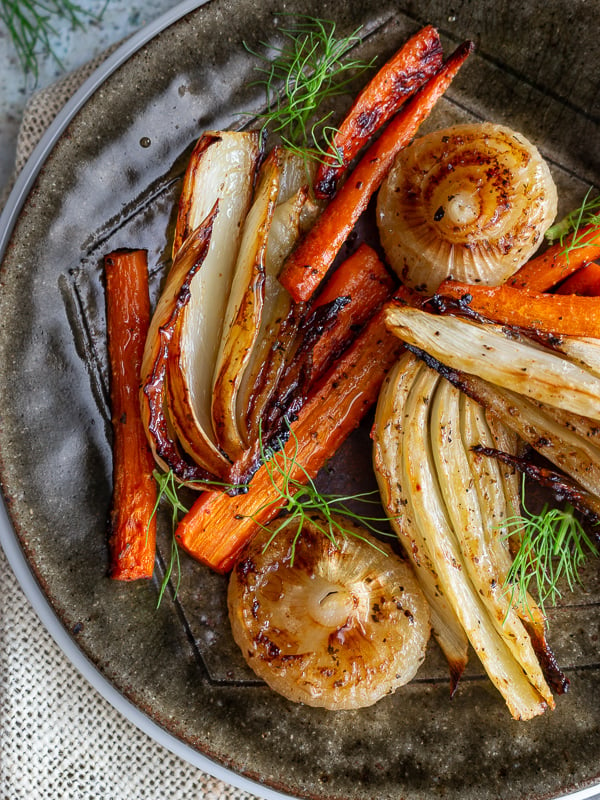 Finding that perfect balance of sweetness to Sour
You do not want to use a prepared thick balsamic glaze for this recipe as that would burn because of the higher sugar content. It is best to use a naturally aged white or dark balsamic vinegar for your Balsamic Roasted Fennel and Carrots recipe. If your balsamic is aged too long, there are too many natural sugars, and this can cause excessive browning or burning. You don't want that.
On the other hand, if your balsamic vinegar has not been aged at all it will not have any caramelization and your end product maybe too sour. You are looking for something middle ground and Mie Radici white balsamic is just perfect for this recipe. Be sure to check out our Balsamic Glazed Salmon and Roasted Root Vegetables for another easy one sheet pan dinner using balsamic, salmon and root vegetables.

If you are looking for more delicious autumn side dish recipes, be sure to try our…
Spicy Rosemary Butternut Squash
Roasted Butternut and Carrot Ginger Soup
Gluten Free Herbs de Provence Buns
Hungry For More? Subscribe to our Newsletter and follow along on Facebook, Instagram and Pinterest for all the latest updates.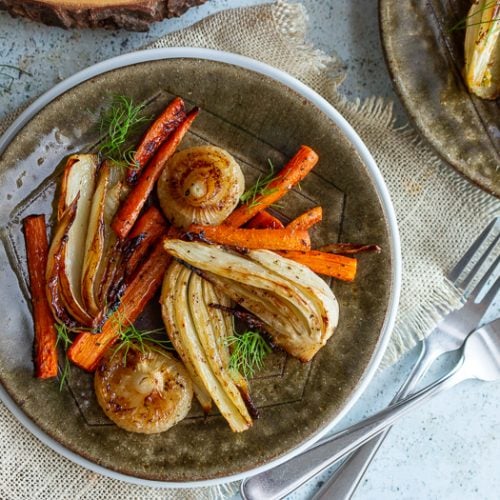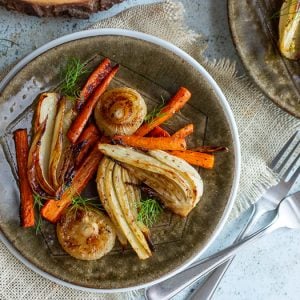 Balsamic Roasted Fennel and Carrots
Balsamic Roasted Fennel and Carrots is a super easy autumn side dish with roasted fennel, carrots, Cipollini onions and a delicious white balsamic herb dressing.
Print
Pin
Rate
Ingredients
1 fennel bulb and reserved wispy leaves (frangs)

3 large carrots

8 Cipollini onions (or one large onion sliced into half-moons)

2 tablespoons white balsamic vinegar

Juice of ½ lemon

2 tablespoons extra virgin olive oil

1 teaspoon Sicilian Spice Mix or Italian Seasoning

½ teaspoon garlic powder

Salt and pepper to taste
Instructions
Preheat oven to 425 degrees F or 218 degrees C

Remove the top stems of the fennel bulb and reserve the wispy leaves (frang) for garnish. (The top stems of the fennel bulb are delicious in soup stocks)

If your outer fennel bulb is tough remove just the outer edge. Cut your fennel in half and cut each half into 4 thin half moon slices.

Next, peel and chop carrots into long matchsticks.

Remove the outer skin of the Cipollini onions.

In a small bowl, combine white balsamic vinegar, lemon juice, olive oil, Sicilian Spice Mix or Italian seasoning, garlic powder and salt and pepper to taste.

Place your sliced fennel, matchstick carrots and peeled Cipollini onion in a bowl. Pour over your prepared balsamic vinaigrette and toss.

Pour your prepared fennel, carrot and onion mixture on a lined baking sheet. We always spray a little oil on the bottom of the sheet pan to prevent sticking.

Bake for 20 minutes and gently turn the carrots, fennel and onions over so they brown on both sides. Roast for another 20 – 25 minutes or until fork tender. Garnish with fennel frangs or otherwise known as the wispy leaves.

Enjoy
Notes
Mie Radici's Sicilian spice mix is made with dried basil, garlic, oregano, fennel, marjoram, rosemary, thyme and mint. You can exchange with an Italian spice blend of choice or even herbs de Provence.
Feel free to add other root vegetables of choice to the mix. You can exchange any type of onion you prefer for the Cipollini onion. For example, red onions, yellow onion, white onions and shallots all work well in this recipe. Measurements do not have to be exact but do salt and pepper well to balance the flavors.
We used Mie Radici's White Balsamic vinegar for this recipe. This balsamic is naturally aged and sweet. If you use another brand of balsamic or regular dark balsamic vinegar, you may need to adjust the amount of lemon or just use the lemon zest to balance the flavors. Do not use a Balsamic glaze for this recipe as there is too much sugar content and it will cause burning. The best type of balsamic vinegar for this recipe is one that is naturally aged without added ingredients.
Nutrition
Serving:
4
g
|
Calories:
119
kcal
|
Carbohydrates:
144
g
|
Protein:
15
g
|
Fat:
72
g
|
Sodium:
68
mg
|
Potassium:
463
mg
|
Fiber:
35
g
|
Sugar:
64
g