Grandma's Apple Pie is packed filled with delicately sweet cinnamon sugared apples and then covered with a basket weaved latticed flaky crust and baked to perfection.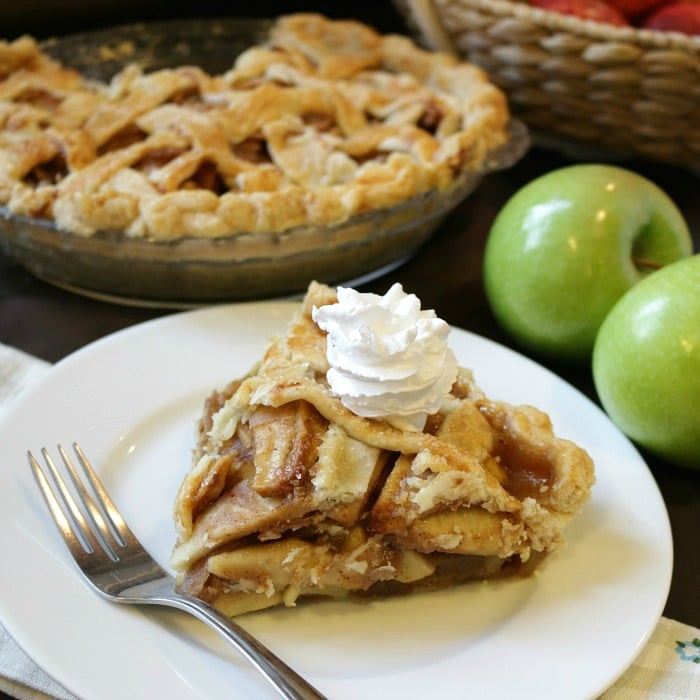 Grandma's Apple Pie for Breakfast
Don't judge me... I think a slice of grandma's apple pie for breakfast is, in my opinion, the breakfast of champions for those mornings where sleep was a blur and you are way too tired to beat an egg. If you break it all down, it really is not that bad lets see, we have apples and cinnamon. Heck, I put that on my oatmeal in the morning...next we have flour, butter, sugar... well maybe it is not the healthiest breakfast but this morning it was just perfect.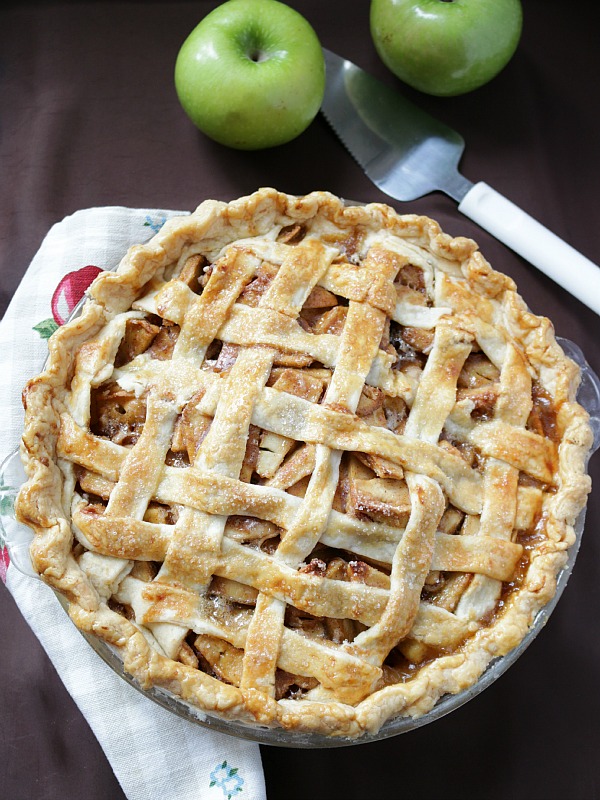 We call my mom, grandma, as when you are 89 years young you deserve this all important title. My mom is an awesome little baker and her apple pies are to die for. She makes super flaky crusts and I love the slight little sweet tartness of the granny smith apples.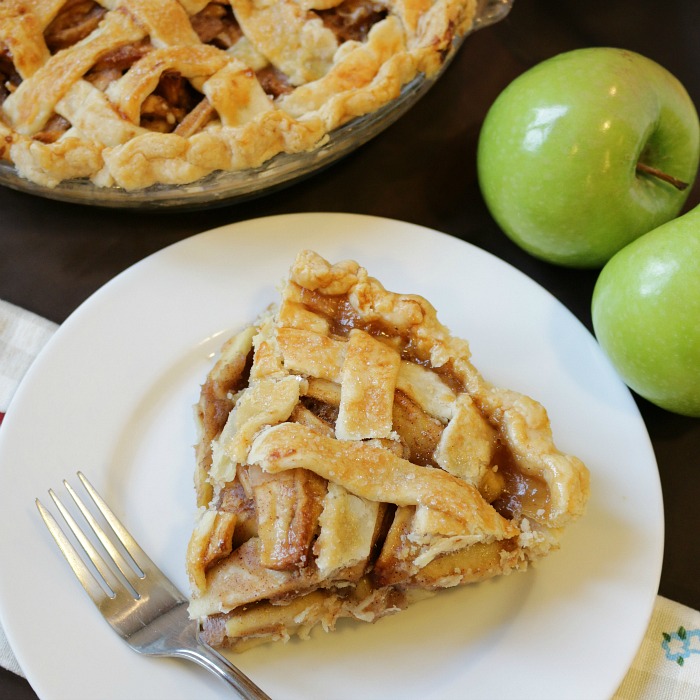 I first published Grandma's Apple Pie on October 9, 2011 and have made this pie many times since then and have learned many lessons along the way and I have changed up the cooking process. Have you ever noticed that it does not matter how much flour that you put in your apple pie it sometimes gets watery inside the pie as the apples cook down? That, my friends, drives me absolutely mad and that is why I came up with the perfect way to overcome this issue...
Instead of making grandma's apple pie with uncooked apples, I cook on top of the stove my apples, cinnamon, nutmeg, brown sugar and vanilla just until they are still slightly firm but most of the moisture has evaporated off and then I put the apple pie filling in my pie crust to bake.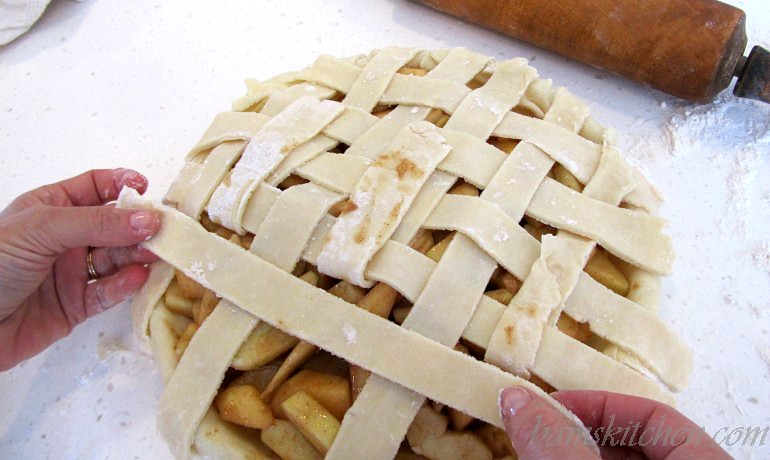 This is the apple pie recipe that my grandmother past on to my mother and then on to me. When I was about 15 years old, my mom and I volunteered at the Catholic Central fund raiser, a school function, and I had the rare opportunity of assisting to make over 250 homemade apple pies. I am pretty fast and coring, peeling and slicing apples and rolling out the dough now. In addition, I also still use the same rolling pin that was my grandmothers and then passed on to my mom and now to me. It would be almost criminal to use anything else!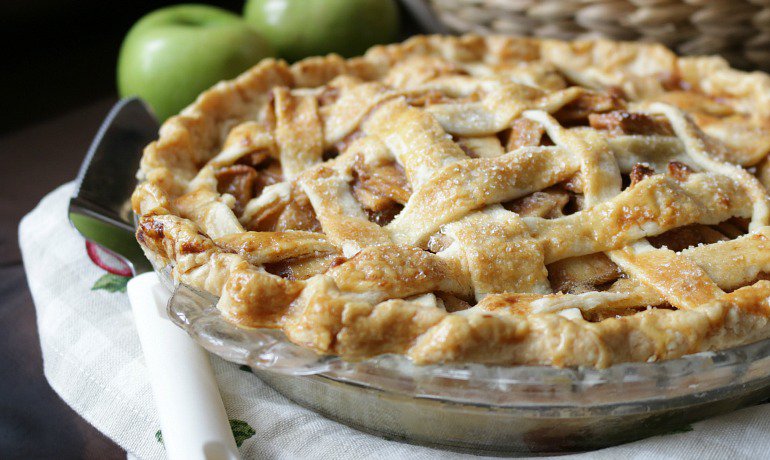 More Delicious Delicious Desserts
Chewy Caramel Apple Pie Cookies
Apple Pecan Spring Roll Mooncakes
Hungry For More? Subscribe to our Newsletter and follow along on Facebook, You Tube, Instagram, and Pinterest for all the latest updates.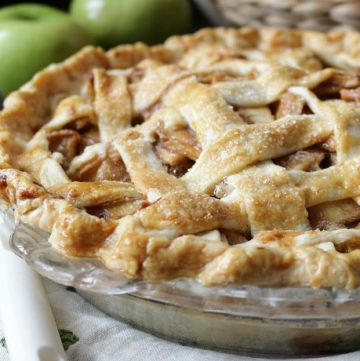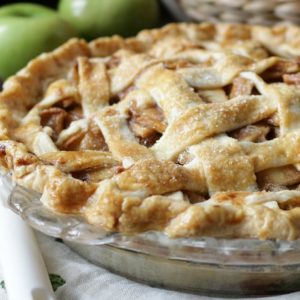 Grandma's Apple Pie
Grandma's Apple Pie is packed filled with delicately sweet cinnamon and sugared apples and then covered with a basket weaved lattice flaky crust and baked to perfection.
Print
Pin
Rate
Ingredients
Lattice Crust (makes 2 crusts top and bottom)
2.5

cups

flour


and extra for rolling

1

cup

butter


(2 sticks or 8 ounces) unsalted butter, very-cold, cut into ½ inch cubes

1

teaspoon

salt


1

teaspoon

sugar


or sugar alternative

6-8

tablespoon

ice water

Apple Pie Filling
8-10

granny apples


large, peeled, core removed and sliced

2

tablespoon

lemon juice


to prevent apples from oxidizing and turning the apples brow

1

teaspoon

cinnamon


1

cup

brown sugar

or sugar alternative


½

teaspoon

nutmeg

3

tablespoon

flour


1

teaspoon

vanilla

butter


1

egg


beaten

1

teaspoon

sugar

or sugar alternative
Instructions
Pre-heat oven to 425 F. In a food processor or with a pastry dough knife blend flour and butter until crumbly. Then add salt, sugar and ice water until dough comes to a ball.


Remove dough from food processor or bowl and shape into one ball and then split the ball into 2 equal pieces. Place one ½ of the dough in the refrigerator to rest.


Clean and flour your working surface. Flatten ½ dough into a disk and roll out the dough with a rolling-pin so that it is about 2 inches larger in diameter than your pie pan.


Roll gently your pie crust onto your rolling-pin and lower gently over your pie pan. Gently allow the edges to comes to the bottom of the pan so that there is no gaps around the edges or bottom. Set aside.


Wash and peel and remove the core and slice apples.


As soon as possible to prevent oxidation place the lemon juice on apples.


Add brown sugar, sugar, cinnamon, nutmeg, vanilla and flour to apples and mix well. In a large frying pan, add the butter and cook the mixed apples until the moisture is evaporated and the sauce around the apples is thick and not watery. The apples should be slightly softened but not all the way cooked through. (About 10 minutes)

Create the lattice crust
Add the prepared apples on top of the bottom crust in the pie pan.


Take the other half of the dough out of fridge and place on floured surface and roll out dough to 1-2 inches larger in diameter than pie pan.


Measure and cut dough for crust lengthwise into strips about ½ inches.


Using every other one of the dough strips, lay dough about 1 inch apart on top of apples pie.


Start the at one end and carefully pick up every other dough strip and lay it back upon itself. Insert a dough strip horizontal to the vertical strips. Continue the process with the remaining strips. Make a weave so it looks like a basket.


With your thumb and index finger pinch the lattice crust to the rim of crust. Trim off excess crust but leave about a ¾ inch overhang.


Fold the edge of the top piece of dough over and under the edge of the bottom piece of dough, pressing together. Flute edges using thumb and forefinger.

Prepare for Baking
Brush pie crust with egg wash and sprinkle with a little granulated sugar.


Place pie in the oven initially at 425 F for ten minutes and then reduce heat to 350 F for 50 minutes or until crust is golden brown and apple pie is bubbly.


Serve apple pie warm with a dollop of whipped topping (Also great cold as a quick breakfast with a cup of coffee or tea. I have not idea why I would know about that....hmmm)
Notes
Serve warm or at room temperature. Store in the refrigerator for up to 3 days covered. May be frozen for up to 2 months.
Nutrition
Serving:
1
g
|
Calories:
380
kcal
|
Carbohydrates:
57
g
|
Protein:
4
g
|
Fat:
16
g
|
Saturated Fat:
10
g
|
Cholesterol:
54
mg
|
Sodium:
341
mg
|
Potassium:
192
mg
|
Fiber:
4
g
|
Sugar:
31
g
|
Vitamin A:
558
IU
|
Vitamin C:
7
mg
|
Calcium:
35
mg
|
Iron:
2
mg