Apple Pie Pot Stickers are little Chinese pan fried dumplings stuffed with apples, cinnamon and ginger with a super easy Cinnamon Ginger Caramel sauce for dipping. Perfect dessert to celebrate Mid-Autumn Festival. (Step By Step Video included)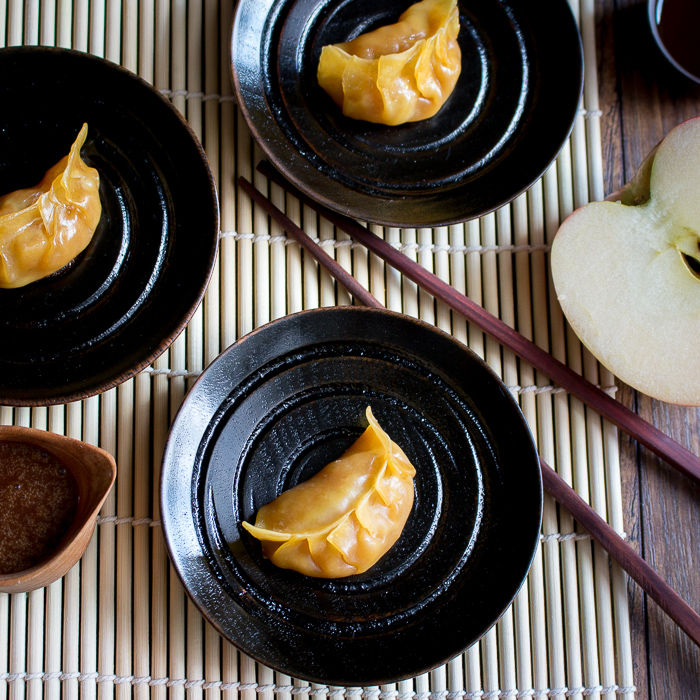 We bet you won't be able to stop at just one! One decadent bite of these hot apple pie pot stickers with their crispy bottom, delectable apple pie filling and addictive caramel sauce will have your crew begging for more. Apple Pie Pot Stickers are a huge crowd pleaser! If you are planning on celebrating Mid-Autumn festival, you can celebrate the American apple harvest at the same time with this Chinese- American Fusion recipe.
Many Reason to LOVE Apple Pie Pot Stickers
Celebration of Apple Harvest
Asian Fusion Recipe
Lower Calories
Less Sugar
Caramel Goodness
Fun Treat for Kids and Adults
Dairy Free
Less time to make compared to Moon Cakes
Can be prepared in advance and frozen to use later
Treats for the CHEF!
The best word of advice we can give you is make more Apple Pie Pot Stickers than you think you need. In addition, hide a little stash for the cook in a hidden corner or under the broccoli, as no one will ever look there! You can thank us later for this piece of advice. When these little delicious treats are done pan frying/steaming, the aroma makes everyone gather in the kitchen and poof- they disappear. It's like magic!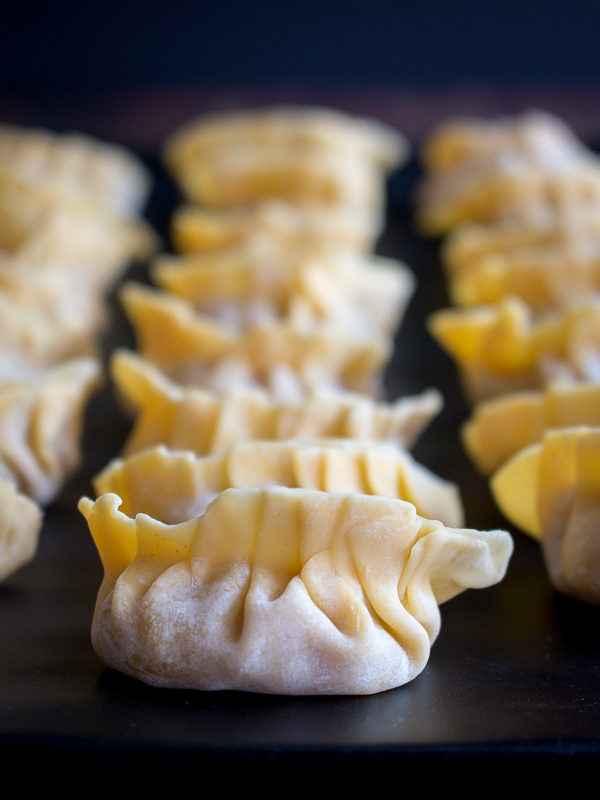 HEALTHYish!
You may be asking yourself, how can Apple Pie Pot Stickers be so decadent but be HEALTYish too? It is very simple. It all comes down to portion size and a lot less sugar than traditional American sweets. An average slice of homemade American apple pie has about 320 calories. If you add a scoop of ice cream on top of that, it adds another 137 calories for a whopping total of 457 calories. 3 Apple Pie Pot Stickers and a drizzle of Cinnamon Ginger Caramel sauce, you are in for about 200 calories. In order to save some additional calories, you can swap out stevia in the apple mixture for the brown sugar. However, if you try to swap out the brown sugar for stevia in the caramel sauce, the sauce will not be thick like caramel.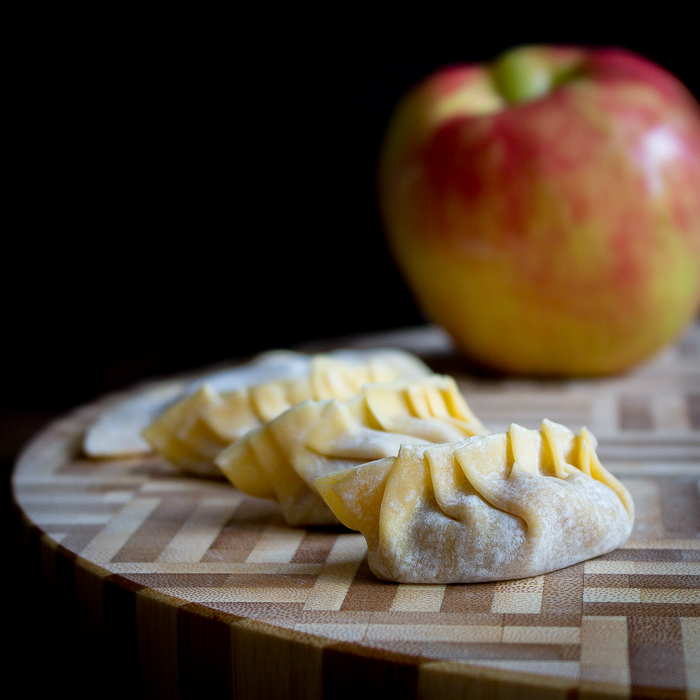 Mid-Autumn Festival
Do you celebrate Mid-Autumn Festival? Mid-Autumn Festival takes place every year with the full moon that falls on the 15th day of the 8th month on the lunar calendar. This moon is not just full but it is the biggest and it almost seems like you could reach out and touch it. Mid- Autumn festival is celebrated in China, Hong Kong, Macau, Taiwan, Singapore, Vietnam, Philippines and all over the world. The mid-Autumn festival is sometimes referred to as the Moon Festival or Lantern Festival.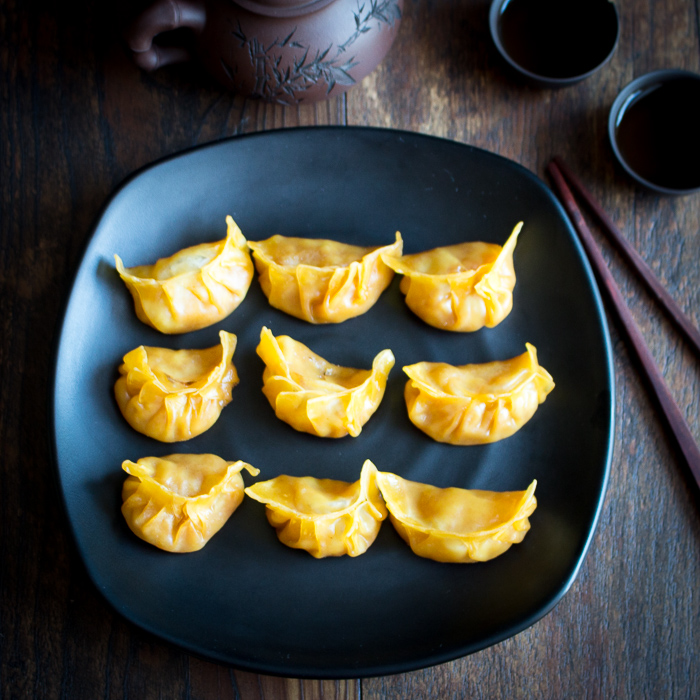 Family Traditions
Mid-Autumn festival celebrates the end of the harvest season and giving thanks. Much like American's celebrate Thanksgiving, the Chinese celebrate by giving thanks to family and friends who gather during this special time. It is traditional to spend time with family during the mid-autumn festival outdoors to view the moon and share stories and togetherness. The full moon represents family reunions and thinking about those that are far from home.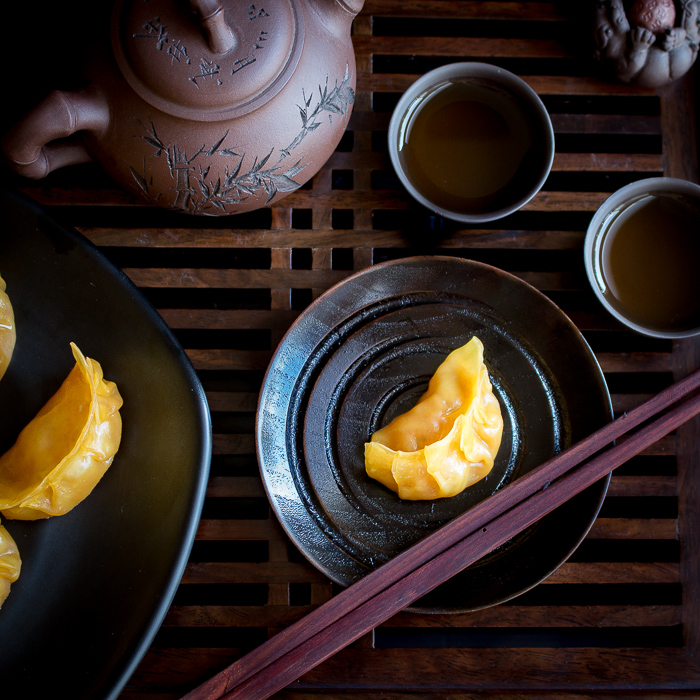 Moon Cakes and other Treats
Apple Pie Pot Stickers are not your traditional mid-autumn festival recipe but we should certainly start our own tradition of apple deliciousness. A common treat served during the Mid- Autumn Festival are moon cakes. Be sure to check out our Snowy Moon Cake Recipe and Apple Pecan Spring Roll Mooncakes Recipe.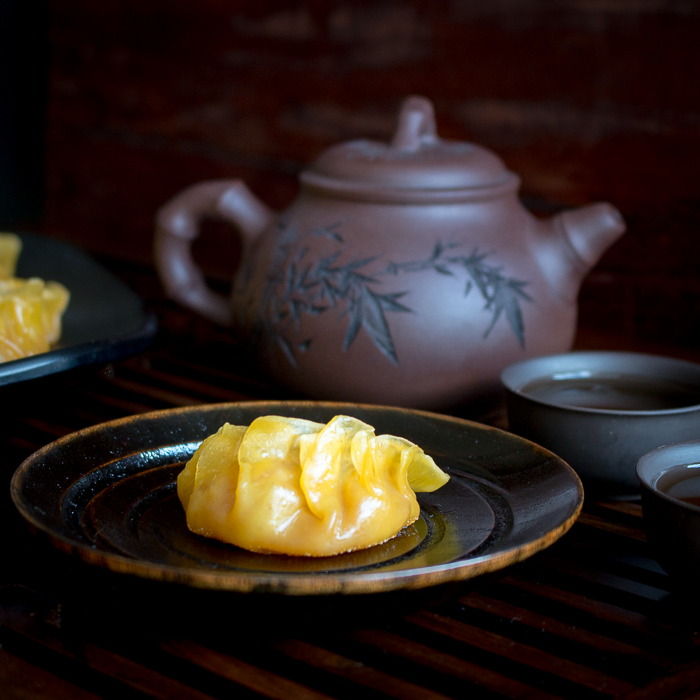 Fun Activities during Mid-Autumn Festival
We know what you are thinking…so do people just stare at the moon for days and eat moon cakes until they are ready to bust. Yes, that about sums it all up. You can bet your bottom dollar, if you give a moon cake you are going to get one too. In addition to all the eating, Beautiful bright lanterns are displayed along with many fun cultural activities. Check out our post, Mooncake Mania, if you want to learn more about mooncakes and Mid-Autumn Festival.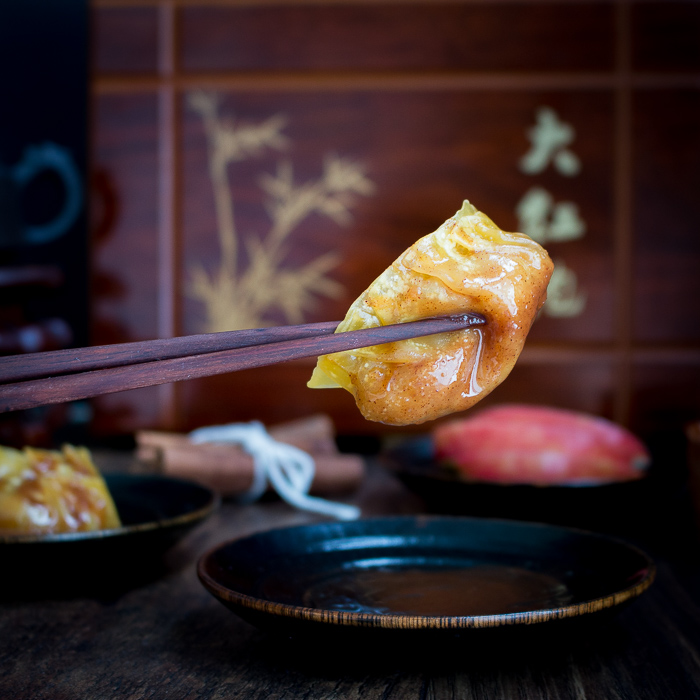 Cassia (Osmanthus) Wine
Another Mid-Autumn festival tradition is to have a glass of "cassia wine". Cassia wine is a weak Chinese baiju (white alcohol made from rice) flavored with sweet osmanthus flowers. Osmanthus flowers come into season around this time of the year. Personally, we have never tried this wine so we can't give it a yeah or a nay. Have you? We love osmanthus tea but do not like Baiju (which we lovingly refer to as ring cleaner)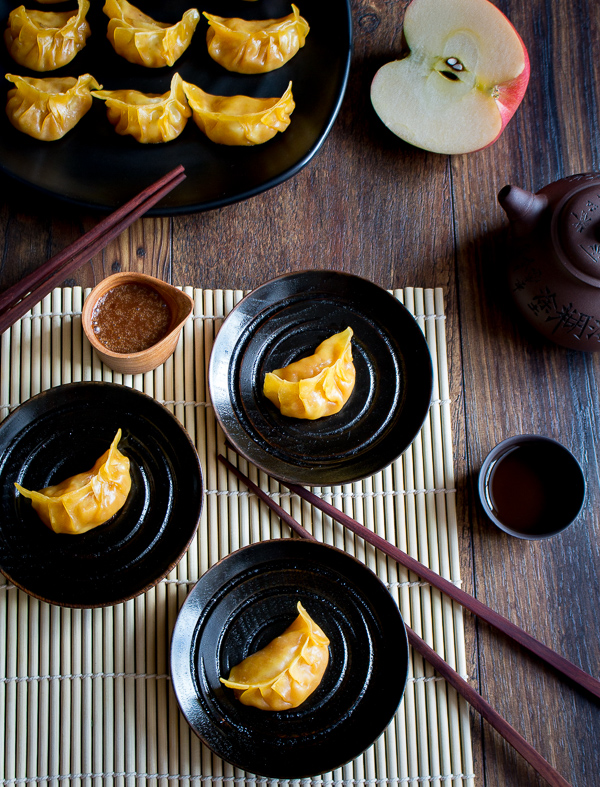 These Apple Pie Pot Stickers might be your new go to recipe for Mid-Autumn festival or any time of the year that you want just a little sweet treat.
Chef Notes to make your life Easier…
You can find plain jiaozi Dumpling wrappers in the frozen food section of many Asian food markets. The Japanese version is called Gyoza. Either will work fabulous for this recipe.
Try using the simple folding technique first. Once you get a hang of it, then try the complex folding technique. There are many ways to seal a pot sticker. Use the format that you feel most comfortable with. The end goal is to seal well so they do not pop open during the steaming/pan frying of them. However, you get to that point is A ok!
You can make the apple pie pot stickers in advance and freeze them until ready to use. Cook only when you are ready to eat. There is no need to thaw them before cooking.
Cook the Cinnamon Ginger Caramel sauce just before serving to keep in smooth, pourable and as a dipping sauce. If you make in advance, then you will want to microwave it for just about 20-30 seconds to get it thin enough to pour. Stir well.
The purpose of the cornstarch in the apples is to make sure that the apples do not make a lot of juice whilst cooking that will cause the dumplings to split open.
You can use any kind apples you desire but we used honey crisp as that is what we had on hand. (Gala, fuji, granny smith, etc all wok well in this recipe)
Make sure you dice up your apples small so that fit inside the dumpling wrapper. Alternatively, you can put your apples in a food processor and safe some time cutting.
DID YOU ENJOY the VIDEO?
Hey there food bloggers! How fun was this video with peppy music? Healthy World Cuisine is just getting into creating video and we are loving it. Be sure to join our YouTube Station. We enjoy filming and food photography but we needed a little help with the video editing as it takes so much time. Nancy from Mexican Made Meatless made it all this video editing happen seamlessly. She is very professional, needs little guidance, is attentive to detail and knows and understands all the in's and outs of video editing. If you are a busy blogger influencer and getting pulled in a million different directions, contact Nancy and she can help you get sorted. Nancy is a pleasure to work with and we recommend her highly. If you get a minute, check out her Food Videos For Bloggers Facebook Page.
Wishing everyone a safe and happy Mid-Autumn Festival!
More Delicious Chinese Desserts
Apple Pecan Spring Roll Moon Cakes
Sweet Stick Rice Chinese New Year Cake
Hungry For More? Subscribe to our Newsletter and follow along on Facebook, You Tube, Instagram, and Pinterest for all the latest updates.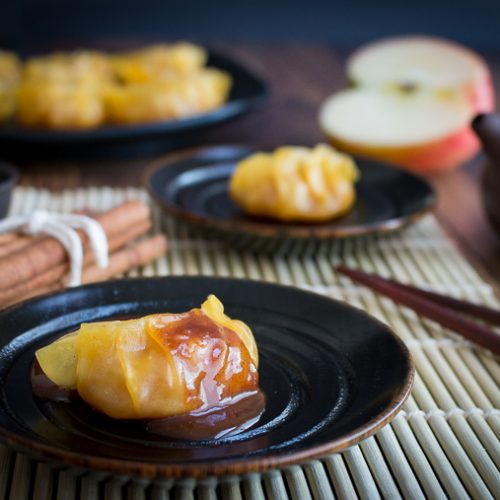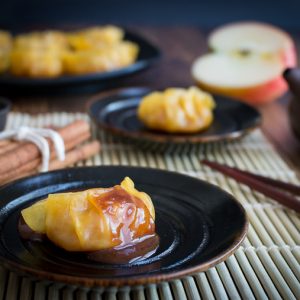 Apple Pie Pot Stickers
Apple Pie Pot Stickers are Chinese pan fried dumplings stuffed with apples, cinnamon and ginger with an easy Cinnamon Ginger Caramel sauce for dipping.
Print
Pin
Rate
Ingredients
Apple Pot Stickers
Apples – 3 large, peeled chopped finely – about 2 cups (we used honey crisp)

Cinnamon – 2 teaspoons

Ginger – 1 inch fresh knob peeled and grated or can use ½ teaspoon dried ground

Brown sugar – ½ cup (or sugar alternative of choice)

Corn starch – 2 tablespoons

Butter – 1 tablespoon

Lemon – optional for preventing apples from oxidizing

Dumpling (jiaozi) wrappers – 30

Water – 1 cup (for sealing pot stickers)

Oil – for frying
Cinnamon Ginger Caramel Sauce
Butter – 2 tablespoons

Brown sugar – ½ cup

Cinnamon – 1 teaspoon

Ginger - 1 inch fresh knob peeled and grated or can use ½ teaspoon dried ground

Salt – ¼ teaspoon
Instructions
Chop up apples finely. Add cinnamon, ginger, brown sugar and cornstarch to chopped apples and stir until well incorporated.

Add 1 tablespoon of butter to pan and add apple mixture and stir fry until fork tender, about 5 minutes. Remove from heat and set aside.

Take one dumpling wrapper from the package (Making sure to keep the rest covered under a damp tea towel so they do not dry out) Wet the edges of the dumpling wrapper with water on your finger around the edges to help seal. Place one heaping teaspoon of apple mixture into the center of the wrapper.
Simple technique
Fold the wrapper with the apple filling in a half circle and pinch close in the center first and then all along the edges. Simple flat pot sticker shaped like a half moon.
Complex technique
Fold the wrapper with the apple filling in one hand. Fold the wrapper with the pot sticker over in half BUT do not let the edges touch. Starting on one side pinch close a small section with your thumb and index finger. With your less dominant hand make a fold on the top section of the wrapper while keeping the bottom section of the wrapper flat. With your dominant hand crimp, the crease tightly. Repeat the process around 8 times or until you meet the opposite end. Pinch the edges of the pot stickers and the creases tightly so they stay sealed during the cooking process. Repeat with the other 29 Apple Pie Pot Stickers.

Place 1 tablespoon of light flavored oil to your pan or wok. Working in small batches as not to crowd your pan, place the prepared pot stickers in the pan. Pan fry over medium heat for about 30 seconds to one minute or until the bottom of the apple pie pot sticker is golden brown. Add ½ cup of water to pan. Cover your pan with a lid and simmer over medium low heat for about 3 minutes. Remove lid from pan and cook until the water has evaporated. Remove apple pie pot stickers from pan. Repeat process with the remaining pot stickers.

Make the Cinnamon Ginger Caramel Sauce: Add butter, brown sugar, cinnamon, ginger and salt to a pan and cook over medium heat until warm, bubbly and all the sugar has melted. About 2-3 minutes.

Drizzle Cinnamon Ginger Caramel Sauce over your apple pie pot stickers and enjoy!
Nutrition
Serving:
30
g
|
Calories:
200
kcal
|
Carbohydrates:
349
g
|
Protein:
21
g
|
Fat:
6
g
|
Cholesterol:
3
mg
|
Sodium:
190
mg
|
Fiber:
5
g
|
Sugar:
163
g