3 cups flour (plus a little more for kneading)
1 teaspoon salt
1/2 cup cold water
1 egg
1 teaspoon vinegar
3 tablespoons butter or shortening
Step 1: In a small bowl beat egg, and add water and vinegar and mix together.
Step 2: In a large bowl mix the dry ingredients of flour and salt. Add butter and use a blender to mix.
Step 3: Add the egg, water, vinegar mixture to the dry ingredients and mix with blender until just combined.
Step 4: On a clean and floured surface lay out the dough and kneed gently just a couple of times to bring the dough together.
Step 5: Form the dough into a ball and wrap in syran wrap and refrigerate for one hour. (During this time make your beef empanada filling-recipe below)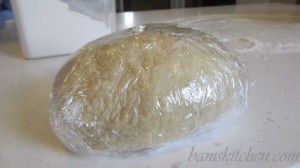 Step 6: Take dough out of refrigerature and pat flat with hands and then lightly dust with flour the surface your are setting it on and top and use rolling pin to flatten dough.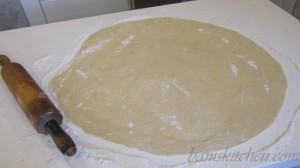 Step 7: Step use a drinking cup or any device you have to cut out round circles from your dough (Just make sure you dip your cup in flour before cutting the dough so it does not stick)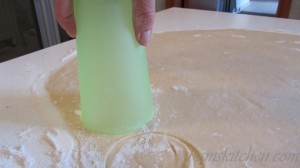 Step 8: Make the Empanada filling- Recipe below.
Beef Empanada Filling
1 teaspoon olive oil
1 chopped onion
1 clove garlic chopped
1 pound ground beef
1 teaspoon ground cumin
3-4 tablespoons mild salsa (or per taste)
salt and pepper
Step 1: In a medium pan place one teaspoon oil and increase heat to medium. Add onion and garlic and saute until aromatic.
Step 4: Add ground beef, cumin and salt and pepper and cook until meat is browned.
Step 5: Add salsa and cook for 1-2 minutes until well mixed and remove from heat.
Step 6: Allow beef mixture to cool before assembling empanadas.
Empanada Assembly and Cooking
olive oil (enough for so that it covers the bottom of your pan)
fork for pressing and sealing empanadas
empanada dough circles
beef empanada filling
little bowl of water
Step 1: Take one empanada dough circle in your hand and place about 1 teaspoon of beef empanada filling inside. (Less filling is better in this situation as if you overfill the empanada it will break open during the cooking process) Dampen your finger tip lightly in a little bowl of water and run your fingers around the edges of the dough to help it seal.
Step 2: Fold the empanada dough in a half circle and crimp the edges with your fingers.
Step 3: Place the empanada on a a flat surface and using a fork gently use the fork edges to make a seal around the outer edges of the empanada. (The is will help reinforce the filling stay inside the flaky crust while cooking) Repeat this process and depending on the size of your cup you will end up with somewhere between 30-35 little beef empanadas.
Step 4: Place enough oil in your frying pan to cover the bottom of the pan and bring to a medium heat.
Step 5: Place the beef empanadas in the frying pan and cook until golden brown on each side. Turn after about 2 minutes. (about 5 minutes total) Depending on the size of the pan just fry in small batches as is easier to control the heat and easier to turn with fewer in the pan. (Just as an FYI, these beef empanadas can also be baked on a greased cookie sheet after first brushing a little egg wash on top of empanada and then bake in 400 degree F oven for about 15 minutes until golden brown)
Step 6: Eat and enjoy. Beef empanadas can be enjoyed warm or at room temperature. (It is a great option for a make ahead party appetizer. Bite sized, hearty, but yet with a light and crispy crust is sure to please the crowds)