Sichuan Pepper Beef is made with tongue numbing Sichuan (Szechuan) peppered beef tossed with diced green beans and tomatoes for an easy spicy dinner in a flash.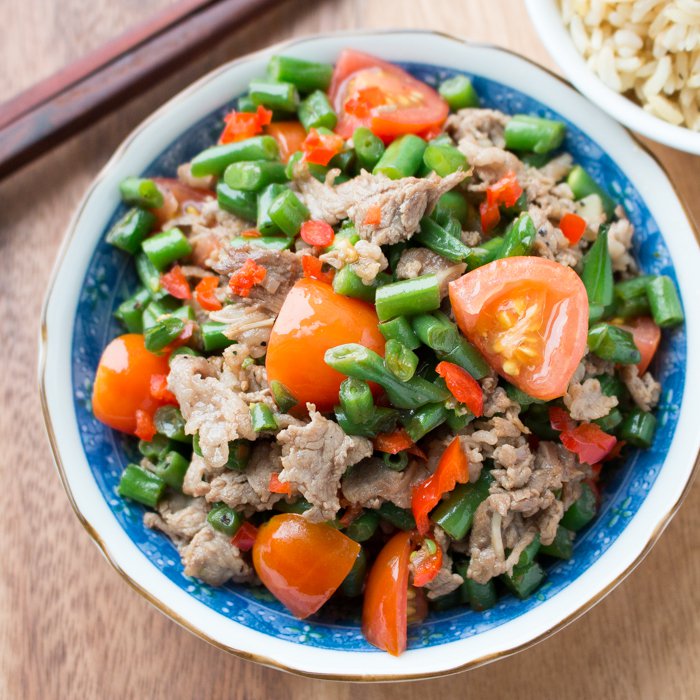 Jump to:
Less than 30 Minute Meal
You are just love Sichuan Pepper Beef as it full of flavor and spice, gluten-free, diabetic friendly, low carb and can be on your table in less than 30 minutes.
What are Sichuan (Szechuan) peppers?
I am on a mission to explore my spice cabinet and I hope you will join me on this journey through all the lands. Sichuan (Szechuan) peppers provide a tongue numbing heaty sensation. Many Sichuan peppers are grown in China and are known as 花椒 or huā jiāo.
Sichuan peppers are actually part of a Prickly Ash tree which is part of the citrus family. The Sichuan peppers are actually the external part of the berries from this tree. Unlike other peppers, they contain citrus oils and that is what gives it its tingling, numbing sensation that envelops your lips and tongue.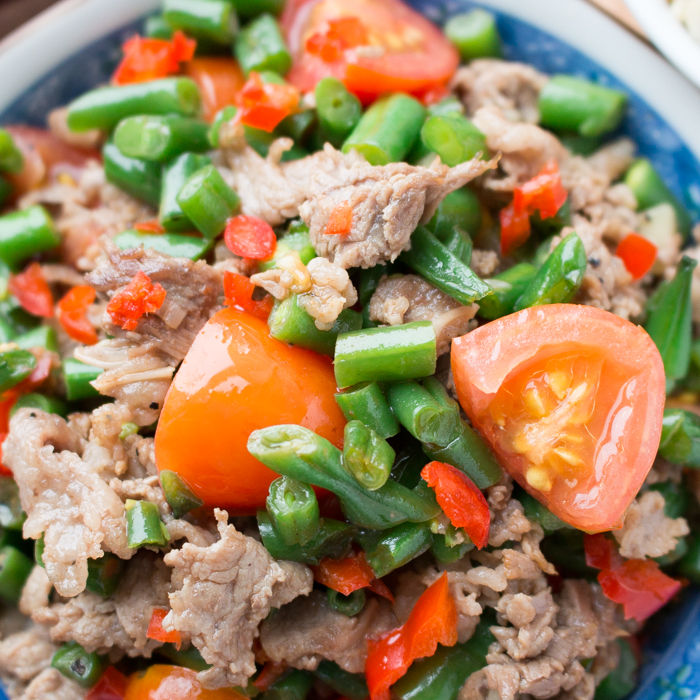 3 Kind of Spicy Pepper
This Sichuan Pepper Beef recipe has three different types of peppers to get your tongue and lips singing.
Sichuan Peppercorns
2. Fresh mild red Chinese Chili peppers
3. White pepper
You can use all three different kinds of peppers, just one or none at all as this dish is all about making the way you like it.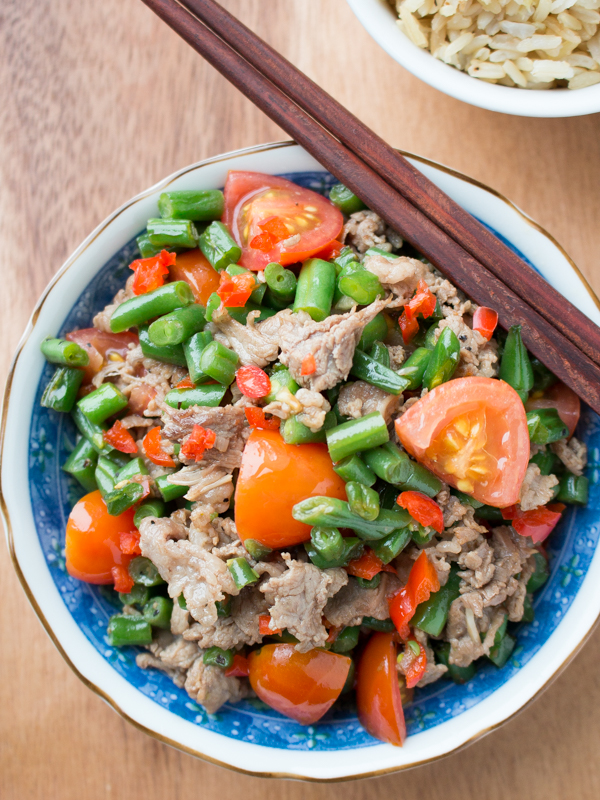 More Delicious Spicy Recipes with Chili's
If you are in to spicy dishes, have you tried our Beef Noodles with Spicy XO Sauce? Another family favorite as we approach the grilling season is our Peking Glazed Beer Butt Chicken as it is a little sweet and spicy and oh so good.
Mapo Tofu is one of those delicious good burns if you know what I mean. I t builds that little bead of sweat on your forehead and warms you from the inside out.
If you like to tame the heat with a little natural sweet, be sure to try our Hot and Spicy Mandarin Orange Chicken. The good news is you can make you can make Sichuan Pepper Beef very mild up to super spicy to meet your family needs.
Type of Chili Pepper Sensations on the Tongue
Actually, the Chinese chili fresh red peppers that I used for this recipe are super mild. They have only a little more heat than a red bell pepper.
I find that Sichuan (Szechuan) peppers do not have the same effect as regular chilis. Sichuan peppercorns do not have capsicum that makes the burn and heat.
Actually, Sichuan peppers has more of a tingle sensation rather than spicy. I suggest if you are new to any types of these peppers, fresh Chinese chili peppers, Sichuan peppers or white pepper to add very sparingly and then add more as desired to meet your desired heat level.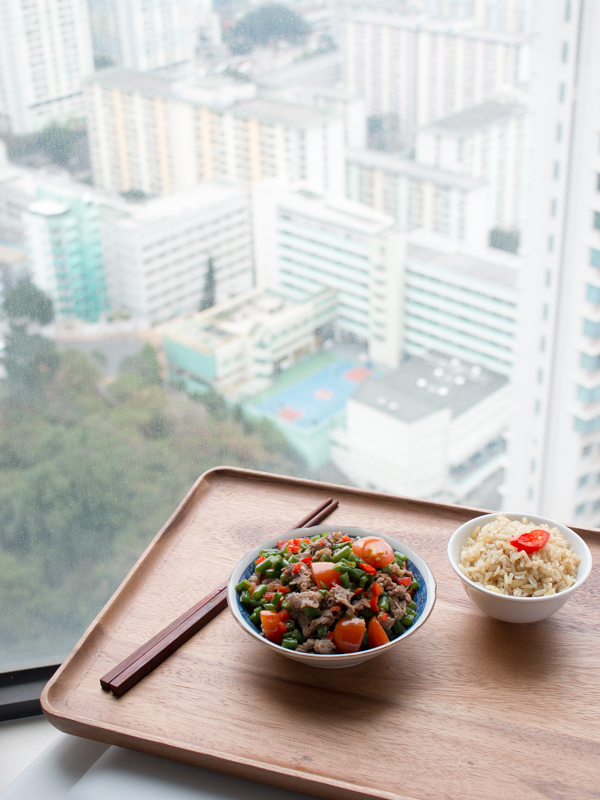 What is Dry Frying?
Have you ever heard of the concept called "dry frying"? The general concept is that the beef used in this dish is cooked in little or no oil on high medium heat. It is cooked until all the moisture (longer time than a normal stir fry) is removed from the wok. The end result is a deliciously concentrated flavors with a chewy crisp texture. An example of dry frying is our Garlic Pork and Dry Fried Green Beans.
Dry frying is pretty popular in Sichuan cuisine but I like it for when I have some less desirable cuts of beef such as the hot-pot beef that I used for this recipe. If you are using delicious beef tenderloin or strip loin steaks then by all means, do not use the dry fry process.
Tricks for Dry Frying
Dry frying can be a bit healthier as you do not need to add so much oil.
The trick to dry frying is getting the wok hot before you put your beef in the pan.
You need to leave your wok alone and do not touch the beef for at least 30 seconds to allow it to get a nice crust but also keep a close eye on it so it does not burn.
I chop the green beans in little ½ inch chopped slices and these little guys are perfect to dry fry.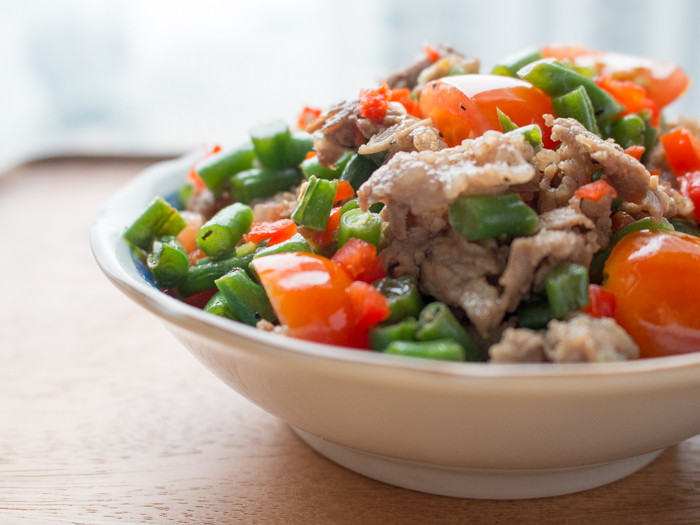 Sichuan Pepper Beef might end of being one of your new favorite less than 30 minutes weekday meals.
More Delicious Stir Fry Recipes
Garlicky Sesame Stir Fried Green Beans
Spiced Yam and Vegetable Stir Fry
Did You Like Our Recipe? Leave a ⭐⭐⭐⭐⭐ rating and/or a review in the comments section below. Your feedback is always appreciated! Follow us for more delicious recipes on Pinterest, Instagram, Twitter and Facebook! Don't forget to sign up for our email list for more free recipes.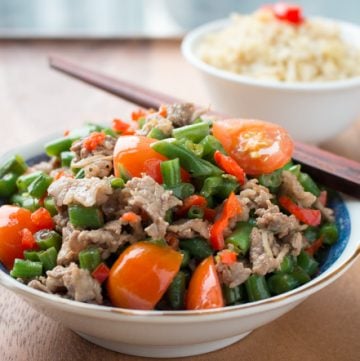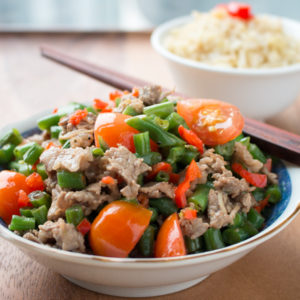 Sichuan Pepper Beef
Sichuan Pepper Beef is made with tongue numbing Sichuan (Szechuan) peppered beef tossed with diced green beans and tomatoes for a spicy dinner in a flash.
Print
Pin
Rate
Ingredients
1

tablespoon

canola oil


or oil of choice

2

cloves

garlic


peeled and minced

1

inch

ginger


knob peeled and grated (fresh)

1

chili peppers


mild Chinese fresh (this chili is really mild and only a little bit hotter than a bell pepper)

½

pound

beef


thinly sliced beef (I used hot pot beef but sukiyaki thin sliced or slice your own)

½

teaspoon

Sichuan pepper

ground or to taste

salt and white pepper


to taste

1

tablespoon

tamari (soy) sauce


1

cup

green beans


diced

1

cup

tomatoes


sliced in half-cherry tomatoes

1

teaspoon

sesame oil
Instructions
In your wok/frying pan add your oil and bring to medium-high heat and add your canola oil garlic, ginger, fresh chili and stir until aromatic. Add your beef, Sichuan pepper, salt and white pepper to taste. Let the beef sear on each side without moving it for about 30 seconds to 1 minute. Be careful not to burn it and then once you have a good sear on the beef keep the wok moving. Cook for about 5 minutes as we call this dry frying and it gets rid of all of the fat in the meat. (if you are not using super thin hot pot meat with a little fat then just stir fry until no longer pink about 2 minutes) Add your tamari (soy) sauce and toss well.

Add your diced green beans and cook for about 1-2 minutes or until bright green, add the tomatoes and drizzle with a little of sesame oil, if desired and give a quick toss and serve.

Serve Sichuan Pepper Beef with a side of rice or just a salad if watching those carbs. Enjoy!
Notes
We used a mortar and pestle to grind our whole Sichuan Peppercorns.
Feel free to exchange with any vegetables you enjoy. Just remember when you are stir frying, do not over fill the wok. You want the heat of the pan to fry, not to be steaming. If your wok or pan is small, you might have to cook your meal in batches.
Nutrition
Serving:
1
g
|
Calories:
412
kcal
|
Carbohydrates:
9
g
|
Protein:
22
g
|
Fat:
32
g
|
Saturated Fat:
10
g
|
Cholesterol:
81
mg
|
Sodium:
587
mg
|
Potassium:
618
mg
|
Fiber:
2
g
|
Sugar:
4
g
|
Vitamin A:
1066
IU
|
Vitamin C:
18
mg
|
Calcium:
54
mg
|
Iron:
3
mg