Homemade Cream Earl Grey Bubble Tea is the summer's most refreshing beverage made with dairy free coconut milk, earl grey tea, chewy boba balls (black tapioca pearls) and lightly sweetened with date paste. (vegan, dairy-free)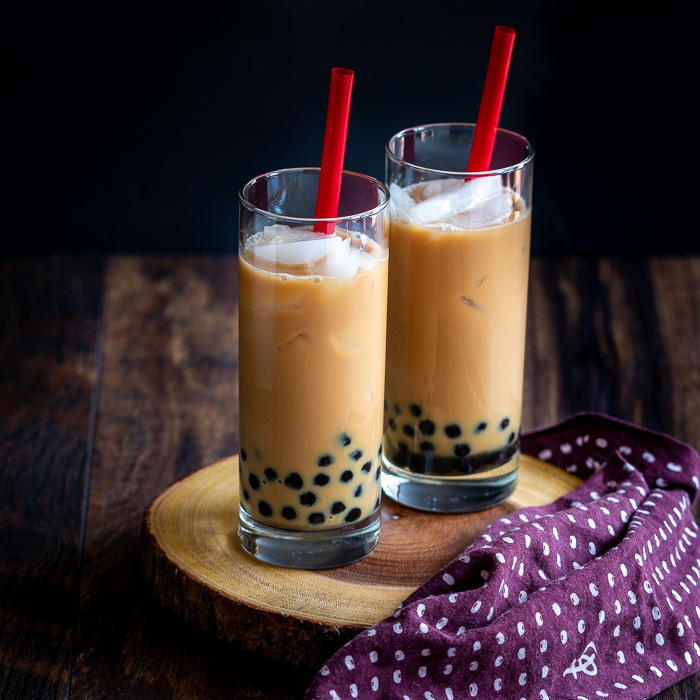 Why we love Homemade Cream Earl Grey Bubble Tea
You are going to love this insanely delicious sip of creamy decadence. The kid in you is going to love the chewy little bites of boba balls. In addition, the adult in you is going to love the sophisticated flavor of Fraser Tea. Their Cream Earl Grey Organic Black Tea is blended with bergamot, citrusy orange peel, and a silky vanilla cream to create a delicate fusion of flavor. Fraser Tea also has a decaffeinated version of their Cream Earl Grey Tea as well.
If you are vegan or have a sensitivity to dairy, you are going to love the rich creaminess of the coconut milk. Refined sugar Police, you will love the fact that we kept this recipe only delicately sweet with the addition of the date paste.
Make your Own Homemade
There is no need to head off to your local bubble tea shop. You can make Homemade Cream Earl Grey Bubble Tea fast in the comfort of your own home, with just a handful of ingredients and the quarter of the cost. So, what are you waiting for? Let's have some fun and enjoy the last couple of weeks of summer. Let's beat the heat! Don't forget to make a batch of our Rainbow Berry Rooibos Ice Pops, Avocado Ice Candy and our Mocha Banana Ice Cream For good measure.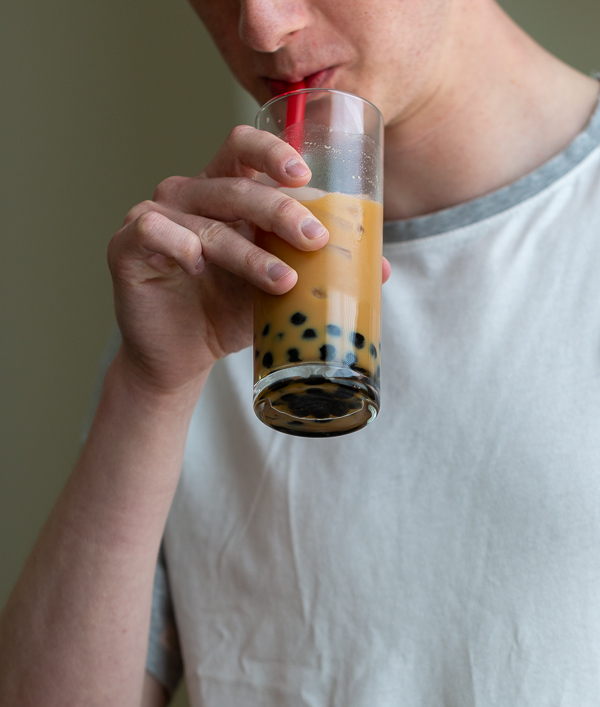 What is Bubble Tea?
Bubble Tea is sometimes called Pearl milk tea or Boba Milk Tea. Originating in Taiwan, this drink combines milk tea with tapioca-type balls. Boba are tapioca balls made from the cassava starch. Bobo balls have these addictive chewy consistencies, which is a nice contrast to the creamy milk tea. You can suck the boba balls up through a thick straw and chew them.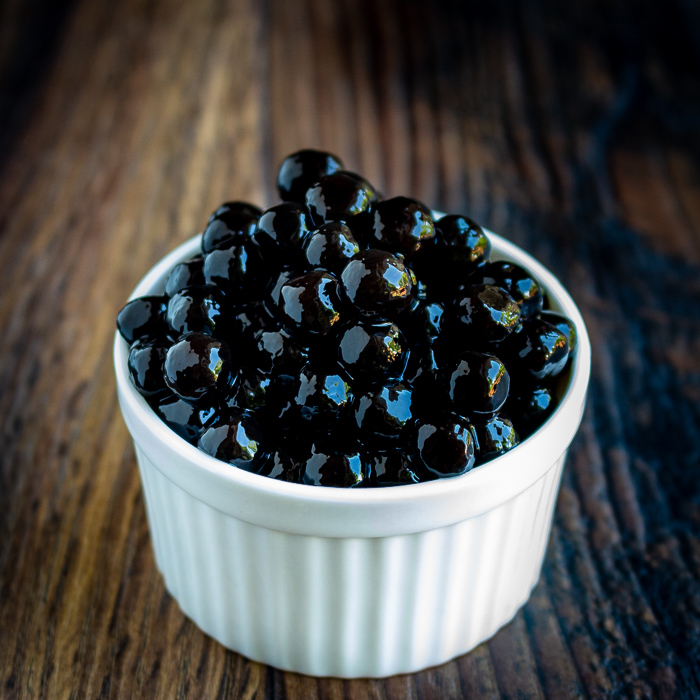 Is Bubble Tea Healthy?
The oldest known bubble tea consisted of a mixture of black tea, small tapioca pearls, sweetened condensed milk and syrup or honey. Loads of sugar and dairy. Today, we are going to lighten up this recipe with a dairy free and no added refined sugar Homemade Cream Earl Grey Bubble Tea. Boba balls are made of this starch so they can cause constipation, if you eat too many of them. Mochi (Japanese rice cakes) can also cause the same issue. Limit your intake of bobo balls to ¼ cup per serving. The key to remember about everything in life - Moderation is the key. Too much any one thing is not good. If you like mochi, be sure to try our Mung Bean Daifuku Mochi.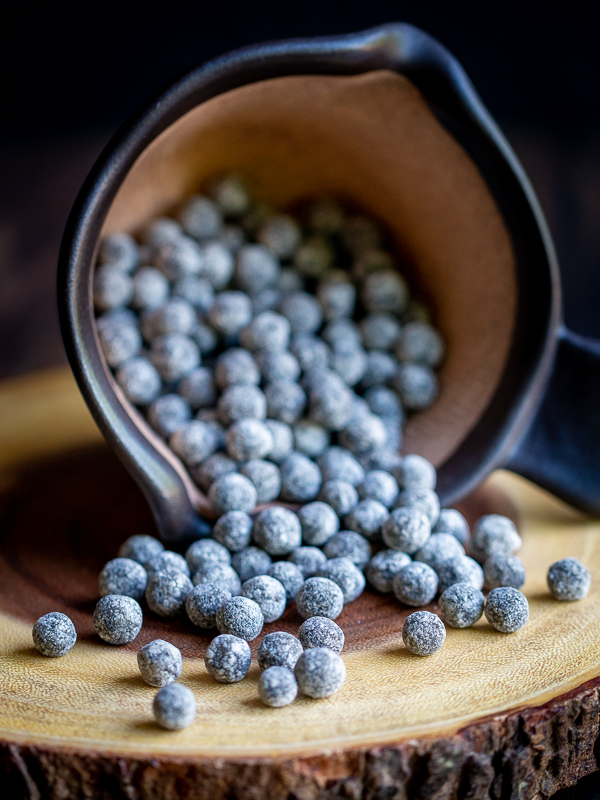 What are boba balls (tapioca pearls) made of?
Black Boba balls are made from the cassava starch, sweet potato and brown sugar. The black color comes from the brown sugar added. There are also white, clear and colored boba balls available for purchase. However, the black ones really show up well as a nice background to the non-dairy milk tea.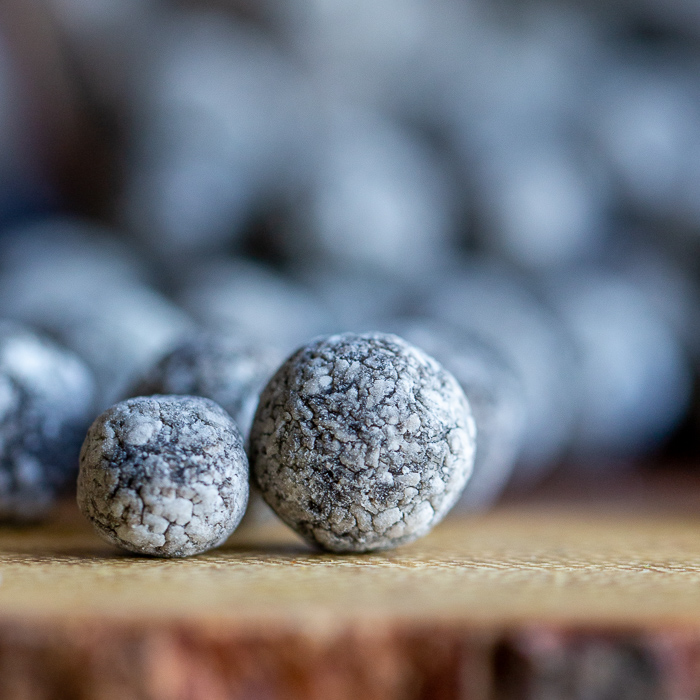 Where can you find Boba Balls (Tapioca Pearls) for purchase?
We purchased our quick cooking boba balls (WuFuYuan brand) from a Korean Market down the street. However, you can purchase these tapioca pearls at any well stocked Asian market, Walmart or even on Amazon. (This is not an affiliate link. We just wanted to show you what the package looked like of the one we purchased)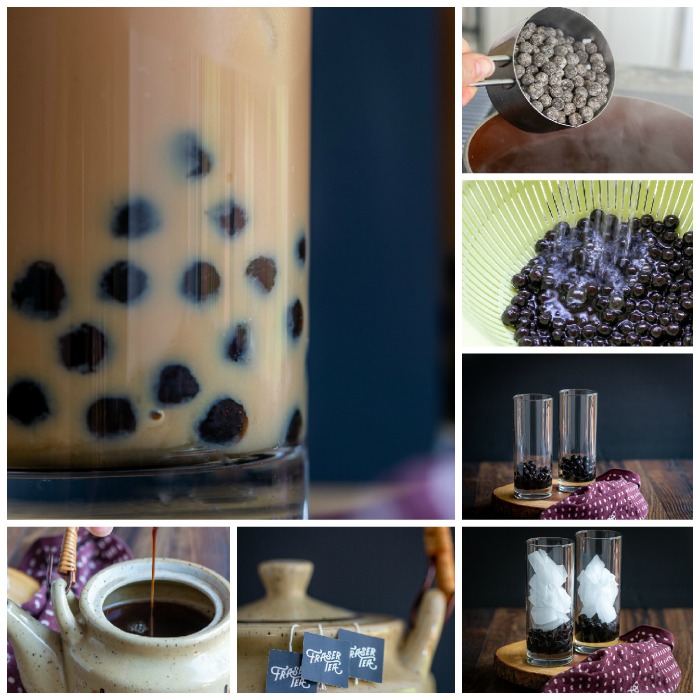 Did you know there are two kinds of boba balls (tapioca pearls)?
1) Quick cook version
2) Long cook version
There are pros and cons for each type of bobo balls. We purchased the quick cook 5-minute WuFuYuan Boba balls. It is great that they cook in 5 minutes. However, you have to use them immediately or they turn hard and are inedible.
The long cook version takes longer to cook, usually around 45 minutes. However, you can usually store for about 24 hours to use as long as you mix with a little date paste and water to prevent sticking and to flavor them. Each brand of boba balls has different cooking times so read the directions. Nowadays, because Bubble tea has really taken off, it is usually written in English as well.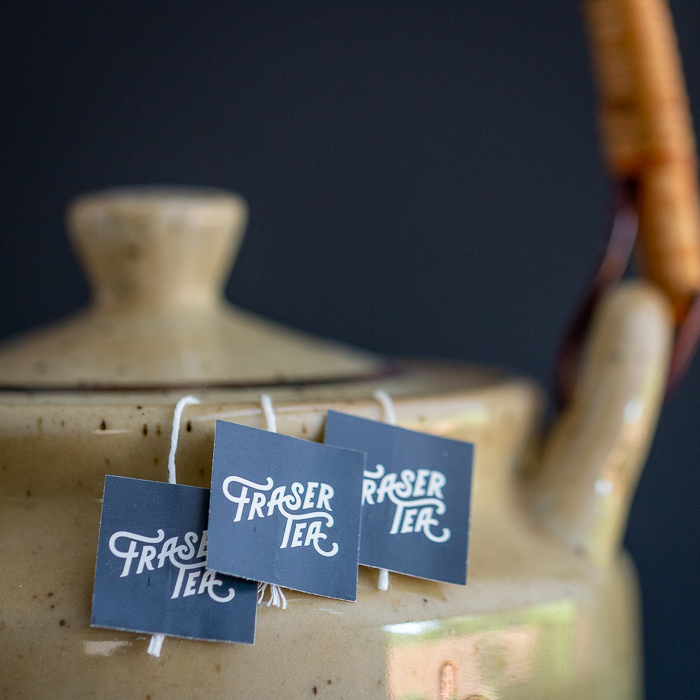 What Kind of Tea is Best?
Actually, that is a matter of personal preference. The only advise we have it needs to be a strongly brewed tea like a black tea (hong cha – red tea) that really can pack a punch of flavor. That is exactly why we have chosen Cream Earl Grey Organic Tea by Fraser Tea. Super creamy but bold flavors can hold up to the coconut milk. The ratio of water to tea is one cup of water to 2 sachets of tea. If you drink loose leaf tea, it is 1.25 tablespoons of tea to 1 cup water.
You can also experiment with Chai tea, Matcha (green teas) and oolongs for a different change in flavor. We have also seen the addition of pureed fruits like mango and lychee in bubble tea.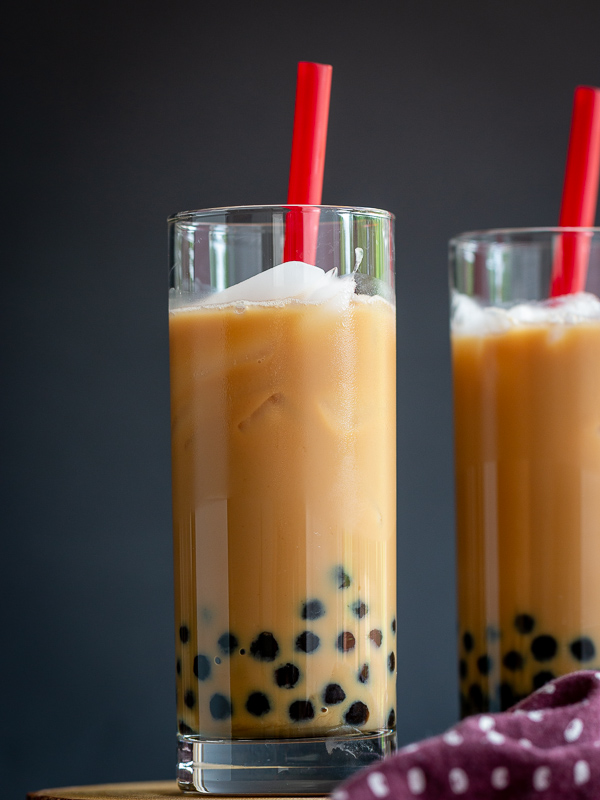 Keeping Tea Dairy Free…
We have dairy sensitivities, so we tested creating bubble tea with different milk alternatives. Almond milk, soy milk and oat milk are too thin to hold up to the big flavors of the tea. Full fat coconut cream was just way to rich. However, full fat coconut milk in the can was the perfect creaminess we were looking for.
If you do not have a milk or dairy sensitivity, half and half or full fat milk seemed to be the perfect mouth feel for the boys. They said full fat whipping cream was way too rich. Skim milk and 2% milk was too watery.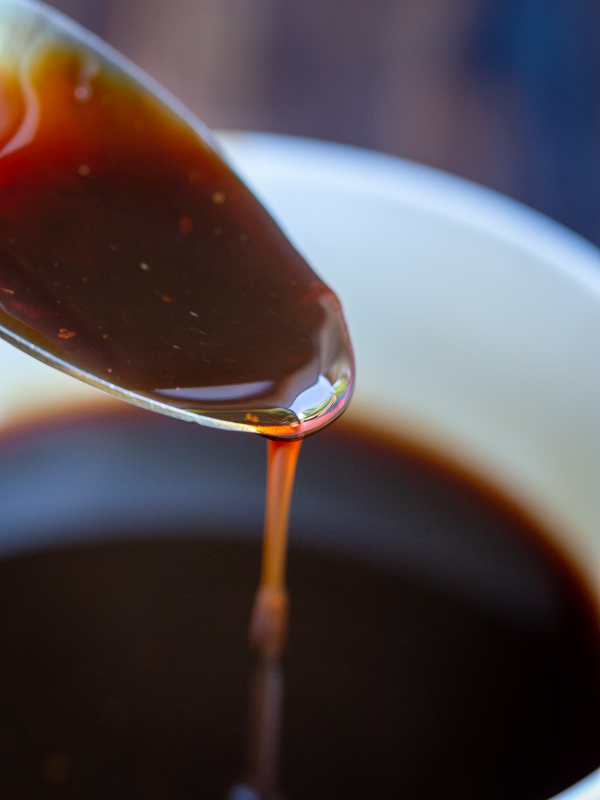 Use Date Paste to Sweeten
I know what you are thinking…Date paste, really? However, trust on this. It is really delicious and gives this recipe a depth of flavor. We liked date paste so much we even used it in our Easy Coconut Iced Chai Tea Latte.
Did you know that one tablespoon of granulated sugar has 48 calories, 12 grams of sugar and zero fiber? On the other hand, one tablespoon of date paste has only 25 calories, 6 grams of sugar and 0.5 grams of fiber. In addition, date paste unlike granulated refined sugar, does not give you the glucose spike as high as in refined sugar. As with all sweeteners whether natural or refined. Everything in moderation. If you have date paste left over, be sure to try our Cranberry Sauce Muffins, No Bake Cranberry Bliss Balls or our Easy Pumpkin Empanadas .
For this recipe we made our own date paste in a food processor and added in boiling water to thin it out. You can also use date syrup or date sugar as desired.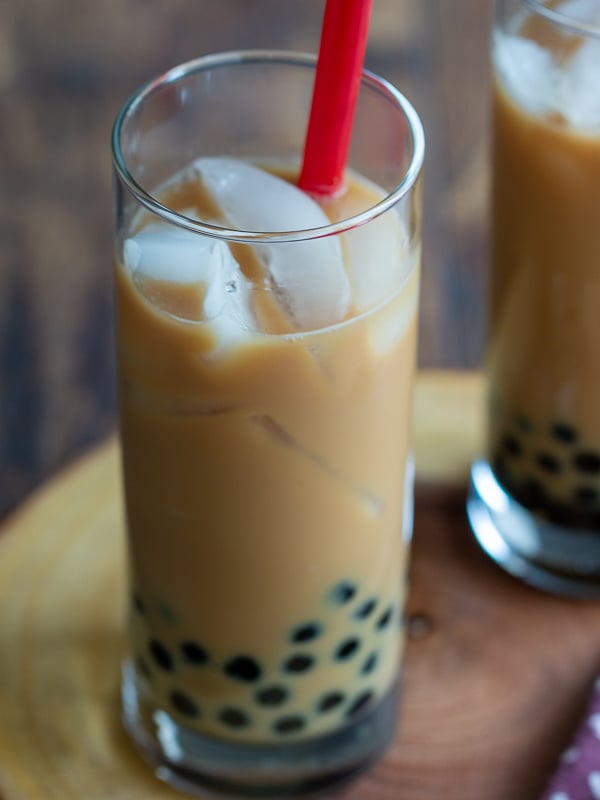 Hot tea lover, be sure to try our …
Goji Berry and Red Dates Herbal Tea
Cold tea lover, be sure to try our…
Easy Coconut Iced Chai Tea Latte
Teatime Treats
Baked Matcha Lemon Glazed Donuts
Matcha Banana Strawberry Banana Ice Cream Cups
Did You Like Our Recipe? Leave a ⭐⭐⭐⭐⭐ rating and/or a review in the comments section below. Your feedback is always appreciated! Follow us for more delicious recipes on Pinterest, Instagram, Twitter and Facebook! Don't forget to sign up for our email list for more free recipes.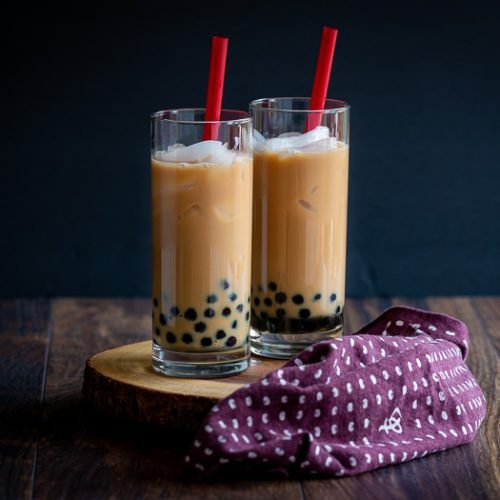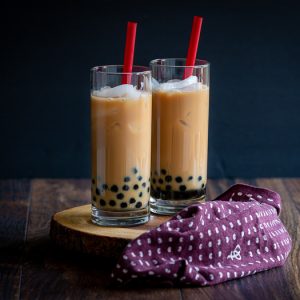 Homemade Cream Earl Grey Bubble Tea
Homemade Cream Earl Grey Bubble Tea is the summer's most refreshing beverage made with dairy free coconut milk, earl grey tea, chewy boba balls (black tapioca pearls) and lightly sweetened with date paste. (vegan, dairy-free)
Print
Pin
Rate
Ingredients
Boba Balls (Tapioca Pearls)
10

cups

water


1

cup

black boba balls (tapioca pearls)


1

tablespoon

date paste

mixed with hot water to thin out
Tea
4

cups

water


8

sachets

Fraser Tea Cream Earl Grey Bubble Tea

(or 8 tablespoons of loose leaf tea of choice)

4

tablespoon

date paste


thinned out with a little hot water

2

cups

coconut milk


Full fat canned

Ice


optional

Straws

fat ones that allow the boba balls to pass through.
Instructions
In a small bowl add your 5 tablespoons of date paste and add just enough boiled hot water so that it thins out to a pourable syrup. Set aside.

Cook boba balls according to the directions on the back of your package. For QUICK cooking boba balls (tapioca balls) In a pot add 10 cups of water and bring to a boil. Add 1 cup of your boba balls, cover and cook on medium heat for 2-3 minutes and then turn down to simmer and cook for another 2-3 minute or until chewy. Drain and soak cooked pearls in cold water for 20 seconds. Drain and mix in 1 tablespoon of date paste. Stir well. Set aside. (For SLOW cooking boba balls, consult the directions on the back of your package for details. May take up to 45 minutes to cook.)

Brew Tea: Heat 4 cups of water to 195 degrees F to 205 degrees F. Steep 8 sachets of Fraser Tea Cream Earl Grey Bubble Tea for at least 3 minutes. Add 4 tablespoons of date paste mixture or sweeten to your personal preference. Cool in refrigerator.

Shake your can of coconut milk so that it is well mixed or put in a food processor for a minute. Set aside.

In a large glass, add ¼ cup bobo balls (tapioca pearls), 1 cup date sweetened Cream Earl Grey, ½ cup full fat coconut milk or milk of choice. Stir well and add ice as desired. Serve with a fat straw and enjoy!

Notes
If you do not have a milk or dairy sensitivity, feel free to substitute with half and half or full milk. We used date paste as a sweetener as it spikes your glucose levels less than regular granulated sugar or sweetened condensed milk. However, you can substitute with a sugar alternative of choice. Just be sure to add to the tea whilst it is still hot so that it dissolves. Quick cooked boba tapioca balls only last 1-2 hours after cooked and then they start to get hard.
Nutrition
Serving:
1
g
|
Calories:
412
kcal
|
Carbohydrates:
51
g
|
Protein:
3
g
|
Fat:
24
g
|
Saturated Fat:
21
g
|
Sodium:
59
mg
|
Potassium:
372
mg
|
Fiber:
2
g
|
Sugar:
13
g
|
Vitamin C:
1
mg
|
Calcium:
60
mg
|
Iron:
4
mg