Satay Kabocha Curry is velvety smooth and rich tofu satay curry with kobocha (squash/pumpkin), vegetables and fresh herbs.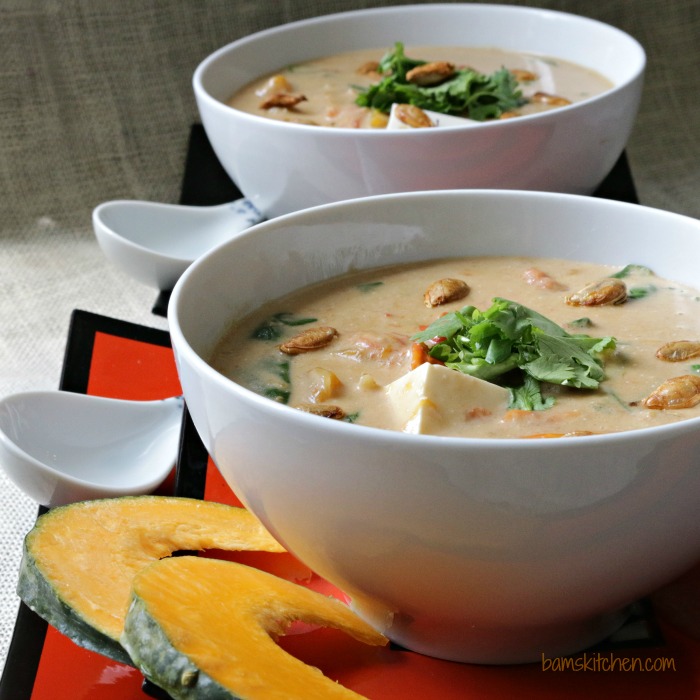 Change of Seasons Need Satay Kabocha Curry
The weather in Hong Kong is odd and it is trying to change seasons. I know that it is much colder in my home town and probably snowing in many regions already. However, when Hong Kong's temperature drops from 90 degrees (32 degrees C) with down to the 70's F (21 degrees C) and is windy, I have to crack out the sweaters (jumpers) and stay warm. I think my blood is getting thin after living in Asia all of these years. There is no better way to warm up from the inside out then with a little Satay Kabocha Curry.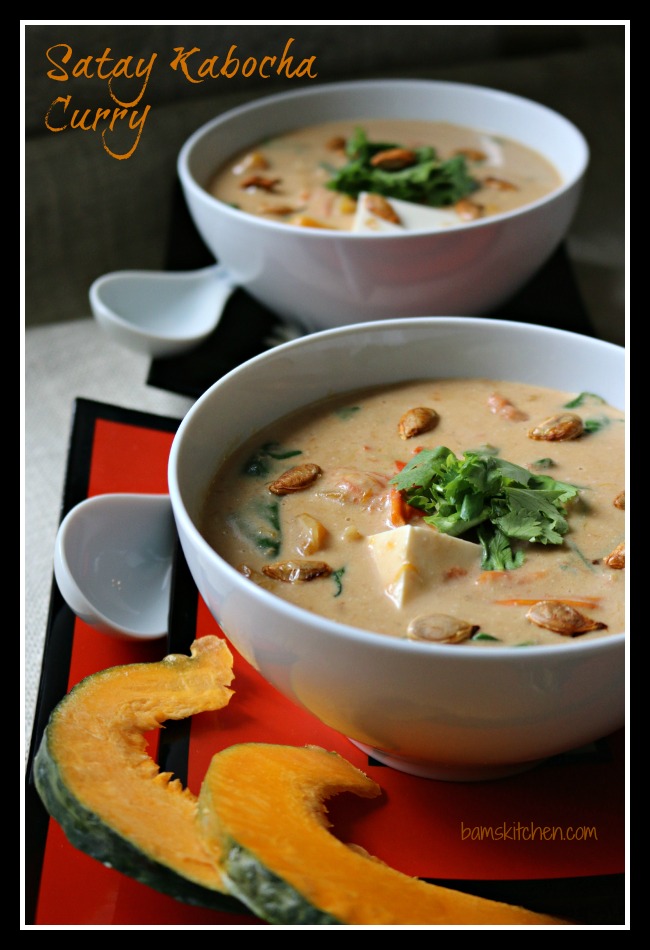 Traditional Chinese Medicine in Relationship to Cold and Dampness
My wise old Traditional Chinese medicine (TCM) teacher told me that, "Wind is the primary exogenous pathogenic factor in causing disease, since cold, damp, dryness and heat all depend on wind to invade the body and is the causative factor in many diseases." So there you have it ! Cover your chest and back and neck when it is windy and wash you hands often and you too can avoid many of the nasty fall/winter colds. Eating warming foods like Satay Kabocha Curry help too.
In addition, avoiding cold foods and iced drinks are imperative to keep your gut- the powerhouse of your body working properly. To learn more about how your diet affects your health, be sure to read our Feed Your Spleen: Nourish your Body post.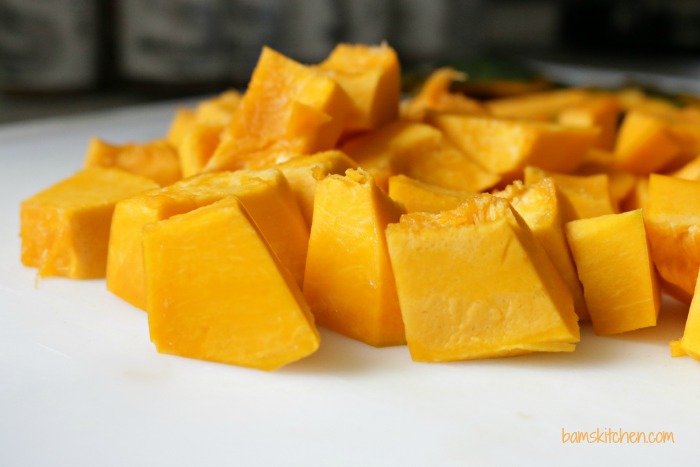 Comfort Food Rocks
When it is windy and damp outside I love eating warm soups, stews and curries. I crave comfort food! You are going to especially love this Satay Kabocha Curry as it is a snap to put together and so warm and comforting and easy on the pocket book as well, as it is vegan.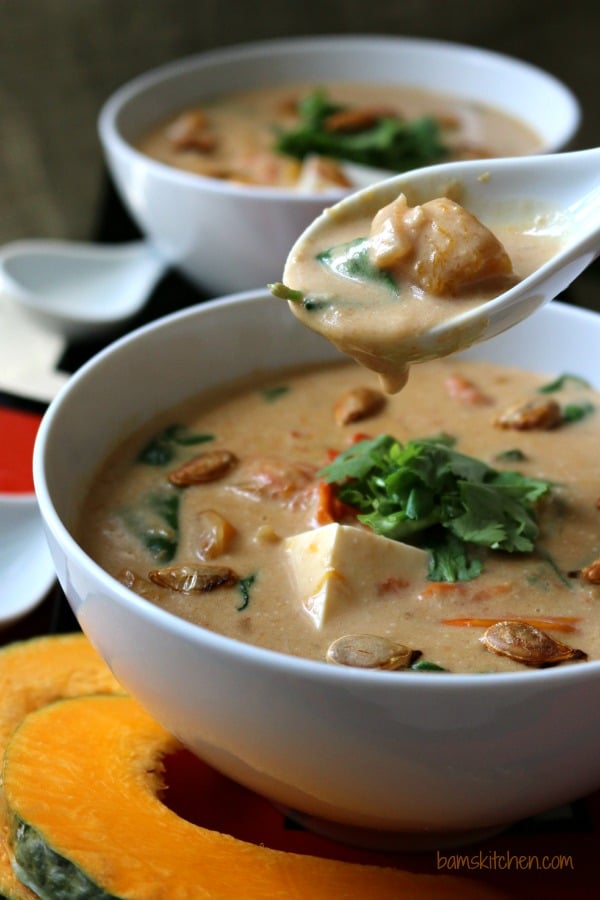 Recipe Exchanges
I added lots of fresh grated ginger as I really did want to warm up from the inside out. I used a kabocha squash which is an Asian type of winter squash/pumpkin as this is what is plentiful in the Asian market. However, feel free to substitute with butternut squash, acorn squash, pumpkin or whatever your little heart desires.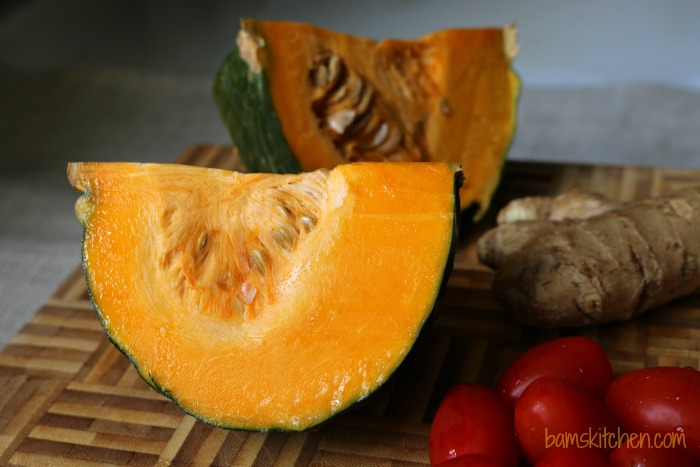 Satay Paste
If you used pre-made satay paste from a jar, this curry dish is even easier. However, for my Satay Kabocha Curry dish I made my satay paste from scratch so I could control the heat and flavors. When you make your own satay paste, you can make a little extra and enjoy some chicken satay on skewers or you can even make yours with almond butter if you have peanut allergies in your family.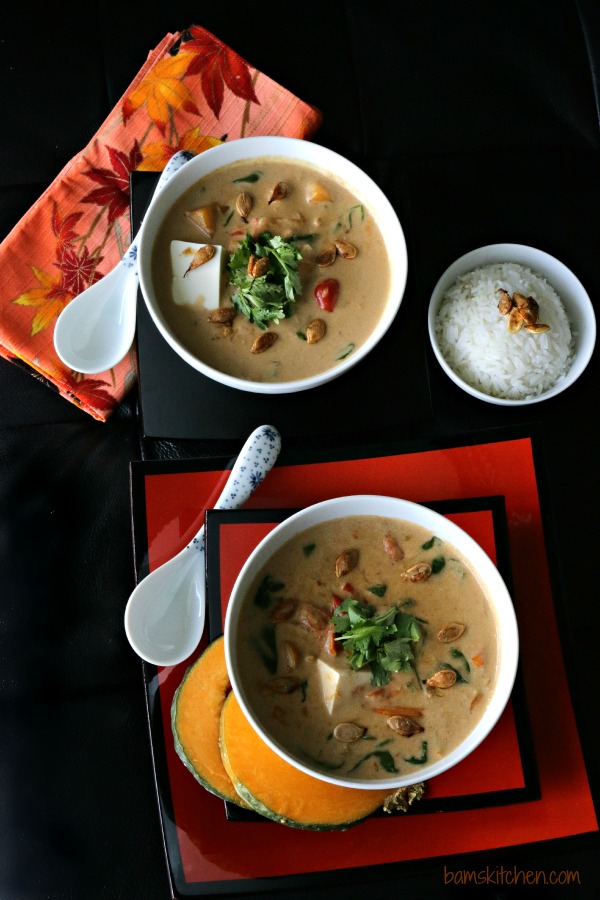 I think tofu in this dish makes it really silky and delicious but if you are anti-tofu, some leftover roasted thanksgiving turkey or chicken would be marvelous in this curry as well.
Kabocha Pumpkins
Kobocha (pumpkins) has seeds just like a regular pumpkin so I roasted them in the oven for about 15 -20 minutes with a little salt and they were the perfect little garnish for this dish. You might even like to make Easy Roasted Pepitas or Roasted Cajun Pumpkin Seeds as a garnish on top. It is perfect timing as it takes about 15-20 minutes for the curry to simmer and for the kabocha pumpkins to become tender so they were done at the same time. You have to love that!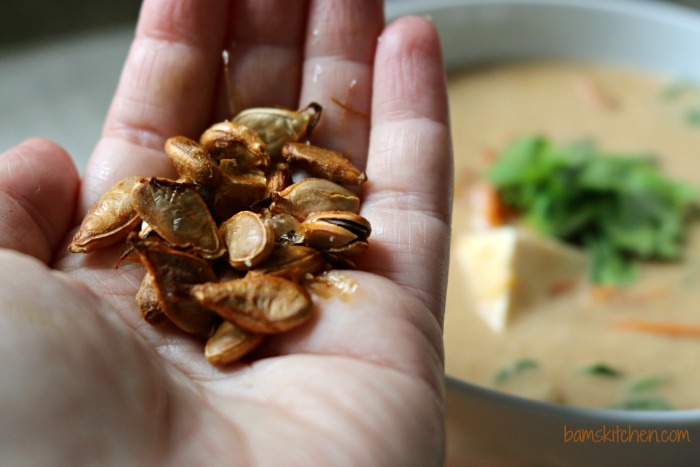 Quick and Easy Curry
I love how quick this satay kobocha curry comes together. It really is one of those dishes that you dump everything in the pot and let it simmer for about 20 minutes. I think the hardest part is removing the skin and chopping up your kabocha (pumpkin). Use a sharp knife and always cut downward and away from you. Be very careful as we need to keep all of your fingers during the upcoming holiday season.
Stay healthy, warm and take care.
More Delicious Curry Recipes
Ground Turkey Sweet Potato Curry
Slow Cooker Beef Rendang Curry
Halibut Coconut Curry in a Hurry
Hungry For More? Subscribe to our Newsletter and follow along on Facebook, You Tube, Instagram, and Pinterest for all the latest updates.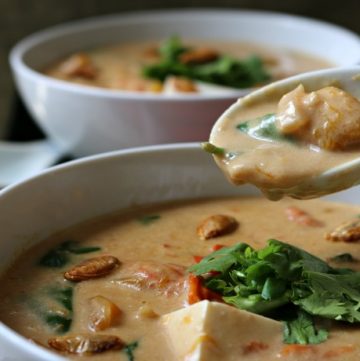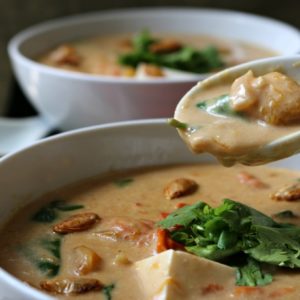 Satay Kabocha Curry
Satay Kabocha Curry is velvety smooth and rich tofu satay curry with kobocha (squash/pumpkin), vegetables and fresh herbs.
Print
Pin
Rate
Ingredients
Satay Paste
1

tbsp

canola oil


or light flavored oil of choice

½

cup

onion


2

cloves

garlic


peeled and minced

12

oz

coconut milk


¾

cup

peanut butter


creamy (or exchange with almond butter for peanut allergies)

2

tbsp

brown sugar

(or sugar substitute)


1

tbsp

red curry paste


or less if you don't like it spicy or add more if you like it spicy )can also use red pepper flakes, sriracha sauce or just some crushed red chilis)

2

tbsp

tamari (soy) sauce

Kobocha Curry
3

tbsp

satay paste

(from the paste you made above or buy it pre-made)

2

tbsp

ginger


(freshly grated)

17

oz

coconut milk


or 1 can

1

pound

kabocha (pumpkin)

peeled and cut into 1 inch x 1 inch chunks


7

oz

tomatoes

fresh (I used sweet cherry tomatoes cut in half)


3

tsp

vegetable powder

(gluten free/organic)


½

tsp

white pepper


or to taste

salt


to taste

7

oz

tofu

firm, drained and cut into 1 inch x 1 inch chunks- optional


1

cup

spinach

fresh, chopped- optional

cilantro

(coriander) garnish - optional

4

tbsp

pumpkin seeds


garnish - optional

2

cups

steamed rice

optional or can use cauliflower rice
Instructions
Make the Satay Paste (skip to step 2 if you are using pre-made satay paste) in a medium sized pot, add your canola oil, onions and garlic and sauté until softened and aromatic, add your coconut milk, peanut butter, brown sugar, red curry paste (can substitute red pepper flakes if you do not have red curry paste and adjust to your desired heat level) and soy (Tamari) sauce. Cook on medium heat on the stove top. Stir and cook for about 3 minutes or until the oil starts to separate from the satay paste. Leave about 3 tablespoons or to taste of satay paste in the pan and remove the rest to use for another dish on another day and store in the refrigerator for up to 3 days.

Add ginger, garlic to the satay paste and cook for 1 minute until aromatic. Add the coconut milk, kabocha (pumpkin) or feel free to swap out with butternut squash, acorn squash, pumpkin or whatever your little heart desires. Add tomatoes, vegetable powder, white pepper and salt to taste. Stir and adjust seasonings as desired. Cook for about 20 minutes to until the kabocha (pumpkin) is fork tender. Add in tofu, spinach and stir. You can add any vegetables you like to this curry but this is just what I hand. I think all the root vegetables would be delicious in this curry.

Serve up your delicious and comforting Kabocha (pumpkin) curry garnished with cilantro and roasted pumpkin seeds with a bowl of steaming hot rice on the side. Enjoy!
Notes
Feel free to exchange pumpkin, acorn or butternut squash for kabocha squash.
If you make the homemade Satay sauce from this recipe it will make about ¾ cup and you can refrigerate this and use within the week. Fantastic on satay chicken, stir fries and on rice.
Nutrition
Serving:
1
g
|
Calories:
532
kcal
|
Carbohydrates:
44
g
|
Protein:
15
g
|
Fat:
36
g
|
Saturated Fat:
24
g
|
Sodium:
818
mg
|
Potassium:
944
mg
|
Fiber:
4
g
|
Sugar:
6
g
|
Vitamin A:
2667
IU
|
Vitamin C:
24
mg
|
Calcium:
140
mg
|
Iron:
7
mg