Roasted Pumpkin Seed Butter is a homemade creamy and nutty flavored butter made with easy roasted pepitas with NO ADDED SUGAR.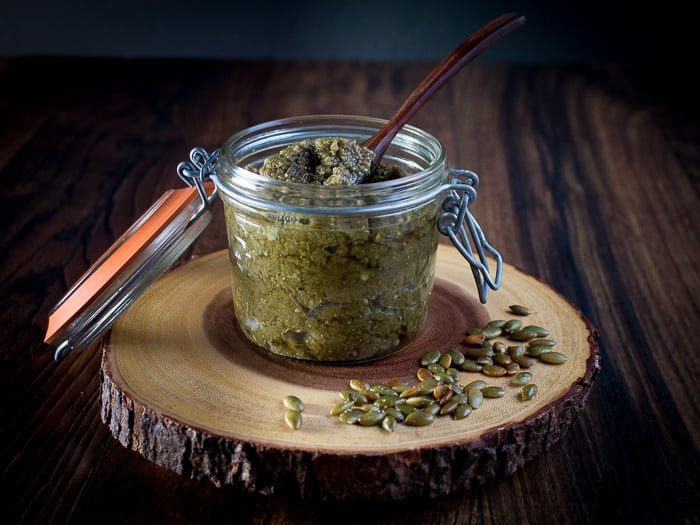 Why you are going to love our Roasted Pumpkin Seed Butter
Fabulous on toast
Amazing spread on fruit
Dazzling in sauces
Awesome in dressings
Brilliant in Oatmeal
Delicious just by the spoonful
Roasted Pumpkin Seed Butter is so good. It is difficult to describe but its toasty, nutty flavor but so rich and delicious. Hands down one of our favorite seed butters. It is way better than peanut butter and richer than almond butter. Even better Roasted Pumpkin Seed butter is made with the pepitas seed and no nuts. Great option for those with nut allergies.
Why you Need Pumpkin Seed Butter in Your Life
Have you read our Super Easy Roasted Pepitas recipe? Roasting your pepitas first is key for that delicious nutty flavor in the butter. You can of course make raw pumpkin seed butter but we find that it is not as naturally sweet.
We must admit that this seed butter is not the sexiest food that has been photographed but it is certainly one of the most delicious. You can feel good about eating this seed butter as it is packed with healthy fats, antioxidants, high in Magnesium and high in fiber. In addition, pepitas are known for their unique benefits for men's prostate health and women's relief of menopause symptoms. You gotta love that.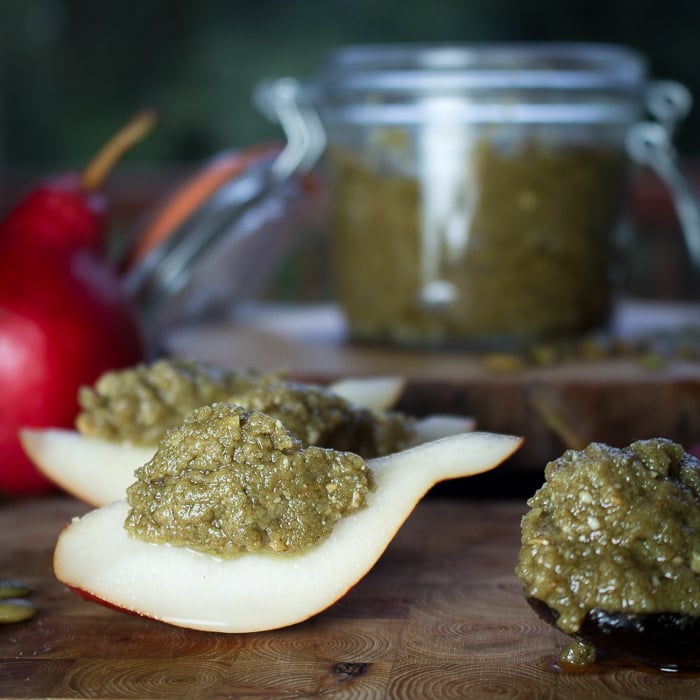 Helpful Hints for Making Your Own Homemade Pumpkin Seed Butter
• Use a powerful food processor. Let your food processor rest and scrape down the sides often. We used a little olive oil to speed up the process. If your food processor is getting warm or working too hard. Turn it off and let it rest before resuming and add a little more oil to thin out the Roasted Pumpkin Seed Butter.
• You can make your Seed Butter super crunchy or super smooth or anything in between.
• Feel free to add delicious add ins like cinnamon, unsweetened cocoa powder, vanilla.
• We love our Pumpkin Butter without any added sweeteners but if you like your nut butters sweet then consider adding a little drizzle of date syrup, honey or maple syrup to your liking.
• Please place your Seed Butter in a sealed container in the refrigerator to store and use within a week. It may also be frozen, if you wish.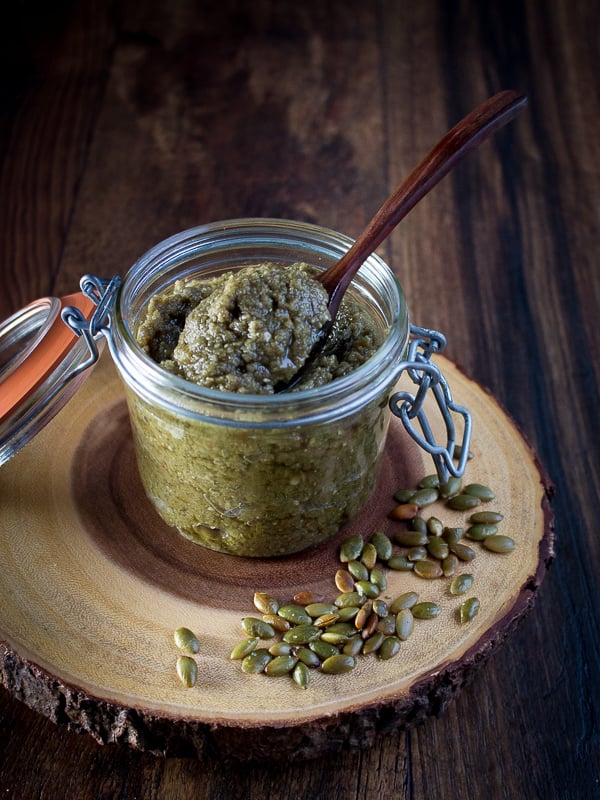 How to Use Your Roasted Pumpkin Seed Butter
You are not going to have any trouble polishing off your jar of homemade pumpkin Butter because there are so many things you can use it in. First off, there is nothing better than a spoonful and fresh apples or pears to dip it in. Have you ever tried stuffing celery sticks with it? We have used on sandwiches. We cannot call them PB and J's as that would steal peanut butters thunder. So, we will just call it the best darn Pumpkin Seed butter and Jam sandwich you have ever had.
Pumpkin Butter is also fabulous as an add into Mole Verde, salad dressings and as a thickener in soups. We have a savory recipe coming up shortly that you are going to love that celebrates everything fall using our pumpkin butter.
Recipe Ideas
Pumpkin Pie Smoothie- Pumpkin Butter, frozen banana, ½ cup pumpkin puree, non-dairy or dairy of choice, dash of pumpkin pie spice.
Superfood Fall Salad - spinach/kale, pears, avocado, chicken or turkey, roasted pepitas whole. Salad dressing made with olive oil, red wine vinegar, Pumpkin Butter, fresh garlic, herbs and salt and pepper to taste.
Epic Pumpkin Seed Butter and Jam Sandwich - Toasted bread (gluten-free or regular of choice), Roasted Pumpkin Butter, apple butter, banana slices.
Gingerbread Oatmeal - instant or regular cooked oatmeal, add a dollop of Pumpkin Seed Butter, a drizzle of date syrup, sprinkle of ginger, cinnamon and nutmeg.
Make a Killer Good Sauce for Chicken - olive oil, onions, garlic, chilis, Roasted Pumpkin Butter, roasted tomatillos pureed, cumin, paprika, a few tablespoons chicken broth, salt and pepper to taste.
Add Pumpkin Butter to pancakes, cookie recipes or anything your little heart desires.
Hungry For More? Subscribe to our Newsletter and follow along on Facebook, You Tube, Instagram, and Pinterest for all the latest updates.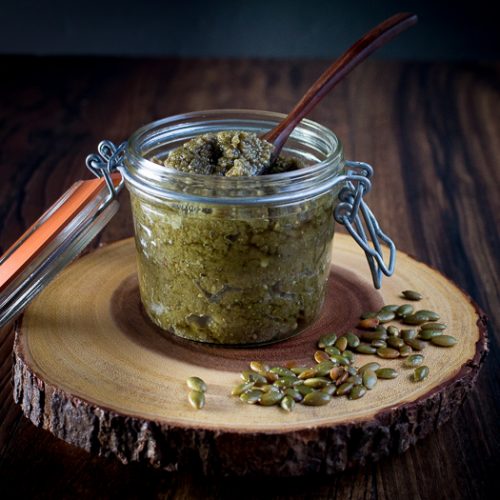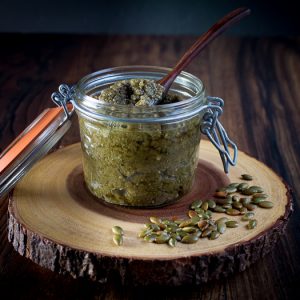 Roasted Pumpkin Seed Butter
Roasted Pumpkin Seed Butter is a homemade creamy and nutty flavored butter made with roasted pepitas with NO ADDED SUGAR.
Print
Pin
Rate
Instructions
Please see our recipe for Easy Roasted Pepitas or Preheat oven to 350 degrees F (176 degrees C).

Toss pepitas, olive oil and salt together so well coated. Layer out your pepitas flat on a lined baking sheet (just so easy for cleanup). Bake for 12-15 minutes. Set your timer for 5 minutes and toss so all sides of the pepitas get toasty.

Place roasted slightly salted pepitas into your food processor. Turn your food processor on. We like to use the burst motion and stop and scrape down the sides often. It will first look like fine grain of sand and then it will start to stick together. At this point we usually end up adding 1 tablespoon of olive oil to get it moving. Stop and scape down the side and keep processing to your desired smoothness.

Be gentle and caring to your food processor. Do not let her over heat. Add oil to your pepitas to get things moving. Scrape down the sides often and go a little at a time. If your food processor gets warm. Stop and let her rest and cool down.
Notes
(Please place your Roasted Pumpkin Seed Butter in a sealed container in the refrigerator to store and use within a week. It may also be frozen, if you wish.)
Nutrition
Serving:
1
g
|
Calories:
92
kcal
|
Carbohydrates:
2
g
|
Protein:
4
g
|
Fat:
8
g
|
Saturated Fat:
1
g
|
Sodium:
38
mg
|
Potassium:
116
mg
|
Fiber:
1
g
|
Sugar:
1
g
|
Vitamin C:
1
mg
|
Calcium:
8
mg
|
Iron:
1
mg