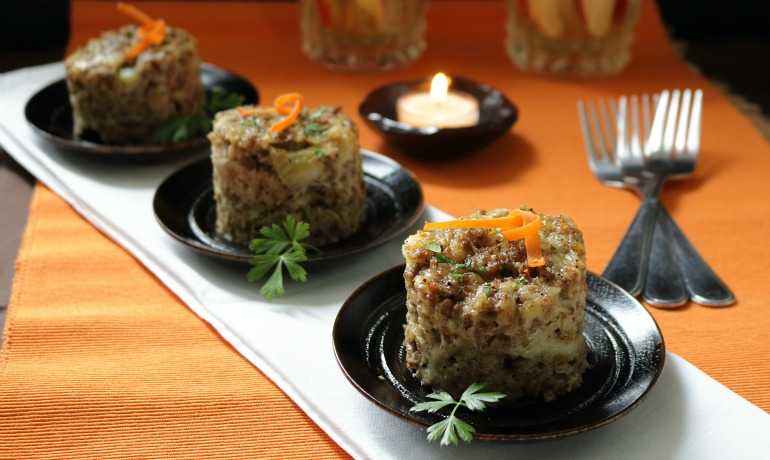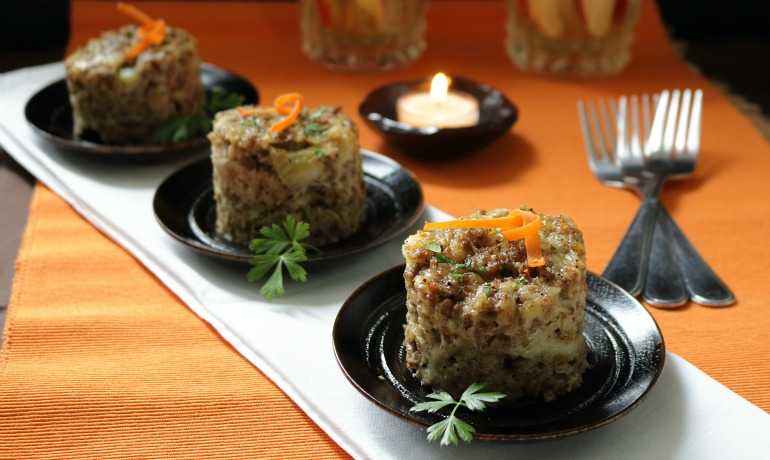 Grandpa's Secret Stuffing
By HWC Magazine Egg Free, Gluten Free, Pasta, Rice and Casseroles, Pasta, Rice and Stuffing, Thanksgiving
October 26, 2015
Grandpa's Secret Stuffing is filled with delicious ground beef, gluten-free bread, aromatics, lots of fresh ground pepper and is the perfect accompaniment to a turkey. 
Cook: 1 hr
Yields: 12 Adults or 2 Hungry Teenagers
Ingredients
olive oil - 1 tablespoon (a little extra to drizzle on top before baking)
garlic - 3-4 cloves peeled and minced
chicken broth - 2 cups chicken broth
bread - 10 slices gluten free (or regular bread if no gluten allergies)
Directions
1Preheat oven to 350 degrees F ( 176 degrees Celsius)
2Place a little olive oil sauce pan and add chopped onions, celery and garlic until slightly translucent- add a little salt and pepper.
3Add ground beef and add some more salt and pepper and cook until beef is browned. Take off burner and set aside to cool.
4In the meantime in a separate bowl place about 2 cups of chicken broth. Place the slices of bread into the chicken broth and squeeze water out. Place squeezed out bread into a clean bowl and pull apart bread into small pieces.
5Add cooled ground beef mixture to bread.  Salt and add the rest of the pepper and mix.
6Grease an oven proof casserole dish and place stuffing mixture inside. Drizzle a small amount of olive oil on top and pop into the oven for about 45- 60 minutes until the top is slightly golden brown.
7Serve hot and bring on the holiday cheer!