Feta and Sun-Dried Tomato One-Pot Chicken is made with juicy chicken tenderloins pan seared with aromatics, herbs and sun-dried tomatoes and topped with melty feta cheese all cooked in one pot in under 30 minutes.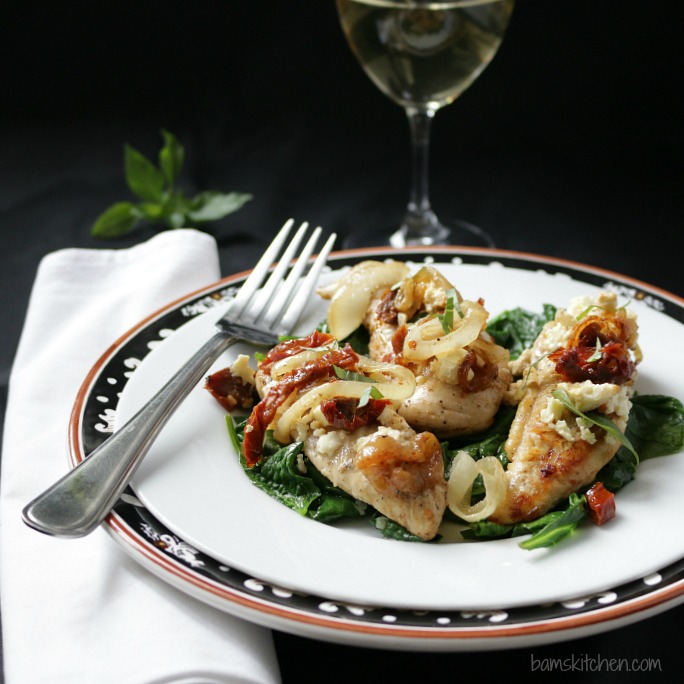 ONE perfect little bite in ONE perfect little pot. I love these kinds of meals as life has just been plain old BUSY. I want bold flavors without any fuss.
You are just going to love this feta and sun-dried tomato one-pot chicken as it really brings together very simply all the Mediterranean flavors without any effort at all. Sweet sun-dried tomatoes, caramelised onions and basil give the dish its gentle sweetness and bold zest of the creamy feta cheese is a nice contrast.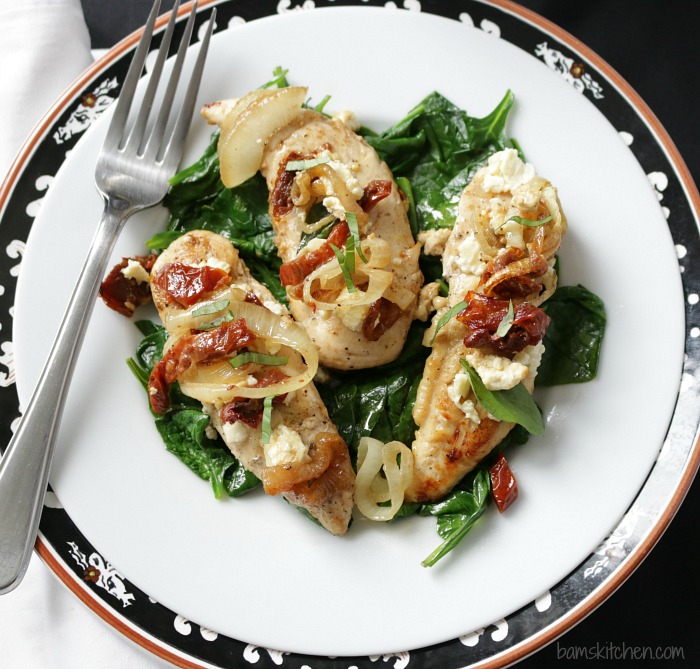 I made the whole dish from start to finish in my iron skillet so clean up was a snap. I really love my iron skillet as it can be used in so many ways from searing meats to slow cooked dishes and it is especially helpful for dishes that go from stove top to oven. On many occasions I have used my iron skillet as a door stop and in self defence to keep away unwanted guests. LOL just kidding. Now really though it is quite heavy and I think if you wanted to you could really do some damage... if you dropped it on your toes. Ouch!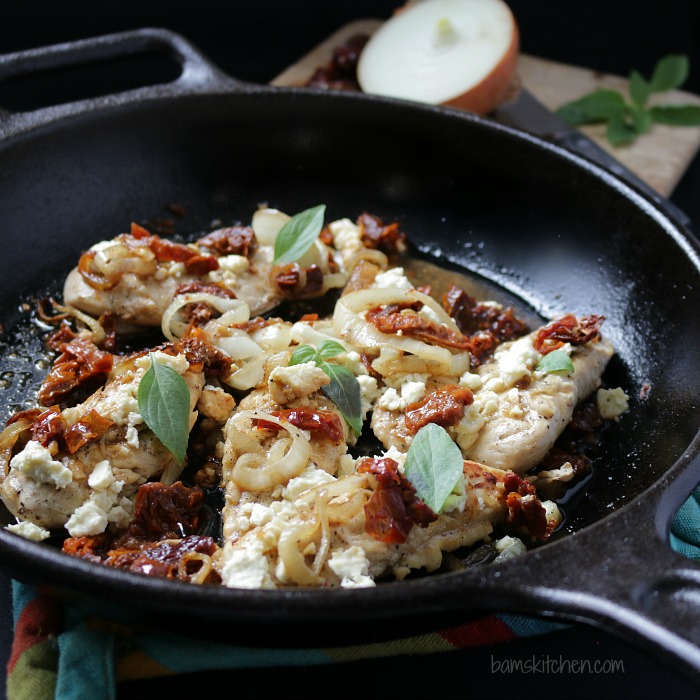 Do you have an iron skillet? If not, no worries you can use an oven proof dish, pan or shallow Dutch oven.
We certainly eat a lot of chicken and fish in our home so I am always experimenting with different recipes. You could make this dish with chicken thighs, breasts or drumsticks but you will have to increase the cooking time. We use a lot of chicken tenderloins as they cook up fast and also I can buy organic imported ones as I prefer not to rely on the local markets in Hong Kong for chicken...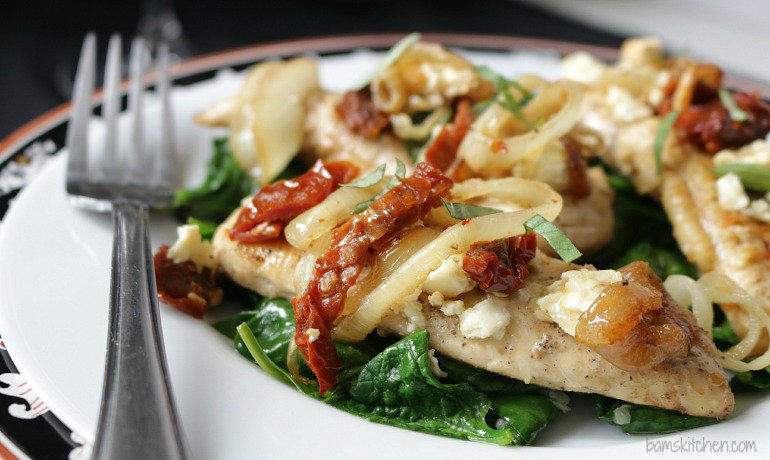 In order to keep this meal low carb and diabetic friendly, I decided to serve my Feta and Sun-Dried Tomato One-Pot Chicken on a bed of sautéed garlic spinach and a nice crisp iceberg wedge salad with a creamy dressing. This recipe is also happily gluten-free. I love sun-dried tomatoes as they perfectly sweet and can be used in some many dishes that it is a nice pantry item to have on hand to throw into pasta, stews and even our Flame Kissed Tomato Pesto Tapas.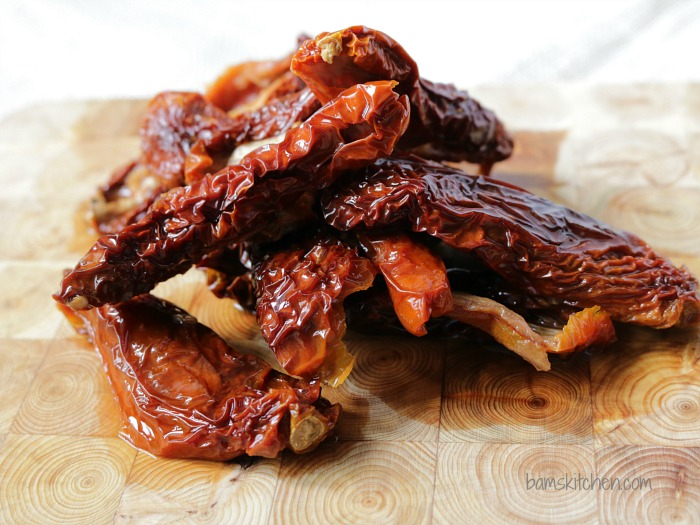 As I am typing this up, I am getting ready to call my dad to wish him a happy 91st Birthday. I have never met a more caring person. If you ever have a chance to meet him, you would hit it off, just like that. He is charismatic and enjoys people and at 91 years of age he is still full of life.
My dad can also be pretty spunky at times. A couple of years ago, I came home from Hong Kong on a trip and my dad needed to run some errands so I hopped in the car and offered to be his chauffeur for the day.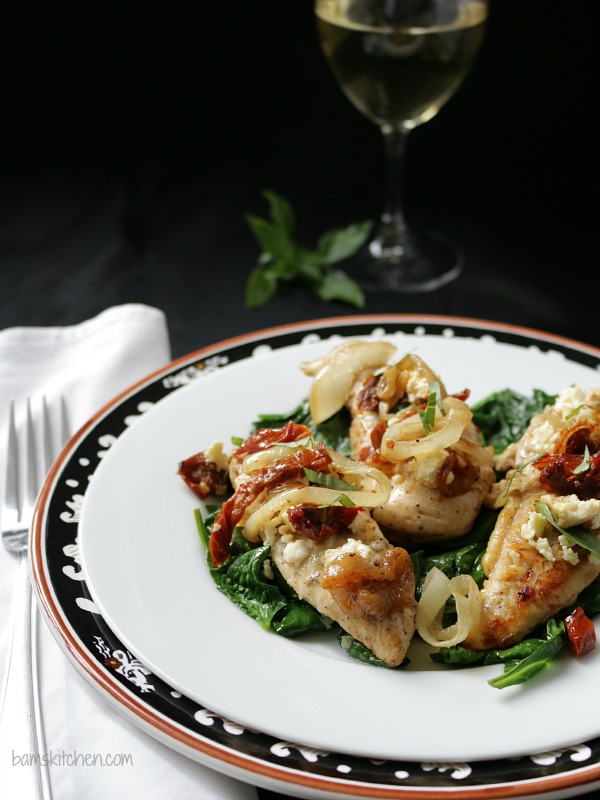 As you know, we have the driver's seats on the right side of the car and drive on the left side of the road here in Hong Kong. In the US, we have our drivers seat on the left hand side of the car and drive on the right hand side of the road. Detail! Details! In the US, I made a left hand turn and moved into the left hand lane just like we would do in HK... Yes going 40 miles per hour against traffic in the wrong direction (before I quickly got back into the correct lane) and my dad yells at me if you ever do that again, I am going to beat you with my cane. LOL... Loving but not to be reckoned with! Love him to pieces!! HAPPY BIRTHDAY DAD!!
Are you bored with your usual chicken recipe ideas? I have a ton of them so feel free to do a search under chicken or use the advanced search button to include or exclude ingredients or find options that fit your specific dietary restriction.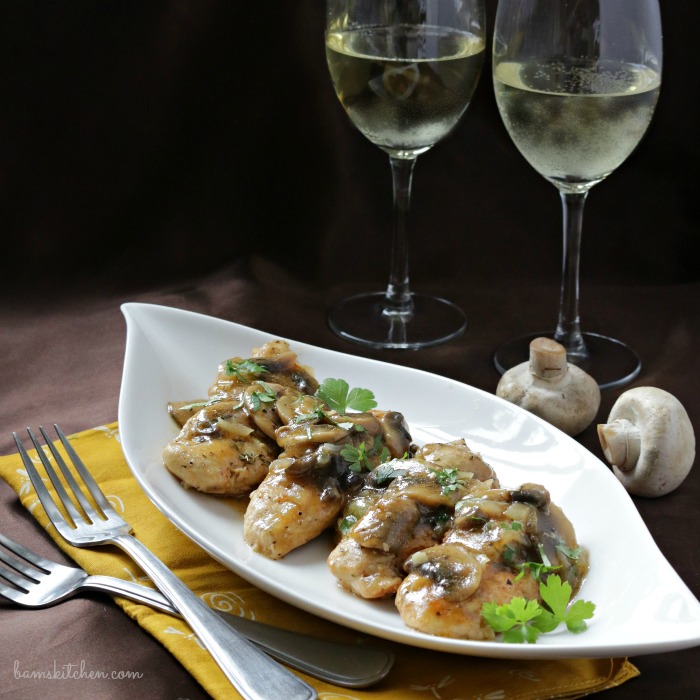 Mushroom Chicken With Brandy Sauce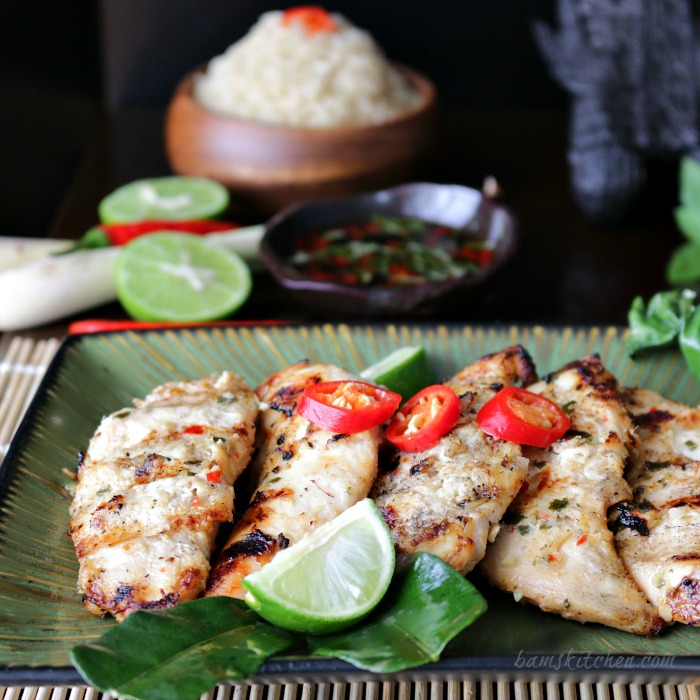 Thai Grilled Chicken Tenderloins with a Zesty Dipping Sauce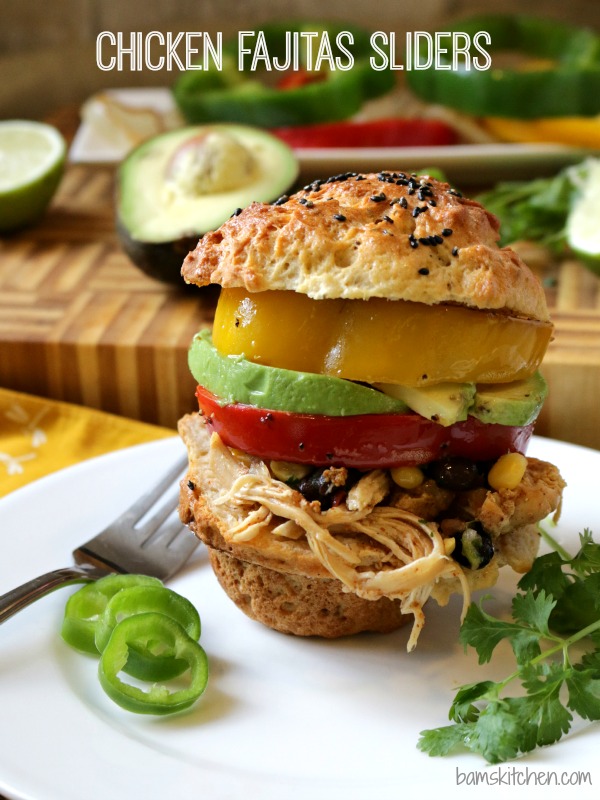 Stove Top Chicken Fajitas Sliders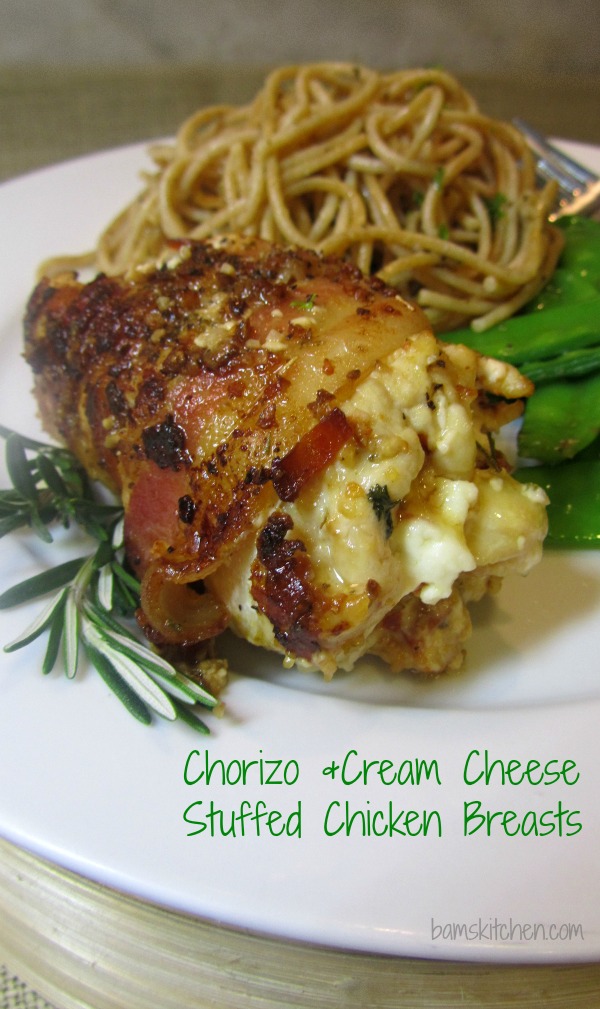 Chorizo & Cream Cheese Stuffed Chicken Breasts
Hungry For More? Subscribe to our Newsletter and follow along on Facebook, You Tube, Instagram, and Pinterest for all the latest updates.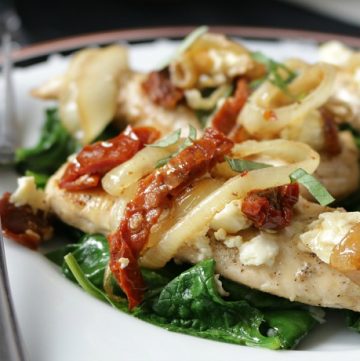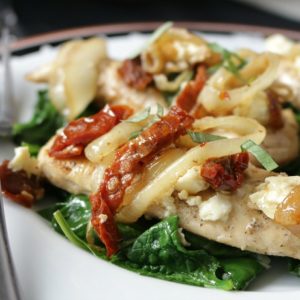 Feta and Sun-Dried Tomato One-Pot Chicken
Juicy chicken tenderloins pan seared with aromatics, herbs and sun-dried tomatoes and topped with melty feta cheese all cooked in one pot in under 30 minutes.
Print
Pin
Rate
Ingredients
1

cup

sun dried tomatoes

(soaked in warm water to soften)


1

tbsp

olive oil

½

cup

onions

chopped

8

chicken tenderloins

salt and pepper

to taste (remember the feta is salty so delicate on the salt)

1

tsp

paprika

¾

cup

white wine

(or can use tomato water from softening sun-dried tomatoes)

7

oz

feta cheese

2

tbsp

basil

fresh chopped or 1 tsp basil
Instructions
Preheat oven to 190 degree Celsius or 375 F.

Place your sun dried tomatoes in a heat proof small bowl and cover with warm water to soften for about 20-30 minutes. (You can reserve the tomato water as it has lots of vitamins and minerals. If you desire, you can replace the tomato water for the white wine in this recipe to deglaze your pan.)

In your iron skillet (oven proof pan or Dutch oven) add your olive oil, onions and garlic and fry until aromatic and softened and starting to caramelize. Add salt, pepper and paprika to your chicken on both sides and add to the skillet. Sear the chicken gently on each sides just to make golden brown.

Chop up your softened sun dried tomatoes and add to the chicken, add your wine to deglaze the pan. Sprinkle your chicken with crumbled feta cheese and bake for about 10-12 minutes just until the chicken is no longer pink and the juices run clear and the feta cheese is nice and melty.

Serve your Feta and Sun-Dried Tomato One-Pot Chicken tenderloins over sautéed garlic spinach and garnish with basil. Enjoy!
Notes
Leftovers can be stored in the refrigerator for up to 3 days in a sealed containers.
Nutrition
Serving:
1
g
|
Calories:
393
kcal
|
Carbohydrates:
21
g
|
Protein:
33
g
|
Fat:
18
g
|
Saturated Fat:
9
g
|
Cholesterol:
108
mg
|
Sodium:
741
mg
|
Potassium:
1416
mg
|
Fiber:
4
g
|
Sugar:
14
g
|
Vitamin A:
779
IU
|
Vitamin C:
13
mg
|
Calcium:
288
mg
|
Iron:
3
mg