Pork Tonkatsu is a delicious super crispy Japanese Pork Cutlet served with cabbage and a delicious deep flavored dipping sauce.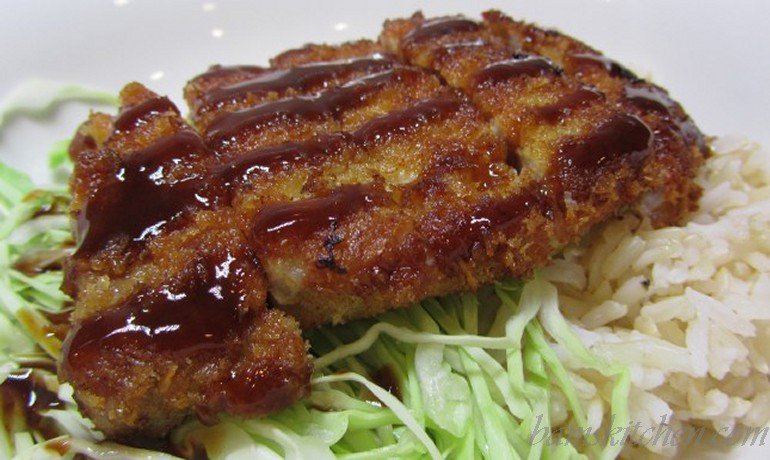 Why you are going to love our recipe for Pork Tonkatsu
Pork Tonkatsu is super crispy and the pork is melt in your mouth tender. Once you plunge a cutlet into the dipping sauce, you will be forever hooked. Our family loves this recipe and hope yours will too.
Do you ever get Homesick?
Not homesick for my home town in Michigan, but for my second home- JAPAN. This week please take a moment to reflect and send some positive energies to those that are still suffering in Japan after the one year anniversary of the tragic tsunami and Fukushima nuclear incident. Japan you are still in our thoughts and prayers.
We lived in Yokohama, Japan for a period of time and these were some of the happiest and bizarre moments of my life. We lived in Nakaodai and it has some of the narrowest roads in the whole world.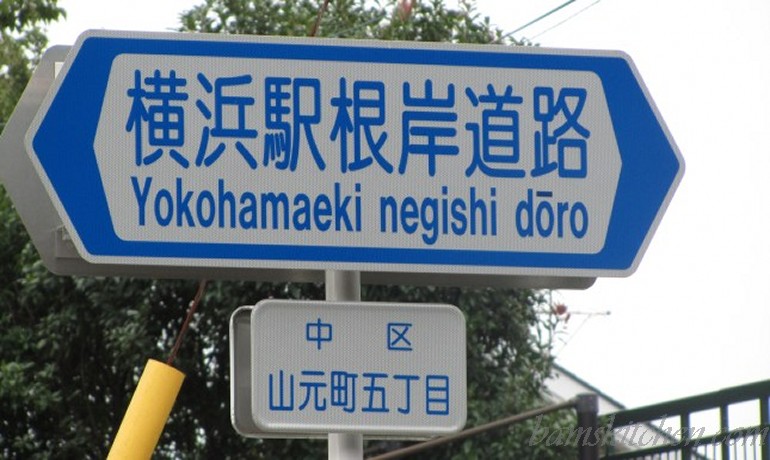 Nuances of Living in Japan
There are streets in which you wonder is this a pedestrian walkway or and actual road? The roads are so narrow that you have to rotate your side view mirrors in to avoid them from from hitting the cement walls around the turns.
I drove in Japan once, for about 100 meters, then promptly got out of the car, handed the keys to my hubby and never took our car out of the underground bat cave carpark again. From that day forward, we named our car, "The Costco Car" as we only used this car to go on big grocery hauls to and from this bulk foods store. So now my life revolved around trains and walking everywhere.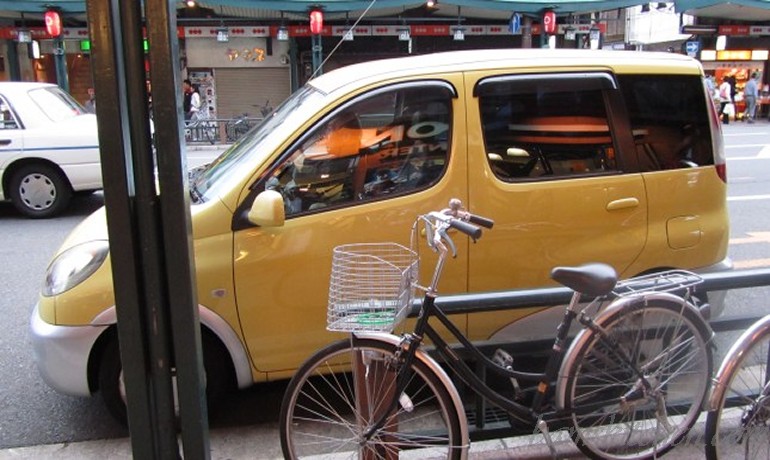 Walking is a lovely way to get to know Yokohama
It gives you a different perspective on the feel for the life of the people. Unlike driving in a car, you can get the chance to look up and see the many stores and restaurants in the levels above the ground level. There is one restaurant that comes to mind but I do not know if it is there any more. However, after you get off the Ishikawacho Eki (train station) you turn right, go through a back alley and there is little 3 table mom and pop restaurant. Great home cooked Japanese Fare and the best Pork Tonkatsu I have ever had.
Hanging on the side of the restaurant all neat and orderly is everyone's Kasa's (umbrellas). I do not even know if this restaurant has a sign in English but once you see the umbrellas you know you are there. Japan is an amazing place. If you can't visit, then at least you can try this super easy recipe for pork tonkatsu.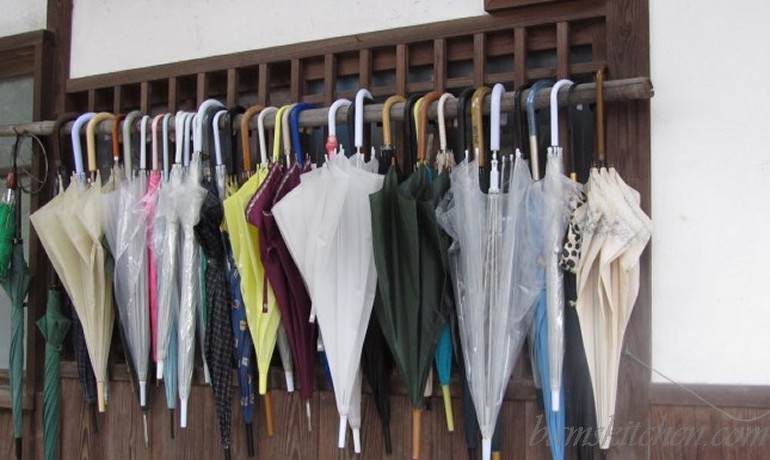 While living in Japan, I used to participate in cooking classes and enjoyed them immensely. Without further delay, here is my version of pork tonkatsu that my teenage boys just love.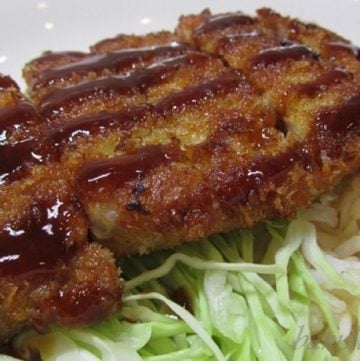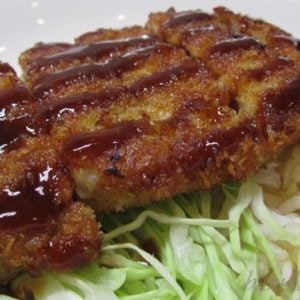 Pork Tonkatsu
Pork Tonkatsu is a delicious super crispy Japanese Pork Cutlet served with cabbage and a delicious deep flavored dipping sauce.
Print
Pin
Rate
Ingredients
1

pound

pork chops


or 4 boneless pork chops. Thin to medium cut.

salt and pepper

to taste

2

eggs


beaten

½

cup

flour

gluten-free if desired

¾

cups

panko breadcrumbs


gluten-free if desired

oil

for frying - depends on the size of pan (about ½ inch of oil for a shallow fry)

4

cups

cabbage

sliced finely shredded and soaked in water

tonkatsu sauce


Bulldog Brand and make your own (homemade tonkatsu sauce recipe in the notes below) - optional

cooked rice


for serving - optional

2

tablespoon

green onions


garnish - optional
Instructions
Remove fat from pork chops and pound flat.

Salt and pepper pork chops

Dip pork chops in egg and then into the flour mixture, remove excess flour.

Dip the floured pork chop back into the egg and then into the panko bread crumbs until well coated. Set aside

Heat a large skillet with about ½ inch of oil until hot. Lay 1 or 2 cutlets in the hot oil. Fry until golden brown, about 5 to 7 minutes, turning them once or twice. Drain the cutlets on paper towels and cut the pork into bite-size strips. (Alternatively you can cut down the fat: Heat about 1- 2 tablespoons oil in frying pan and cook on medium heat on each side until golden brown.) In addition, this would be a delicious recipe to try in your air fryer, if you have one.

Drain cabbage and dry. (traditionally the cabbage is served plain on the side however if you wish you can drizzle a little sesame oil, rice vinegar, dash of sugar, dash of salt and some white pepper and mix it together, its delicious)

Serve pork tonkatsu with cabbage, rice and drizzled with tonkatsu sauce on top.
Notes
My boys like the Bulldog brand of Tonkatsu sauce. However, you can make your own homemade sauce by adding the following ingredients together; ½ cup Worcestershire sauce, ¼ cup sugar, ¼ cup soy sauce, ¼ cup ketchup, 1 tablespoon french yellow mustard, ½ teaspoon ground all spice and place in a little pot and heat over medium heat for about 10-15 minutes, cool and serve)
Nutrition
Serving:
1
g
|
Calories:
326
kcal
|
Carbohydrates:
24
g
|
Protein:
31
g
|
Fat:
11
g
|
Saturated Fat:
4
g
|
Cholesterol:
158
mg
|
Sodium:
181
mg
|
Potassium:
611
mg
|
Fiber:
3
g
|
Sugar:
3
g
|
Vitamin A:
187
IU
|
Vitamin C:
26
mg
|
Calcium:
69
mg
|
Iron:
3
mg