Homemade Bread Crumbs are crunchy, toasty and a delicious budget friendly addition to many recipes. (Gluten-free and Panko bread crumb directions included)
We love making homemade bread crumbs because…
Homemade bread crumbs taste so much better than store bought
You can season them anyway you desire
We love some of our bread crumbs to be a little larger and not all ground up
It's a budget friendly idea. Waste Not – Want Not
You can transform any bread you have into bread crumbs such as Italian, whole wheat, gluten-free, rye, sesame, etc.
Use up those ends of the bread that no one eats. Even breads with seeds and herbs really make a fun crunchy bread crumbs.
Toasty, crunchy and delicious
They store well
Don't throw out that day old bread!
Day old bread and crusty ends of bread that no one eat make fantastic bread crumbs. We used gluten-free bread from a local baker with flax seeds and that worked wonderful too. You can use the crust of the breads too. That is completely up to you. Not that we ever have leftovers when we make a batch of our homemade Whole Wheat Herb Focaccia Bread, but if you do, make a batch of bread crumbs.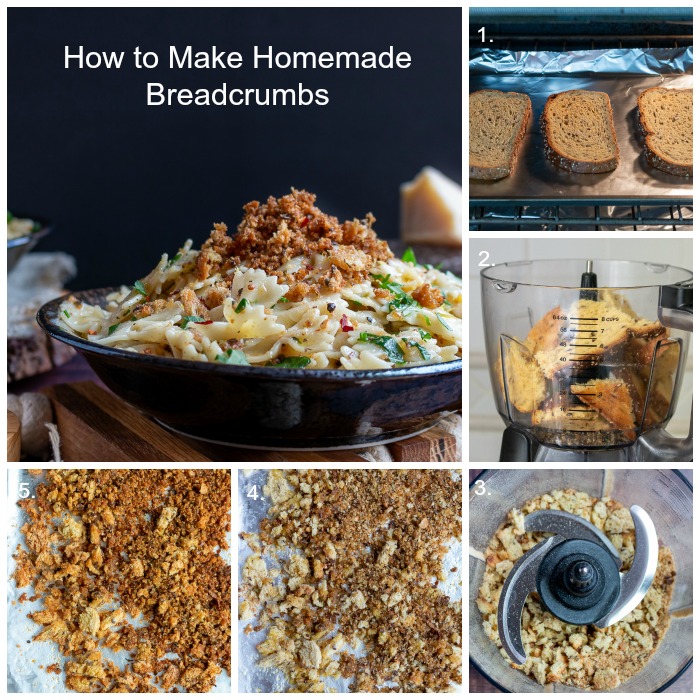 How to make Homemade Bread Crumbs
Of course, there are many different ways to perform this task, but we chose the oven method.
First you dry to bread in the oven at 350 degrees for about 5 minutes
Next you bread your dried bread into large pieces and add it into the food processor
Add dried Italian seasonings, garlic powder and salt to taste
Pulse the food processor several times until some of the bread crumbs are fine and some are a little larger in size
If you are going to use these bread crumbs right away, you can also add a couple tablespoons of olive oil to the crumbs to make them extra delicious. Otherwise you can skip this step as they store longer without oil.
Lay out your bread crumbs in a flat layer on a baking sheet and bake for about 10 minutes or until golden brown.
Can you toast homemade bread crumbs on the stove top?
Yes, you can. However, you will need to keep a close eye on them. It is easy to get distracted and burn your bread crumbs. You will have to stir often. It is also better to use a pan where you can spread them out, so they toast evenly in the dry pan. Toast your bread crumbs over low heat.
If you are planning on making Farfalle Aglio e Olio with Bread crumbs, you can also toast your homemade bread crumbs in olive oil and seasonings. This give your bread crumbs an extra richness.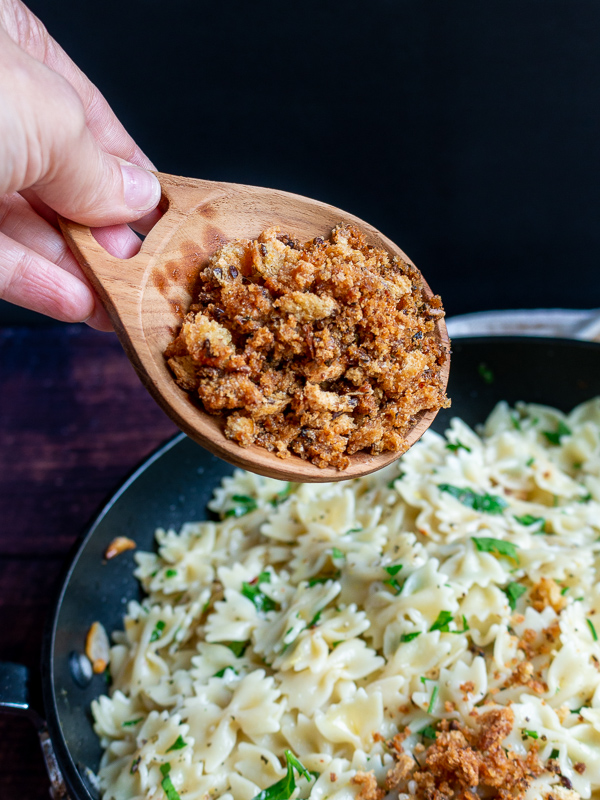 How to store homemade bread crumbs
Baked Homemade bread crumbs, without olive oil, can be stored in a sealed container in the refrigerator for one month or in the freezer for about 3 months. If you added olive oil to the crumbs store in the refrigerator and use within one week. As you can see, our bread crumbs had a little flax seed in it. It was really nutty and delicious. You can really use any bread you like, even gluten - free. Be sure to take advantage of the last of the zuchinni season with our Baked Ricotta Stuffed Zucchini Blossoms (GF and Dairy Free) made with toasted homemade panko breadcrumbs.

Plain or Seasoned Bread crumbs
You can use plain homemade bread crumbs for any recipe like our Best Italian Stuffed Artichokes or our Super Crispy Falafel Bites it is sometime preferable not to add any seasonings but keep it just as plain bread crumbs.
However, if you know that you will need seasoned bread crumbs like in our … or in our… recipe you can add whatever seasonings your little heart desires, but these are some of our favorite additions…
Garlic powder
Italian Seasonings (mixture of basil, oregano, thyme and savory)
Salt and pepper
Grated parmesan cheese
When we know we are going to use our homemade bread crumbs for Farfalle Aglio e Olio with Bread Crumbs, we add extra virgin olive oil to add richness. In addition, we add Italian seasonings, salt and pepper and garlic powder to the breadcrumbs.
What is the difference between regular bread crumbs and panko breadcrumbs?
Regular homemade bread crumbs can be made with any type of bread and the crusts of the bread. Panko bread crumbs are commonly used in many Japanese recipes and are lighter and crunchier like in our Stuffed Zucchini Flowers. In addition, they are made only made with light and fluffy "white" bread with the crusts removed.
If you prefer this type of breadcrumb, make sure to us a light and fluffy white bread and remove the crusts. Place in the food processor and make into a larger crumb and then bake for 7 to 10 minutes. Stir them every couple of minutes as the goal is not for them to brown but to get dry and crispy. Once again these can be stored in a dry place for a few weeks or up to 3 months in the freezer. You might like our Baked Chorizo Crusted Fish and Potatoes with Seasoned Panko bread crumbs.
Can I still make homemade bread crumbs without a food processor?
Yes, you can. Using a hand grater to grate the breadcrumbs before baking again is an easy way to perform this task. You can also bake your bread in the oven and then, allow your bread to cool. Then place your toasted bread in a sealed baggie and pound with the back of a spatula or rolling pin.
Homemade Bread Crumbs can be made out of just about anything.
Did you know you can make breadcrumbs out of crackers and even pizza crusts? Have you ever given up on a recipe just because you don't have breadcrumbs in your house? Don't let that hold you back from making your recipes now because if you look around your pantry now, you will never be without dried bread crumbs again.
Low Carb Bread crumbs
We have not tested this concept yet but are thinking about crumbling our Sesame Cloud Breads and then toasting them to make keto friendly bread crumbs. If you give this a try, let us know if it worked for you. In the meantime, as you already know you can use pork rinds that you have pulsed in the food processor as a low carb option for recipes that call for bread crumbs. You may like to try our Bacon Wrapped Sausage Stuffed Pork Loin with pork rinds into of bread crumbs as part of the stuffing.
Hungry For More? Subscribe to our Newsletter and follow along on Facebook, You Tube, Instagram, and Pinterest for all the latest updates.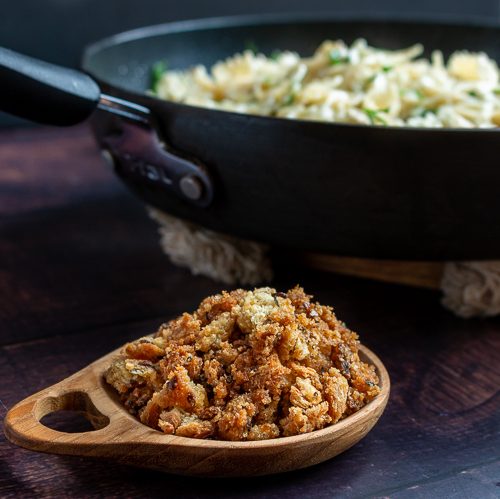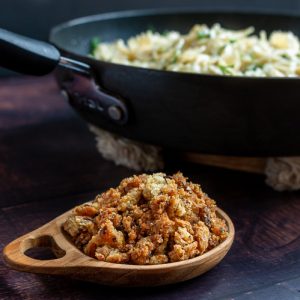 Homemade Bread Crumbs
Homemade bread crumbs are crunchy, toasty and a delicious budget friendly addition to many recipes.
Print
Pin
Rate
Ingredients
4

slices

bread


(any type)
Optional Add ins
1

teaspoon

Italian Seasoning


(basil, oregano, thyme, savory, etc.)- optional

½

teaspoon

garlic powder


optional

Salt and pepper


to taste

2

tablespoon

olive oil

(EVOO) added just before the second baking session
Instructions
Preheat oven to 350 degrees F (176 degrees C)

Place your bread (any type- white, wheat, Italian, ciabatta, 7 grain breads, gluten-free, etc. Heck we have even used pizza crusts!) flat on a lined baking sheet and bake for about 5 minutes until dry. You can decide if you want to leave the crusts on or remove. We used the crusts. Waste not- want not.

Allow to cool slightly so that you can break them up into large pieces so that they fit into your food processor. If you want to add seasonings like Italian Seasonings, Garlic Powder, Salt and Pepper, add it now. Pulse several times until you get to the consistency you are looking for. We love some small dusting and also some little larger crunchy bread crumbs. If you do not have a food processor, you can use a box grater to break into gratings.

Place your bread crumbs back on the lined baking sheet and lay out flat. If you are making our Farfalle Aglio e Olio with Bread crumbs add a little drizzle of olive oil for extra richness and toss well before baking.

Bake bread crumbs at 350 degrees for about 7-10 minutes or until golden brown. Stir your breadcrumbs halfway through the cooking process so they get browned on all sides.

Allow your bread crumbs to cool and use in your favorite recipes. Store bread crumbs in a sealable container in the refrigerator for a month or in the freezer for up to 2 months. However, if you have added olive oil store in the refrigerator and use within 7 days.
Notes
If you want to make panko bread crumbs use white bread and remove the crusts and you do not need to dry your bread in the oven before placing in the food processor. For Panko bread crumbs, after you remove the crusts from the white bread put it in the food processor and pulse into a little light piece of bread crumbs. Then, add your bread crumbs on your baking sheet and bake just until they get dried and crunchy but not golden brown.
Nutrition
Serving:
1
g
|
Calories:
35
kcal
|
Carbohydrates:
4
g
|
Protein:
1
g
|
Fat:
2
g
|
Saturated Fat:
1
g
|
Sodium:
36
mg
|
Potassium:
13
mg
|
Fiber:
1
g
|
Sugar:
1
g
|
Calcium:
12
mg
|
Iron:
1
mg