Strawberry Rhubarb Refrigerator Jam is a quick and easy 15-minute stove top jam made with fresh ginger, lemon zest and a drizzle of honey.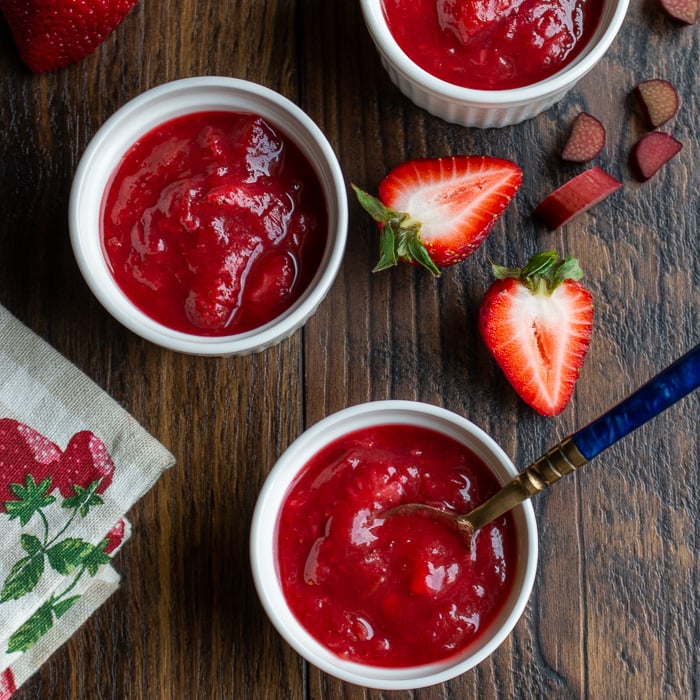 You are going to love making Strawberry Rhubarb Refrigerator Jam as it is a fuss free super easy way to make homemade jam. There is No- Added sugar, no sure jell pectin, no sterilizing jars, and no added chia seeds.
Strawberry Rhubarb Refrigerator Jam (AKA Bammer's Jammers) adds a delicately sweet topping to yogurt, smoothie bowls, oatmeal, toast, ice-cream, peanut butter sandwiches, on top of pancakes, scones and you name it. This jam is spreadable, spoon able and we are sure it will not last long in your home. If you like this quick and easy jam recipe, you are going to love our Apricot Freezer Jam Recipe too.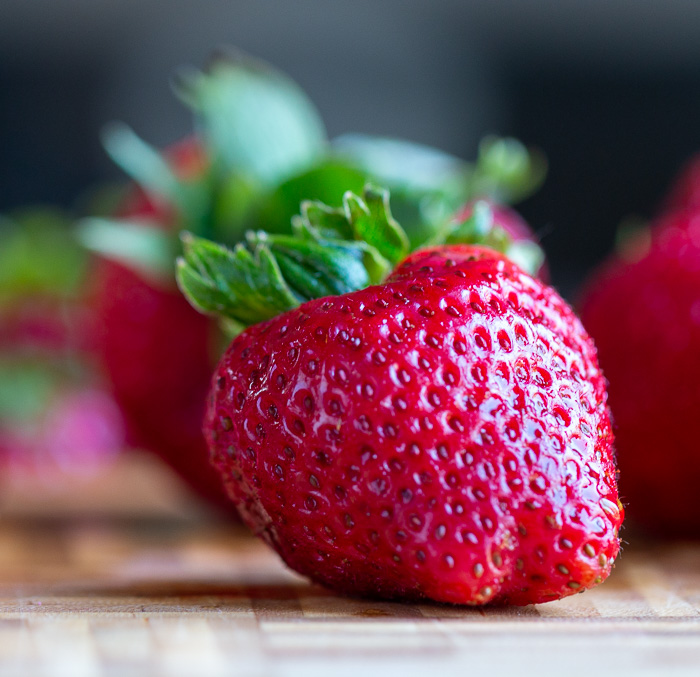 Stocking up on Spring Produce at the Farmer's Market
Don't you just love eating seasonally? This week at the farmer's market there were fresh rhubarb, strawberries, radishes and artichokes. We made a huge haul. Be sure to try our Thai Grilled Watermelon Salad made with fresh radishes, cucumbers and grilled watermelon with a zippy Thai dressing.
If you found fresh whole artichokes, be sure to try our Mom's Best Italian Stuffed Artichokes. They are so delicious when fresh and in season.
Take advantage of the stone fruits and strawberries when they are in season with our Summer Salad with Strawberry Rose Dressing. So light and delicious.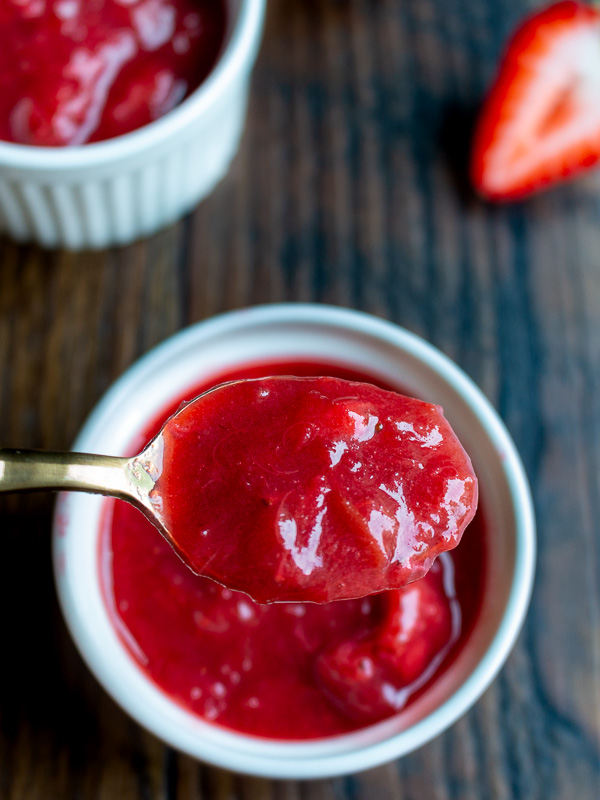 Can you guess the Secret addition to our Strawberry Rhubarb Refrigerator Jam?
We added ginger. Yep Ginger! Ginger is warming and adds a little zip along with the lemon zest. According to Traditional Chinese Medicine (TCM) both Strawberries and rhubarb are cooling foods and to balance this we added warming ginger. If you want to refresh your memory about warming, cooling and neutral foods in TCM, be sure to read our article Introducing the Five Energies of Food.
In addition, you will find adding spices and herbs to foods will reduce your need to have foods so sweet. Instead you enhance the flavors, instead of covering up flavors. Novel idea, right?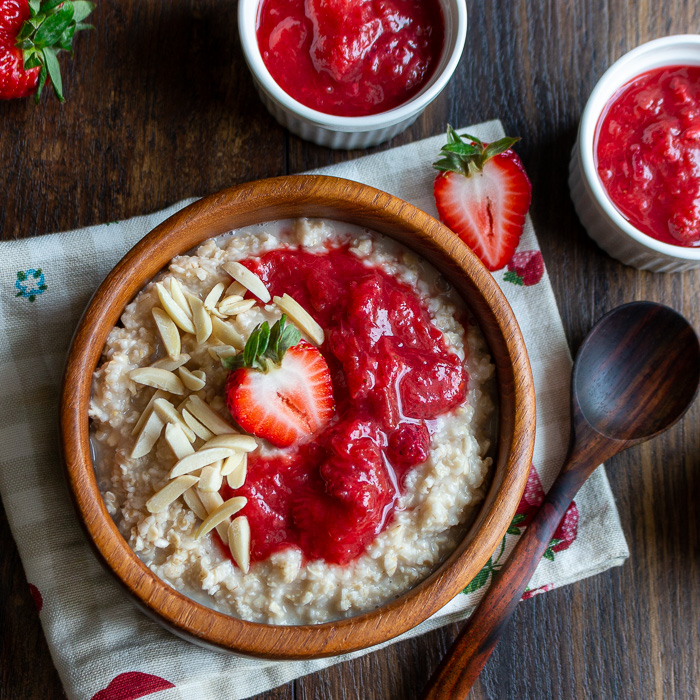 Can I make Strawberry Rhubarb Refrigerator Jam vegan?
No, not unless you are willing to add chia seeds, granulated sugar or sure jell. Maple syrup responds very differently compared to honey when heated and allowed to cool. Maple syrup gets thin and if not, pure maple syrup it can even crystallize on you. If you are into the chia seeds you can add this at the end of the cooking process, but we are not real found of little seeds in our jam. How about you?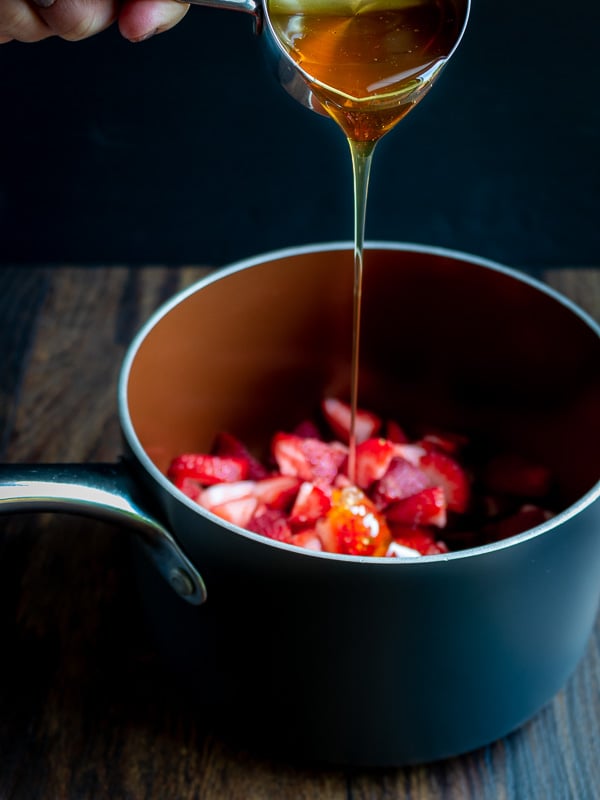 Honey thickens with heating and if you have not tried our Honey Candied Meyer Lemon Slices, you should. So good. Great for pretty spring cake toppers like on our Icebox Lavender Lemon Angel Food Cake.
If you are vegan and do not eat honey because you feel it is unethical for working bees. You may no longer be able to eat avocados. Many farmers cannot pollinate the crops without the help of bees. Check out this article from the Washington Post.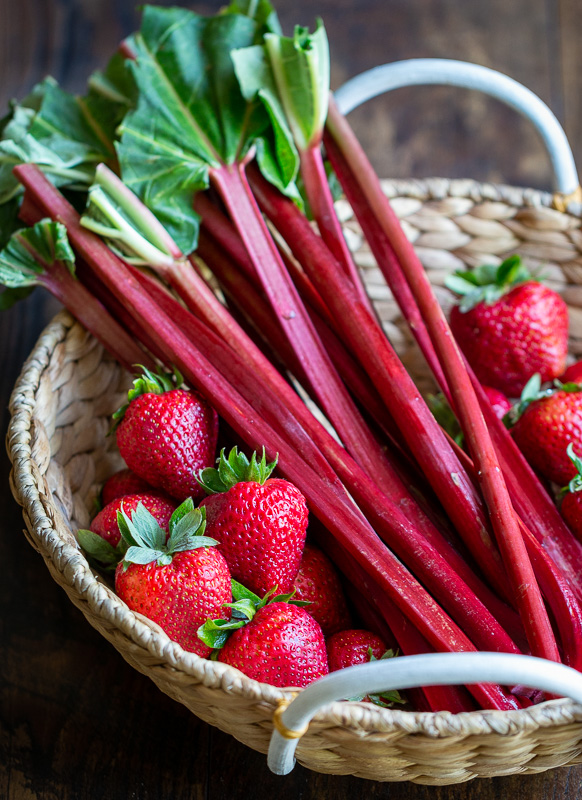 Is Rhubarb safe to eat?
Rhubarb is poisonous! Now that we have you scared shitless, let us explain. The stalks of rhubarb are fine and no problems. However, in the leaves of rhubarb there is oxalate and that can make you sick if eaten, especially in large quantities. Do not eat the leaves of the rhubarb plant and you are good to go.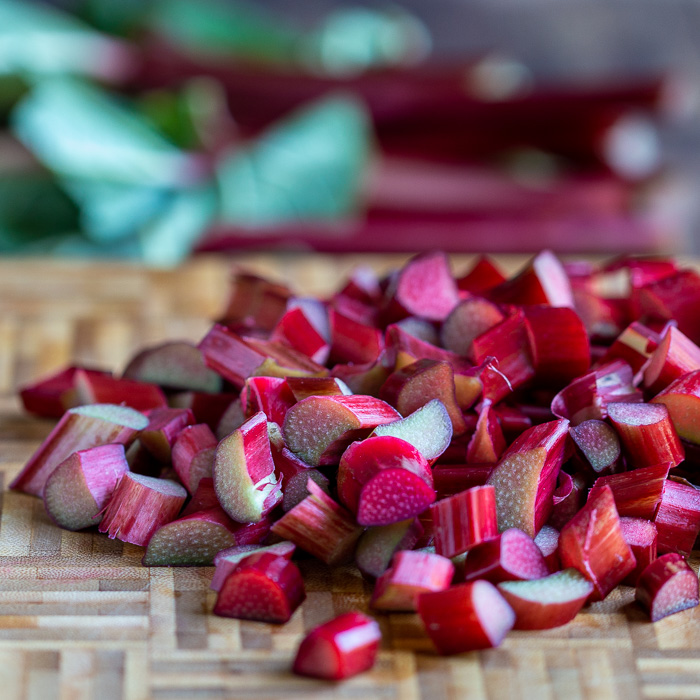 Rhubarb is technically speaking a vegetable. It has several vitamins and minerals and fiber. It contains a natural laxative property called sennoside to help you stay regular. If you are familiar with the brand Senna or Senokot? Kind of the same concept but much gentler action.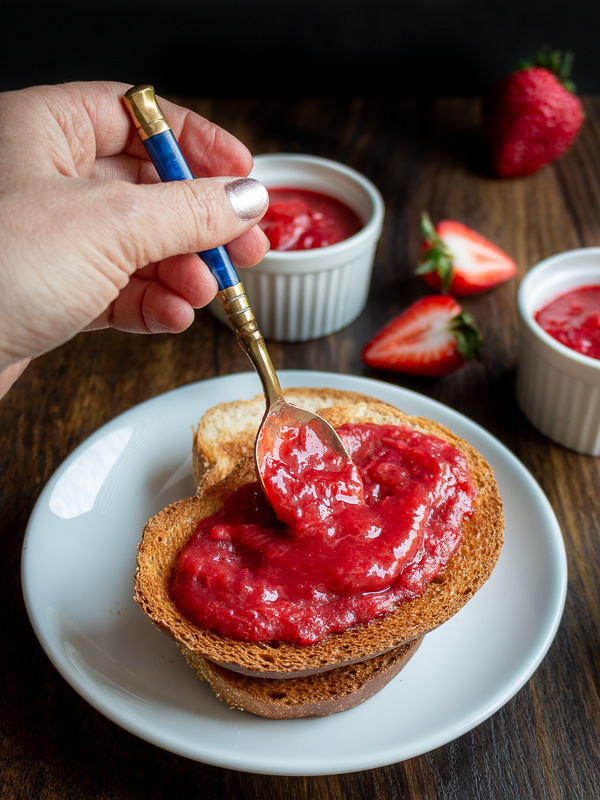 What does rhubarb taste like?
Rhubarb is super tart! It needs to hang out with some sweet friends like strawberry's and a little natural sweetener to take the edge off the tart.
We love adding a little Strawberry Rhubarb Refrigerator Jam to breakfast bars, on top of baked puffed pastry with a dollop of ice cream on top, or simply on top of oatmeal for a delicious treat. What is your favorite way to eat Strawberry Rhubarb Refrigerator Jam.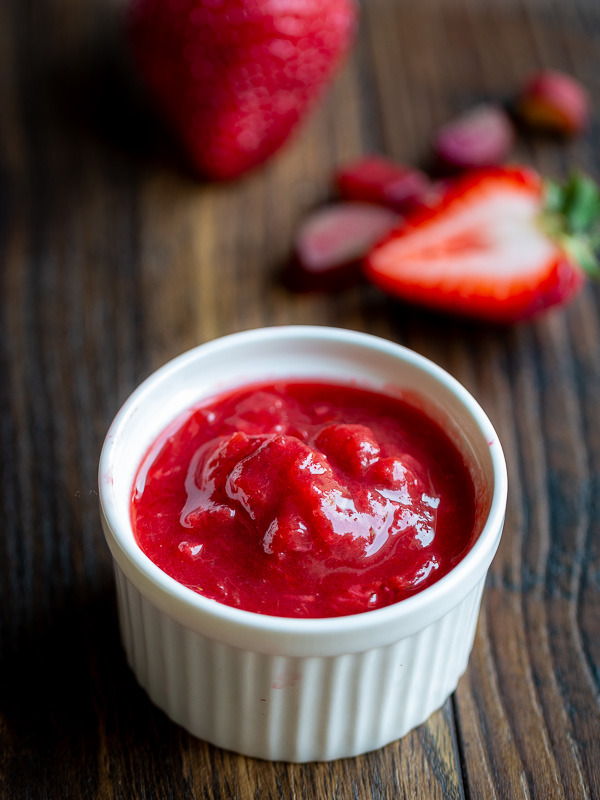 Swapping Rhubarb for Cranberries around the holidays
One of our favorite winter holiday treats is to make a "Strawberry Cranberry Refrigerator Jam" You can use frozen or fresh strawberries and just swap out cranberries for the rhubarb. Sometimes we even add a little sprinkle of cinnamon to give it that little holiday flare. We originally made this recipe in November 2013 and we called this Bammer's Jammers as some of you may remember.
Strawberry Cranberry Refrigerator Jam
1 and ¼ cup fresh or frozen cranberries
2 cups fresh or frozen strawberries
1.5 teaspoon freshly grated ginger
1.5 teaspoon lemon zest
⅓ cup honey
½ teaspoon cinnamon – optional
What is your favorite way to eat Strawberry Rhubarb Refrigerator Jam? Please let us know in the comments.
We are social! Please follow along on FACEBOOK, PINTEREST, INSTAGRAM and TWITTER.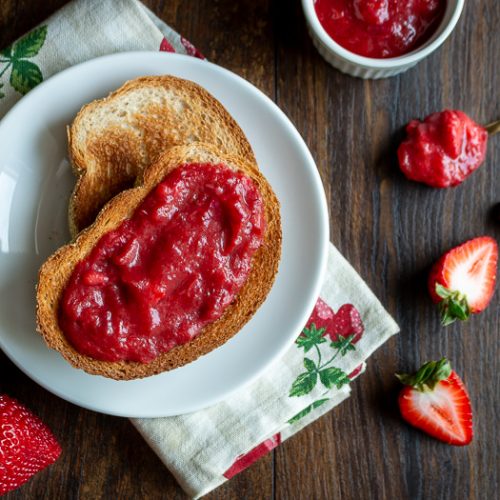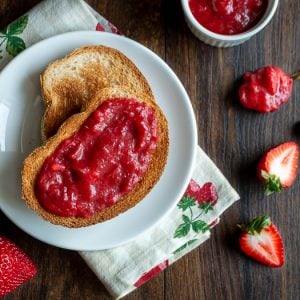 Strawberry Rhubarb Refrigerator Jam (No-Refined Sugar)
Strawberry Rhubarb Refrigerator Jam is a quick and easy 15-minute stove top jam made with the fresh ginger, lemon zest and a drizzle of honey.
Print
Pin
Rate
Ingredients
1.25

cups

rhubarb


(1 and ¼ cups) frozen or fresh (leaves removed, washed and cut into ½ inch slices)

2

cups

strawberries

frozen (or fresh) – washed, tops removed and cut into quarters


1.5

teaspoons

ginger

(freshly grated)

⅓

cup

honey

1.5

teaspoon

lemon zest
Instructions
Very important: You must remove the rhubarb leaves, roots and wash well before using.

Add chopped rhubarb, strawberries, freshly grated ginger and honey into a saucepan and cook over medium heat for about 15 minutes or until the rhubarb and strawberries have broken down and it is a nice thick jam. Add your lemon zest and stir. Remove from heat to cool.

Enjoy over your favorite morning bagels, English muffins toast, pancakes, or even on top of your ice cream or in your thumbprint cookies or how about as a layer in a tower cake.

Strawberry Rhubarb Refrigerator Jam can be stored safely in your refrigerator for one week in a sealed container or in the freezer in a sealed freezer safe container for up to 3 months. If frozen, just thaw jam in the refrigerator before using.
Notes
If you want to make a holiday festive jam, replace the rhubarb with fresh or frozen cranberries and add a half a teaspoon of cinnamon. If you want to make vegan and keep it refined sugar free and use maple syrup, you will need to add 2-3 tablespoons of chia seeds to thicken.
Nutrition
Serving:
1
tablespoon
|
Calories:
20
kcal
|
Carbohydrates:
5
g
|
Protein:
1
g
|
Fat:
1
g
|
Saturated Fat:
1
g
|
Sodium:
1
mg
|
Potassium:
41
mg
|
Fiber:
1
g
|
Sugar:
5
g
|
Vitamin A:
6
IU
|
Vitamin C:
8
mg
|
Calcium:
7
mg
|
Iron:
1
mg