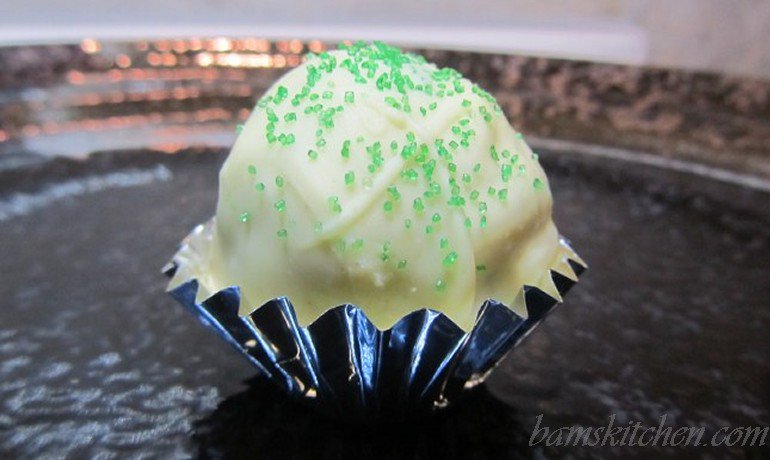 Happy 100th Birthday Oreo Cookie!
The Oreo cookie is an American Born Classic. What is your favorite way to eat a Oreo ?
Option A) Eat cookie whole and dip into milk
Option B) Pull the cookie apart and lick the white frosting out of the center before dipping your Oreo in milk.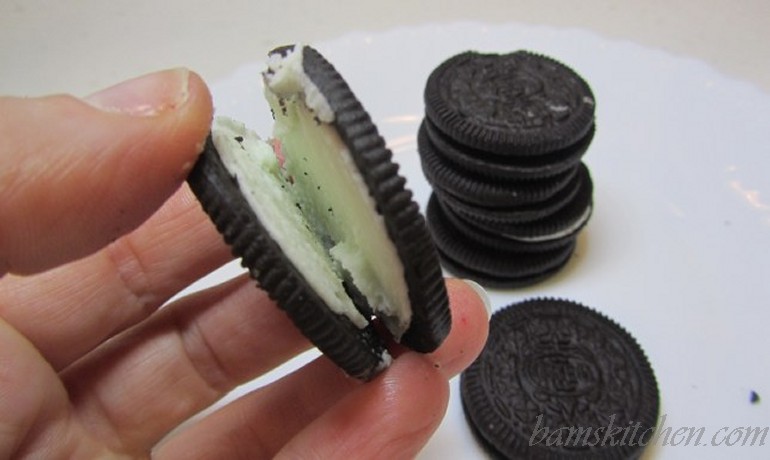 According to Kraft, over 50 percent of people if asked will choose option B. Of that 50% of people who choose to split open their cookie, most of them are women. The first Oreo cookie was sold in New Jersey in 1912. These first these cookies were called Oreo biscuits and sold in tins to attract the UK market. Now, there all kinds of Oreos from the double stuff, different kinds of cream fillings and mini Oreo cookies to everything in between.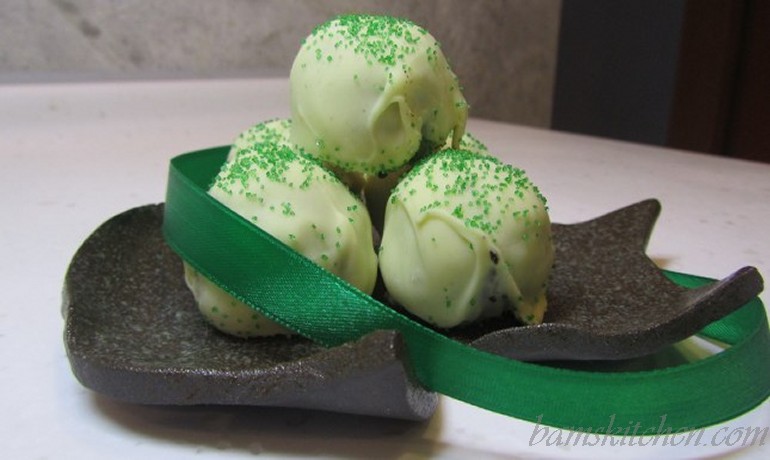 The rich dark crispy chocolate cookie and rich creamy filling of the Oreo cookie can bring a smile to both the young and old.
To give the Oreo cookie the proper Birthday send off I promptly poured myself and big glass of cold milk and set aside a few Oreos on a dish. I could not resist, the temptation was too great, I like to split my cookies and lick the filling then take a final dunk in my milk before devouring. I was a kid all over again.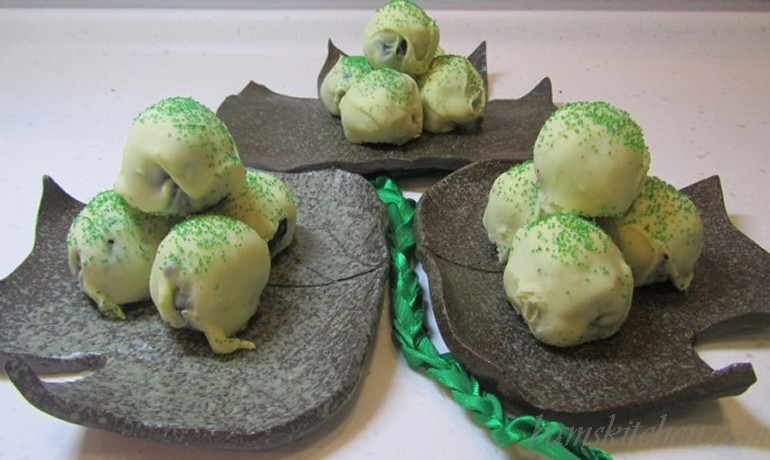 However the adult in me was thinking this is quite a yummy cookie and it has all kind of gastronomic potential written all over it. Shall I make a ice-cream mint pie with a Oreo crust? How about chocolate covered Oreos? How about a St. Patty's Day Oreo Truffle?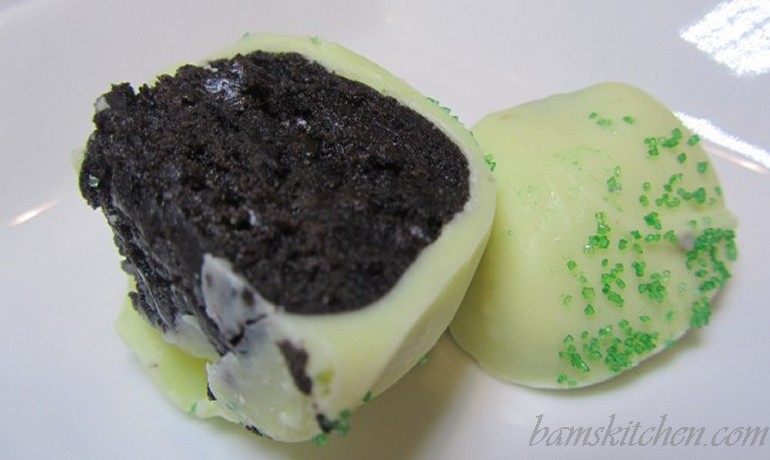 Oreo's 100 Birthday and St. Patrick's day and everything green, rainbows, lucky charms, pots of gold and luck are just around the corner in just a few day. Please keep reading to find out how you can enjoy both of these celebrations in a very yummy way...
Shamrock Oreo Truffles
Makes about 28 truffles (I think, teenagers were eating them faster than I could count them)
Recipe adapted from Kraft's Food.com (Easy Oreo Truffles)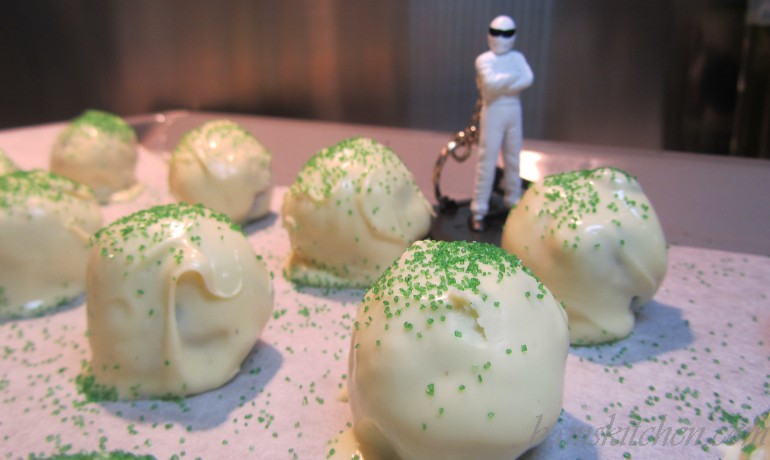 38 Oreo cookies
8 ounces of cream cheese
3 packages 220 grams of White Chocolate (I used Cadbury Dream white chocolate)
few drops of mint flavoring (optional)
Green sugar Sprinkles
Step 1: Put Oreo cookies in a sealed baggies and beat until fine crumbs. (Looks like dirt)
Step 2: Add Cream cheese and mix together well. Add a couple of drop of mint flavoring, if you wish. (I used my hands to mix together and I felt like I was making mud pies)
Step 3: Roll Oreo cookie cream cheese mixture into about 1 inch balls. Set aside in freezer for about 10 minutes just to set up (There is something very childlike about playing with our food)
Step 4: Break up the white chocolate into small pieces and microwave in oven for just a few seconds or until it starts to melt and stir. (Have a two-year old temper tantrum when your white chocolate seizes up because the humidity level in Hong Kong is 100 percent) Buy some new chocolate and start again this time being very careful to avoid any moisture going into the chocolate, but of course you will never need to worry about this.
Step 5: Remove Oreo balls from freezer and set up and assembly line. Place one Oreo ball on a fork and drizzle the white chocolate over the top making sure that it is completely covered. Set the chocolate covered ball on a parchment paper lined tray and sprinkle with Green sprinkles. Repeat process with the rest of the Oreo balls.
Step 6: Store in Refrigerator in a Tupperware or in freezer for longer storage options.
Step 7: Enjoy Shamrock Oreo Truffles with a big glass of milk or maybe an Irish coffee.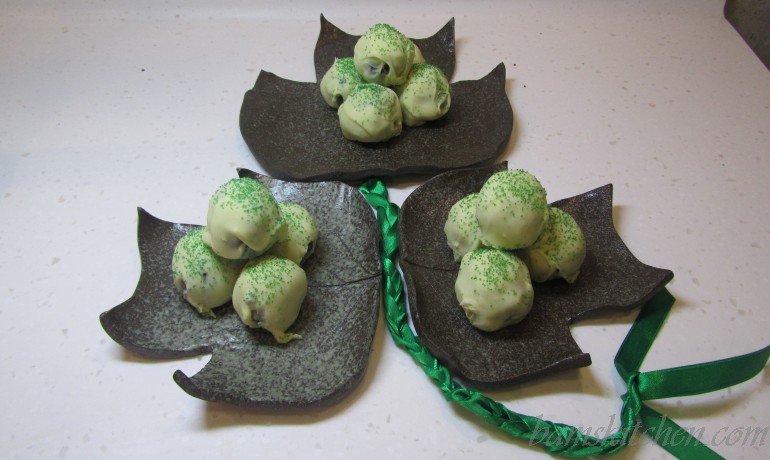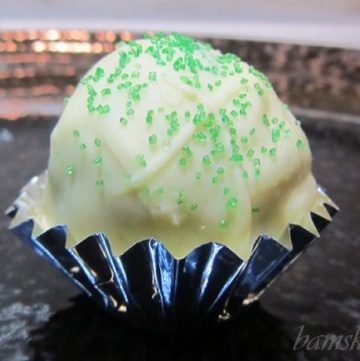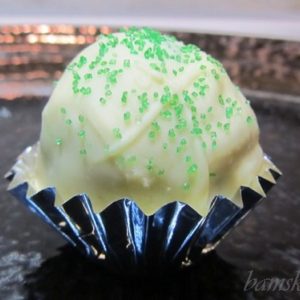 Ingredients
oreo cookies -

cream cheese -

white chocolate -

green sugar sprinkles -

mint flavoring -
Nutrition