One Pot Paprika Pork is roasted in a sauce of delicious savory Italian pork sausage, caramelized onions, tomatoes, garlic, Hungarian paprika and fresh herbs served over a bed of pasta.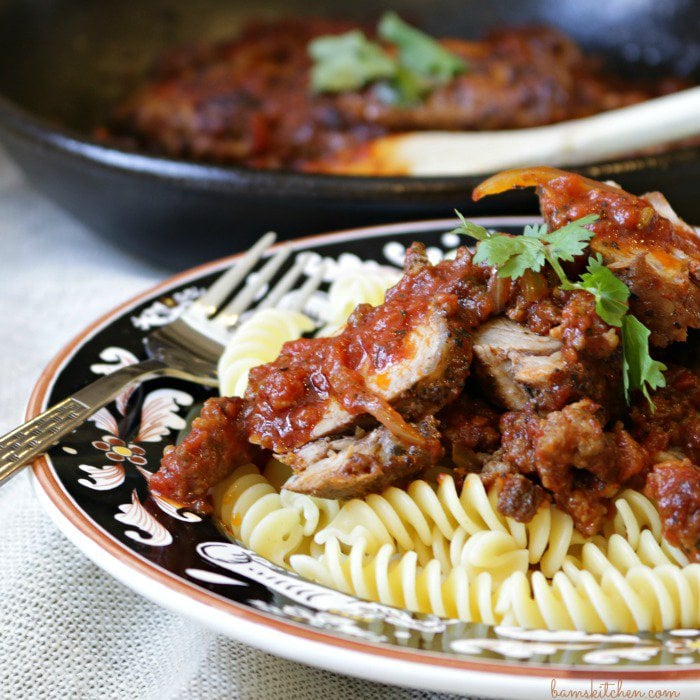 It all started out with a gift from my sweet next door neighbour. She gave me a satchel of freshly ground Hungarian paprika from her home town in Hungary. (Thank you my dearest Anna) Have you ever smelled really fresh Hungarian paprika? Hungarian Paprika is a little sweet, a little spicy and a gastronomic awakening of the senses that will not allow you to be satiated until you make something savoury and aromatic.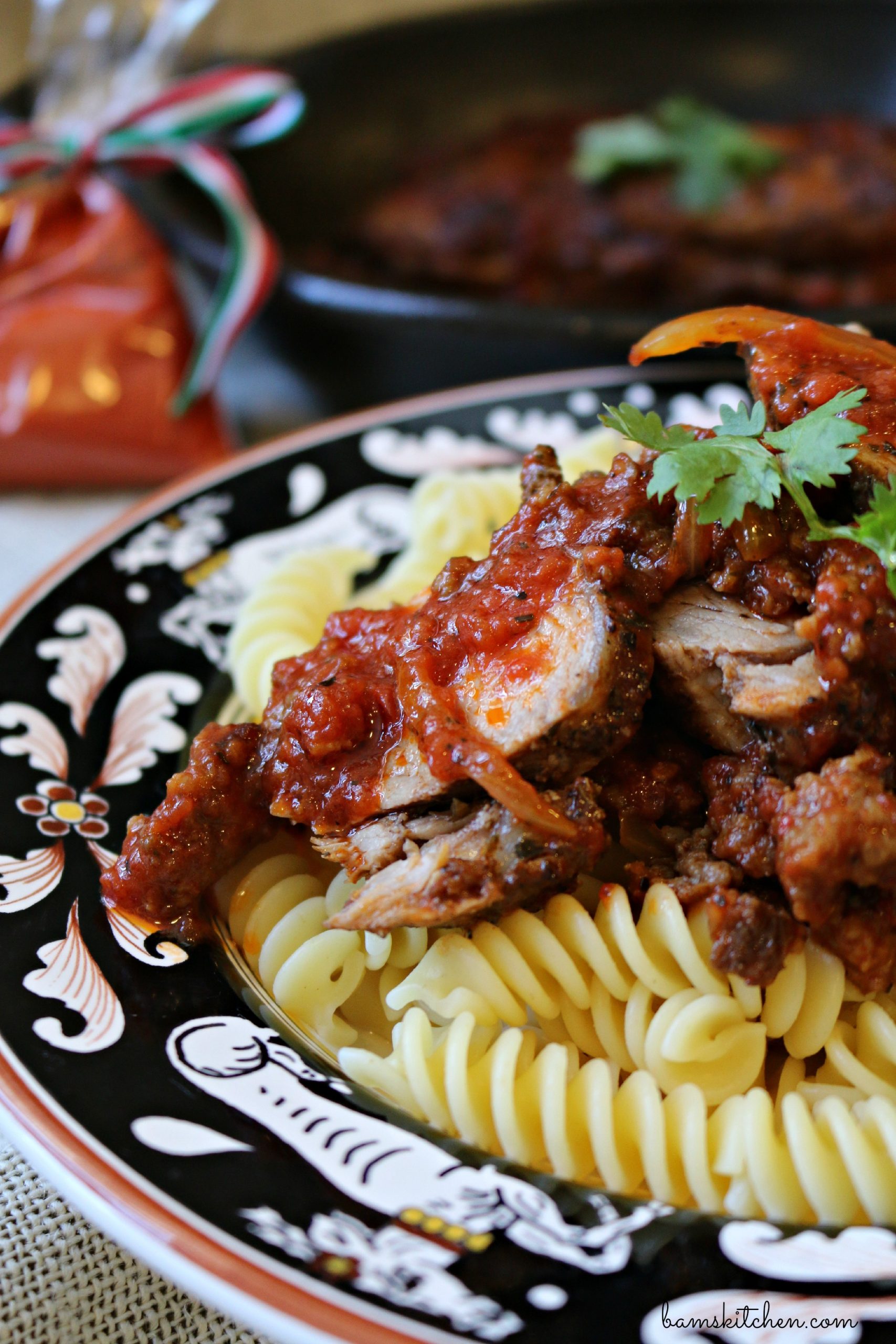 Don't do this!
So there I am in my kitchen sniffing Hungarian paprika with one hand and the other arm holding open the refrigerator to get some ideas for dinner. That is exactly the moment when my son came buzzing into the kitchen like a hurricane and scared the living day lights out of me. My knee jerk reaction was to slam the refrigerator door shut and I inadvertently poked my nose directly in the bag of Hungarian Paprika. I came out of this event looking like bozo the clown with a red nose and a sneezing fit the last for at least 10 minutes. (I do not recommend this method)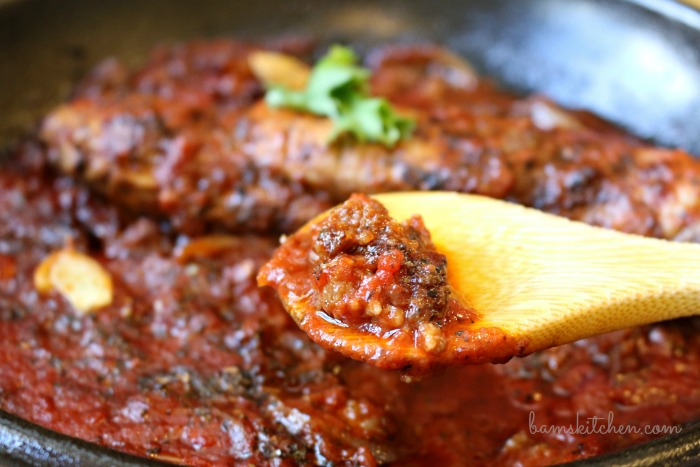 After recovering from my sneezing fit, I noted that we had some pork tenderloin and Italian pork sausage. I know pork with pork seems like an overkill but you have to trust me on this one, it is just perfectly delicious. I just love how you can make everything in one pot and you can get this delicious dish on your table is less than 30 little minutes.
Super Easy One Pot Paprika Pork
I started out by quickly pan searing my pork tenderloin in an iron skillet (or you could also do this in a dutch oven or other vessel that allows you to go from stove top to oven) . I then caramelized some onions in the same pan and cooked my Italian sausage, added some crushed tomatoes, garlic, herbs and of course more of that beautiful Hungarian paprika all in the same pan. I popped my rested pork tenderloin back into the iron skillet and threw it in the oven for a few minutes and you are done. Just as simple as that and you can have a savory, aromatic and filling dinner that will make your family very happy. I served mine on a bed of pasta for my boys and gluten-free pasta for myself and a nice tossed salad on the side.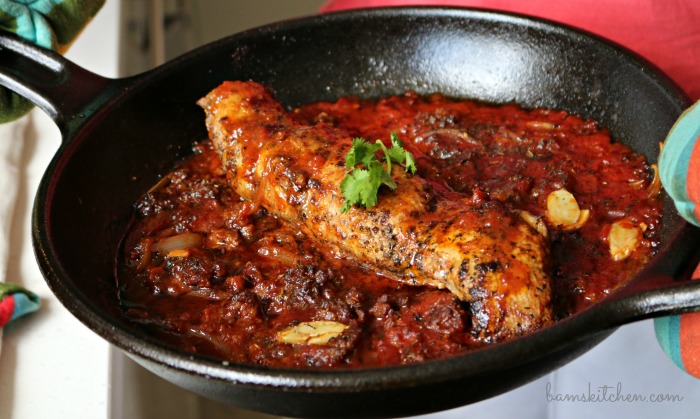 I promise to all my vegan friends that I will have a delicious vegan recipe coming your way soon. In the mean time, take a look over here at the cute picture of Buddy while the rest of us read about "PORK".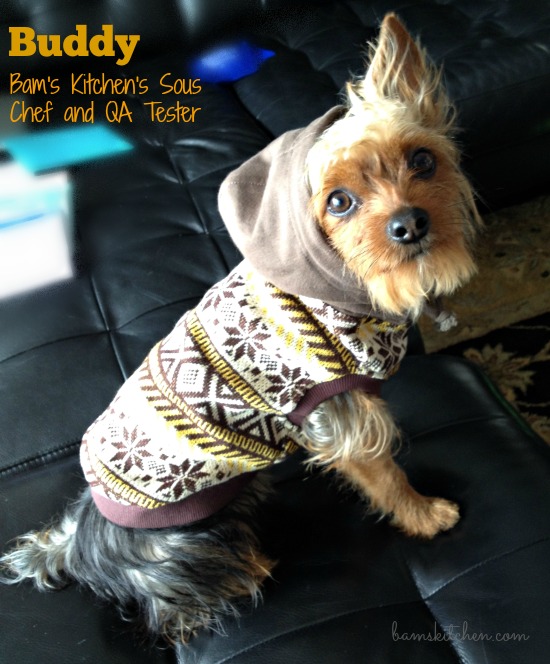 According to my stats, all of my top hits for recipes are with pork. Do you remember my Shake and Bake Cheesy Stuffed Pork Chops, this is a great autumn meal that all the kids will love. My Rosemary Herbed Pork Chops with Shallot Wine Sauce is easy enough for a weeknight meal and also perfect for a dinner at home with friends and family. If you are still in the grilling mood, then be sure to check out my pork, stuffed with pork and wrapped with bacon, because you can never have enough pork Bacon Wrapped Sausage Stuffed Pork Tenderloin.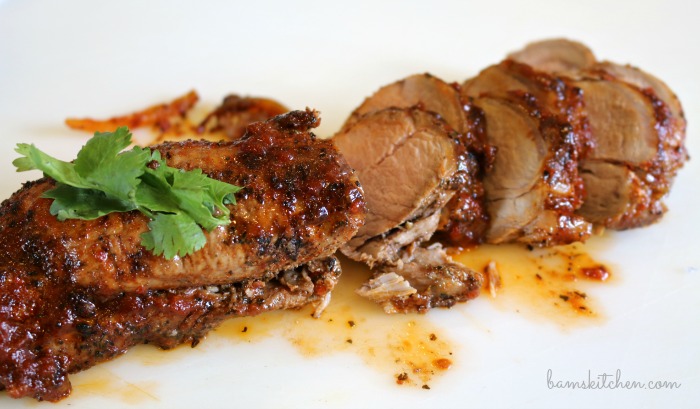 I have made this one pot paprika pork a few times now and with each and every time, it seems like I end up making more of the sauce because it is so addictive. The boys love dipping their crusty bread in the sauce to lop all of those delicious juices.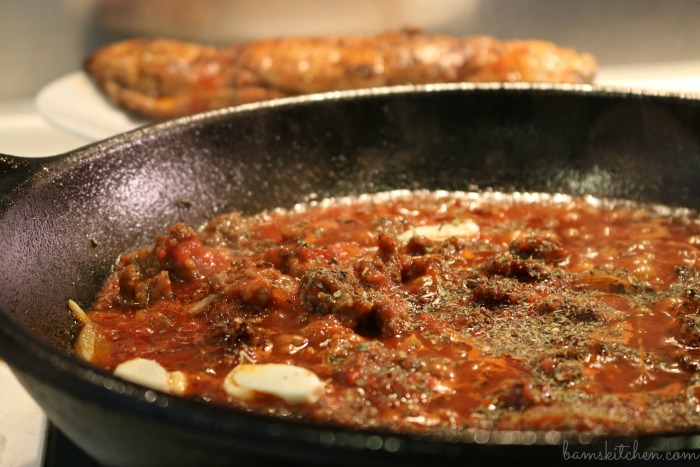 Recipe Exchanges and Alternatives
If you are gluten-free girl, like me, feel free to exchange with your favourite gluten-free pasta or rice. If you are vegetarian, you could exchange out the Italian pork sausage with vegetarian grain meat sausages with smoked Chipotle and chili peppers add grilled tofu to the dish just before serving.
If you are vegan, you do not even have to turn on the oven as this whole dish can be made on top of the stove and just exchange all the pork items with delicious sautéed mushrooms that you cook along with the caramelised onions.
If you want to be cardiac friendly, you could also exchange out the Italian sausage with healthy chicken sausage and exchange out chicken breasts for the grilled tenderloin. You could also use chicken on the bone and that would be even more tastier but then you will need to increase the cook time.
If you want the diabetic friendly option, just skip making the pasta and double up on the one pot paprika pork and salad and use a sugar alternative instead of sugar to cut the sour from the canned tomatoes.
As you can see the options are endless so just take a look in your refrigerator to see what you have and then go from there. If you do not have Fresh Hungarian paprika, no worries just exchange with Hot, Plain, Smoked, Spanish, or Sweet Paprika .There are no rules here just use what you like and more importantly what you have on hand.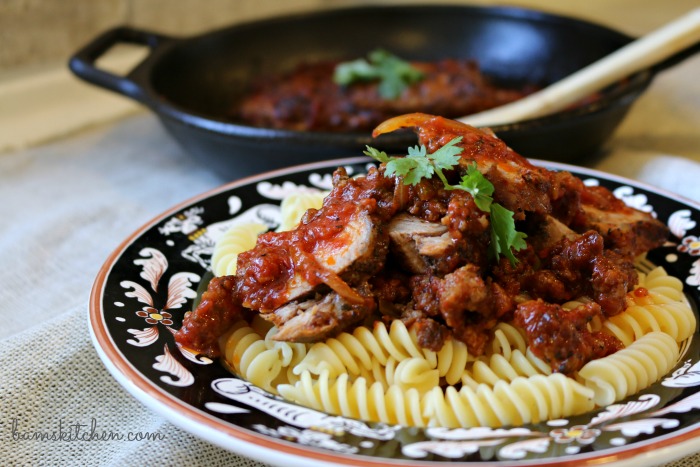 Hungry For More? Subscribe to our Newsletter and follow along on Facebook, You Tube, Instagram, and Pinterest for all the latest updates.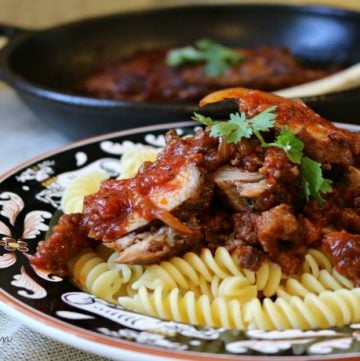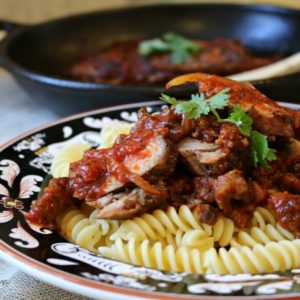 One Pot Paprika Pork
Pan seared paprika pork tenderloin roasted in a bath of delicious savoury Italian pork sausage, caramelised onions, tomatoes, garlic and fresh herbs served over a bed of pasta.
Print
Pin
Rate
Ingredients
1

pound

pork tenderloin

2

tablespoon

olive oil - 2 tablespoons


(one Tablespoon for pork tenderloin and one tablespoon for the onions)

2

teaspoon

paprika

salt and pepper


to taste

1

onion


peeled and chopped

4

links

Italian sausage

casings removed (Mild or can use hot if you like it spicy)


36

oz

canned tomatoes


chopped

4

cloves

garlic


crushed only

1

teaspoon

basil

dried

1

teaspoon

sugar


or sugar alternative to taste to balance sour from the canned tomatoes

8

oz

pasta

cooked Fuselli (whole grain, regular or gluten free)
Instructions
Pre-heat oven to 185 degrees Celsius (365 degrees F)

Rub pork tenderloin with 1 tablespoon of olive oil, salt, pepper and paprika, leave whole. In a heavy iron skillet or dutch oven place in a little more olive oil just so that the pork tenderloin does not stick to the pan and bring up to medium-high heat and sear the whole pork tenderloin on all sides. Just for a couple of seconds on each side to get a little browning and to hold in the juices and then remove from pan, set aside and keep warm.

Add onions to your skillet/dutch oven and cook until starting to caramelise. Remove the casings from the Italian sausages and add to skillet to cook until no longer pink. Drain the cooked Italian sausages and onions in a strainer to remove extra oil. Place the sausages and onions back into the skillet and add canned chopped tomatoes, whole cloves of garlic just crushed, basil, sugar or sugar alternative, the other teaspoon of paprika or to taste and salt and pepper to taste.

Place the skillet/dutch oven into the oven and cook for about 20 minutes or until the internal temperature reads at least 145 degrees F. Remove from oven and allow your One Pot Pork Paprika dish to set for 10 minutes to rest. In the interim, boil your pasta and make a tossed salad and enjoy a glass of wine.

Slice your pork tenderloin. Serve your One Pot Paprika Pork on top of a bed of hot pasta. Enjoy with a tossed salad, crusty bread and a nice glass of Cabernet Sauvignon!
Notes
This recipe can be made in advance. Please store your pasta and your pork separately in a sealed container in the refrigerator for up to 3 days. Additionally One Pot Paprika Pork can be frozen up to 2 months and then just heat and eat.
Nutrition
Serving:
1
g
|
Calories:
896
kcal
|
Carbohydrates:
66
g
|
Protein:
52
g
|
Fat:
48
g
|
Saturated Fat:
15
g
|
Cholesterol:
159
mg
|
Sodium:
1220
mg
|
Potassium:
1678
mg
|
Fiber:
8
g
|
Sugar:
14
g
|
Vitamin A:
1041
IU
|
Vitamin C:
29
mg
|
Calcium:
137
mg
|
Iron:
7
mg