Drunken Cherry Cheesecake is a delightful chocolate whipped dessert with marinated vanilla vodka cherries.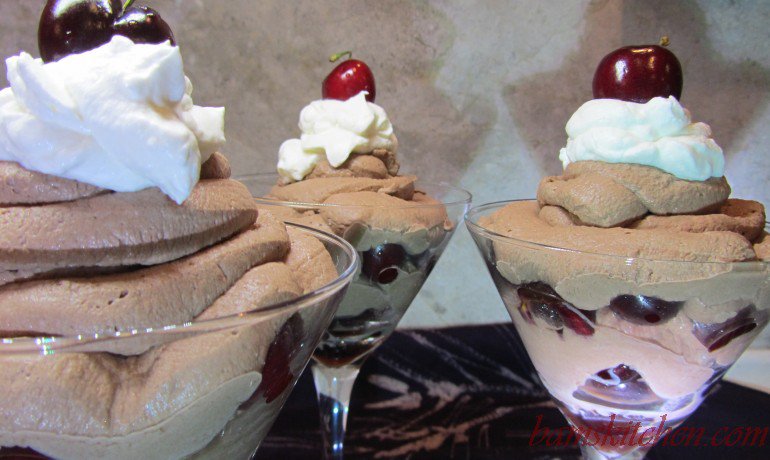 Eat one. Cut one. Eat one. Cut one.
I can't even give you the exact measurements to this recipe as these cherries were so sweet and delicious that there might have been a slight escape during the inventory management process.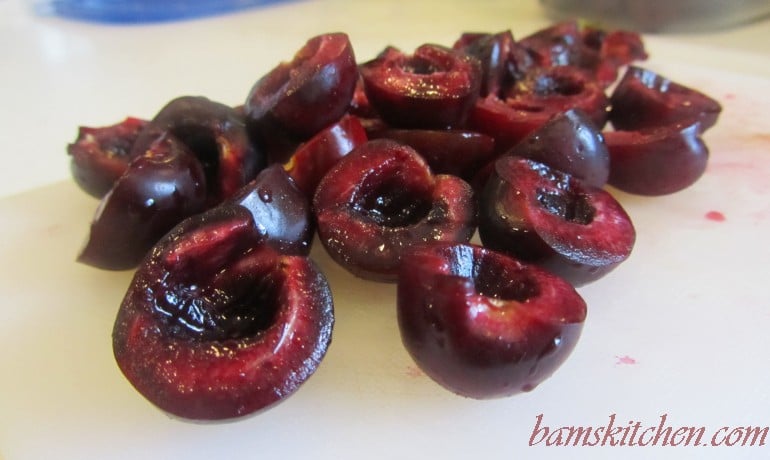 I have the perfect dessert recipe for Father's Day and you don't even have to turn on the oven. I marinated these super sweet cherries in a tantalizing bath of vanilla flavored vodka. I plated my drunken cherries in a vodka glass tucked between layers of my super easy cocoa cheesecake and topped them off with a bit of whipped topping and a cherry garnish.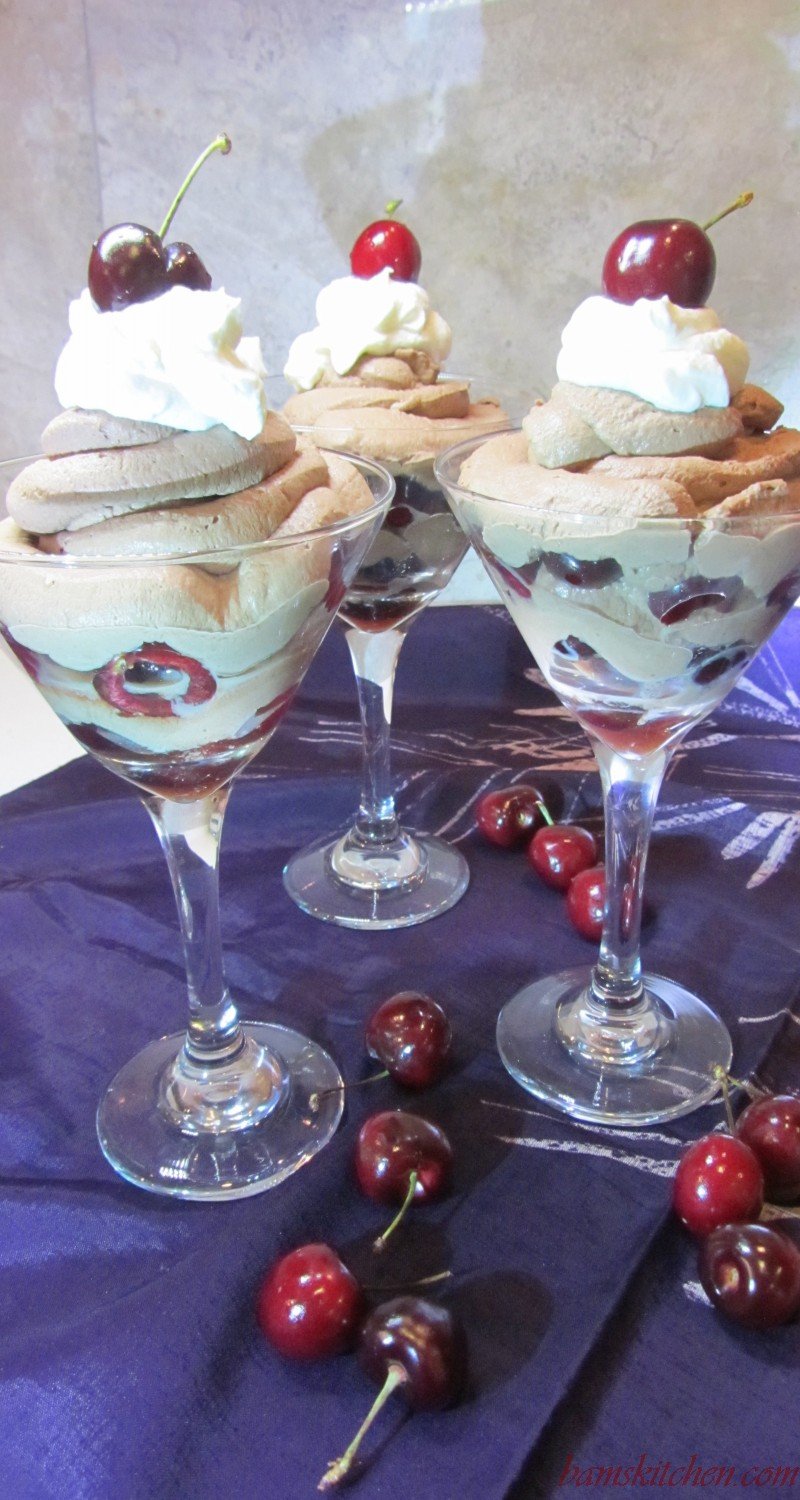 This is one dish that makes you lick the spoon during the assembly process for quality assurances processes, of course! Drunken Cherry cheesecake is gluten free, egg free and can be made in advance of your gathering in less than 30 minutes. I also have a kid friendly version for you too.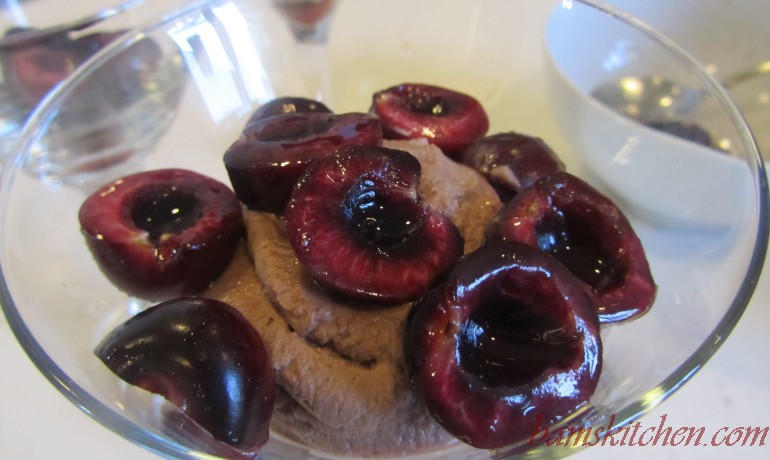 Welcome to cherry season! I adore the cherry season as it reminds me of my home, Michigan. Every year our family and close friends would head up to Crystal Mountain in Thompsonville around the fourth of July weekend. We would enjoy eating cherries, enjoy the Cherry festival in Traverse City, have cherry spitting pit contests, and of course eat cherry pies. The harvesting of cherries in Michigan is a big deal. Michigan is the nation's third-largest producer of sweet cherries, trailing California and Oregon. Michigan produces about 18,000 tons of sweet cherries a year and I think I just ate half of them while preparing this dish!!!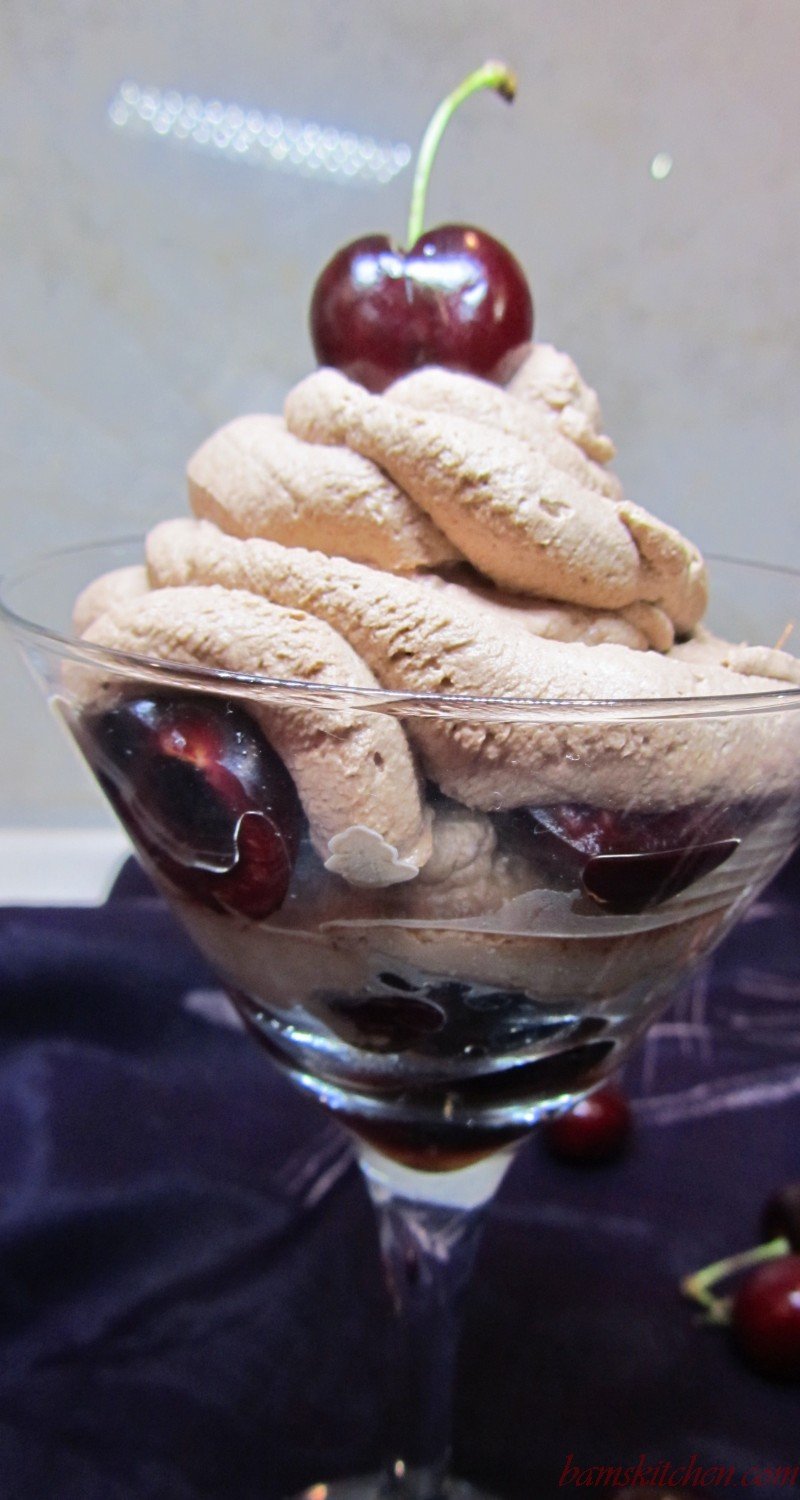 There are both sweet and sour cherries. I used sweet cherries for my drunken cherry cheescake. Sweet cherries are grown in the western northern part of Michigan.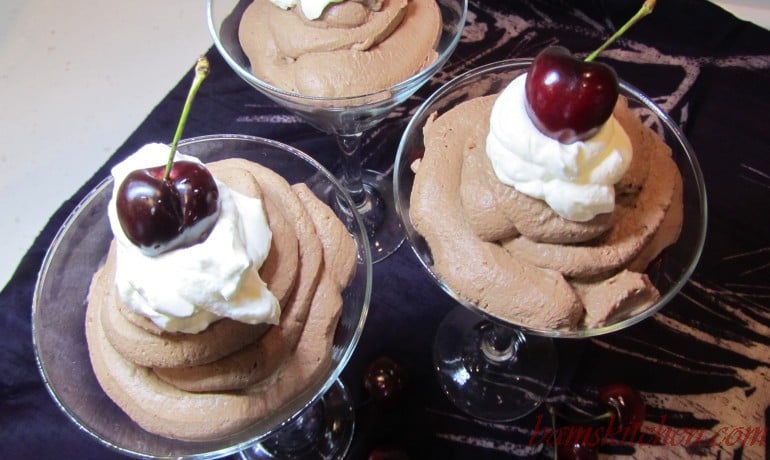 We celebrated Fathers Day a little early as this is the one the only time that our whole family would be together in this month of June. We enjoyed a tender steak with Bam's special zip sauce, Healthy Alternative Zip Sauce, grilled portabello mushrooms and aparagus, spring salad and grilled potatoes for the growing teenagers.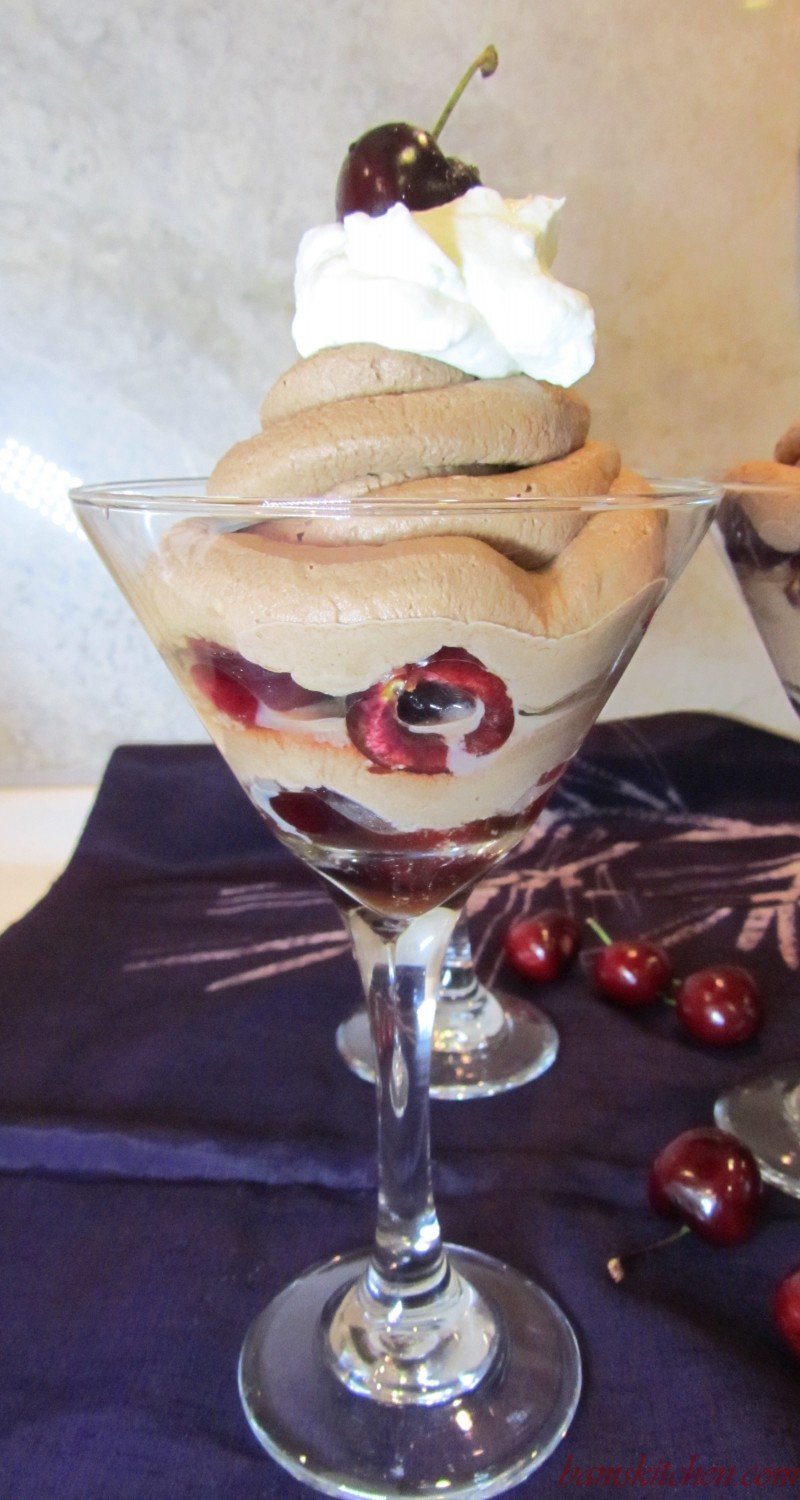 Then, I brought out the drunken cherry cheesecake (of course I made virgin version for my teenage boys) and set it on the dinner table. I was in the kitchen making a pot of fresh tea and within nanoseconds the dessert was inhaled. There were no loud sounds or words of praise coming from the kitchen table. There was just the delicate sounds of the spoon tapping the glass as they scouped out every last bit of the chocolately goodness. I walked in and found my youngest licking the inside of the dessert glass and then he asked, "Is there any more left?" There was no rating system performed or words or gratitude but their empty bowls spoke louder than words.
Happy Fathers Day to all my favorite men out there!!!
More delicious Dessert Recipe Ideas
Easy Microwave Chocolate Pudding
Grilled Nectarine with Coconut Cream
Icebox Lavendar Lemon Angel Food Cake
Hungry For More? Subscribe to our Newsletter and follow along on Facebook, You Tube, Instagram, and Pinterest for all the latest updates.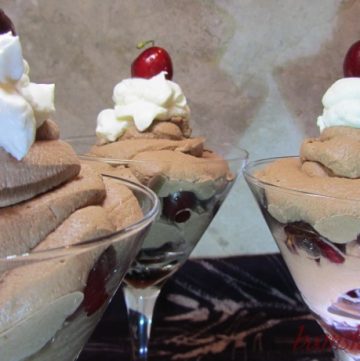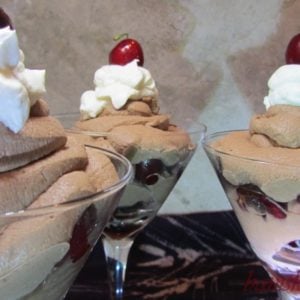 Drunken Cherry Cheesecake
Drunken Cherry Cheesecake is a delightful chocolate whipped dessert with marinated vanilla vodka cherries.
Print
Pin
Rate
Ingredients
1.5

cup

sweet cherries

cut in half and pit removed (reserve some whole for garnishing)


½

cup

vanilla Vodka

(can leave out to make kid friendly) or maybe you would like to use amaretto, frangelica, drambui, etc.

½

sugar or sugar alternative

I used about 12 packets of splenda or any sugar alternative you desire)

250

ml

whipping cream

8

oz

cream cheese

1

teaspoon

vanilla

3

tablespoon

unsweetened cocoa powder
Instructions
Wash, cut in half and remove the pit from cherry. If you have one of those fancy cherry pitter, better yet!

Marinade vanilla vodka with your cherries. (If doing a kid friendly version leave out the vodka and add a dash of vanilla and sugar if your cherries are not sweet, but mine were delightful) Set aside.

In a bowl whip together the cream cheese, vanilla, and sugar alternatives. In a separate bowl, whip your cream until nice firm peaks. (set aside about ½ cup of whipped topping for garnish). Whip together both your cream cheese mixture and whipping cream and add cocoa. Taste and adjust for sweetness as desired.

Place your cream cheese mixture in a piping bag. (I used a large ziplock baggie and cut the end of it as I still do not have all the fancy baking equipment and that works fine too)

In 4 martini glasses or pretty glass cups, first place in a layer of marinated cherries then follow by a piping of chocolate cheesecake then followed by another layer of cherries and then more chocolate cheesecake and another layer of cherries until you reach the top of the glass.

Garnish with a dollop of whipped topping, cherries and chocolate shavings if you desire.
Notes
You can make these little Drunken Cherry cheesecake up to 24 hours in advance. Just cover them and top them with your cherry and toppings as desired right before serving.
Nutrition
Serving:
1
g
|
Calories:
523
kcal
|
Carbohydrates:
15
g
|
Protein:
6
g
|
Fat:
43
g
|
Saturated Fat:
26
g
|
Cholesterol:
148
mg
|
Sodium:
207
mg
|
Potassium:
297
mg
|
Fiber:
2
g
|
Sugar:
9
g
|
Vitamin A:
1713
IU
|
Vitamin C:
4
mg
|
Calcium:
108
mg
|
Iron:
1
mg