Stove Top Chicken Fajitas Sliders are made with pull apart stove top chicken on a gluten free homemade bun, piled high with grilled peppers, onions, jalapeños, black bean salsa and avocados.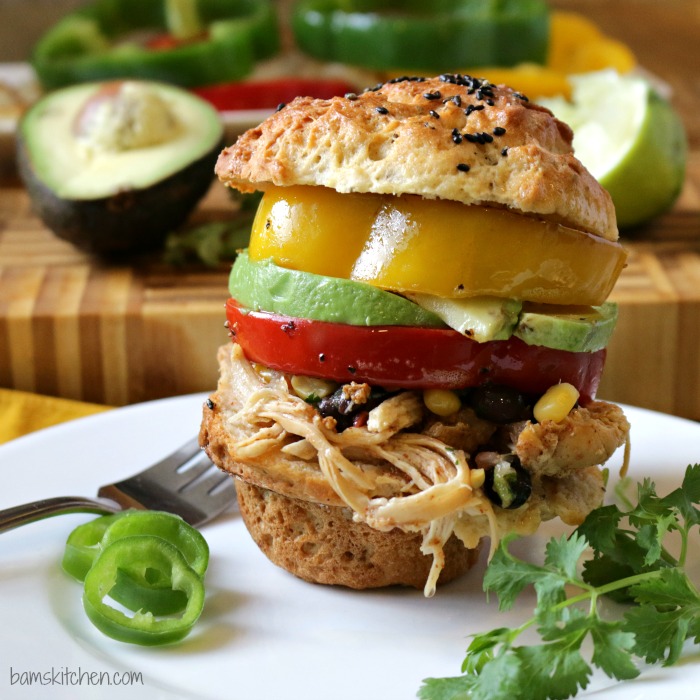 Oh yeah! Now that's a chicken fajitas slider sandwich! You best arm yourself with a handful of napkins as these little babies are juicy and delicious.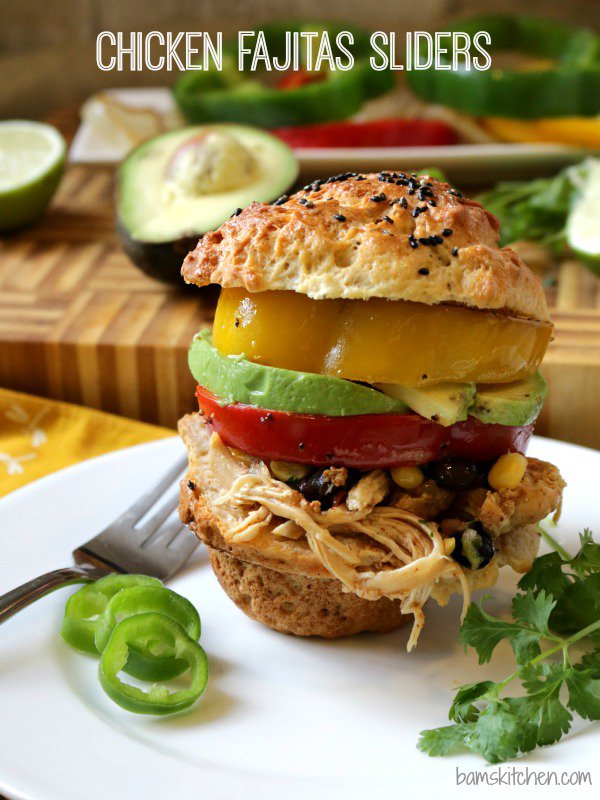 Best Hash Tag for our Stove Top Chicken Fajitas Sliders
After my eldest son took at least a million photos of his chicken fajitas sliders and posted them on instagram, facebook, you know all the usual social media platforms. He finally took his first bite. He said "Mom, these are good, I mean REALLY good" Well that about made my day! Not only do I have someone that understands the importance of getting that perfect photo before you take that first bite but he is also turning into a foodie. I am sure you can probably search for his Chicken Fajitas Sliders on instragram under the hashtags such as #sickofwaiting3hourswhilemymomgetsagoodphototosoIcaneatmydinner... or something like that. I love my boys!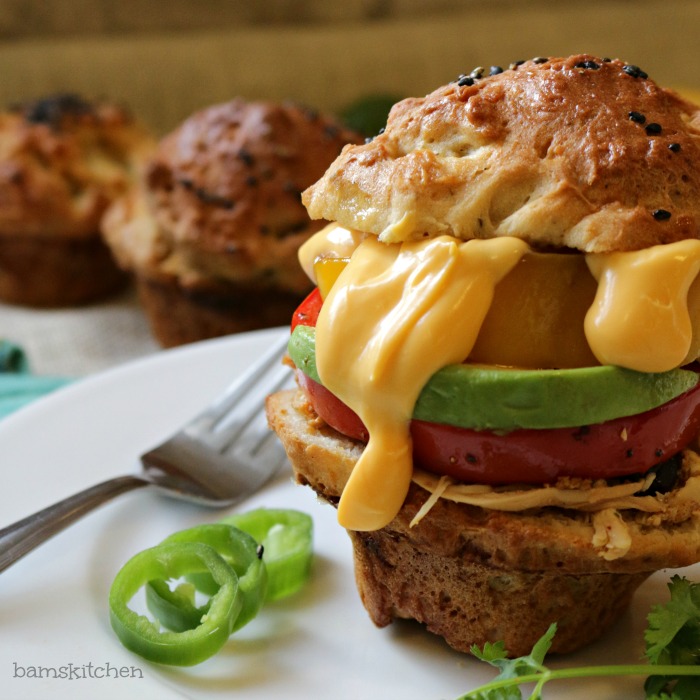 Gluten-Free
This recipe evolved out of necessity. I was in the process of baking my Gluten-Free Herbs de Provence Buns and I also wanted to make slow cooked pull apart chicken. I have been craving that lately since the temperatures are a little cooler. You can't set the oven to be two completely different temperatures at the same time. No, I do not have a double oven, only in my dreams. I also do not have a slow cooker. I really had a hankering for some slow cooked chicken and needed to get it going soon as it usually takes hours to cook. Hmmm..... brainstorming....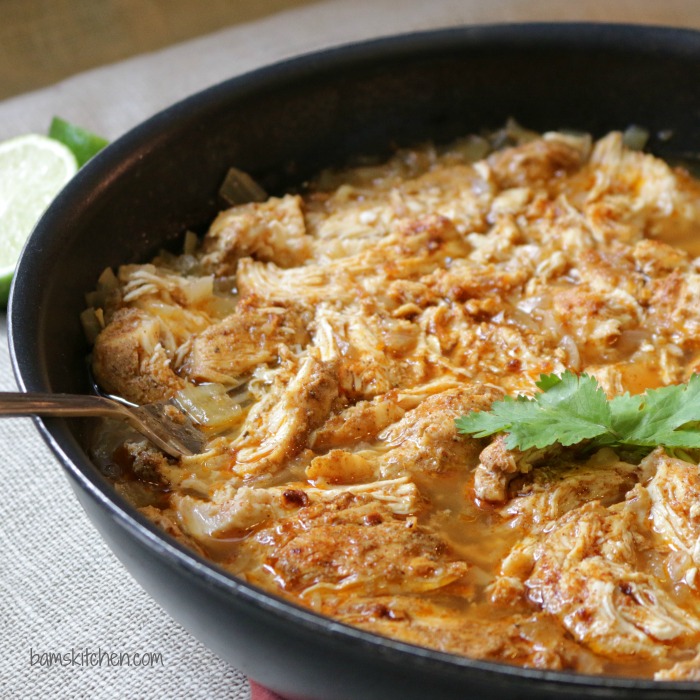 Stove top
Then wahla, the whole concept of poaching came to mind well kind of a kicked up poaching on the stove top. I started out with a wee little bit of a marinade time with lots of delicious TEX Mex spices while I caramelized some onions and garlic in a pan. I performed a quick pan sear of the chicken on both sides for a little color. Then I added some chicken broth and more seasoning and let it simmer for about 45 minutes and it was fall apart perfectly tender and delicious. I used chicken tenders as that is what I had on hand but you could also use chicken breasts.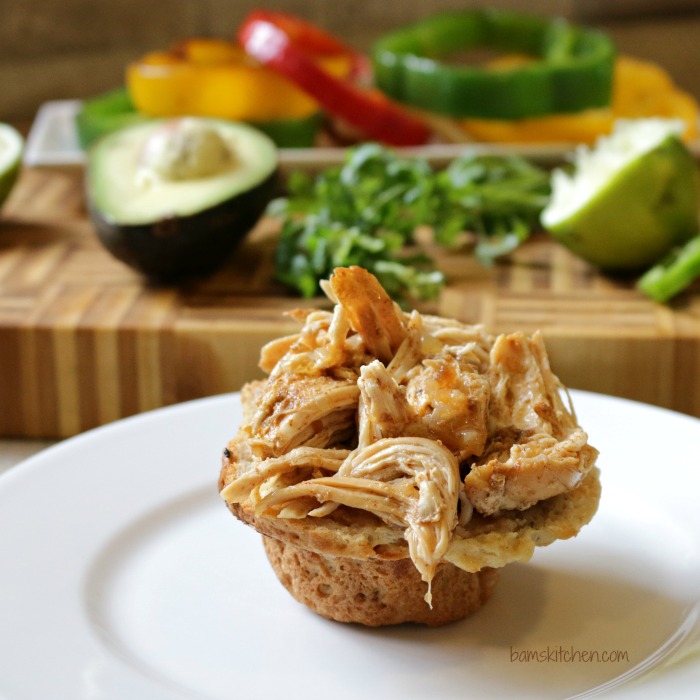 Just on a side note, if you are looking for some new and ingenious ways to disguise your turkey meat leftovers, all you would need to do is to warm up a few slices of turkey with a little turkey juice and some Tex Mex spices and you are in business. Turkey Fajitas sliders would be awesome!
Slow Cooker Options
If you have a slow cooker, then you can add everything except reduce the liquid by half and cook on low before you leave for work and when you come home you will have a pot of chicken deliciousness waiting for you.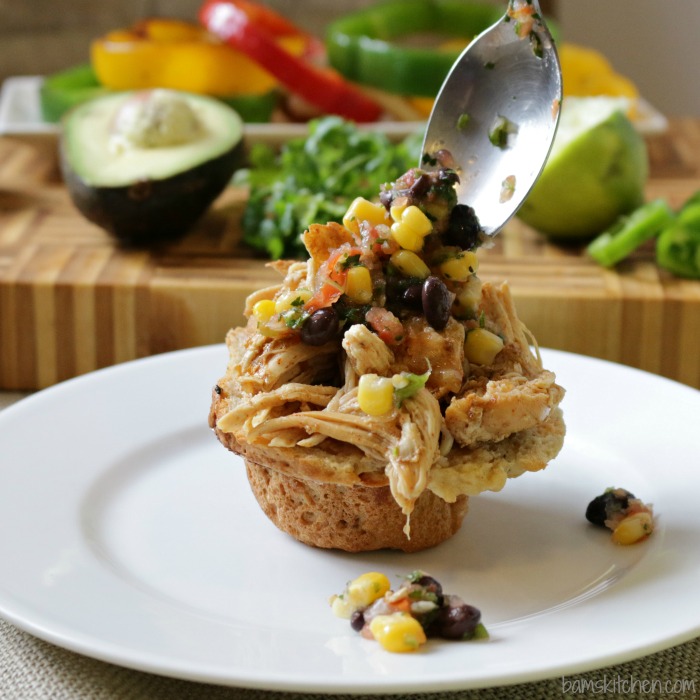 Toppings Unlimited
You can't have a fajitas without all of the delicious toppings so I quickly grilled some onions, tri-colored peppers and even some jalapeños. I made some quick and delicious black bean acme salsa, prepared some rocket, avocado slices and con queso cheese for my boys (Hold the cheese for dairy-free or vegans).
You can eat these delicious chicken fajitas sliders in a flour or corn tortilla or can try one of my Gluten-Free Herbs de Provence Buns or just one of your favorite store bought buns.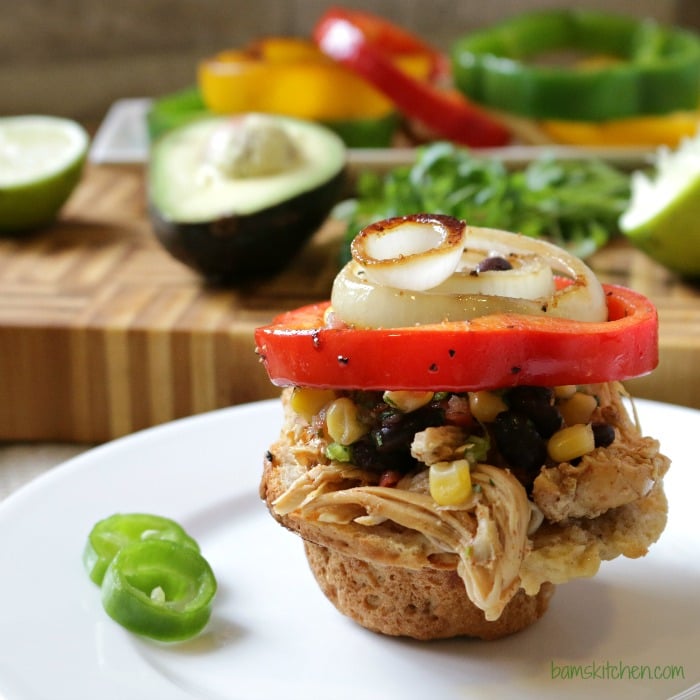 I could just eat the chicken fajitas mix by the forkful right out of the pan but the toppings on the fajitas really make this sandwich up and over the top- literally speaking. This chicken fajitas slider sandwich is a mouthful. This dish is super easy to prepare. However, cut yourself some slack over the holidays and buy already prepared salsa, guacamole and your buns or wraps or other toppings from the market already prepared and the rest is a breeze. The only real issue is how your going to get that piled high sandwich in your mouth. Where there is a will, there is a way!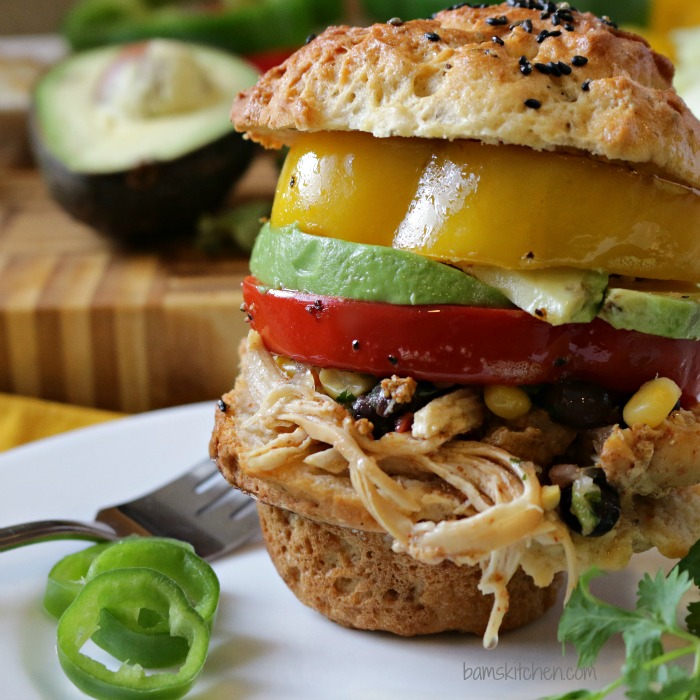 If you want to make my homemade salsa from scratch it really is a breeze especially if you have a food processor. I use a pre-made taco mix that you can get in the grocery store to save time but you can make your own and check out Gimme Me Some Oven's DIY Homemade Taco Seasoning.
Will you be entertaining out of town guests for several days before or after the holiday? Stove Top Chicken Fajitas Sliders can be served up buffet style and let everyone help themselves. I think they will love it so much they will all volunteer to help with clean up. Well that would be lovely don't you think?
More Delicious TEX MEX Recipes
Shrimp Burritos with Creamy Poblano Sauce
Baked Cheesy Salami Wrapped Jalapeños
How to Make the Best Turkey Taco Lettuce Wrap
Chicken Enchiladas with Fire Roasted Poblano Peppers
Hungry For More? Subscribe to our Newsletter and follow along on Facebook, You Tube, Instagram, and Pinterest for all the latest updates.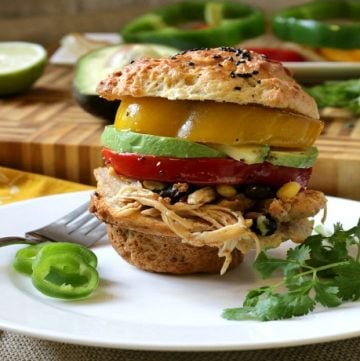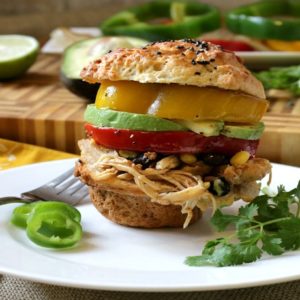 Stove Top Chicken Fajitas Sliders
Stove Top Chicken Fajitas Sliders are made with pull apart stove top chicken on a gluten free homemade bun, piled high with grilled peppers, onions, jalapeños, black bean salsa and avocados.
Print
Pin
Rate
Ingredients
Stove Top Pull Apart Chicken
1

onion


peeled and chopped

2

cloves

garlic


peeled and minced

2

tablespoon

olive oil

(1 tablespoon for onions to sauté and 1 for the marinade)


1.25

pounds

chicken tenderloins

1.5

tablespoon

taco seasoning

2

cups

chicken broth

salt and pepper


to taste

2

tablespoon

lime juice

Tex Mex toppings
1

tablespoon

olive oil

3

bell peppers


sliced in circles on the side (I used red, green and yellow bell peppers)

1

onion


peeled and sliced in circles

salt and pepper


to taste

1

avocado

peeled and sliced in wedges (sprinkled with a little lime juice to prevent browning)

1.5

cups

rocket


(arugula) or lettuce of choice
Black Bean Acme Salsa - optional (skip this step and can use jarred salsa if desired)

3

tomatoes

chopped

¼

onion

peeled and chopped

1

garlic


peeled and minced

⅓

cup

cilantro


(coriander) chopped

2

tablespoon

lime juice

salt and pepper


to taste

1

jalapeno


deseeded and chopped - optional

½

cup

corn


½

cup

black beans

Instructions
Place 1 tablespoon of olive oil in a large pan or dutch oven that has a lid and sauté onions and garlic until translucent and aromatic. In the mean time, place your chicken tenderloins in a bowl or plastic bag and add 1 tablespoon of olive oil, taco seasoning (or make your own

homemade

taco seasoning) and shake or stir to coat the chicken with the marinade. By this time, your onions should be cooked perfectly. Sprinkle with a little of fresh lime juice. Keep warm.

Place your chicken breast in the pan with the onions and do a light sear on both sides, just to give it a little colour. Add the chicken broth to cover and salt and pepper to taste. Place the lid on top just until it boils and then turn down to a low simmer. Cook for about 30 minutes or until fork tender. Shred chicken and let simmer for about another 10 to 15 minutes in the delicious juices.

While the chicken is cooking, prepare the toppings.

1) Saute the bell peppers and onions with a little bit of olive oil and season to taste just until a little golden brown on the edges but still a little crispy. Set aside. Slice your avocado and sprinkle with a little lime juice to prevent browning.

Make your homemade black bean acme salsa. (If purchasing salsa from the store just skip to step 5) In the food processor add chopped tomatoes, onion, garlic, cilantro, lime juice, salt and pepper and jalapeño (or to taste or desired heat level) and chop in food processor until coarsely chopped. Stir in corn and black beans. Taste and adjust seasoning as desired.

Assembly-

Place your opened bun (tortilla) on your plate. Add a layer of delicious stove top pull apart chicken. Then add some black bean acme salsa, a layer of sautéed bell peppers and onions, avocado slices, (con queso cheese if not vegan or dairy-free) rocket, and anything else your little heart desire. Finally add the lid to your bun. Enjoy!
Notes
Feel free to substitute the gluten-free bun with a gluten-free flour tortilla or whatever you desire. You can store the stove top chicken in the refrigerator up up to 3 days in a sealed container or up to 2 months frozen. Just heat and eat.
Nutrition
Serving:
1
g
|
Calories:
373
kcal
|
Carbohydrates:
43
g
|
Protein:
18
g
|
Fat:
15
g
|
Saturated Fat:
3
g
|
Cholesterol:
45
mg
|
Sodium:
724
mg
|
Potassium:
579
mg
|
Fiber:
5
g
|
Sugar:
6
g
|
Vitamin A:
1588
IU
|
Vitamin C:
69
mg
|
Calcium:
44
mg
|
Iron:
1
mg