Chili Taco Salad Bowls is made with hot zesty chili with melty cheese over a bed of fresh lettuce and vegetables and served in a homemade baked flour tortilla bowl.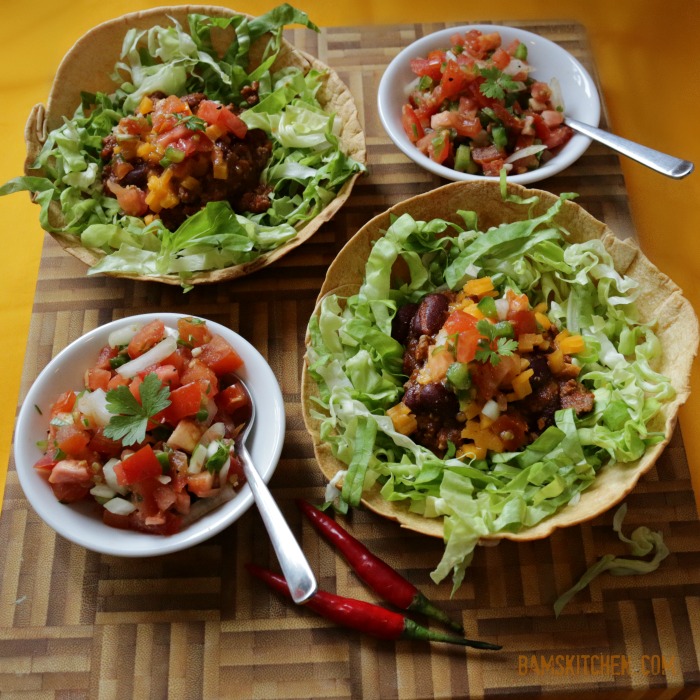 Why you are going to love Chili Taco Salad Bowls
Chili taco salad bowls are crunchy, filling, healthy and are a teenager tested and mother approved recipe. Clean up is a snap as you eat the bowl, so it has that going for it as well.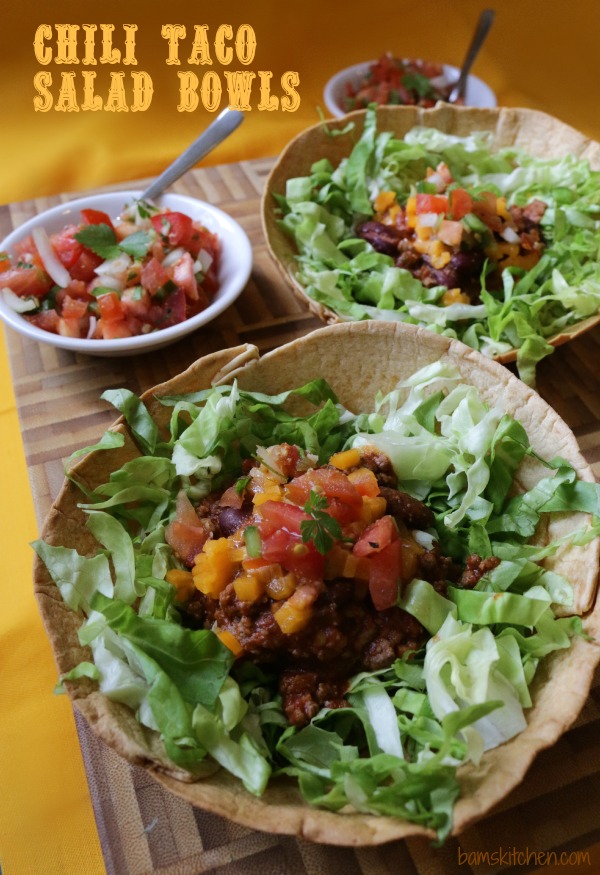 In the past, I have tried many methods of making the perfectly shaped taco salad bowl. I have tried wedging the flour tortillas into an upside down muffin tin. Those may I mention are the freakiest looking bowls ever and my wondered how they would ever fit any topping inside that little funky bowl.
I have also tried wetting the flour tortillas and then adhering them on to a bowl. That is so messy and it makes it stick alright, the difficult part is the removal..good luck with that. We made lots of practice flour tortilla chip accidents and the boys enjoy devouring them with the salsa.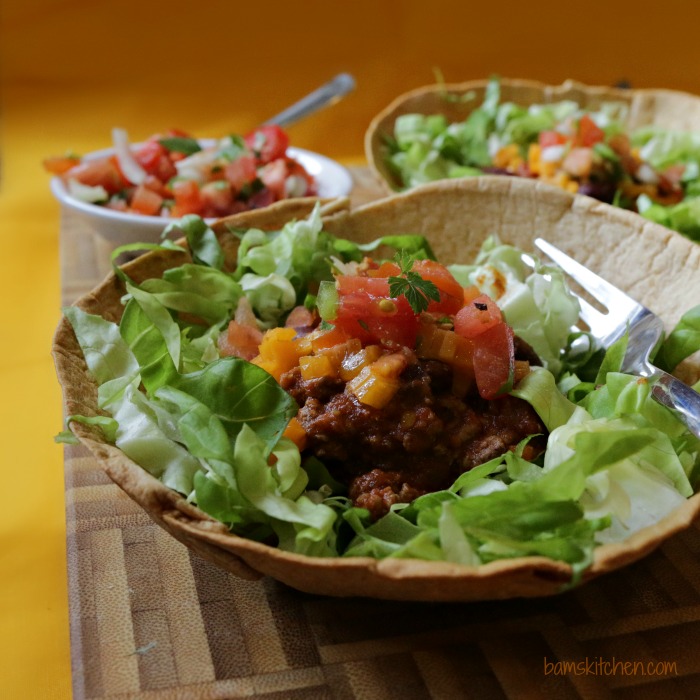 How to make a tortilla bowls from flour tortillas
By far, I think my no-nonsense way of making these baked delicious flour tortilla bowls is just simply the easiest and best end product. Spraying both sides of the flour tortilla with spray oil, then placing the flour tortilla over the bottom of oven proof bowls and pressing and pleating the edges and letting them bake for about 10 minutes or until golden brown makes them crunchy and delicious. If you want to make it gluten-free, then use corn tortillas. However, as living here in Hong Kong these things are really difficult to find.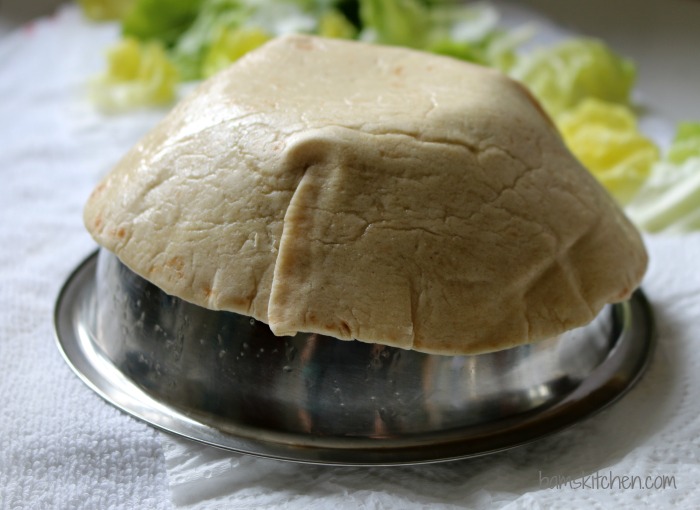 How to load up your Chili Taco Salad Bowls
Then, if you would like to make sure your bowl has a gortex (water proof) bottom, gently remove the flour tortilla from the upside down metal bowls and put in a handful of cheese on the bottom of the flour tortilla bowl and bake right side up for another 2 minutes until cheese is melted. This method is the easiest and you end up with a beautifully symmetric, round and perfectly crispy strong chili taco salad bowls.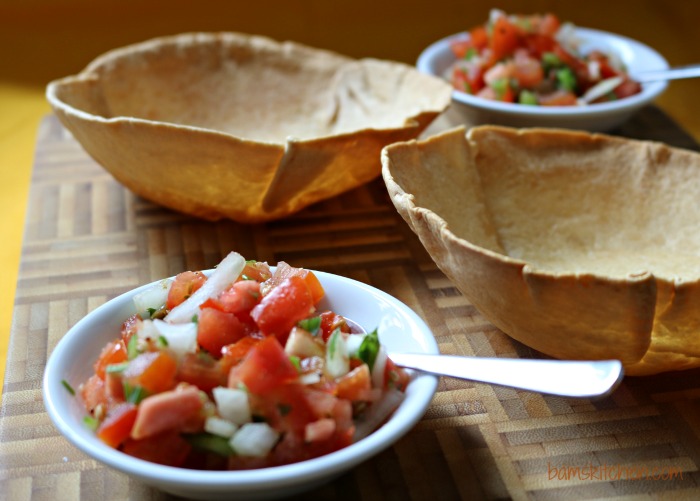 Now for the fillings for that perfect flour tortilla bowl...anything goes. You could just add lettuce and salsa or guacamole but I needed to fill up my hungry teenagers so added some hearty chill con carne and cheese to fill them up. However, you can make this recipe vegan with Mediterranean Harrisa Stew with Purple Sweet Potatoes from my dear friend Rika from Vegan Mian . The most important concept for me to share with you is not to use too much chili just a couple of tablespoons is all. You want your chill to hearty and thick so your bowls stay crispy and delightful.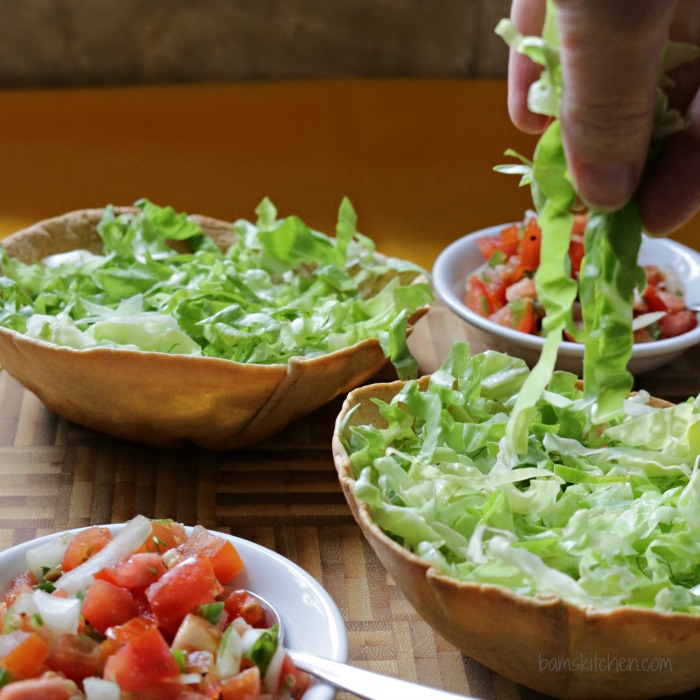 When I make up a batch of chili, I usually double the recipe as it freezes great and then you can use it in so many dishes such as in your chili taco bowls or on top of baked potatoes, or just in a bowl with some tortilla dippers. You could even use canned chili in this recipe and I wont tell a soul. Left over chili is the best, don't you think. The longer that the flavors have a chance to mingle the best.
Next we are on to the toppings and the sky is the limit as well, salsa, cheese, avocado, black beans, corn, sour cream, cilantro or maybe some sliced jalapeno. I did not need to use a salad dressing as my salsa added a nice kick to the Chili Taco Salad Bowls.
More Delicious Tex Mex Recipes Ideas
Stove Top Chicken Fajitas Sliders
Shrimp Burritos with Creamy Poblano Sauce
Tomatillo Key Lime Chicken Sizzle
How to Make the Best Turkey Taco Lettuce Wrap
Hungry For More? Subscribe to our Newsletter and follow along on Facebook, You Tube, Instagram, and Pinterest for all the latest updates.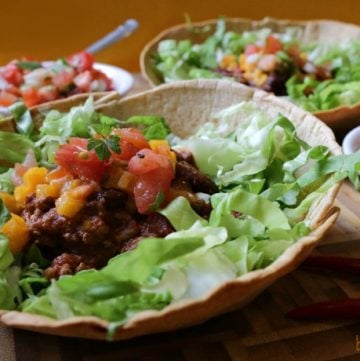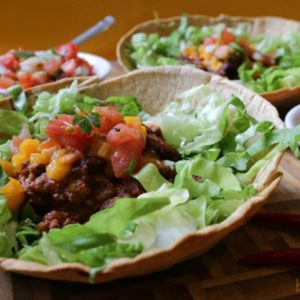 Chili Taco Salad Bowls
Hot zesty chili with melty cheese over a bed of fresh lettuce and vegetables and served in a homemade baked flour tortilla bowl.
Print
Pin
Rate
Ingredients
4

flour tortillas

olive oil spray


to coat both sides or tortillas

4

cups

lettuce


1

cup

chili con carne


leftover chili heated

1

cup

cheese


cheddar or cheese of choice

1

cup

salsa
Instructions
Preheat oven to 400 degrees F (204 C).

Warm up your flour tortillas for just a few seconds in the microwave to make them pliable. (You can also use soft corn tortillas or gluten free tortillas but your bowl effects may not be as good as they are not as soft as the flour tortillas to form) Spray both sides of your flour tortilla with spray oil and mold your flour tortilla over an over oven proof bowl. Make 3 pleats in your flour tortilla and press and squeeze them down so that the flour tortilla fits like a glove over the bowl. Bake for about 10 minutes or until golden brown. Gently remove plates from upside down ovenproof bowl and turn right side up. (If you want to create a vortex water proof barrier on the bottom of the flour tortilla bowl then add a handful of cheese and bake for about 2 minutes more. If you do not want to add cheese then just turn right side up and bake for 1-2 minutes more. Set aside.

While your flour tortilla bowls are baking, heat up your chill con carne, slice your lettuce and prepare your

salsa.

Assemble your Chili Taco Salad Bowls. In your baked flour tortilla bowls, place in a handful of lettuce, top with chili and then your cheese and then with a little salsa and any other topping you choose. Enjoy!
Notes
You can make the taco salad shells up to 48 hours in advance and store in a sealed container. Do not refrigerate as this will make them soft.
Nutrition
Serving:
1
g
|
Calories:
305
kcal
|
Carbohydrates:
30
g
|
Protein:
15
g
|
Fat:
15
g
|
Saturated Fat:
8
g
|
Cholesterol:
41
mg
|
Sodium:
1181
mg
|
Potassium:
594
mg
|
Fiber:
6
g
|
Sugar:
6
g
|
Vitamin A:
1172
IU
|
Vitamin C:
4
mg
|
Calcium:
298
mg
|
Iron:
4
mg