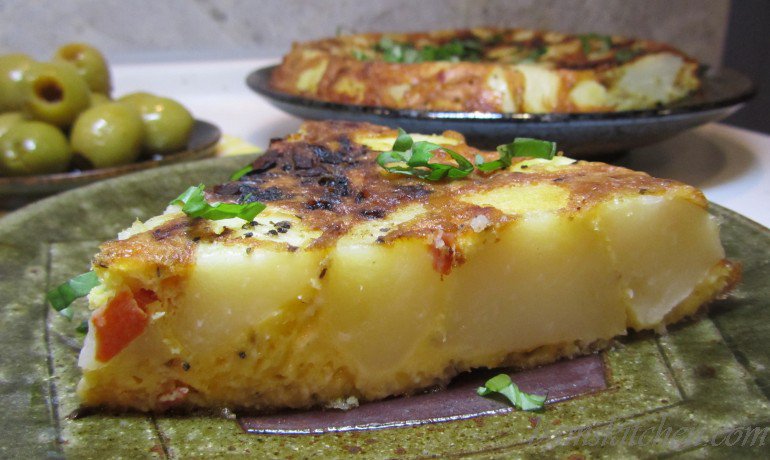 Are you ready for an evening of fun?
Invite some friends over at the last-minute and you can have an instant "Tapas and Tinis Party" in less than 30 minutes flat. Really! If the end of the world is supposed to happen on this Friday, then you don't want to spend needless time prepping for a party...Heck I am not even going to clean the house.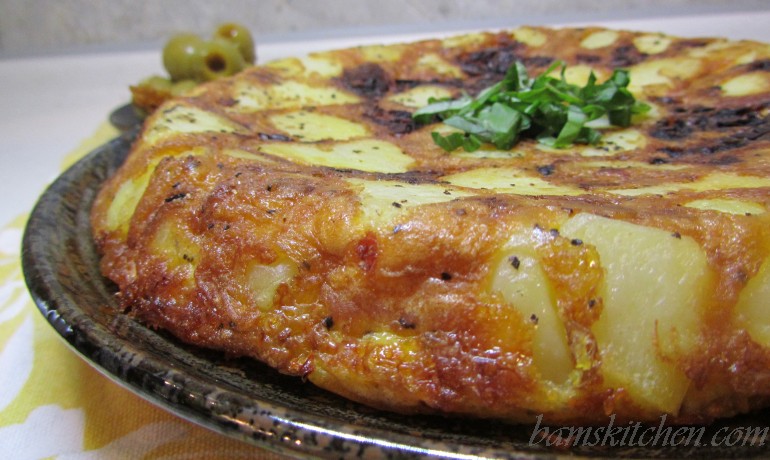 Tis the season to be jolly and Tapas and Tinis are a sure fire way to get the party going. In Spanish, a 'tapa' is a 'lid' or 'cover'. In the early days of tapas, a slice of cheese or ham was given with your drink and placed over your drink. There is some debate over why exactly this was done and nor in the ancient days do I really want to know why... However, I am so happy this little tradition started. "Tinis" is an abbreviation for a martini cocktail.
Tapas can be eaten any time of the day as long as it comes with a drink. Great news for you as I have you covered with some delicious "Tinis" or martini ideas as well to keep all of your guests (adults and kids) happy.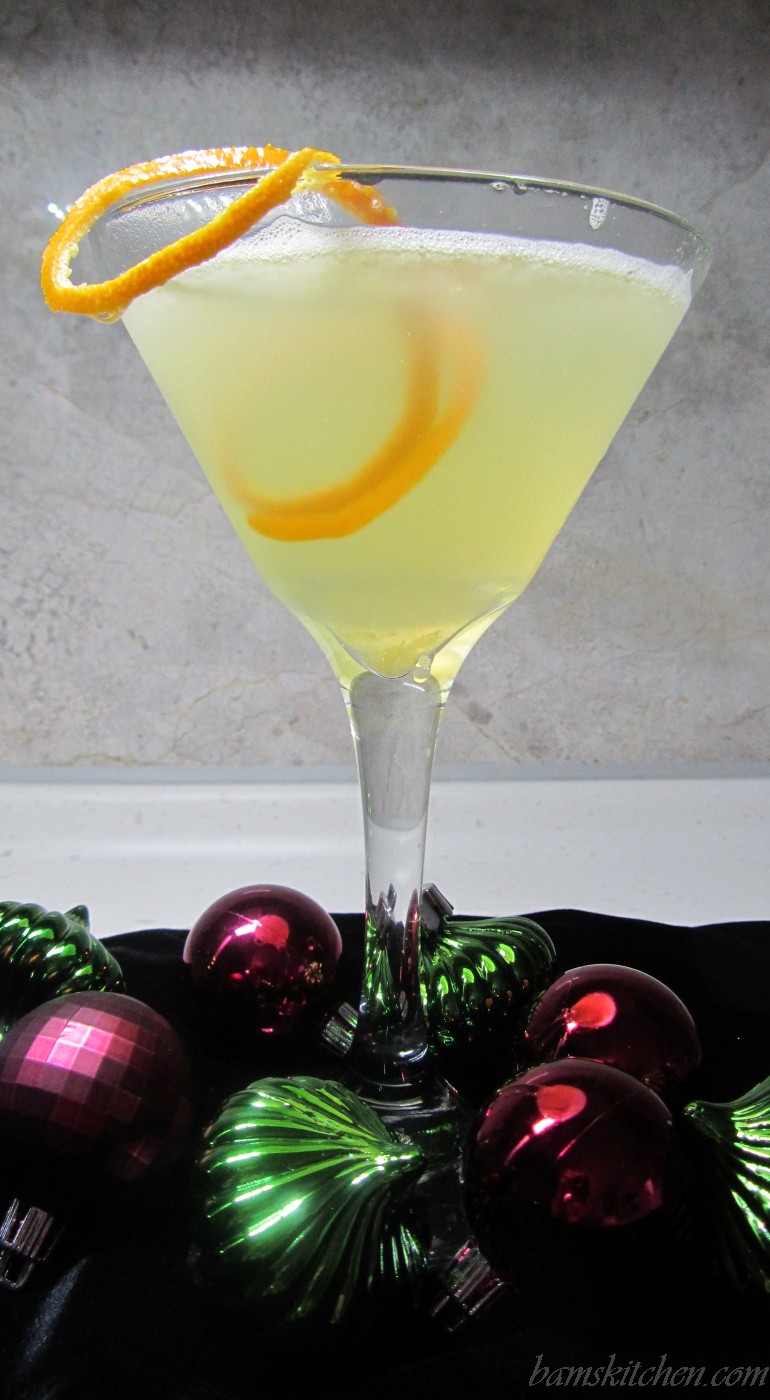 A tortilla Espanola also known as a Spanish omelet is a delightful blend of potatoes, eggs, cheese, chorizo and seasonings. This tasty dish can be eaten hot out of the oven or at room temperature. In addition, this little tapas is also gluten-free. Just the list of ingredients lets you know this is a teenager friendly dish.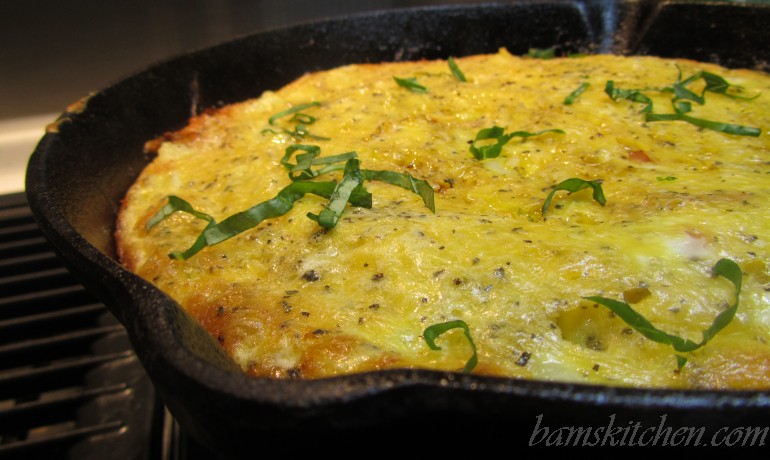 Teenagers must have hallow legs as where do they put all of that food. Daily food shopping is something that is required here in Hong Kong as we have to rely on public transport and we have to carry everything home like Sherpas. However, when you have hungry teenagers even this is not enough. Food evaporates into thin air. If it is not nailed down, it is gone. My refrigerator and pantry were so empty that they made a loud echo with the squeak of the door due to the large hallow area inside. In scarce times like this, the tortilla Espanola is the perfect low maintenance tapas for when your refrigerator and cupboards look like Mother Hubbards.
Tortilla Espanola (Spanish Omelet)
Serves 8-10 as an appetizer or 2 hungry teenagers
8 medium potatoes (peeled and chopped into large cubes)
water to boil potatoes
75 grams chorizo sausage chopped
1 onion chopped
olive oil
6-8 beaten eggs (depends on size of eggs and iron skillet)
75 grams of grated Cheddar or Manchego cheese
salt and pepper to taste
optional (roasted red peppers, jamon)
hot sauce or red sauce (optional)
Step 1: Boil your potatoes for about 10-12 minutes or just until fork tender. Drain and set aside
Step 2: Preheat oven to 190 degrees Celsius or 375 F.
Step 3: In a frying pan place about a tablespoon of olive oil, chopped chorizo and chopped onion and cook about 3 minutes or until the onion caramelizes (If you wanted to add roasted red peppers or jamon or other items they would be added at this time)
Step 4: Grease your iron skillet with olive oil on the bottom and all sides (very important step). I used a paper towel to do this. (If you do not have an iron skillet ,either use a pan or plate that can go safely from the top of the stove and then into the oven)
Step 5: Place you iron skillet on the stove top and heat up on medium heat. Add cooked potatoes, spread on top cooked onions and chorizo mixture. Season beaten eggs with salt and pepper to your liking and pour on top of the potato, onion and chorizo mixture. Then finally top with shredded cheese. Cook on top of stove just until it starts to set up and then pop into the oven for another 5-8 minute or just until the egg mixture sets up and the top of the Spanish omelet is golden brown.
Step 6: Let your omelet rest for just a minute or so and run a knife around the edges of the omelet. Place a plate larger than your pan over the top of your Spanish omelet and carefully invert your pan upside down to release the omelet.
Step 6: Serve Tortilla Espanola with a delightful Tinis (recipe to follow), side of olives and an easy greens salad with rocket (arugula) in a simple vinaigrette. Enjoy a simple no fuss gathering with family and friends.
Agua de Valencia' Martinis Recipe (Adults only)
Recipe adapted from label on Smirnoff Vodka.
Serves one Adult and no kids....
Juice of one fresh orange
1 shot of Gin
1 shot of Vodka
Pinch of sugar (or alternative sugars such as stevia, optional)
ice
Cava (or Champagne,sparkling wine, Prosecco) to top it off
garnish with oranges
Step 1: Add juice of orange, gin, vodka, few ice cubes and pinch of sugar into a martini shaker and shake well. Strain out ice and pour into a chilled martini glass.
Step 2: Top off martini with a splash of Cava (or Champagne, sparkling wine, Prosecco) and garnish with oranges. Enjoy!
Agua de Valencia' Martinis Recipe (Kid Friendly Version)
Makes 1 Virgin Martini for the kids and teenagers
juice of 2 fresh oranges
pinch of sugar (or alternative sugar such as stevia, honey,depends on how sweet your oranges are etc)
ice cubes
Sparking apple juice
garnish of fresh orange slices
Step 1: Add orange juice, ice and a pinch of sugar into martinis shaker and shake well.
Step 2: Strain orange juice mixture into a chilled martini glass, top off with sparkling apple juice and garnish with orange slices. Enjoy!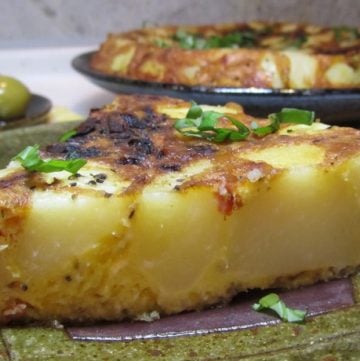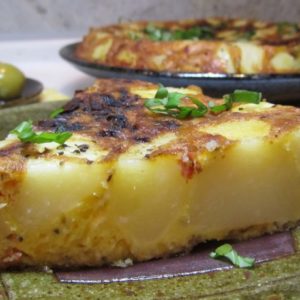 Ingredients
potato -

eggs -

chorizo -

manchego cheese -