Blackberry Lemon Drop Biscuits are made with Juicy blackberries in a delightful gluten free, dairy free and egg free biscuit drizzled with sweet and sour lemon glaze.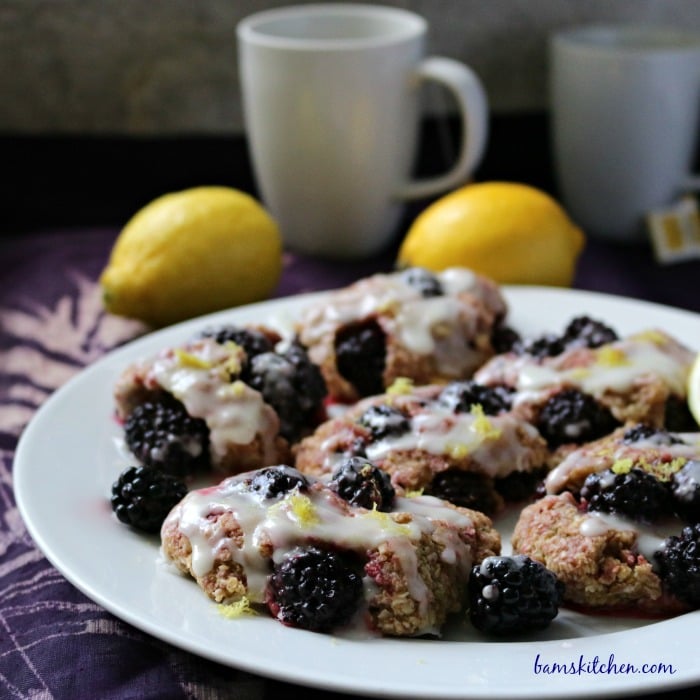 5 Fabulous Reasons to Enjoy Blackberry Lemon Drop Biscuits
easy to make
breakfast on the go
uses fresh berries
gluten free
vegan
There are good baking days and then there are others days that are not good baking days. I alert my family when I am having one of my not good "baking days" and those usually end up with bread that is so dense you it could use it as a door stop, fallen cakes and/or just plain lack of motivation to turn on the oven.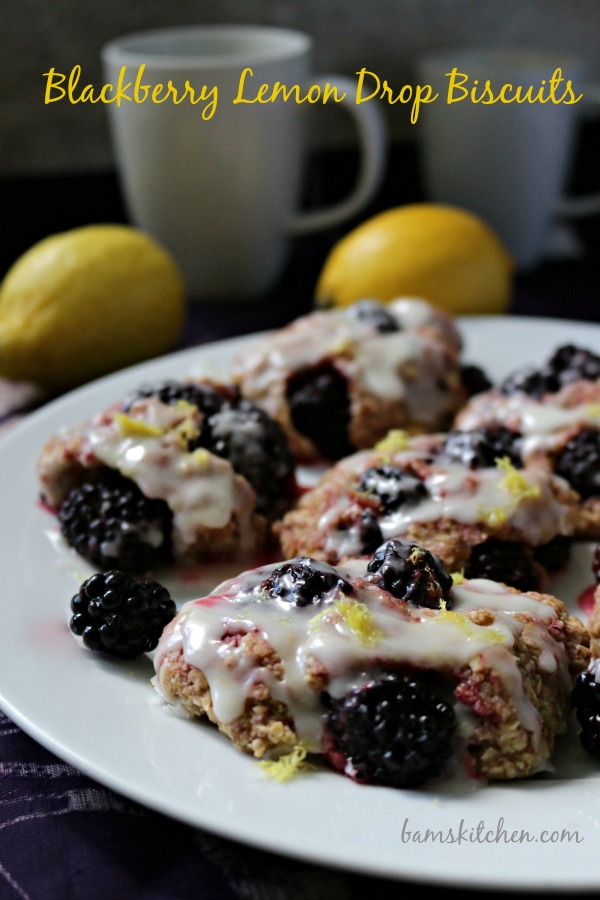 Now, not all of this is my fault. I have an evil possessed oven, I like to call her "Pearl". Pearl decides on "her" own what temperature she feels like being at. The set oven temperature will change at a moments notice with out a shout out or any warning... "She" is very temperamental and hormonal. The odd thing about it is she is only moody with me and she is on her best behaviour when the Meile representatives come and have a chat with her...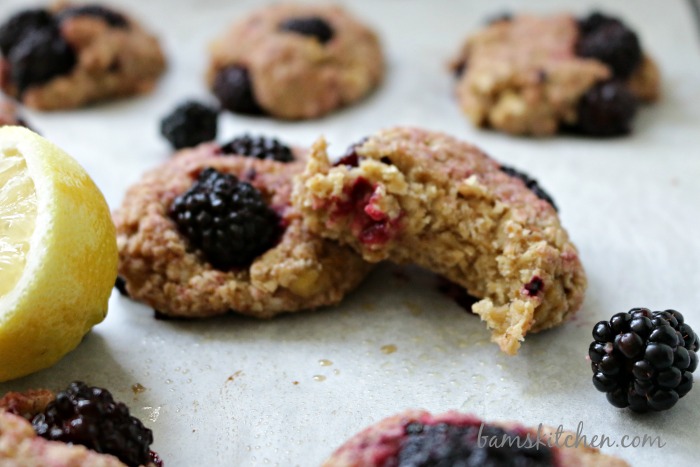 I actually cannot complain. When we used to live in Japan, I only had a fish oven. For those of you do not know what that is it is a very compact oven and the top portion has a slide out section that you put a little water to help steam it from the bottom and the top gets nice and toasty. That is all great and wonderful when all you cook is fish every day but try to explain that to teenagers that want dozens of x-mas cookies or a full and complete Thanksgiving meal with a 12 pound turkey. Now the turkey solution was a glazed turkey breast, there is no way a full 12 pound turkey was going to fit in this little " Suzie Q baking oven".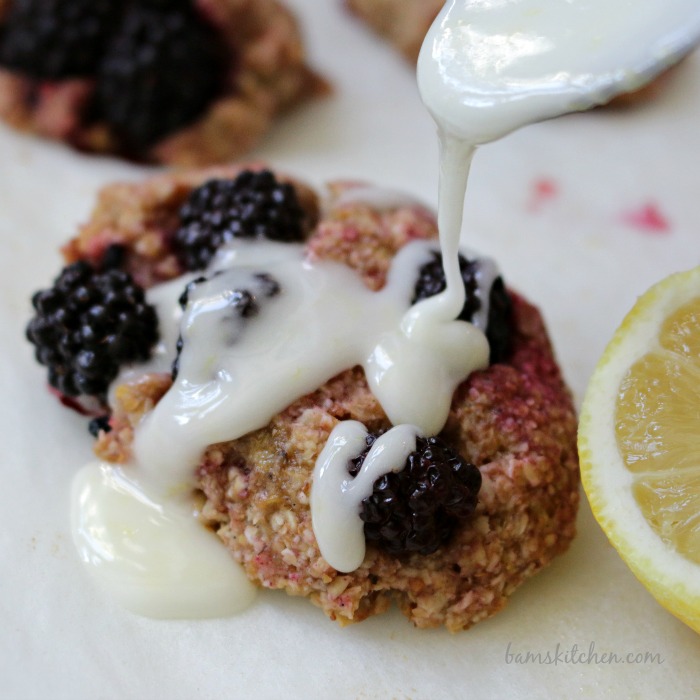 There are some days that I just love to bake and when "Pearl" is being behaved I like to make healthy treats for my boys lunches that even I can eat. I found a recipe from one of my favourite little bloggers, Iowa Girl Eats.
I just love her recipes!!! She made this delicious Lemon Blackberry Breakfast Cookies and they matched up exactly with my dietary requirements at home. In addition, even if you have a temperamental "Pearl" existing in your kitchen these are breeze to make...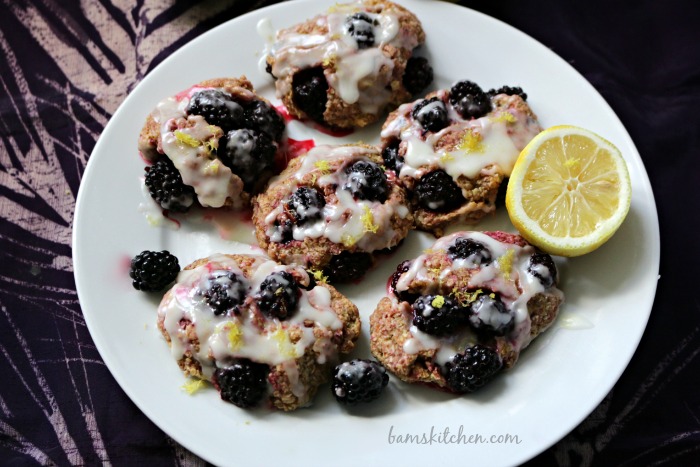 Breakfast on the Go
These little blackberry lemon drop biscuits are a perfect breakfast on the go or a snack for school, work lunches or even sharing over a cup of tea/coffee to catch up with your friends. They are lovely plain but my boys really like the Blackberry Lemon Drop Biscuits with just a little drizzle of the sweet and sour lemon glaze. I bet these little drop biscuits would also be lovely with raspberries, blueberries, strawberries or any fruit that your little heart desires.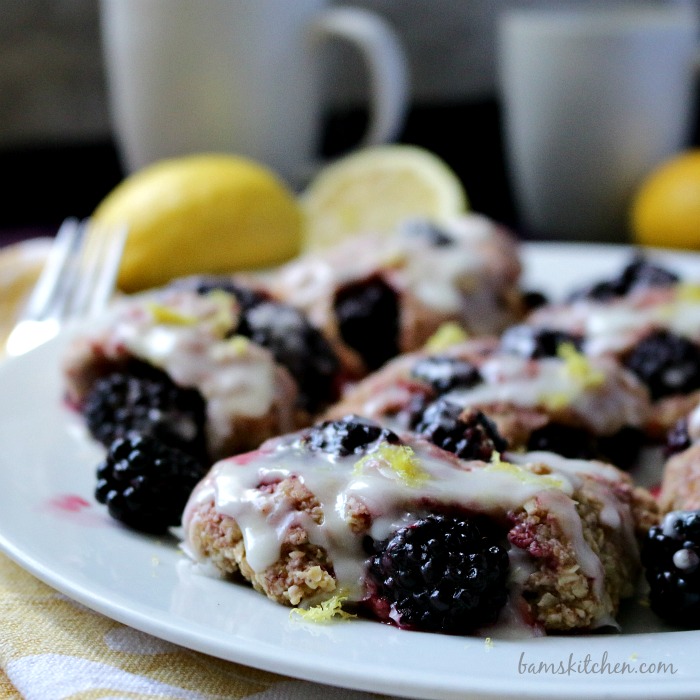 More Breakfast Recipes on the Go
Baked Matcha Lemon Glazed Donuts
Grab and Go Chai Breakfast Biscuits
Hungry For More? Subscribe to our Newsletter and follow along on Facebook, You Tube, Instagram, and Pinterest for all the latest updates.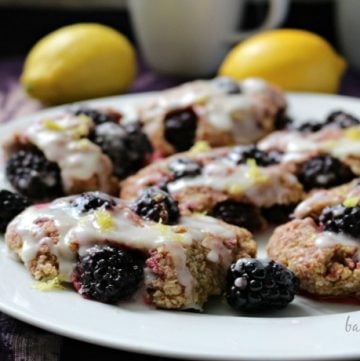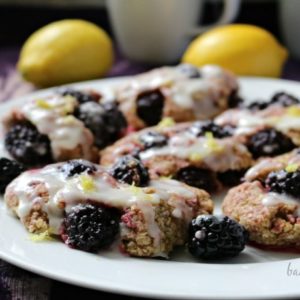 Blackberry Lemon Drop Biscuits
Juicy blackberries in a delightful gluten free, dairy free and egg free biscuit drizzled with sweet and sour lemon glaze.
Print
Pin
Rate
Ingredients
3 and ¾

cups

oatmeal

instant dry ( if you have celiac disease, make sure they are gluten free)

½

teaspoon

baking soda

½

teaspoon

salt


½

cup

flax seeds


ground

2

tablespoon

chia seeds


½

cup

apple sauce

½

cup

bananas

2 small extra ripe

¼

cup

honey

¼

cup

coconut oil


1

tablespoon

coconut oil

1

teaspoon

vanilla


1

tablespoon

lemon zest


¼

cup

lemon juice


1

pint

blackberries

or exchange with raspberries, blueberries, strawberries.
Lemon Drizzle
1

cup

powdered (icing) sugar


1

tablespoon

lemon juice

1

teaspoon

lemon zest

optional garnish
Instructions
Preheat oven to 350 degrees (176 C). Line your baking sheet with parchment paper/waxed paper or sometimes also called cooking paper.

In your food processor, add 1 and ¾ cup oats and process until a fine oat flour (or you can use oat flour from the market). In a medium bowl mash banana with fork. Set aside.

In a large bowl dump in the following ingredients...oat flour, reaming instant oats, baking soda, salt, ground flax seed, chia seeds, applesauce, mashed banana, honey, coconut oil, vanilla, lemon zest and lemon juice and mix until well incorporated. Gently stir in raspberries. (Careful not to break the raspberries as they will make a purple mess)

Take ¼ cup and drop batter onto the waxed paper lined baking sheet. It makes about 14 large drop biscuits.

Bake for about 8-10 minutes or until golden brown around the edges and set on the top. Cool cookies on rack.

Make lemon icing: In a medium bowl add powdered (icing) sugar and lemon juice and stir. Add a little lemon juice at a time as it should be thin enough to pour but thick enough to make a glaze. Glaze the top of each cooled Blackberry Lemon Drop Biscuits. Garnish with a little lemon zest and enjoy.

Store in the refrigerator for up to 24 hours and then freeze up to 2 months if not going to eat right away.
Notes
This recipe is quite crumbly. You may make into a bar instead of a drop biscuit by lining your 8 x 8 baking pan with waxed paper and then packing in your Blackberry Lemon Drop Biscuits dough. You will need to increase your baking time to 25 - 30 minutes or until golden brown. Allow to cool in pan and then drizzle on your lemon icing, cut into squares and serve.
Nutrition
Serving:
1
g
|
Calories:
204
kcal
|
Carbohydrates:
29
g
|
Protein:
4
g
|
Fat:
9
g
|
Saturated Fat:
5
g
|
Sodium:
128
mg
|
Potassium:
188
mg
|
Fiber:
5
g
|
Sugar:
17
g
|
Vitamin A:
72
IU
|
Vitamin C:
10
mg
|
Calcium:
42
mg
|
Iron:
1
mg