St. David's Day Welsh Cakes are light and fluffy teatime treats that are cross between a pancake, cookie and scone and are purely delicious way to celebrate St. David's Day.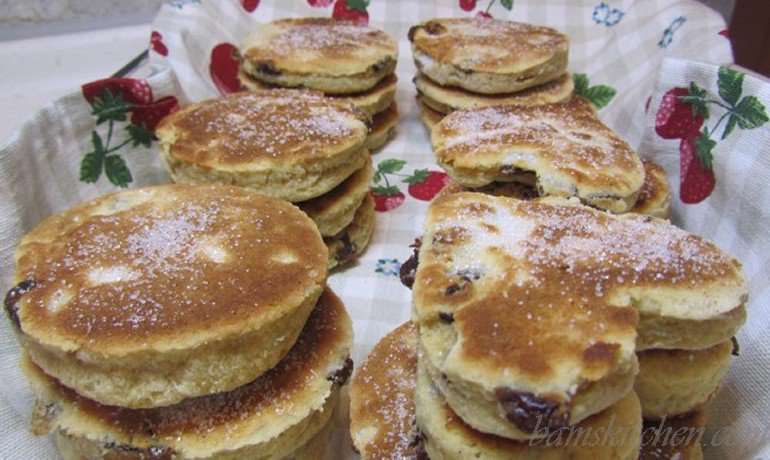 St. David's Day Welsh Cakes are delicious way to Celebrate St. David's Day
These delightful cakes are such a fun treat. They are completely portable little fun teatime treats. You can eat them for breakfast, a mid-afternoon snack or anytime you are craving something slightly sweet. We like to eat these delicious cakes plain but also enjoy them with a little slather of our Apricot Freezer Jam Recipe or our Strawberry Rhubarb Refrigerator Jam. Easy enough to just eat in your hands or decadent enough to eat with garnish berries and Homemade Coconut Whipped Cream.
Have you ever heard of St. David's Day?
I personally had never heard of it before until I was invited to a St.David's Day gathering this weekend to enjoy in the heritage festivities of the this Welsh tradition.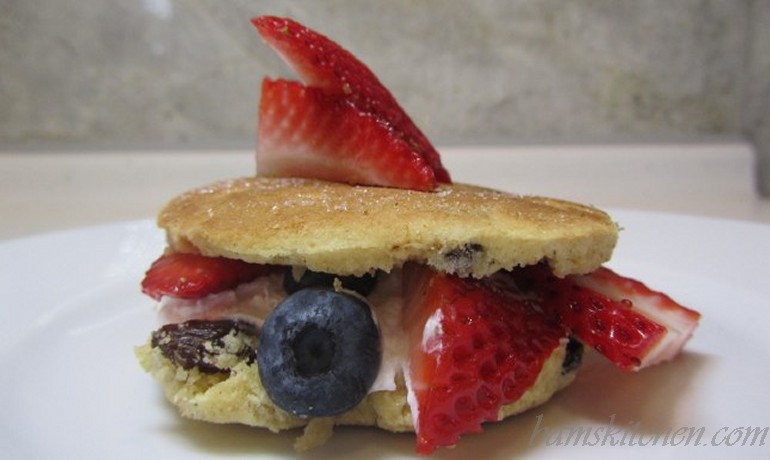 St. David's Day History
Now most everyone has heard of St. Patrick's day, have you not? This saint is from Ireland. We drink green beer and Irish traditions are well known around the world. However, St. David was born some time in the middle of the 6th century, about 542 AD, in Pembrokeshire, South Wales, and is thus the only one of the British Saints to be Patron of his home country.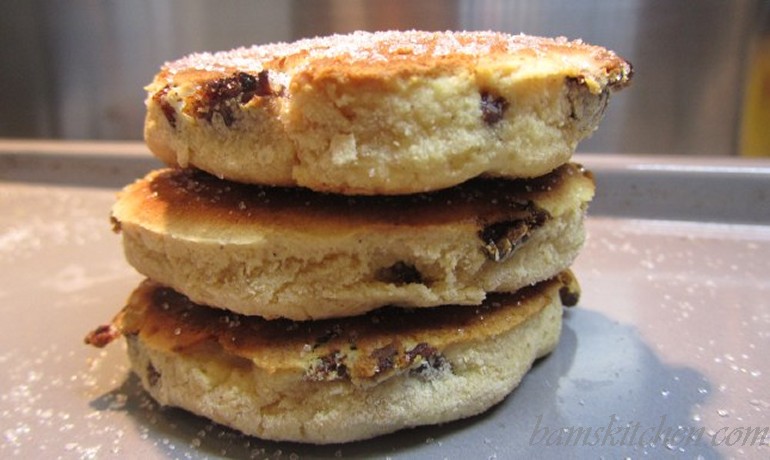 St David also known as Dewi Sant was a Celtic monk, abbot and bishop, who lived in the sixth century. He spread the word of Christianity across Wales.
The most famous story about Saint David tells how he was preaching to a huge crowd and the ground is said to have risen up, so that he was standing on a hill and everyone had a better chance of hearing him. He was known as a powerful orator and many legends grew up about miraculous events around him.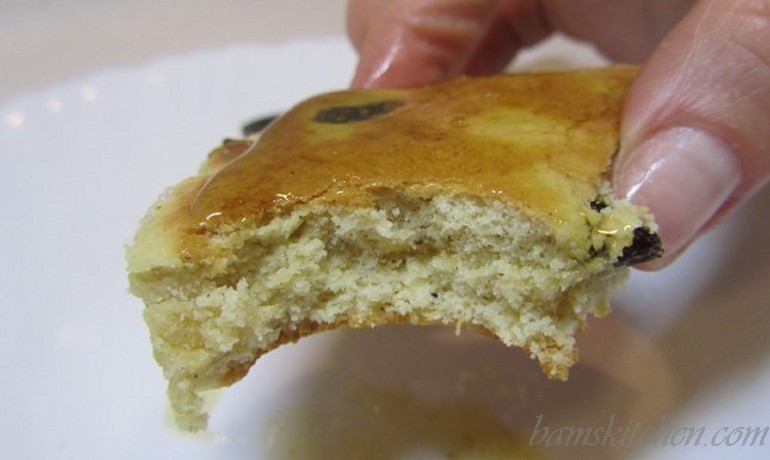 St. David died on March 1st in 589 AD and he was canonized in 1120; his feast has been celebrated on the anniversary of his death ever since.
There are many customs and traditions to be enjoyed by all. Of course there is rugby but that is a little difficult to play in an apartment in Hong Kong. So instead one of the guests shared with us the story behind the Welsh Heart (Love) Spoons and the tribute to their rugby teams.
Welsh heart spoons have the tradition of being gifted during weddings or other significant joyous events. Each carving has distinct meanings and sediment to those it is passed on to and is cherished by the family or team it is given to.
The Welsh Heart Spoons are carved from one piece of wood to display the carver's skill. The carver uses nothing more than a knife, or small pocket-knife. The handle received his full attention and skills, eventually being carved with piercings, relief, fretwork, or all three woodcarving techniques.
Wooden chains, swivels, balls within chains and rings displayed even greater skills, as the carvers figured out how to make these from one piece of wood.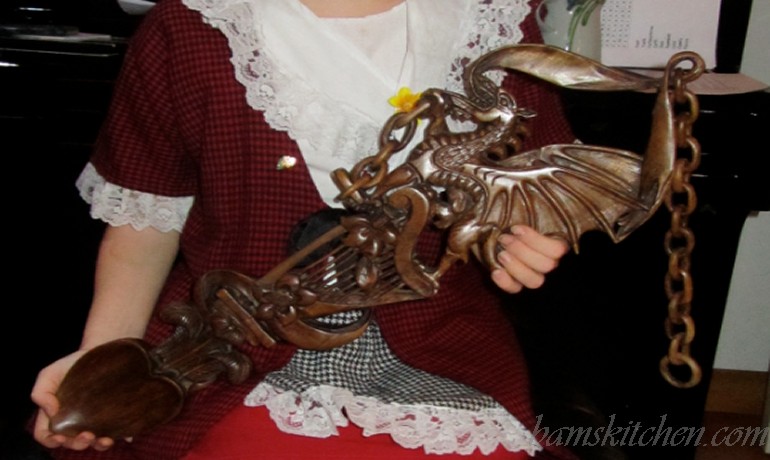 During St. David's Day celebrations there is a lot of singing, playing of the harp and of course eating. The national emblems of Wales is the daffodil and the leek. Our dear hostess created a lovely potato and leek soup and I needed to bring a dish to pass.
Welsh Cakes the perfect dish to pass
I did a little research on-line to find out about some traditional dishes from Wales and of course Welsh cakes came up over and over again. Welsh Cakes are a lovely little treat kind of the cross between a cookie, scone, pancake. St. David's Day Welsh Cakes are cooked on top of the stove and are to die for either hot off the griddle or at room temperature with a bit of jam, honey or with whatever suits your fancy.
Now here came my stress, I was going to create a dish I had never made before and bring it to a group of friends that have made this dish a million times before and a tradition handed down from generation to generation. (No stress here…)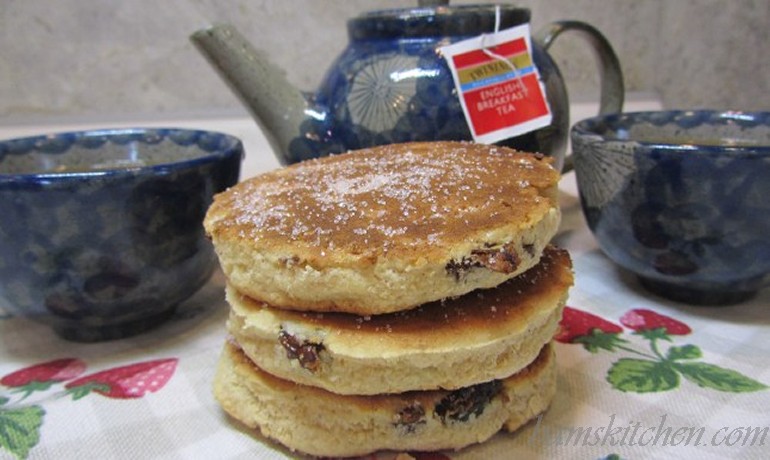 My dearest Jamie Oliver, don't fail me now….! I made some adjustments to Jamie's recipe and I guess it was not a complete failure as one of the proper Welshman, after eating about 8 St. David's Day Welsh Cakes or so, asked me if I made these Welsh cakes as these tasted just like the ones he used to have growing up.
Either he was just trying to make my day or this was the highest compliment. Please give it a try yourself and let me know what you think. Please read on to hear how to make these yummy St. David's Day Welsh Cakes…
More Delicious Teatime Recipes
Strawberry Rhubarb Refrigerator Jam (No Refined Sugar)
Icebox Lavender Lemon Angel Food Cake
Baked Matcha Lemon Glazed Donuts
Hungry For More? Subscribe to our Newsletter and follow along on Facebook, You Tube, Instagram, and Pinterest for all the latest updates.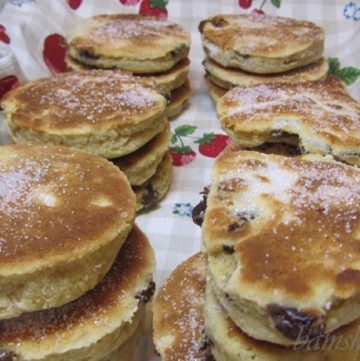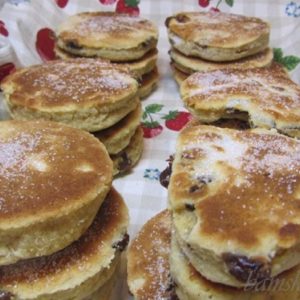 St. David's Day Welsh Cakes
St. David's Day Welsh Cakes are light and fluffy gluten free, dairy-free treats that are cross between a pancake, cookie and scone and are purely delicious way to celebrate St. David's Day.
Print
Pin
Rate
Ingredients
3

cups

flour


all purpose

1.5

cups

coconut flour

4

tsp

baking powder


12

tsp

butter


softened

1.5

cups

coconut sugar


or sugar alternative of choice

1

tsp

cinnamon


1/2

tsp

nutmeg


2

cups

raisins


4

eggs

8

tbsp

almond milk

or milk or dairy alternative of choice

oil spray

granulated sugar

for garnishing - optional

Garnishes

(butter, assorted jams, honey, even shipped cream and berries- whatever your little heart desires) - optional
Instructions
Sift flour, coconut flour, baking powder and salt into bowl. Add butter and mix until resembles fine breadcrumbs. Stir in sugar and raisins. Beat the eggs lightly and add to flour mixture with just enough milk to make a firm dough similar to shortcrust pastry.

Chill dough 1 to 2 hours.

Roll the dough to 1/4 inch on floured surface and cut with 3 inch rounds. (I used a glass to make round circles and one of my heart-shaped cookie cutters) Bake the cakes on a greased griddle over low heat until golden brown. Cool and sprinkle with sugar. These also freeze well.

Enjoy St. David's Day Welsh cakes on this special day or any day you want a lovely snack, yummy breakfast treat or tea time treat. Traditionally it is served with jams or honey. You can also really kick it up with some whipping cream and berries for a real treat. They can be served hot off the griddle my favorite or at room temperature. Happy St. David's Day!
Notes
You do not need to use coconut flour unless you want to. We ran out of granulated flour so added coconut flour in and it was really nice. However, if you do not want to add the coconut flour then you will need to add 1.5 cups of regular flour for a total of 4.5 cups of flour.
Nutrition
Serving:
1
g
|
Calories:
140
kcal
|
Carbohydrates:
26
g
|
Protein:
3
g
|
Fat:
3
g
|
Saturated Fat:
2
g
|
Cholesterol:
24
mg
|
Sodium:
56
mg
|
Potassium:
145
mg
|
Fiber:
3
g
|
Sugar:
5
g
|
Vitamin A:
77
IU
|
Vitamin C:
1
mg
|
Calcium:
35
mg
|
Iron:
1
mg