Warming and nourishing Roasted Butternut and Carrot Ginger Soup is filled with aromatic spices and creamy coconut milk topped with roasted pumpkin seeds and homemade seasoned croutons.

8 Delicious Reasons to Enjoy Roasted Butternut and Carrot Ginger Soup
Filled with warming spices and spleen nourishing vegetables
The caramelized onions and sautéed apple sweeten the soup and add another dimension to this rich and flavorful soup
Gluten-Free, Dairy-Free and Vegan Options available.
Perfect starter for Thanksgiving, Fall or Holiday Meal.
If you make this Roasted Butternut and Carrot Ginger Soup in advance, it even tastes better once the flavors have a chance to mingle.
This soup freezes well.
Roasting of the vegetables and squash give this soup a rich depth of flavor that you cannot get by cooking your squash in the microwave or pressure cooker.
You can roast your butternut squash, carrots, onion, garlic and apples all together on the baking sheet to save time.

Are you the kind of person who puts your Christmas Tree up before or after Thanksgiving?
Why all the rush? We like to cherish each holiday as it comes along. In addition, we love to cherish the bounty of harvest vegetables in the market. As you can see, we used butternut squash and carrots for this recipe. However, one could certainly exchange the carrots out for parsnips, yams, turnips, sweet potatoes, etc. Just make sure that you keep the amount the same so that the texture of the soup is not affected.
We are sure a few of you will have out-of-town guests/family staying with you for a few days over the holidays and this is a perfect make ahead soup. Then, you can just pull out of the refrigerator or freezer, heat and eat.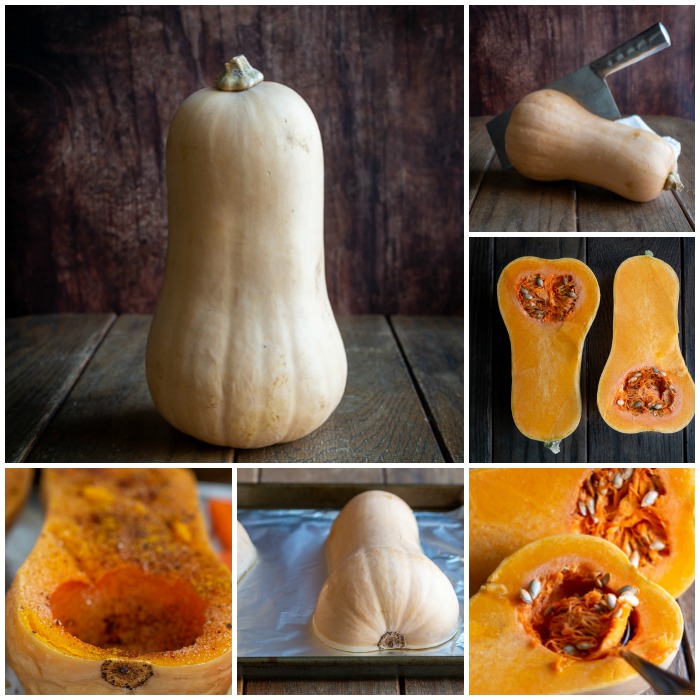 Roasting Vegetables Rocks
Roasting the butternut squash and carrots as this gave the soup a little added sweetness and depth of flavor. You just can't get these amazing flavors microwaving or in the instant pot. Butternut squash cut in half, with the seeds removed, takes about 50 minutes at 400 degrees F (204 degrees C) to get perfectly caramelized.
A little trick our dad taught us is to cook the butternut squash cut side down for about 20 minutes with a little bit of water in the pan helps get the cooking process moving along. Then we flip the butternut squash over in the pan, add the sliced carrots, whole garlic, chopped onions and peeled and sliced apples. We slather everything in the pan with a little olive oil and season with curry powder, cinnamon and salt and pepper. Bake for another 25-30 minutes and you are done. Check out the photo above for the step by step process.
Don't Roast Fresh Ginger
This is a science experiment not worth repeating. Roasting ginger turns it really potent and bitter. Freshly grated ginger is certainly the way to go in this recipe that is added in the last few minutes of heating up the soup. However, you may also substitute dried ground ginger for this recipe. If using dried ground ginger, be sure to reduce the amount to ½ teaspoon. Dried ginger is much more potent that fresh grated ginger. We used 1 tablespoon of fresh ginger.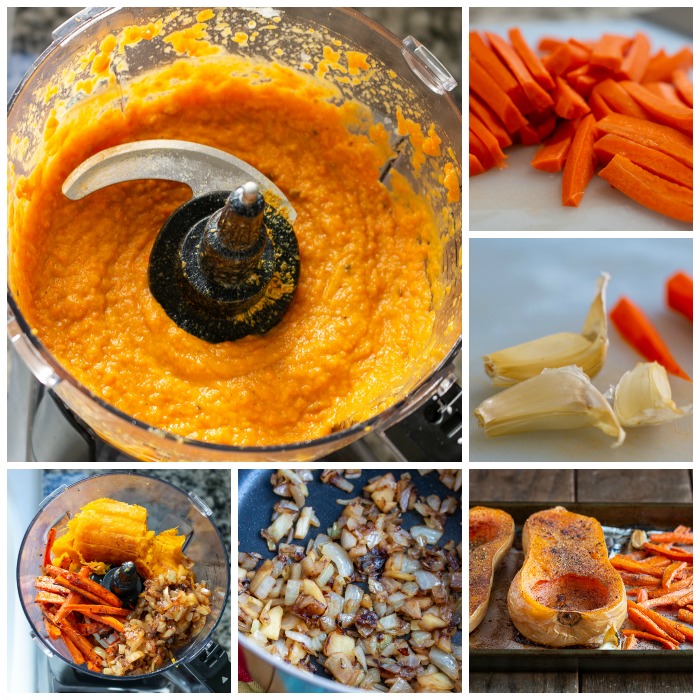 Recipe Shortcuts
If you are in a pinch and need to put a soup together in less than 15 minutes, then you can use frozen butternut squash and carrots and we won't tell a soul. Your family will never know the difference as this soup has so many flavors and spices going on they will busy tasting the soup and munching on the crunchy toppings.
If using a fresh butternut squash, don't bother peeling and chopping up the whole thing. This activity is high risk for cutting yourself and is a huge time hog. Instead, just find yourself a large cleaver or sharp knife and cut in half and remove the seeds. Let the oven do the rest of the work.
Feed Your Spleen
When the weather is damp and cold, you need to take extra good care of yourself. The change of season is a particularly trying time for your body.
In Traditional Chinese Medicine, your stomach is the power core to your health and happiness. It is believed that eating warming nourishing and easy to digest foods, especially when it is stressed from the change of seasons, helps provide extra support to keep your body in equilibrium.
This heartwarming soup like Roasted Butternut and Carrot Ginger Soup has lots of ginger and spices to warm you from the inside out. In addition, both butternut squash and carrots are spleen friendly and easy to digest. Stay clear of cold foods and you can read more about why that is not good for you in our post Feed your Spleen: Nourish Your Body.
Taking Time to Be Thankful
I know that this year has been a very difficult time for many. Many have lost their homes, their jobs, their family members and have had poor health but this is the time we have to look for the positives in life. I think that sometimes when you have been defeated and can't go any further down than you have to get up and get moving up and forward. You are already at the bottom so up is the only place you can go.
When life has been challenging, I find that I begin to have a renewed appreciation for all of the things I took for granted. I like to surround myself with positive and upbeat people and take a moment to reflect on the positive things in my life.
We are very thankful to all of you. Whether you are just here to grab a quick recipe for dinner or a lifelong foodie friend. We are glad you are here today. You made our day!
More Autumn and Thanksgiving Recipe Ideas
Are you still thinking about a coordinating a dinner plan for your Thanksgiving meal? Be sure to check out our Healthy World Cuisine Thanksgiving category for more recipe inspiration for sides, turkey and all the fixings.
If you are not planning on cooking a whole turkey, be sure to try our moist and spiced Roasted Turmeric Spiced Turkey Breast and our individual serving French Canadian Meat Dressing Recipe.
For those of you that are already knee-deep in snow, don't celebrate Thanksgiving, or just need a quick and easy festive dessert be sure to try our Easy Peasy Baked Apples.
More Soups to Warm you Up...
Immune Boosting Chicken and Rice Soup
Instant Pot Italian Sausage Tortellini Soup
and many more..
With so many things to be thankful for in our lives, please take a moment to enjoy the small pleasures or at least a heartwarming bowl of roasted butternut and carrot ginger soup.
Hungry For More? Subscribe to our Newsletter and follow along on Facebook, You Tube, Instagram, and Pinterest for all the latest updates.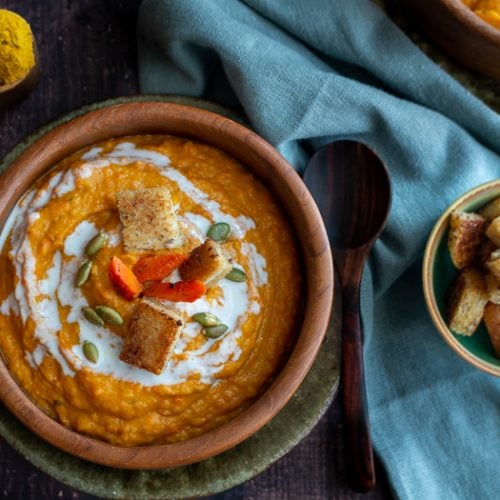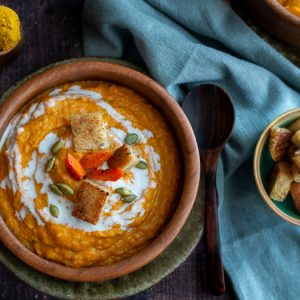 Roasted Butternut and Carrot Ginger Soup
Warming and nourishing roasted butternut and ginger carrot soup filled with aromatic spices and creamy coconut milk topped with roasted pumpkin seeds and homemade seasoned croutons.
Print
Pin
Rate
Ingredients
3

pounds

butternut squash


or about 1.5 kg whole cut lengthwise

½

cup

water

3

medium

Carrot


or about 1 cup sliced

1

apple


whole peeled and sliced and core removed

½

cup

onion


peeled and chopped

5

cloves

garlic

whole and leave the peel on

2

tablespoon

olive oil


1

teaspoon

cinnamon


ground

1

tablespoon

curry powder


(or to desired heat level)

salt and pepper


to taste

2.5

cup

vegetable broth


(or chicken broth)

1

tablespoon

ginger


freshly grated (or ½ teaspoon dried ground ginger)

14

oz

coconut milk

(reserve ¼ cup for garnish)

Instructions
Pre-heat oven to 400 degrees F or 204 degrees Celsius.

Cut your butternut in half, lengthwise. Remove seeds.

Place your butternut squash cut side down on a lined and greased baking sheet. Add about ½ cup of water around the butternut squash. Cook butternut squash for 20 minutes cut side down. (This will speed up the cooking process)

After 20 minutes of baking, carefully turn your butternut squash cut side up in pan. By now most of the water should have evaporated from pan. If not, drain from pan. Add your carrots, onion, garlic and apple to the baking sheet in a single layer with the partially roasted butternut squash.

Drizzle the butternut squash, carrots, onions, garlic and apples with olive oil. Season all of the vegetables with cinnamon, curry and salt and pepper. Toss the vegetables and fruit to get the olive oil all and seasonings distributed. Bake for about 25 – 30 minutes or until fork tender. Remove from oven and set aside to cool.

Scoop the cooled cooked butternut squash out from the skin and add to the food processor. Gently squeeze the end of the garlic to get out the sweet roasted goodness and add to the food processor.. Add the roasted carrots, onions and apples slices into a food processor. Add the vegetable broth or chicken broth and process until smooth.

Transfer the processed butternut squash mixture into a medium saucepan and add fresh ginger. Do not boil. Add coconut milk and stir. Taste and adjust seasonings as desired. If you like it spicier, add more curry powder. Salt and taste to desired preference.

Pour soup into bowls and garnish with a little drizzle of coconut milk, roasted shelled pumpkin seeds and croutons. Enjoy!
Notes
You can make this soup vegan by using a vegetable broth. However, if you are not following a vegan diet, feel free to use chicken broth or bone broth instead.
We used coconut milk as we have a lactose intolerance. However, if you don't feel free to substitute with half and half or heavy cream.
Our preference is a thick and rich Roasted Butternut and Carrot Ginger Soup. If you prefer yours to be thinner, add a little more vegetable or chicken broth to get it to your desired consistency.
We used a Gala apple as that is what we had in the crisper. Feel free to use the type of apple you have on hand.
Soup will stay fresh in the refrigerator in a sealed container for 3 days. Roasted Butternut and Carrot Ginger Soup can be stored in a freezer safe container in the freezer for up to 2 months.
Nutrition
Serving:
1
g
|
Calories:
481
kcal
|
Carbohydrates:
60
g
|
Protein:
7
g
|
Fat:
29
g
|
Saturated Fat:
20
g
|
Sodium:
650
mg
|
Potassium:
1678
mg
|
Fiber:
10
g
|
Sugar:
17
g
|
Vitamin A:
44158
IU
|
Vitamin C:
80
mg
|
Calcium:
223
mg
|
Iron:
6
mg