Five Spiced Beef Diakon Noodle Soup is a warm and nourishing beef soup made with sweet and tender diakon radish, vegetables, mushrooms, sukiyaki beef, Chinese spices and aromatics.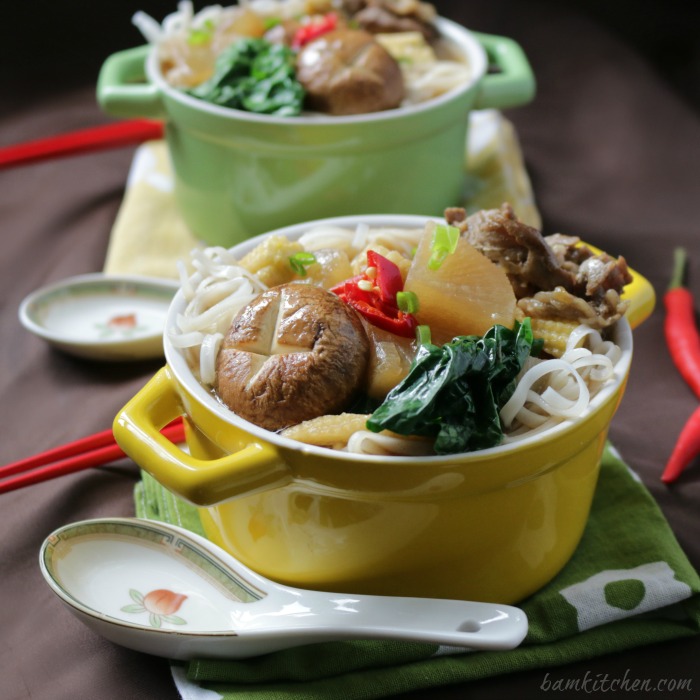 Five Spiced Beef Diakon Noodle Soup is Just What Your Body is Craving
We are in between seasons. One day it is cool and damp and the very next day it is hot and steamy. You are carefree and running out the door without any jackets, but this is the time you need to take extra care of your health. You need to keep healthy fuel in your body to keep you strong and also warm you from the inside out.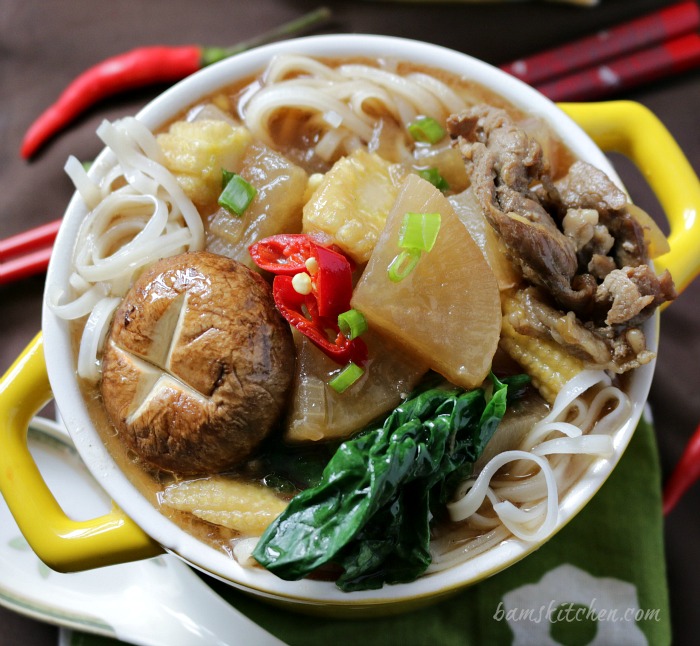 This is the perfect weather for a delicious bowl of five spiced beef diakon noodle soup. I was thinking about the items that I put in Chinese hotpot and wanted a simplified version with a very tasty broth. I managed to get this delicious Asian Soup down to 12 tasty ingredients and some of those are optional…and many of them you have in your kitchen right now.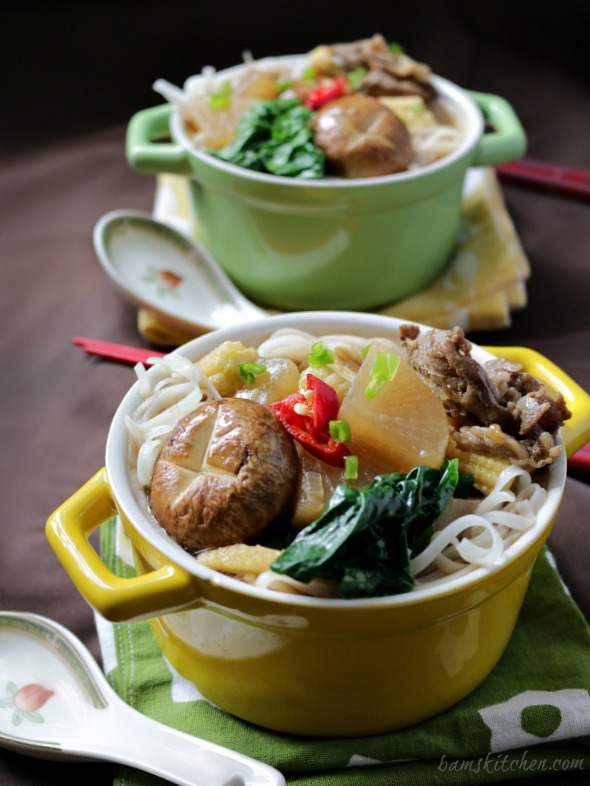 This soup really hit the spot tonight. Each spoonful was a delight with gorgeous fresh veggies, tender beef and mushrooms, aromatics of the Chinese Trinity and of course the sweetness from the diakon and baby corn.
Usually, Chinese soups need to cook all day or at least several hours and many of them contain Chinese medicine and herbs. Have no fear! This soup is ready in 30 minutes and there is not a Chinese medicinal herb within miles of my soup pot! I am way too tired today to be tending over a pot of soup…so instead I made some improvisations.
The 2 things I did make sure stayed part of the Chinese tradition was to achieve a very clear and delicious broth and to make sure to use some very healthy Chinese vegetables and herbs. The one vegetable that really makes this soup delicious is the diakon (sometimes known as the Chinese turnip, white carrot, Chinese radish). You can purchase diakon at an Asian market or some specialty grocery stores. A diakon is a type of radish and when you cook it its natural sweetness comes through.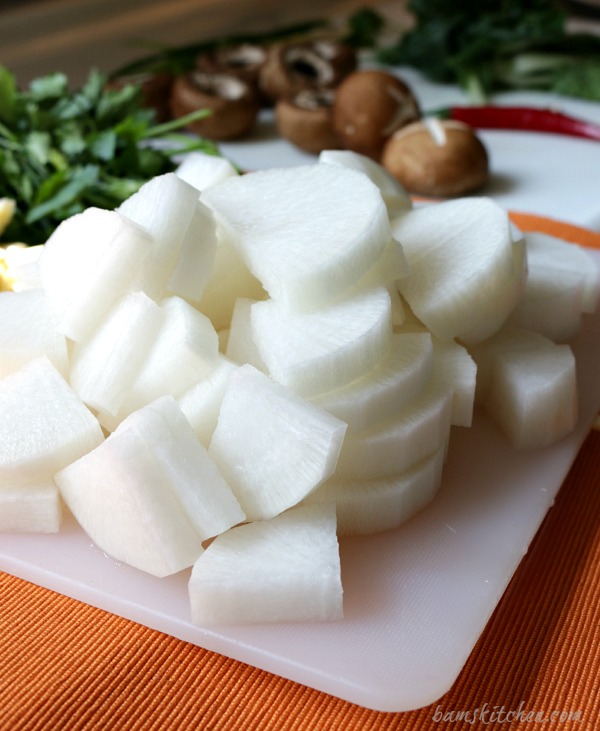 The most simplest way to get your broth clear is to skim your soup. Do you remember your mom doing that? You need to start skimming your soup with a spoon as soon as it comes up to a boil. You know it is the gray unwanted stuff that accumulates on the top of the soup's surface…
One thing that I did that is not traditional Chinese at all is to marinade and then fry the beef in the same pan I made my soup in. Yes, you heard me right… shocking news hot off the press…No more boiling the meat without any flavor…
I have used sukiyaki beef (thinly sliced beef) for no other reason other than the fact that I am feeling super lazy and just dog tired today. You can use any cut of beef you wish, however the tender varieties work best, and then just slice the beef super thin. I think I really need the iron from the beef today to help with my lethargy and give me some extra fuel to get through the day. (If you want to make a vegan version of this delicious five spiced diakon noodle soup, then skip the beef and add tofu and use vegan broth) If you are craving a warm and nourishing bowl of comfort food, be sure to try our Sukiyaki Beef Udon.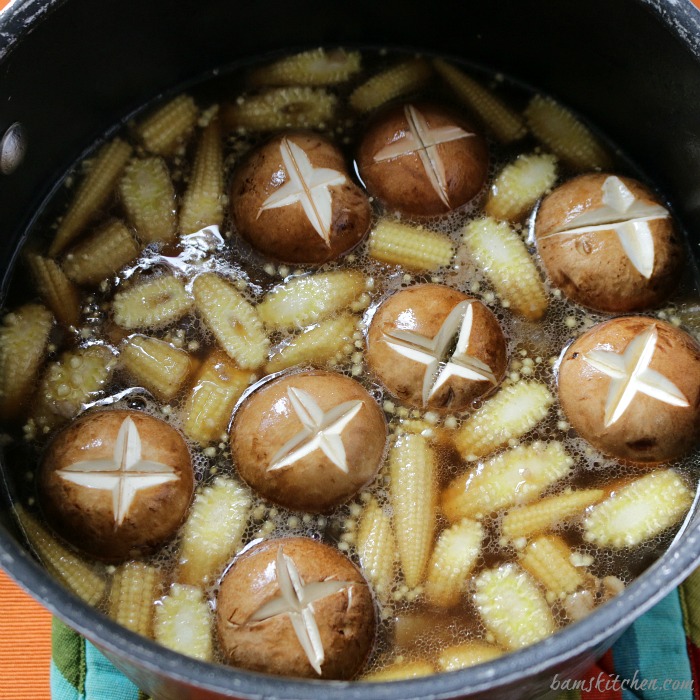 Have you ever tried cooking with Chinese five spiced powder? I hope you have as it really is a unique spice. Chinese five spiced powder is made of the following five spices; star anise, cloves, cinnamon, fennel seed and Szechuan pepper. This combination of spices really brings a depth of flavor to this soup. If you do not have Chinese five spice in your pantry, it is time to get that sorted. You can make so many delicious dishes such as soups, stir fries, my Peking Glazed Beer Butt Chicken, just to name a few.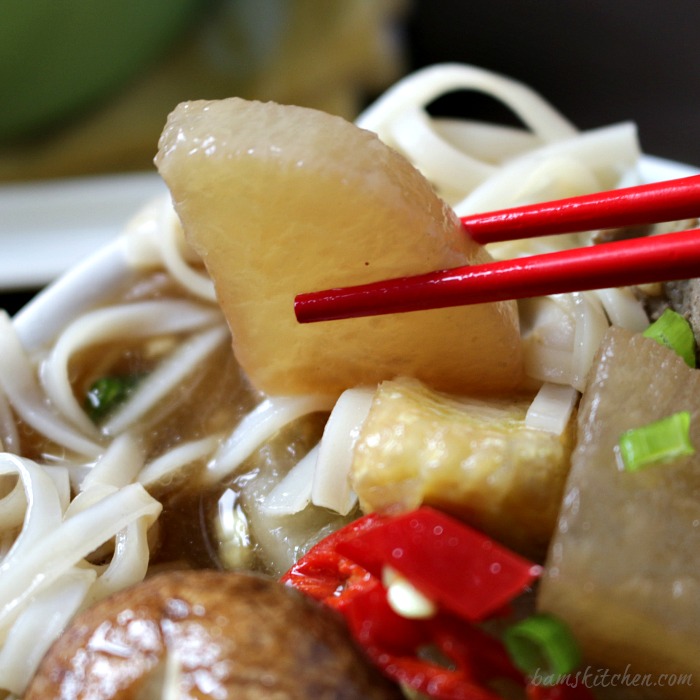 I also did a quick marinade of my sukiyaki beef with lots of delicious aromatics such as ginger, garlic, onions and chili and that really brings some of the delicious Chinese trinity of flavors into the soup pot.
As the seasons change be mindful of your health as March is always a very windy one and damp. Five Spiced Beef Diakon Noodle Soup is sure to cure what ever ails you. Take Care!
More Delicious Soup Recipes
Roasted Butternut and Carrot Ginger Soup
Immune Boosting Chicken and Rice Soup
Instant Pot Italian Sausage Tortellini Soup
Hungry For More? Subscribe to our Newsletter and follow along on Facebook, You Tube, Instagram, and Pinterest for all the latest updates.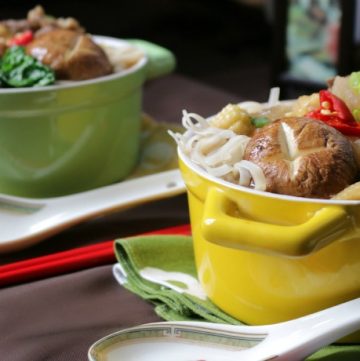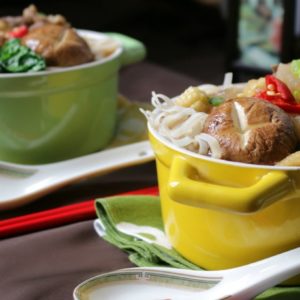 Five Spiced Beef Diakon Noodle Soup
Five Spiced Beef Diakon Noodle Soup is a Warm and nourishing beef soup made with sweet and tender diakon, vegetables, mushrooms, sukiyaki beef and Chinese spices and aromatics.
Print
Pin
Rate
Ingredients
2

ounces

rice noodles

(soaked in hot water until aldente, drained and cool water rinsed)

1/2

pound

sukiyaki beef

1/2 pound (thinly sliced beef cut into 1.5 x 1.5 inch pieces)

2

tbsp

tamari (soy) sauce

1

tsp

sesame oil

3

cloves

garlic

minced

1/2

cup

onion

chopped

1

tbsp

ginger

grated fresh (3/4 teaspoon dried ground)

1

chili


sliced optional

2

tsp

five spice powder

salt and pepper

to taste (I use ground white pepper)

1

tbsp

olive oil

8

cups

beef broth

gluten free

1

diakon radish

peeled, sliced and chopped into quarters

10

baby corns

sliced on a diagonal (or can use regular corn on cob cut in half or thirds)


8

oz

mushrooms

(remove stem)

2

cups

baby bok choy

(or can exchange with any green veggie like spinach)
Instructions
Presoak rice noodles in hot water for about 5 minutes until aldente and drain and rinse with cold water and drain. Do not cook the rice noodles in the soup or otherwise they will soak up all the delicious broth. It is best to keep the rice noodles a little undercooked as they soften more when you ladle the hot soup over them upon the serving process. Set aside. (You can also use ramen noodles, udon, soba, mung bean noodles, sweet potato noodles, pasta noodles, etc..etc... just pre-cook them according to your directions and set aside. Use what you have in your pantry)

In a large bowl, combine sukiyaki beef (or just thinly sliced beef of choice), tamari or soya sauce, sesame oil, garlic, onion, ginger, chili, five spiced powder and salt and white pepper. Set aside while you prepare the vegetables.

Add olive oil (or oil of choice) to your large soup pot and add the beef mixture. Stir fry until browned. Add beef broth, diakon radish slices and bring to a boil and then turn down to a medium simmer for about 15-20 minutes. Skim frequently with a spoon to remove the froth that forms on top of the soup pot. Season broth with salt and white pepper as desired.

Add baby corn (or can use corn on the cob and just cut into thirds or break in half but you need to add them with the diakon radish as they take longer to cook than baby corn). Add mushrooms and simmer for about 5-8 minutes or until tender. Add the baby bok choy or other vegetables as desired and cook for 1-2 minutes. Adjust seasoning (add salt and white pepper to taste.)

Place pre-soaked aldente rice noodles into soup bowl. Scoop a large ladle of soup with beef, diakon radish, vegetables and loads of delicious broth into the soup bowl. Garnish with green onions, if desired. Enjoy!
Nutrition
Serving:
1
g
|
Calories:
339
kcal
|
Carbohydrates:
31
g
|
Protein:
23
g
|
Fat:
15
g
|
Saturated Fat:
5
g
|
Cholesterol:
35
mg
|
Sodium:
2404
mg
|
Potassium:
976
mg
|
Fiber:
4
g
|
Sugar:
7
g
|
Vitamin A:
2707
IU
|
Vitamin C:
66
mg
|
Calcium:
142
mg
|
Iron:
4
mg