Hong Zao Bread is filled with soft and chewy Chinese red dates (jujubes), bananas, Chinese 5 spice and topped with sesame seeds. Perfect for breakfast or teatime.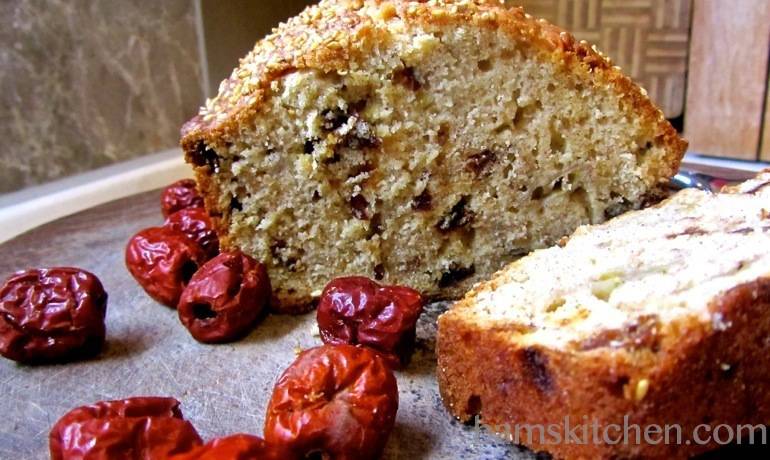 Today's post is going to be a world of fun. I have a delicious Chinese Hong Zao bread recipe to share, a fun story and even a worldwide TeaVivre gift set give away for five lucky followers.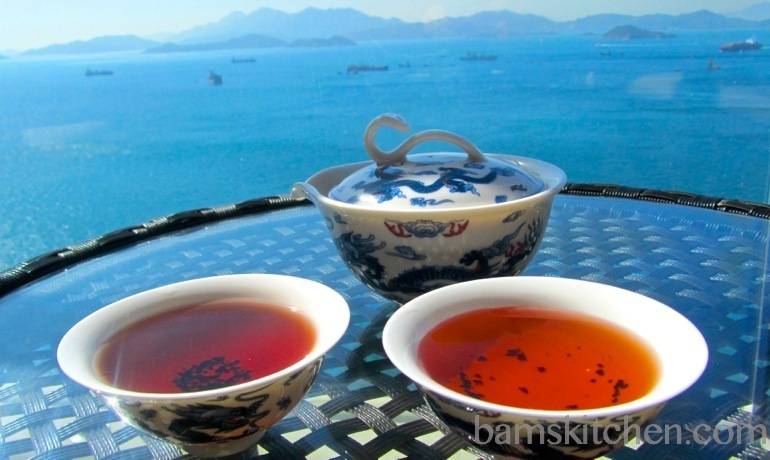 I made a Chinese Hong Zao Bread to share during my last language exchange session. My Chinese Hong Zao bread has big delicious chewy Chinese (Hong Zao) dates, bananas, Chinese five spice powder, and is lightly sweetened with honey. The Chinese Hong Zao bread is sprinkled with white sesame seeds just before baking and this gives the bread a crunchy topping but a deliciously moist interior.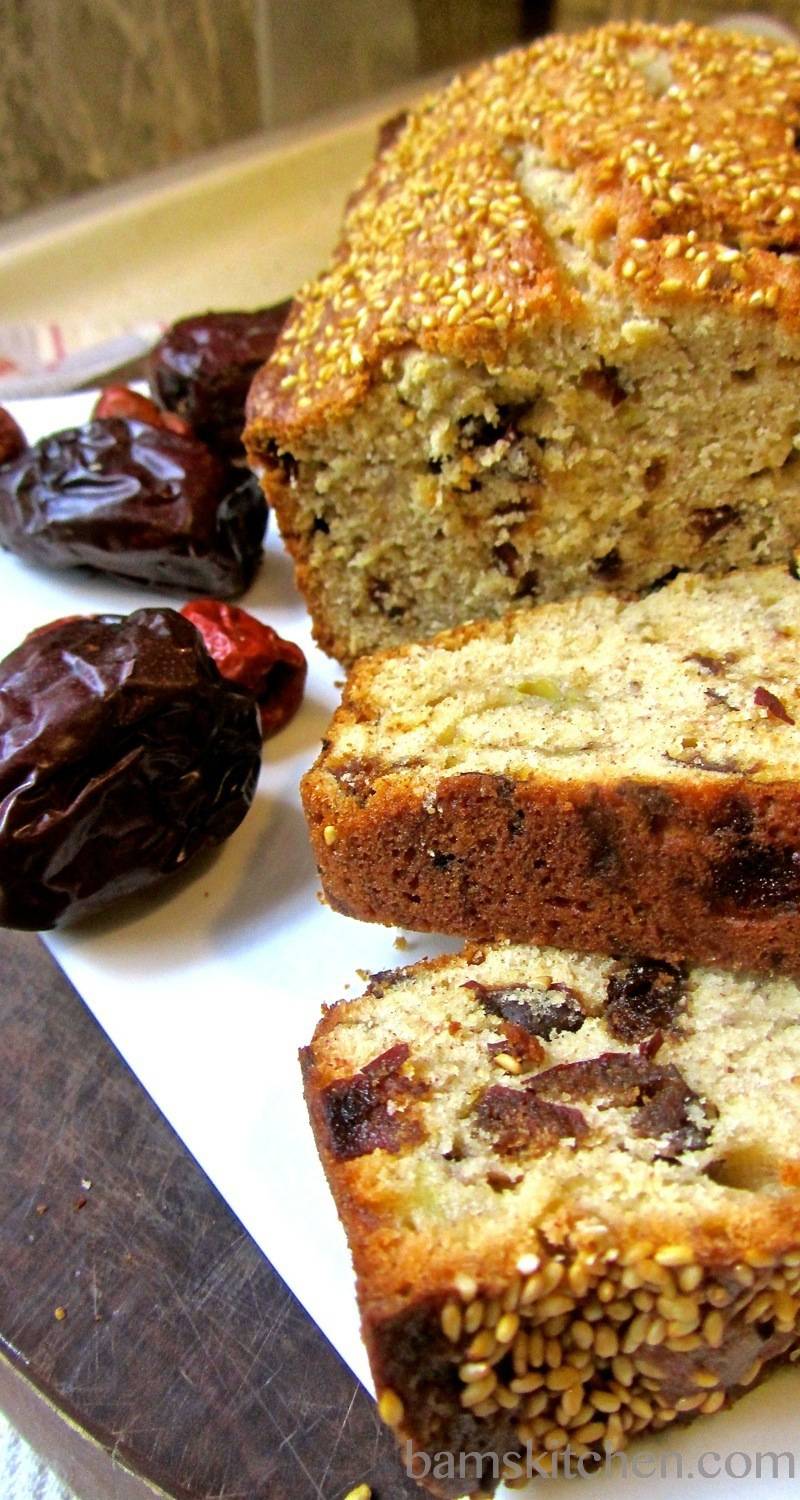 I have made this recipe in a 8x4 loaf pan but this recipe would also work well in muffin tins so you can bring a delightful breakfast/snack to work or school. Hong Zao also known as Jujube or Chinese red dates are very sweet and are good for your health.
Traditional Chinese Medicine (TCM) believes that red dates (Hong Zao) helps build up yangqi (阳气), or the warm half of the yin-yang balance, in the body, and have the power to strengthen the spleen and stomach, replenish qi, nourish and produce blood and tranquilize the mind. Hong Zao also enriches and replenishes your blood and women eat red dates especially during their special time of the month. I have the perfect cup of tea to accompany this Hong Zao bread but you have to keep on reading to find out how to get your delicious free tea samples from TeaVivre.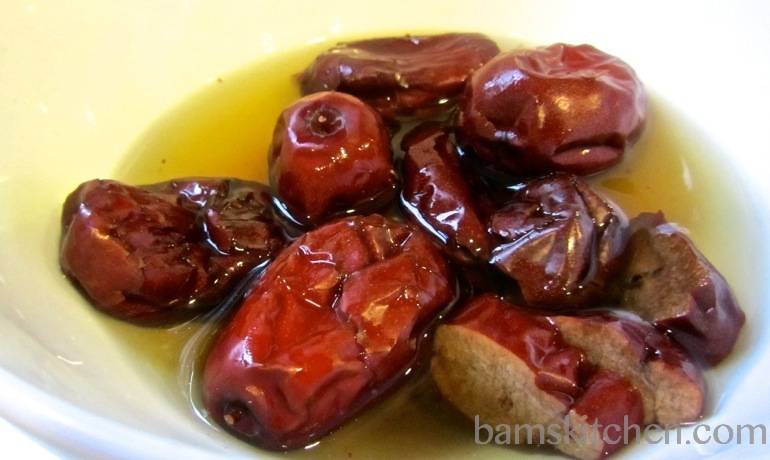 Every week, my dear friend and I meet for a Chinese/English language exchange. We share languages, drink tea and sometimes eat a little treat while I struggle with my tones and word order...
My friend is now fluent in English, meanwhile I am over here still struggling with my Chinese characters and have high aspirations to at least be able to speak as well as a 4 year old by the end of the year. I know you are all laughing, but learning Chinese has its trials and tribulations.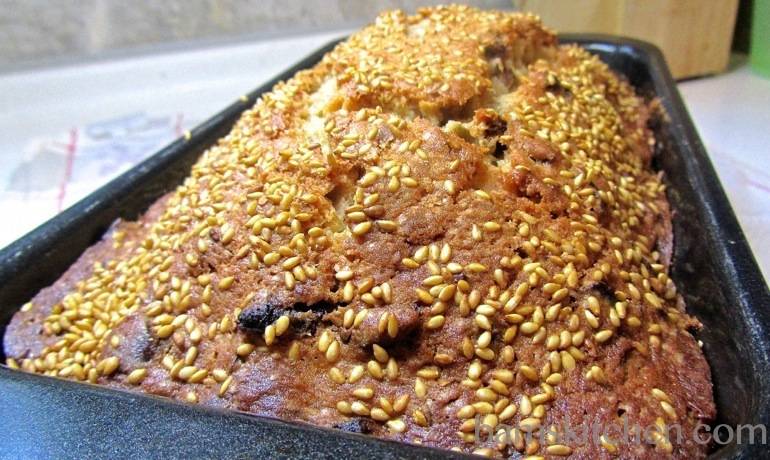 I think however the best gift that friends can give each other is a true appreciation of each other's culture. Cultural exchange is more than just learning the language. It is about learning what makes them tick, what do they enjoy to eat and drink, what do they like to do for fun and somehow making both of our cultures mold into one.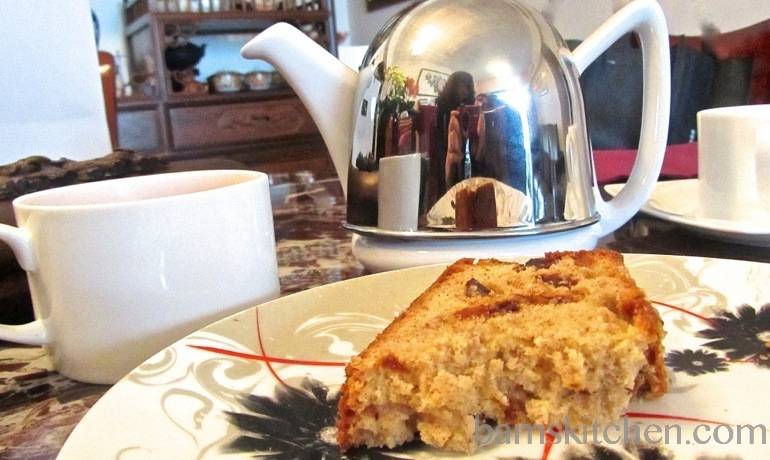 My Chinese Hong Zao bread is the perfect melting pot of cultures. The bread has the basic ingredients for a banana bread but is warmed with Chinese spices and fruits.
Another way we blend our cultures together is our love for tea. My friend and I had the fine opportunity to sample some delicious TeaVivre tea.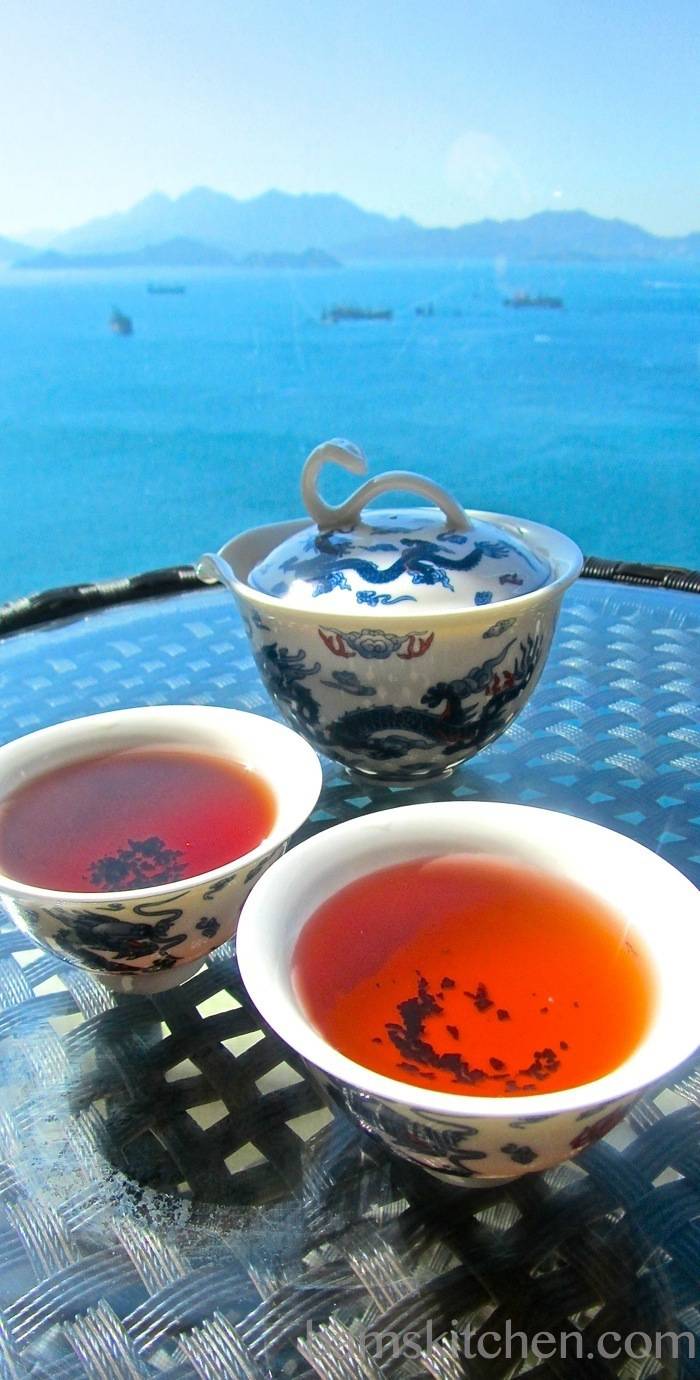 TeaVivre is a group of tea lovers and aficionados from China, Canada and France, who all share a passion for drinking great tea and appreciate the healthy life style it brings. The TeaVivre group resides in China, frequently travel through the country visiting China's tea plantations and track down only truly exceptional teas. Their mission is to ship to you directly the highest quality Chinese teas that are, wherever possible, 100% organically grown and produced. TeaVivre is an online store that features a diverse selection of teas such as Green, Black, White, Oolong, Puer, Flowering Tea, organic, herbal, fruit and many beautiful tea pots and tea supplies. They ship all over the world. Here is the link to their website..http://www.teavivre.com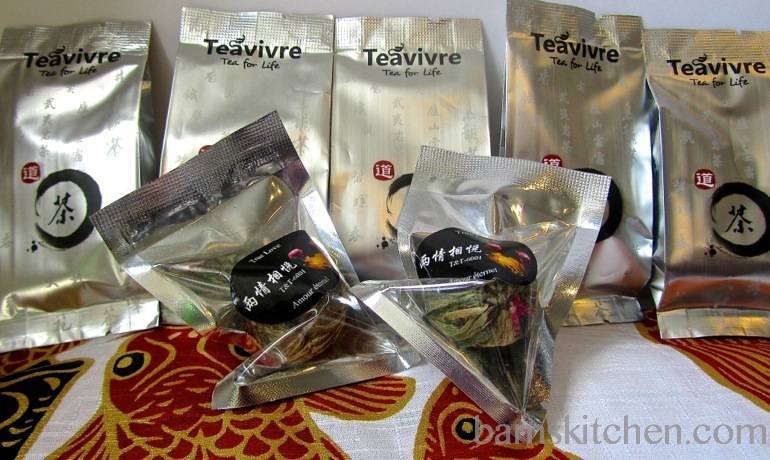 I am a bit of a tea connoisseur so I am quite picky about the types, taste, fragrance, mouth feel, clarity and appearance of my tea. Living in Asia, I have come to have a true appreciation for the brewing the perfect cup of tea.
We decided to start with a light and fragrant flower tea from TeaVivre called True Love. True Love is made from high quality Silver Needle Green Tea, Jasmine, Marigold and Amaranth flowers.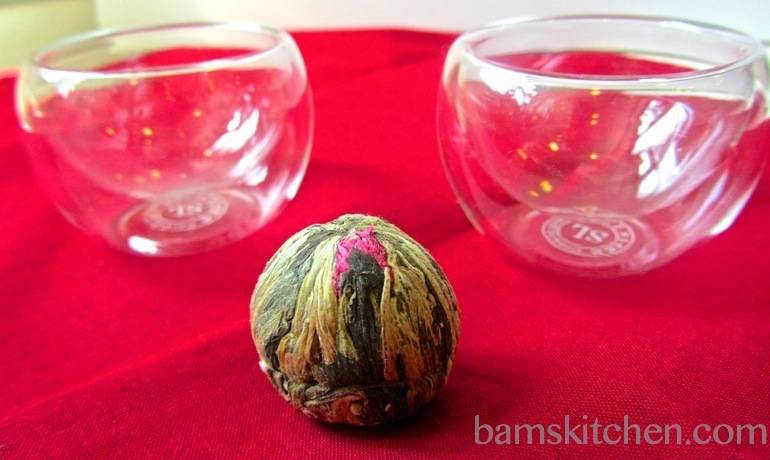 After about 2 minutes of brewing, 3 beautiful flowers blossomed with one in the centre middle and 2 rising to the top of my glass tea-pot. True Love was mild, floral and delicately balanced for several pours. Both of my teenagers loved this tea as well.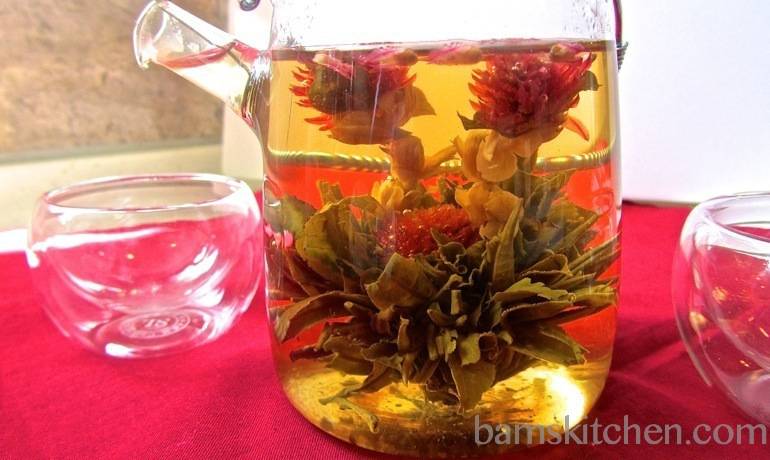 The next tea we sampled from TeaVivre was the Ripened Aged Pu-erh Mini Tuocha. I rinsed twice and then started with a 10 second brew time for our first pour and with each and every pour it was mellow, smooth and had an earthy complex flavor.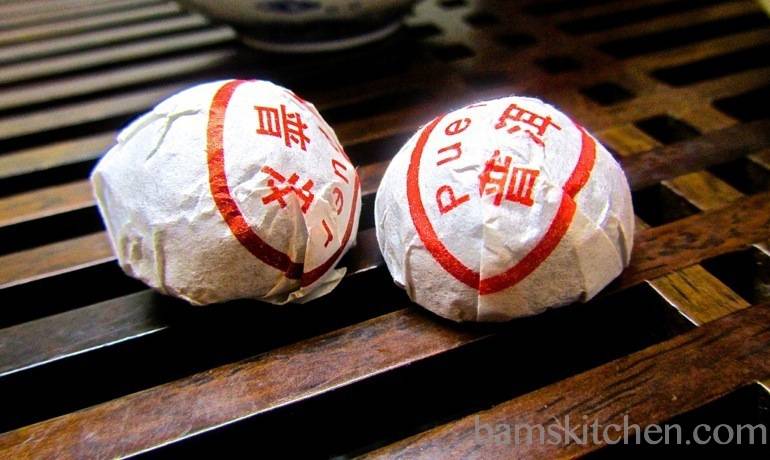 This tea was a perfect match for my Chinese Hong Zao bread and trust me after lots of tea drinking you need a little something to nibble on. My youngest teenager loves Pu-erh teas as long as they do not become bitter and this one stayed smooth and lovely for several pours.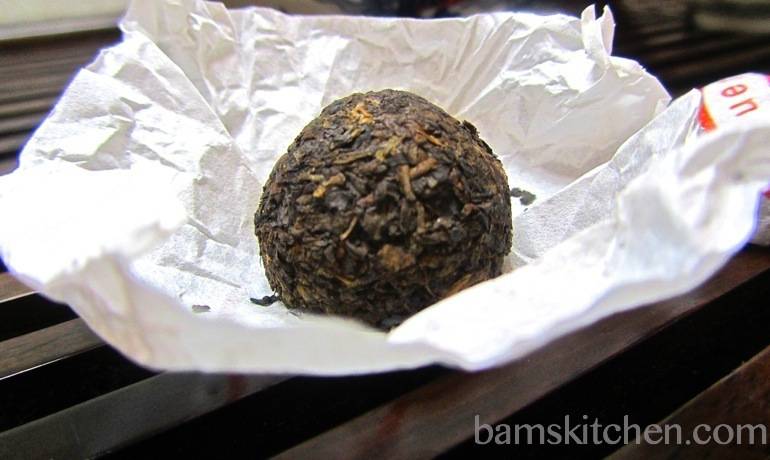 With mother nature sending cold arctic blasts our way, it is the perfect time to sample some warming, comforting, good for your health teas.
More Delicious Breads, Cookies and Treats
Almost Diet Nutella Banana Bread
Hungry For More? Subscribe to our Newsletter and follow along on Facebook, You Tube, Instagram, and Pinterest for all the latest updates.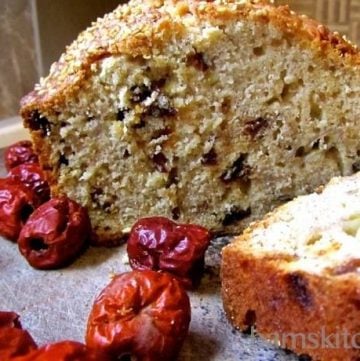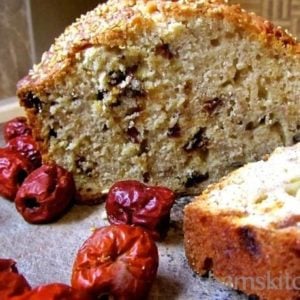 Hong Zao Bread and TeaVivre Giveaway
Chinese Hong Zao bread has big delicious chewy Chinese dates, bananas, Chinese five spice powder, and is lightly sweetened with honey.
Print
Pin
Rate
Ingredients
1

cup

banana


very ripe mashed (between 2-3 bananas)

⅓

cup

butter


melted

½

cup

honey


(I like my breads only lightly sweet so I add only ½ cup but add ¾ cup if like a real sweet bread)

1

egg

egg


beaten

1

teaspoon

vanilla


1

teaspoon

five spice powder

1

teaspoon

cinnamon


(optional)

1

teaspoon

baking soda


½

teaspoon

salt


1.5

cups

flour


all purpose

1

cup

Chinese red dates


(also known as jujubes, hong zao)soaked, chopped and deseeded (can exchange with regular dates, raisins or even dried cranberries)

⅛

cup

sesame seeds

(optional for garnish)
Instructions
Preheat the oven to 350°F (175°C).

Place your dates in a bowl and cover with hot water and allow to soak for about ½ hour or until softened. Drain the dates and set aside. (If your dates are super fresh and moist you can skip this step of soaking but mine little a help)

Mix butter into the mashed bananas in a large mixing bowl. Mix in the sugar, egg, vanilla, five spiced powder and cinnamon. Sprinkle the baking soda and salt over the mixture and mix in. Add the flour and mix. Add and stir in the drained Chinese Dates (Jujubes/ Hong Zao). Pour mixture into a buttered 8x4 inch loaf pan. Sprinkle with sesame seeds. Bake for 1 hour. Cool on a rack.

Remove Chinese Hong Zao Bread from loaf pan, slice and serve with delightful cup of your favorite tea/coffee.
Notes
Hong Zao Bread can be refrigerated for up to 3 days in a sealed container or can be frozen up to 2 months.
Nutrition
Serving:
1
g
|
Calories:
253
kcal
|
Carbohydrates:
42
g
|
Protein:
5
g
|
Fat:
8
g
|
Saturated Fat:
4
g
|
Cholesterol:
89
mg
|
Sodium:
265
mg
|
Potassium:
214
mg
|
Fiber:
1
g
|
Sugar:
13
g
|
Vitamin A:
275
IU
|
Vitamin C:
4
mg
|
Calcium:
51
mg
|
Iron:
2
mg