Try our Favorite Provençal Ratatouille Recipe tossed with a little olive oil, herbs de Provence, grilled and then drizzled with fresh lemon juice. Super Easy and perfect for summer grilling! If you have leftover grilled vegetables, they are delicious in our Mediterranean Veggie Wraps.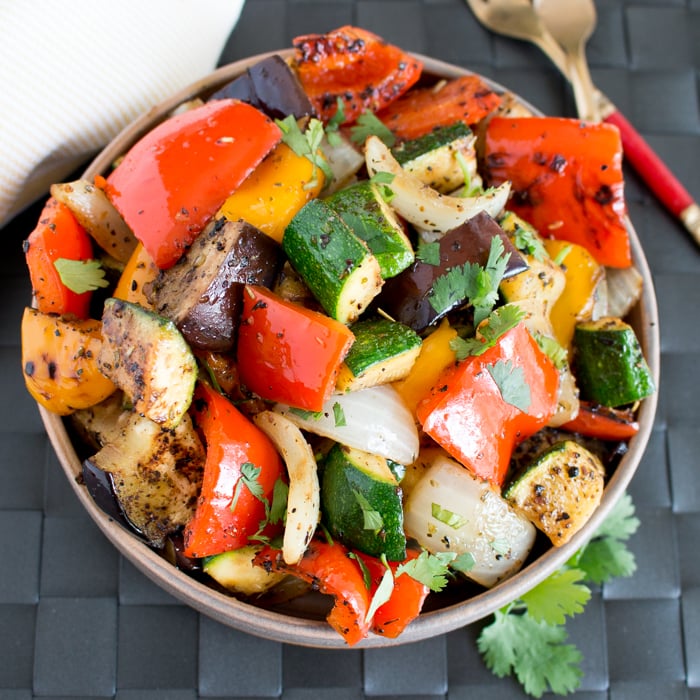 Jump to:
French Vegetable Medley
This Favorite Provençal Ratatouille Recipe is seriously the lazy man's French Vegetable medley. We could not be bothered roasting and stewing vegetables in a pot with the high heat index. We chose to grill the Provencal Ratatouille instead. Grilling is easy, deliciously simple, keeps the mess outside and is less work. Win-Win!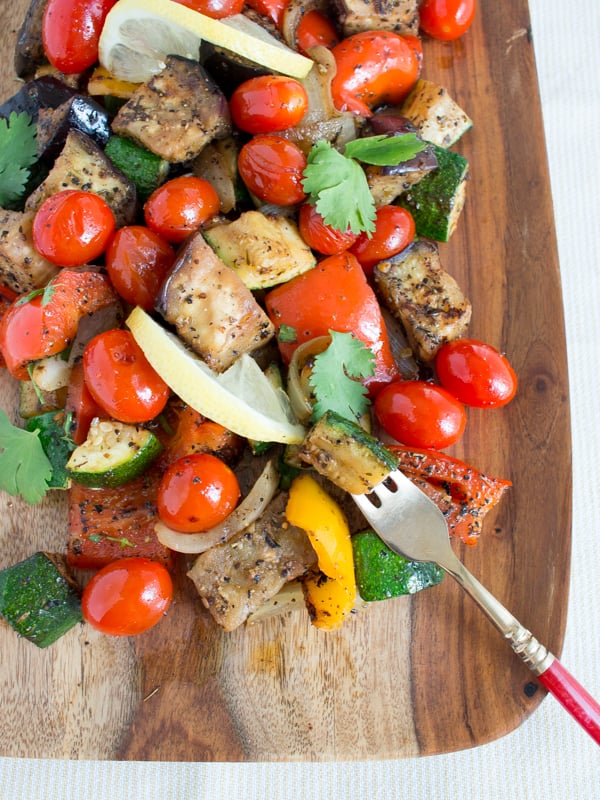 Garden Vegetables
Summer Garden vegetables are going to be in full season soon and you will have one delicious recipe in your armory for a fabulous side dish. Our Favorite Provençal Ratatouille Recipe is made with just a handful of wholesome farm to table ingredients, just 8 ingredients and this includes staples such as olive oil and lemons.
Don't wait until your summer zucchinis are the size of a floatation device to harvest (unless you need another floatation device for the kiddie pool) as this Provençal Ratatouille is best when the vegetables are at peak harvest and petite.
Is Ratatouille Healthy?
Provençal Ratatouille is happily gluten-free, dairy-free, vegan, paleo-friendly, diabetic friendly, low-carb and can be on your table from chopping board to dining room table in less than 30 minutes. We served our Provençal Ratatouille with a simply grilled lemon cod with an olive tapenade for a delicious meal.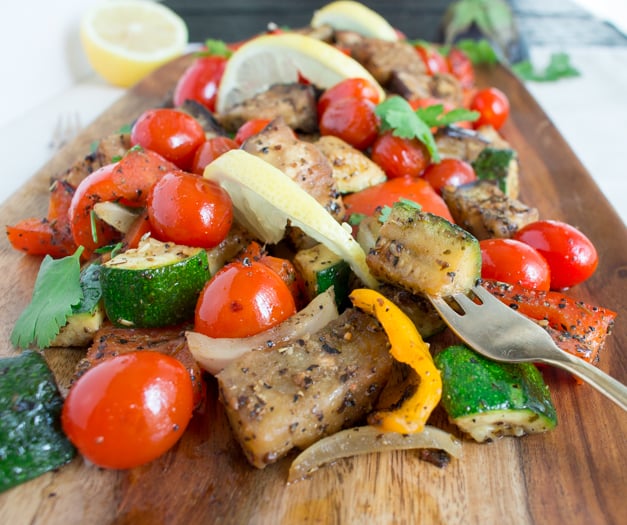 Recipe Tips
The secret to a quick and easy Favorite Provençal Ratatouille Recipe is cutting the vegetables all around the same size and using a vegetable grilling basket on the grill. This makes your life so much easier so you only have to cut things up once.
You can also make this dish in a grill pan on your stove. We did not even bother grilling each vegetable separately but just put them all on at once, except for the cherry tomatoes.
The reason being is two-fold.
1) we have an anti-tomato eater
2) tomatoes only take about 1 minute to grill before they pop.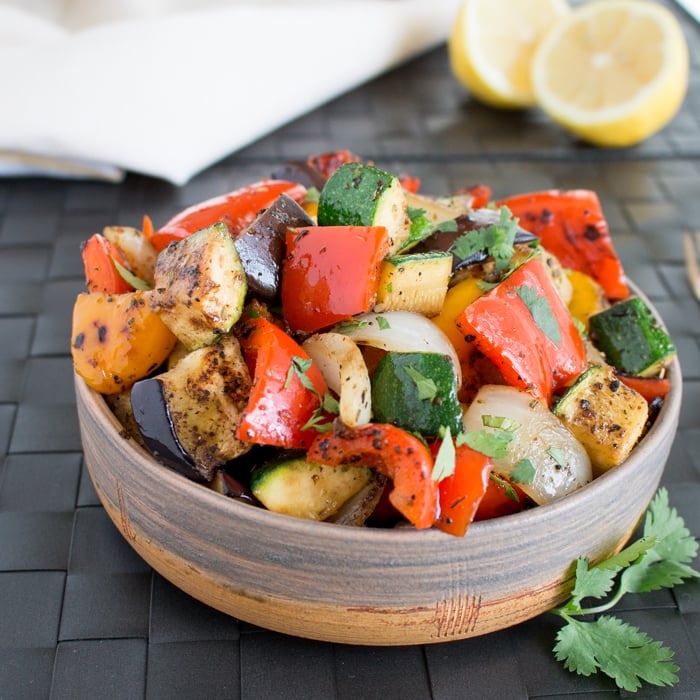 Traditional vs Easy Method
Do you know why you know about Provençal Ratatouille? You may have been lived in Southern Provence of France or have eaten this at a restaurant. However, for many, the main reason you know about this dish is because of a Walt Disney Pixar film called, Ratatouille. Have you seen the movie? If you have children or grandkids, you probably know many of the famous lines.
You may have seen Provençal Ratatouille made very decoratively with perfect slices and rows of vegetables. How beautiful, right?!? Do you have an extra hour in your life to be making sure your veggies all line up and perfect rows? Leave that for Martha… This is real life we are talking about here with work, kids and deadlines. If it can't be cooked in 30 minutes or less, it's probably not going to happen. AMEN!
If you are looking for some other fun less than 30 minute side dish for this summer be sure to try our Grilled Chili Lime Okra, Super Easy Grilled Asian Eggplant or Vegan Curried Rice.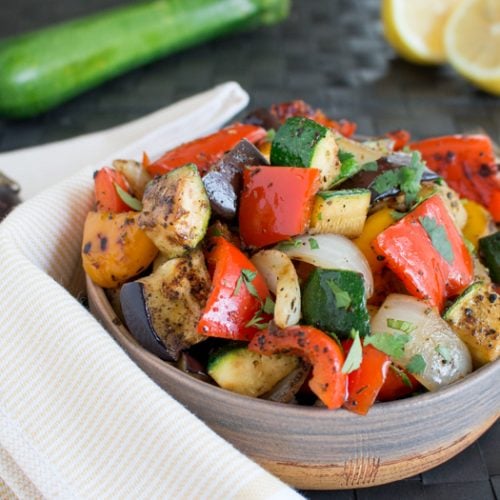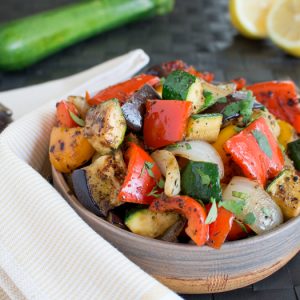 Favorite Provençal Ratatouille Recipe
Favorite Provençal Ratatouille Recipe is tossed with a little EVVO and herbs de Provence, grilled and then drizzled with fresh lemon juice. Super Easy and perfect for summer grilling!
Print
Pin
Rate
Ingredients
1

Onion

medium sized peeled and cut up into moon slices

1

Red bell pepper

chopped

1

Yellow bell pepper

1

Zucchini

small chopped

1

Eggplant

small chopped

2

tablespoon

Olive oil

1

teaspoon

Herbs de Provence

1

teaspoon

Garlic powder

Salt and pepper

to taste

1

cup

Cherry tomatoes

optional

1

tablespoon

lemon juice
Instructions
Preheat grill to medium heat and spray grilling vegetable with olive oil

Toss the chopped onion, red and yellow bell pepper, zucchini, eggplant, olive oil, herbs de Provence, garlic powder, salt and pepper to taste in a bowl.

Add the marinated vegetables into the vegetable basket on the grill, or can be cooked on the stovetop using a grill pan, and grill for about 5 minutes or until nice grill marks on all sides. Toss in the cherry tomatoes in to the grill basket/grill pan and grill for 1 minute just until slightly toasted but not burst. Remove vegetables from the grill. Drizzle with lemon juice.

Enjoy!
Notes
Using a vegetable basket on the grill is the best idea. If you do not have a vegetable basket, you can either cut your vegetables in long slices so they do not fall through the grates or use a piece of aluminum foil on the grill (BBQ).
Make sure you use small zucchini as the larger ones have many seeds. We used an Asian eggplant as they have less seeds compared to a standard eggplant.
Nutrition
Serving:
1
g
|
Calories:
138
kcal
|
Carbohydrates:
17
g
|
Protein:
3
g
|
Fat:
8
g
|
Saturated Fat:
1
g
|
Sodium:
14
mg
|
Potassium:
646
mg
|
Fiber:
6
g
|
Sugar:
9
g
|
Vitamin A:
1297
IU
|
Vitamin C:
116
mg
|
Calcium:
37
mg
|
Iron:
1
mg