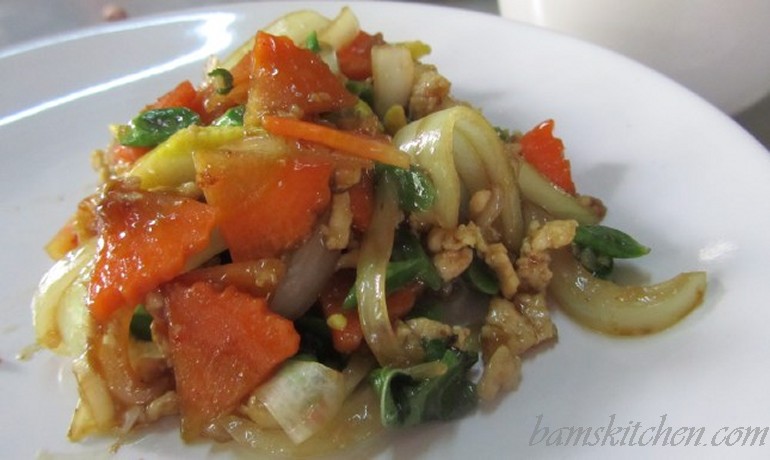 Healthy World Cuisine is live on location in Chiang Mai, Thailand at the "Smart Cook Thai Cookery School". What a truly unique experience. We started out our day picking out the fresh vegetables and herbs at the wet market and now we have headed back to the alfresco cooking school in the center of the old town. The prep area, cooking and wok stations were all set up and ready to go for the first dish of the day...Phat Kra-Prao Kai: Stir Fried Chicken with Holy Basil.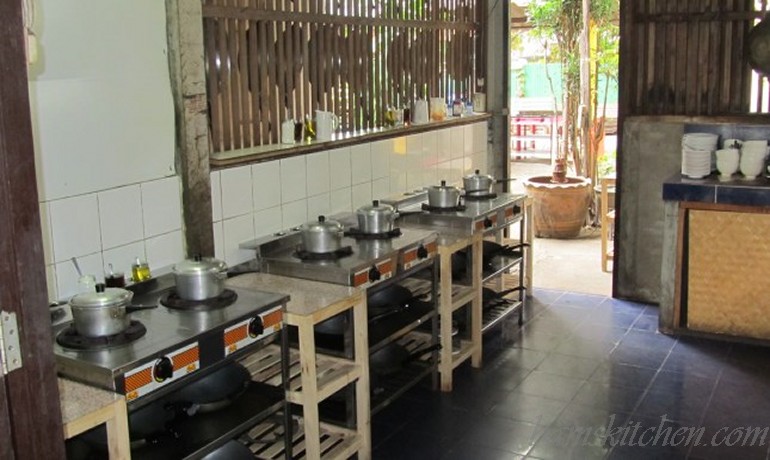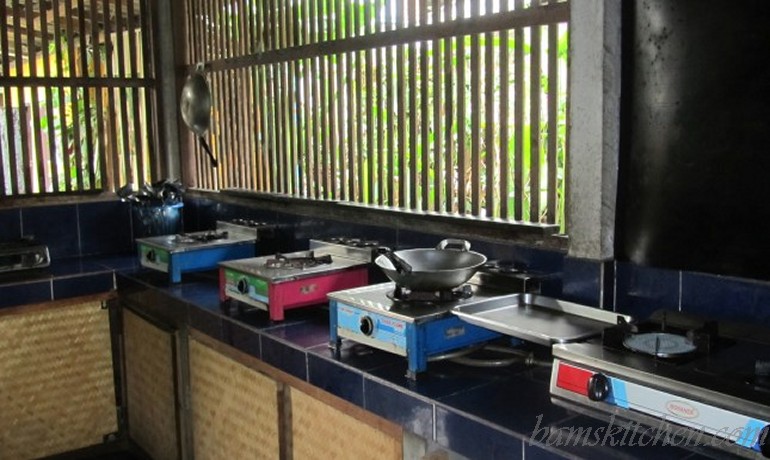 The next important step was getting my name tag written in Thai language. Oh my goodness, I thought learning Mandarin (Chinese) was difficult and it has only 4 tones. Did you know Thai language has 5 tones? Chinese characters for me at least show a little picture or something that I can remember as it relates to the meaning of the word. Written Thai, employs an alphabet of 44 consonants and 32 vowels that combine to form syllabic sounds. For example here is what my name looks like written in Thai...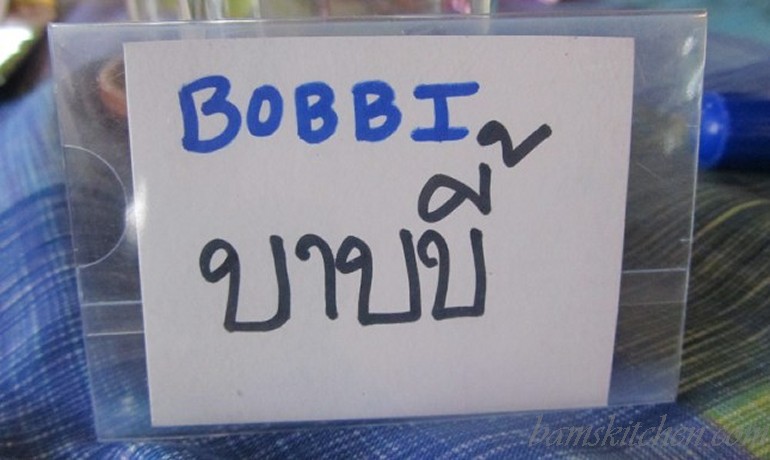 Do you remember reading about the fresh herbs and vegetables found in the Chiang Mai wet market? For those of you who might have missed that post entry here is the link. Essential Thai Herbs and Spices Holy Basil is the star ingredient for todays dish.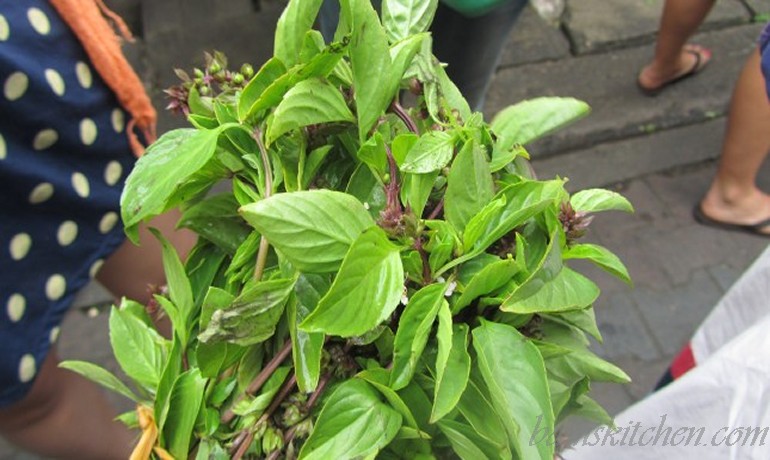 I feel like it is indeed a religious experience eating "Holy Basil".
Holy Basil is a herb that really does not release it flavors until it is cooked and then the smell and flavors it releases is amazing. In cooking, holy basil is often added to stir-fry dishes and spicy soups because of its peppery taste. Cookbooks sometimes call it "hot basil."
Holy basil is a plant. It is originally from India and is used in Ayurvedic medicine as an "adaptogen" to counter life's stresses. It is considered a sacred plant by the Hindus and is often planted around Hindu shrines. The Hindu name for holy basil, Tulsi, means "the incomparable one." Medicine is made from the leaves, stems, and seeds.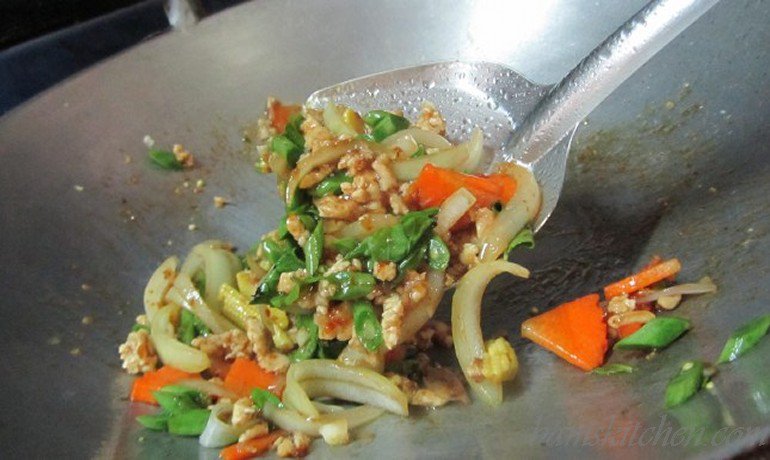 Holy basil is used for the common cold, influenza, H1N1 (swine) flu,diabetes, asthma, bronchitis, earache, headache, stomach upset, heart disease,fever, viral hepatitis, malaria, and tuberculosis. It is also used for mercury poisoning, to promote longevity, as a mosquito repellent, and to counteract snake and scorpion bites. So with all of that going for it, why not add this little herb to some of your favorite dishes.
Phat Kra-Prao Kai: Stir Fried Chicken with Holy Basil (Serves one or only half a snack portion for a hungry teenage boy)
Recipe from Smart Cook Thai Cookery School
Ingredients
100 grams minced chicken
30 grams large onion sliced diagonally
30 grams baby corn (or carrot)
20 grams holy basil
1-3 fresh chili chopped (use your discretion as these little bird chilis are fire hot)
1 tablespoon chopped garlic
1.5 tablespoon cooking oil
¼ teaspoon sugar or sugar alternative
1 tablespoon oyster sauce (omit if gluten sensitive)
½ teaspoon fish sauce
3 tablespoon water
Method
Step 1: Fry the garlic and ginger until fragrant
Step 2: Add minced chicken and stir fried until cooked.
Step 3: Add the onion, baby corn and stir well. (It was emphasized in the class that certain items must be added at certain times, you cannot just fry everything together at once it must be done in stages)
Step 4: Add water and season with fish sauce, oyster sauce, sugar and stir again. (Mix together first in a little bowl)
Step 5: Add the holy basil and mix well. Turn off heat.
Step 6: Serve on rice topped with a fried egg. (optional)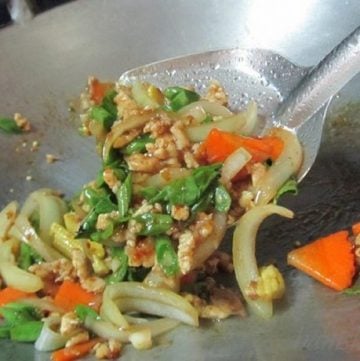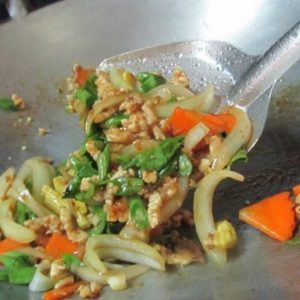 Ingredients
chicken breasts -

thai holy basil (holy basil) -

baby corns -

chilies -

garlic -

onion -

oyster sauce -

fish sauce -

sugar or sugar alternative -
Nutrition