Blueberry Buckle Almond Tarts is a quick and easy dessert with fresh berries, almonds and spices. Delicious hot out of the oven for an afternoon tea.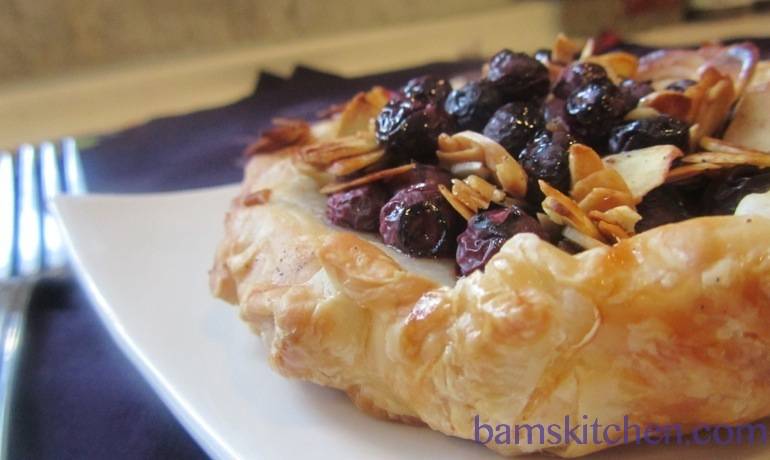 Time is always ticking.
We are either spending time on getting work done. Spending time with family and friends. Or my least favourite spending needless time on things that no one even notices.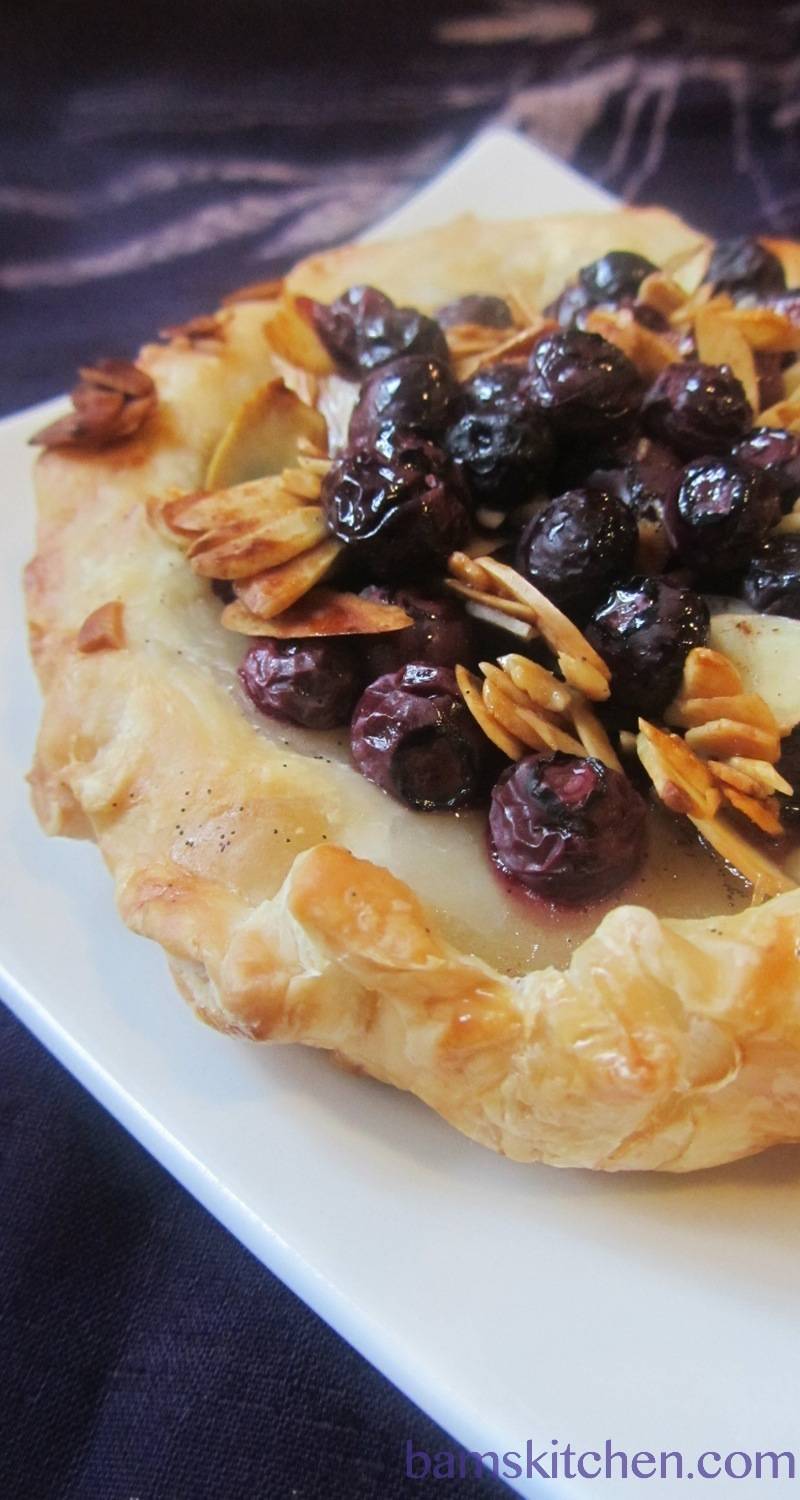 My favourite thing to do is to minimise "my time in the kitchen. I love to multitask. I have always been a big believer in multitasking and if you have kids, you are already doing it but just not taking the time to notice.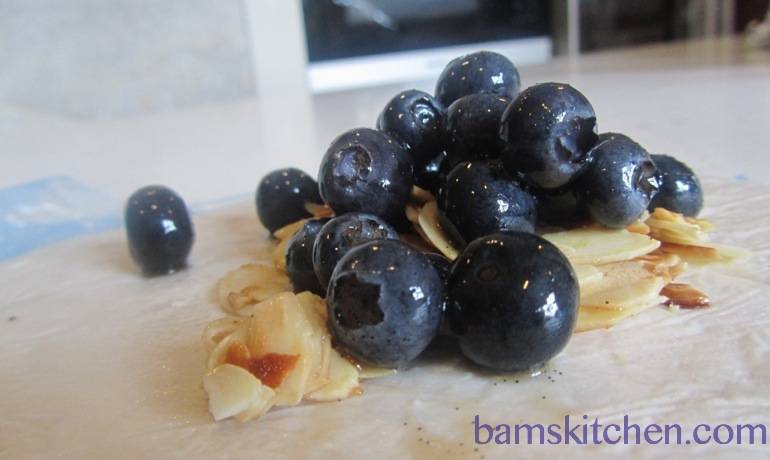 I have to limit my multi-tasking down to 4 things at a time. If I try to add that 5th task, something is sure to go astray. I might be able to help a kid with their homework, answer a quick phone call and fold clothes whilst baking something in the oven. However, if I try to add the 5th task like cooking something on the stove top to that equation, oh my that is when things can go terribly wrong.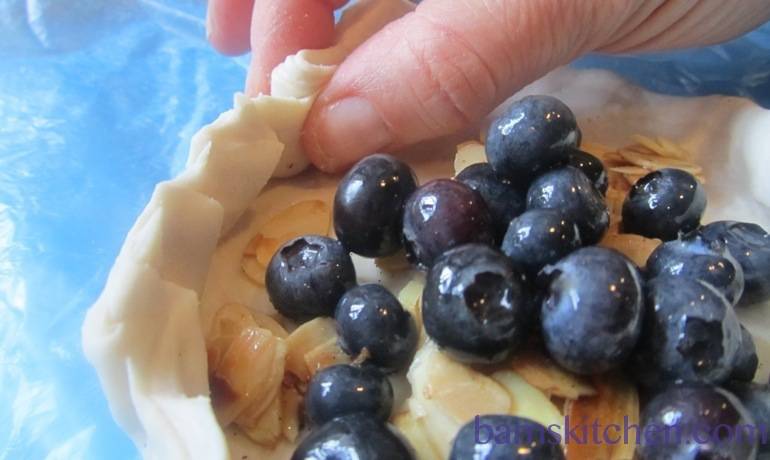 Don't you wish you had a photo to share for each one of you that were cooking something while you tried to add that 5th multi task to the scenario? I am sure we could make a cookbook on just kitchen mishaps. I am sure at least one of you can share a story about singed nose hairs, flambe' gone in flames, loosing our much-needed digits, homemade breads that can be used as door stops, boxed macaroni and cheese gone bad and other crazy kitchen adventures. Please feel free to share your funny stories or pictures as I am sure we all have been there and done that. We all need a good laugh to get us through the holiday.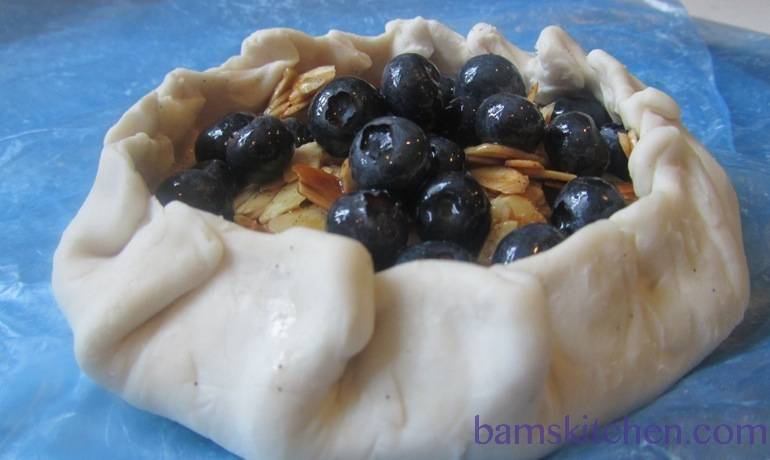 As long as I set a timer, putting a dessert in the oven is a fun and easy way to add a 4th or 5th multi-task without incident. Well that is the goal anyways...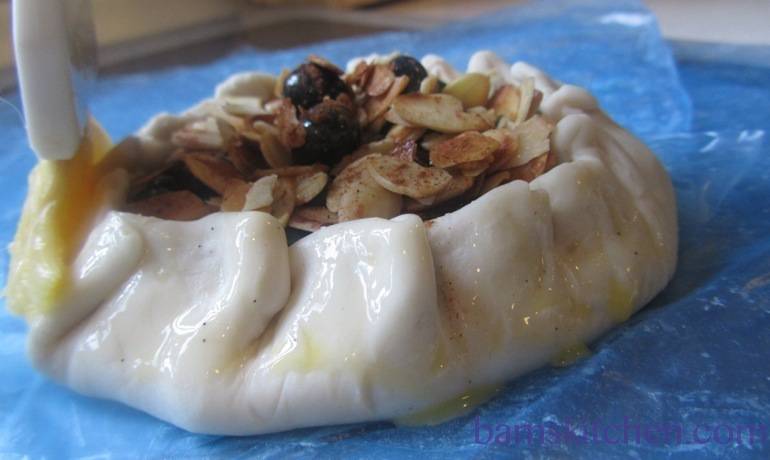 Why you are going to love these Blueberry Buckle Almond Tarts
I made a blueberry buckle almond tart with just 6 little ingredients and 30 little minutes. This is a delightfully easy rustic tart with fresh blueberries and sliced almonds. You can throw together this little blue berry buckle almond tart in a flash and eat hot out of the oven for a last-minute dessert. The crispy puff pastry with the crunch of the almonds and sweet of the blueberries and a slight tart from the lemon zest makes this the perfect little dessert to have with coffee/tea break or as a simple ending to a meal.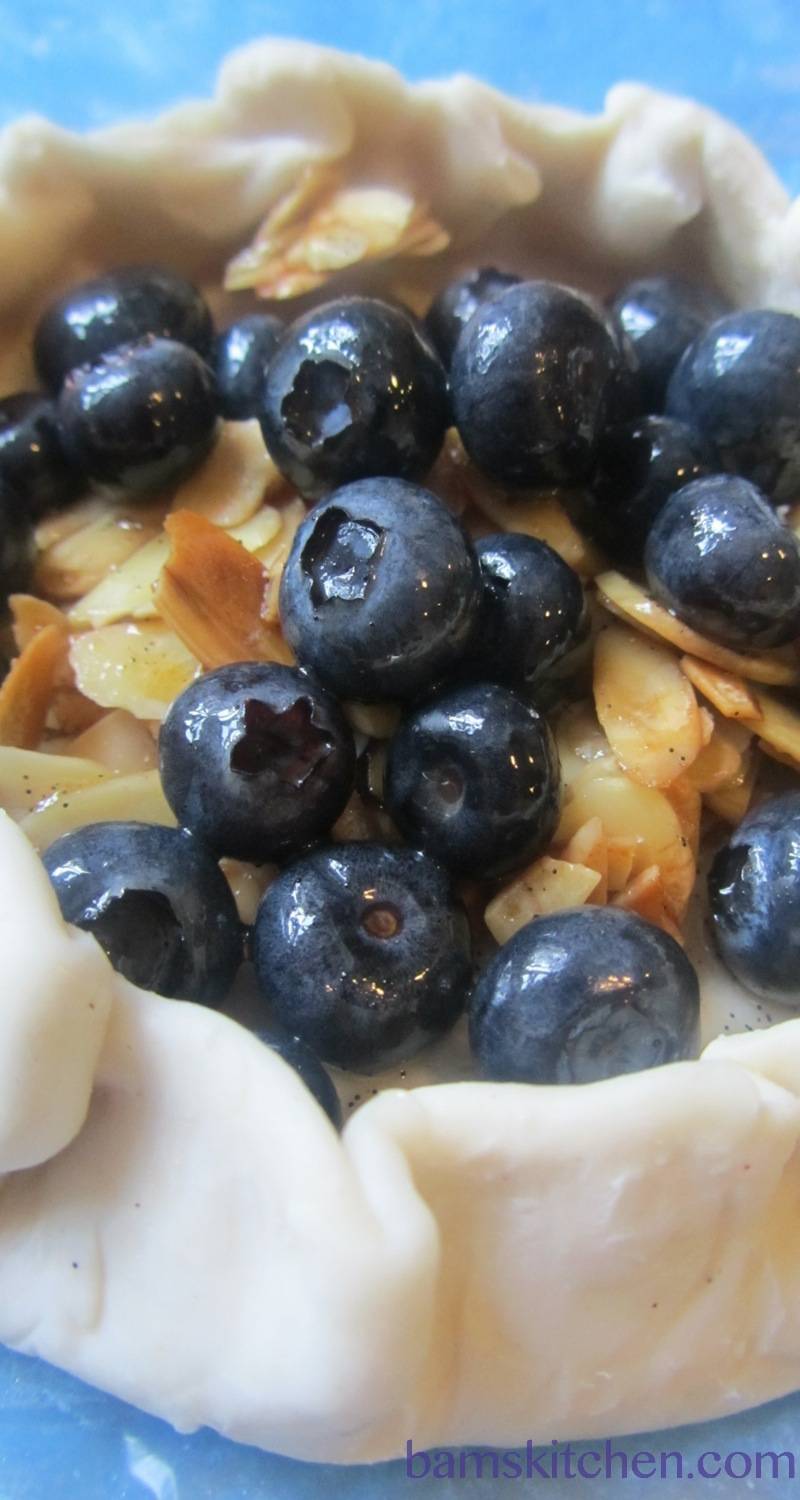 I made little individual tarts but you could make a full sized one if feeding a crowd. I used blueberries as this is what I had on hand but really the sky is the limit with fruit choices. Maybe a fresh fig, Persimmon, or even a segmented orange tart suits your fancy today. I used fresh fruit but you could also swap out with frozen blueberries but you will need to add a little cornstarch to thicken the blueberry sauce. Even though I pinched up the sides of my tart to seal, the edges opened up during the baking process. However, it still left a pretty rim and kept the fruit inside, so what more could a girl ask for...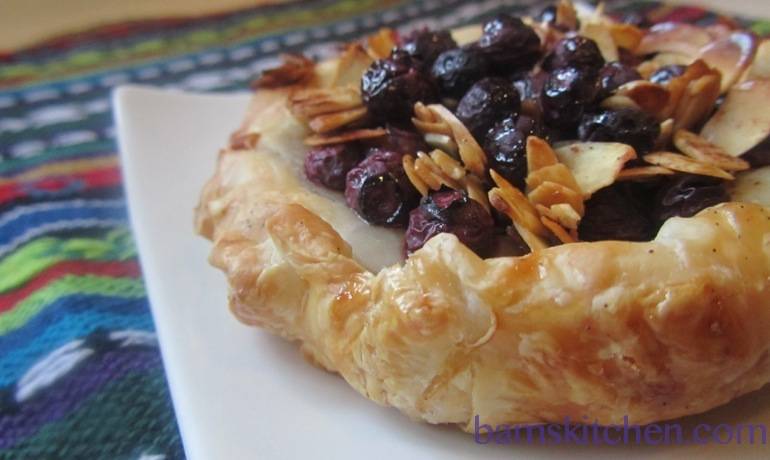 I think puff pastry is a great ingredient to have on hand around the holidays. You can whip up some many things both savory and sweet with this dynamic ingredient when you are low on time. Just store your puff pastry in the freezer and the options for creation are endless.
More Delicious Recipes Using Puff Pastry
How about the quick and easy version of the Hong Kong Syle Egg Tarts?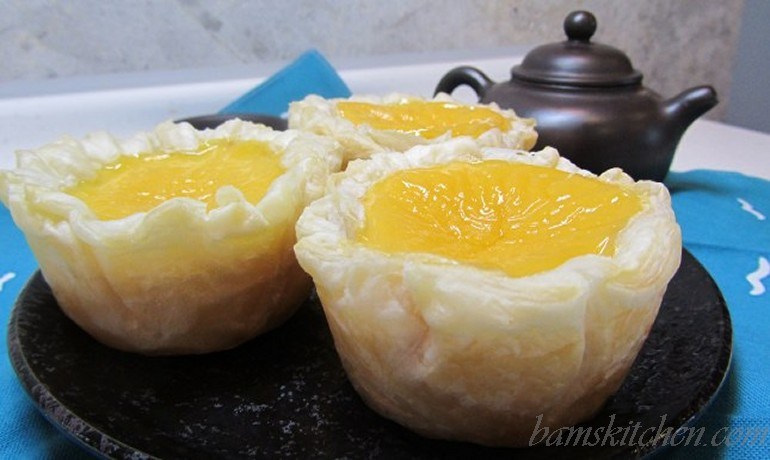 Looking for a fun and quick savory appetizer such as a Mini Holiday Mediterranean Brie en Croute?
Another delicious savory appetizer is our Beef and Cheddar Puff Pastry Wheels.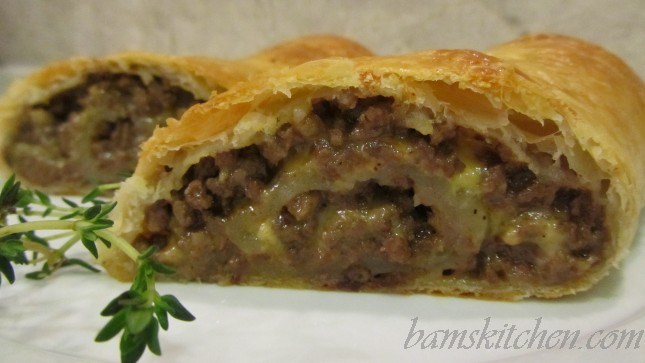 How about a Texan Sized Egg Roll hot appetizer?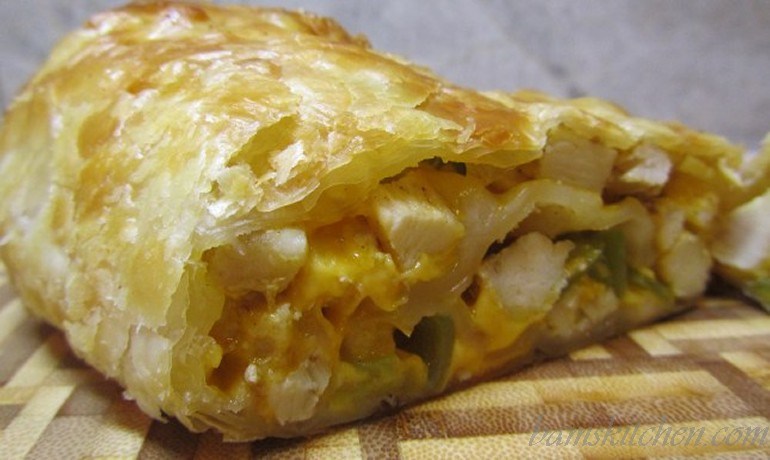 Hungry For More? Subscribe to our Newsletter and follow along on Facebook, You Tube, Instagram, and Pinterest for all the latest updates.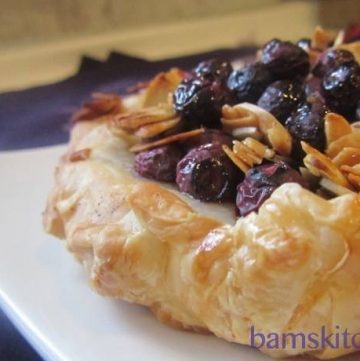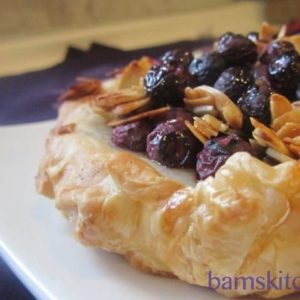 Blueberry Buckle Almond Tarts
A delightful easy rustic tart with fresh blueberries and sliced almonds that you can throw together in a flash and eat hot out of the oven for a quick last-minute dessert.
Print
Pin
Rate
Ingredients
1

sheet

puff pastry dough


1

cup

blueberries


¼

cup

sugar


or sugar alternative of choice

1

egg


for egg wash

1

teaspoon

lemon zest


1

teaspoon

vanilla


½

teaspoon

cinnamon

optional
Instructions
Preheat your oven to 400 degrees F or 204 degrees C.

Take your puff pastry dough sheet out of the freezer to unthaw for about 15-30 minutes room temperature or 1 minute in the microwave in a towel.


In a bowl combine blueberries, sugar or sugar alternative, vanilla and lemon zest and set aside.

Put your sliced almonds in a pan and toast just until golden brown, about 5 minutes. Set aside.

Place your Puff pastry sheet on a sheet of waxed paper (parchment/baking) paper on a baking sheet. Cut your puff pastry dough into a circle using a plate or bowl. This makes enough to serve 4 people so you can decide to make 4 small tarts, 2 medium tarts or one big tart shell. Be sure to use a fork to poke a few holes in puff pastry so it does not puff up too much.


Pour the blueberry mixture over the top of the puff pastry dough be mindful to leave about a 1.5 inch around the edges. Fold and and pinch the edges of the tart to make a decorative edge. This also makes a border to keep the fruit in the tart.


Add the toasted sliced almonds on top of the blueberries. Add a dash of cinnamon, if you wish.

Bake the blueberry buckle tart for about 20-25 minutes or until the tart is golden brown.

Garnish with whipped topping, vanilla ice cream or even a little powdered sugar and enjoy!
Notes
Feel free to use any type of fresh berries you enjoy such as strawberries, blackberries or raspberries.
Recipe can be made up to 8 hours in advance. Store at room temperature in a sealed container . If longer than 8 hours, refrigerate the leftover and consume within 3 days.
Nutrition
Serving:
1
g
|
Calories:
426
kcal
|
Carbohydrates:
46
g
|
Protein:
6
g
|
Fat:
25
g
|
Saturated Fat:
6
g
|
Cholesterol:
41
mg
|
Sodium:
169
mg
|
Potassium:
81
mg
|
Fiber:
2
g
|
Sugar:
17
g
|
Vitamin A:
79
IU
|
Vitamin C:
4
mg
|
Calcium:
12
mg
|
Iron:
2
mg