Beef and Cheddar Puff Pastry Wheels are filled with delicious cheesy beef and wrapped up with a flaky puff pastry dough crust. Fantastic appetizer for tail gaiting parties and gatherings.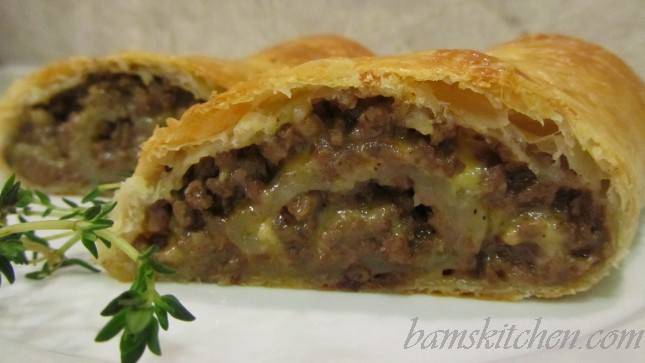 5 Delicious Reasons to enjoy Beef and Cheddar Puff Pastry Wheels
Ready in about 30 minutes
Crowd pleaser for tail gaiting and any gathering
Cheese... need we say any more.
Portable appetizer
Can be a full meal with a salad on the side
Are you looking for a hearty meat eater lovers dish for those football game days? Get Ready to enjoy our Beef and Cheddar Puff Pastry Wheels.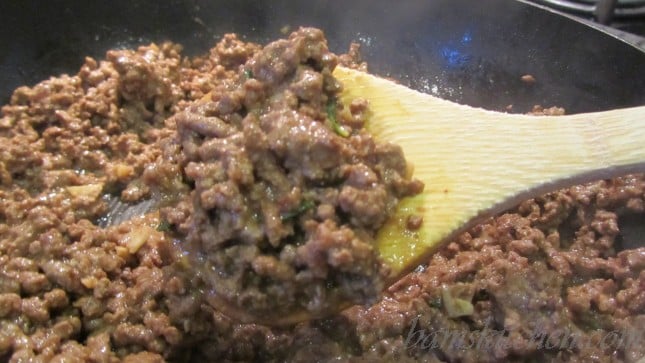 Beef and Cheddar Puff Pastry Wheels are sure to get everyone into the game. In about 30 minutes or less, you can have these tasty little hot appetizers wheeling on to a plate. If you like the idea of a hand pie for tail gaiting, be sure to try our Beef Empanadas.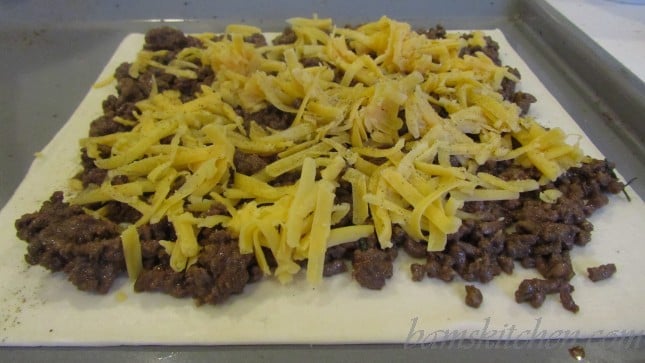 Half Time Favorite: Beef and Cheddar Puff Pastry Wheels
Whether your watching the football games on TV or rushing your kids from practice to their games, this recipe is sure to please.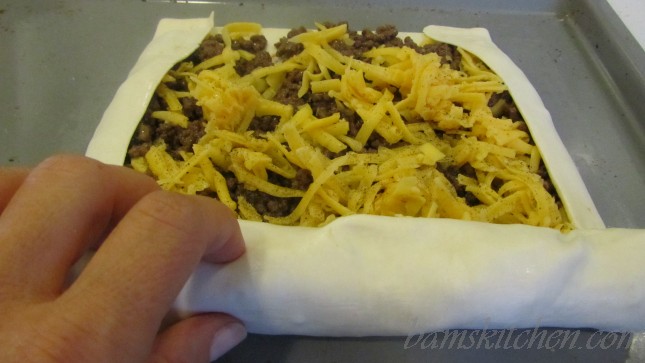 What is the difference between puff pastry and phyllo dough?
Phyllo dough is paper-thin sheets of unleavened flour dough used for making pastries in some Middle Eastern and Balkan cuisines. Homemade phyllo takes time and skill, requiring progressive rolling and stretching to a single thin and very large sheet.
Puff Pastry is a thicker dough comprised of flour and lots of butter.
How to unthaw puff pastry dough?
You can unthaw your puff pastry dough at room temperature in about 40 minutes. Another option is to wrap up your puff pastry in a towel and microwave for one minute.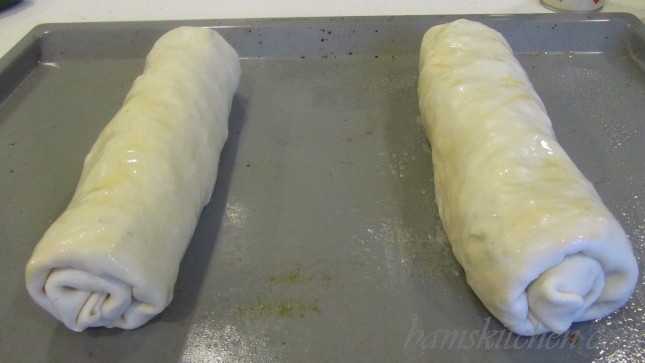 These large sheets, because they are so tender, can tear easily. I did not have the time or patience today to make my own phyllo dough, so the frozen pre-made phyllo dough is a blessing.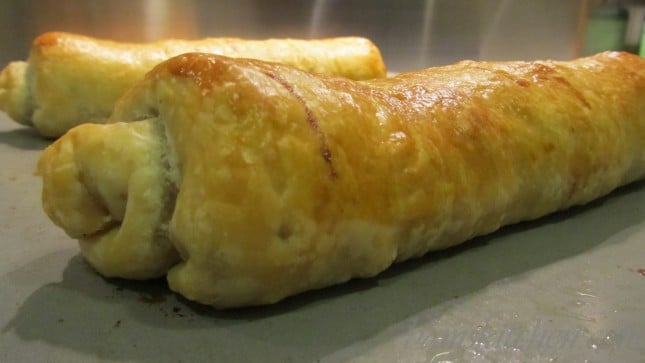 Puff Pastry dough can be used for anything from appetizers to desserts and everything in between. The light flaky crusts are so buttery and divine that you can almost put anything inside and your teenagers will love it.
More Recipes with Puff Pastry Dough
17 Amazing Pot Luck Recipes (appetizer)
Hungry For More? Subscribe to our Newsletter and follow along on Facebook, You Tube, Instagram, and Pinterest for all the latest updates.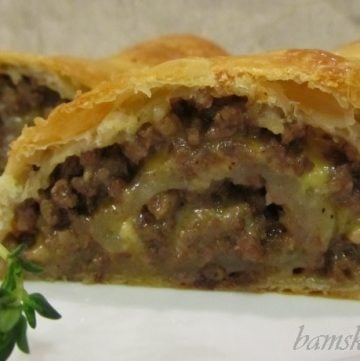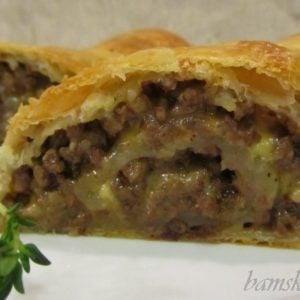 Beef and Cheddar Puff Pastry Wheels
Beef and Cheddar Puff Pastry Wheels are filled with delicious cheesy beef and wrapped up with a flaky crust. Fantastic appetizer for tail gaiting parties and gatherings.
Print
Pin
Rate
Ingredients
1

tablespoon

olive oil

1

shallot


or small onion

2

cloves

garlic

finely minced

1.5

pounds

ground beef


1

teaspoon

thyme


¼

cup

red wine

2

teaspoon

Worcestershire sauce


2

tablespoon

sour cream


salt and pepper

to taste

2

sheets

puff pastry dough


2

cups

cheddar cheese


1

egg
Instructions
Preheat oven to 350 degrees F( 190 degrees C)

In a medium sized frying pan, spray pan with cooking spray and cook garlic and shallots until aromatic.

Add ground beef and cook until brown.

Add fresh thyme, red wine and Worcestershire sauce into cooked beef and cook about 2-3 minutes until juices are reduced. (If your kids ate mushrooms, this would be a nice addition here)

Add cream fresh (sour cream) to beef mixture and turn off burner.

Allow Beef to cool off. (I cheated a little and put my beef mixture in the freezer to hurry up the process)

While you are waiting for your beef to cool in freezer for 5 minutes, take out the puff pastry dough from freezer and let unthaw.

Spray cooking sheet with cooking spray

Place puff pastry dough on cooking sheet and spread ground beef mixture over top of dough leaving about 1 inch on sides.

Put grated cheese on top of ground beef mixture.

Roll up beef and cheddar puff pastry wheels. Start by folding up one inch on sides. Then start on end and slowly and carefully roll up and use the egg wash to seal ends. (You can make the process easier, if you first place the dough on parchment paper and use the paper to roll up the puff pastry dough nice and tight- whatever works best for you)

With a small brush paint egg wash on Beef and Cheddar puff pastry wheels and will make the crust nice and golden brown.

Place both of Beef and cheddar puff pastry wheels on the greased cooking sheets and bake between 20-30 minutes or until crust is golden brown.

Cut Beef and Cheddar Puff Pastry wheels into 2 inch sections and feed to hungry football players or football fans. Enjoy!
Notes
You may need to roll your puff pastry dough out a little first. Make sure your flour your rolling pin first.
To thaw out puff pastry, either allow it set out at room temperature for 40 minutes or can place in the microwave in a towel for 1 minute.
Nutrition
Serving:
1
slice
|
Calories:
944
kcal
|
Carbohydrates:
39
g
|
Protein:
36
g
|
Fat:
70
g
|
Saturated Fat:
26
g
|
Cholesterol:
149
mg
|
Sodium:
548
mg
|
Potassium:
446
mg
|
Fiber:
1
g
|
Sugar:
2
g
|
Vitamin A:
458
IU
|
Vitamin C:
1
mg
|
Calcium:
313
mg
|
Iron:
5
mg