Shanghai Wonton Soup is a delicious lucky soup made with homemade shrimp, pork and spinach wontons with a simple nourishing broth. (Step by Step how to and Video included)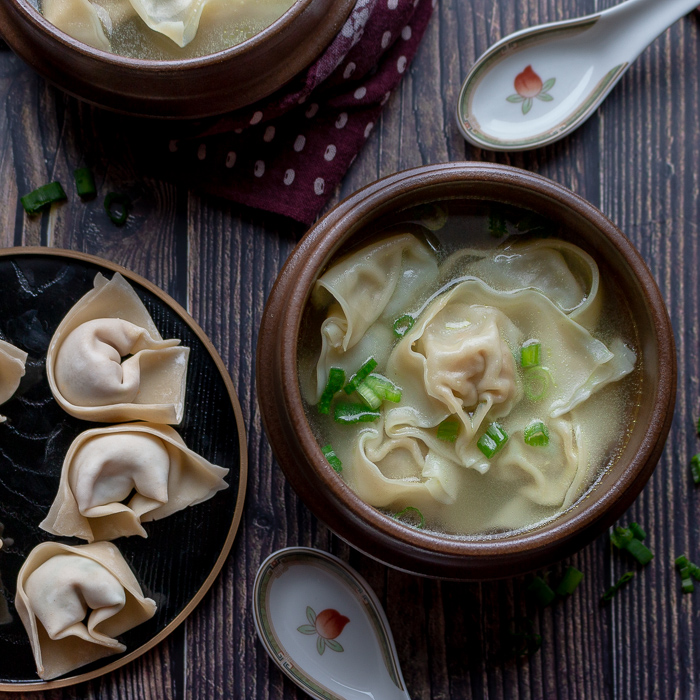 Why you are going to LOVE homemade Shanghai Wonton Soup
Do you know that feeling you get when you take a sip of your mom's homemade soup? You feel cozy, safe and healed from whatever ails you right away. That is exactly how you will feel after a delicious bowl of Shanghai Wonton soup.
When you take your first bite of the tender wonton you will taste the mix of fresh ginger, garlic, shrimp and pork for a succulent bite. Then when you slurp the broth you will taste the delicate flavor of the broth, sesame oil and a freshness from the sliced green onions. If you like a delicious comforting broth, you may also like to try our Chinese Beef Noodle Soup Recipe. This Shanghai Wonton Soup is seriously addictive and not too hard to make. Be sure to check out our casual You Tube video on how to form the wontons.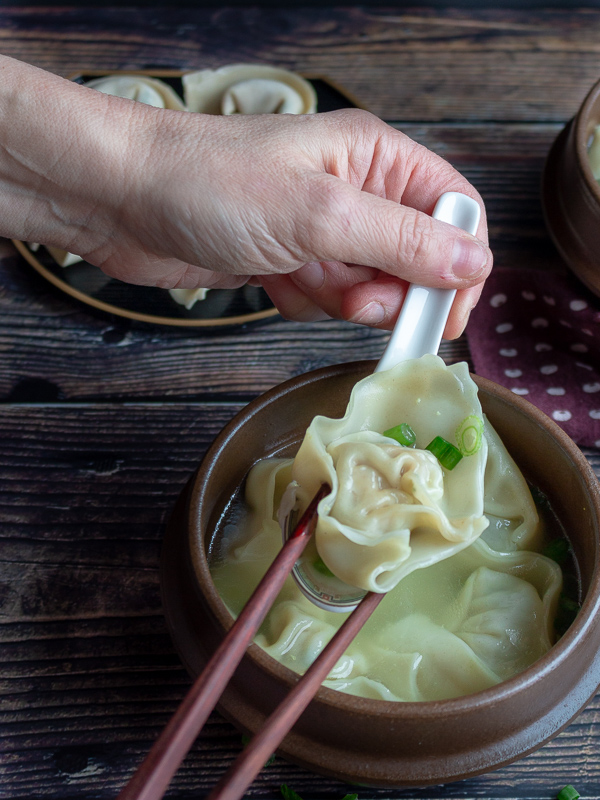 So how many wontons do you think you can eat?
Five? Ten? Twenty? We can tell you this recipe makes about forty dumplings but if you have growing teenagers or big eaters, be prepared to double your recipe. Personally, I have seen my super skinny Chinese girlfriends pack away about 25 dumplings in one sitting. Be prepared and err on the safe side and make extra as everyone loves Shanghai Wonton Soup.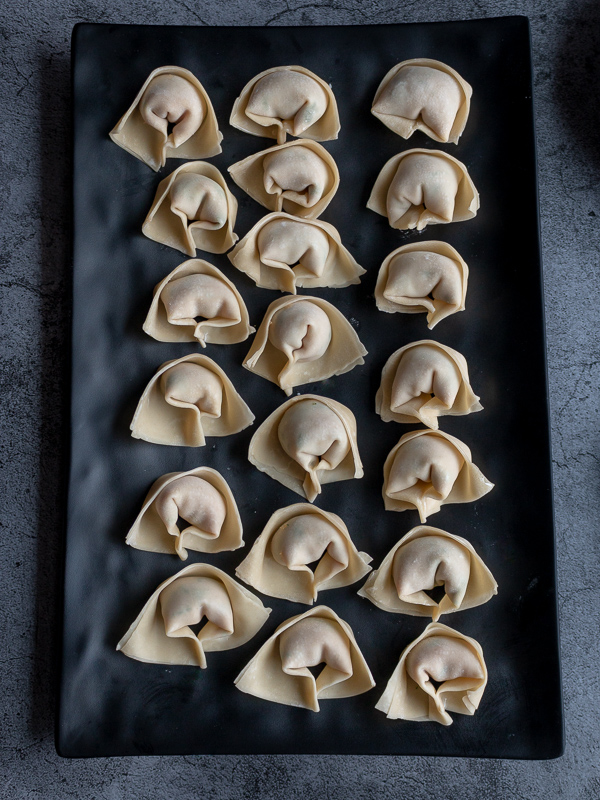 What are wonton wrappers made of?
Wonton wrappers are super thin sheets of pasta made with eggs, water and flour. They are cut into squares. You can find these in the refrigerated section of your grocery store or Asian market. If you are feeling ambitious you can make them from scratch. On the other hand, Dumplings are made with just flour and water and are just a wee bit thicker. If you enjoy dumplings, be sure to try our Spicy Pan-Fried Beef Bao.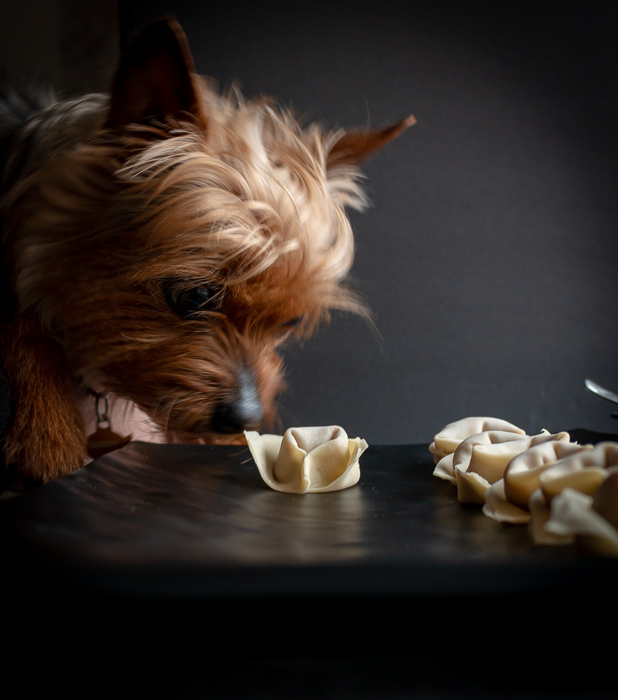 You can freeze Shanghai wontons
You sure can. You can freeze them BEFORE you cook them. As you form your wontons, be sure to place them on a sheet pan dusted with a little cornstarch or rice flour. Place them uncovered and not touching each other inside the freezer. Once they are frozen solid, remove the wontons from the tray and place in a freezer safe baggie or container. They can be frozen for up to 2 months. From this frozen point, your wontons can be boiled or made into Shanghai Wonton Soup.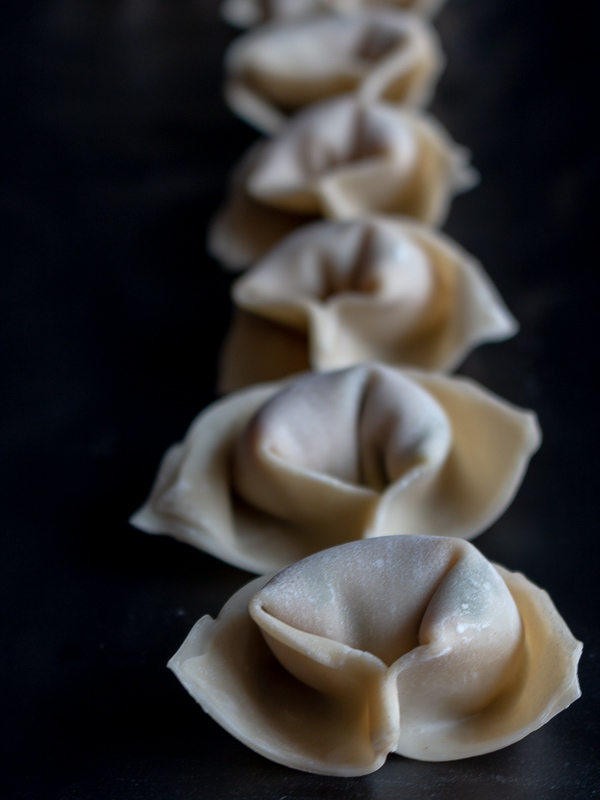 How to wrap a wonton…
It's a relatively simple process to make Shanghai Wonton Soup. Be sure to check out our quick video down below and you can follow along to learn how.
You start by dabbing a little water all around the edges of your wonton wrapper.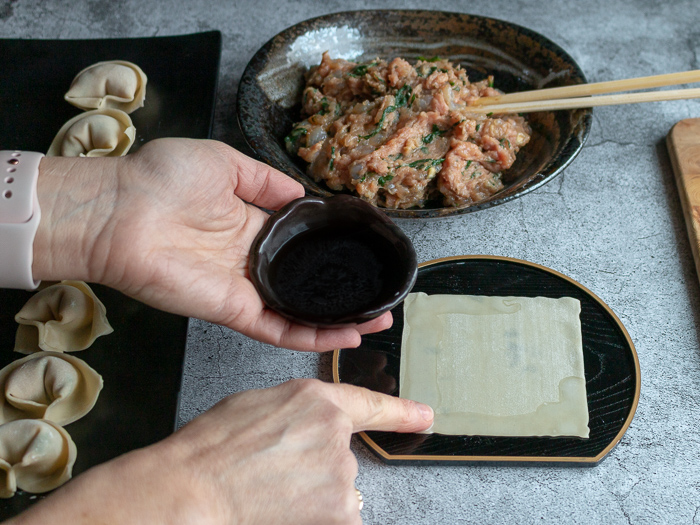 Then place about 1 heaping teaspoon of filling inside the wrapper in the middle. Do not overfill as that will be problematic during the cooking process.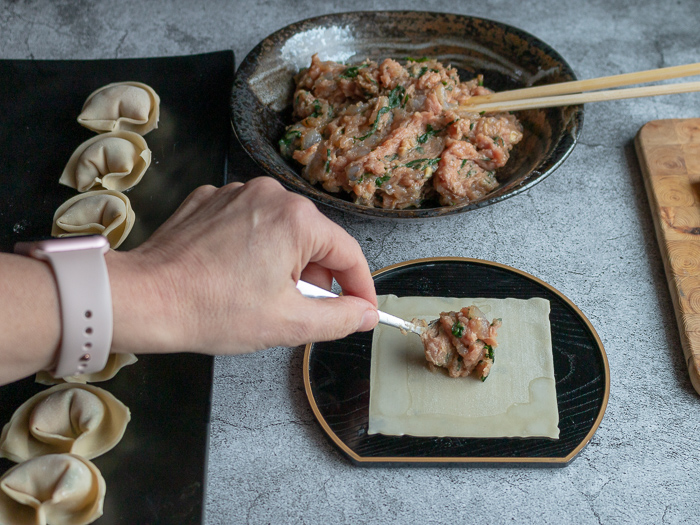 Next, close and seal the wonton wrapper in half. Be extra careful to get out any air and make sure the wrapper is sealed all the way around so that no filling bursts out during the cooking process.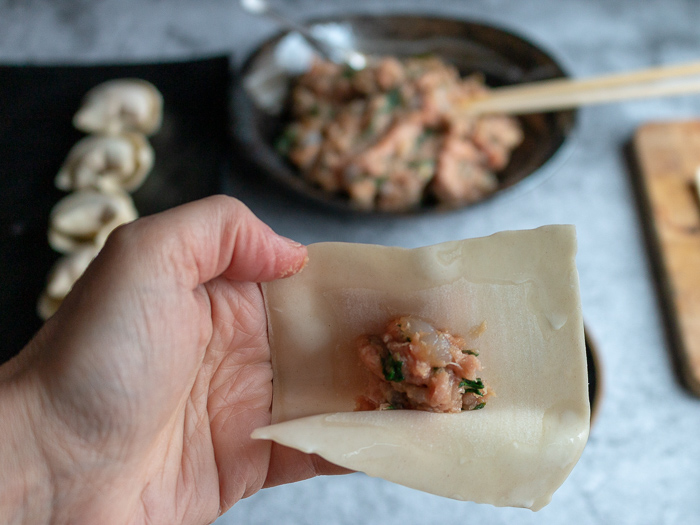 Next fold over lengthwise so it looks like a little nun's cap or an old fashion nurse's hat.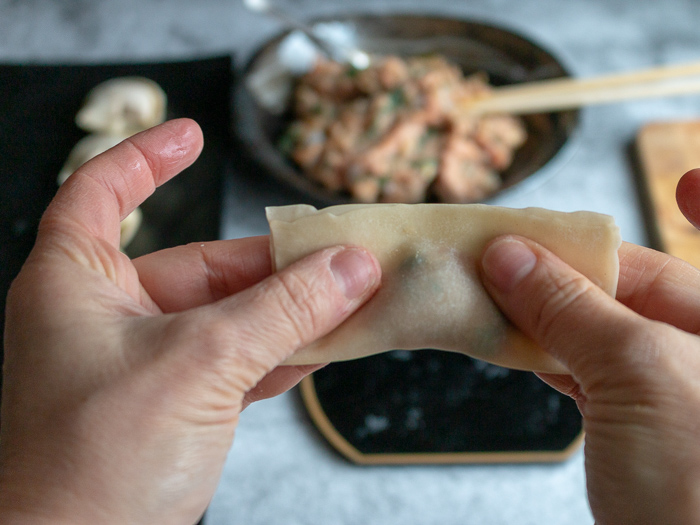 Dab a little extra water around the edges and then pinch close to form the cute little wonton.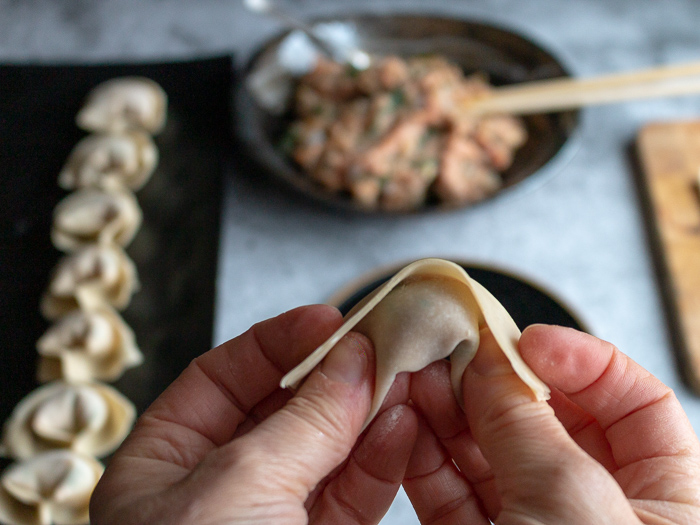 Very important! Make sure you keep a damp towel over your wonton wrappers and over your completed wontons, so they do not dry out. If your wonton wrappers get dry, they are a pain in the #$%# to fold up and we can't have that. LOL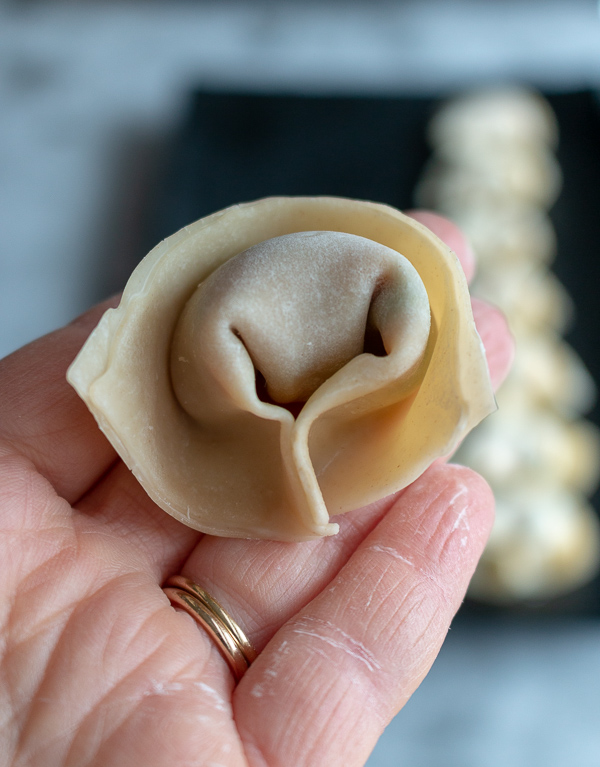 Shanghai Wonton Soup is Lucky during Chinese New Year
The Chinese New Year (CNY) feast takes many days to prepare and lasts about 15 days. Now that is a lot of celebrating. Be sure to check out our 10 Fun and Easy Chinese New Year Recipes. These are some of the traditional Chinese New Year foods served on New Year's Day and throughout the festivities:
meat dumplings for good luck
tangerines for good fortune
apples for peace
sweet rice cakes for more wealth every year (Sweet Sticky Rice Chinese New Year Cake, Niangao, 年糕)
fish for plenty
veggies with long noodles for long life
chicken for wealth
mustard greens for a green year for farmers
soup means everything better than last year
oranges for money and wealth
shrimp for abundance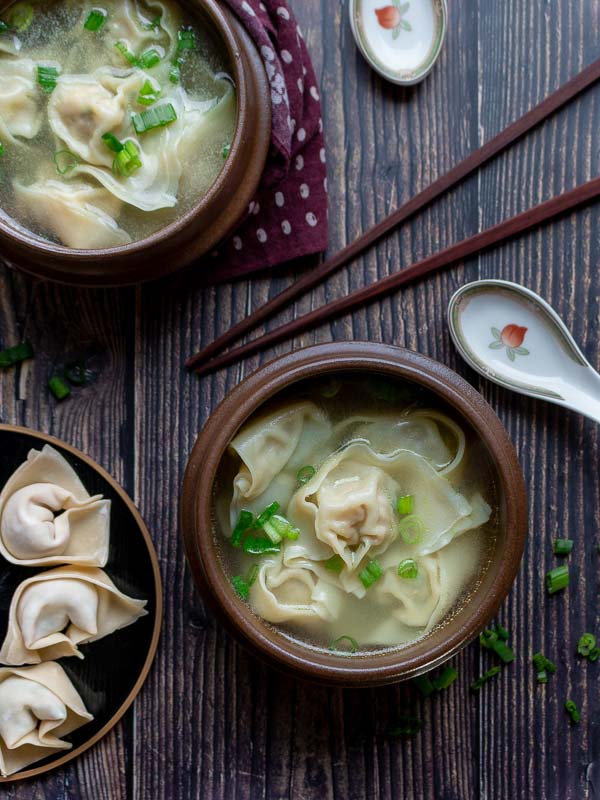 So today we are going to combine three auspicious meals in one. Wontons (a thinner type of dumpling also known as huntun-馄饨 in Chinese) for good luck, soup to make everything better than from last year and shrimp for abundance. Let's enjoy some tasty lucky Shanghai Wonton Soup. This Recipe is from our dear friend Lynn Li.
More Delicious Chinese Recipes
Chinese Eggplant with Spicy Pork
Beef and Peppers in Black Bean Sauce
How to Prepare Wood Ear Mushrooms
Wood Ear Mushroom Vegan Stir Fry
Hungry For More? Subscribe to our Newsletter and follow along on Facebook, You Tube, Instagram, and Pinterest for all the latest updates.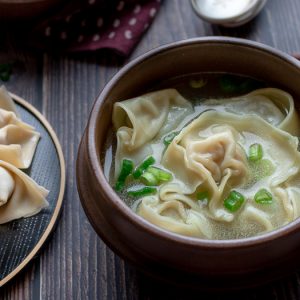 Shanghai Wonton Soup
Shanghai Wonton Soup is a delicious lucky soup made with homemade shrimp, pork and green vegetable wontons with a simple nourishing broth.
Print
Pin
Rate
Ingredients
Wontons ingredients
40

wonton wrappers


3

cups

Chinese Greens


quickly boiled and then run under cold water to stop the cooking process (Chinese Chrysanthemum, spinach or Chinese watercress may all be good substitutes)

½

pound

ground pork


(minced)

½

pound

shrimp


peeled and deveined minced

2

green onion


minced

1

tablespoon

soy sauce


1

tablespoon

rice wine


or dry sherry

½

teaspoon

salt


½

teaspoon

sugar


or sugar alternative - optional

½

teaspoon

white pepper


or to taste

2

teaspoon

ginger


fresh finely grated

2

cloves

garlic


peeled and minced

2

teaspoon

sesame oil


1

egg

water


little bowl (to seal the edges of the wonton)

1

tablespoon

rice flour

or cornstarch or a sheet of waxed paper (to prevent the wontons from sticking on the baking sheet)

Water


for boiling wontons

Salt


add to water to boil wontons

2

cups

Cool water

(to bring your water temperature down)

Soup Base Ingredients
pasta water


from cooking wontons (approximately one cup per person)

2

spring onions


chopped - optional

salt to taste

white pepper to taste

to taste - optional

sesame oil

2 drops per bowl of wonton soup
Instructions
Flash boil the Chinese greens or spinach and then run under cold water to stop the cooking process. Squeeze the water out of the vegetables and dice finely and set inside a medium mixing bowl.

In the same bowl you put the chopped Chinese greens put in minced pork, green onion, soy sauce, rice wine, salt, white pepper, ginger, garlic, egg and sesame oil and mix well.

Dip your fingers into the water bowl and place a little water around the edges of one wonton wrapper. Make sure you cover the rest of your wonton wrappers with a damp tea cloth, so they don't dry out while you are stuffing the wontons

Place a heaping teaspoon of pork mixture in the middle of the wonton. (Do not overfill the wonton or otherwise it will burst open during the cooking process)

Fold the wonton wrapper in half and make sure you press tightly around the edges of where the pork mixture is, so you have a good seal.

Fold the wonton over so it looks like a little flying nun hat and then fold the two ends on top of each other to seal. The finished product should look like a nurse's cap or maybe even a flying nuns cap depending on your technique.

Place your finished wontons on a baking sheet lightly rice floured/corn starch or waxed paper lined baking sheet to prepare for the soup. Alternatively, wontons can be frozen and used later. (If you decide to freeze some, freeze them flat on a baking sheet and once they are frozen you can transfer them to a plastic baggie. This prevents them from sticking together.)

How to cook your wontons: Bring a large pot of salted water to a boil. Add about 6-10 wontons to your pot. (depends on the size of your pot) Make sure there is enough room for them to move about freely. The wontons will cook for a total of 5 - 8 minutes or until they rise to the top and the filling is cooked through. (VERY IMPORTANT! During the boiling process, add about ½ cup of cool water about every 2-3 minutes so that the water does not boil intensively and break apart your wontons- total of around 1.5 cups. You will add the cool water 3 times. Do NOT let your wontons boil vigorously as they may burst. Your goal is to bring them up to a boil and then add a little of the cool water to bring the temperature down. Then bring it up to a boil a second time and then add a little of cool water. For the third and final time you will add a little cool water and bring it up to a boil. Remove your wontons from the pot with a slotted spoon. Repeat this process with the remaining wontons.

To serve, place somewhere between 5 - 10 dumplings in a large bowl (depends on how hungry you are) and then ladle with 2 ladles of pasta water over the dumplings. Simply add some salt to taste, chopped green onion, white pepper and a little drizzle of sesame oil.

Enjoy!
Notes
Shanghai Wonton Soup is generally made with just pasta water for the soup broth. However, if you desire feel free to add a little chicken broth or chicken bouillon to the pasta water as desired.
Feel free to exchange the pork and shrimp filling with all pork, ground turkey, more steamed vegetables or whatever your little heart desires.
We used spinach but feel free to use sweet potato greens or any greens that your little heart desires.
Nutrition
Serving:
1
g
|
Calories:
243
kcal
|
Carbohydrates:
24
g
|
Protein:
16
g
|
Fat:
9
g
|
Saturated Fat:
3
g
|
Cholesterol:
116
mg
|
Sodium:
740
mg
|
Potassium:
226
mg
|
Fiber:
1
g
|
Sugar:
1
g
|
Vitamin A:
1144
IU
|
Vitamin C:
6
mg
|
Calcium:
83
mg
|
Iron:
3
mg