Chinese Chicken Salad & Goji Berry Dressing is filled with aromatic Chinese spiced poached chicken with fresh crisp vegetables and a delicious goji berry, chili and ginger dressing.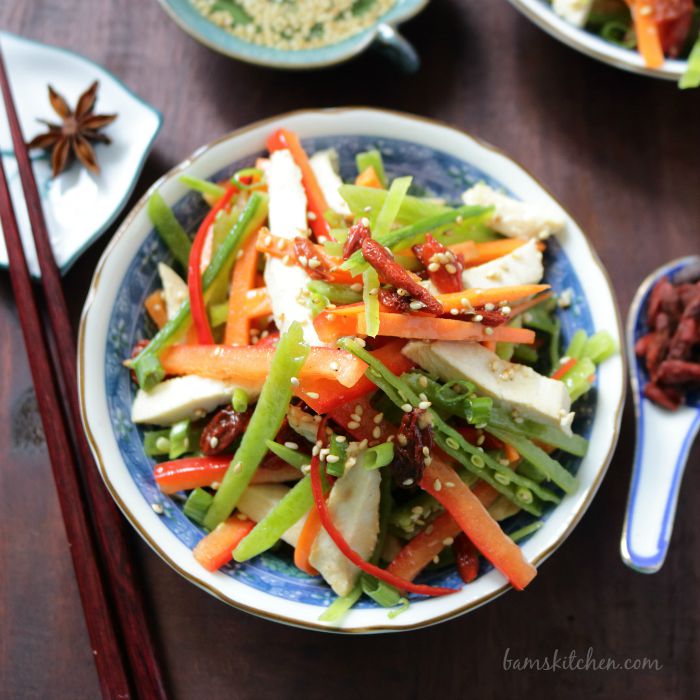 Why you are going to love Chinese Chicken Salad & Goji Berry Dressing
You are just going to love the tender chicken that has been poached in a bath of warming cinnamon, star anise, green onion and ginger broth which is chopped and tossed with cooling crisp julienne cut veggies and drizzled with a delicious delicate sweet goji berry, chili and ginger dressing and topped with crunchy sesame seeds.
It sounds as great as it tastes and it even tastes better the next day. This little dish is a little East meets West recipe. You would never in your right mind eat raw vegetables in China or cold salads. In the Western world you would never in your right mind be putting Chinese Medicinal herbs intentionally into your salad.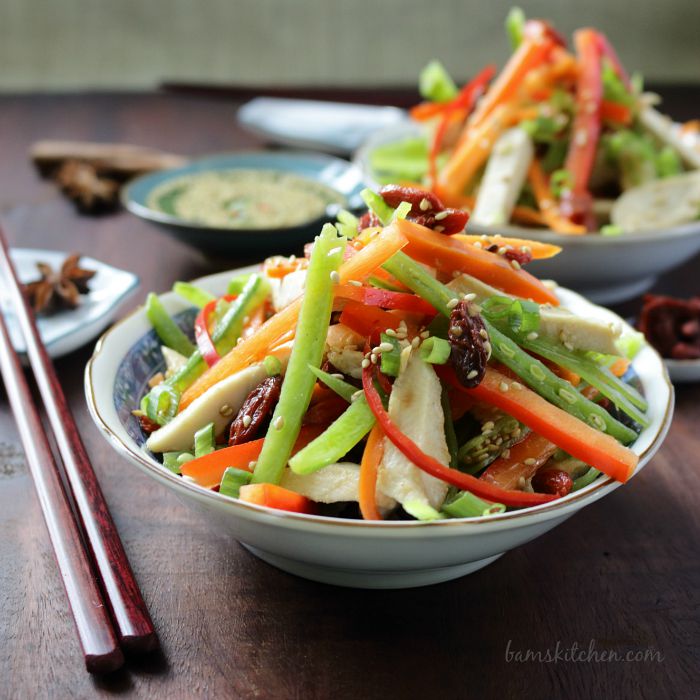 Well today I am doing both! I am crazy that way and I am going to be downright intentionally conflicting. I am bringing the warm in with the cold, the yin with the yang. I am going to do my best to make East and West join as one delicious union.
I have now lived in Hong Kong (HK) for 6 years and that time has flown by so quickly. I remember when I first arrived here from Japan, it was difficult. It was much more difficult for our family assimilate to HK than to Japan even though many people spoke English here. We felt like outsiders, we did not know the language, customs and of course the boys could tell you all about the strange fear factor foods... (sea cucumbers, 1000 year old eggs, chicken feet, things with tentacles..you know the usual teenager stuff)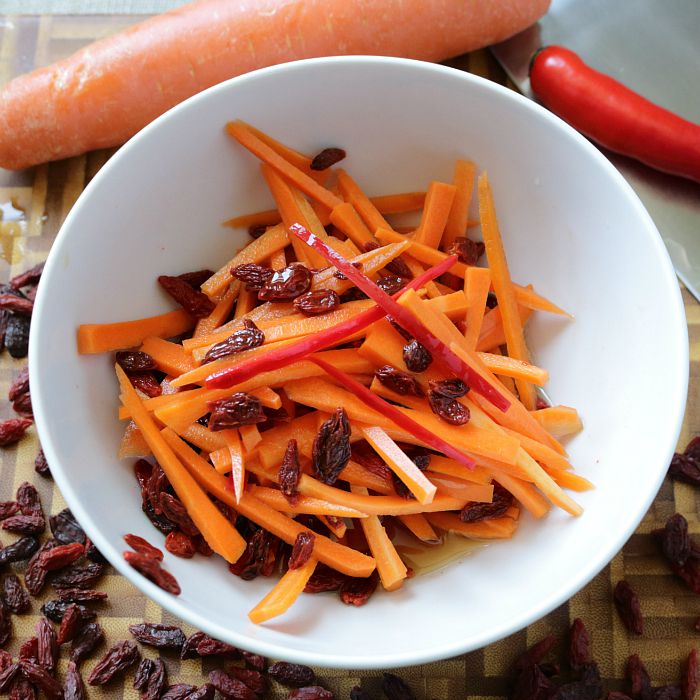 How to feel comfortable in a foreign country
When you first move to a country you feel like everyone is staring at you. You stick out like a sore thumb with your maps of the trains and subways fluttering about, your attire does not look like anyone else and you look lost (well that is probably because you really are..)
Today, no one stairs at me as I walk through the streets of Hong Kong. I use an umbrella to shade myself from the summer heat and sun. My clothes are from Hong Kong. I don't need a map to find my way. I help an elderly lady with her grandma cart on to the public bus and make sure she is seated in the priority seat before the crazy bus driver takes off like a bat out of hell. (She still does not smile nor thank me in Cantonese but I know one day she will remember me when we are on the bus together) I now drink my water at room temperature and not with ice cubes, even in the middle of August.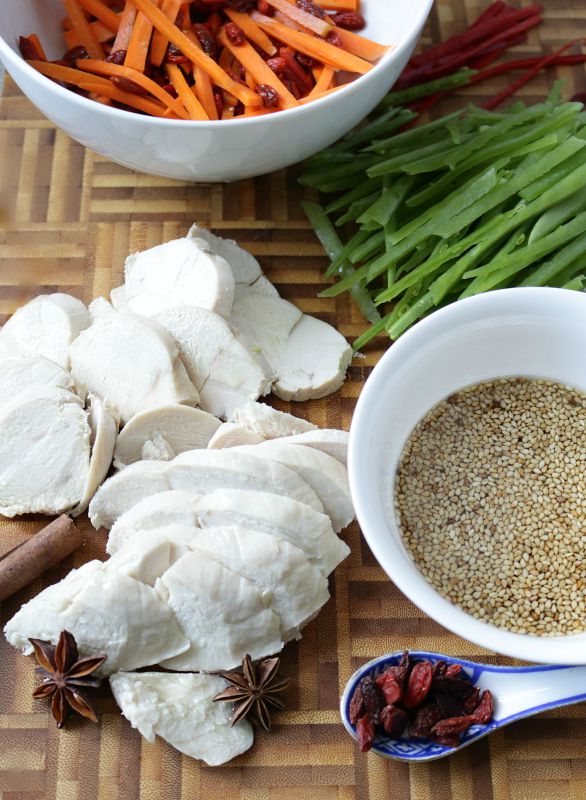 Chinese Chicken Salad & Goji Berry Dressing and Traditional Chinese Medicine
What does all of this have to do with a Chinese Chicken Salad & Goji Berry Dressing recipe you may be asking???!!! The salad represents me and how I learned to conform to my new environment. I was initially a cold crisp salad and not able to conform to the norms of society. I met some beautiful warmhearted friends (my star anise, cinnamon, ginger and spring onion poached chicken) and they shared with me some delicious goji berries to turn my rice vinegar, sweet. This salad is both yin (cooling) and yang (heating) with each of its different ingredients but it balances perfectly.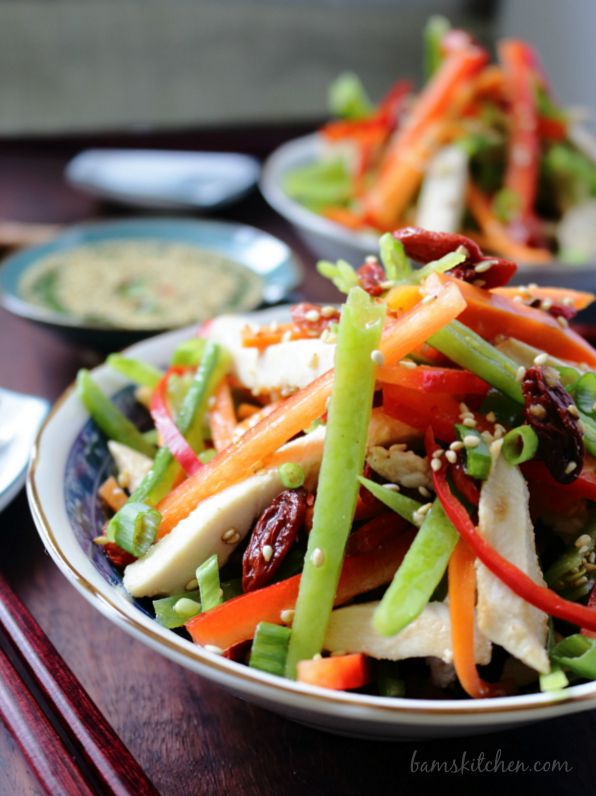 My body has been craving sweet and delicate taste of goji berries. Goji berries (Wolfberries) are neutral food they are neither warm or cool according to Traditional Chinese medicine (TCM). They are known to be high in antioxidants, iron and help nourish the liver and kidney. I love snacking on plain dried goji berries right from the package but they are also good in teas, desserts and are a great super food. You can find goji berries in Asian grocery stores or even purchase them online at Amazon. If you cannot find goji berries, you can exchange with sultans (raisins), the light-colored ones would be best.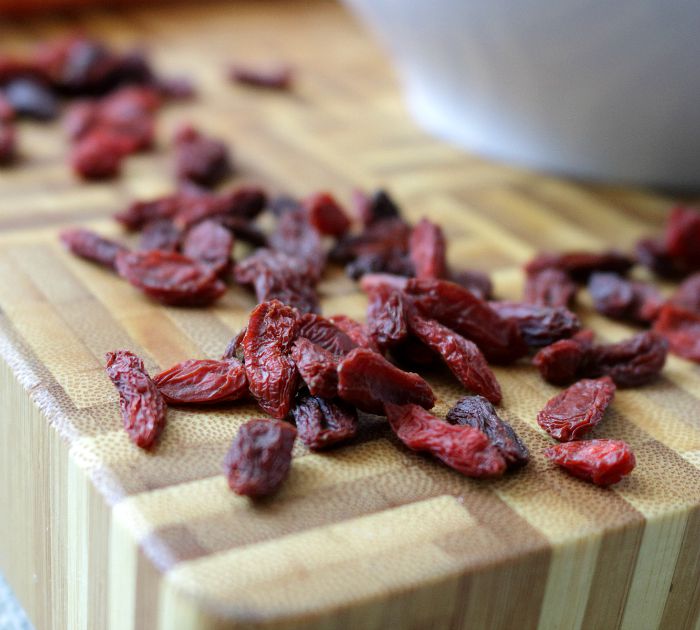 You can use any vegetables you have in your crisper that you would like in a salad. the only thing to remember is to try to cut the vegetables all in the same size so it is easier to eat and also marinate best when they are julienne cut or you can use a mandolin.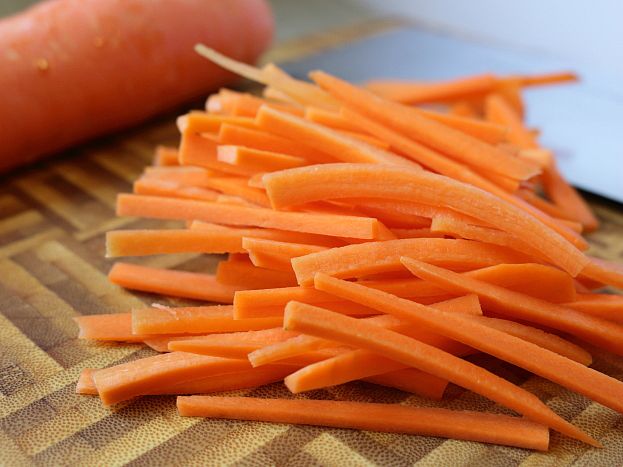 Dietary Exchanges to meet your needs
You can exchange rice vinegar for apple cider vinegar if you want to make this paleo friendly but I just used what I had in my pantry. Chinese Chicken Salad & Goji Berry Dressing is gluten-free, cardiac friendly, low-fat and low carb. If you are following a diabetic friendly diet, you may want to omit the goji berries and sweeten the dressing with a sugar alternative.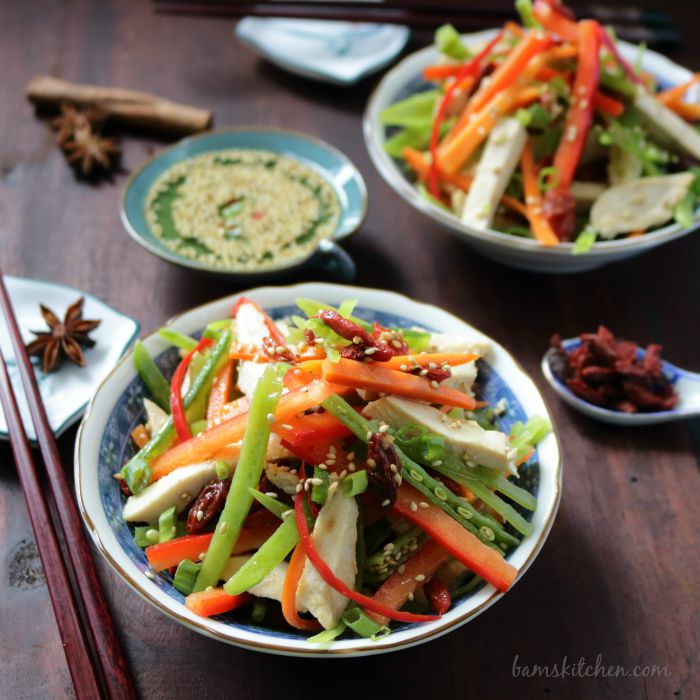 Goji Berry Dressing
I made extra goji berry dressing to go on top of the delicious Chinese Chicken Salad & Goji Berry Dressing. I don't know exactly where all the dressing goes but it disappears overnight...This recipe is delicious to make the day before as they vegetables, spices and goji berries all have a chance to marinate. Just before I serve it the next day, just toss and add a little more dressing to the salad. This is a perfect dish for a picnic, a dish to pass at a shower and is great to bring into work/school lunches.
More Asian Salads and Dressings Recipes
Layered High Sesame Asian Salad
Hungry For More? Subscribe to our Newsletter and follow along on Facebook, You Tube, Instagram, and Pinterest for all the latest updates.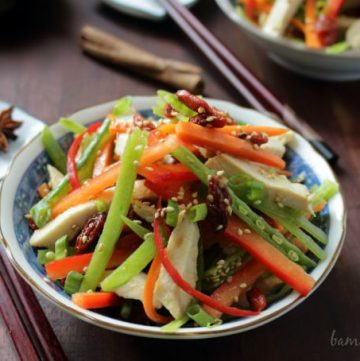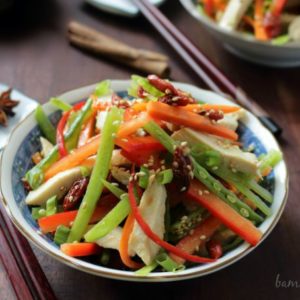 Chinese Chicken Salad & Goji Berry Dressing
Aromatic Chinese spiced poached chicken with fresh crisp vegetables and a delicious goji berry, chili and ginger dressing.
Print
Pin
Rate
Ingredients
Chinese Poached Chicken
1

chicken breast


boneless and skinless

1

tablespoon

ginger


or ½ teaspoon dried ground ginger

1

quill

cinnamon


(or exchange 1 teaspoon dried ground)

3

whole

star anise - 3 whole


(or exchange with 1 teaspoon Chinese 5 spiced powder)

3

spring onions


chopped white parts only

salted water


enough cold salted water to cover the chicken
Salad Fixings
⅔

cup

rice vinegar


4

teaspoon

sugar or sugar alternative


(can also use honey, low glycemic coconut sugar or sugar alternative of choice)

½

teaspoon

ginger

1

chili


julienned sliced (to taste) I used a milder chili

⅓

cup

goji berries (wolfberries)


dried

1

Carrot


julienned sliced or cut into match sticks

¾

cup

snow peas


julienned sliced or cut into match sticks

4

tablespoon

olive oil


2

teaspoon

sesame oil


3

teaspoon

sesame seeds


(white toasted)

salt


to taste (omit if on low sodium diet)

¼

teaspoon

white pepper


or to taste

3

green onions

green parts sliced
Instructions
In a wok on a pot place in your chicken breasts, ginger, cinnamon, star anise, spring onions and enough cold salted water to cover the chicken. (If you do not have fresh herbs and need to use ground, please note that these will darken the chicken colour. If you use fresh fresh the chicken will stay white.) Place a lid on top of the wok or pot and bring to a simmer for 5 minutes and skimming off the fat during this time. Once the chicken has simmered for 5 minutes and you have skimmed the residue at the waters surface, turn the burner off and keep the lid on the chicken for 30 minutes so it continues to slowly cook the chicken.

Make the Goji Berry Marinade: In the mean time, combine the following items together so they have a chance to pickle and marinate together... In a medium bowl add rice vinegar, sugar or sugar alternative, ginger, chilis, goji berries and carrots for 30 minutes.

Drain the water and remove the spices from the poached chicken and slice the chicken. (I sliced mine in Julienned slices to keep it the same size as the other salad fixings. ) Set aside to cool.

Make the Goji Berry Salad Dressing: Drain the pickle marinade into a separate bowl from the rice vinegar, sugar or sugar alternative, ginger, chilis, goji berries and carrots as you are going to use this to make your salad dressing. Add to this drained pickle marinade your olive oil, sesame oil, sesame seeds, salt and white pepper to taste. Mix well. (IMPORTANT: Set aside half of the salad dressing for use for later as the dressing soaks in and needs to be topped off with the dressing just before serving)

In a non reactive bowl, add Chinese poached chicken slices, pickled marinated carrots with goji berries, snow peas, green onions and ½ of the goji berry salad dressing mixture. Toss well. Place in the refrigerator until you are ready to serve. The goji salad dressing soaks into the salad during this time.

Just before serving you Chinese Chicken Salad & Goji Berry Dressing drizzle the other half of the reserved goji berry salad dressing on and toss. Garnish with additional toasted sesame seeds and spring onions. Enjoy!
Notes
Can be made in advance. You will need to add more salad dressing the next day if you keep overnight.
Nutrition
Serving:
1
g
|
Calories:
506
kcal
|
Carbohydrates:
14
g
|
Protein:
27
g
|
Fat:
37
g
|
Saturated Fat:
5
g
|
Cholesterol:
72
mg
|
Sodium:
165
mg
|
Potassium:
783
mg
|
Fiber:
4
g
|
Sugar:
6
g
|
Vitamin A:
6102
IU
|
Vitamin C:
64
mg
|
Calcium:
101
mg
|
Iron:
3
mg