Là Jiāo Jiàng is a delicious Chinese spicy chili sauce that puts a wow into all of your Chinese recipes that need a little kick.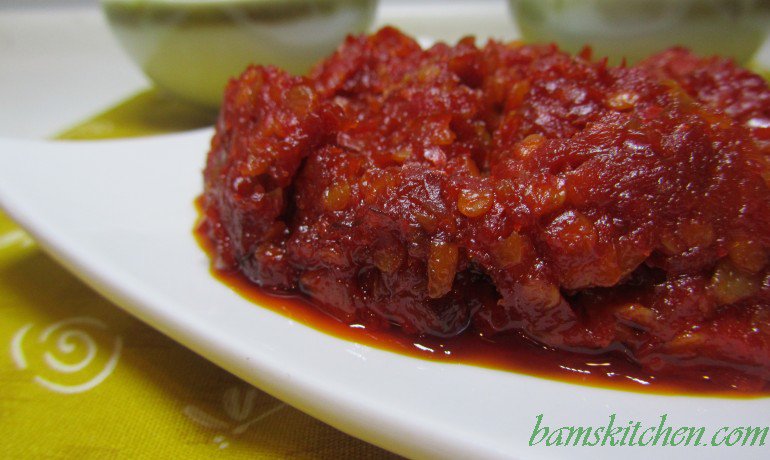 Are you feeling saucy tonight? Getting ready to have a little fun this weekend?
I know just the culinary cure to add a little zest, zing and warmth into your menu's with a little homemade spicy black bean paste or homemade Chinese chili garlic paste (Là Jiāo Jiàng).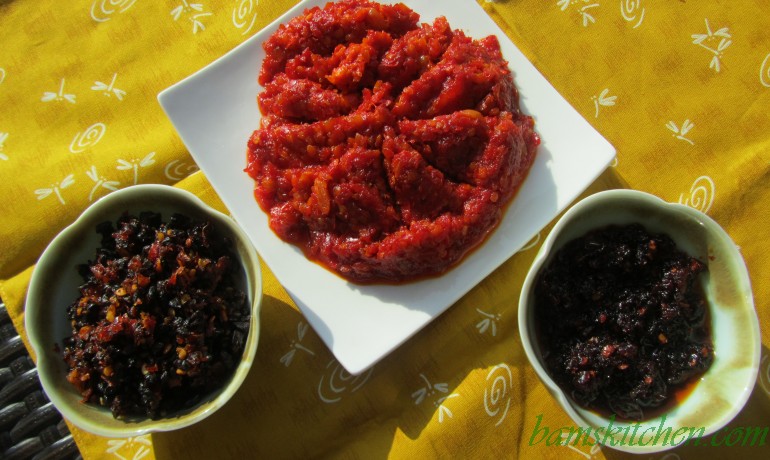 My hungry teenagers love spicy food and we practically go though a jar of chili garlic sauce every week. I know it may seem excessive but they also go through mass amounts of food, so I guess that figure is all relative.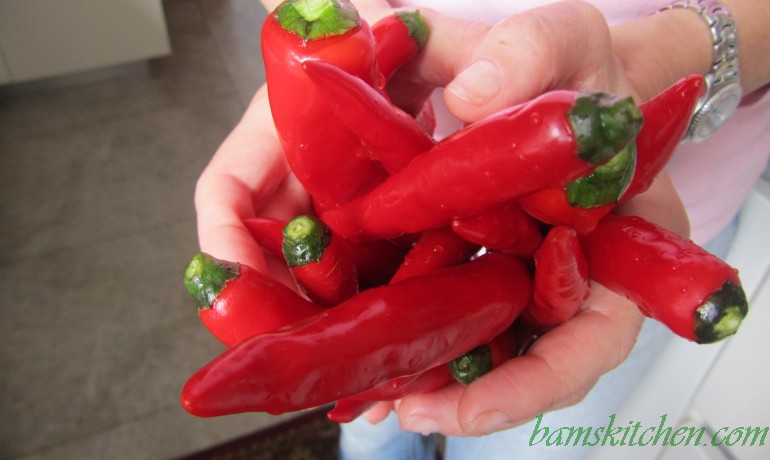 I started to evaluate our usage and our profit margins of making this sauce at home. I don't know the cost of chilies where you live, but it is super cheap in Hong Kong, and much better alternative then buying a jar of chili garlic paste every week.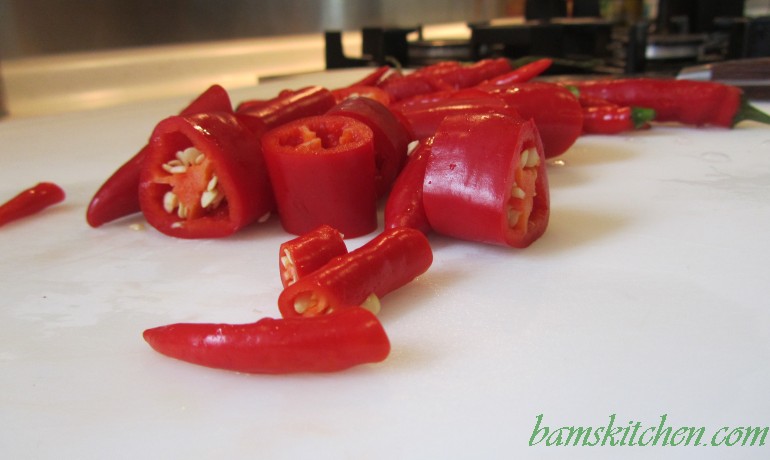 However, the real reason why I decided to start making my own spicy black bean sauce and chili garlic sauce at home is reading the additives on the back label of the sauce.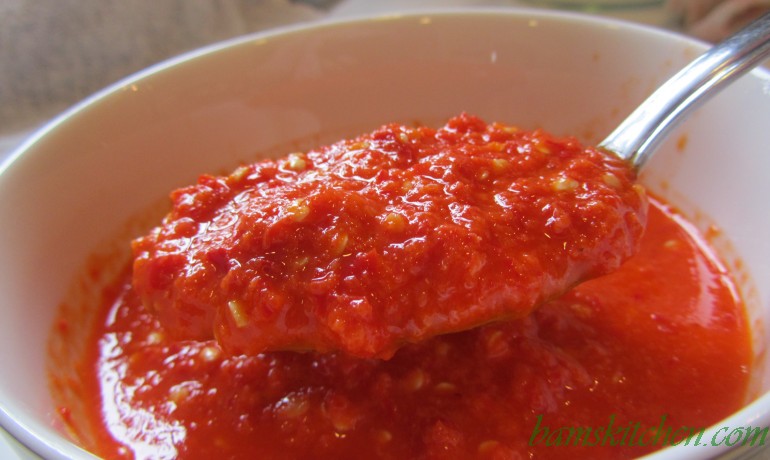 The first offender on the list was "wheat". Oh, lucky me, I'm gluten intolerant. Then the second item on the ingredient was sugar, I ask why? Then of course some flavor enhancers, sulfites and some weird things I cannot pronounce but I am sure it should not be in our food.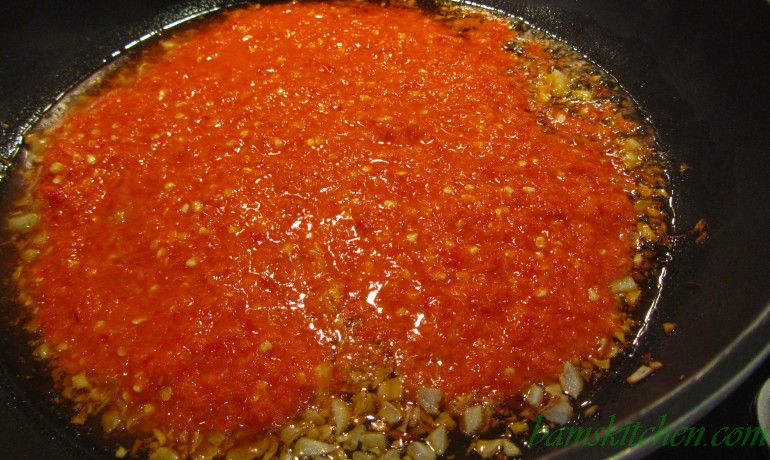 I really am a huge fan of Lee Kum Lee products, but just don't want the additives, so I looked at the back of the ingredient list on the jars to see what items I would be using and not be using in Healthy World Cuisine. I did not have a recipe to follow, just the ingredients in Bam's test Kitchen. I tried many versions, several different times, and several different ways to get the end result I liked. Below is a picture of fermented black beans with garlic.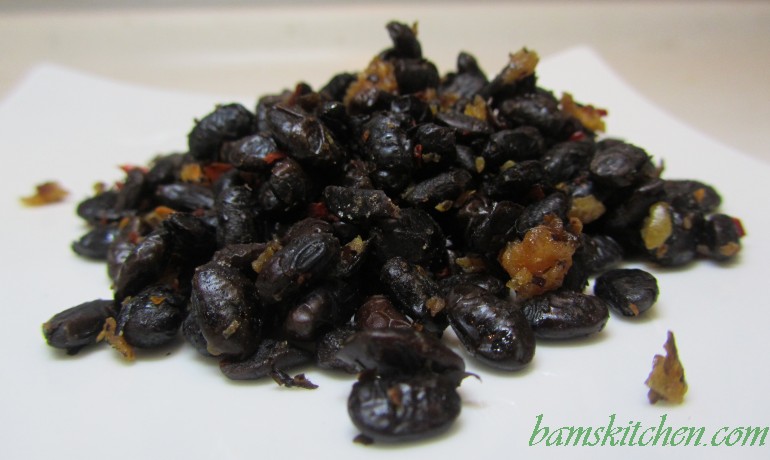 Wow!!! Wee!!! My sinuses are so clear now!!!!! Now a little word to the wise on this whole procedure, ventilate, ventilate and make sure you ventilate your kitchen when making these little sauces. After chopping the chilies, do not touch your face, eyes or use the bathroom until you wash your hands super well. You have to just trust me on this as I might blush if I have to go on to explain this in detail.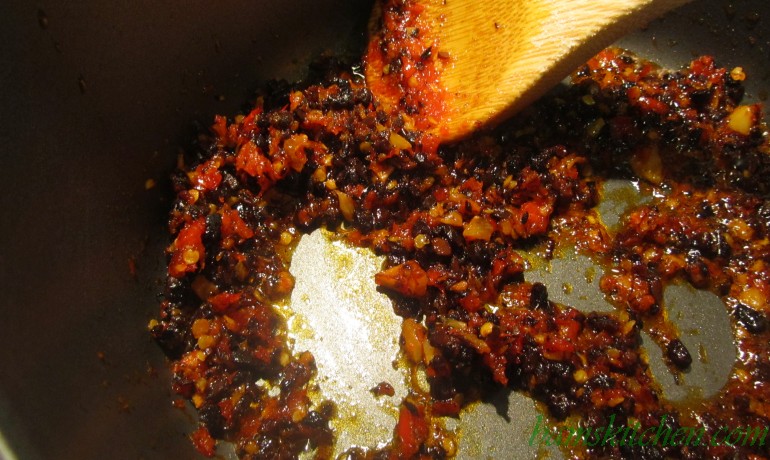 In the end, I decided to make two different kinds of Chili sauce as the first few ingredients and cooking process is identical. I made a basic chili garlic sauce and a spicy black bean sauce. During the experimentation process, I cooked one of my chili garlic sauces about 20 minutes until a nice "jungle colored red".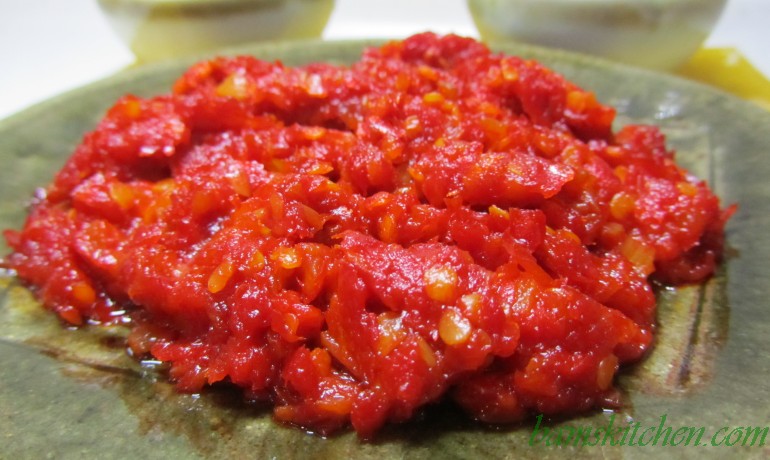 The other basic garlic chili sauce was supposed to come off at the same time but I was slightly distracted and the color changed from a "jungle red" to a more "dark burgundy red". A great happy accident as the chilies almost caramelize and slightly sweeten naturally and my boys quite liked this version. Photo below is a picture of the spicy black bean sauce.
Do you want added flavor in your dishes, but do not like the heat, then feel free to switch this recipe up using some sweet red bell peppers. I like a tiny bit of spice but not like it too hot so feel. So free to play around with the types of chilies and bell peppers to get just the right amount of heat you prefer. You could make these sauces anywhere from sweet and tangy all the way up to inferno hot. Have fun with it and let me know how it goes.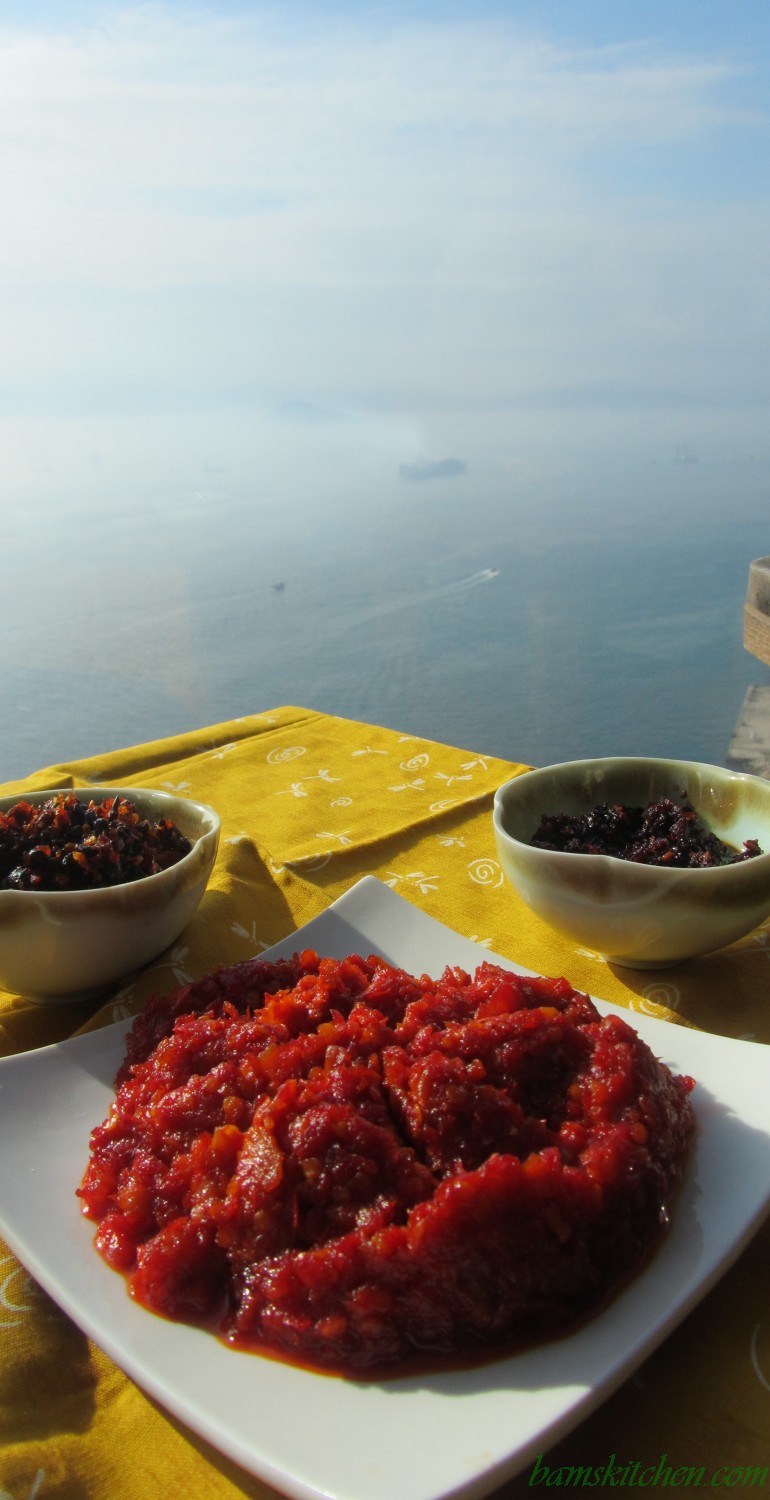 Recipes that are delicious with Là Jiāo Jiàng
Garlic Chili Stir Fried Lotus Root
Spicy Pork and Bamboo Stir Fry
If you are a real chili head, you are going to love our Homemade Sichuan Garlic Chili Oil
Hungry For More? Subscribe to our Newsletter and follow along on Facebook, You Tube, Instagram, and Pinterest for all the latest updates.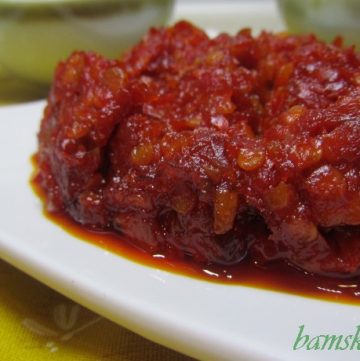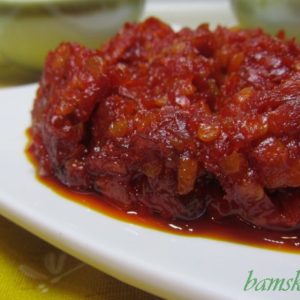 Là Jiāo Jiàng
Homemade spicy black bean sauce and chili garlic sauce
Print
Pin
Rate
Ingredients
1

tablespoon

oil


( I used canola oil and you may have to add some additional during the cooking process to prevent sticking)

5

cloves

garlic


peeled and minced

½

onion


peeled and minced

8

oz

chili peppers

( I used an assortment of types such as bird chilis, Chinese Kung Pao)


1

tablespoon

rice wine


(shao xing) or cooking sherry

2

teaspoon

rice vinegar


½

teaspoon

salt


or to taste

2

packets

splenda

or 1 tablespoon of sugar

⅓

cup

fermented black soy beans

chopped (wash them well first)- optional
Instructions
Open up the windows and ventilate the kitchen - VERY IMPORTANT!

Wear Gloves!


Remove stems from chili peppers and chop into pieces (leaving the seeds) and place into the food processor with a little oil about a teaspoon just to get it moving. (dont add water as then you have to cook off the moisture later) The goal is a finely chopped pepper. If you do not have a food processor, you can chop by hand. Feel free to mix up the type of chili peppers to get your desired heat. If you want it slightly sweet and tangy then add bell peppers. If you want more heat use more Thai Bird chilies.

Heat 2 teaspoons of oil in frying pan and add the onions and garlic and cook until translucent and aromatic, add your chili peppers and cook for about one minute. Reduce heat to a low medium heat.

Add rice wine, rice vinegar, sugar or sugar alternative and salt to taste and continue to cook very slowly over low heat and stir gently over the next 20-30 minutes or until your your chillies are a beautiful deep jungle red color. You may have to another teaspoon of oil during the cooking process as the water cooks off to prevent sticking. Just cook it low and slow.

If you want to make spicy black bean chili sauce then add your chopped fermented black soy beans along with the other ingredients listed in step 4.

The length of time for cooking depends on you stove top, just keep stirring until the color is a deep red and no remaining moisture.

Let your Chili garlic sauce and/or your spicy black bean sauce cool. Transfer chili sauces to a sealed tupperware, place in refrigerator and use within 3 weeks. Alternatively if you are into that whole canning thing you could sterilize canning jars, add chili sauces, top with oil and seal for longer shelf life.
Notes
It is really important to ventilate the house and wear gloves. We are not kidding! You can thank us later.
Nutrition
Serving:
1
teaspoon
|
Calories:
19
kcal
|
Carbohydrates:
4
g
|
Protein:
1
g
|
Fat:
1
g
|
Saturated Fat:
1
g
|
Sodium:
29
mg
|
Potassium:
91
mg
|
Fiber:
1
g
|
Sugar:
2
g
|
Vitamin A:
1252
IU
|
Vitamin C:
2
mg
|
Calcium:
3
mg
|
Iron:
1
mg