Chanterelle Mushroom Risotto is creamy, dreamy and made with dried golden chanterelles directly from the forests of Sweden.
Are you craving comfort food? Risotto is just what you need to warm you up from the inside out. Try a cozy bowl of our Instant Pot Pumpkin Risotto or Creamy Parmesan Risotto with Saffron for a delicious meal any day of the week. Enjoy the relaxing Zen - like Mindful Food Meditation while sipping on a glass of wine and stirring risotto.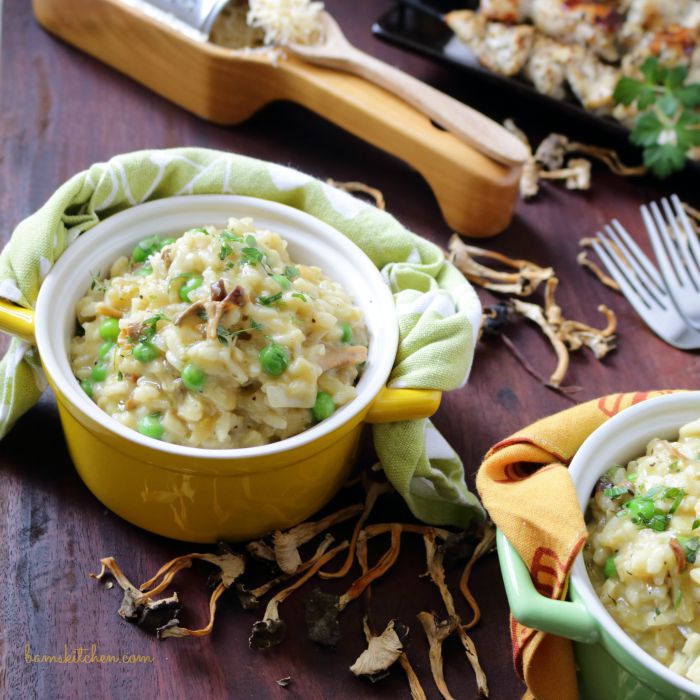 Jump to:
Chanterelle Season
Chanterelle mushroom season is relatively short. In the eastern part of the US, they grow from spring to later summer. However, in the western part of the US, they grow fresh from September through February. Sometimes, it can be difficult to find them fresh at the markets.
Good for us! A very dear friend and has brought us a little gold treasure all the way from her trip back home to Sweden for the summer holidays--- dried chanterelle mushrooms.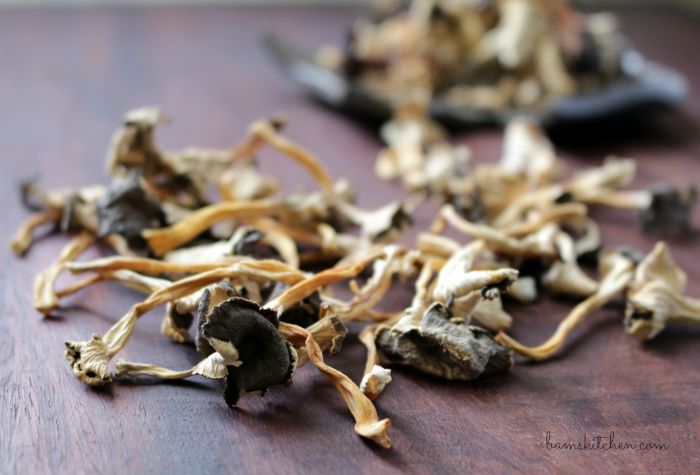 Mushroom Lovers
Have you ever tasted a chanterelle mushroom? They are earthy and buttery in flavor. You may also use other fresh mushrooms of choice like button, shiitake, porcini, enoki or any mushrooms you desire. We have been on quite the mushroom kick lately and made a French Beef Vegetable Mushroom Onion Soup and Homemade Chorizo Stuffed Mushrooms.
To rehydrate mushrooms, pour enough boiling water to cover the dried mushrooms. Allow mushrooms to soak for 15 minutes. Drain but do NOT throw out the chanterelle soaking water. You will use that delicious mushroom broth in the risotto recipe.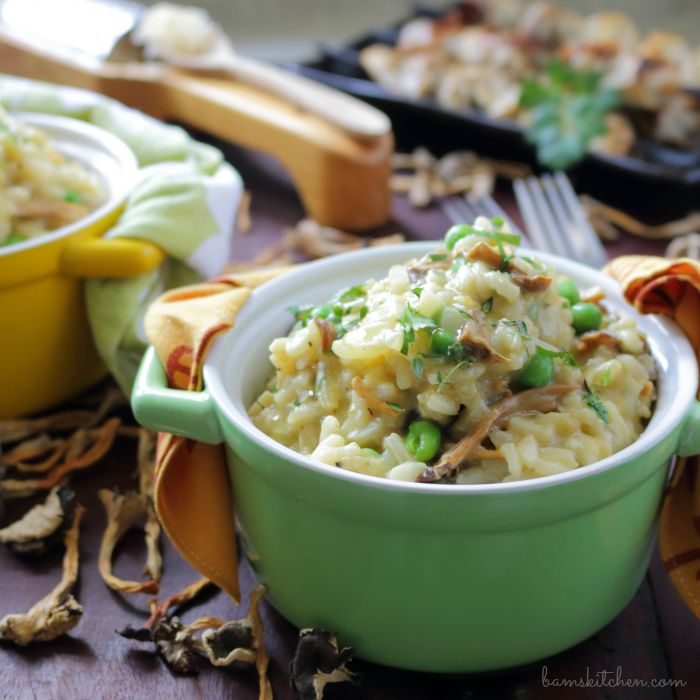 Wild Mushrooms
I have tried many of chanterelle mushrooms and none as so very sweet and aromatic as the ones from Sweden. It is not a requirement that you go foraging for your own wild chanterelle mushrooms. However, if given the opportunity, you should definitely go (and go with a mushroom expert as there are many dangerous look a likes out there). Alternatively, you can use fresh or dried chanterelle mushrooms that you can find at your local market.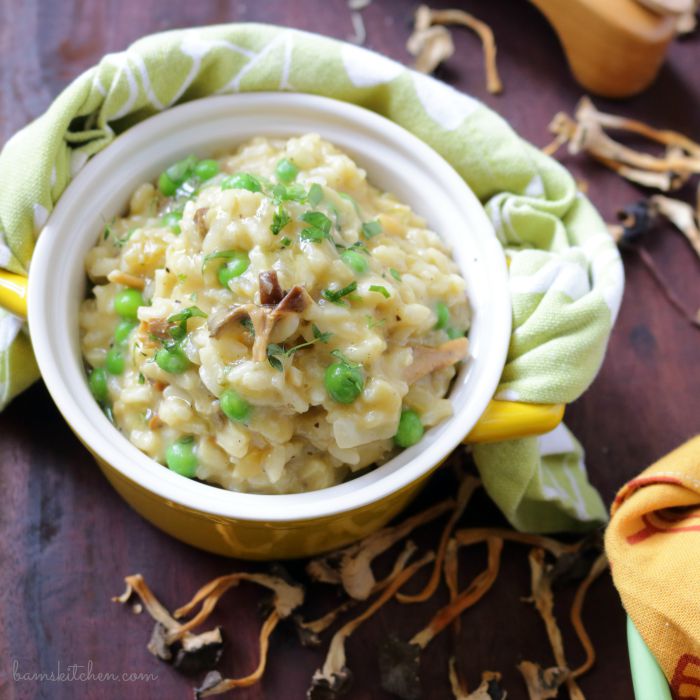 Nourishing
You are just going to love this chanterelle mushroom risotto as it super creamy, slightly sweet and earthy from the chanterelle mushrooms. It is one of those super comforting dishes that not only feed the body, but feeds the soul. Risotto is a warming nourishing idea for spleen qi meal plan.
Chanterelle Mushroom Risotto is gluten-free and can easily be made diary free just by leaving out the parmesan cheese. You won't even miss it.
What to Serve With Risotto?
You know what is even better? I made some quick and easy Chicken Skewers to serve on the side. It was out of this world. I would take a cube of the savory grilled chicken and dip into the creamy chanterelle mushroom risotto. Oh my goodness that is so good. It is not required but it really was the best darn combination I have ever had.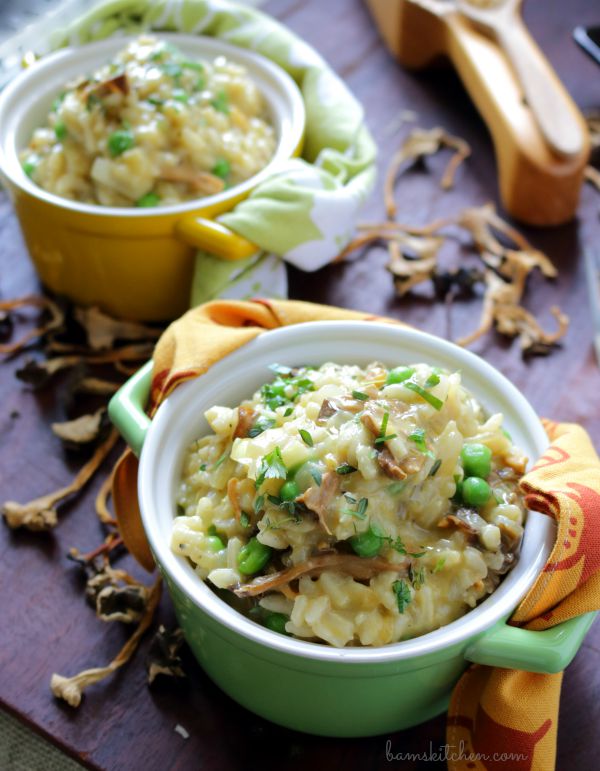 Labor of Love
Of course these little chanterelle mushrooms needed to be a highlight of a dish. There is nothing like the slow stirring of your creamy risotto to bring some romance into your cooking. There is something very sensual about watching my old wooden spoon slowly stir into the arborio rice to incorporate the wine and chicken broth.
It really is a labor of love. I can't be bothered as for these 30 minute of time it is all about me and the food.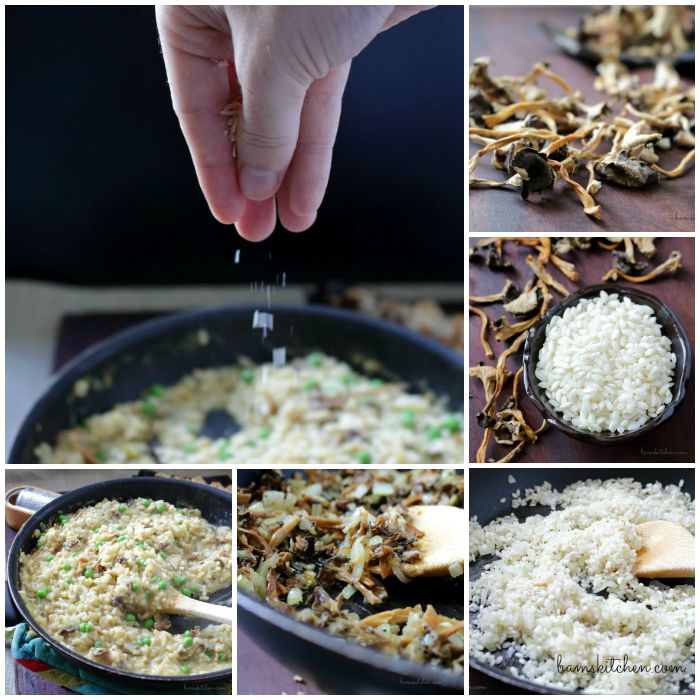 Mindful Food Meditation
If you have not heard about Mindful Food Meditation, then let me get you turned on to this new craze. Mindful Food Meditation involves cooking, baking and sautéing to decompress and remove your life worries away. I know all of you have been doing this for ages but have never really thought about the positive influences of cooking for your family.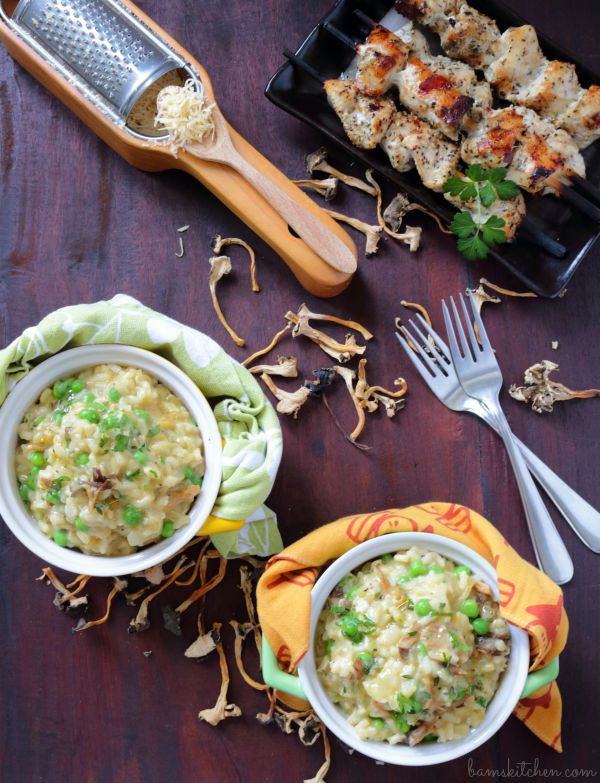 Food Therapy
Mindful Food Meditation is way cheaper than expensive "therapy".
Feeling stressed?
Knead and bake some bread!
Pulverize your spices with your mortar and pestle.
Slowly stir your risotto.
Pound a chicken breast flat.
You get the idea! Have you ever noticed that Foodies (Yep that is you guys) are some of the nicest people you know? You see when we get frustrated about work, school or such we don't take it out on our team mates, family or friends we just beat the "@#$%" out of a chicken breast and life goes on as normal as can be. Don't you feel better already?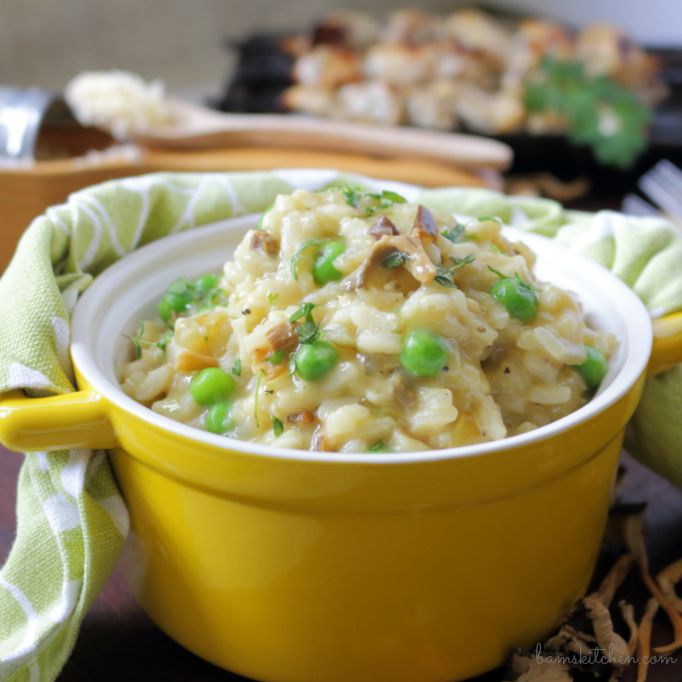 Pour yourself a glass of wine. Before you know it, your Chanterelle Mushroom Risotto is done.
Frequent Asked Questions (FAQ's)
How long can you store chanterelle mushrooms?
Chanterelle mushrooms will last 7 to 10 days in the refrigerator stored in a paper bag. Do not store them in plastic bag as that can promote moisture and then they can form mold.
How long do dehydrated chanterelles last?
Dried chanterelle mushrooms can last 6 to 12 months in a dry closed container at room temperature.
How to reheat Chanterelle Mushroom Risotto?
You can heat up your mushroom risotto either on the stovetop or in the microwave. You will need to add a little more broth in order to thin it out for the proper consistency.
More Delicious Rice Recipes
Did You Like Our Recipe? Leave a ⭐⭐⭐⭐⭐ rating and/or a review in the comments section below. Your feedback is always appreciated! Follow us for more delicious recipes on Pinterest, Instagram, Twitter and Facebook! Don't forget to sign up for our email list for more free recipes.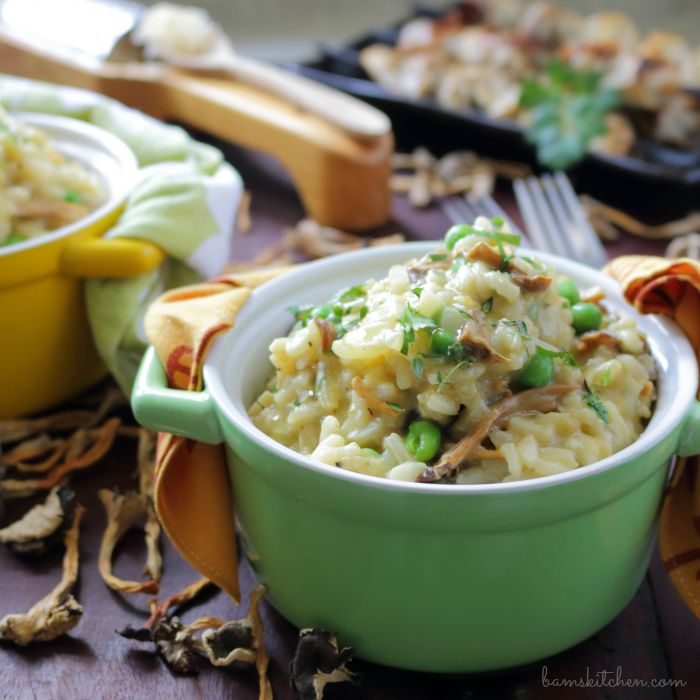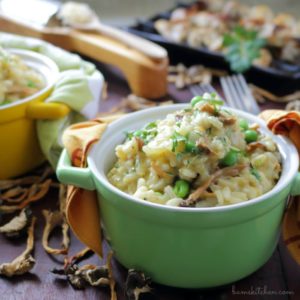 Chanterelle Mushroom Risotto
Creamy dreamy risotto with dried chanterelles, caramelized onions, freshly grated parmesan and earthy and sweet mushrooms directly from the forests of Sweden.
Print
Pin
Rate
Ingredients
1

cup

Chanterelle Mushrooms


dried or fresh

hot water

enough to cover mushroom to rehydrate them


31

oz

chicken broth


organic gluten free, low sodium (heated up) - or vegetable broth to keep vegetarian

2

tablespoon

olive oil


¾

cup

onion


chopped

1

clove

garlic

1

cup

Arborio rice

½

cup

white wine


1

tablespoon

thyme


fresh or 1 teaspoon dried thyme

1

tablespoon

flat parsley


freshly chopped

½

cup

peas

frozen (thawed out)

½

cup

parmesan cheese

grated (hold if daily intolerant)

salt and pepper


to taste

1

tablespoon

butter

optional (can use dairy free margarine or just drizzle a little olive oil on top)
Instructions
Add the hot water to submerge the dried chanterelle mushrooms and let step for about 15 minutes until softened. (Do NOT drain all of that precious chanterelle liquid as you are going to use that later on in the risotto chicken stock) Drain chanterelles and roughly chop.

Place the chicken stock (low sodium and do not use chicken bouillon as this is too salty) in a pot and heat until hot and keep warm over low heat. (If you want a vegetarian version, use a low sodium vegetable broth)

In a large frying pan, add olive oil, onions and garlic and sauté until translucent, about 5 minutes. Add the chopped chanterelle mushrooms that have been soaked in hot water and roughly chopped (remember to save the chanterelle soaking liquid and add this to your chicken stock that is heating up on the back burner- this is precious liquid gold and makes your risotto taste amazing) and cook for 1-2 minutes. Season very lightly with salt and pepper (as the parmesan cheese is salty and you will be adding this later)

Add the arborio rice and mix and stir until the rice until it is coated well with the olive oil and then add the white wine and turn down your heat to a medium heat and continue to stir the rice slowly and gently until about 75 percent of the wine has been absorbed.

Now start adding one ladle of hot chicken stock at a time into your rice and slowly stirring over a medium simmer while allowing the liquid to absorb. When about 80 perfect of the chicken stock has been absorbed add another ladle of chicken stock and continue stirring.

(Drink more wine and enjoy this Mindful Food Meditation moment)

Repeat this process until the rice is al dente. Depending on how high your heat is and how hot your chicken stock is this can take between 30-40 minutes. If you make just one serving it might only take 20 minutes and if you increase this from 2 to 4 servings it can take more like 45 minutes to reach al dente.

Do not overcook. You want your rice to be a little firm but very creamy and not dry. If you over cook your risotto, it will turn mushy like congee and that is not the effect we are going for here.

Add thyme, parsley, peas and stir. Add grated parmesan cheese (if not dairy sensitive) and season with salt and pepper to taste and finish off you last stir with a dab of butter (optional).

Serve your delicious Chanterelle Mushroom Risotto as a main dish or as a side with grilled chicken skewers and enjoy.
Notes
Try Chanterelle mushroom risotto as a delicious main or as a side dish.
Storage
Risotto is best served immediately. It will thicken as it cools.
You can store risotto in the refrigerator for up to 3 days in a covered container. To reheat, just place in pan on stove top and add just a little broth to get the risotto moving again. You can also reheat in the microwave.
Substitutions
Chanterelle Mushroom Risotto is gluten-free and can easily be made diary free just by leaving out the parmesan cheese. You won't even miss it.
If you want to make this risotto recipe vegan...
vegetable broth instead of chicken broth
vegan butter instead of dairy butter
hold the parmesan and top with nutritional yeast instead.
Nutrition
Serving:
1
bowl
|
Calories:
410
kcal
|
Carbohydrates:
50
g
|
Protein:
14
g
|
Fat:
15
g
|
Saturated Fat:
5
g
|
Polyunsaturated Fat:
1
g
|
Monounsaturated Fat:
7
g
|
Trans Fat:
1
g
|
Cholesterol:
16
mg
|
Sodium:
297
mg
|
Potassium:
436
mg
|
Fiber:
4
g
|
Sugar:
3
g
|
Vitamin A:
492
IU
|
Vitamin C:
14
mg
|
Calcium:
185
mg
|
Iron:
4
mg