Homemade Chorizo Stuffed Mushrooms are savory spicy little bites of deliciousness that are perfect for cocktail hour or as a main with a tossed salad.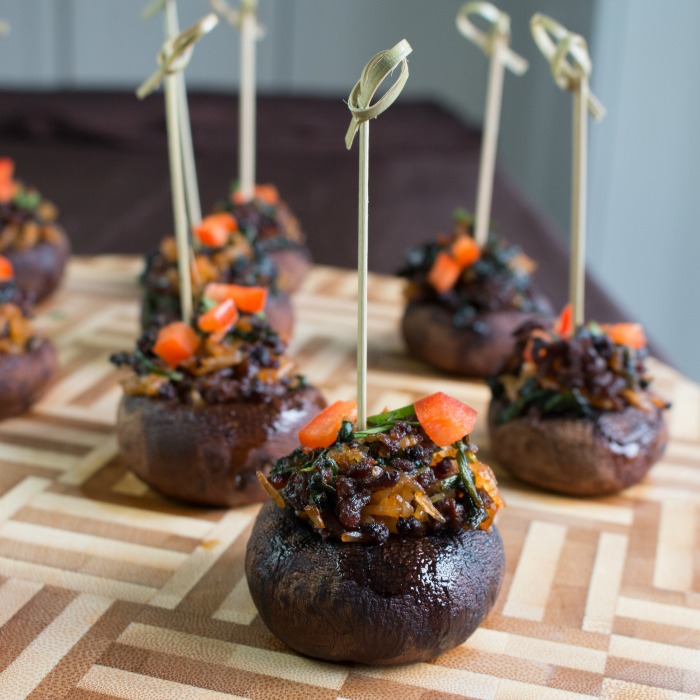 Homemade Chorizo Sausage
The best part of this dish is that this Chorizo sausage is HOMEMADE. Have you ever looked at the ingredients on the back of a store-bought chorizo sausage package? If you have, you will start making your own chorizo sausage from scratch too. The store bought pre-made version is filled with sugar and all kinds of weird preservatives. In our homemade version, there are NO sweeteners, no weird preservatives, color additives or anything you can't pronounce. You probably have everything in your spice cabinet to make it right now.
You can make a million things with your own homemade chorizo. We like to make our chorizo sausage in a big batch and then just freeze in smaller bags. This homemade chorizo makes killer good breakfast burritos. You can add to your meatball mixture for a little kick. Homemade chorizo sausage in your favorite pasta dish is going to take it to the next level. All of these meal ideas are quick and easy and all UNDER 30 Minutes.
Homemade Chorizo Stuffed Mushroom Recipe Hints:
If you make your own homemade chorizo sausage it is best to leave in the refrigerator for 24 hours to let the flavors mingle.
Make sure you wear gloves if you like to mix your chorizo sausage mixture with your hands. The paprika and chili can be quite harsh on your hands and leave them red. You will only make that mistake once. So please heed our warning or use a spatula to mix instead.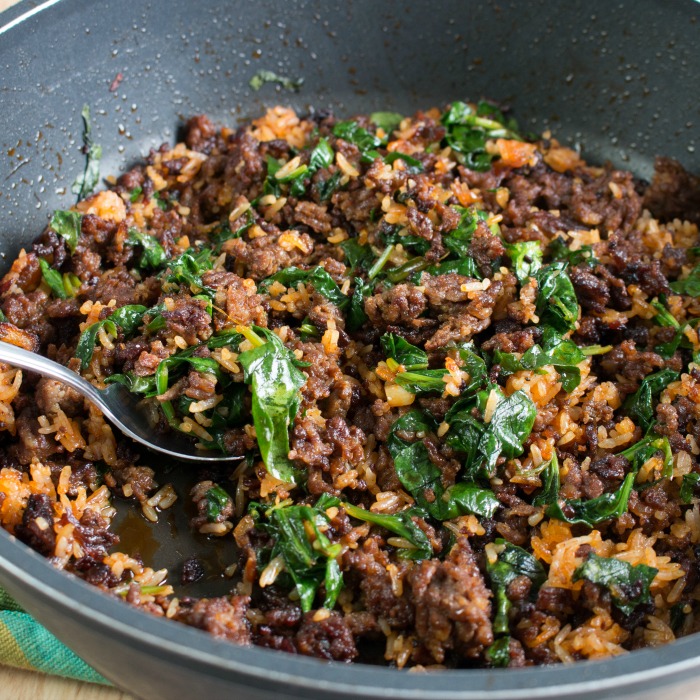 Homemade Chorizo Stuffed Mushrooms are gluten-free, dairy-free and if you want to make low carb/keto friendly you can swap out the brown rice for some firm tofu.
Do not be frightened by the long ingredient list. If you do not want to make your own homemade chorizo you can certainly use store bought and save yourself some time and ingredients.
Homemade Chorizo Stuffed Mushrooms is just what you need to get the party started. You can prep them in advance and then just heat in the oven (or on the grill) before your guest arrive, also delicious at room temperature. Spring and Summer is the party season. Bring it on!!! You have all the graduation parties, proms, baby and wedding showers, or maybe you just need to bring a dish to pass for a pool side outdoor gathering. You are going to be the coolest guest or host/ hostess with the most/mostess. You are going to be the life of the party as this is delicious appetizer that everyone is going to love.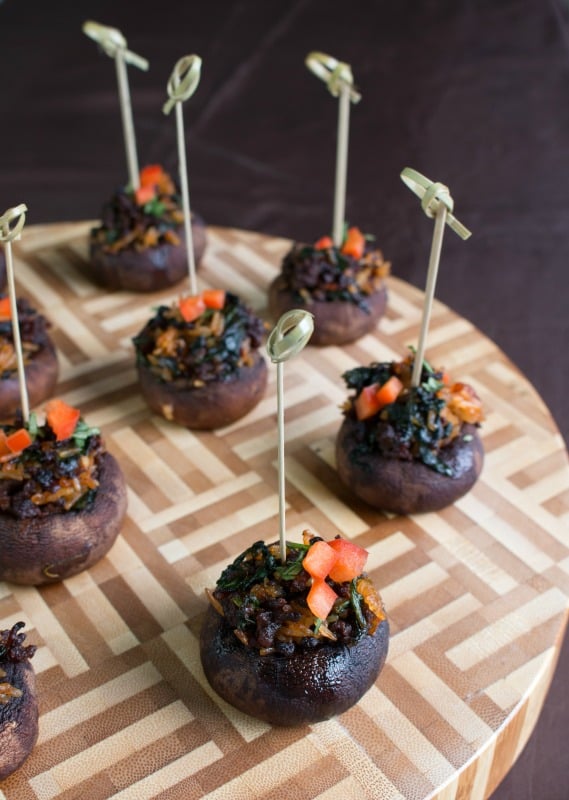 Grill or Bake
If you are hosting an outside event, these delicious little Homemade Chorizo Stuffed Mushrooms can be finished off on the grill. You will need to put aluminum foil under them on the grill and make sure they are standing upright with the bottom side of the mushroom facing up and over low heat. We even spritz our mushrooms with a little white wine and that is the secret ingredient that takes these mushrooms from ho hum to AMAZING. A little wine for the chef. A little wine for the mushrooms. It is so good!
Do you know that delicious mushroom juice that collects inside the mushrooms caps as you grill them? Don't tip them over as that is our favorite part! Oh, my goodness it is so delicious and then you dollop a little bit of the homemade chorizo sausage mixture just to heat through and oh my word. Tender, juicy, spicy - A Home Run!
Hide the Veggies
We have a little secret to share. As these delicious little Homemade Chorizo Stuffed Mushrooms appetizers are so full of flavor you can hide all kinds of veggies in there and your kids/veggie hater adults will never know. You just need to shred the veggies and cook them up with the chorizo. We have used shredded zucchini, carrots, parsnips and even finely chopped kale and the kids never even flinched. If they ask, tell them it is bacon… wink wink… They will never know.
Recipe Exchanges and Substitutions
We used baby portabella mushrooms for this recipe as that is what we had on hand but also just as delicious with button mushrooms. We used brown rice as we had a batch already cooked up but also delicious with tofu, cooked jasmine or basmati rice or even cooked quinoa. Have fun with this recipe and use what you have on hand.
If you are hosting a gathering you may be interested in our Healthy Ricotta Crostini, Sesame Miso Chicken Meatballs, Spicy Shrimp with Creamy Tarator Dip or head over to our appetizer recipes for inspiration.
Hungry For More? Subscribe to our Newsletter and follow along on Facebook, You Tube, Instagram, and Pinterest for all the latest updates.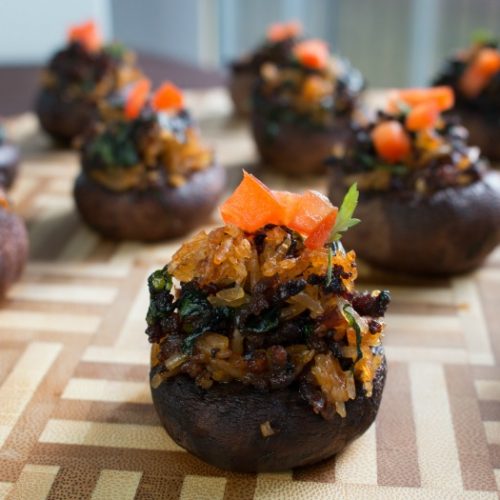 Homemade Chorizo Stuffed Mushrooms
Homemade Chorizo Stuffed Mushrooms are savory spicy little bites of deliciousness that are perfect for cocktail hour or as a main with a tossed salad.
Print
Pin
Rate
Ingredients
Homemade Chorizo Sausage (gluten-free and low carb)

1

pound

Ground pork


(minced)

1.5

tbsp

Sweet paprika


(just because that is the flavor profile we enjoy but can also use smoked, hot, Spanish or whatever kind of paprika you enjoy) Each type of paprika makes your recipe taste very different.

1

tsp

chili powder


½

tsp

black pepper


ground

1

tsp

Salt

1

tsp

Garlic powder

1

tsp

oregano

dried

¼

tsp

Cinnamon


ground

2

leaves

Bay leaves

ground up with mortar and pestle


¼

tsp

Cloves

ground

2

tsp

Cumin


ground

3

tbsp

Vinegar – 3 tablespoons


we used red wine vinegar but apple cider vinegar would be lovely too.
Stuffed Mushrooms
12

Mushroom caps

stems removed and wiped clean with dry cloth- we used baby portobello.


2

tbsp

Olive oil


(1 tablespoon for mushroom marinade and 1 tablespoon for frying up chorizo and vegetables)

Salt and pepper

to taste

2

tbsp

White wine

½

tsp

Garlic powder


1

Onion


small peeled and chopped

1

red bell pepper

chopped finely (or can use yellow, orange or green bell pepper)


2

cloves

garlic

minced

2

cups

spinach

fresh (we used baby spinach)

1

cup

brown rice


cooked (or cooked cauliflower rice for low carb option)

2

tbsp

parsley

chopped – optional garnish
Instructions
Make the homemade Chorizo sausage-( if you are using store bought chorizo sausage, skip down to step 2) In a bowl add your ground pork, paprika, red chili powder, black pepper, salt, garlic powder, oregano, cinnamon, ground bay leaves, cloves, cumin and vinegar. Mix well. If you want to use your hands, it is best to use gloves as the peppers can be spicy. Refrigerate overnight to allow the flavors to mingle.

Preheat your grill or oven depending on your preference. Grill preheat to low- medium heat OR pre-heat oven to 350 degrees F (or 176 C)

Marinate your mushrooms – In a large sealable plastic baggie add your cleaned mushrooms with the stems removed, olive oil, salt and pepper and garlic powder and carefully shake to spread the marinade. Set aside.

In a medium frying pan add your olive oil, chopped onion, red bell pepper (reserving about 2 tablespoons for a garnish) garlic and sauté until translucent. Add the chorizo sausage (either homemade or store-bought) and cook for about 5 minutes until no longer pink and golden brown. Add the chopped spinach and stir for about 1 minute just until wilted. Set aside.

Cook your mushrooms- (Grill or bake)

Grill – Place your mushrooms on a lightly greased aluminum oil sheet with the sides crimped up just so that you don't lose any of that delicious chorizo sausage mixture. Spritz your mushrooms with a little of the white wine. Cover the grill top. Grill your mushrooms bottom side up for about 8-12 minutes or until tender and the juice is forming. Carefully add about 1 tablespoon of the chorizo sausage mixture to each cooked mushroom cap. (If the grill is to hot just use a hot mitt and pull the mushrooms off the grill carefully on to a baking sheet then add the chorizo stuffing mixture. ) Grill the mushrooms for about 3 minutes longer just to heat through and serve.

Baking- place your mushrooms bottom side up on a lightly greased baking sheet or line with parchment paper. Spritz your mushrooms with a little white wine and cook for about 15-18 minutes or until the mushrooms are tender. Place about 1 tablespoon on Chorizo sausage mixture into each mushroom and cook for an additional 5 minutes.

Garnish with parsley and a little of the chopped red bell pepper, if desired, and enjoy warm or at room temperature.
Notes
Nutrition calculations are based on 2 mushrooms per person. If you want to make this recipe low carb, substitute cauliflower rice for the brown rice.
If you want to save time and do not have any dietary issues, you can use prepared chorizo sausage from the market. However, please note that prepared chorizo sausage usually has sugar or glucose in the mix and may not be gluten-free.
Nutrition
Serving:
2
g
|
Calories:
201
kcal
|
Carbohydrates:
16
g
|
Protein:
9
g
|
Fat:
11
g
|
Saturated Fat:
3
g
|
Cholesterol:
27
mg
|
Sodium:
227
mg
|
Potassium:
292
mg
|
Fiber:
2
g
|
Sugar:
1
g
|
Vitamin A:
1330
IU
|
Vitamin C:
16
mg
|
Calcium:
29
mg
|
Iron:
1
mg